35+ New Trader Joe's Products To Be On The Lookout For This Summer
By Sachin P June 22, 2023
---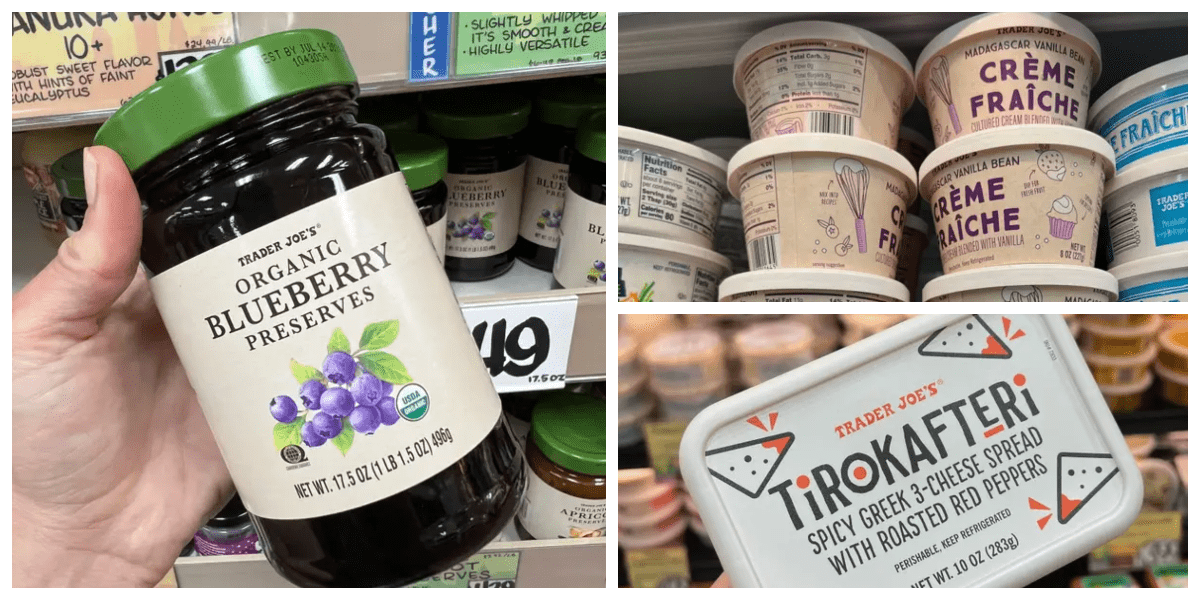 One of the biggest delights for Trader Joe's regulars is the brand-new products that fill the shelves with every new season. Everyone has a different view of the most popular Trader Joe's items, but we can all agree that that often changes when the stock is reshuffled and fresh goods are displayed on the shelves. You suddenly can't pick a favorite!
On the other hand, it can be upsetting to discover one of your favorite treats isn't available anymore. It stings until you find a replacement you enjoy just as much! Fortunately, the product selection at Trader Joe's is top-notch, with unlimited vegan options and unusual but tasty culinary pairings (caramel swirl ice cream, anyone?).
So, finding whatever your heart craves is easy. To get you started on that process, we've compiled a list of the newest products you can find at Trader Joe's this year!
Marzanino Tomatoes
Those who love tomatoes in their food know how much of a game-changer a fresh tomato is. It has this almost crispy nature that makes it irresistible. Also, they pack so much flavor! As if that's not enough, they offer so many possibilities when it comes to food combinations.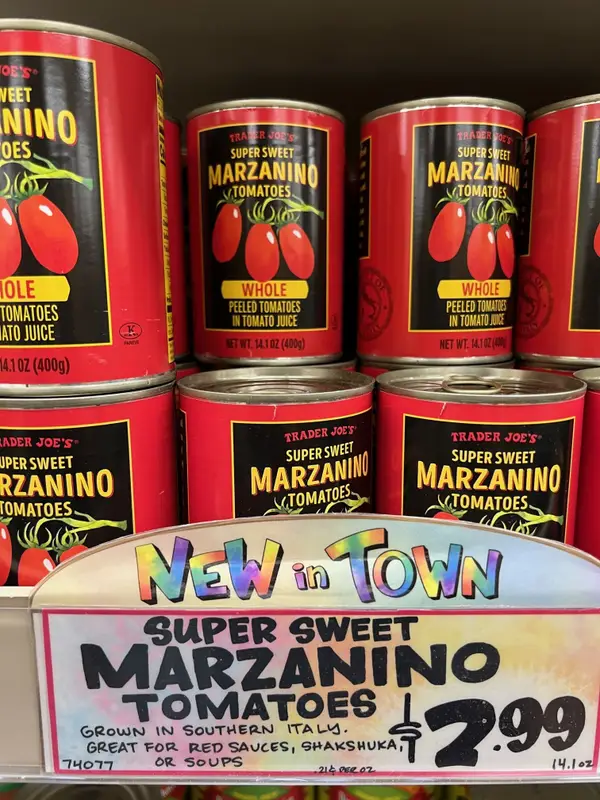 Lucky for you, Trader Joe's has managed to put it into a can. These luscious marzanino tomatoes are freshly packed, which makes opening the tin total bliss! They are the finest choice for making baked eggs, cooking pasta, topping pizza, or making homemade sauce!
Garlicky Pasta
There's a reason why everyone likes garlic bread. Sure, garlic breath is frowned upon, but garlic butter is almost universally popular. It is one of the best side dishes and goes so well with pizza. Ever had it with tomato soup? Yum!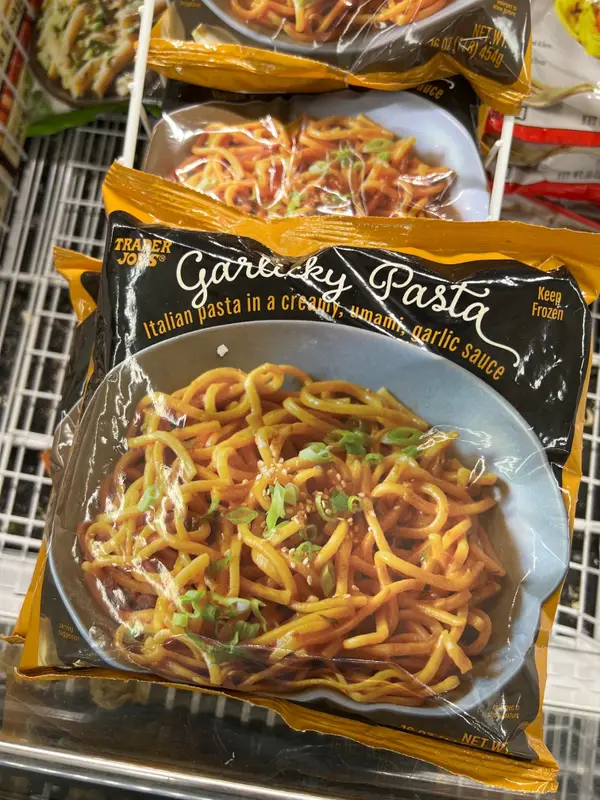 Keeping that in mind, imagine how good this garlic pasta would taste. For a full meal, combine this Asian-inspired pasta with your preferred type of meat and extra vegetables. Ah, we can only imagine how amazing this would taste. Umami garlic sauce sounds is a must-try!
The Best Goat's Milk Cheese
You should try adding goat cheese to your diet if you don't already. It is a very healthy type of cheese. Mediterranean cuisine particularly has a strong bond with goat cheese, and you know how good their salads taste! That should be enough to convince you.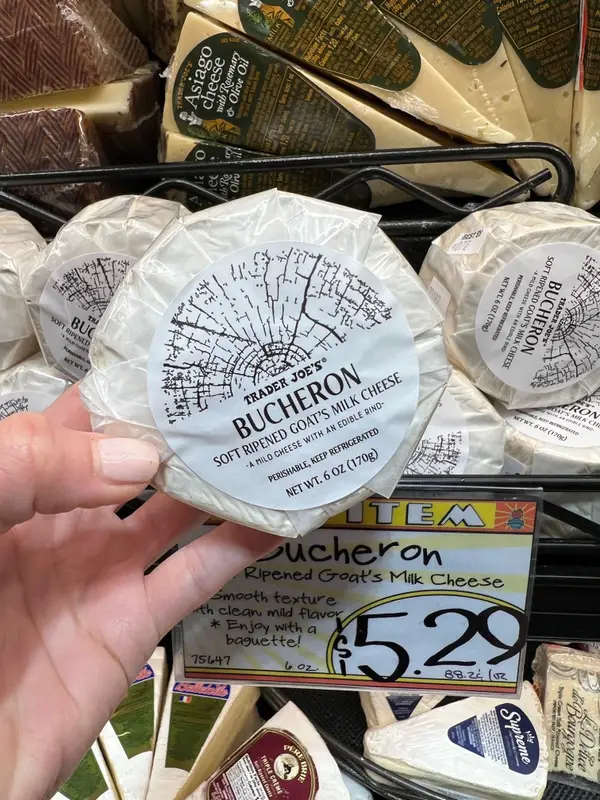 Now we are not here to talk about Ricotta. Instead, we've come to rave about this Bucheron! Look, even the rind is edible. It must taste heavenly when slightly roasted. Additionally, it would be a great item on your picnic cheese board!
Cold Brew Iced Tea
Simply steep a single serving of this black tea for about five minutes in icy water to instantly cool yourself on a hot day. A hot cup of tea can rejuvenate you on most days, but others call for some iced tea.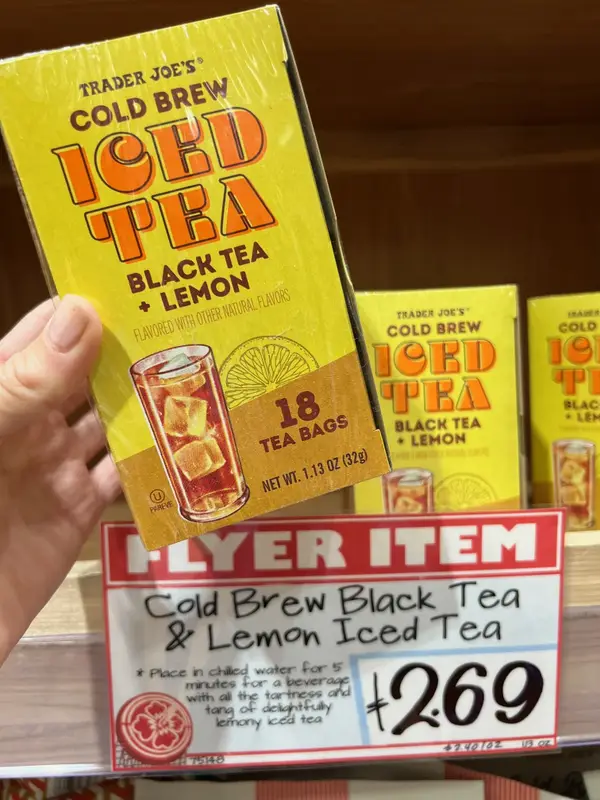 There are ways to take a refreshing iced tea to another level. All you need to do is pair this black tea with fresh mango juice and fresh-cut strawberries. Go easy on the sugar, and the resulting drink will taste like an elixir!
Did Someone Say Sandwich Crackers?
This is not some wacky promotional poster for the multiversal drama, Everything Everywhere All at Once. The name 'everything bagel' can easily lead anyone to form that opinion if they are familiar with the movie! But no, this is just another phenomenal snack.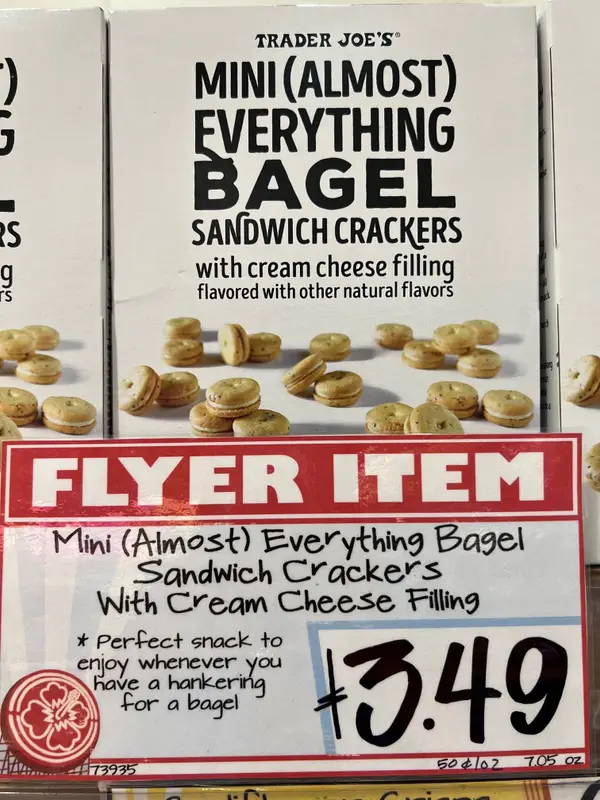 These are pretty popular because of the savory cream cheese filling and everything seasoning. A crunchy exterior and a cream cheese filling? What a pair! Not the ideal movie snack, though, because we're sure we'd finish the whole thing within the first fifteen minutes!
Chicken Breakfast Sausage Patties
There is a reason why breakfast is referred to as the meal of champions. A hearty breakfast gives you the energy to face a long day, especially when it's paired with coffee. With that, you can manage with a light lunch until dinner.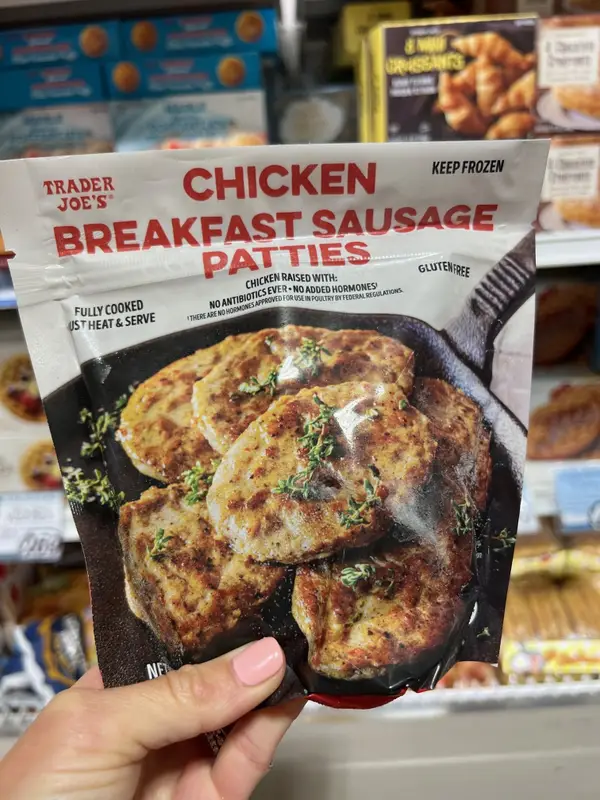 Breakfast can be simpler and more delicious with the addition of these sausage patties. Pair these with some crispy toast, farmer's market butter, fresh orange juice, and scrambled eggs on the side, and you will have the energy to tackle anything in your way, figuratively speaking.
Organic Midnight Moo Chocolate Syrup
Chocolate. Even the mere mention of that word can bring a smile to anyone's face. There's nothing like yummy milk chocolate to brighten up one's day. We are reluctant to give that honor to white chocolate and pink chocolate since we retain the right to be chocolate purists!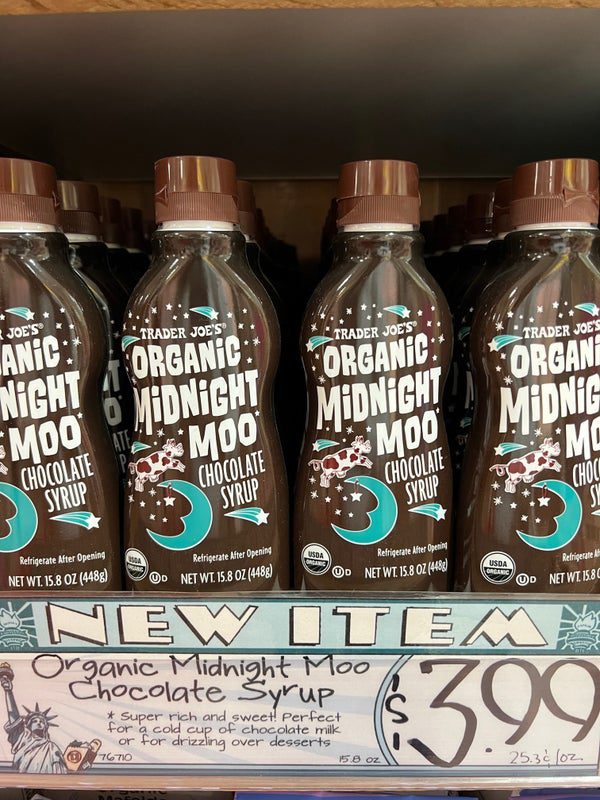 If that is also your jam, then Trader Joe's has got you covered on all fronts. It is super rich, which is what we love most about chocolate. Who doesn't like creamy hot chocolate or chocolate milk? We know we do!
Crunchy Chili Onion Hummus
There's nothing like a good hummus to go with an oven-fresh pita. Feels like a spicier version of guacamole and nachos. The flavor profile in this has to be next-level and off-the-charts! Based on the ingredients used, we think that's a safe assumption.
This might actually be the most creative hummus we have ever seen. We know about dill pickle, chocolate, beet, and many other combinations, but this is a first because it is also crunchy! Can't wait to take this home and try it out.
Golden Caramel Swirl Ice Cream
The ice cream competition is fierce at T.J.'s right now. As it should be because healthy competitions result in more varieties! This caramel swirl confection is an excellent addition to the store's frozen section, along with wildberry cheesecake, ube, and horchata.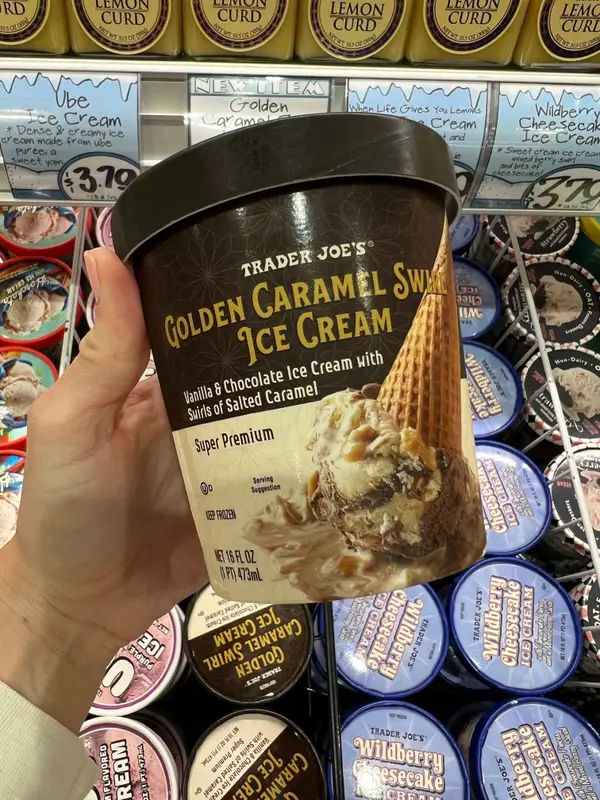 There is something irresistible about salted caramel. It's like the salt enhances the already rich taste of caramel. Plus, nearly all of us can attest to the fact that chocolate with caramel is a God-level combo. Throw some vanilla in there, and you'll be in flavor heaven!
Buttermilk Ranch Dressing
Your summertime outdoor BBQ now has the potential to become even tastier. Hamburgers, fries, chicken wings, and a host of other foods are all clamoring to be dipped in this rich dressing. And we are pretty sure it is with good reason!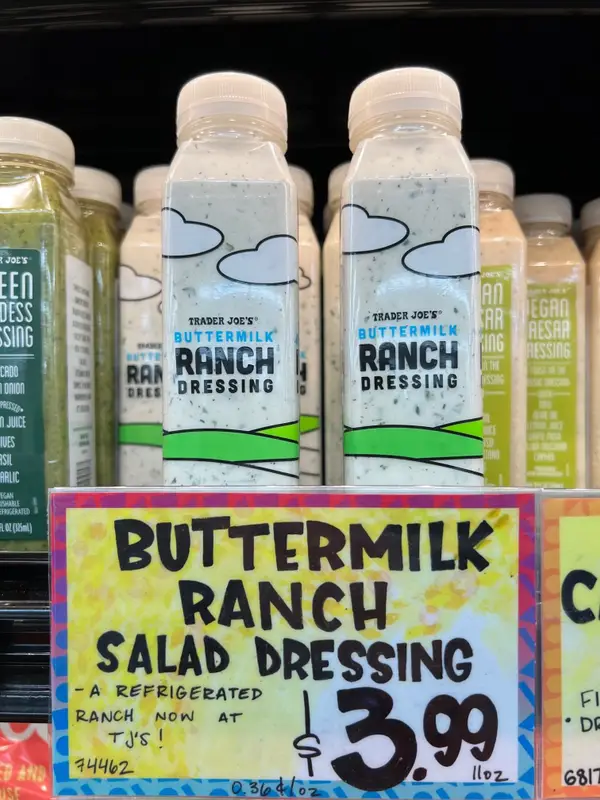 Even from the outside appearance, this has all the markings of a next-level salad dressing. Now, salads are not popular with most people; that's a given. Mainly because some lack a good flavor profile. But we have a feeling that will change thanks to this.
Whole Grain Waffles
A box filled with these makes a sensible fit for any freezer. That's because these whole grain waffles can be made into anything from sweet waffles to savory brunch sandwiches. Now that's what we call culinary multitasking. Plus, it's whole grain, so there's a health aspect to it.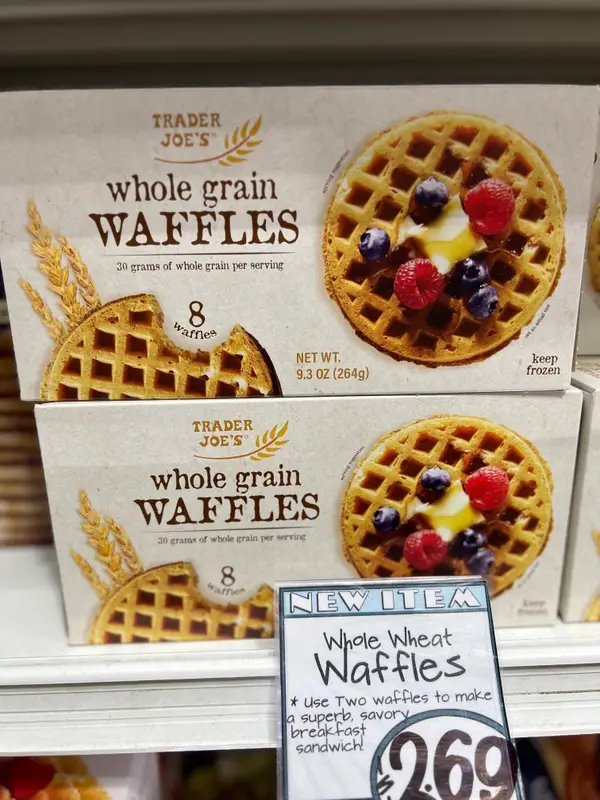 Craving something sweet for your breakfast? Worry not, as you only need to take two of these waffles and use some cut bananas, raspberries, and blueberries as filling. Finally, add some yogurt to give it that thick consistency, and you're set!
Madagascar Vanilla Bean Crème Fraîche
Are you on the lookout for a quick solution to improve the baked products you have planned to make this summer? Well, time to call off that search because we have found just the thing you need to make that happen.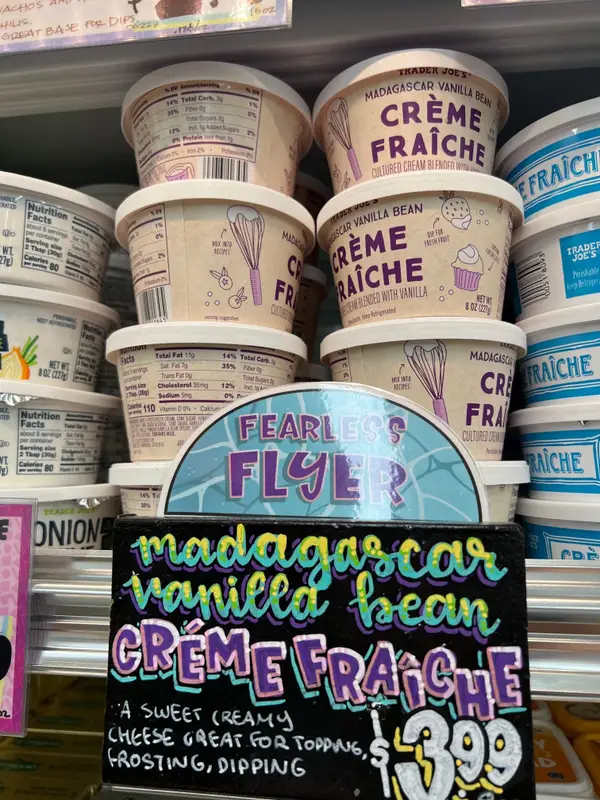 Madagascar happens to produce some of the best quality vanilla beans on the planet. So, it's a no-brainer that this créme fraiche is nothing short of magic! Can you imagine making a dipping sauce for mini-donuts using this? Bliss!
Breaded Cheddar Cheese Curds
You guys might remember that ranch dressing that we were raving about earlier. Well, we think we have found a snack that would taste amazing with it. The panko-ed and fried cheese delights we've featured below demand that they be paired with it!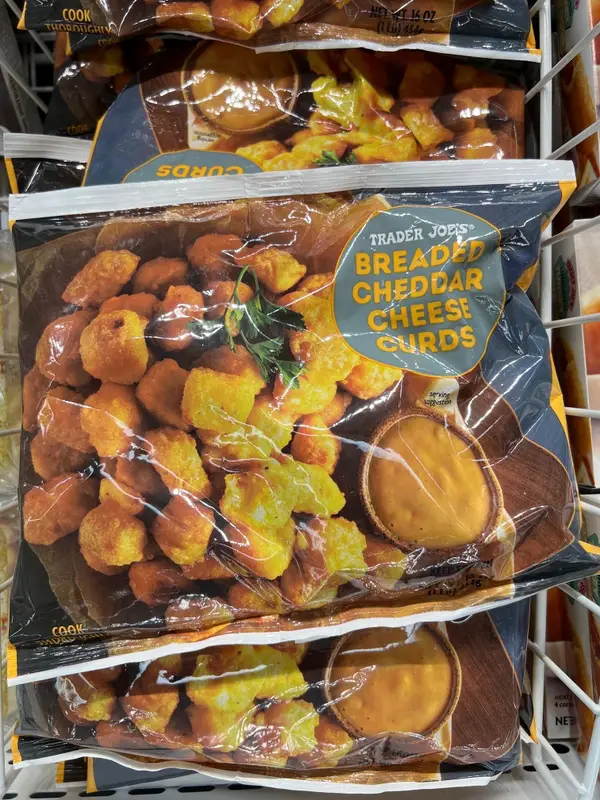 Cheddar cheese has a feel to it that makes it so homely. Maybe that's why we love to include it in most of the comfort foods we have come to love and treasure. This is no exception to that fact.
Tzatziki
T.J.'s tzatziki has returned! All ye who were waiting patiently till it hit the shelves can now rejoice! One look is enough to tell you that it comes with a fresh appearance and a very light, velvety flavor than its previous iteration.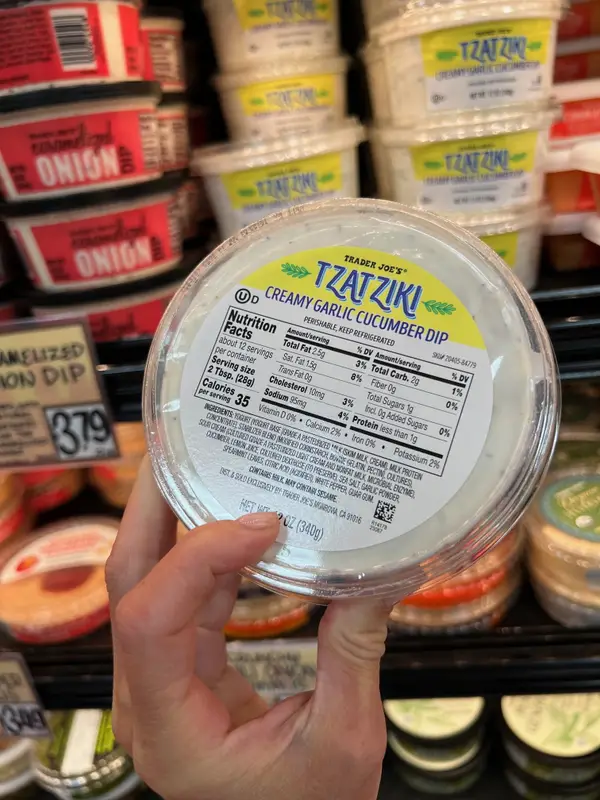 Do you know what you should do after you purchase a tub of Trader Joe's tzatziki? Go home and make a club sandwich. Instead of mustard, lather this generously on the bread and enjoy how the tzatziki brings out the meat's flavor!
El Cortijo Dorado Cheese
This cheese possesses a creamy, nutty feel that comes from the combination of cow's and sheep's milk. As such, we're not sure it's everyone's cup of tea. But we have a hunch that it will appeal to lovers of Spanish cheeses, including Manchego and Iberico.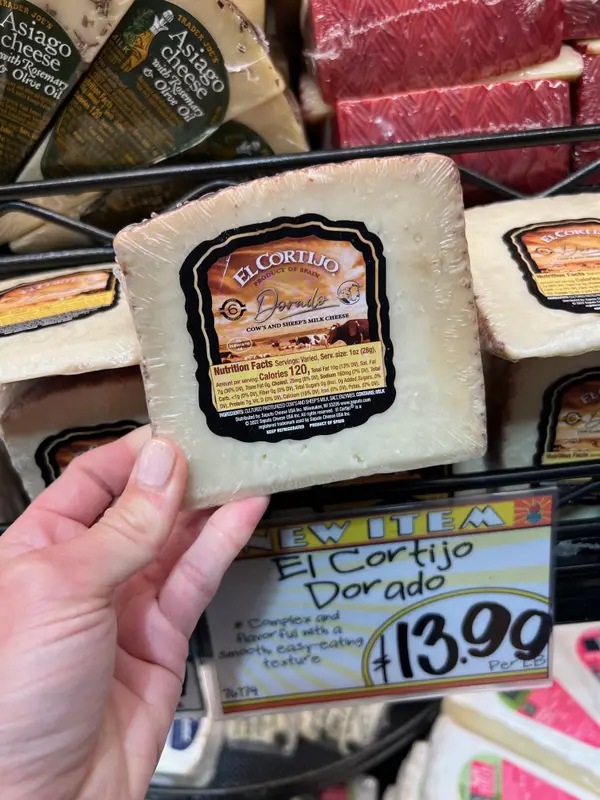 It has an easy-eating texture to it. So, if this will be the first time you're getting this, maybe try it on a sandwich first and then decide where else you want to go with it. Play to your strengths before you decide to be creative.
Gluten-Free Strawberry Muffins
We sure like to have baked goods for the first meal of the day. Along with fried eggs, the usual bacon, and sausages, a number of sweet pastry varieties tend to complement the salty and savory taste of the aforementioned proteins quite well.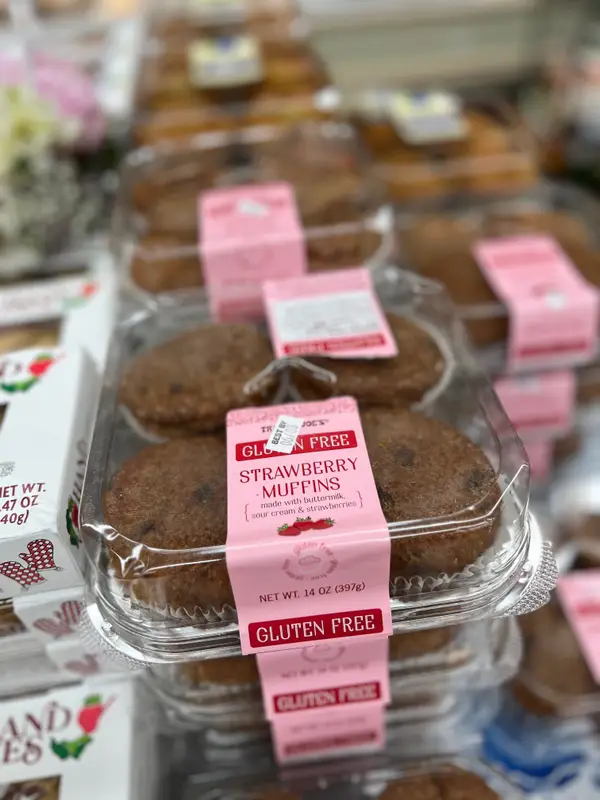 Speaking of baked goods, how can one forget the good old muffins offered at Trader Joe's? These are excellent and so soft it's like eating a Celsus pillow! They are made with strawberries, buttermilk, and sour cream. And they're back!
Roasted Red Pepper Hummus
Chickpeas are tasty on their own. You can have them as a snack, like popcorn, by simply boiling them and eating them steaming hot. Or, if you want them savory, you can try tempering them with some olive oil, onions, and chili flakes.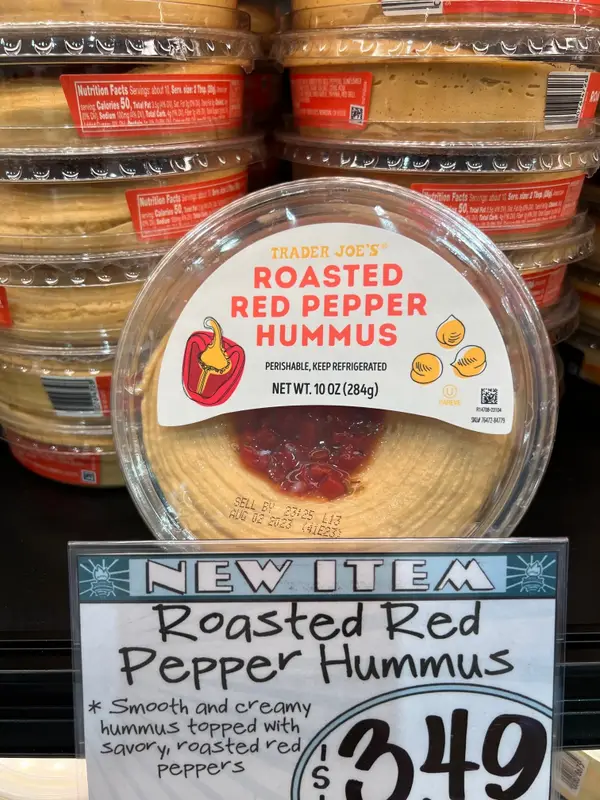 They are also versatile, like potatoes, when you think of all the possibilities. But like fries made with potatoes, hummus reigns supreme whenever chickpeas are mentioned. That's why this red pepper hummus is truly in a class of its own!
Organic Blueberry Preserves
Don't ever make this one mistake at Trader Joe's. Wondering what that would be? Well, never use these upscale preserves in place of standard blueberry jelly. That's because they are not your standard stuff. They are the Rolls Royce of blueberry preserves.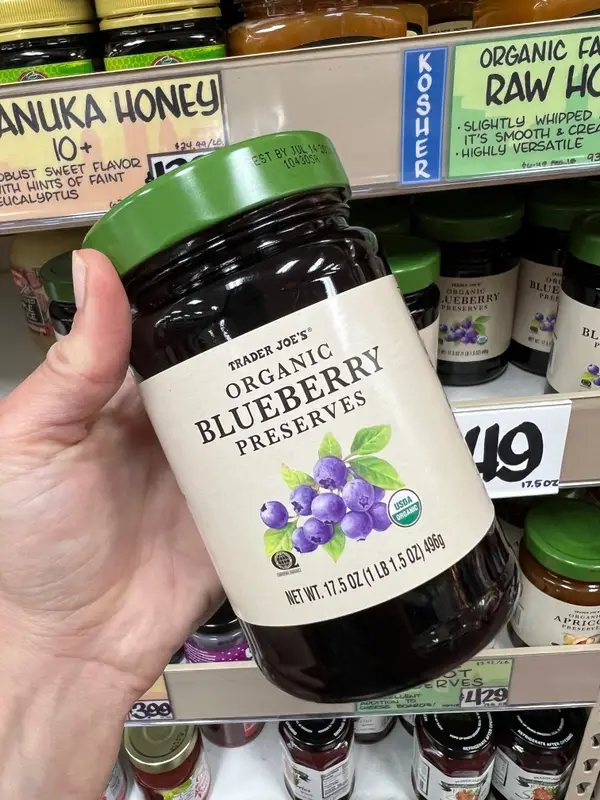 You can use this on any pastries that can be eaten with jam or jelly. Options here range from PB&J sandwiches to scones. Lather the pastry lavishly and experience how this preserve simply elevates them. The taste is something else!
Organic Mafalda Corta Pasta
Everybody likes good pasta. It is a widely accepted fact that pasta tastes better in Italy. But if you try to find the right ingredients and follow the recipe exactly without deviating, we think you can achieve something close to that.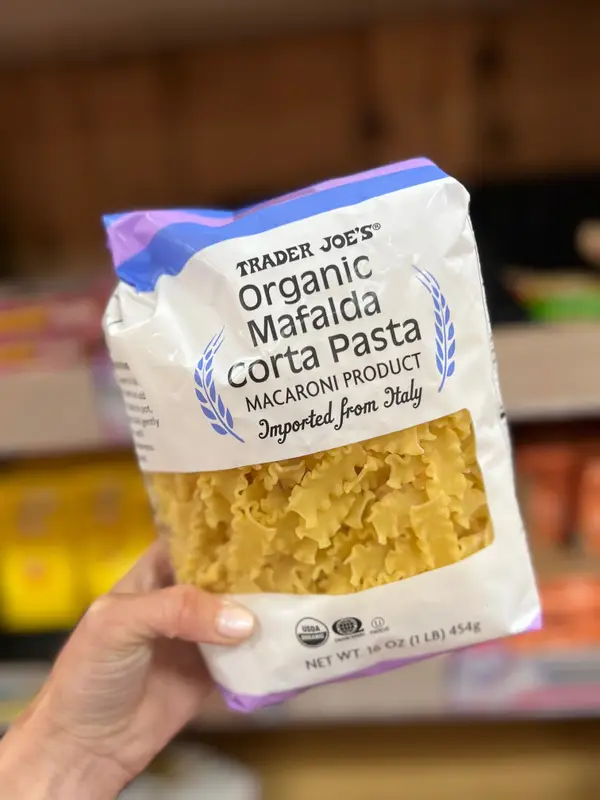 That's where this ribboned pasta comes into play. You can toss them with your preferred store-bought variety and upgrade your next pasta night. These broad, flat ribbons happen to be the ideal candidates for soaking up the sauce in equal measure.
Peanut Butter Crispy Rice Bites With Chocolate
We tend to be quite partial to the flavor present in crispy snacks. Most of these items are savory and salty, while some are sweet and chewy, which happens to be our favorite texture. And that's why we have come to love these treats!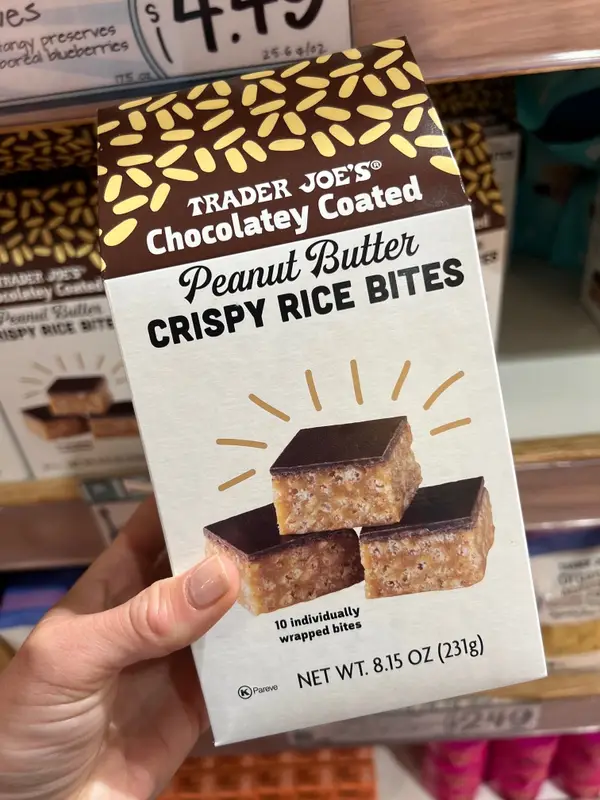 Trader Joe's now has these tasty Rice Krispie treats. They come with a delicious peanut butter filling and a layer of silky, delicious chocolate on top. What an amazing combo! If you're on a diet, beware, as polishing off a whole box is not impossible!
Sfogliatella Pastry
Italy seems to have figured out mostly everything when it comes to food. They are known the world over for their pizza, pasta, and spaghetti. That said, their pastries are also quite delicious. Just look at this specimen right here.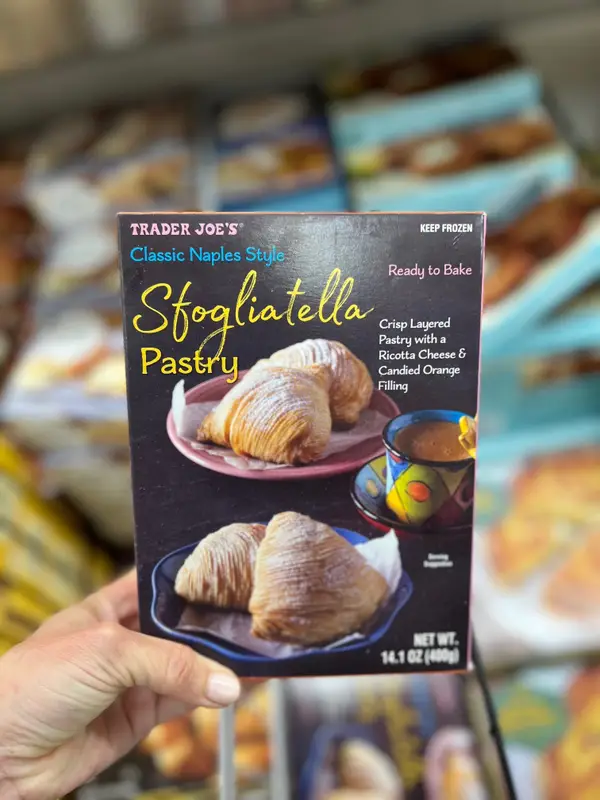 Candied orange filling with ricotta cheese seems like a vague combination. But those who have tried it attest to the fact that this is one of the best recent additions to the frozen dessert section. That's quite reassuring, and we can't wait to try.
Diamond Crystal Kosher Salt
The Jewish culture of only eating kosher, which also involves using salt primarily to drain out water from meat products compared to seasoning it, is where kosher salt derives its name. The kosher salt's crystal size makes it perfect for sticking to meat and absorbing liquids.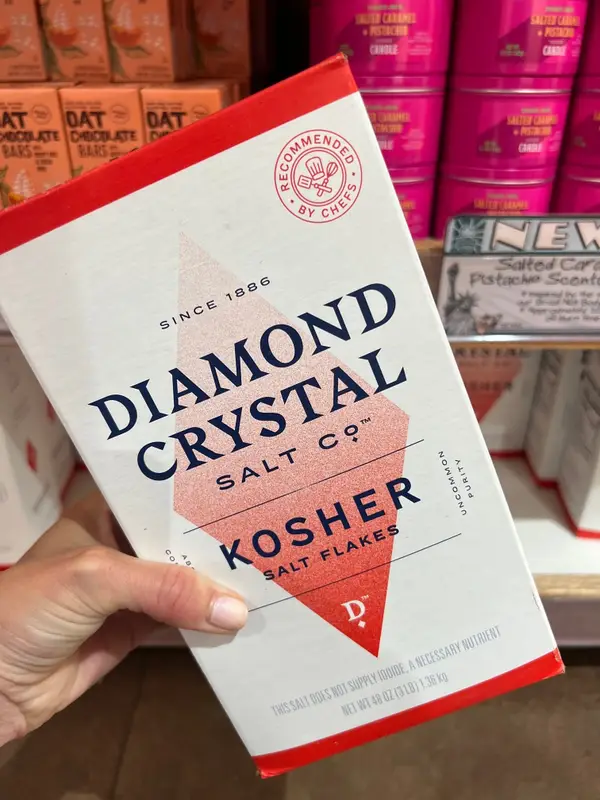 Later, they can be washed off without overly flavoring the meat. That is why it's important to get a good kosher salt brand. Trader Joe's has managed to sort you out in that regard, too, because they stock their shelves with Diamond Crystal Kosher Salt.
Fruit & Greens Smoothie Blend
These smoothies come as easy-to-blend sachets. If you look at the ingredients, you will find that they are made using a combination of strawberries, bananas, spinach, dragon fruit, blueberries, as well as kale. Quite an odd combination of food items, don't you think?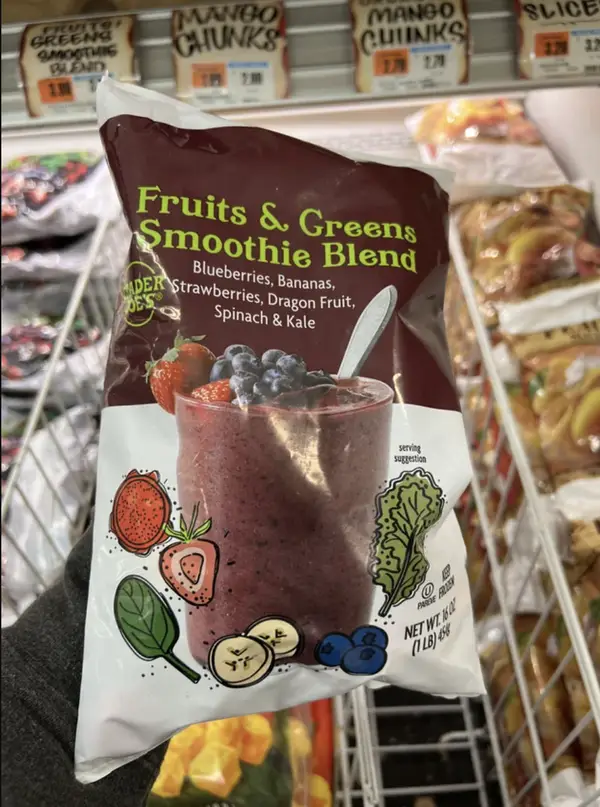 Well, not if you are conscious about your health and what you put in your body. If you veer towards the healthier side, then these sachets offer a great way to start the day before you plan on hitting the gym.
Donuts Forever
We would like to take a moment to thank the person/s who first made donuts. They surely occupy a very high place in the hierarchy of comfort food, don't they? But the truth can be stranger than fiction since these are not actually donuts!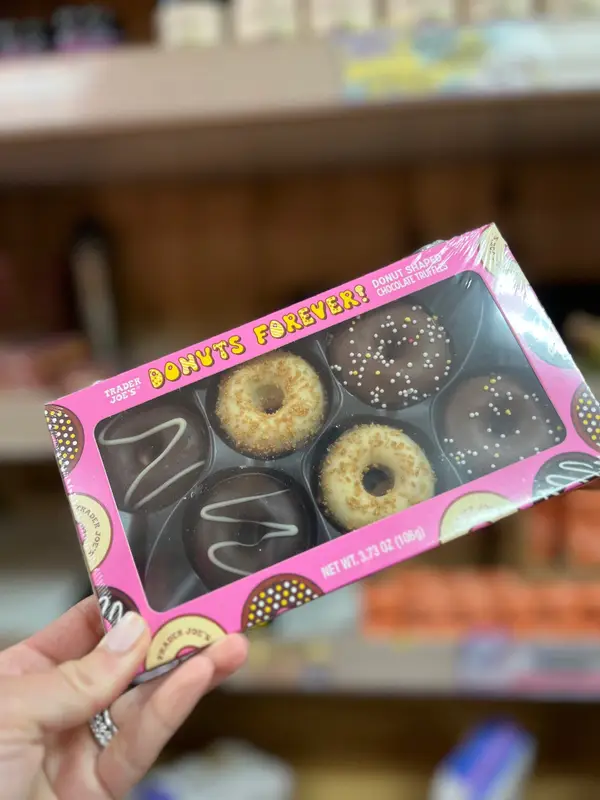 Yeah, you heard that right! These are donut-shaped chocolates. Which are actually more irresistible, in our opinion. Do you know what would be even better? Putting some of that chocolate syrup from Trader Joe's that we covered earlier on these! Too much?
Yes, to Probiotics!
There's nothing quite like an ice-cold Coca-Cola on a hot day. But it is a carbonated, artificial beverage with a lot of sugar, so it is actually not good for you in the long run. That's where this drink comes into play.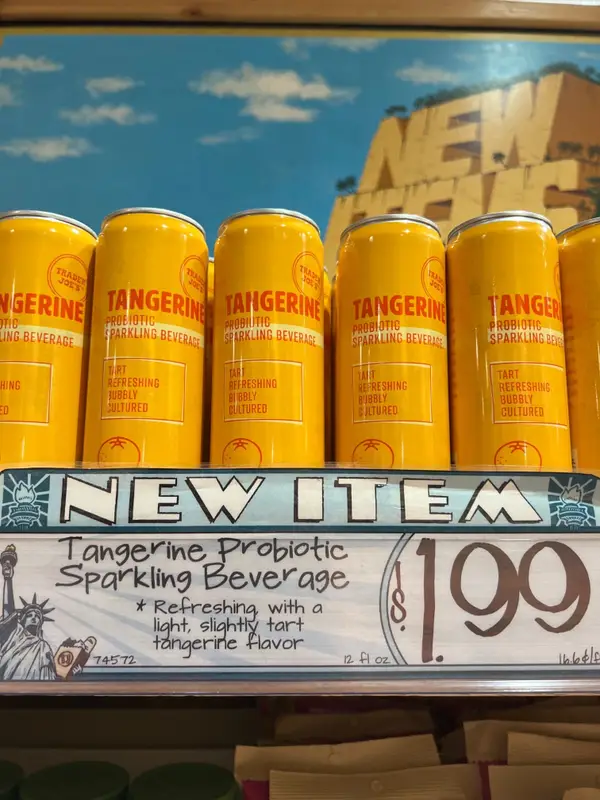 Try this effervescent mixture if you like kombucha or the flavorful apple cider vinegar drinks from Trader Joe's. It's somewhat sour, a little sweet, and incredibly cooling. It's also healthy for your gastrointestinal tract. A healthy gut equals a healthy life, we always say.
Umami Rice Crackers
We know we mentioned how people like crunchy foods in a previous item, but that doesn't mean we can't discuss it again. We decided to bring up the subject of crunchy food again because how else can you introduce these rice crackers?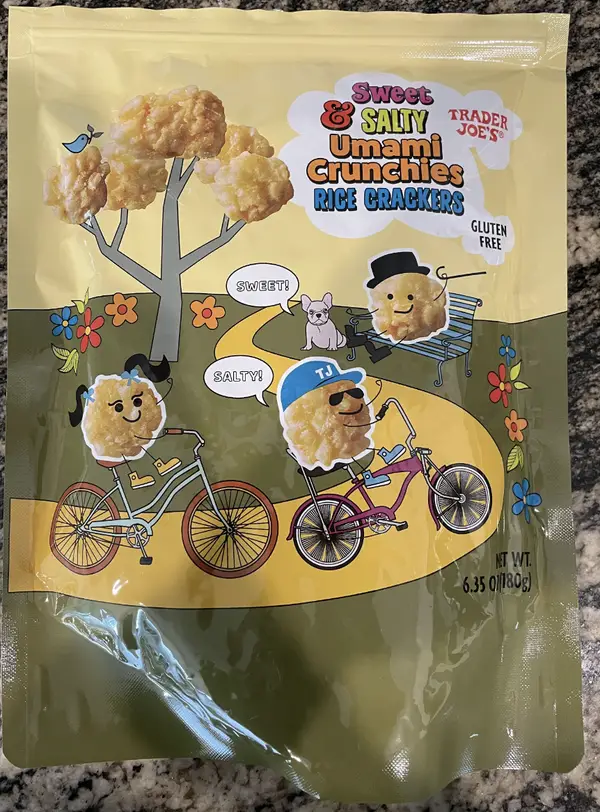 They pack a flavor profile that actually reminds us of another old product. Remember T.J.'s Synergistically Seasoned Popcorn? It was an old favorite that has since been discontinued. We think you'd like these sweet and salty rice crackers if you enjoyed that popcorn.
Enchanted Jangle
Due to the success of its Jingle Jangle mix over the holidays, Trader Joe's developed Enchanted Jangle, specifically keeping the summer season in mind. Would you guys like to know what's included in this delicious mix? Allow us to tell you!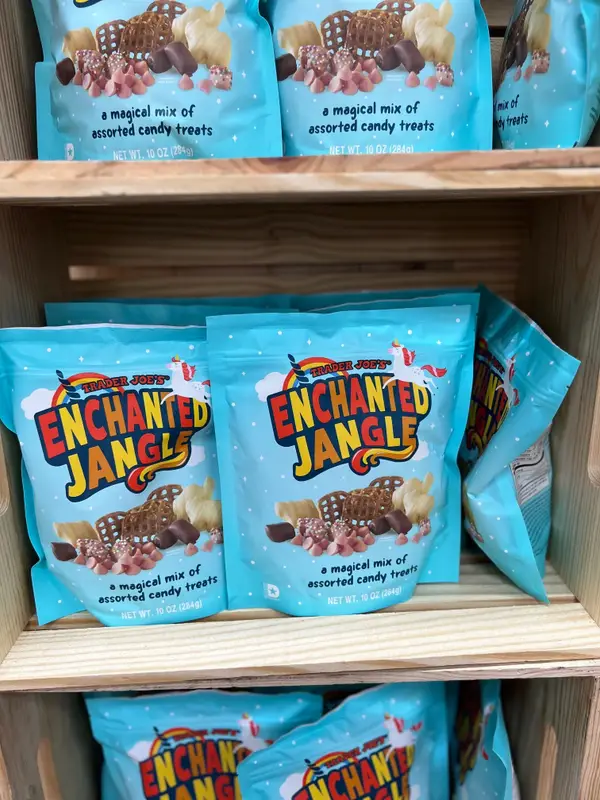 Well, there are animal cookies with lemon yogurt coating, waffle pretzels, chocolate-covered pretzel nuggets, marshmallows with strawberry yogurt coating, and so much more. Trust us and get yourself at least two bags. You will know why we said two once you start eating these treats.
Plain Cream Cheese Spread
The name may be misleading since we believe this cream cheese represents something that is leagues away from being labeled "plain." Among the many possibilities cream cheese offers, we like that you can bake it into savory meals such as baked pasta, casseroles, or jalapeño poppers.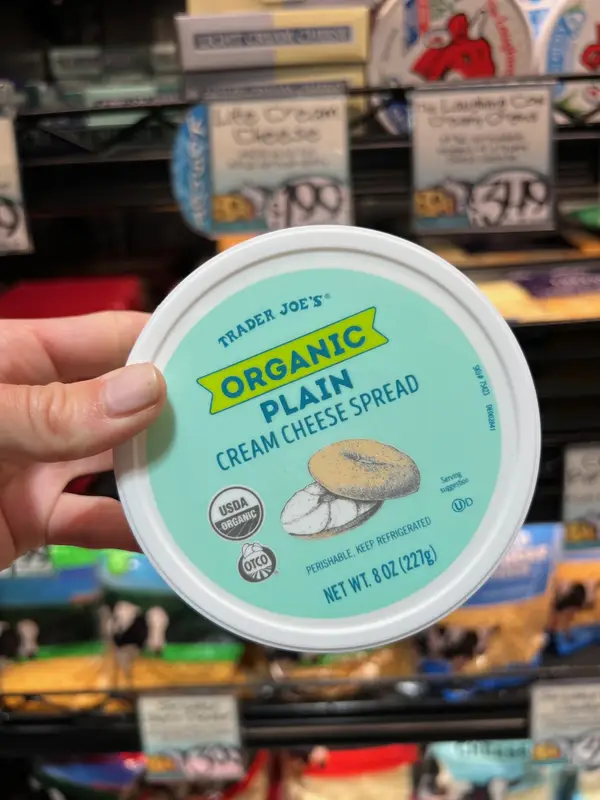 You also have the option of using this to make frosting for cupcakes. If you happen to be planning a garden party, this cream cheese can pave the way for a mean dip like a hot crab dip. Don't say we didn't tell you!
S'mores Clusters
Just like the phrase, "It's all good, man," gave birth to the character Saul Goodman, we assume that "some more" might have given birth to the sweet, beloved s'mores. That's mainly because once you taste one, you'll undoubtedly want some more!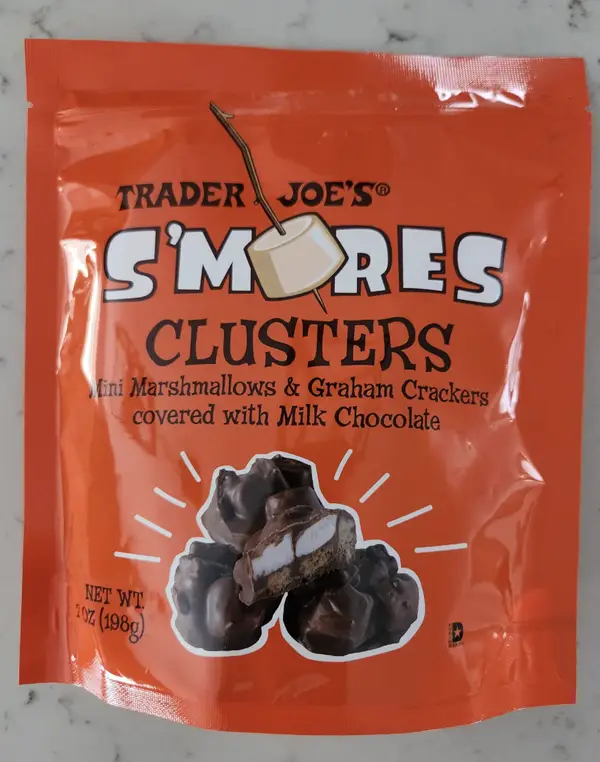 Trader Joe's has created something that will make a devotee out of anyone. Instead of putting the chocolate between the cracker and the marshmallow, they coated the entire thing in milk chocolate. Now that sounds like a treat, unlike any other!
Orange Rind Saint Paulin Cheese
Do not let the vibrant orange rind that covers this cheese put you off. Like the cheese itself, the rind happens to be perfectly edible and actually tasty. You can serve this creamy cheese on grilled cheese sandwiches (it does make superb grilled cheese).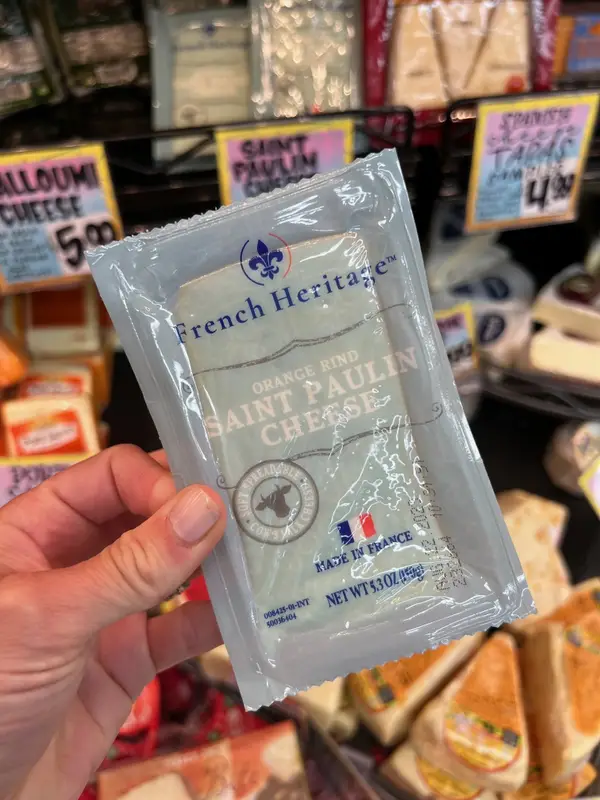 Or you can put it on top of hamburgers. Alternatively, if it's wine night at your place, this will make an excellent addition to your charcuterie board. This cheese also goes incredibly well with fruit, so if you're watching your calories, that sounds like good news!
Milk Chocolate Bar With Corn Flakes
We know it might sound a bit strange, but this milk chocolate contains cornflakes. Here's a wild thought: Since cornflakes are considered to be cereal (they are advertised as a breakfast cereal), can we call this breakfast food? We'd definitely consider that.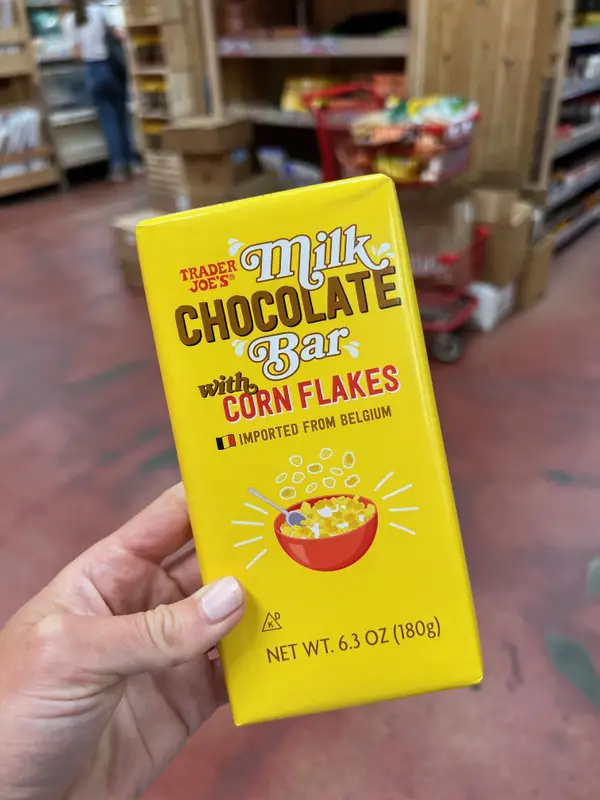 Now if your kids know about transitive property and can apply that reasoning to this, they deserve to have chocolate for breakfast! Plus, the chocolate used here is Belgian chocolate which you know is in a class of its own.
Battered Plant-Based Fish Fillets
Although the quality of Trader Joe's plant-based proteins is subject to variation, these "fish" fillets actually taste rather good. They are prepared using jackfruit and king oyster mushrooms. Ever had the opportunity to taste tender jackfruit curry and oyster mushrooms curry?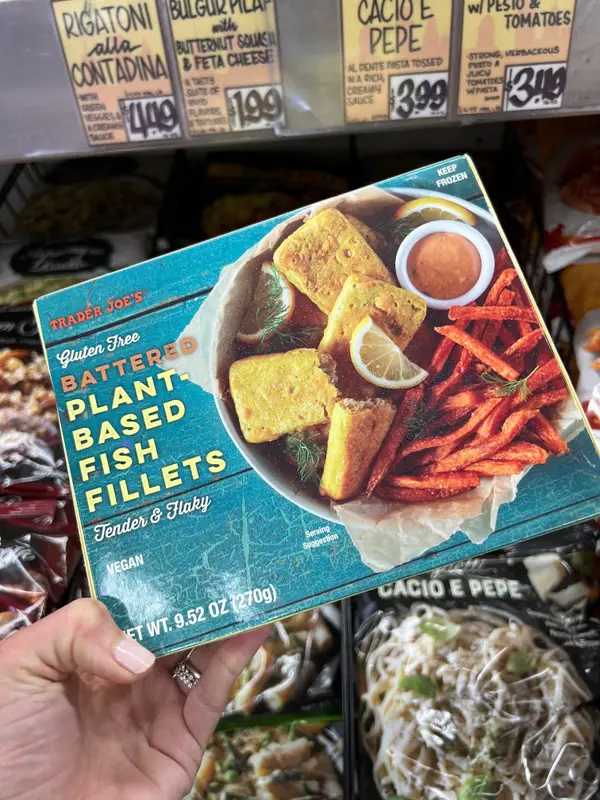 If so, you know how similar the texture and taste can be to animal protein (with the right spice blend). These are crispy since they're coated with bread crumbs and absorb the taste of anything you serve them with. What a great choice for vegetarians and vegans by Trader Joe's.
Shrimp Boom Bah
Shrimp occupies a distinguished place in motion pictures. Shrimp farming is a crucial plot point in Forrest Gump, "Eleanor Shellstrop" loves her shrimp in the TV series The Good Place, and even "Ron Swanson" can't say no to bacon-wrapped shrimp. Yeah, they taste that good!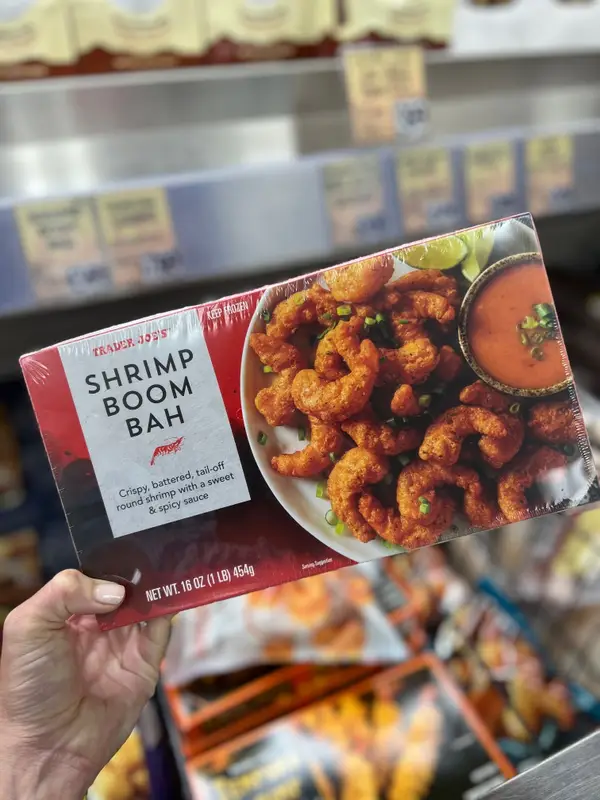 And that's why this shrimp boom bah is the bomb! Also, as a pro tip, rather than using the sweet and sour sauce, you may cover or dunk these coated shrimps in your preferred glaze, such as spicy buffalo sauce or Thai chili sauce, for that extra kick.
Florentine Lasagna
You don't have to be "Garfield" to love lasagna. It's a combination of things that anyone loves — it's Italian, and there's meat and cheese in it. Thanks to this, it has become a staple comfort food across the Western world.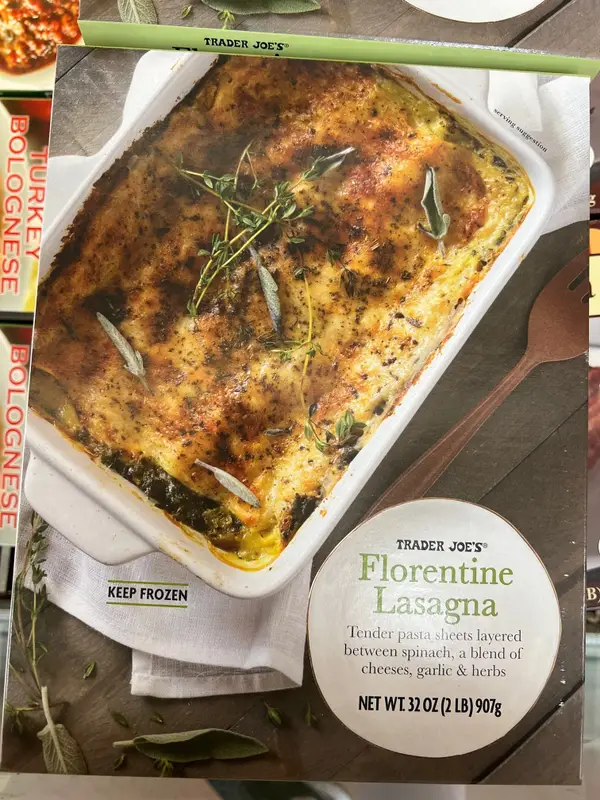 With a combination of garlic, spinach, and herbs, as well as loads of cheese, this lasagna is given a springtime facelift. Keep a box of it on hand for a quick weeknight meal. Also, add some red wine to that equation for that something extra.
Tteok Bok Ki (Korean Spicy Stir-Fried Rice Cakes)
If you've never tasted Korean rice cakes, we will help you picture what it is. Imagine gnocchi made with sticky rice. Well, that's a rough picture of what constitutes this dish. Most Asian food is like that since they've mastered the "less is more" concept.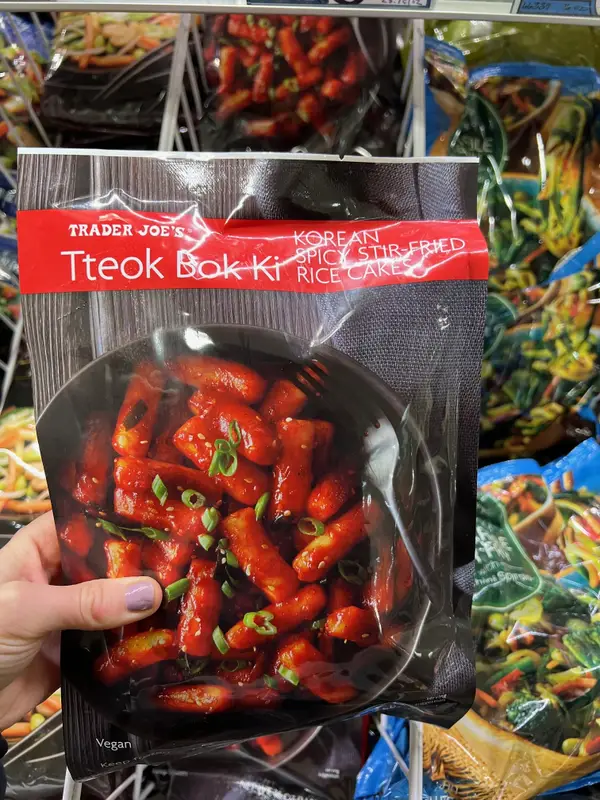 Now Koreans do love their spices. So obviously, these rice cakes come covered in a sauce that is sweet, savory, and a little bit spicy. We would advise you to consider this experience and brave the spiciness to enjoy this.
Root Vegetable Fries
There are many things that we as humans can't agree upon. But one of the few things we can all agree on is that potatoes are one of the most versatile food crops on the planet. Out of all the possibilities, French fries seem to reign supreme.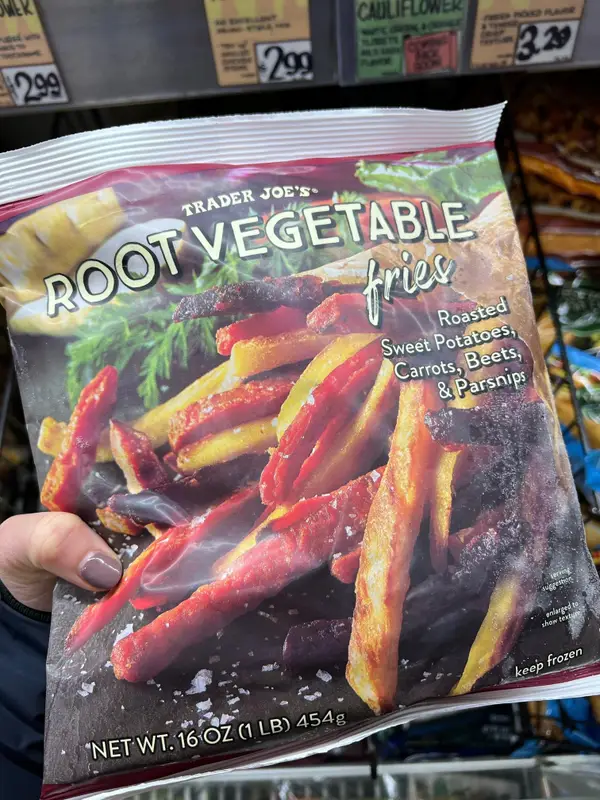 But fries don't just have to be potato based! Trader Joe's stocks fries made from sweet potato, beet, carrot, as well as parsnip. So, now you have a healthy tater alternative that goes perfectly with your burger night. Get a variety to keep things interesting!
Vegan Spinach and Cashew Ravioli
Looks like it's open season on Italian cuisine at Trader Joe's! Not that we are complaining! No sir. Whatever opportunity we get to indulge in Italian food is cherished by us. Especially when the food in question happens to be ravioli.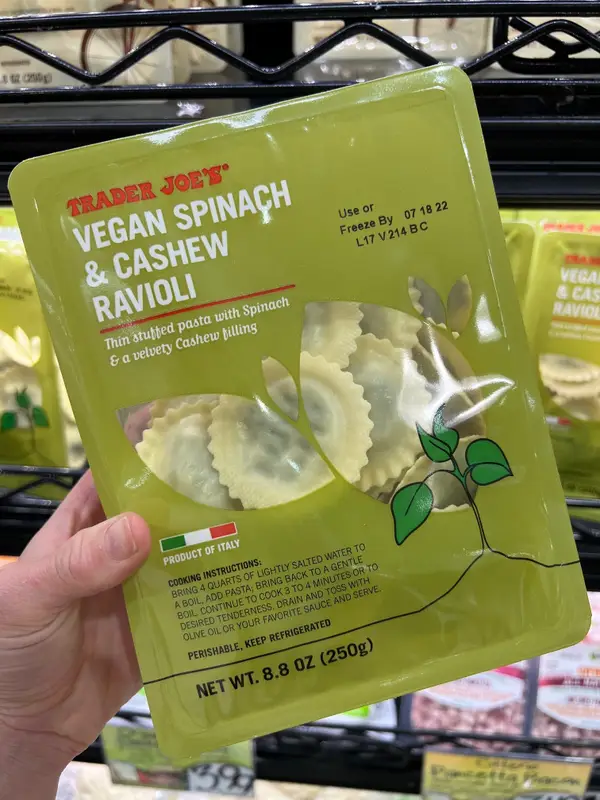 But this is not your usual run-of-the-mill ravioli. Trader Joe's vegan-friendly ravioli is an even more intriguing introduction to the already popular pasta. Luckily for us, it also happens to be filled with a piece of thick and creamy cashew cheese. Yum!
Lightly Smoked Salmon
We happen to be major admirers of tinned fish. We don't say that often because we know it may make us seem like pro-terrestrial animal-based meat aficionados. But that's not the case. We just don't pass on a chance to enjoy fish, especially when it's this good.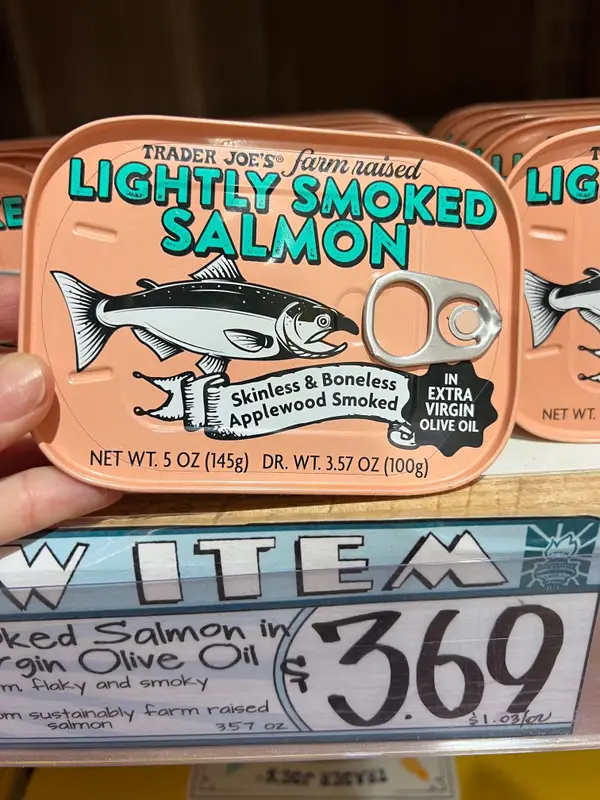 Also, this smoked salmon happens to be a ridiculously excellent deal. It tastes so delicious and just costs a little over $4. Try baking it in the oven with some salt, pepper, and rosemary. Sprinkle some lime juice on top of it, and thank us later!
Sour Cream & Onion Flavored Rings
Lentils are good for you. Especially if you happen to be a vegetarian or a vegan that wants to supplement your diet with protein. In certain South Asian countries, large lentils are deep-fried and made into a snack. Our next product follows the same path, more or less.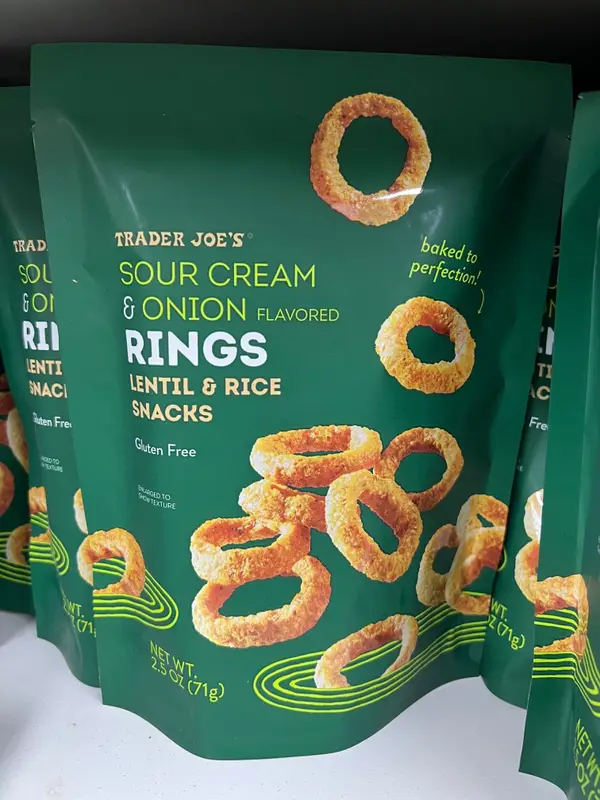 Believe us when we say that this lentil and rice snack is a hidden gem. It is spiced using sour cream as well as onion flavorings, which sounds mighty appetizing. It has the potential to become your new favorite. All you need to do is try.
Stir-Fried Garlicky Cabbage
It is imperative that we incorporate as many vegetables as we can into our daily meals. This should be the same with fruits, as natural sugar is so much better than processed sugar. Thus, it's so convenient that options like this are available.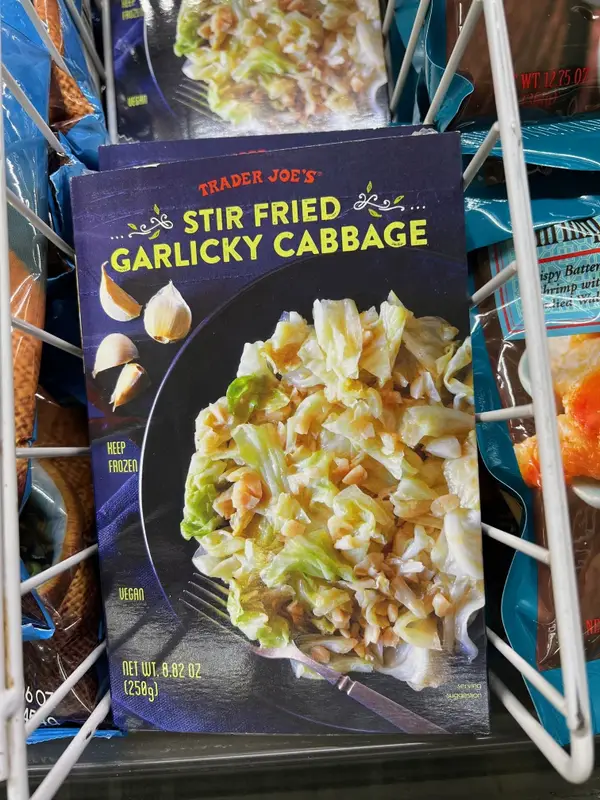 That's because it makes it so simple to incorporate fresh vegetables into your meals. Plus, because of its ingredients, it is quite aromatic. If you like garlic bread, you might actually like the garlicky nature of this cabbage, like the garlicky noodles we covered earlier.
Gluten-Free Uncured Pepperoni Pizza
We are quite eager to try this fully loaded version of Trader Joe's cauliflower crust cheese pizza. That's because we are genuinely curious to find out how it tastes. On paper, it looks pretty promising. And because it's Trader Joe's, it's somewhat reassuring.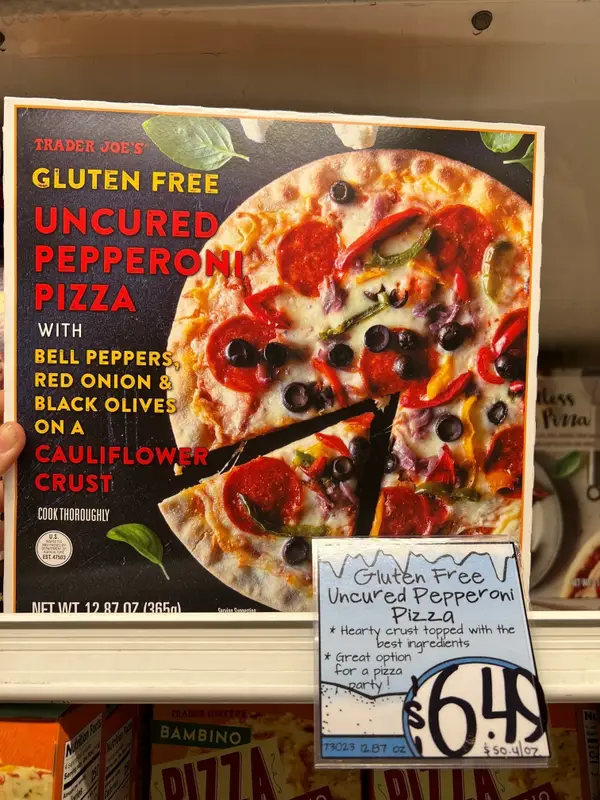 It has all the staples of a great pizza, like pepperoni, black olives, bell pepper, etc. But what intrigues us most is this cauliflower crust. It replaces the traditional dough to take on a fully gluten-free approach while still looking like a traditional pizza. Amazing.
Korean Beefless Bulgogi
For vegans, vegetarians, or anybody else looking to reduce their overall meat consumption and try something new, this is a dish you certainly must try! Would you believe that this is actually meatless? It looks pretty fleshy, but it is actually not!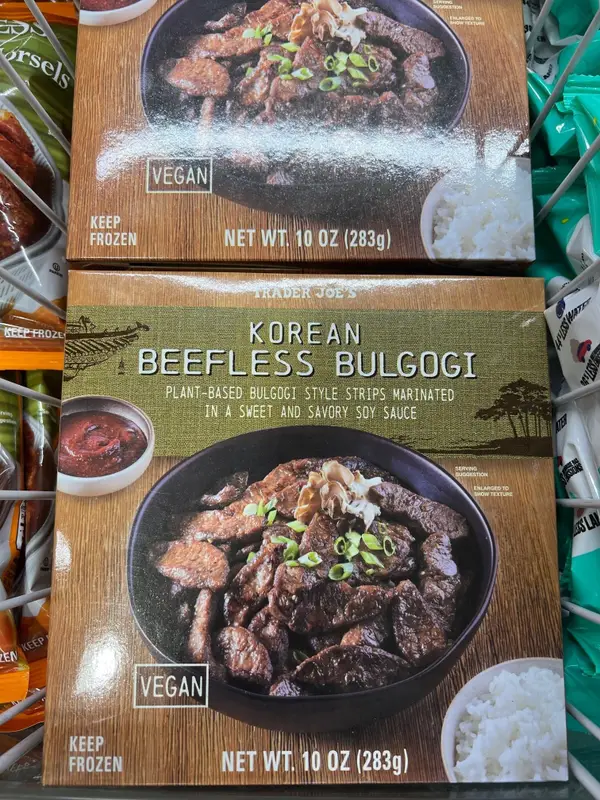 This dish happens to be Korean-inspired BBQ beef. It is an interesting new addition to the already unique offerings by Trader Joe's. We would love to try it with Trader Joe's japchae noodles or some jasmine rice, with some stir-fired veggies on the side.
Egg Bites
Eggs are almost as versatile as potatoes. This is something we have discussed in this listicle a couple of times. Poach it, fry it, boil it, scramble it, the options go on and on. That said, this will actually become a new favorite of ours.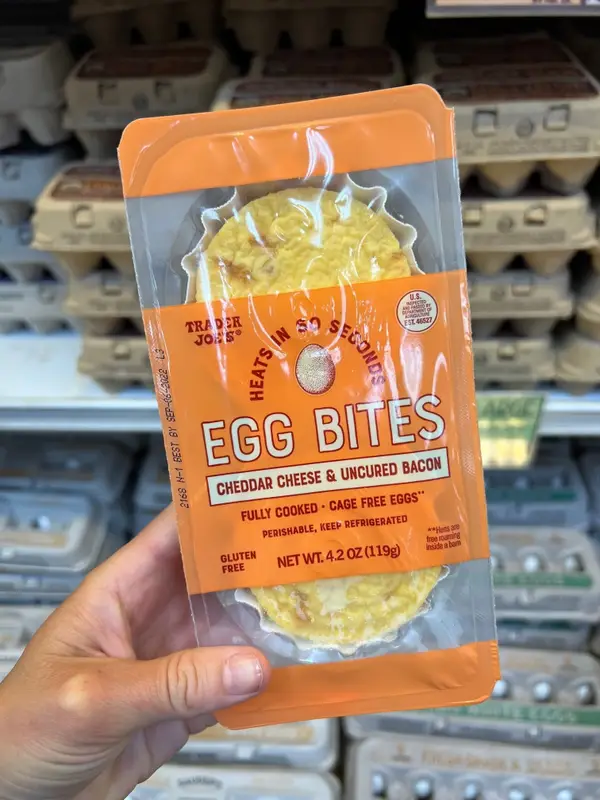 These completely cooked egg bites come in two different flavors: one is cheese, spinach, and kale, while the other one is cheddar plus uncured bacon. They make an excellent on-the-go breakfast or snack because they are easy to prepare and filled with protein.
Tirokafteri
What's better than a cheese dip? That question will actually make you scratch your head. A good cheese dip has the ability to transform even the most mundane-looking vegetable into a snack unlike any other. Carrot sticks and cheese dip? Yes, please!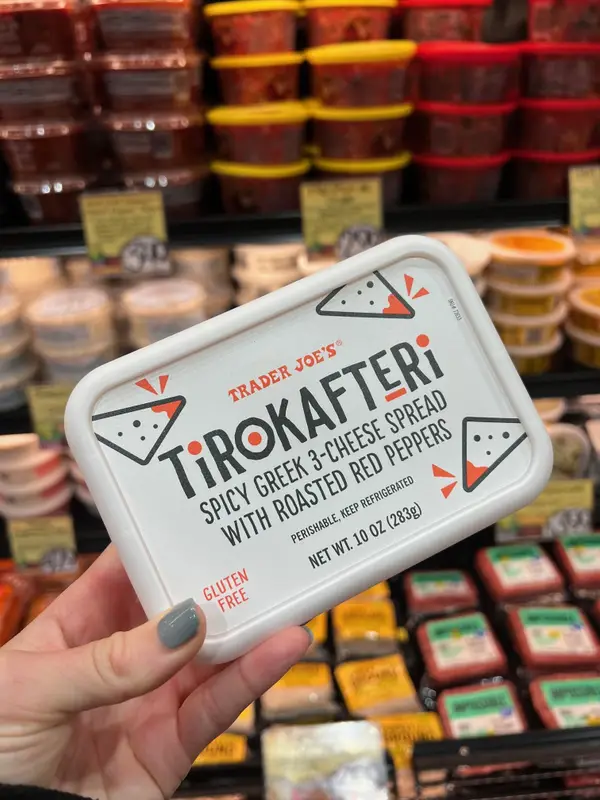 That's where this cheese dip makes the entrance of a lifetime. Serve this red pepper-mixed three-cheese spread alongside some crunchy pita and your preferred vegetables. That will surely make for an appealing twist on the party dip aisle. Happy faces everywhere you look!
Sweet Cannoli Dip
What could possibly be awful about something that resembles both cheesecake dip and cannoli filling? The logical choice for a dipping vessel could be a waffle cone when you consider the options presented. But what matters most is that you enjoy this dip.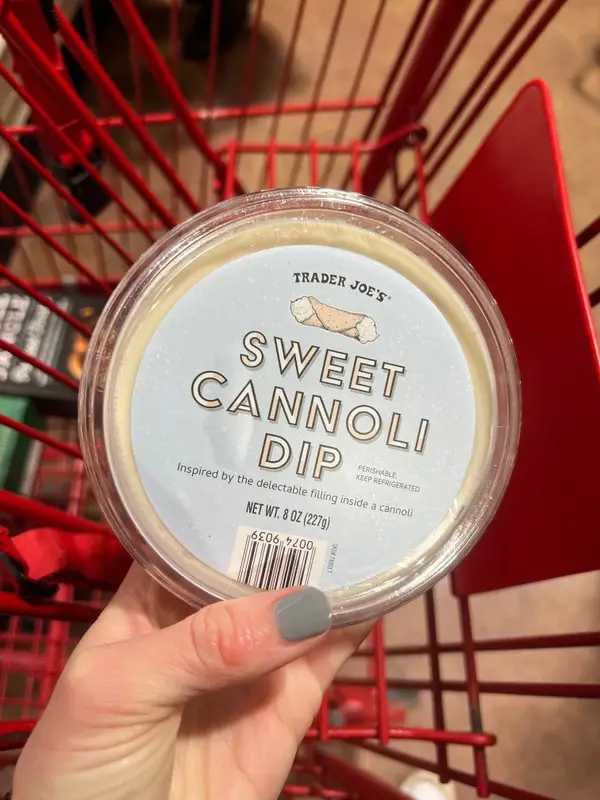 Come to think of it; a stroopwafel might be the best solution for this dip. Lather this generously between caramel-filled stroopwafels, and you have a veritable feast in the palm of your hand. Just mentioning that combo makes us drool!