Ergonomic Excellence: 40 Products That Make Sitting For 8+ Hours A Breeze
By Navkiran K September 10, 2023
---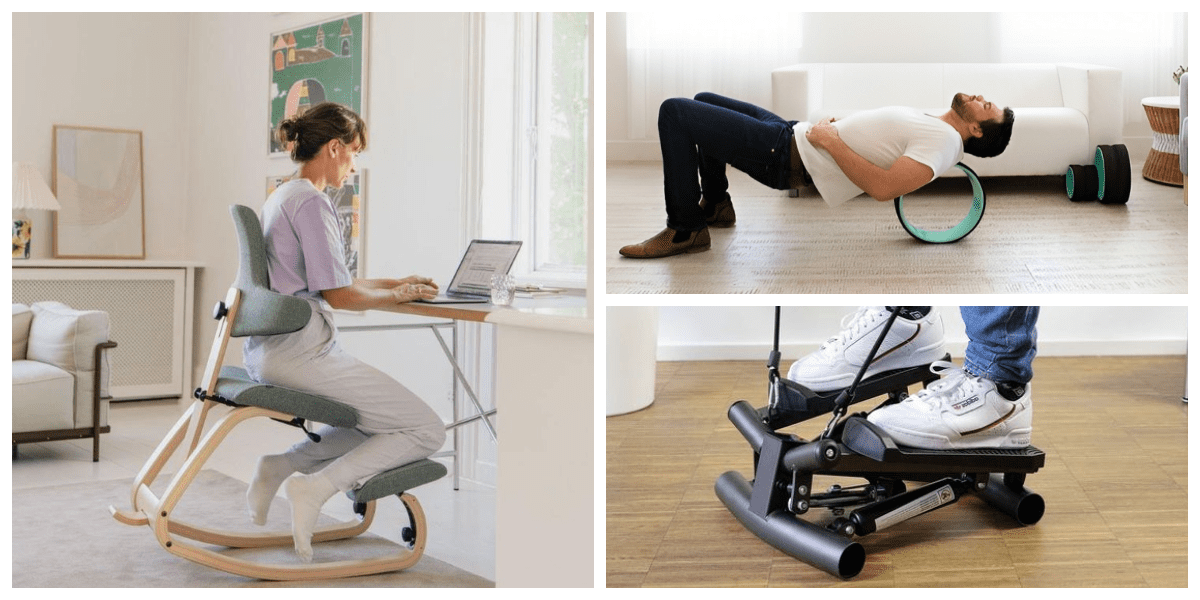 The tech world today has impacted us all. We spend long hours at our desks for work, study, or simply catching up on our favorite shows, mastering productivity at the cost of extended sitting sessions, for which our bodies pay the price. Hence, office accessories aren't just pieces of furniture; they're your partners in crime for a comfier, more ergonomic, and downright awesome workspace.
In this article, we'll explore a range of ingenious solutions and must-have items for the sedentary lifestyle to be more enjoyable, healthier, and productive. These may range from essentials to wellness-boosting gadgets. So, if you sit for at least 8 hours a day, these nifty inventions are your best friends for better posture and a happier back.
1. The adjustable mesh desk chair
Stop using the unforgiving dining room chair from the dark ages because it's time for an upgrade. The adjustable mesh desk chair is what you need. This chair's got your back, literally, with its breathable mesh goodness and lumbar support.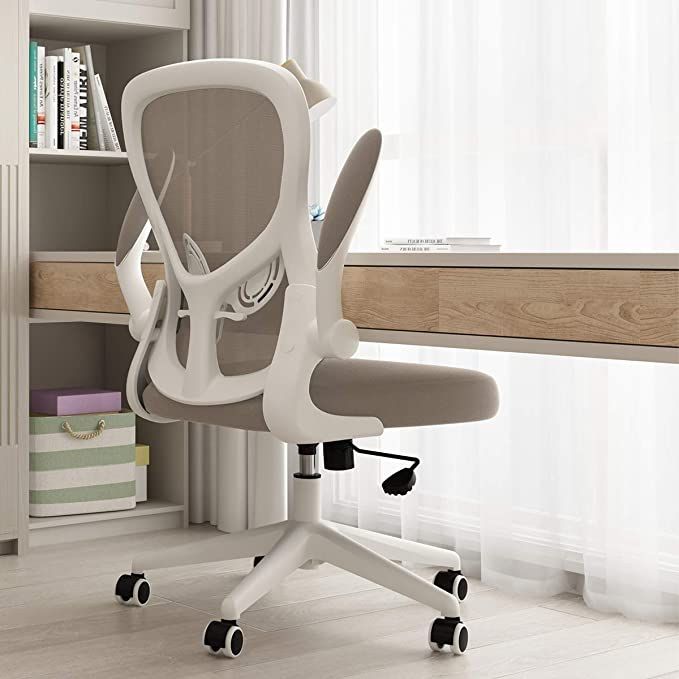 The chair makes you wonder how you ever survived without it till now. And with it, you'll have no more awkward, straight-back situations because this baby comes with adjustable flip-up armrests and neck rest, turning your workspace into a comfort zone.
2. Felt chair
If you're looking for something even more versatile, you can check out the felt option, the superhero of portable comfort. This thing is so light you'll think it's made of feathers, and there's a handy handle on the side, making it easy to move around from room to room.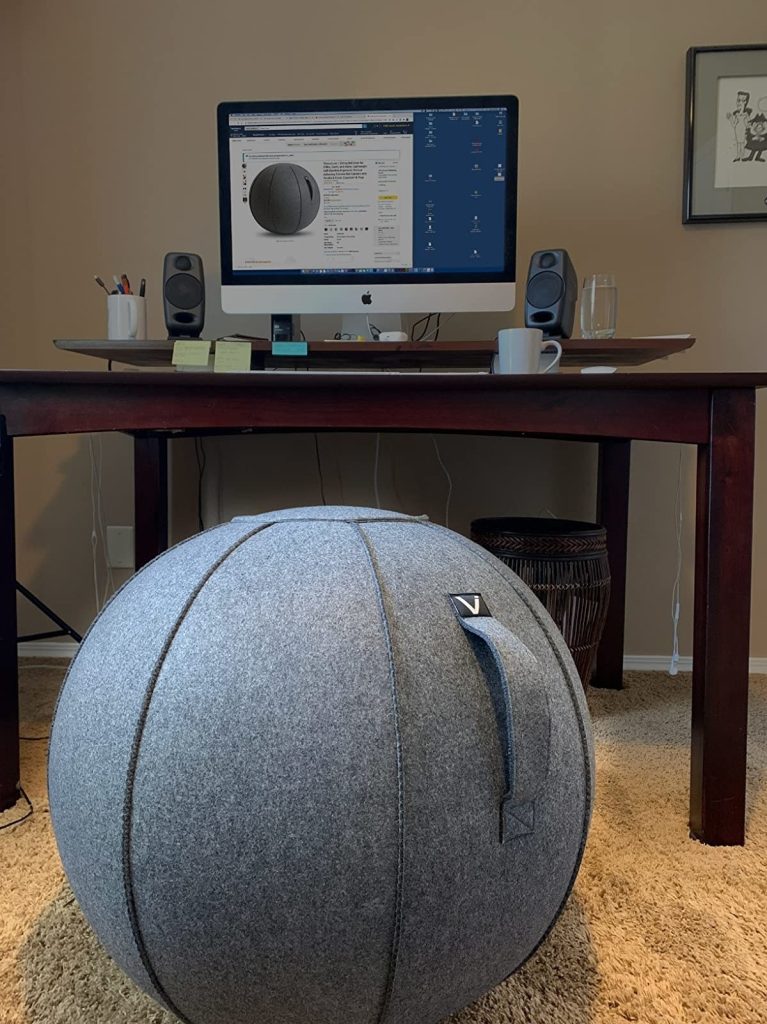 Additionally, it keeps your core and leg muscles active while sitting. And about keeping it clean, it's machine-washable so that you can say goodbye to any spills or stains. It's the ultimate, low-maintenance, muscle-strengthening, on-the-go companion for your workday.
3. Memory foam chair cushion
A piece for those days when your butt feels like it's taken a beating from your chair. That's where the Memory foam chair cushion swoops in to save the day. It's all about making your bum comfy, especially when stuck in one spot for hours.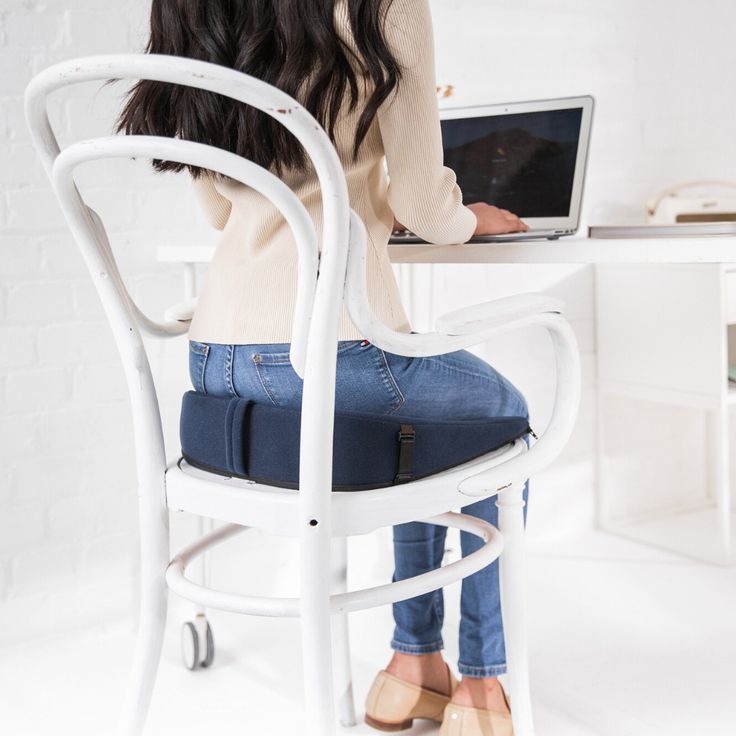 This cushion covers your backside, whether your office chair or a car seat. It supports your hips and lower back. Say goodbye to that numb feeling and hello to better posture and less pain. It's your ticket to a comfier seat, wherever you are.
4. Memory foam lumbar pillow
If you sit in one place and grind for hours, your back screams for help. Enter the memory foam lumbar pillow, your back's new best friend. This cushiony wonder is designed to save your spine from the desk-bound blues. It gives a hug to your lower back and excellent lumbar support.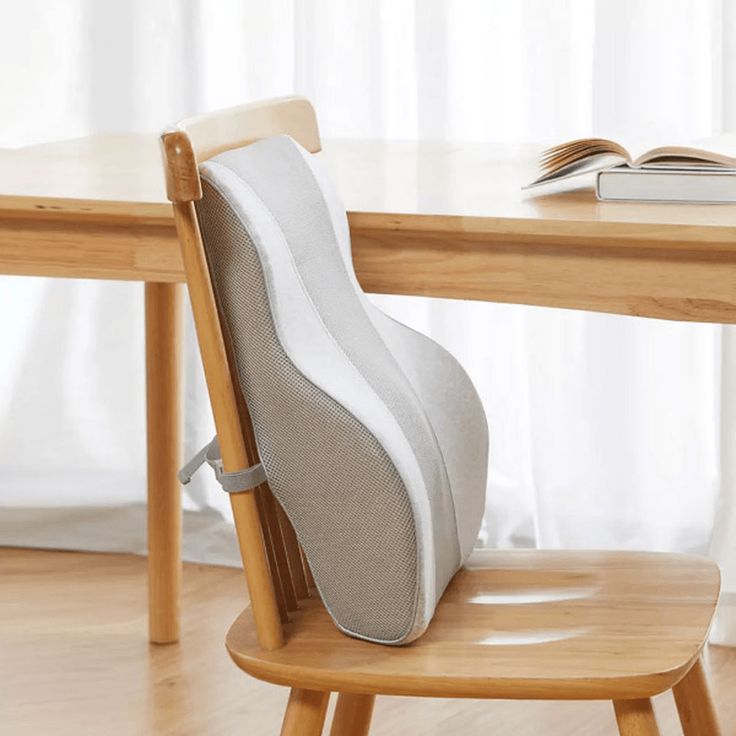 You can easily strap it to your chair and customize its height and position to find your sweet spot. Oh, and it's not strictly for work – you can use it for better sleep, or take it on road trips. It can even become your ally during pregnancy. This pillow's got your back, quite literally.
5. Adjustable foam footrest
You're at your desk, and your feet hang like a kid on a high chair. Well, that's where the adjustable foam footrest makes them feel like royalty. It's like a mini-furniture piece to ensure your feet' height matches the chair.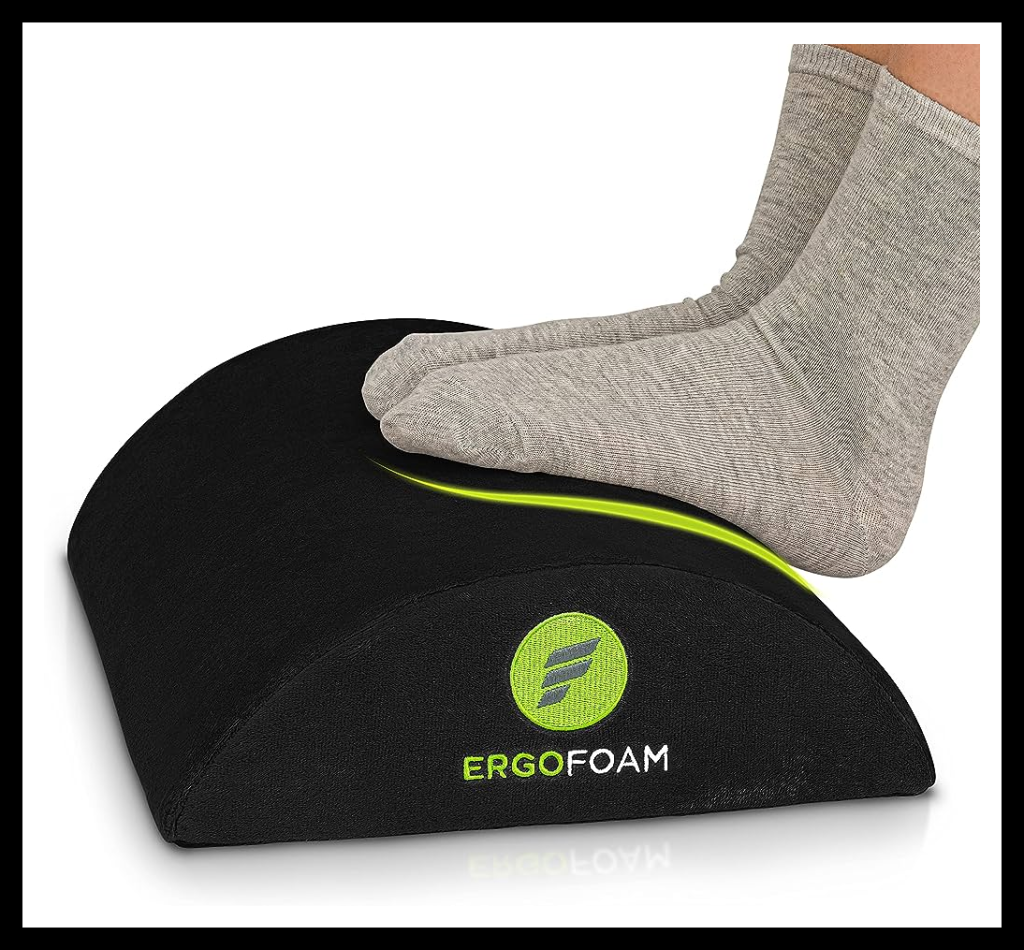 This footrest elevates the ground to meet your feet' needs. But it's not just a boring footrest. It's also a fidget-friendly rocker. When you're feeling restless, flip it, and it becomes a foot rocker. It's like a foot spa but for your workspace.
6. Long dry-erase calendar
A year-long dry-erase calendar keeps your schedule in check without constantly getting up and looking at your digital calendar. It can be used to keep track of events, deadlines, and meetings. It's also a lovely decor piece when framed, adding a touch of sophistication to your workspace while keeping you on top of your game.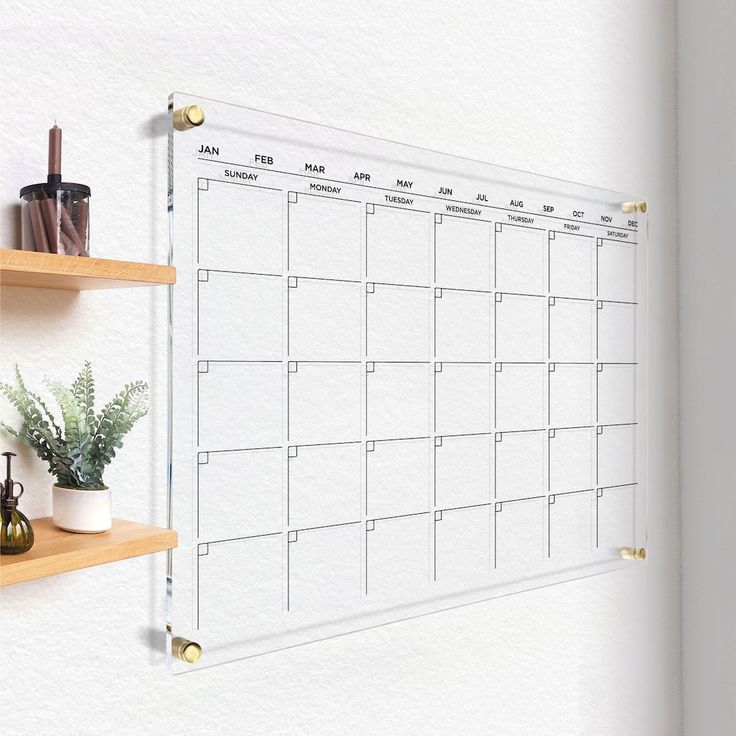 The best part about a dry-erase calendar is that it's easy to work with. You can change your plans and jot down new information without worrying about wasting paper. It's a green way to keep your life organized and clutter-free.
7. An ergonomic mouse pad
An ergonomic mouse pad is like the cozy sweater for your desk, designed to provide you with ultimate comfort and support during those long hours of clicking and scrolling. The raised, cushioned wrist rest ensures that your hand and wrist stay in a natural, pain-free position while you work or game.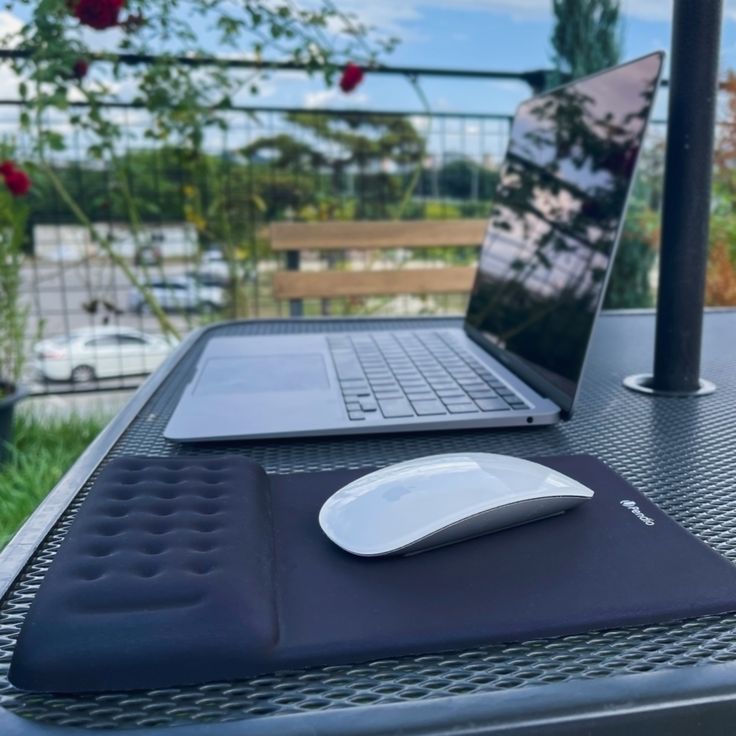 The smooth, textured surface of the pad enhances your mouse's tracking accuracy, allowing for smoother movements and precise clicks. It's like giving your mouse a performance boost. These pads come in various styles and colors so you can choose one that matches your personality.
8. A stress ball
A stress ball is a tiny but mighty remedy for those moments when life's pressures take their toll. Just squeeze it, and you'll feel the stress melt away. Also, many folks find that kneading and squeezing help sharpen their concentration.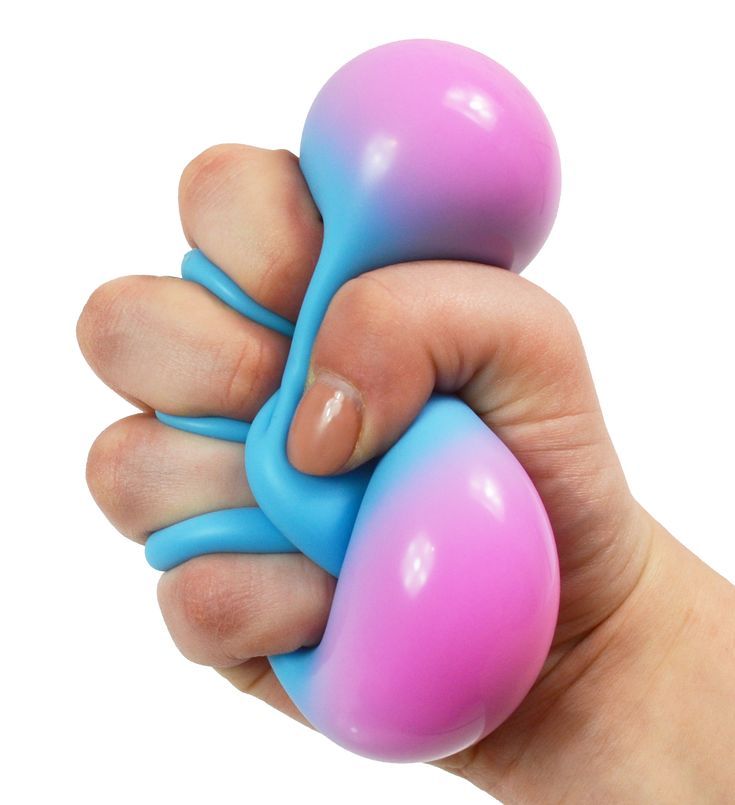 It's a secret weapon for staying on point during those marathon work or study sessions. Plus, it's portable, so you can easily chuck it in your bag. Whether tackling a mountain of tasks or simply needing a moment of tranquility, the stress ball has your back.
9. Water tracking chart
You can keep a water-tracking chart to level up your hydration game. This chart helps you stay focused even when work has you swamped. You can create a simple chart, break it down into your work hours, and make it your hydration map. If you have scheduled breaks, use them as a water pit stop.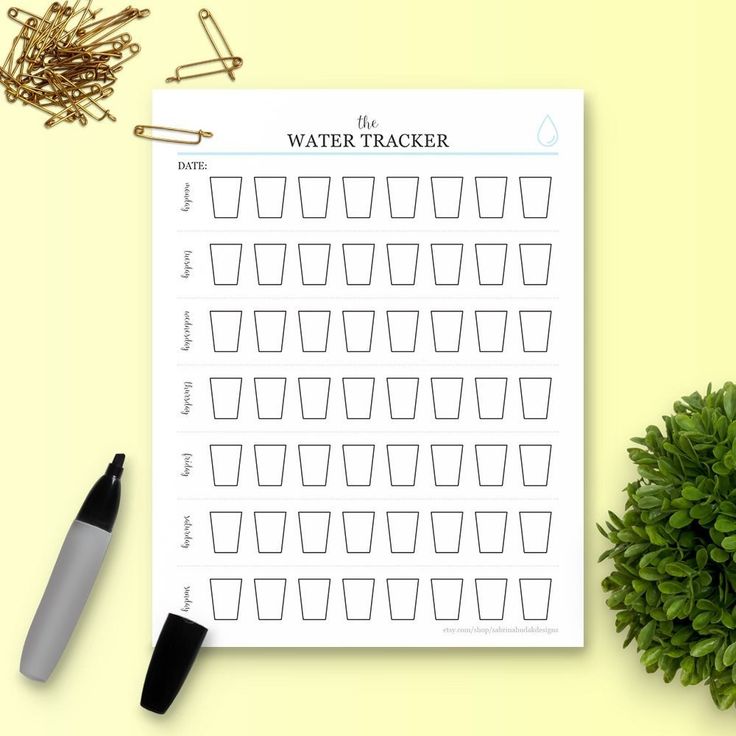 Moreover, staying hydrated can help reduce the risk of discomfort and health problems often associated with extended periods of sitting, such as muscle stiffness, joint pain, and digestive issues. Your body will be active, you'll feel fresh, and your skin will glow positively.
10. Standalone clipboard
Next is a gorgeous standalone clipboard, an organizer for your papers, notebook, or even a small tablet, making them easily accessible right next to your computer. But it's more than just pretty; it's practical and portable. It's comparable to a mini command center for keeping your workspace tidy.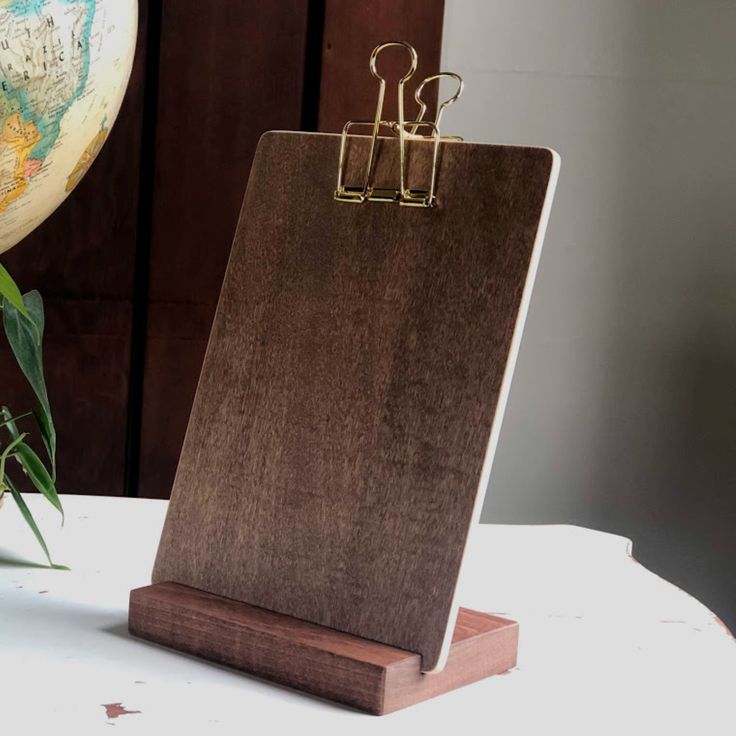 And when you're on the move or need a change of scenery, this clipboard is your trusty companion. Pick it up, and you can take your organized work essentials, whether moving between rooms or hitting the road. You now have a personal assistant that's chic and versatile. 
11. Time-marked bottled water
A super popular time-marked water bottle is like a personal hydration coach, giving gentle reminders to start your day right with water instead of chugging. Dehydration side effects like headaches and sleepiness can cramp your work style, and this bottle can keep you on track.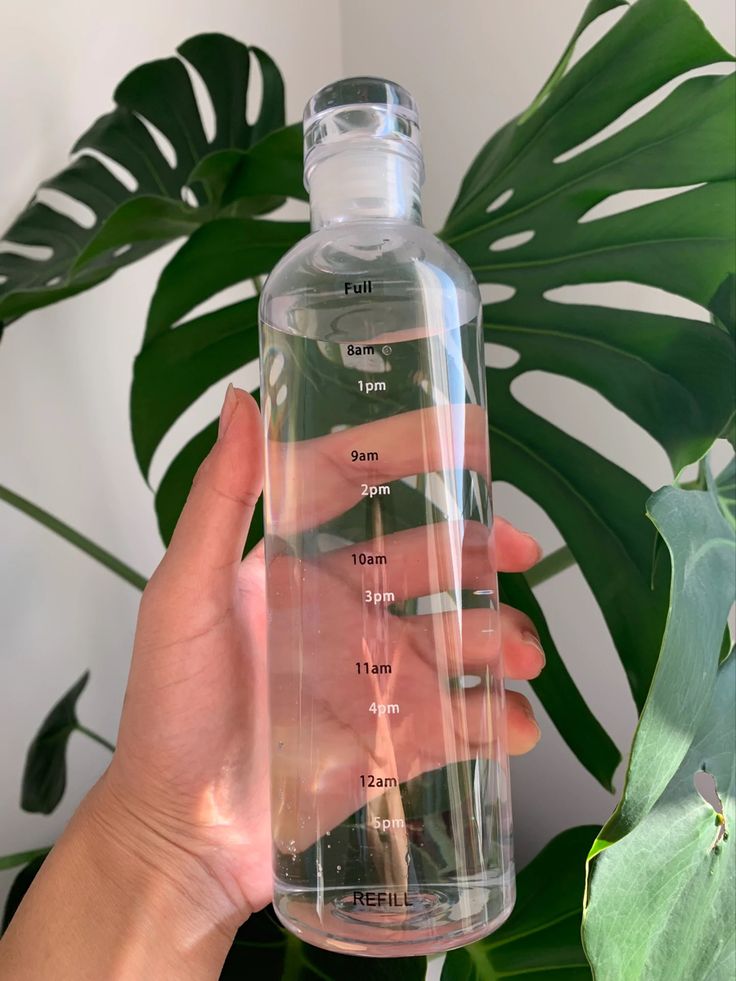 Those time markers are like friendly nudges, helping you pace your daily water intake. You can use it at the gym, during workouts, or even on outdoor adventures to ensure you stay adequately hydrated. It's a trusty hydration sidekick, helping you stay energized and focused during those long hours.
12. Chirp back pain relief set
Chirp back pain relief set is the ultimate rescue squad for those days when your upper back, neck, and shoulders feel like they've turned into a tightly wound ball of yarn from all that desk hunching. It's a 5-inch-wide wheel designed to slip right between your shoulder blades.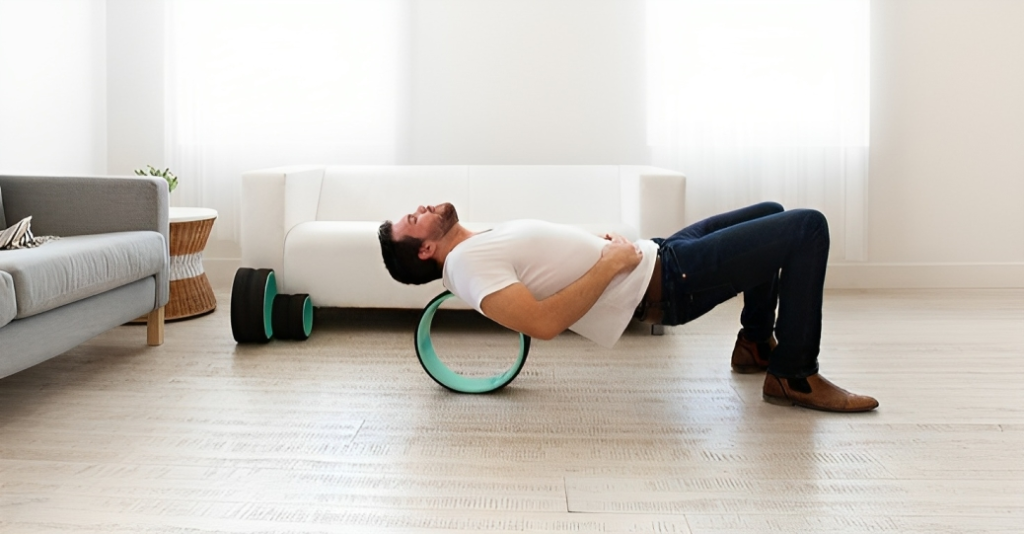 It's a personalized therapist that offers the correct pressure as you roll, giving you the most incredible stretch and immediate relief. And just like that, the knots and discomfort are gone. You can use it during work breaks for better body mobility.
13. Cordless Logitech vertical mouse
The cordless Logitech vertical ergonomic mouse is for the endless struggle with laptop trackpads. People dealing with carpal tunnel, arthritis, hand pain, or mobility issues can find relief from this. It's a breath of fresh air for your hand as you work on the computer.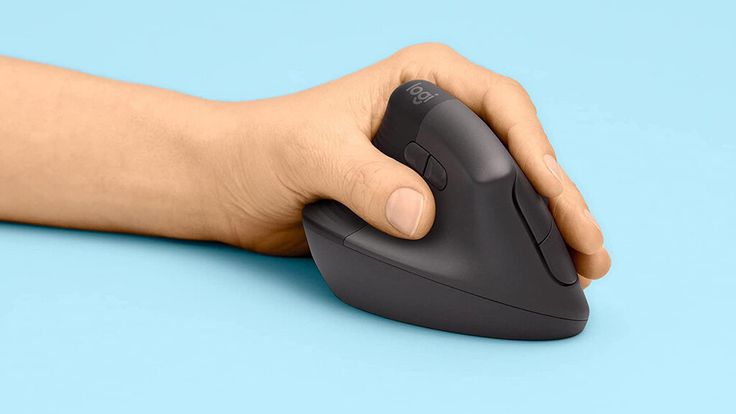 The best part about the mouse is its vertical design. It gives your wrist a break and encourages a more natural hand position. So you can now say goodbye to that awkward claw grip and hello to a handshake with your mouse.
14. Blue ray glasses
A pair of blue light–blocking glasses is an essential shield against the digital world's glare. We already spend enough time glued to our phone screens and computers. Hence, these glasses are here to save your eyes from the rays that lead to messy sleep cycles, headaches, and eye strain.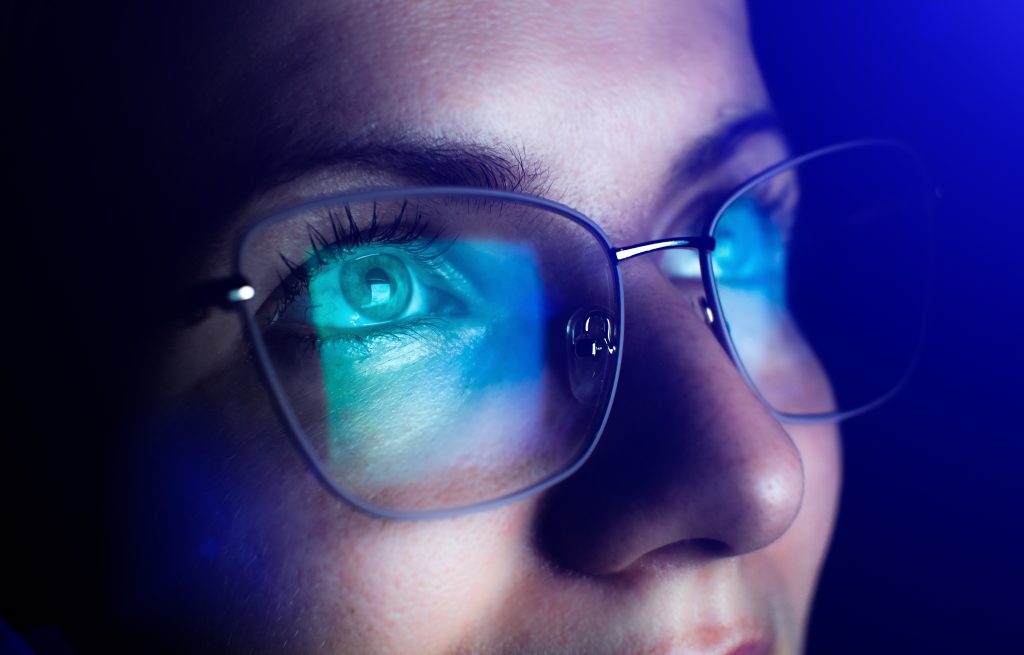 You can rock these stylish frames anytime before a screen, binge-watch your favorite shows, or scroll through Instagram. It's a fashion statement with a side of comfort. You can wear them indoors or out, during the day or at night.
15. A lightweight lap desk
The super lightweight lap desk is for those days when your "office" needs to relocate to the cozy comforts of your couch or bed. But it's not just for lounging; it can be used at your desk. Thanks to the anti-slip wrist pad that keeps you comfy and ensures your laptop stays put.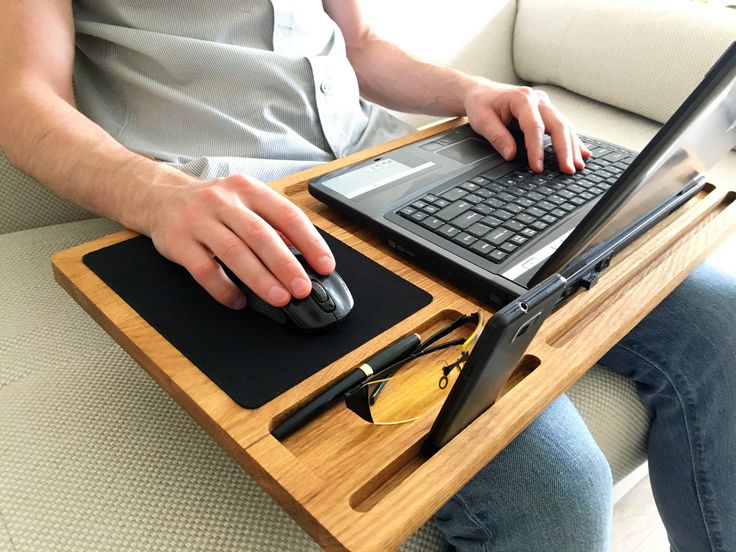 And when you flip it over, you'll find a handy storage slot in the back. It's a mini tech pedestal, perfect for propping up your phone or tablet while you work. It's a versatile and portable workstation, ready to adapt wherever your workday takes you. 
16. Kneeling chair
Incorporating a kneeling chair into your work schedule will give ease to both comfort and a relaxed posture during those long hours at the desk. The chair is designed to keep you sitting straight instead of slouching away. It distributes your weight evenly, alleviating pressure on your back and hips.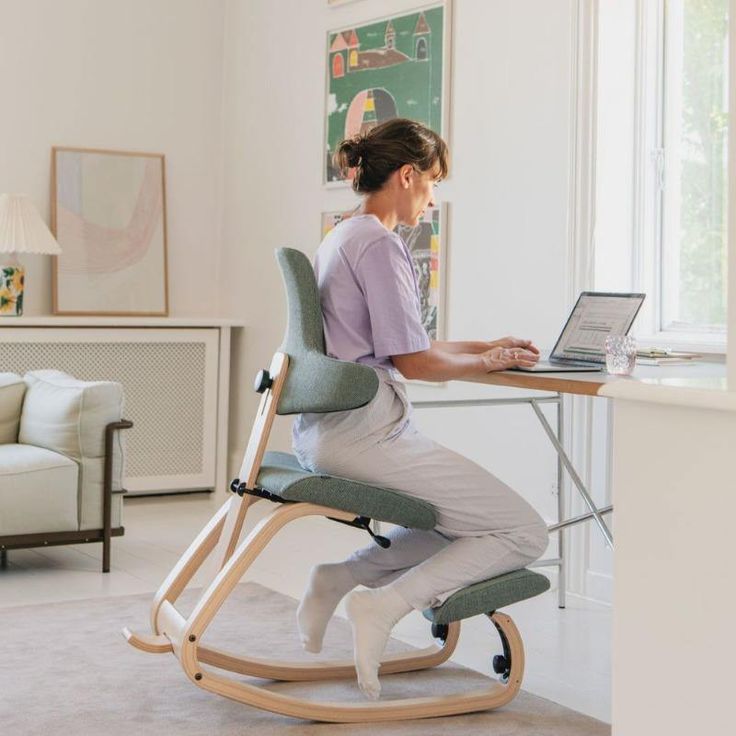 It also encourages "active sitting" when you're not just parked in one spot but constantly engaging your core and leg muscles. It can be used at your desk, office, or home. It's like having a comfy, posture-improving friend who moves with you.
17. USB-powered cooling pad
A USB-powered cooling pad is your laptop's new best friend and your legs' savior. If you've ever worked with your computer directly on your lap and felt like you were about to roast marshmallows, this pad is here to save the day. It's got three powerful fans that'll keep your device calm and quiet.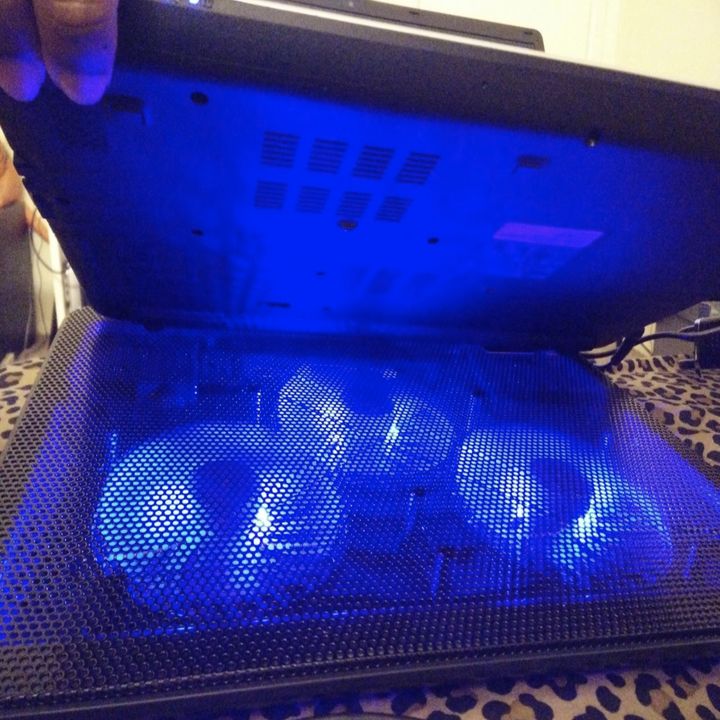 It's straightforward, and you'll get it running in no time. Just plug it into one of the USB ports, and you're good to go. No extra cords or complicated setups. It's not just a cooling pad; it's your go-to solution for a comfy, calm, and quiet work environment.
18. Compact heated massager
The compact heated massager is a relief for those days when your lower back and shoulders scream for love. It's like a personal massage therapist strapped to your desk chair. Also, it can act as a packed rotating node that digs deep, delivering a heated, deep tissue massage.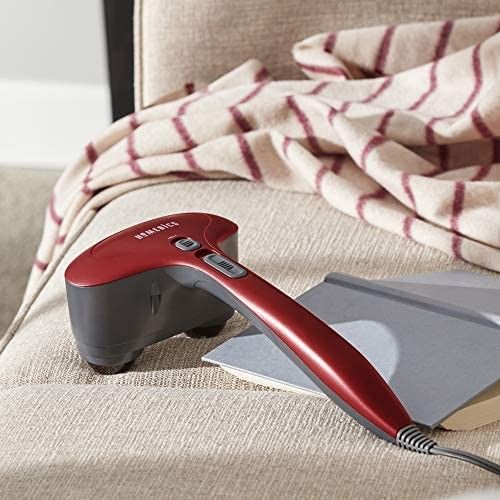 You need relief from all those back-to-back meetings and endless hours at work. You can use it at your desk, on your couch, or even in the car. It's perfect for targeting sore muscles, improving circulation, and letting go of all that tension that builds up from sitting all day. 
19. Wrist rest cushy memory foam
A baguette-shaped wrist rest with cushy memory foam for those days when time seems to stand still, and you're counting the minutes until you can finally log off. An ergonomic wrist support can comfort you during those long typing sessions and is a mood booster to make you smile.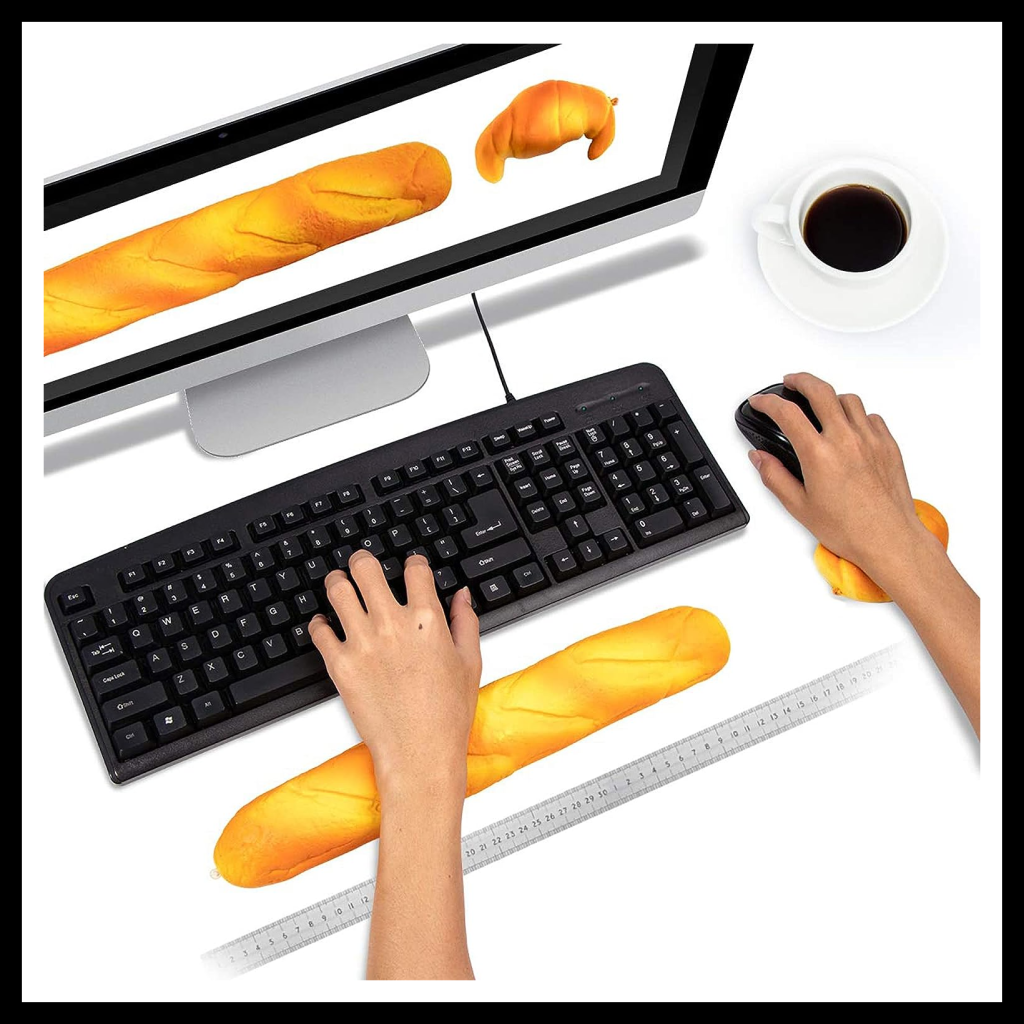 It's not just for work. You can use it as a playful pillow during break time, a cozy cushion for your laptop or tablet, or even a prop for your next Zoom meeting to keep things lighthearted. It's like a slice of happiness in baguette form.
20. The memory foam gel pad
The memory foam gel pad is a saving grace in the battle against wrist woes when pounding away at the keyboard all day. Let me tell you, once you've got these wrist pads, there's no turning back. Because you get used to ergonomic support.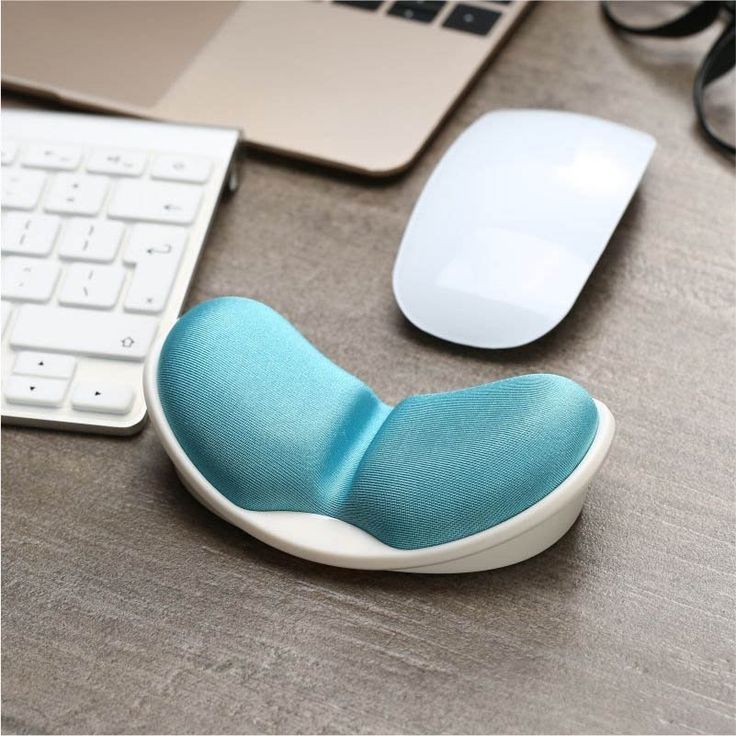 They cradle your wrists in heavenly memory foam and soothing gel, taking the edge off from creeping pains during those long typing sessions. These can also be placed under the wrists during mouse-clicking hours or as a wrist rest during arts and crafts. 
21. Herman Miller ergonomic chair
The mother of all office chair game-changers is the Herman Miller ergonomic chair. Especially if your life involves WFH or long desk-bound hours. The chair feels like sitting on a luxurious cloud that cradles every inch of your body, and it's not just comfy; it's a style icon in its own right.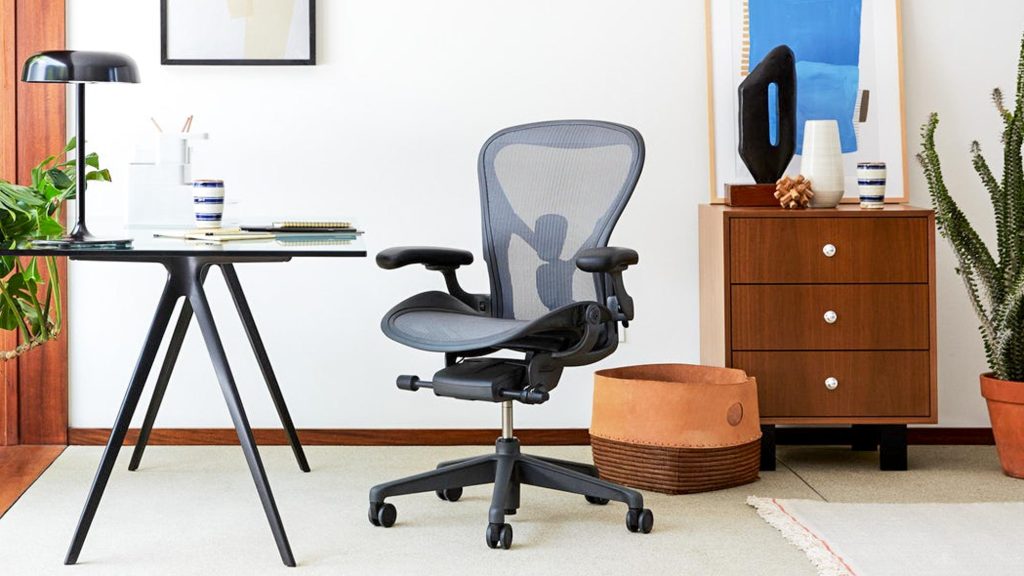 It has unparalleled lumbar support, which works wonders for your spine. Say goodbye to those aches and pains. You can swivel, lean, and adjust it accordingly. It makes a perfect work partner. Plus, it's built to last, so it's an investment in your well-being.
22. Armless desk chair
Not just any chair, but the armless desk chair is what you need when you're tired of those pesky armrests getting in the way. Because it's spacious, comfy, and armrest-free, giving your legs and knees all the space they deserve.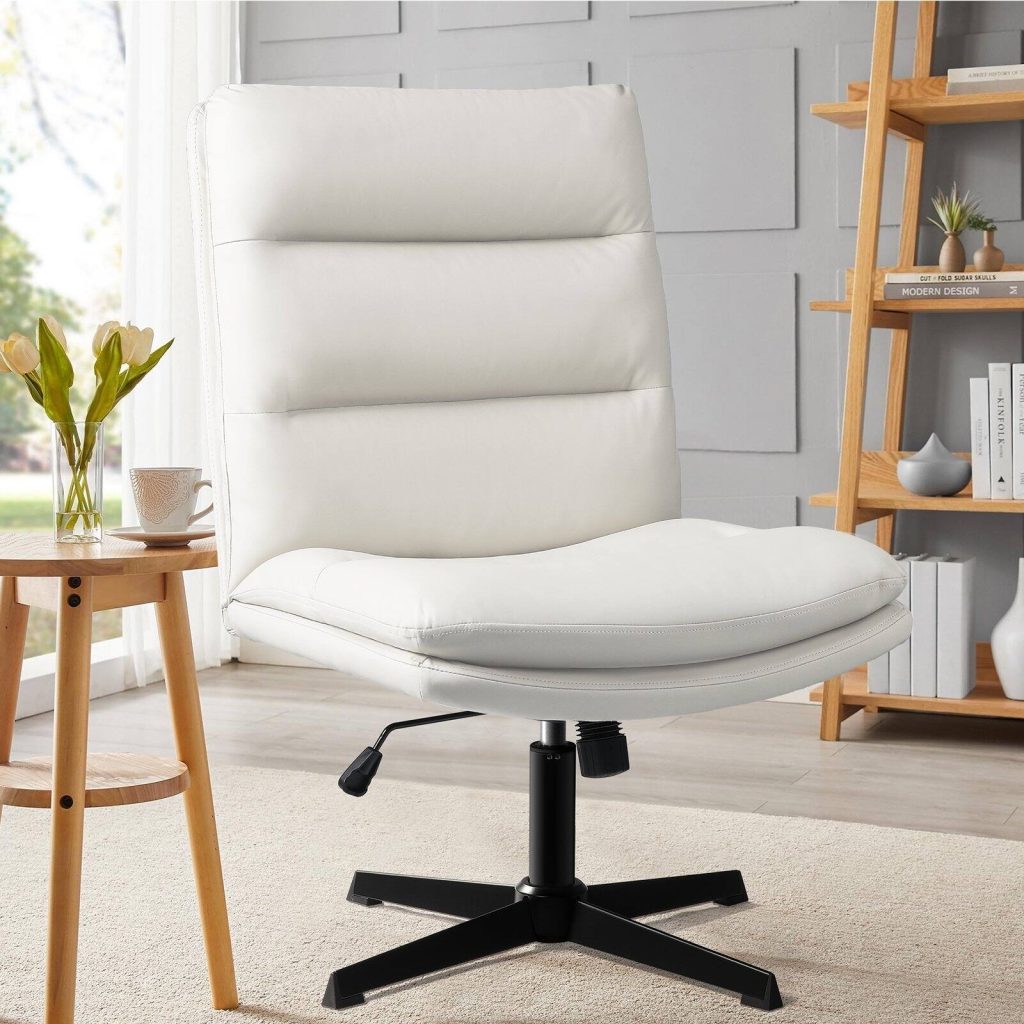 You can even sit cross-legged without feeling cramped. Plus, it's adjustable in height and recline, so you're the boss of your comfort. It's waterproof, so there's no need to worry about spills during snack time. It's not just a chair; it's your cozy command center.
23. The FlexiSpot electric standing desk
Next is the FlexiSpot electric standing desk, the ultimate game-changer for your WFH setup when you've had enough sitting sessions. With a simple push of a button, this desk effortlessly elevates itself, giving you the freedom to stand and stretch at a moment's notice.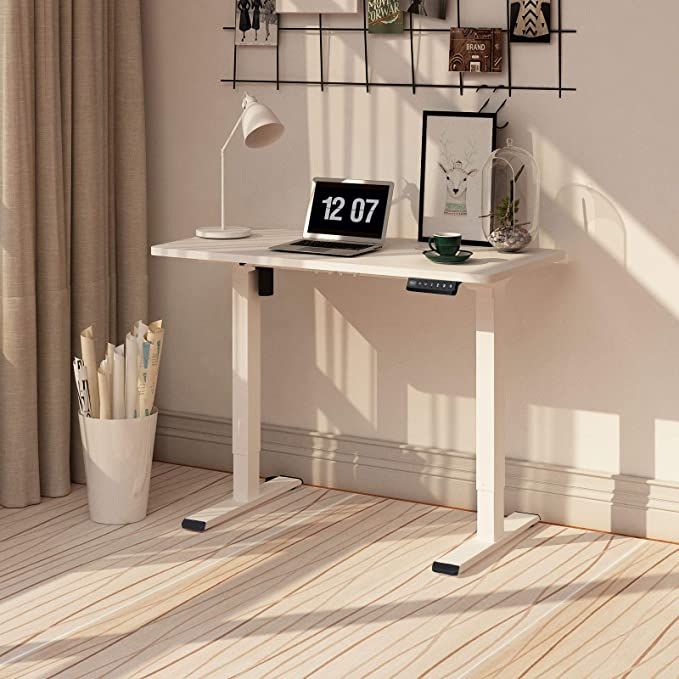 It's also a time-saver with its ability to save up to four preset heights. Hit the button, step away for that coffee refill, and return to your desk poised for a productive standing work session. It's not just a desk; it's an upgrade that has your back and feet, too.
24. A mini stepper
A mini stepper is like a compact stair-climbing machine that you can use almost anywhere. Some even come with a handy screen that tells you how many steps you've taken and estimates your burned calories. You can adjust the resistance to how you want to pursue the workout harder or easier.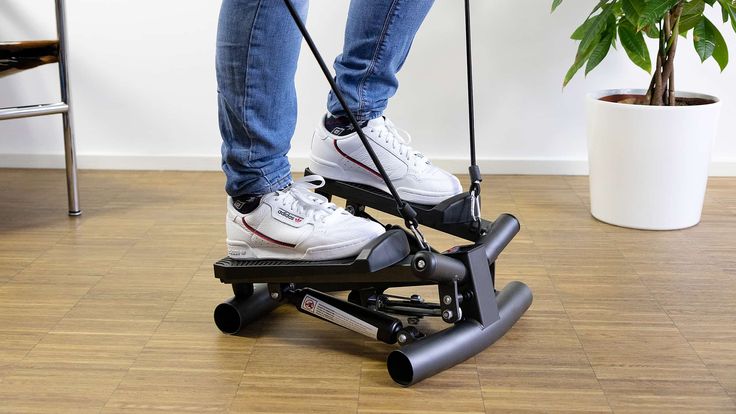 You can use them while watching your favorite TV show or working at your desk. It's a budget-friendly option for a full-body workout. This handy two-in-one gadget can make many people's lifestyles healthier and better. Excuse us while we hurry and get one, too.
25. The compact under-desk electric treadmill
Meet your new home office sidekick: the compact under-desk electric treadmill. If you're tired of sitting around all day, this gadget has your back. The striking LED display tells you the basics of how long you've been at it, your speed, and how far you've gone.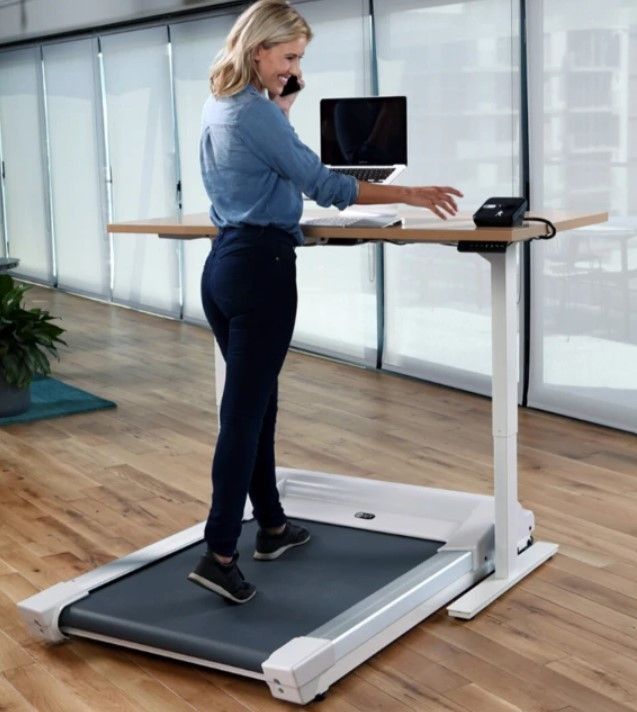 It's also bluetooth-ready. So, while you're getting in, you can listen to music or podcasts. You can walk or even jog at your comfort level, all while answering emails or taking calls, because it's a quieter treadmill with a motor to keep the belt moving slowly. 
26. The electric mug warmer
To keep your morning coffee piping hot, the electric mug warmer is your partner in crime. No more grimacing over room-temp brown water by the clock strikes 10 a.m. This little gem is a magical gadget for (tea, hot cocoa, or even your secret soup stash) keeping them at a sippable temperature for hours.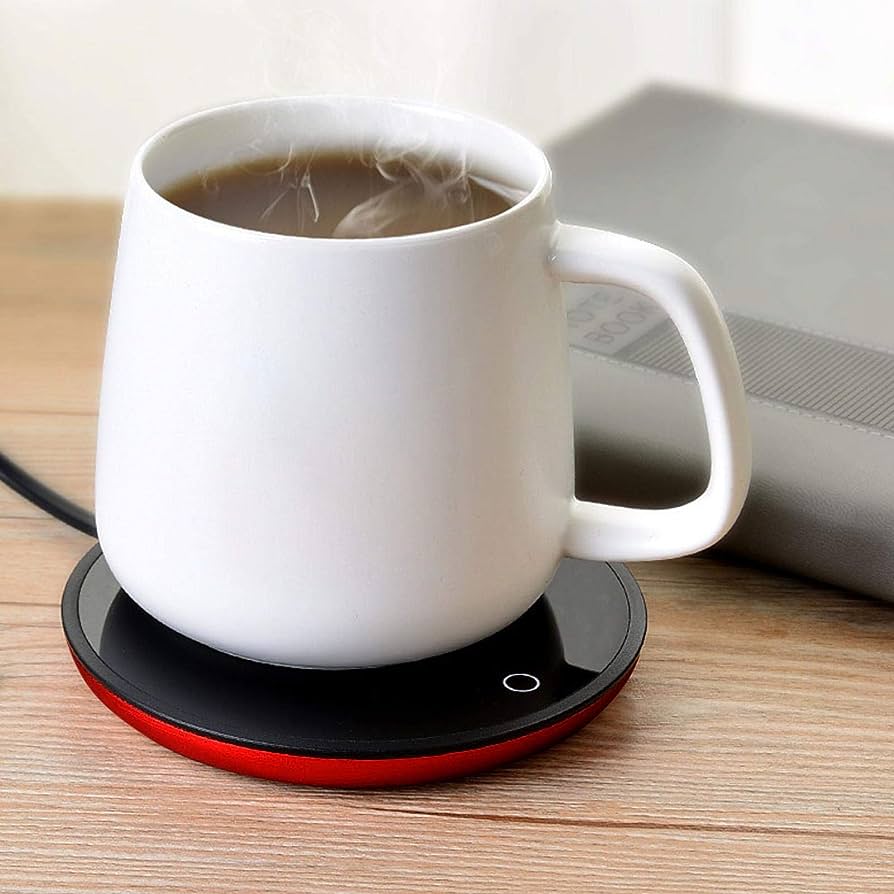 Just plug it in, switch it on, and your drink stays warm and cozy. It's fantastic for those moments when you get busy and forget about your brew, only to find it's gone cold. With this nifty gadget, that's a problem of the past.
27. The mushroom stool
The beloved mushroom stool, a charming toadstool, is an absolute must-have for any cozy workspace. People have fallen head over heels for this cute item. It's the perfect under-desk companion, giving you that oh-so-needed footrest to stretch your legs out and get comfy.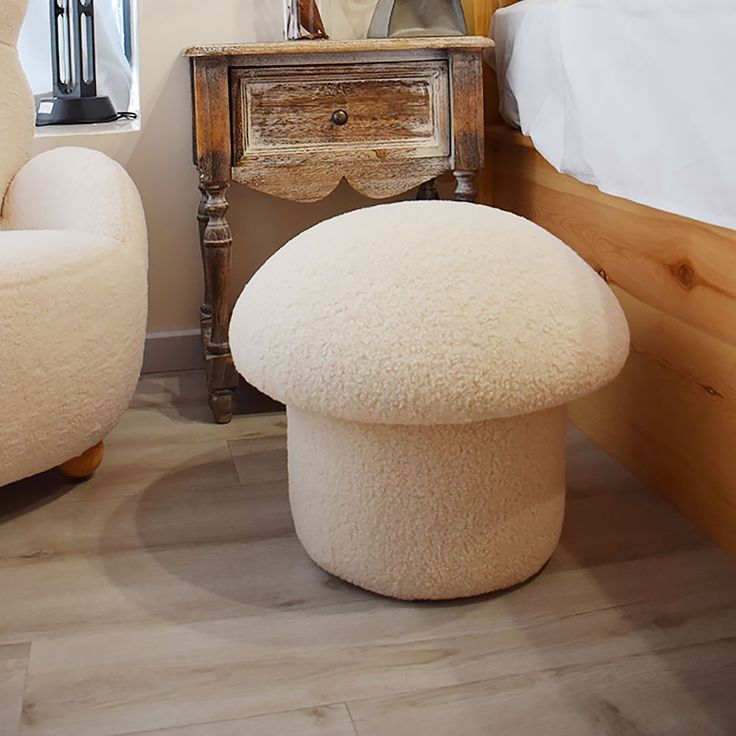 It's almost like you're still in bed but getting work done. It can also be used as an extra seat for impromptu meetings or as a charming decor piece that brings a touch of whimsy to your workspace. They come in various sizes, colors, and materials to match different styles and preferences.
28. The roll-on migraine stick
The roll-on migraine stick is a trusty companion in the battle against those pesky midday headaches. It's designed while keeping human comfort in mind, packed with soothing ingredients like peppermint, spearmint, and lavender oils, with a roll-on design that's easy to use.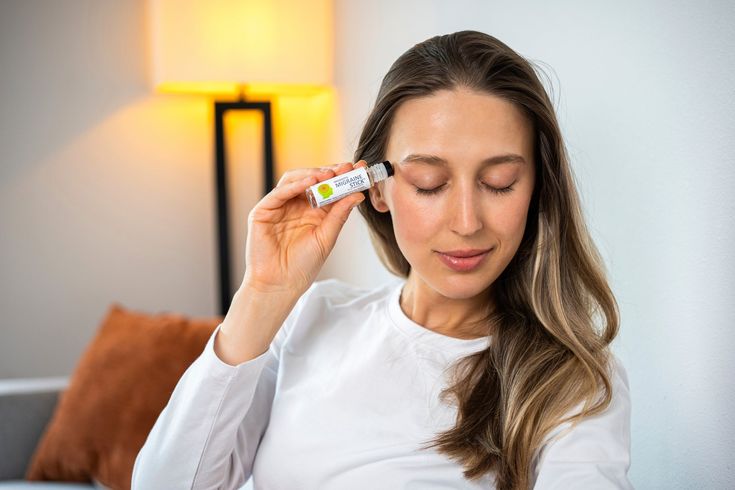 All you need to do is glide it over your temples, forehead, or neck, and you'll feel the cooling relief kick in. It's a gentle massage for your migraine, easing painful pressure and giving you the strength to conquer your tasks. And the best part is that it's portable. 
29. Adhesive monitor clip
The adhesive monitor clip wrangles those more extensive papers and keeps them tip-top. This little wonder is a game-changer because it's got one job, and it does it brilliantly: securely holding up to 30 sheets at once. It keeps everything where you can see neatly organized and ready for action.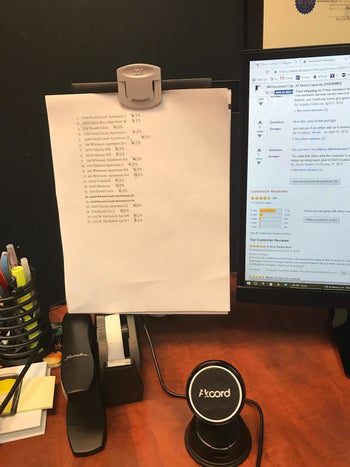 When you are in the midst of work, you must peek at those crucial notes, charts, or data. Instead of doing a messy paper shuffle or trying to juggle them on your desk, this clip steps in to save the day. And because it's adhesive, it sticks to your monitor effortlessly.
30. Anti-slip hooks
If you've ever been annoyed by your glasses constantly sliding down your nose while deep into laptop or keyboard work, let me tell you about these game-changing anti-slip hooks. They ensure that your glasses stay in place and comfy on your ears, no matter how intense your work gets.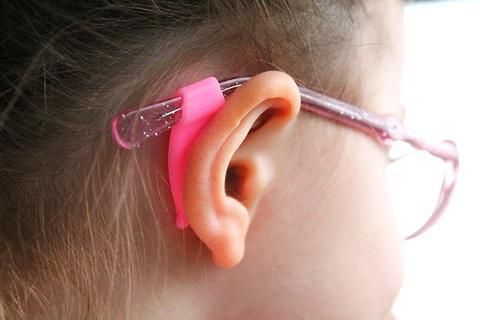 You can use them with sunglasses, reading glasses, or even your go-to shades for outdoor adventures. It's giving all your eyewear an instant upgrade, allowing you to stay laser-focused on your screen without those pesky interruptions—just you and uninterrupted work sessions. 
31. Memory foam armrest pads
Being mindful of your arm position is crucial, and even though they should be resting on your armrests to let your shoulders relax, that unforgiving hard plastic can be a real pain. To rescue you comes a set of memory foam armrest pads for keeping your arms comfy while you work.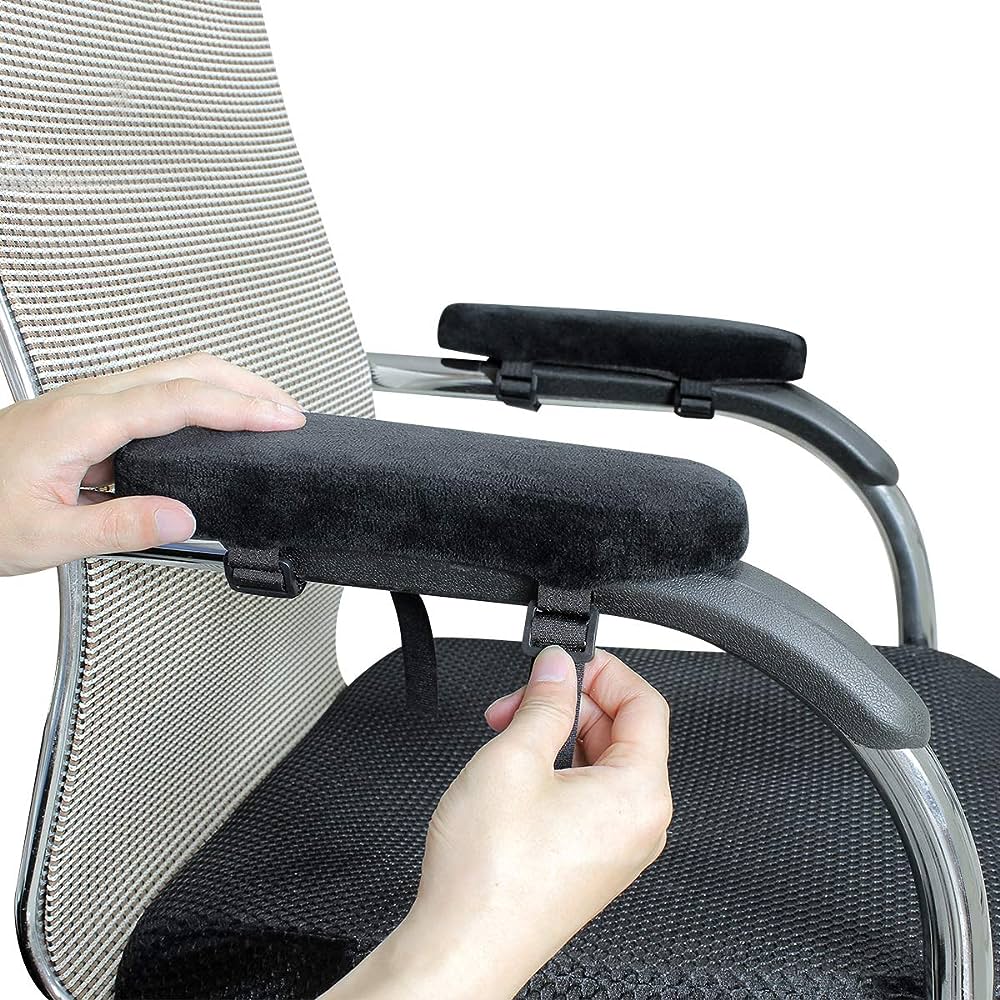 The material gently shapes into your arms, offering exceptional comfort and support. Imagine resting on these plush pads, feeling the stress and tension melt away. You can use them on your gaming chair, favorite armchair, or wheelchair for added comfort.
32. Compact rolling desk bike
The compact rolling desk bike gives you turbocharging productivity while giving your lower body a workout during the workday. If you're prone to restless legs and standing breaks aren't cutting it, this little wonder can be your secret weapon. And don't worry about it being a distraction; it's whisper-quiet.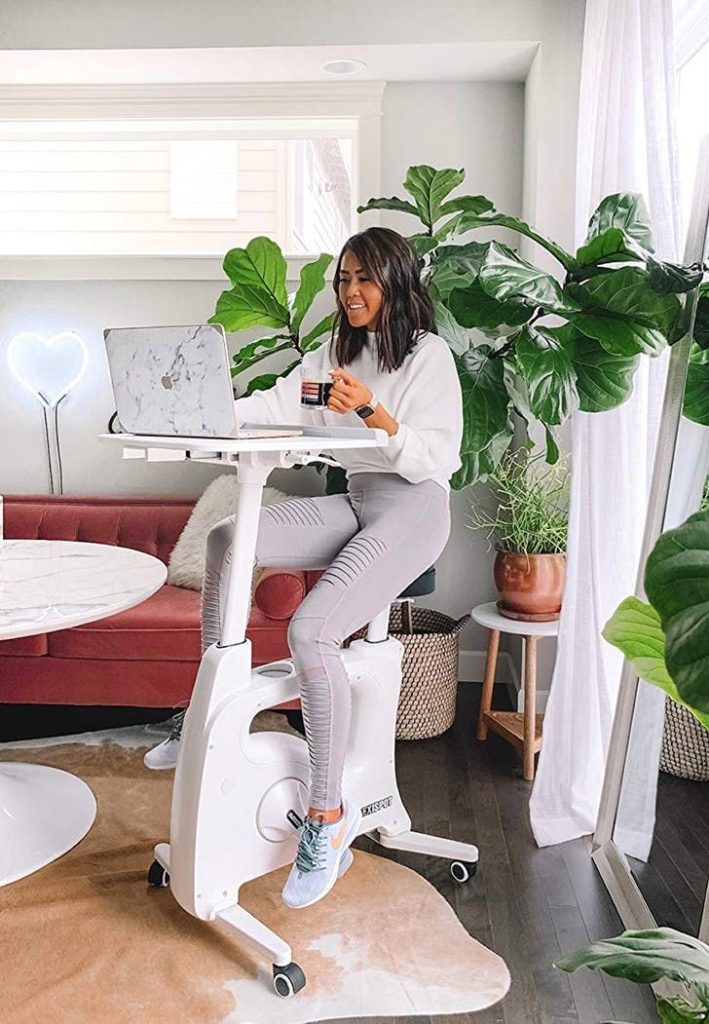 While tackling your to-do list, you can pedal away like a champ. You're on a double mission, conquering tasks and boosting your leg game. Plus, it's a game-changer for focus. Say goodbye to that restless feeling; cycling can help you stay more locked in and ready to tackle whatever comes your way.
33. The bougie water bottle
The bougie water bottle can be used to reach the goal of ultimate hydration. It can be used on days of long stationary work hours. Staying hydrated is vital, but let's face it, lukewarm water doesn't exactly scream "refreshing." Its double-walled insulation keeps your water (or whatever thirst-quencher you prefer) cold for hours.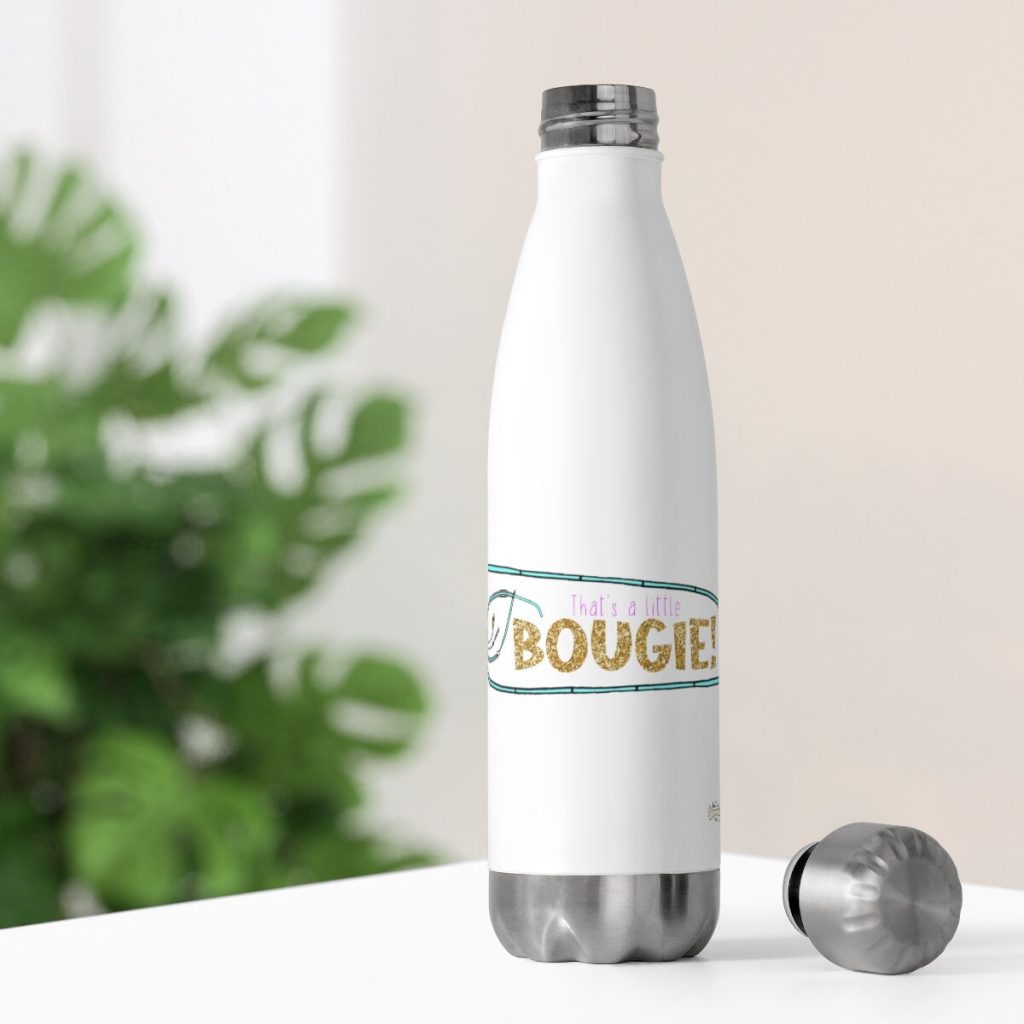 With its flip-up straw design, sipping becomes fun. No more fumbling with pesky caps or spilling water all over your desk. There is no excuse to stay hydrated and refreshed even while working long hours in the office. You can efficiently complete your water intake goal with this baby.
34. A humidifier
A humidifier is a personal moisture magician for the indoor environment. It's designed to increase the humidity levels in a room by releasing water vapor into the air. Whether it's the dry winter months, a desert-like climate, or simply needing extra moisture in your living space, a humidifier has you covered.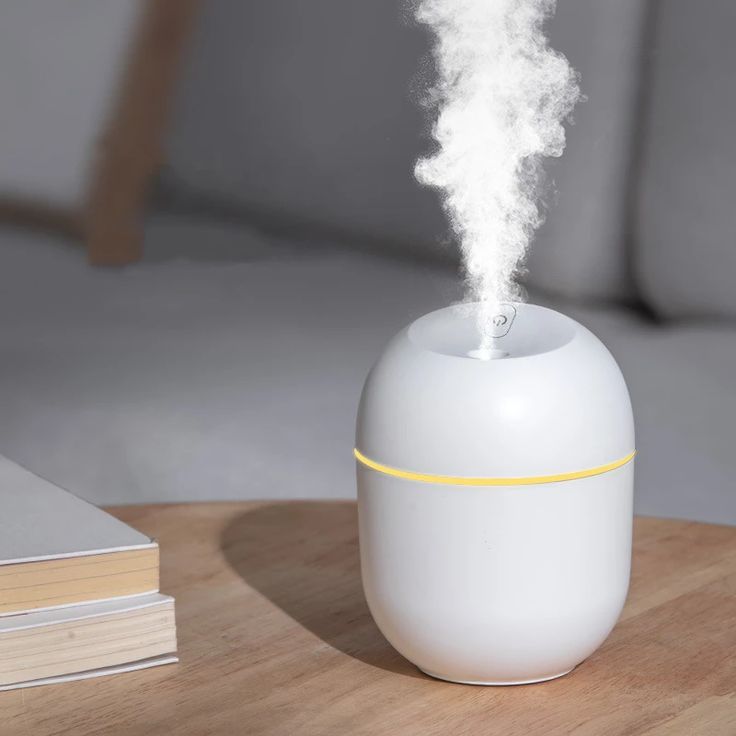 After a productive day, if you're having trouble winding down, this humidifier transforms into a relaxation guru. The types available in the market are cool mist, warm mist, ultrasonic, and evaporative. You can get one according to your needs and demands.
35. The anti-fatigue mat
Standing for long hours can often result in blood clots and pain, but you need not worry about that with the anti-fatigue mat. It is cushioned, absorbs shock, and encourages subtle movements in your leg and calf muscles. It is specialized to reduce tiredness and muscle strain by increasing blood circulation.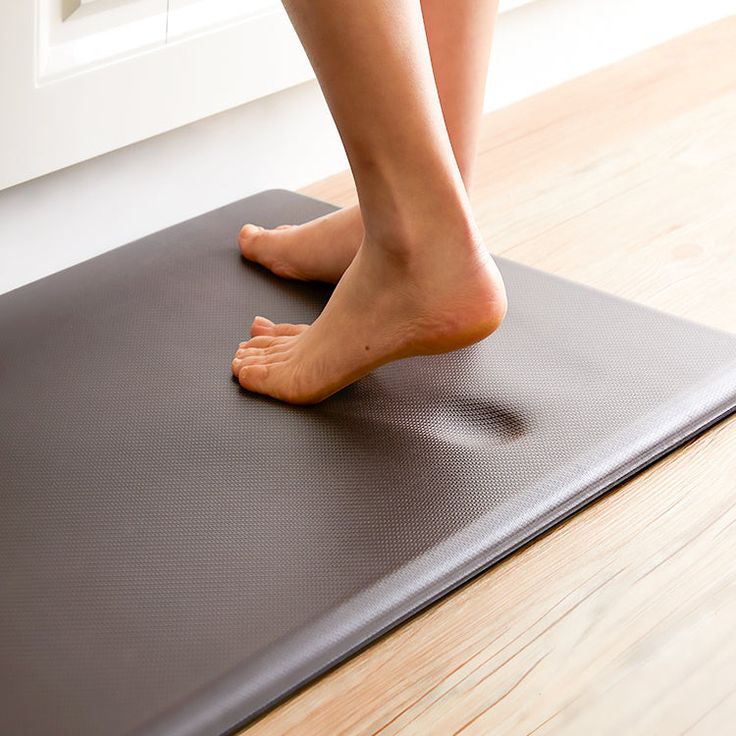 Now, you can stand longer without feeling like you've run a marathon. Aside from the workplace, the mat is commonly used in kitchens, workshops, retail spaces, and office standing desks. It makes your daily routines more comfortable and less tiring.
36. Exercise ball chair
The most relaxed office chair around is the exercise ball chair. When you sit on the ball, your body has to make tiny adjustments to maintain balance constantly. You can use it to eliminate pain in the lower back because you sit or stand for long hours while working.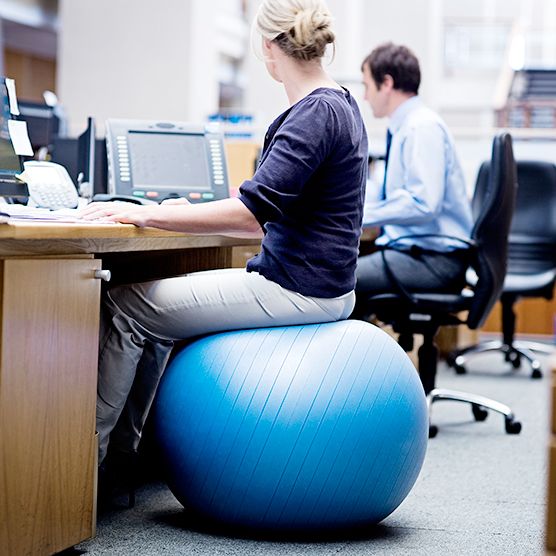 Those little movements engage your mind, firing up your focus and creativity. So, if you've felt like your brain's in a fog during those exhaustive work sessions, this chair is like a wake-up call. It's a hero for your back and shoulders and works as a personal masseuse, easing the tension.
37. Adjustable standing desk converter
Some workspaces don't tie you down to sitting all day, and that's where the adjustable standing desk converter steps in. The converter allows you to transform according to the need of the hour; you can use it while sitting, and it can be changed into a standing desk.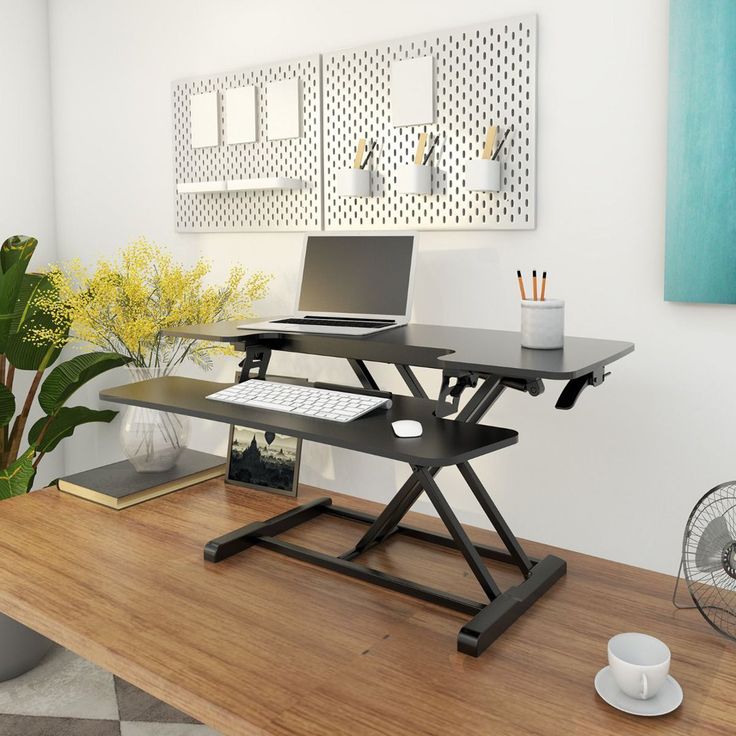 They often come with various features, such as keyboard trays, monitor mounts, and cable management systems; it simplifies the process of customizing your workspace to suit your requirements. This enables you to enjoy the advantages of sitting and standing, making establishing a healthier and more comfortable workspace easier.
38. An under-the-desk elliptical
The low-impact, under-the-desk elliptical is for more movement in your daily life. It helps you stay active and keeps those aches and pains at bay. We all know productivity can take a nosedive when you're distracted by discomfort. Hence, this elliptical has your back (and your legs).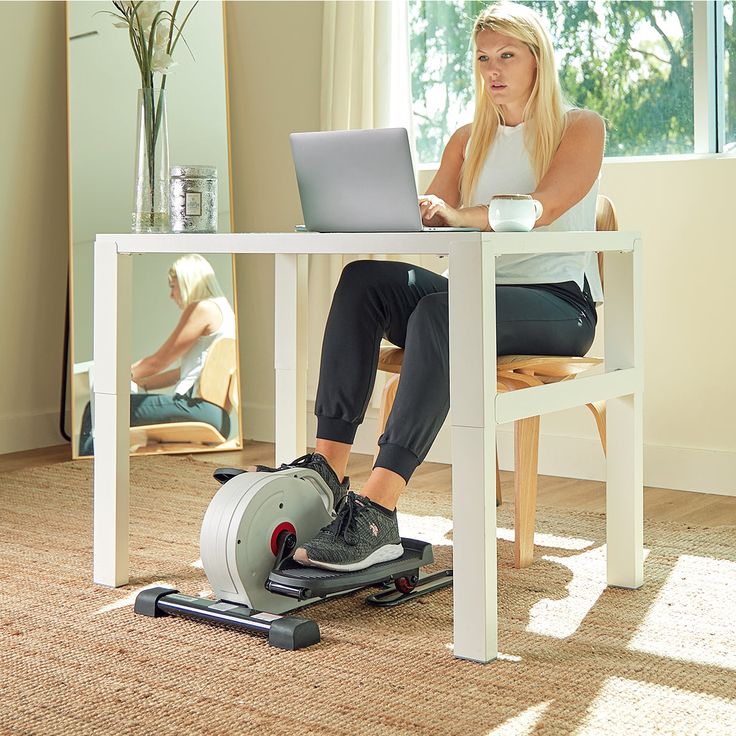 The tool gently massages your joints, keeping you loose and limber, even during those work sprints. Take it into consideration while a Netflix binge or reading your favorite book. It's like turning your downtime into workout time. It's so low-profile that it won't hog your precious space. 
39. A monitor stand
A monitor stand is your ticket to ultimate ergonomic bliss. It makes the workspace not just fancy but comfortable the whole day. The genius part is that it vanishes your desk clutter. An extra area is created underneath to stash your laptop or any other desk knick-knacks.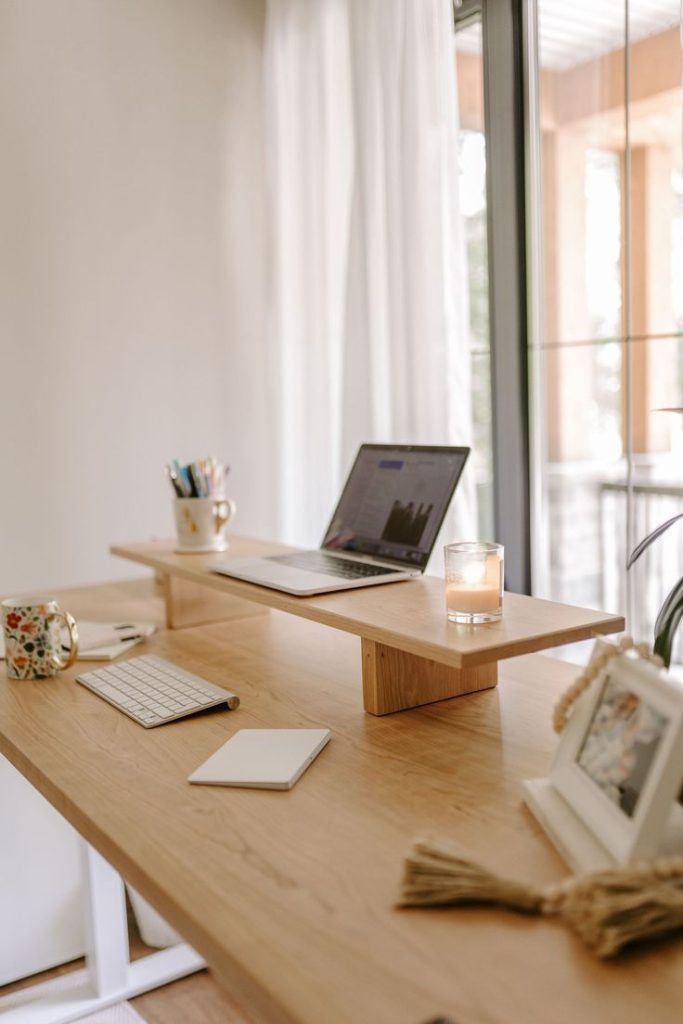 There's more in this stand's bag of tricks. It's not just for monitors and laptops; it can moonlight as a shelf for your phone, notebooks, or even your morning coffee. It's a multitasking superstar for leveling up your workspace game.
40. A super sleek laptop stand
This super sleek stand adjusts your laptop to eye level. It's about making your setup comfy during those long hauls at the desk. Giving your device a boost ensures it gets some air, keeps heat to a minimum, and stops you from straining your neck.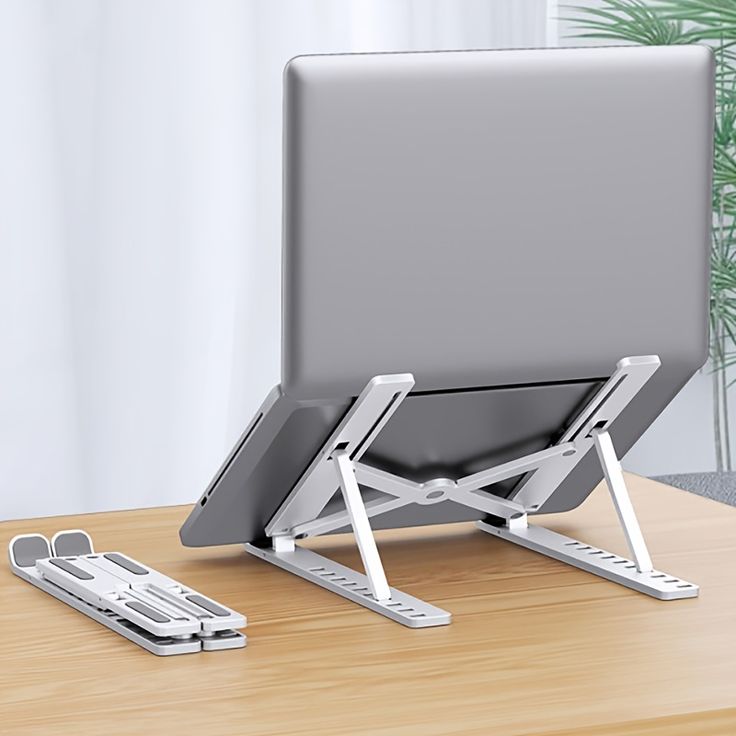 The stand can be paired with your desktop monitor for extra screen space, perfect for those busy work days. And when work's done, it doubles as a stand for your tablet or a book for some post-work relaxation vibes.