Fashionable And Fabulous: 30+ Trendy Fashion Tips For Women Over 70
By Harpreet K July 31, 2023
---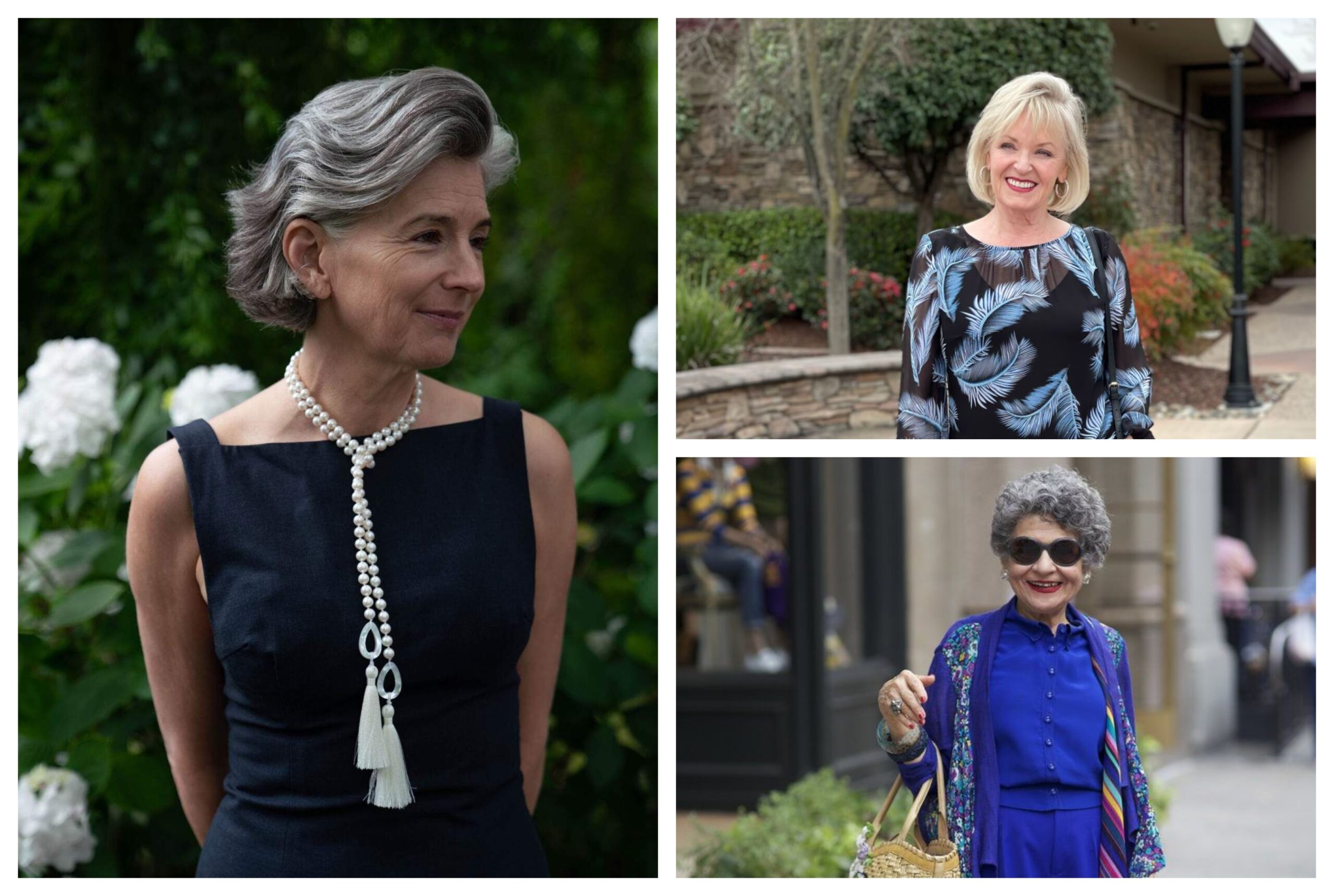 Age is just a number when it comes to rocking a stylish look! Fashion has no boundaries, and this holds true for those who are over 70. In today's vibrant fashion world, there are endless possibilities for outfit choices and styling that allow individuals to showcase their unique style while staying on-trend.This article aims to inspire and guide fashion-forward individuals who are over 70, providing them with practical and insightful tips to keep their wardrobes fresh, exciting, and reflective of their personalities. Age is merely a number, and by embracing fashion, one can tap into their creativity, boost their confidence, and celebrate their individuality.
1. Add scarves to an outfit
As we navigate the fashion landscape, one accessory effortlessly adds sophistication, versatility, and a touch of glamour to any outfit—the scarf. Scarves have long been a staple in the fashion world, and they hold particular appeal for individuals over 70 who aim to enhance their personal style while staying on-trend.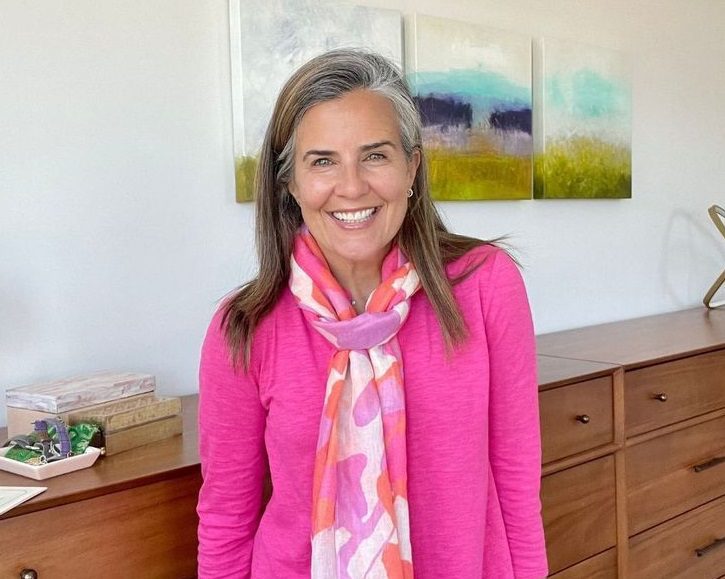 Scarves not only add an extra layer of visual interest to your outfit but also serve as functional accessories, providing warmth and comfort during cooler months and protecting from the sun's rays during the summer. They can be worn in myriad ways, from elegantly draping around the neck to creatively tying them as headbands.
2. Don't ditch the heels
If you're in your golden years and want to stay stylish, don't be too hasty in ruling out heels. Heels offer a range of styles and designs, guaranteeing that you can discover the ideal pair to enhance your style, suit any occasion, and prioritize your comfort. They can elevate any outfit and add a touch of transformation!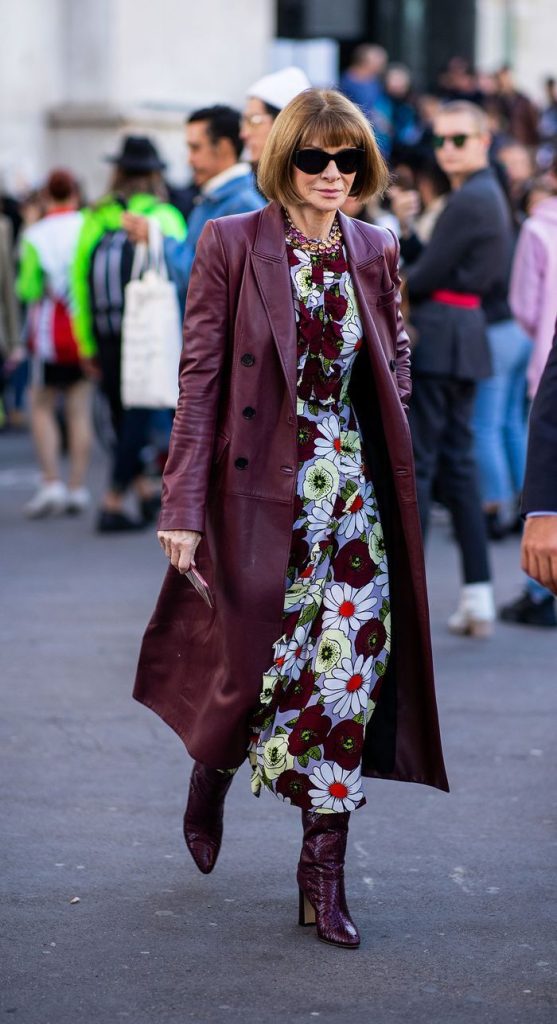 They add height, elongate the legs, and instantly enhance your posture, exuding an air of grace and poise. Whether you opt for classic pumps, slingbacks, kitten heels, or block heels, each style brings its unique charm and makes a fashion statement with your ensemble. Contrary to common misconceptions, heels can be comfortable if chosen wisely!
3. Wear cold shoulder tops
Cold shoulder tops are available in diverse styles, including casual bohemian-inspired blouses and elegant formal tops. These tops typically feature cutouts or openings at the shoulder, revealing a hint of skin and creating a subtle yet captivating focal point. This distinctive design detail adds a touch of modernity and femininity to any outfit.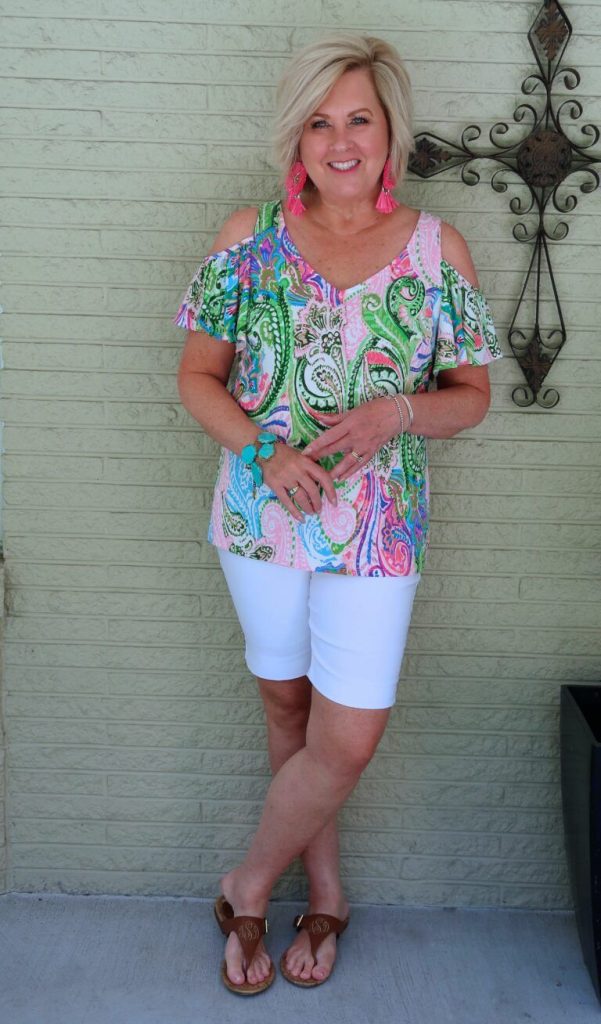 Pair cold shoulder tops with jeans or trousers for a casual yet chic daytime look, or dress them up with a skirt or pants for a stylish evening ensemble. The cold shoulder design adds a touch of allure and intrigue, making these tops an outstanding choice for social gatherings, dinner parties, or even a night out.
4. Buy a white shirt
The white shirt is an enduring and sophisticated staple that effortlessly exudes elegance, making it a must-have for individuals across all age groups. Its timeless appeal and adaptability enable it to transition between formal and casual settings seamlessly. Pair it with tailored trousers or a skirt to achieve a polished and professional look.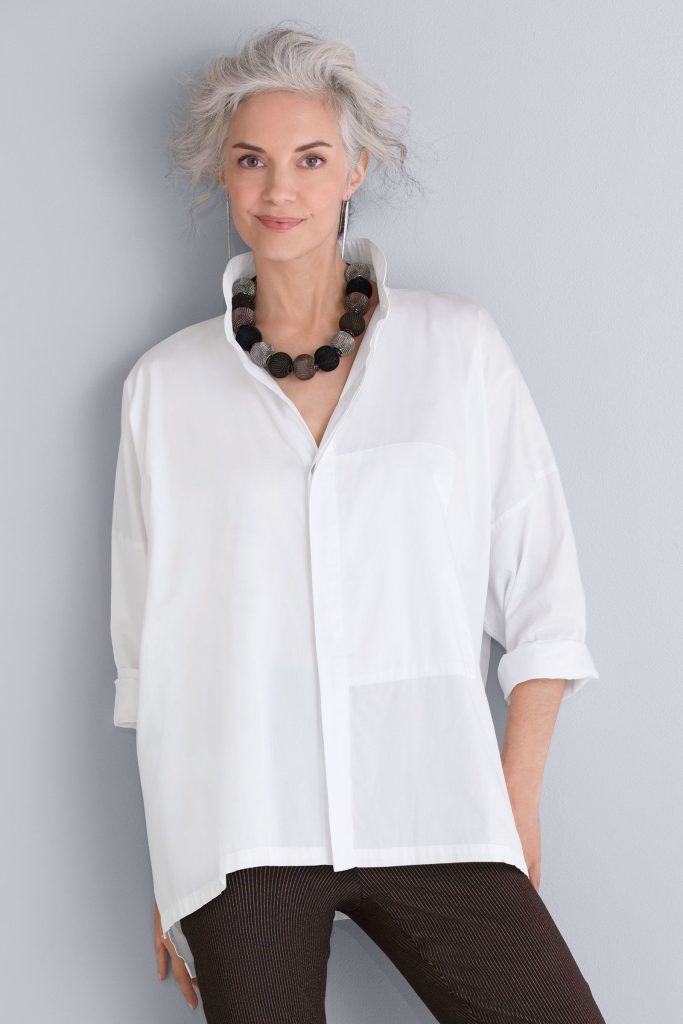 The minimalist charm of a white shirt acts as a blank canvas, offering limitless opportunities for creative styling, enabling you to accessorize and layer based on your individual preferences and the level of formality you desire. Moreover, the white shirt effortlessly enhances all skin tones, providing a neutral backdrop for showcasing accessories.
5. Try different sleeve styles
The possibilities are endless, from the classic simplicity of a traditional sleeve to the captivating allure of a billowing bell sleeve. These diverse sleeve styles can be discovered in blouses, dresses, tops, and even jackets, allowing you to explore various silhouettes and showcase your unique personal style with unwavering confidence.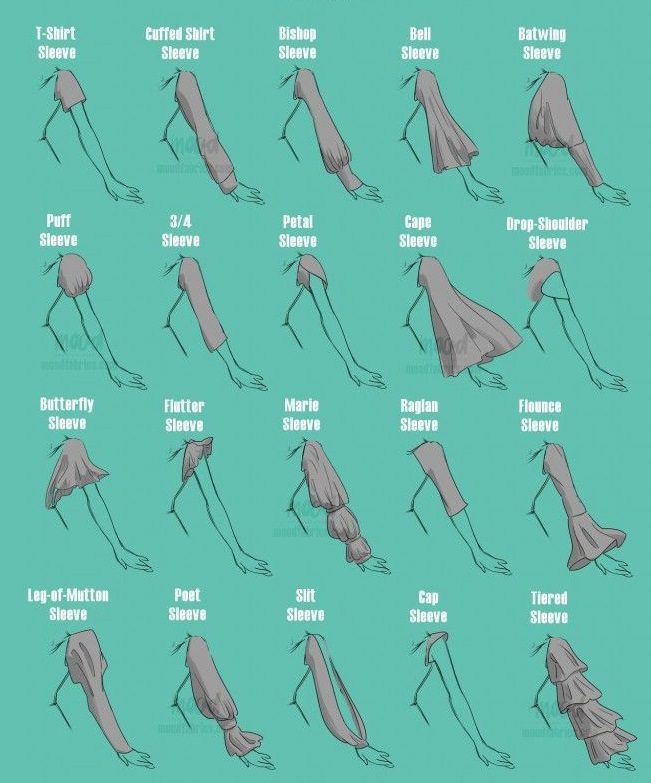 Striking a harmonious balance between style and functionality is crucial to ensure a fashionable appearance and lasting comfort throughout the day. By integrating various sleeve styles into your ensembles, you unlock a realm of possibilities to elevate your fashion sense, express your distinct personality, and confidently embrace your individuality.
6. Skinny jeans
Skinny jeans are meticulously crafted to embrace your curves, sculpting a streamlined and flattering silhouette. Available in many lengths, rises, and washes, they offer a diverse range of options to discover the ideal pair that complements your body shape, aligns with your style, and ensures optimal comfort.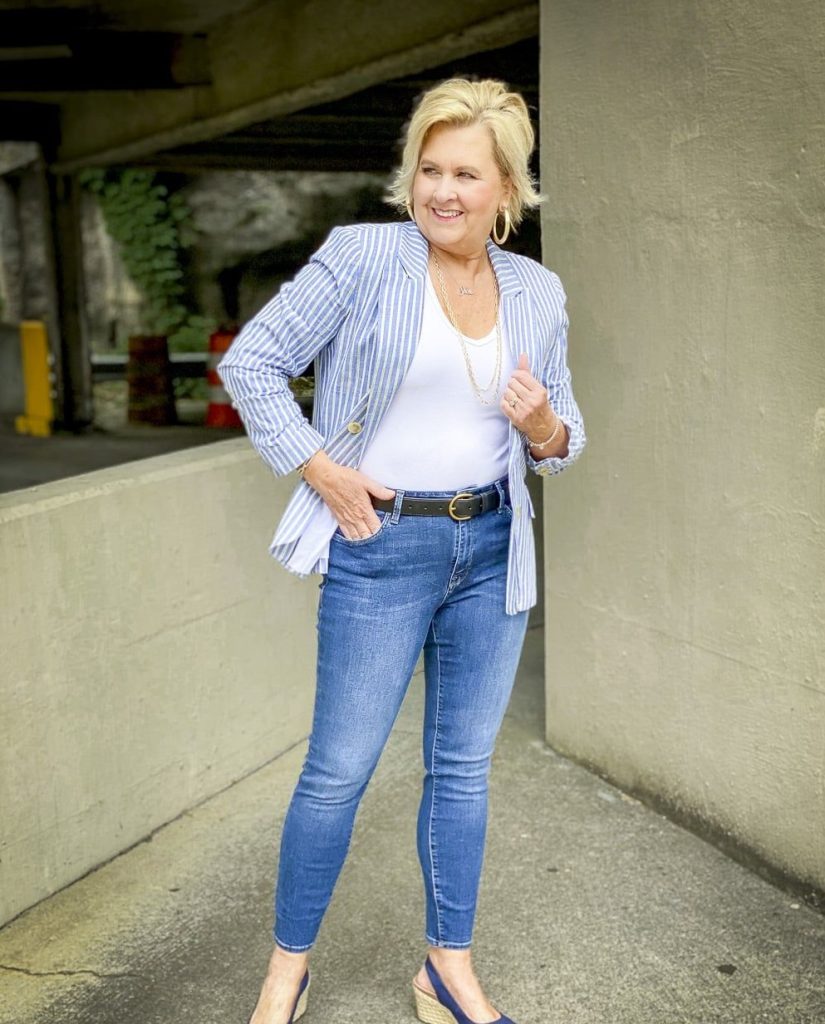 Combine skinny jeans with a flowy blouse or a well-tailored blazer for an elegant and refined appearance. This pairing exudes sophistication and polish. On the other hand, if you're aiming for a more laid-back and stylish ensemble, dress them down with a casual tee or a cozy sweater.
7. Buy some fitted dresses
Fitted dresses present a wonderful opportunity to explore an array of necklines, sleeve lengths, and intricate details, enabling you to discover the styles that beautifully enhance your body shape. V-necklines gracefully elongate the neck and accentuate the face, while cap or three-quarter sleeves add a touch of refinement to the ensemble.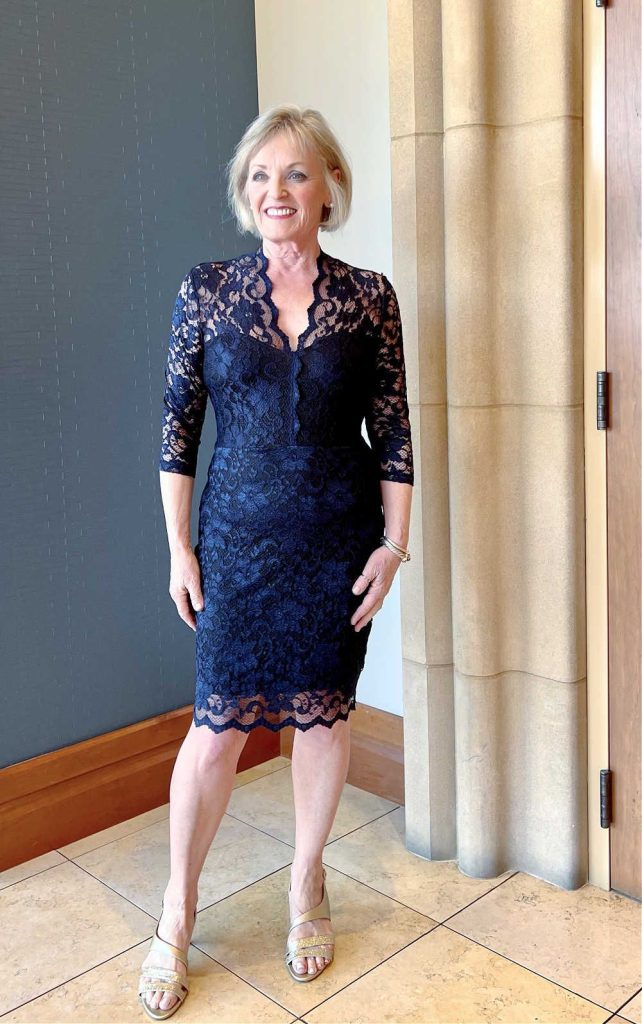 Ready to unleash your unique charm and flaunt your impeccable taste? Fitted dresses are your go-to weapon! They're like magical wardrobe chameleons, effortlessly transforming you from daytime diva to evening enchantress. With a dash of creativity and the perfect accessories, these timeless gems become your stylish canvas.
8. Wear some denim
Denim, the beloved fabric, is durable, comfortable, and versatile, seamlessly transitioning from a casual to a polished look. Its adaptability knows no bounds. Whether you rock a pair of jeans, a denim skirt, a stylish jacket, or even a trendy denim dress, the possibilities for incorporating this timeless fabric into your wardrobe are endless.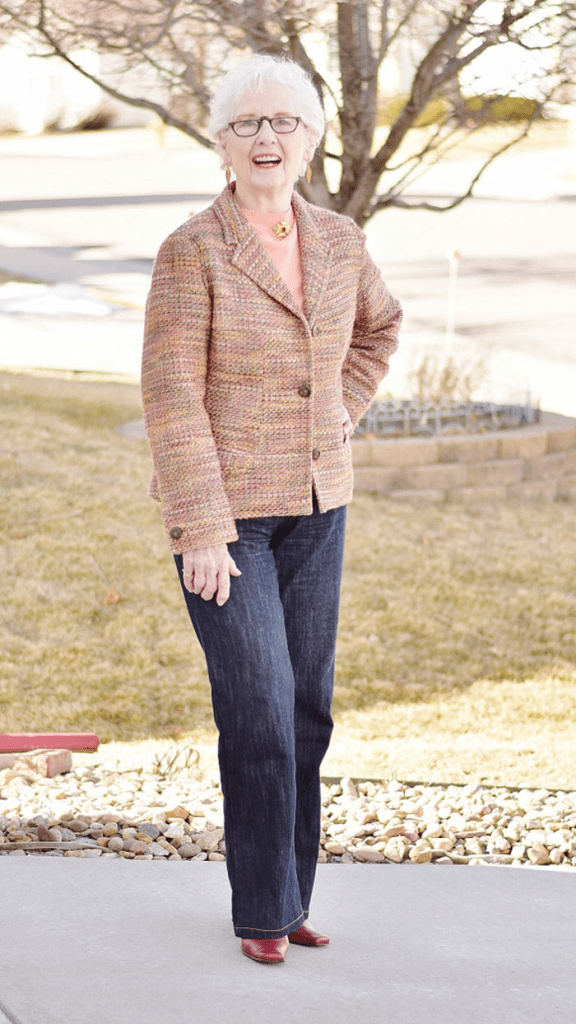 Unleash the fashion potential of your denim jeans by pairing them with a simple blouse or a timeless white t-shirt. This combination effortlessly captures a casual yet stylish look. For a chic and ease touch, complete the ensemble with comfortable sneakers that exude an effortless vibe.
9. Experiment with high-waisted skirts
The allure of high-waisted skirts! They can transform your style into a perfectly polished and effortlessly chic ensemble. Opt for a knee-length high-waisted skirt and combine it with a blouse neatly tucked in or a form-fitting top. The result? A sophisticated and oh-so-feminine look that's sure to make heads turn.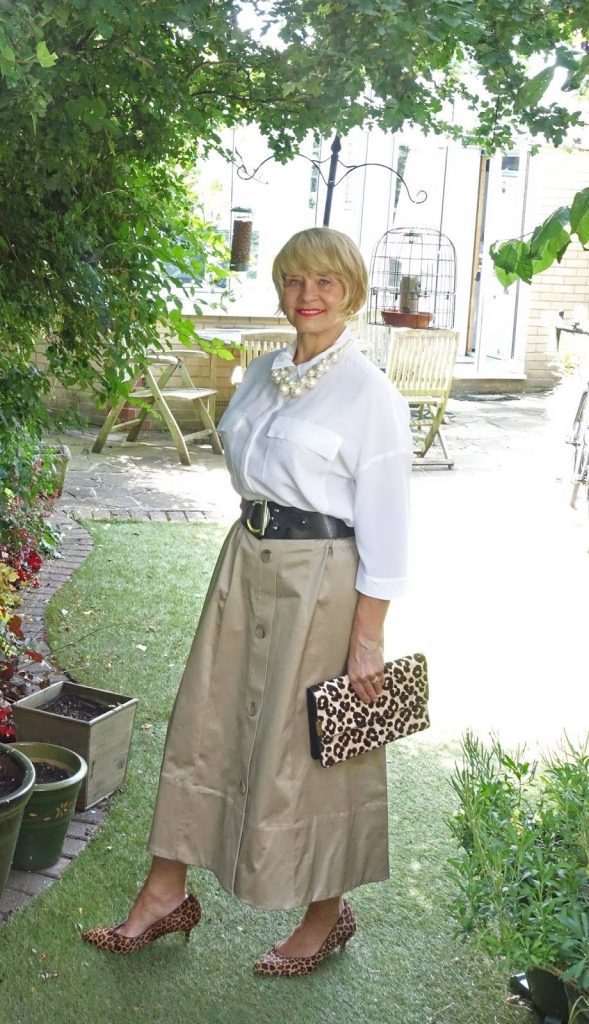 From the charming A-line to the sleek pencil and the playful pleated skirts, discover the silhouette that accentuates your body shape and resonates with your style. Elevate the visual appeal of your outfits by experimenting with captivating floral prints, eye-catching geometric patterns, or timeless solid colors.
10. Drape a shawl
These versatile accessories bring an extra touch of visual allure to your ensemble and serve as practical companions, keeping you warm and cozy during cooler months or chilly evenings. With many materials to choose from, such as silk, cashmere, wool, or lightweight chiffon, each shawl offers a unique texture and drape that adds to its charm.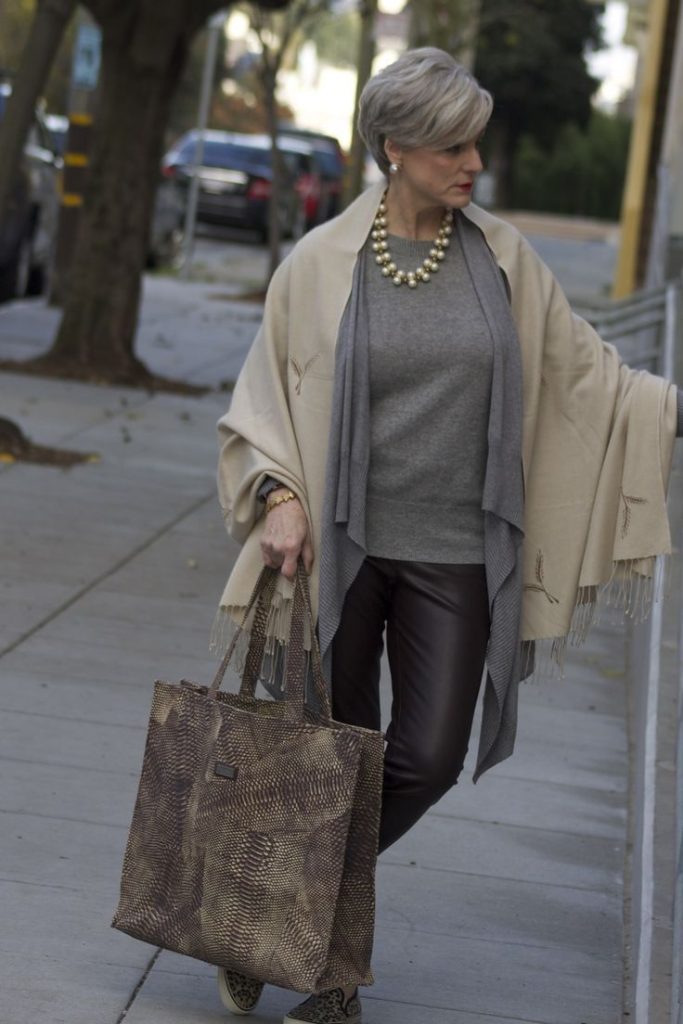 Prepare for a dash of instant elegance with the enchanting addition of a shawl draping over your shoulders! Whether you're rocking a chic dress, a stylish blouse with trousers, or even a dashing tailored suit, the shawl effortlessly transforms into a captivating accent piece.
11. Try a jumpsuit
Jumpsuits offer a modern and streamlined silhouette that can be particularly flattering for various body shapes. Look for jumpsuits with cinched waists, wrap-style tops, or belted designs to create definition and highlight your curves. When selecting jumpsuits, pay attention to the fabric and fit.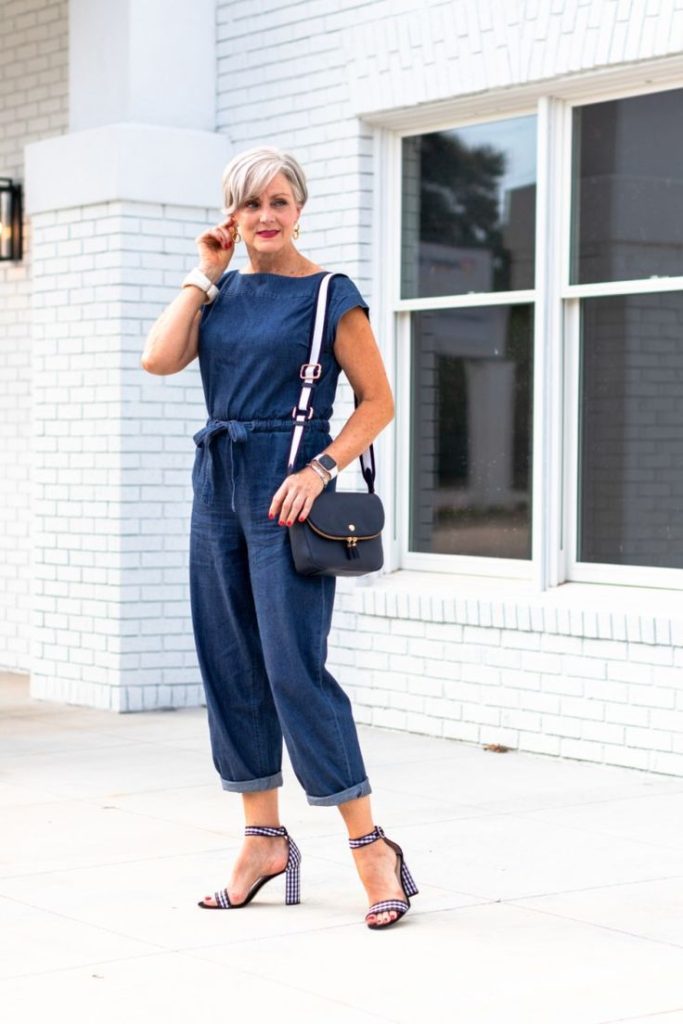 Elevate your jumpsuit game with a show-stopping statement accessory that cinches your waist. Play around with various shoe styles, whether glamorous heels, trendy wedges, or fashionable flats, to discover the perfect match that complements the length and style of your jumpsuit. Finish off your ensemble with accessories—think statement earrings, a chic handbag, or a vibrant scarf.
12. Buy dainty jewelry
When it comes to necklaces, embrace the delicate charm of slender chains adorned with small pendants or charms. These dainty pieces work wonders by gracefully enhancing your neckline and infusing a hint of femininity into your ensemble. Try layering multiple necklaces of varying lengths for a touch of personalization and a dash of style.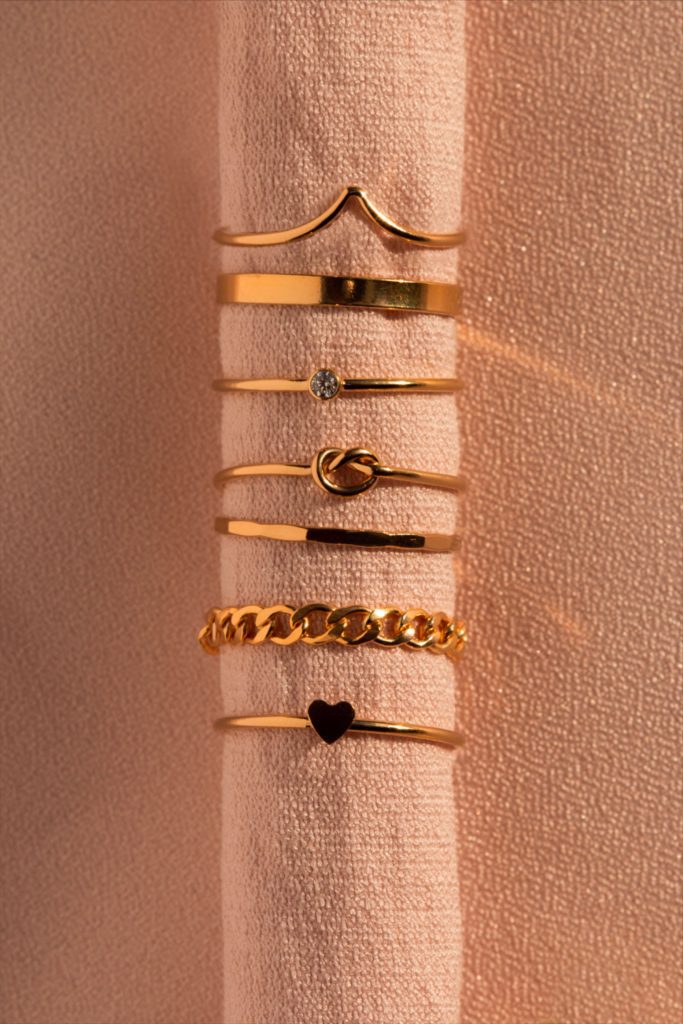 Bracelets and bangles are another way to incorporate dainty jewelry into your ensemble. Choose slim and minimalistic designs that delicately adorn your wrist. Consider stacking multiple bracelets for a stylish layered effect, mixing metals, or incorporating subtle gemstone accents for a touch of sparkle.
13. Play with solid colors
Solid colors are the perfect canvas for unleashing your individuality and venturing into exciting color explorations. While timeless neutrals like black, white, navy, and beige never fail to impress, don't shy away from experimenting with vibrant hues that beautifully complement your complexion and accentuate your unique features.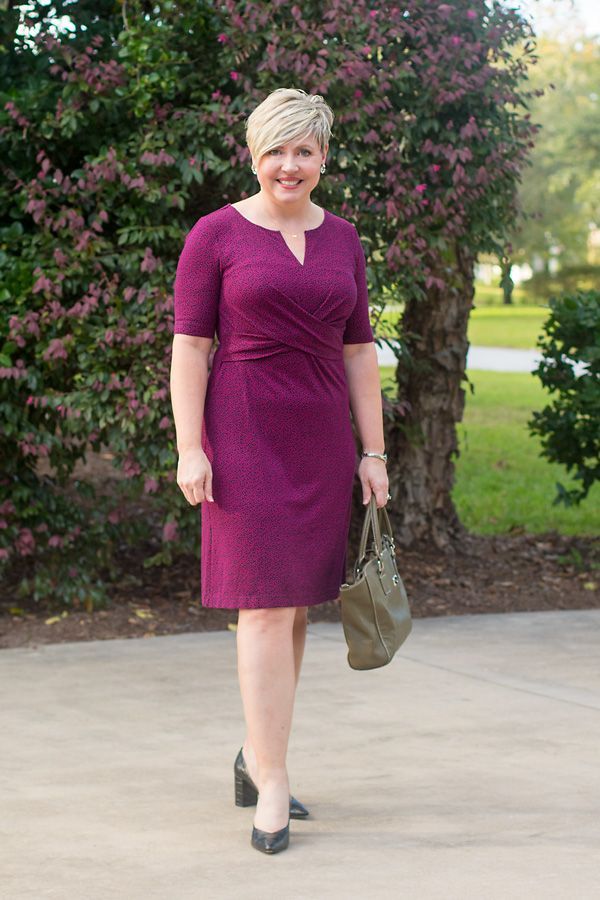 Unleash your creativity with solid colors and embrace the power of monochromatic looks, where you explore various hues within the same color family. This delightful approach creates visually captivating ensembles that radiate elegance and sophistication. So go ahead, paint your wardrobe with a single color or venture into complementary shades, and watch as your style flourishes!
14. Play with animal prints
Animal prints, such as leopard, zebra, or snake patterns, bring a distinct and captivating touch to any outfit. They exude playfulness and sophistication, enabling you to make a bold statement while maintaining elegance. Animal prints can be seamlessly integrated into a range of clothing items, accessories, or even accent details.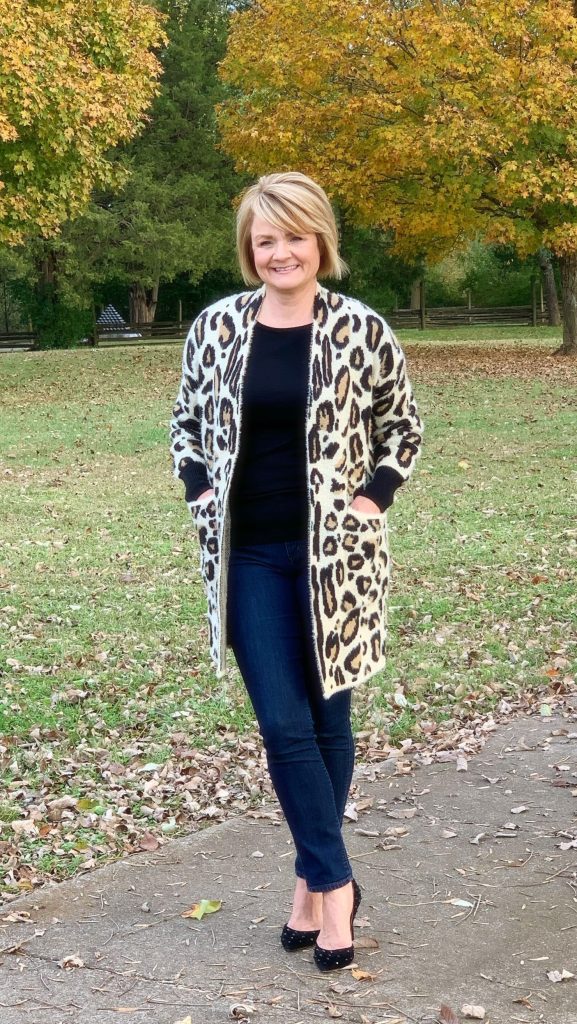 Animal prints have a remarkable versatility that makes them suitable for various occasions, casual or professional. Consider incorporating animal prints through accessories like scarves, belts, or shoes for a more subtle approach. These accents instantly transform a simple ensemble into a chic and fashion-forward look.
15. Play around with prints and patterns
Infuse your ensemble with a dash of excitement by incorporating understated prints through fabulous accessories such as scarves, handbags, or statement belts. These delightful accents have the power to instantly elevate your look, injecting a captivating visual interest without overwhelming your ensemble.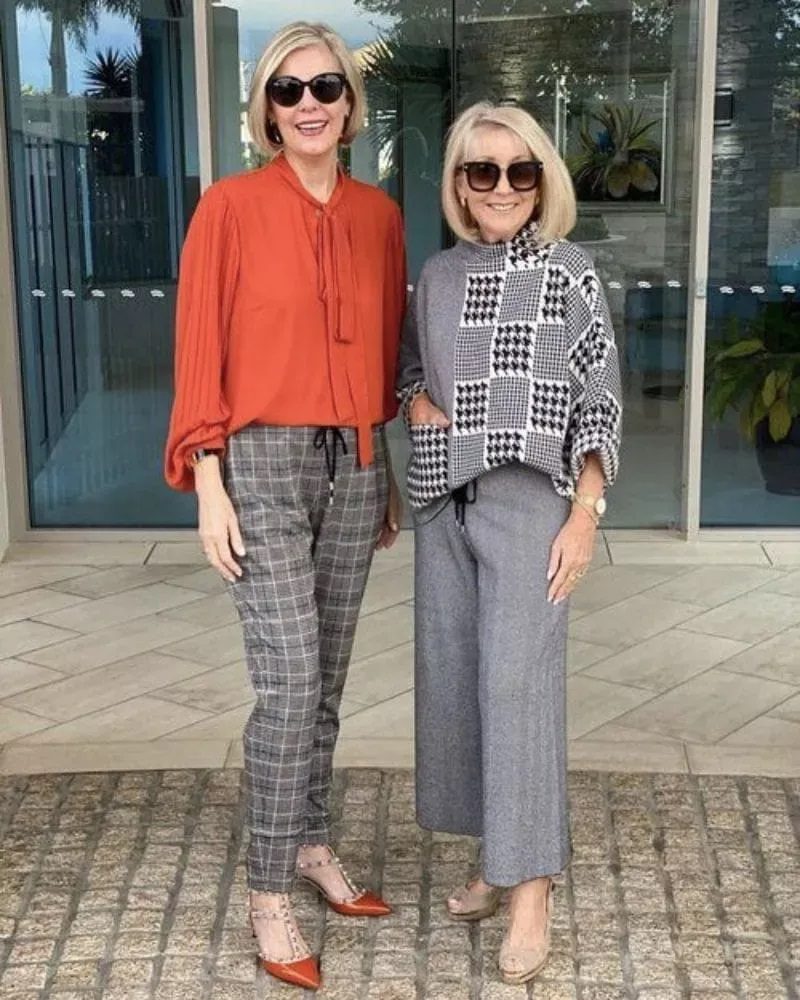 Smaller patterns can be forgiving and flattering, especially if you prefer a more understated look. However, don't shy away from embracing larger prints that make a bold fashion statement. The key is to pay attention to the placement of patterns on your garments, ensuring they accentuate your best features and create a flattering silhouette.
16. Use the color wheel
One technique that can elevate your fashion game is exploring complementary colors. Complementary colors are those found directly opposite each other on the color wheel. When combined, they create a captivating high contrast and visually striking effect. They help to create unique and eye-catching outfits.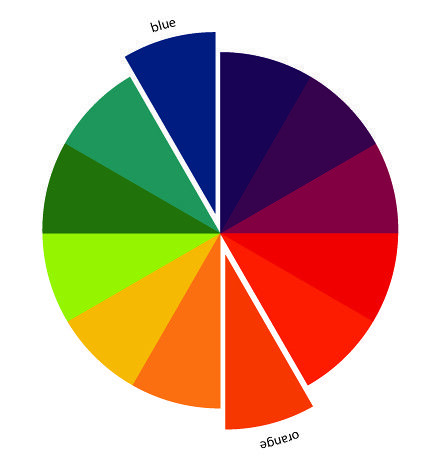 Analogous colors reside next to each other on the color wheel. They create a harmonious and cohesive effect when blended together in an outfit. Imagine pairing a lovely soft pink blouse with a charming lilac skirt—this delightful combination exudes a feminine and elegant vibe.
17. Buy a sturdy tote-bag
If you're in the fabulous 70s club and seeking a versatile accessory that effortlessly blends functionality with cutting-edge design, it's time to consider the wonders of a sturdy tote bag. This timeless and dependable accessory elevates your ensemble and offers convenience and ample storage space.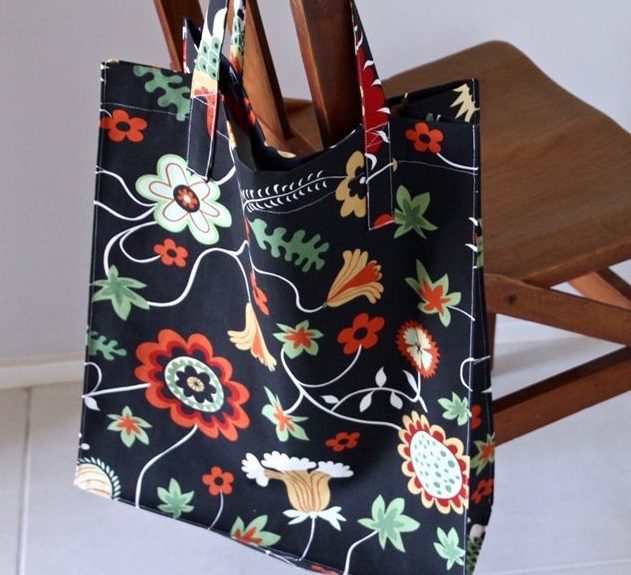 Classic and minimalistic styles possess an enduring allure that seamlessly enhances an array of outfits. They provide the ideal groundwork for crafting versatile looks. However, there's no need to hold back from embracing your individuality and personal style—feel free to explore unique patterns, textures, or embellishments.
18. Don't be afraid of the sheer blouses
Sheer blouses are versatile and ready to transform your outfits into visual masterpieces! They offer a world of versatility and the chance to create captivating ensembles. To keep things modestly fabulous, team your sheer blouse with a camisole or a seamless tank top in a matching shade.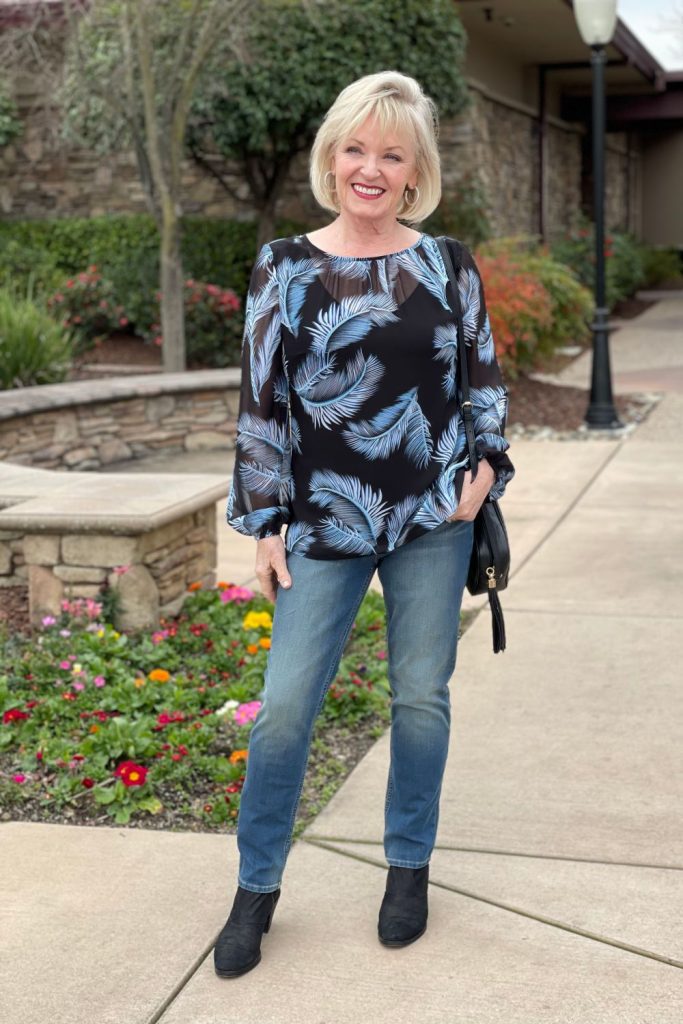 When styling sheer blouses, why not embrace the magic of high-waisted bottoms? Consider the elegance that tailored pants or skirts can bring to the ensemble. By choosing this combination, you will effortlessly achieve a beautifully balanced silhouette that radiates sophistication.
19. Add a flair to your flats
Picture dainty bows, glistening crystals, or charming studs delicately gracing the tips of your flats. These delightful embellishments can instantly elevate your footwear, making a stylish statement with each step you take. These small yet impactful details infuse your overall look with some personality.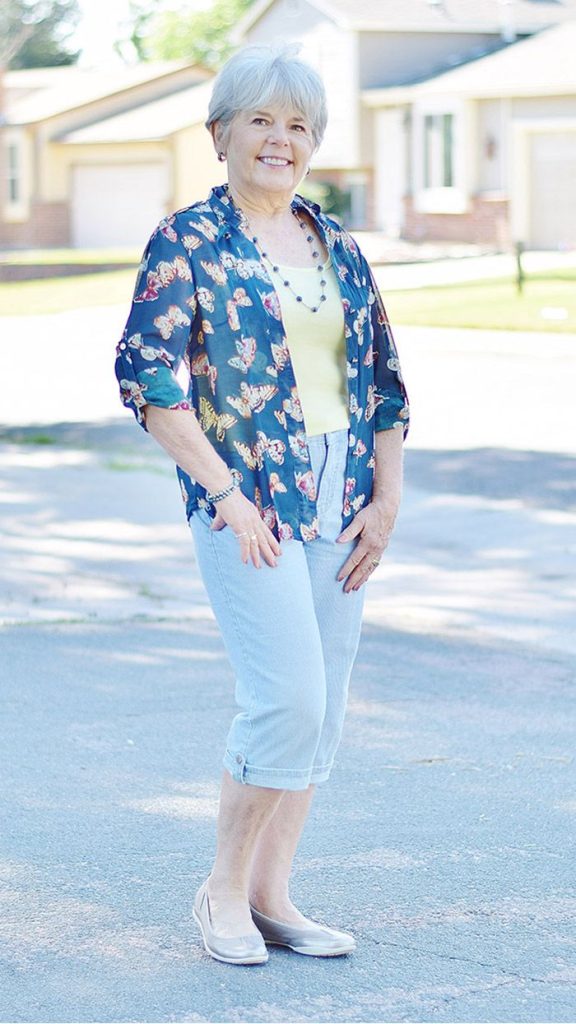 The versatility of these stylish companions ensures they become your go-to option for various events and settings. Whether you're strolling through the streets during the day or gracefully gliding across the dance floor at night, your embellished flats will accompany you with comfort and style.
20. Change up your collar
By exploring different collar styles, you can effortlessly transform the neckline of your tops, dresses, and jackets, infusing your overall look with a touch of sophistication and individuality. The collar becomes a captivating focal point, drawing attention to your face and elegantly framing it.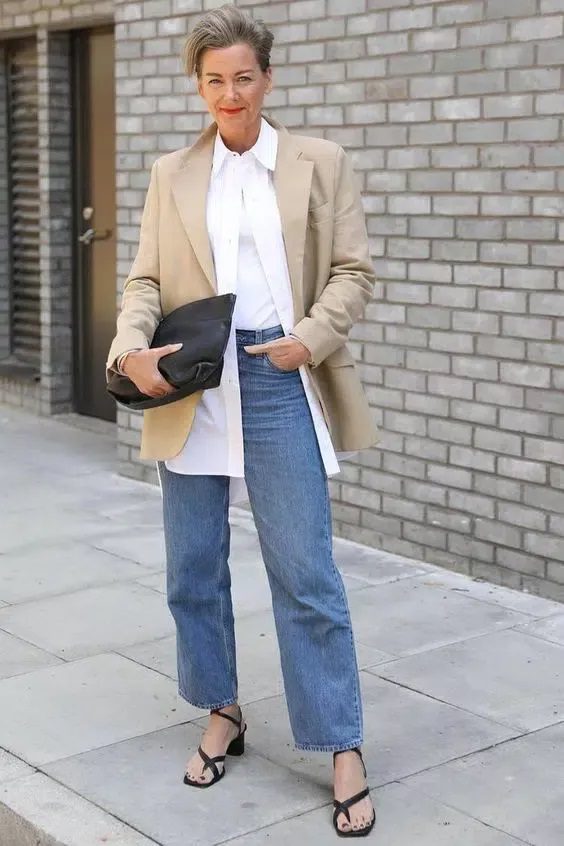 Don't overlook classic collar styles, such as the pointed or spread collar. These timeless options are versatile and can be found in various tops and dresses. The pointed collar offers a sharper and more tailored look, while the spread collar provides a more open and relaxed vibe.
21. Don't be afraid of dressing down
Achieving a stylish casual look hinges on the art of selecting comfortable and chic pieces. Prioritize well-fitting garments that flatter your body shape while allowing for unrestricted movement. Embrace the allure of soft and breathable fabrics like cotton, linen, or knits as they seamlessly blend comfort with style, creating the perfect harmony for your outfits.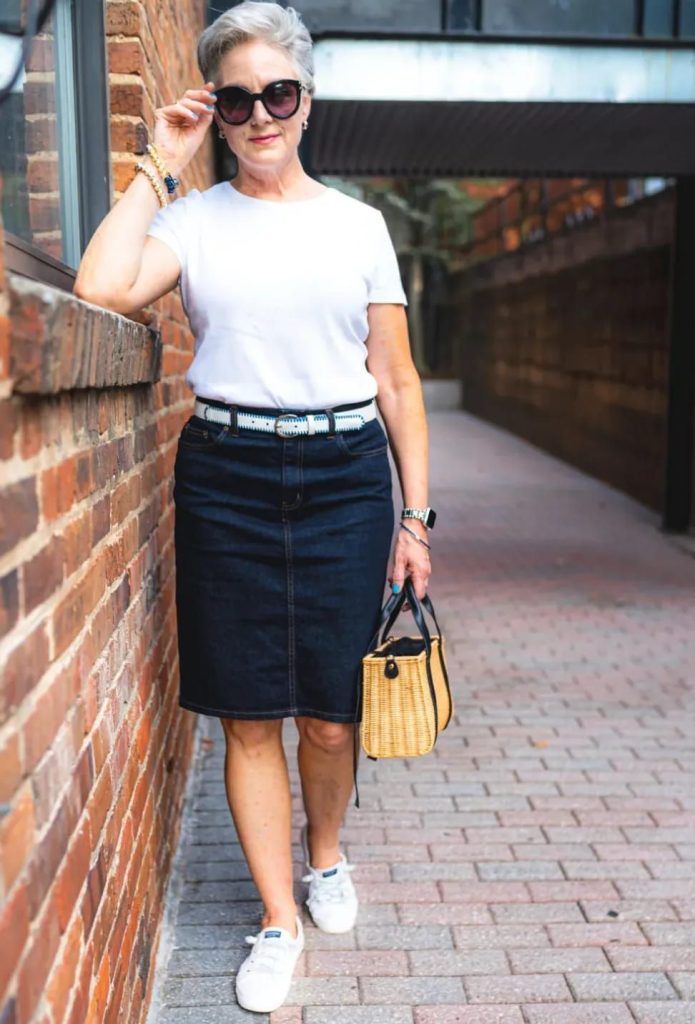 When paired with a simple blouse or a classic t-shirt, a pair of well-tailored trousers or jeans serves as the perfect foundation for creating a casual yet stylish ensemble. Also, layering is a fantastic technique for introducing depth and intrigue to your laid-back outfits.
22. Get a manicure
Your hands are a beautiful canvas for elegance and grace, and what better way to add a final flourish to your style than with a fabulous manicure? Regardless of age, indulging in a manicure can be a delightful way to enhance your overall appearance and showcase your impeccable attention to detail.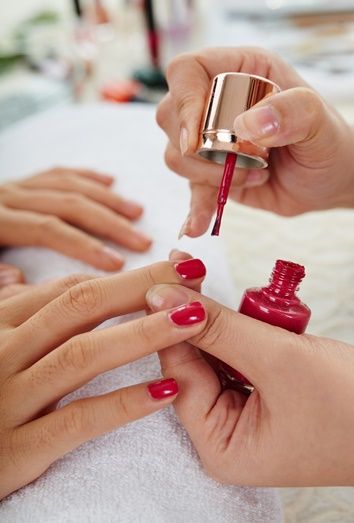 A manicure is a delightful indulgence that goes beyond mere beauty—it's a chance to prioritize self-care and indulge in a moment of pampering. Through the expert shaping, filing, and buffing of your nails, a manicure leaves them looking flawlessly polished
23. Mix and match your outfits
Mixing and matching your outfits allows you to maximize the potential of your existing wardrobe, ensuring that you never run out of stylish combinations. It's an opportunity to experiment with colors, textures, and styles, creating looks that reflect your mood and personality.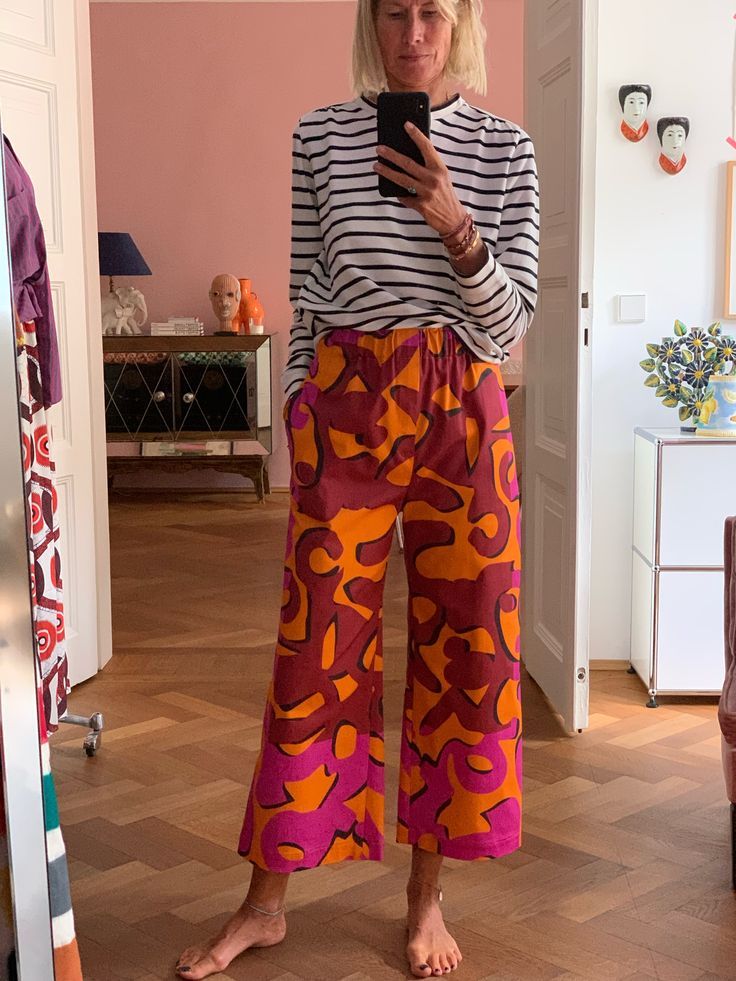 Unleash your style creativity by fearlessly pairing different patterns, textures, and colors. Embracing the unexpected, you can create captivating, dynamic looks that turn heads. Imagine the playfulness of a floral blouse paired with a striped skirt or the juxtaposition of a lace top with a denim jacket.
24. Add a little vintage
Don't be afraid to shake up your pantsuit game by venturing into new territory with various cuts and silhouettes. While the classic tailored suit always exudes timeless elegance, there's a whole world of possibilities to explore. Why not try a wide-leg pantsuit for a bold and fashion-forward statement?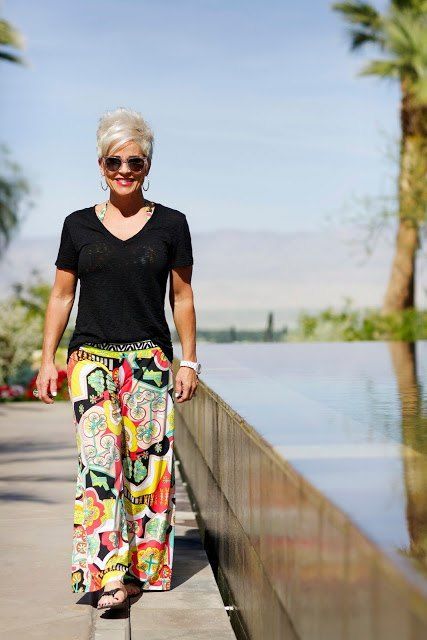 Don't underestimate the power of accessories when elevating your pantsuit and making a bold style statement. A statement belt can work wonders by adding definition to your waist and infusing a hint of glamour into your ensemble. You can also explore textures and patterns when pairing a blouse with your pantsuit.
25. Try out peplum tops
Peplum tops are characterized by a flared ruffle or gathered fabric at the waistline, creating a subtle peplum effect. This design detail adds volume and structure to the waist while also emphasizing the natural curves of your body. The result is a silhouette that accentuates your figure and creates a visually appealing hourglass shape.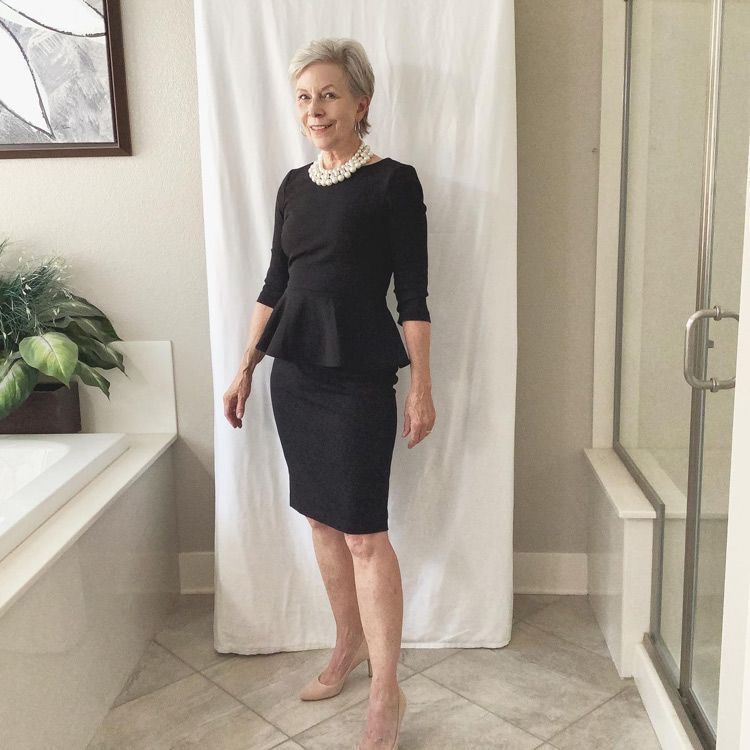 One of the benefits of peplum tops is their ability to flatter a variety of body shapes and sizes. Whether you are curvy or petite, peplum tops can enhance your proportions. The flared ruffle draws attention to the waistline, highlighting the slimmest part of your torso.
26. Pay attention to fit
When shopping for clothes, plan some time to try on some sizes and styles. Avoid the temptation to simply go for your usual size and instead focus on how the garment fits your body. When selecting clothing, aim for a fit that gracefully follows the contours of your body without feeling excessively tight or loose.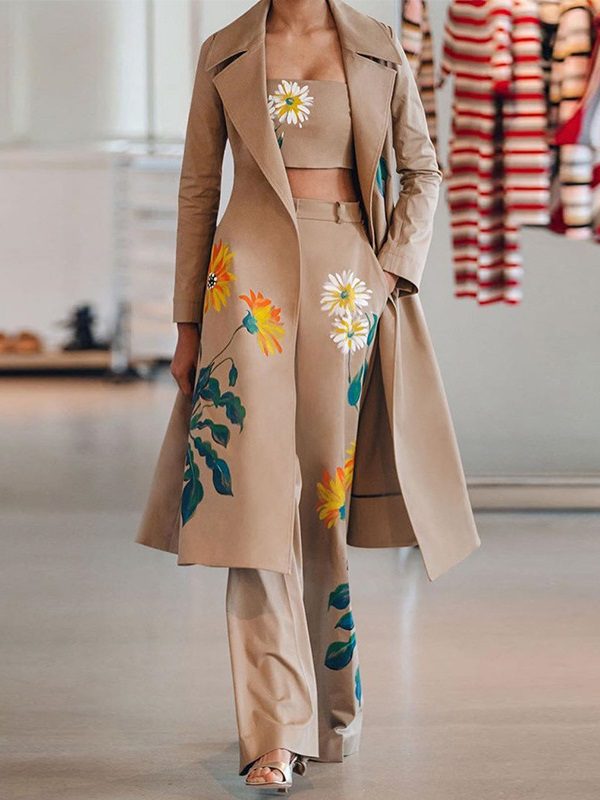 Pay attention to areas such as the shoulders, waist, and hips to ensure a proper fit that enhances your figure. Tailoring is another important aspect of achieving the perfect fit. Clothes off the rack may not always fit every individual perfectly, and that's where the expertise of a skilled tailor can make a significant difference.
27. Pay attention to your accessories
Accessories can remarkably turn a mundane outfit into a captivating fashion statement. They allow you to express your distinct personality and infuse your style into every ensemble. With careful selection and pairing, accessories become the key to attaining a cohesive look that beautifully reflects your individuality.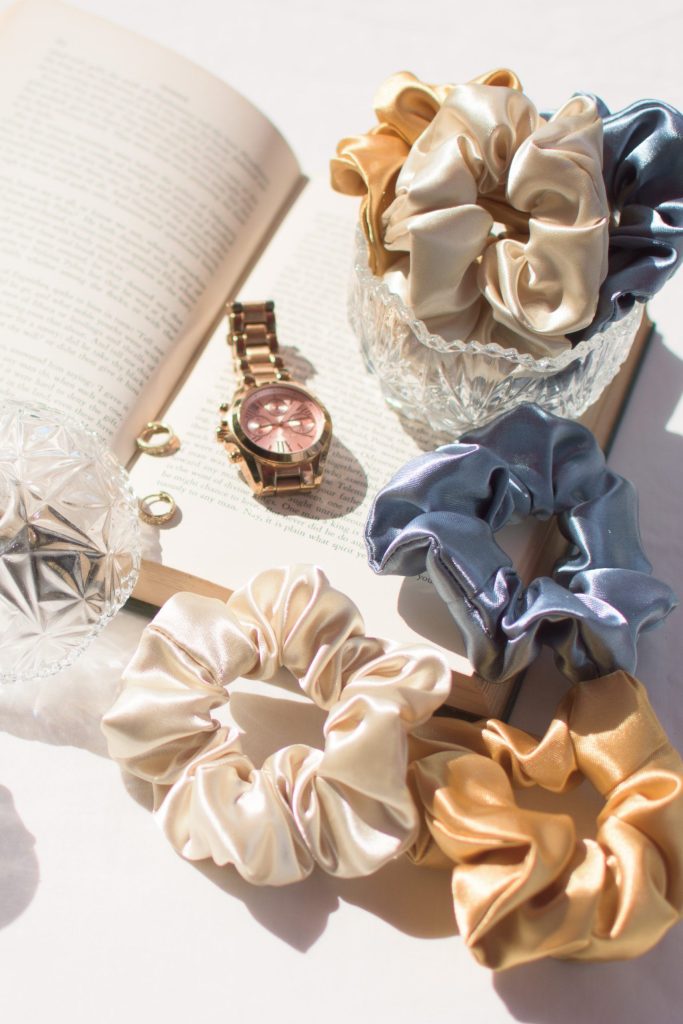 When choosing accessories, it's important to consider colors that harmonize with your wardrobe and enhance your complexion. Neutral tones such as black, navy, beige, and metallics are versatile options that effortlessly elevate any outfit. These timeless shades are a solid foundation, allowing you to mix and match accessories while maintaining sophistication and style.
28. Switch up your pantsuit
Gone are the days when the pantsuit was solely associated with power and professionalism. This versatile ensemble has transformed into a fashion-forward and adaptable choice that can be customized to fit any occasion. If you're over 70 and seeking to refresh your wardrobe while staying on-trend, switching up your pantsuit can be a game-changer.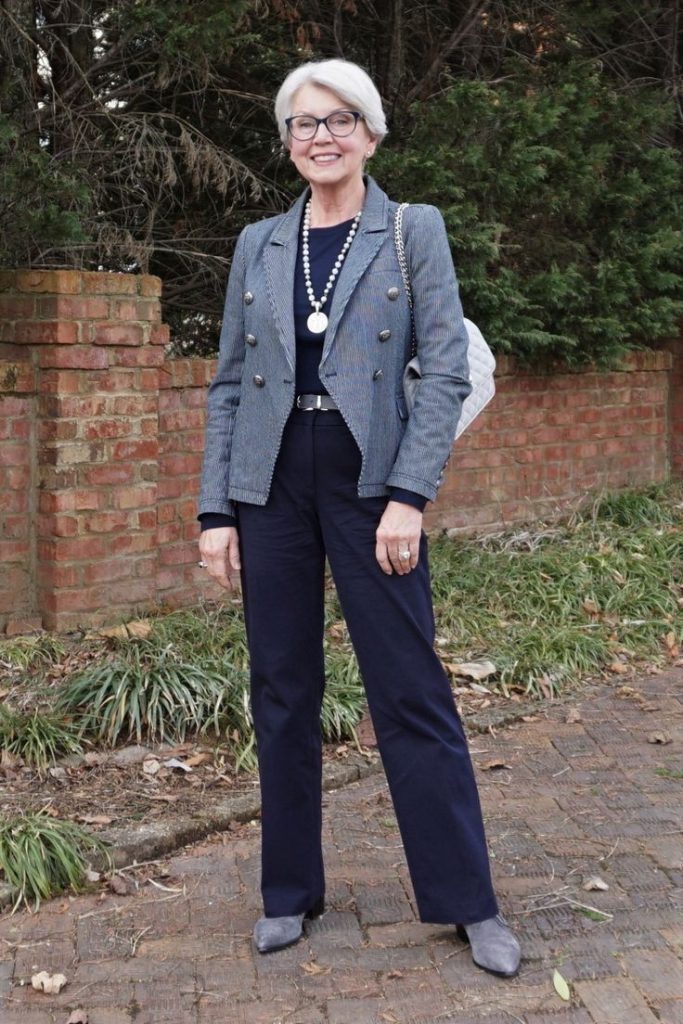 While the classic tailored suit is timeless, don't be afraid to venture into more modern territory. Wide-leg pantsuits, cropped jackets, and relaxed-fit styles offer a fresh take on the traditional ensemble. These contemporary elements inject a sense of sophistication and fashion-forwardness into your outfit, instantly updating your look.
29. Get a pair of statement sunglasses
Picking out statement sunglasses is a fantastic way to show off your style while considering your face shape and features. Angular frames can work wonders for those with round faces by creating balance and adding definition. If you have an oval face, oversized frames can provide a dramatic effect and make a bold fashion statement.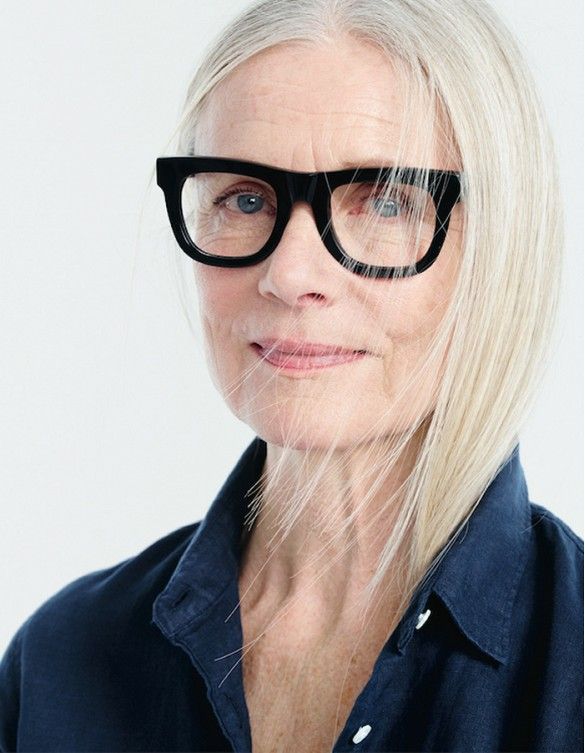 Statement sunglasses are a testament to your confidence and style. They showcase your willingness to embrace fashion trends and experiment with your look. By stepping out of your comfort zone and donning a pair of attention-grabbing sunglasses, you exude a vibrant energy that inspires others to embrace their own sense of style!
30. Minimal makeup is the key
Building a minimal makeup look begins with a strong skincare foundation. Prioritize a skincare routine that focuses on nourishing and hydrating your skin. Start by cleansing your face to remove impurities and moisturizing to provide essential hydration. After that, remember to apply a lightweight SPF for protection.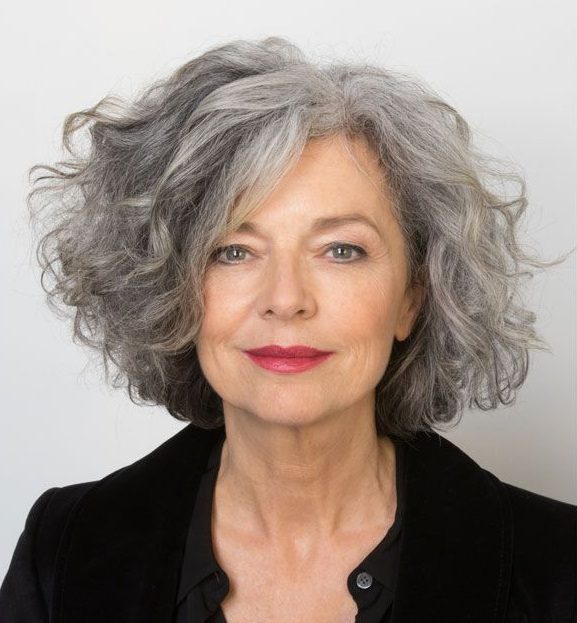 Start by applying a lightweight foundation or tinted moisturizer to create an even skin tone. Use a minimal amount of concealer to address any specific areas of concern. Remember, the aim is to achieve a natural, fresh-faced appearance that allows your best features to radiate.
31. Monochrome outfits
Styling monochrome ensembles offers endless creative possibilities. Experimenting with different shades within the same color family adds depth and dimension to your outfit while maintaining a harmonious and unified look. It's a great way to create visually captivating ensembles that showcase your style.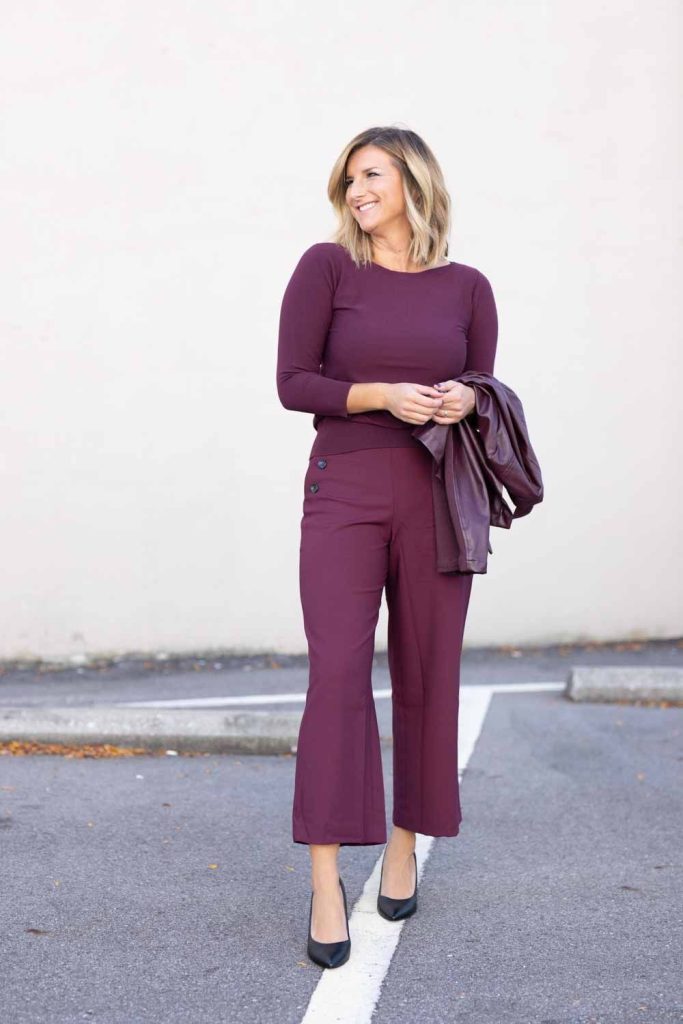 Pair a light gray sweater with charcoal gray pants for an effortlessly chic monochrome look. Another option is to experiment with textures and fabrics within your chosen color palette. Mix smooth and textured materials—this adds visual interest and dimension to your outfit while keeping it cohesive and stylish.
32. Add pearls to your outfit
Pearls exude luxury and sophistication, embodying timeless elegance in the world of fashion. Whether adorning necklaces, earrings, bracelets, or rings, pearls are versatile accessories that effortlessly elevate any outfit, casual or professional. Their allure and classic appeal make them perfect for enhancing your overall style.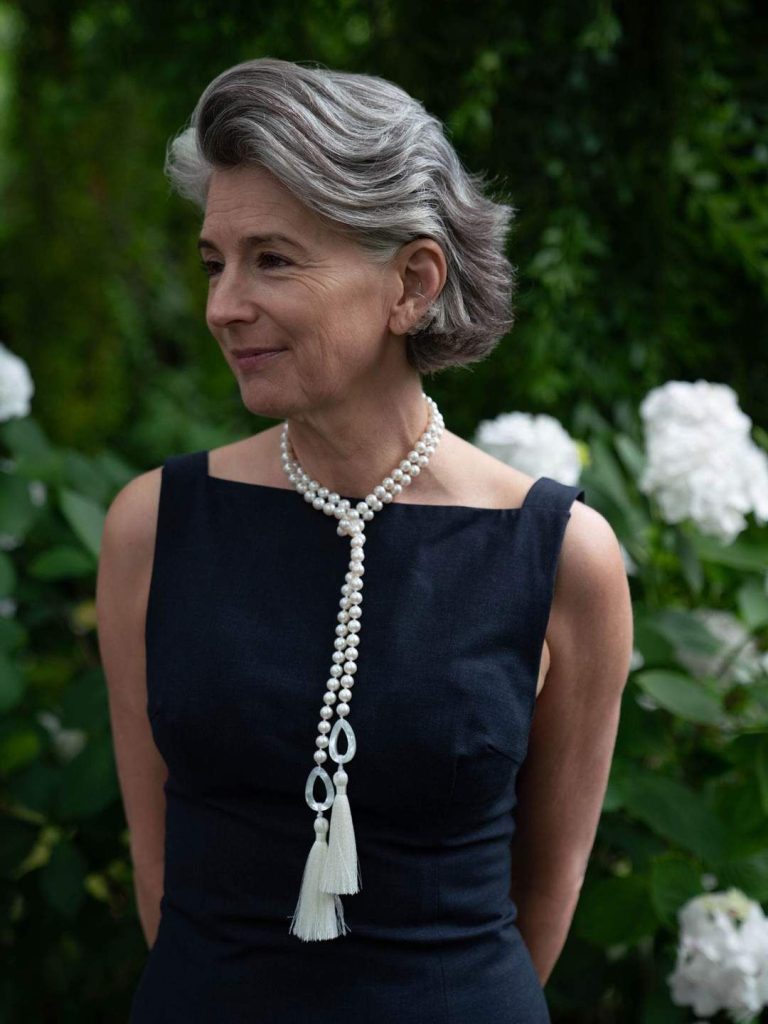 Whether you're dressed in a casual blouse or an exquisite evening gown, adding a string of pearls bestows instant refinement and sophistication. Acting as a captivating focal point, pearls illuminate your face with an ethereal glow, exuding an aura of timeless beauty.
33. Try out straight pants
Straight pants possess a captivating charm characterized by their clean lines and timeless allure. Unlike excessively snug or loose-fitting styles, straight pants offer a harmonious and well-proportioned silhouette that flatters various body types. With their gentle drape, these pants gracefully skim the contours of the body.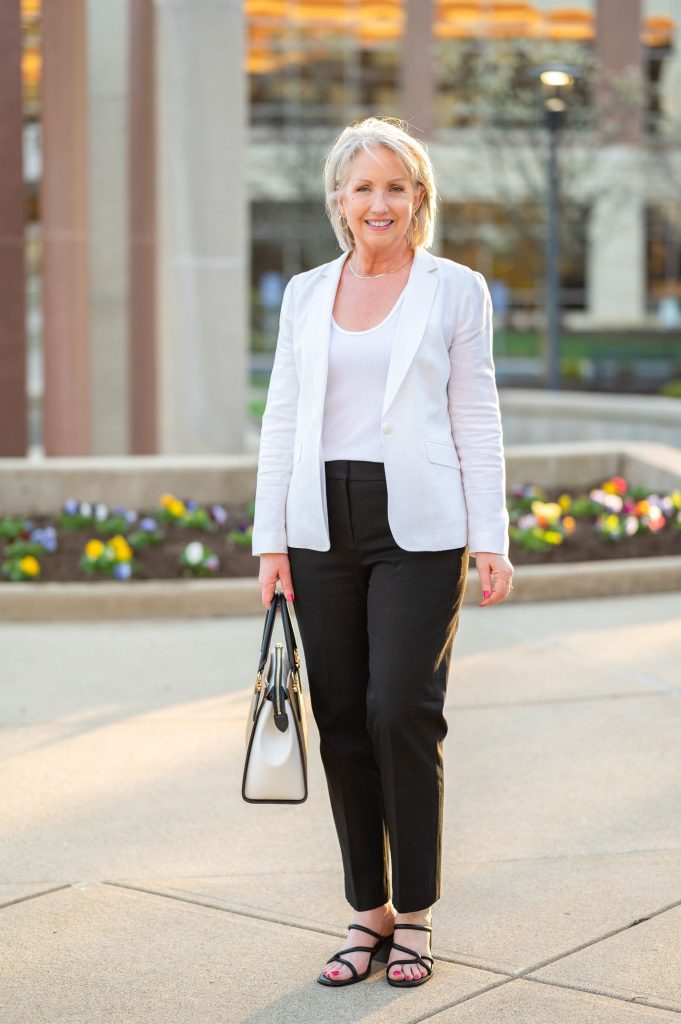 To elevate your straight pants for a formal or dressy occasion, pair them with a tailored blazer or a structured top. This combination exudes sophistication and polish. Complete the ensemble with pointed-toe heels or sleek boots for a refined touch.
34. Embrace shapewear
Shapewear comes in a range of designs and styles tailored to address specific areas of the body. Whether you're looking for a waist cincher, shaping camisole, or thigh shaper, there is an option to suit your preferences and target areas. The key is selecting shapewear that meets your needs, providing comfort and a natural appearance.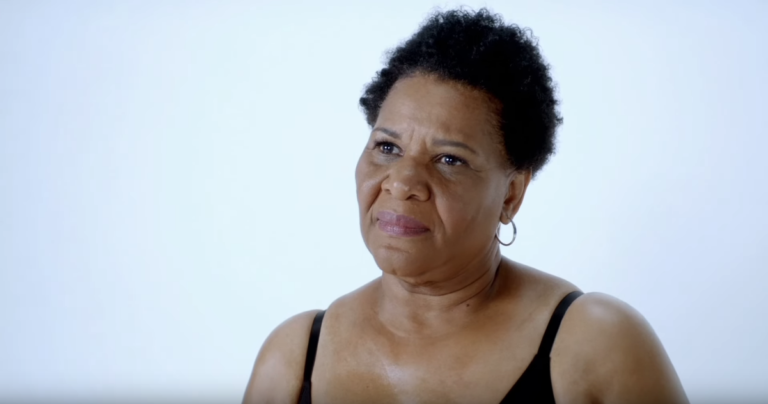 One of the main benefits of shapewear is its ability to smooth out any bumps or bulges, creating a streamlined and polished appearance. Whether you're wearing a form-fitting dress, tailored pants, or a blouse, shapewear helps create a more flattering and cohesive silhouette, ensuring your outfits fit and flatter your body shape.
35. Get a bob cut
The beauty of a bob cut lies in its ability to create a fresh and youthful look while exuding sophistication and elegance. Whether you opt for a classic bob with straight lines or a more modern variation with layers and texture, this hairstyle can enhance your facial features and frame your face beautifully.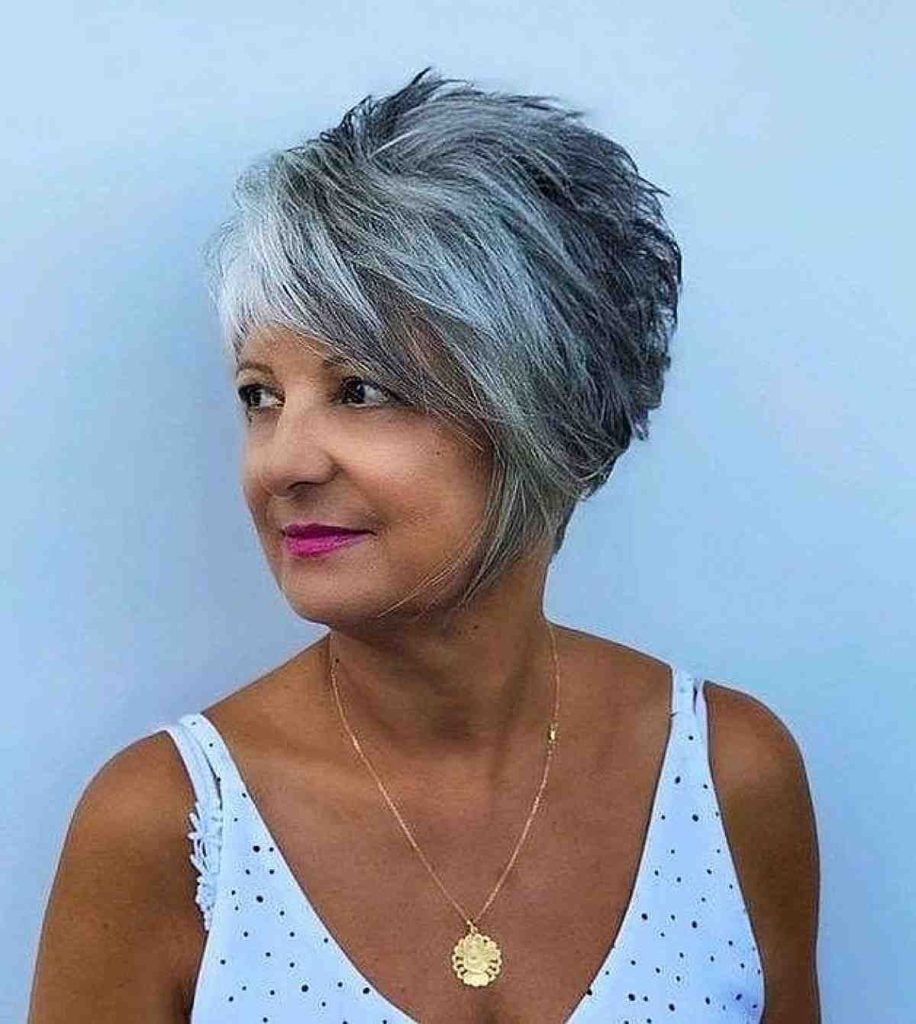 Grab your trusty flat iron for a sleek and polished look and effortlessly create silky, straight strands that exude sophistication. If you're in the mood for a more relaxed and natural vibe, embrace the texture of your hair by applying a styling product that enhances your waves or curls, allowing your bob to embrace its inherent beauty.
36. Invest in a timeless watch
Accessories play a pivotal role in enhancing personal style and can become timeless pieces that withstand passing trends. If you're over 70 and seeking an accessory that seamlessly combines functionality, sophistication, and elegance, a timeless watch is a worthy investment.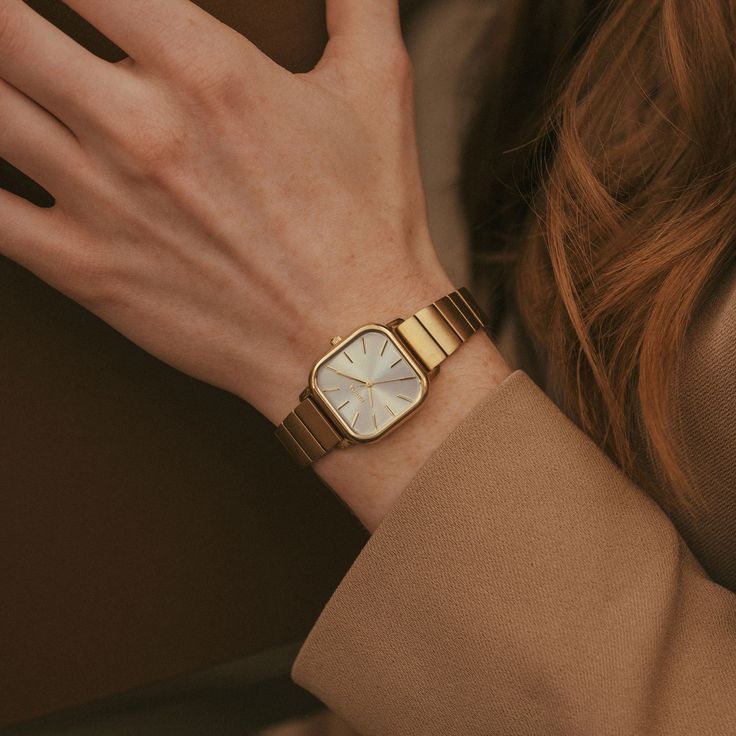 The watch's color can also influence its versatility and adaptability to various outfits. Neutral tones like silver, gold, or black offer timeless elegance and effortlessly blend with many styles. Alternatively, if you prefer a statement piece, consider exploring bolder colors or unique finishes that reflect your personality and individuality.
37. Opt for striped blouses
Striped blouses are highly versatile—for a laid-back and relaxed ensemble, pair a striped top with your go-to jeans or comfortable trousers. To achieve a chic look, consider adding a pair of ballet flats or stylish sandals. This combination strikes the perfect balance between comfort and style, allowing you to embrace a casual yet put-together aesthetic.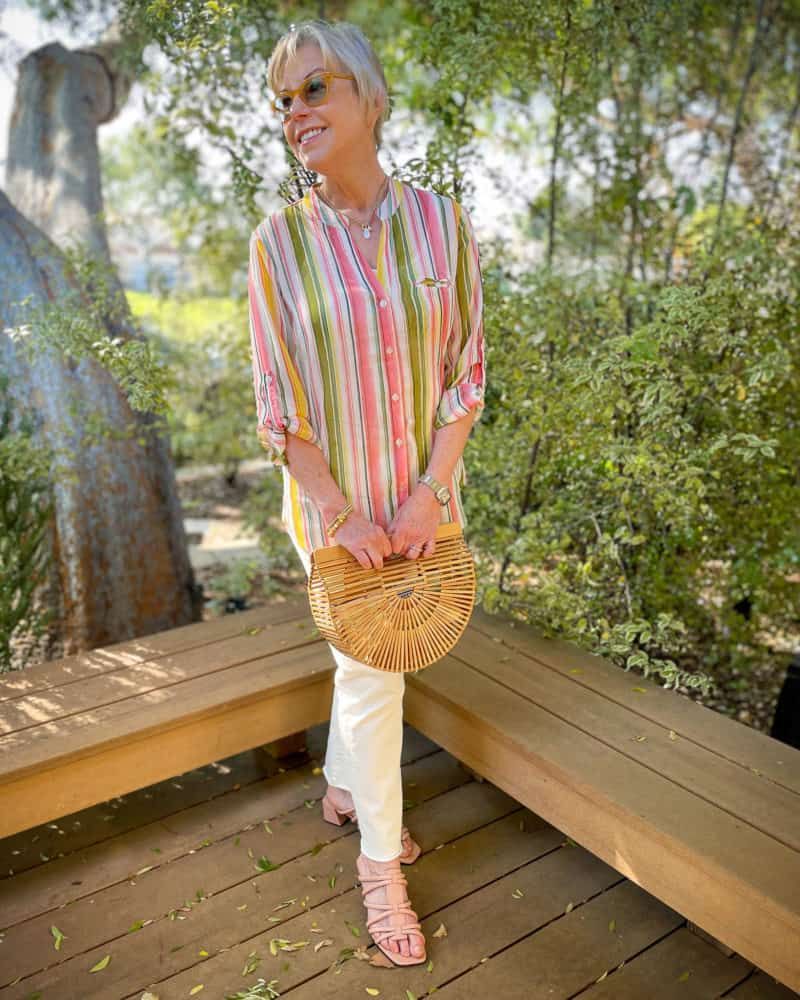 However, if you want to dress up your striped blouse, you can easily achieve a more sophisticated look by pairing it with tailored pants. This combination is particularly suitable for formal or professional settings, such as business meetings or social events, where you want to make a polished and stylish impression.
38. Embrace your eclectic side
One of the joys of embracing eclectic style is the freedom to mix and match different pieces from various eras, cultures, and styles. Don't shy away from pairing vintage finds with contemporary pieces, blending colors and prints that catch your eye, or layering different textures for a rich and visually captivating ensemble!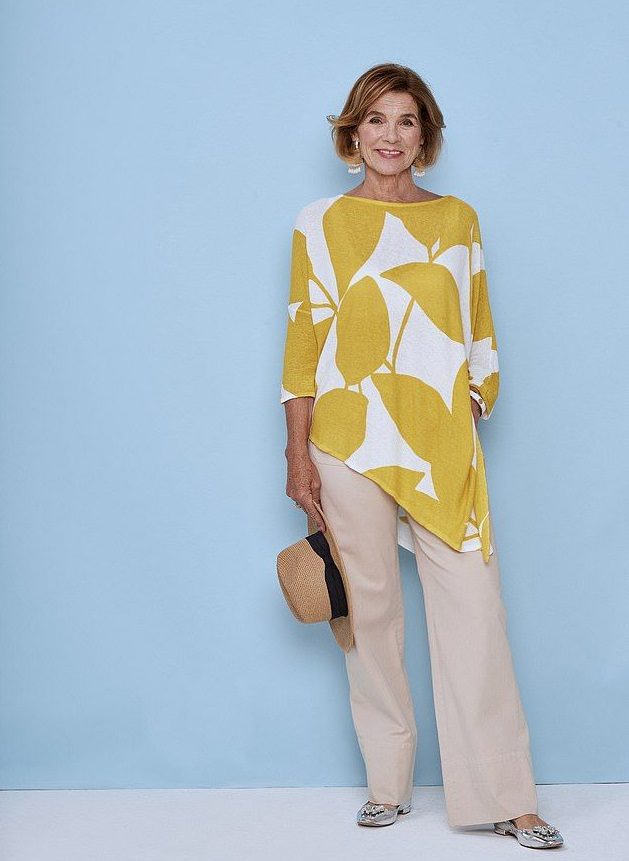 To embrace your eclectic side, explore thrift stores, vintage boutiques, or even your closet for unique pieces that resonate with you. Look for statement pieces, such as bold patterns, embroidered details, or interesting textures, that can be focal points in your outfits.
39. Invest in some silk pieces
Silk scarves are versatile and can effortlessly elevate your style. For a touch of sophistication, tie a silk scarf around your neck in a classic knot or drape it loosely for an elegant effect. If you're seeking a playful element, try wearing it as a headband or tying it in a bow.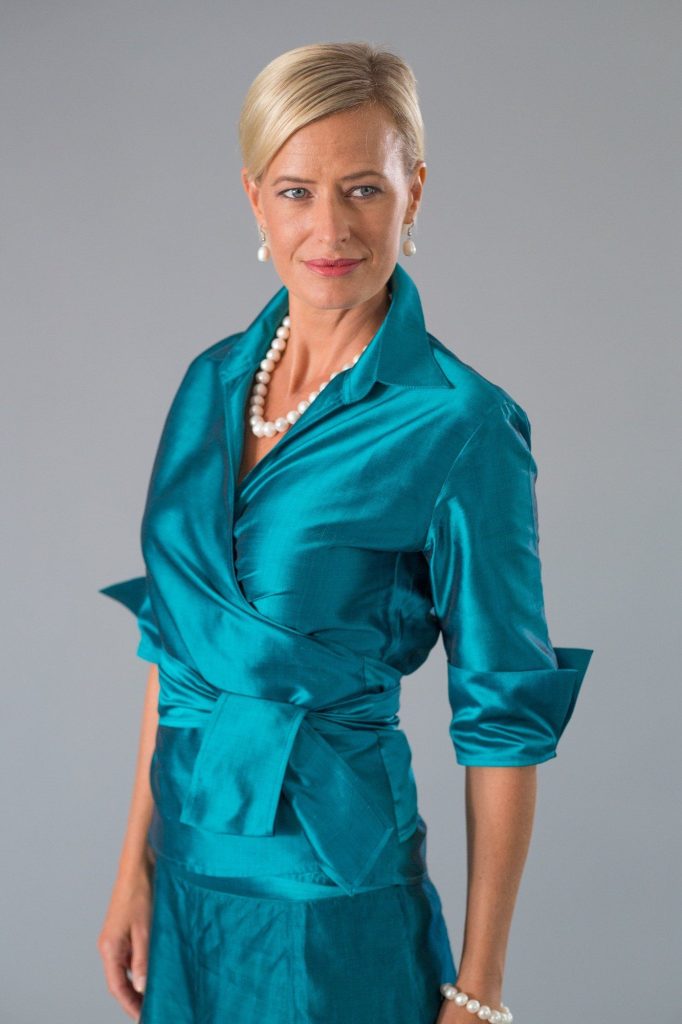 Proper care is crucial for preserving the luster and longevity of silk. To ensure your silk garments remain in pristine condition, it's important to follow the care guidelines provided by the manufacturer. Typically, this involves handwashing or using a delicate cycle on your washing machine with a mild detergent specifically designed for silk.
40. Pick and choose the correct trends
The key to successfully embracing trends is to adapt them to suit your individual preferences and lifestyle. Instead of blindly following every passing fad, focus on timeless trends that have a lasting appeal. Classic silhouettes, quality fabrics, and versatile pieces are your allies in curating a stylish wardrobe.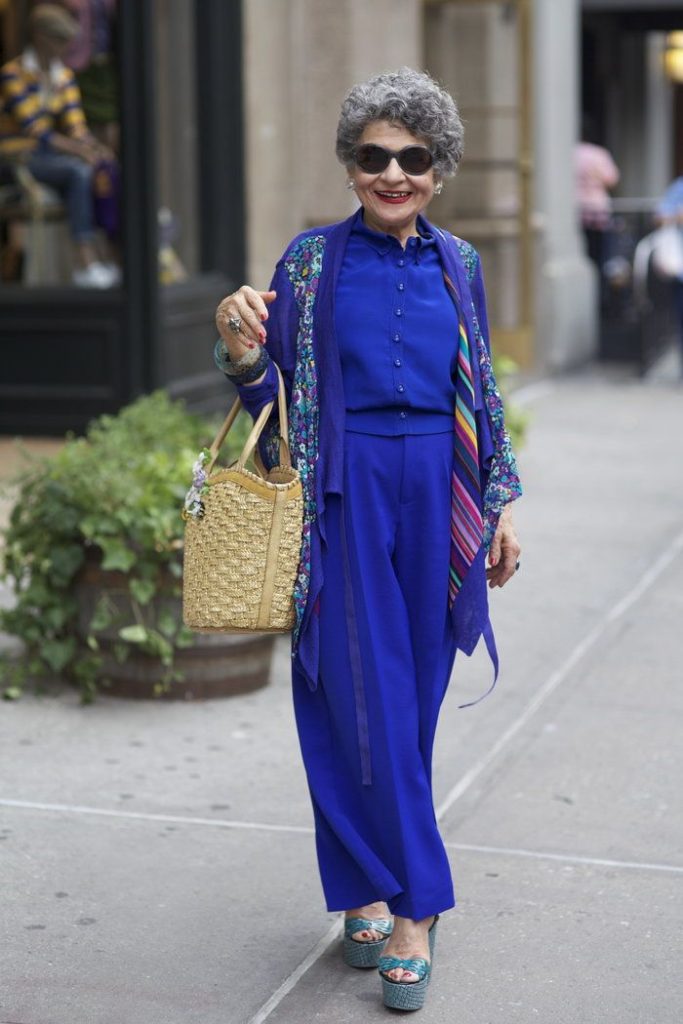 One way to navigate trends is by incorporating them as accent pieces or accessories. For instance, if animal prints are currently popular, you can opt for a leopard print scarf or a zebra print belt to add a hint of trendiness to your outfit. This way, you can incorporate the latest trends without overpowering your overall look.
41. Style striped shirts with something fun
As we mentioned before, striped tops can easily be worn both for official and casual engagements. Just make sure to adhere to the basic rules of engagements i.e. horizontal stripes make you look bigger while vertical ones slim you down.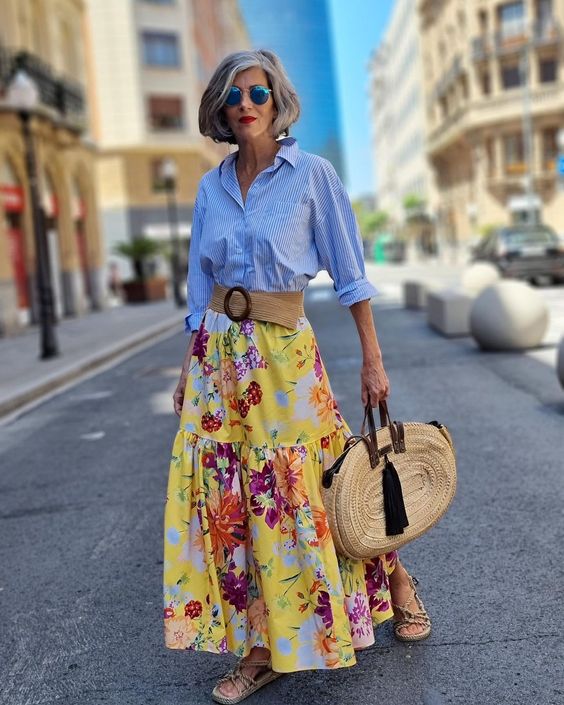 For this particular tip, we're focusing on vertically striped shirts with buttons. These tops can be styled in numerous ways. The model in our photo styled hers with a colorful flowered skirt and a belt that matched her bag and shoes, which we think turned out amazing.