40+ Creative Ways To Revamp And Repurpose Household Items That Are Sitting Around Collecting Dust
By Jo A August 27, 2023
---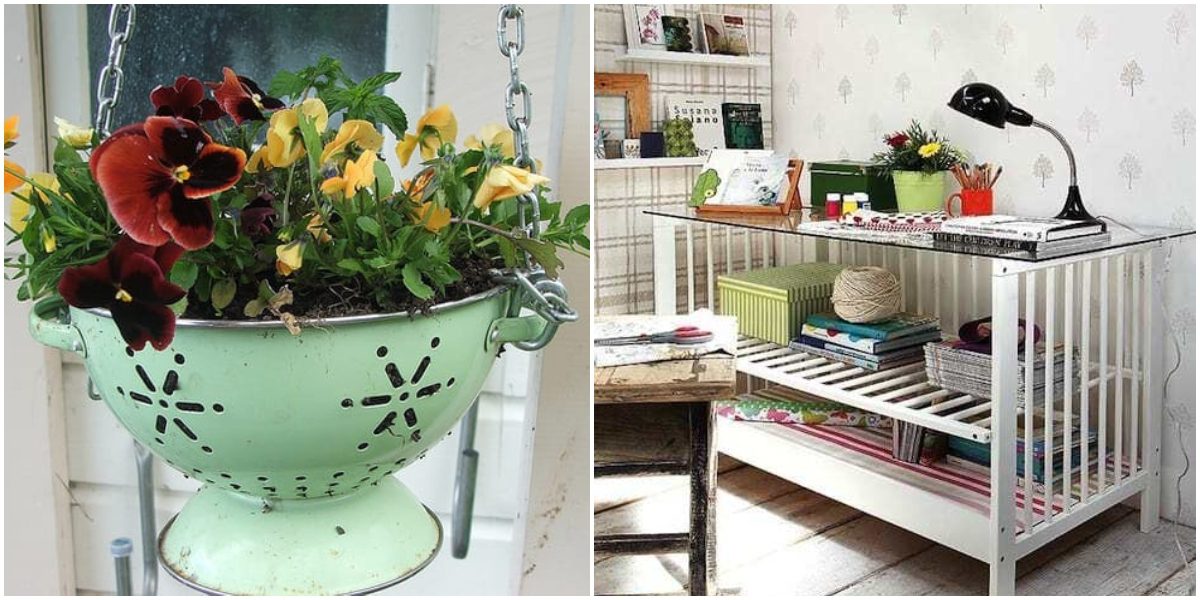 This article was originally published on
morehackz
We believe that everybody has a creative side. However, some of us just don't know where to begin! But, what if we told you that you could start by taking random, everyday items sitting around your house collecting dust and turning them into something that you can use every day? Did we catch your attention yet? The art of transforming random or abandoned household items into something functional is a great way to get in touch with your creative side while also learning a few hacks to repurpose something you were maybe planning on throwing away! From repurposing old bread-tag labels to creating hanging baskets for your towels, there is a project in here for everyone, whether you are an advanced DIYer or someone who is just getting started! Let's take a stroll down DIY and hack lane with 45 ways to repurpose and create something new from everyday household objects!
Paper Organizers
In order to prevent books or papers from piling up on your table, you can put them neatly in a cereal box. Cereal boxes serve as a unique book or paper organizer, and they are surprisingly effortless to make.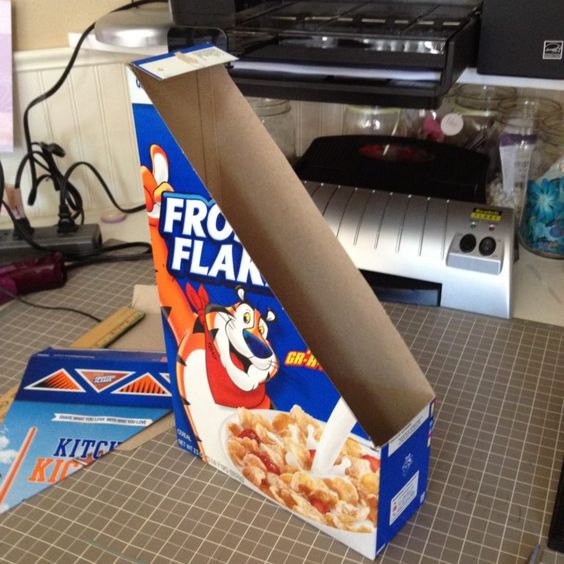 Gather some cereal boxes (depending on how many papers you need to keep in them). Next, cut down the side of the boxes in a diagonal form, as you see in the picture above. You can also use them for storing your plastic lids too.
Eyeglass Case
Cords, chargers, and a pair of earphones can become tangled when you place them in your backpack or purse. It's always a nuisance when you have to untangle them later on. You can avoid all the stress simply by using a glassed case to keep your phone accessories organized.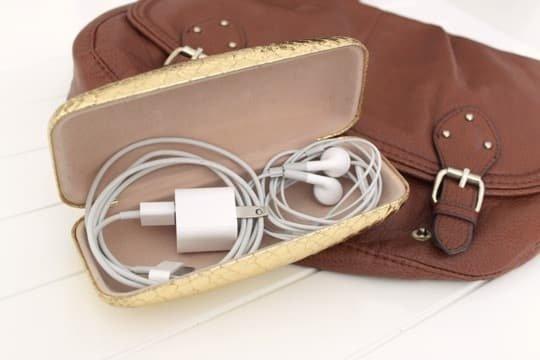 Put your chargers or earphones inside an eyeglass case. This is a portable means to carry around your accessories and, most importantly, prevent them from tangling. The case also makes it easy to locate your phone accessories when you need them.
Cupped Plants
Thinking of the perfect plant holder to use can be a little problematic because there are a lot of options to choose from. Well, there's no need to think too far and hard because teacups serve as excellent plant holders.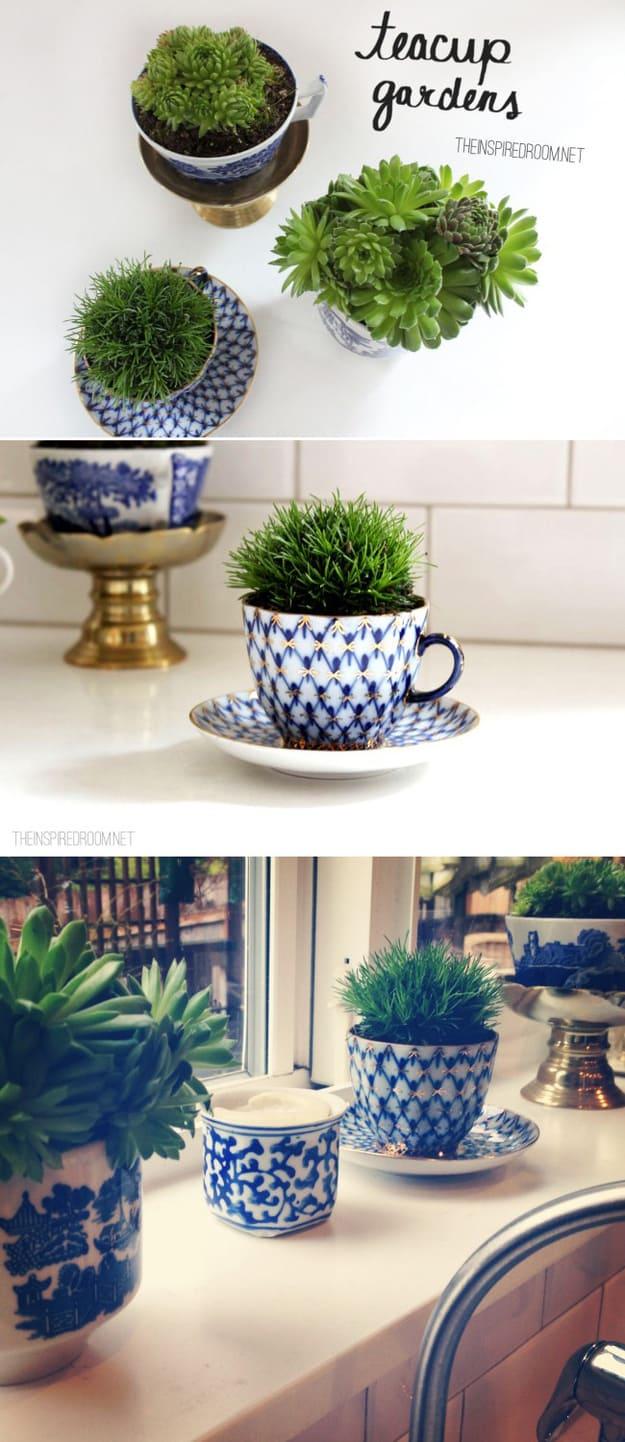 They will hold you smaller plants in style. Interestingly, teacups are usually cute and decorated with interesting designs that help beautify everything, topped with the fact that many of them come with saucers to match. The saucers will help to catch water or dirt that may spill.
Bag Closers
If you don't use up all the contents of a bag after opening it, you will surely need something to close it back safely. That's where handy wine corks come in to play. Shockingly, wine corks serve as perfect bag closers.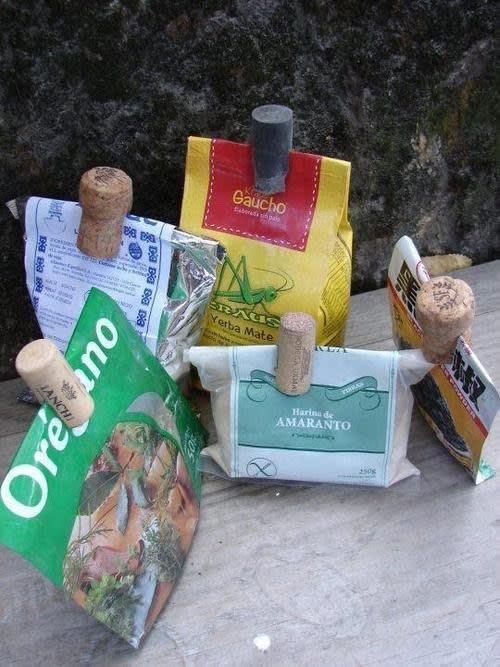 All you need to do is to cut through the cork halfway. Then fasten them onto any bag you wish to close, whether it's chips or dog food. This way, you're sure that your bag and its content are still intact and properly sealed.
Ice-cream Topping Dispenser
Ice cream is a loved delicacy for most people, and the toppings you decide to put on your ice cream matter! Oreo is a favorite for some, so what could be better than creating your own Oreo dispenser? Let us elaborate.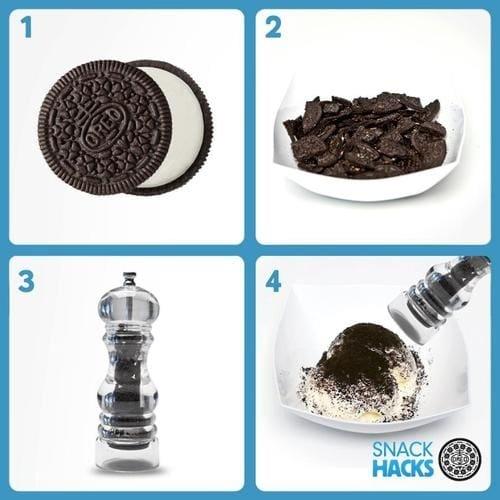 Take some oreo cookies and break them into halves. Pour them into a grinder, and make sure you blend them up into tiny pieces. When you're done, put them in a pepper grinder! This way, you can sprinkle them onto your ice cream. We highly suggest vanilla!
Magazine Holders
There are some things you never thought would work perfectly into your freezers. This creative person took their old magazine holders and used them as shelves to keep everything organized in the freezer. If you need to rearrange your freezer, then look no further.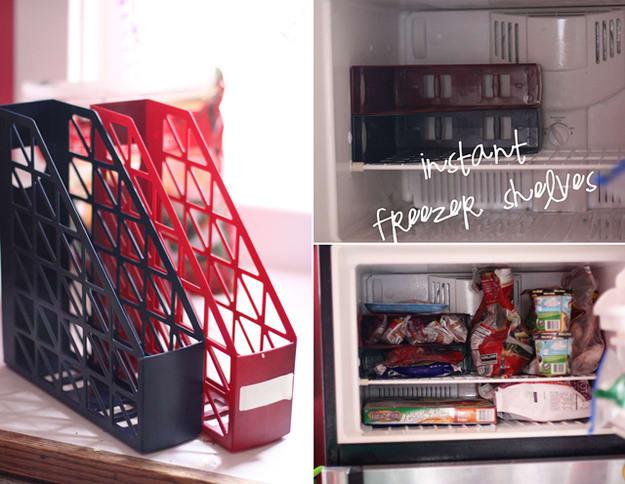 Whichever way you place them, either vertically or horizontally, they are perfect for keeping your food organized. Now you can know where exactly where each food item is all the time without having to ransack your freezer every time.
Key Labels
Over time, when your keys begin to accumulate, it's highly possible that you may become confused when trying to identify each of them. The best solution is to label your keys using old bread tags, which will keep them organized.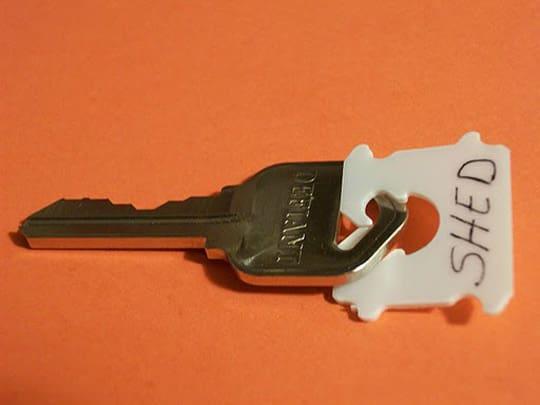 Gather some leftover bread tags and fasten them onto your keys. You might also need a sharp-tipped permanent marker to write on the labels so that you will be a hundred percent sure you know what each key is for.
Beautiful Vases
If you are thinking of throwing away your empty perfume bottle, then think again! Fancy perfume bottles function beautifully as flower vases. So instead of throwing them away, you should definitely recreate this next idea, especially if you're in need of some fresh flowers around the house.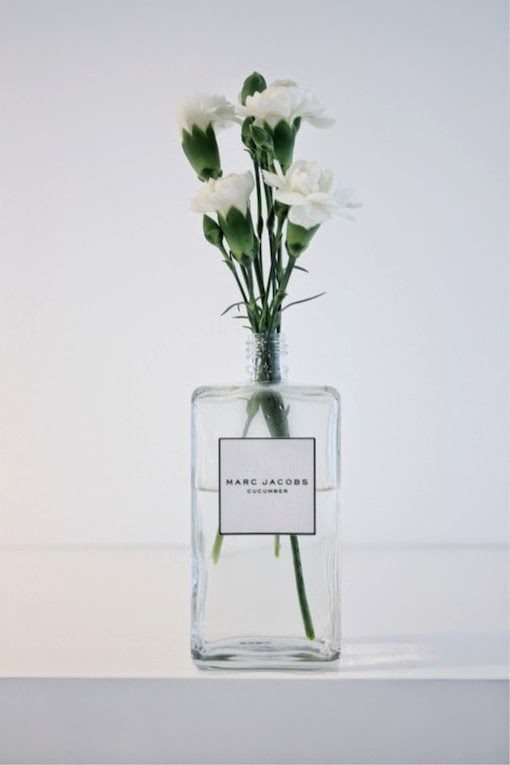 Fill the bottles with water and toss some fresh-cut flowers in them. For a more beautiful result, match the color of the flowers with the perfume bottle you plan on placing them in. This is the perfect way to add some life and a unique touch to your home.
Unique Stands
For most people, dessert stands are not something they often use in their homes. That is why you can give new life to the ones you've abandoned by simply using them to keep your make-up, perfume, or jewelry organized.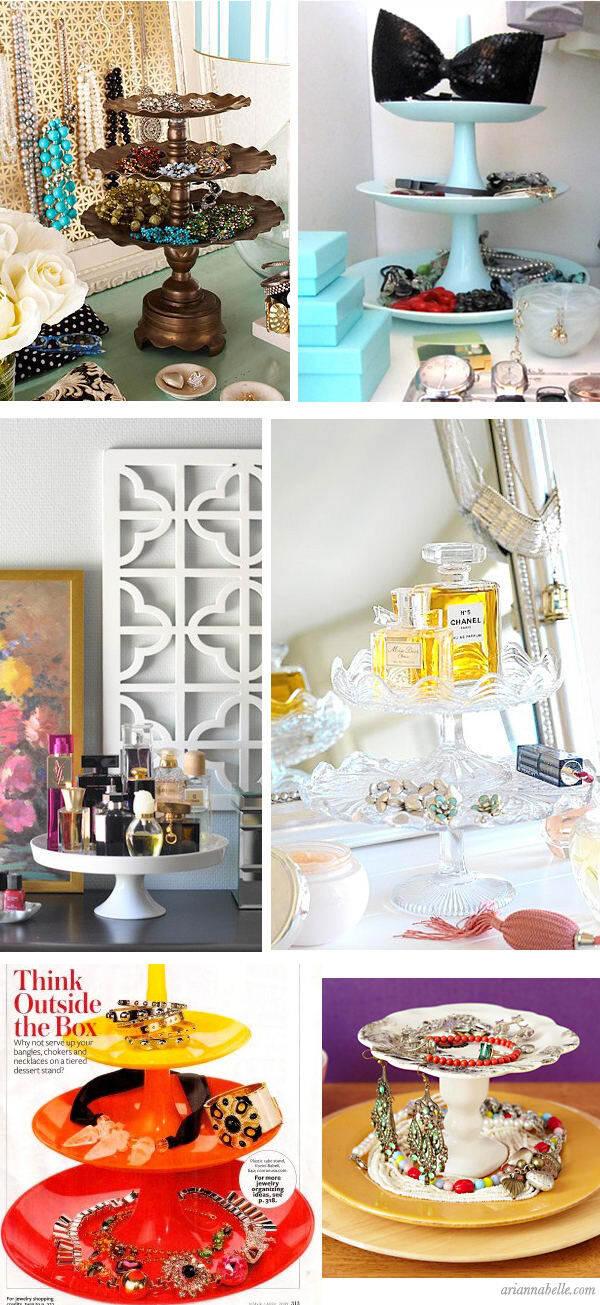 Doing this will help you keep little things like earrings in place without having to rummage through a box or bag, for example. Also, if you do it right, it will look amazing sitting on your dresser or bathroom vanity.
Memory Jars
All of us have moments when we reminisce on the old days because so much has happened over the years. Your childhood, old friends, and past events are hard to forget. Luckily, we found a way to highlight all these amazing memories.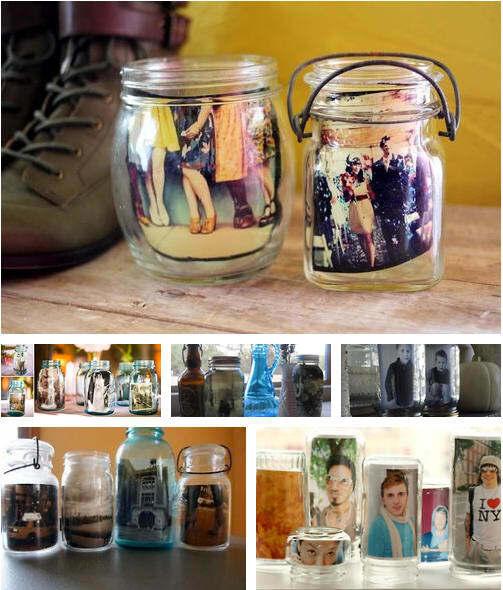 Mason jars are not only stylish as centerpieces, but they also help showcase past memories. Take some of your favorite photos and place them inside the mason jar. When you stare at it, you'll be reminded of a time you love to remember!
Garden Tool Holders
You can effortlessly turn an old mailbox sitting in your backyard into a garden tool holder. They close up easily and help to keep your gloves and little shovels protected. However, if your mailbox is a bit rusty, it may discourage you.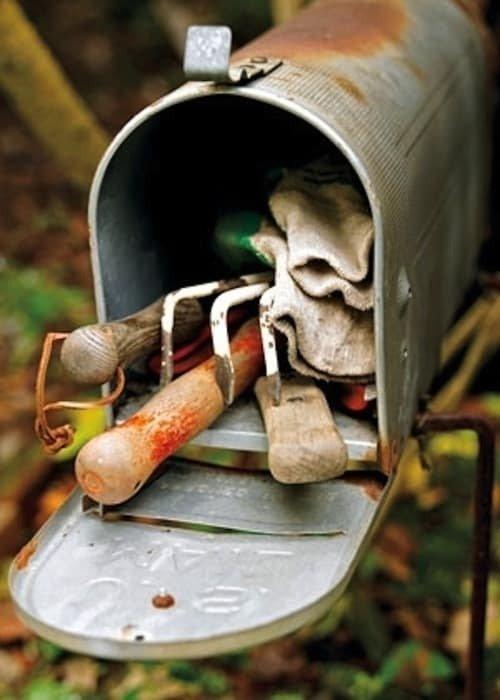 Well, the good news is that it is all part of the aesthetic! We want the mailbox to look vintage, so you don't have to worry about a bit of rust. Carry on by storing your tools in the mailbox, and ensure you close them up when you're done so they won't get wet.
Spice Jars
We highly suggest saving all your baby food jars after you finish with them. You may be wondering what the heck you can use the tiny jars for. We bet you never thought about how they are excellent tools to help keep your spices organized!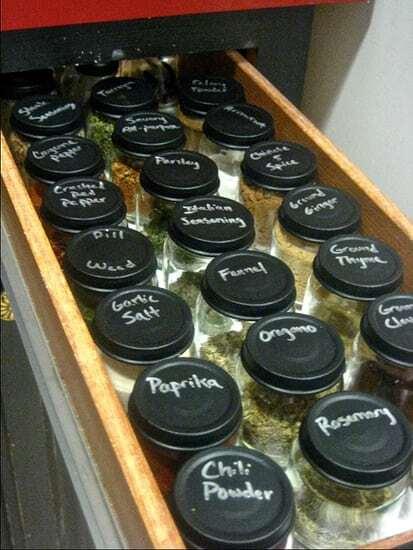 The jars usually come with sealed lids that will ensure your spices remain fresh and perfect even after a year or two. You can do what this person did and label each lid to keep them even more organized!
Egg Cartons
If you're an artist, you will surely love this next hack. When painting, it's crucial you make use of a color palette to make the job easier, more fun, and more efficient. But if you don't have one, using an empty egg carton will suffice.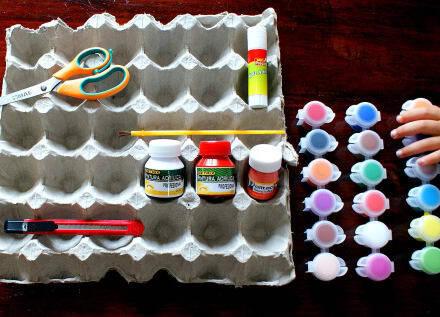 Pour your different paints into each section of the egg carton, which means one section should be dedicated to one color of paint. Then you can easily paint and do your work in an organized fashion. You can simply recycle them when you're done to make the clean-up process easier.
Wire Wrappers
When a bunch of wires are scattered across the room, it makes everything look a little bit messy and uninviting. Wrapping the wires with ropes is the best way to make things more neat and organized. Here's how to go about it.

Get some thin ropes or hemp string (you can even buy different colors) and begin wrapping the string around your wires. Doing this does not just make the place neat and presentable, but it will definitely add a classy look to the place.
Flower Pots
In case you did not know, colanders serve as awesome flower pots. This is because they come with tiny holes that allow excess water to drain. They also come with handles that make them easy to hang up anywhere.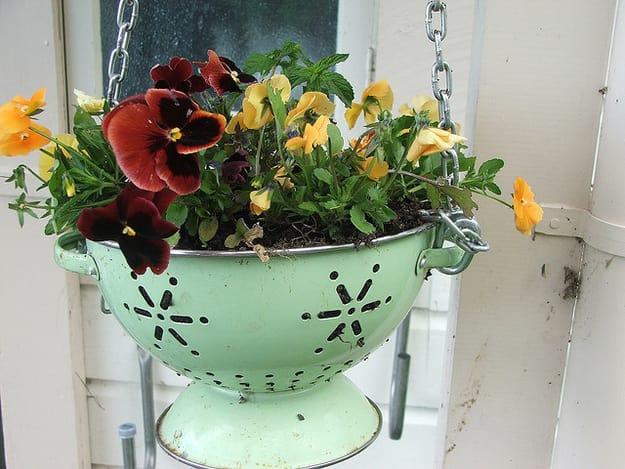 So, if you have an extra colander lying idle in your home, this is one of the best ways to put it to good use. You can also paint them based on your color preference. Believe us when we say that doing this will add some pizzazz to wherever you decide to put it.
Another Good Use Of Funnels
We all know that funnels are made to make pouring liquids something easier, but interestingly, there's more to them. They (only metal) serve as excellent candlestick holders. All you need to do is flip your metal funnel upside down to achieve this.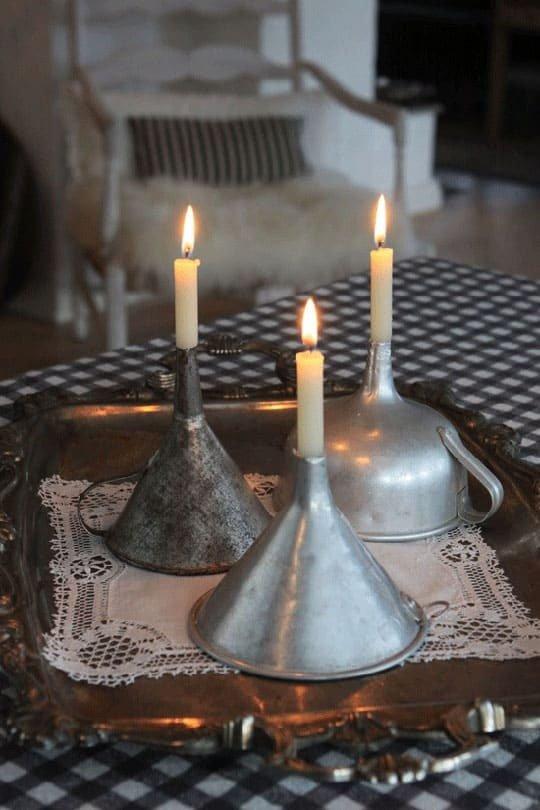 As the candle melts, any wax that drips down will solidify and cool on the body of the metal funnel. That means when this candle holder is placed on the counter, it won't cause a mess, and cleaning it up will be so easy!
Converting Cribs To Tables
Babies are the most precious gifts to any parent out there. They truly are little bundles of joy. That's why they deserve to sleep in comfortable cribs. However, when the baby outgrows the crib, don't get rid of it immediately.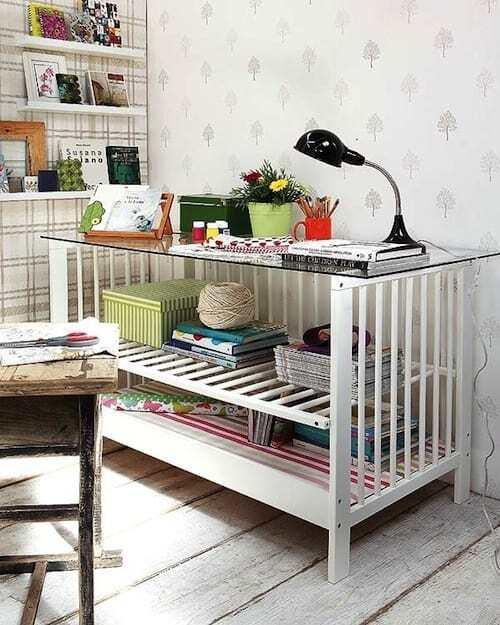 Maybe you're expecting more babies in the future, but for the time being, you can turn the crib into a small table. Take off one side of the crib and place a wooden or glass top across the top to turn it into a temporary table.
Apple Containers For Storage
The Christmas season is one of the best times of the year. It's a time to focus on family and celebrate together. And, of course, none of that happens without the classic decorations. People use a variety of ornaments to decorate their trees, for example.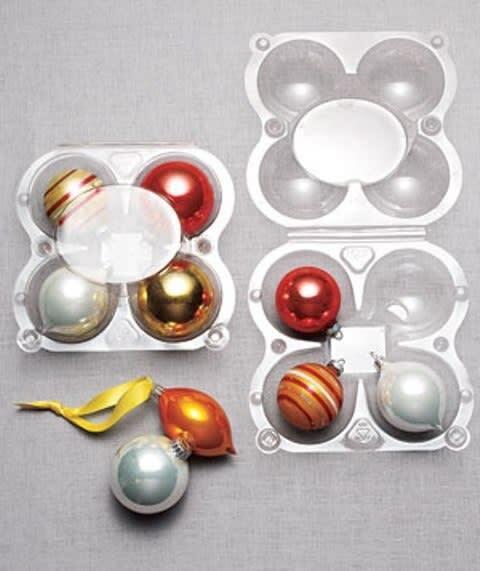 After the celebration, you need somewhere safe to store all of your ornaments for next year. Try using apple containers instead of tissue paper to keep them safe. The container ensures that the ornaments won't break or become damaged.
Gallon Jugs
If you don't have a paintbrush holder, you can easily DIY one by following these simple steps. Grab an empty gallon jug like the one in this photo and cut out the sides. This serves not only as a paintbrush holder but also as a paint holder as well.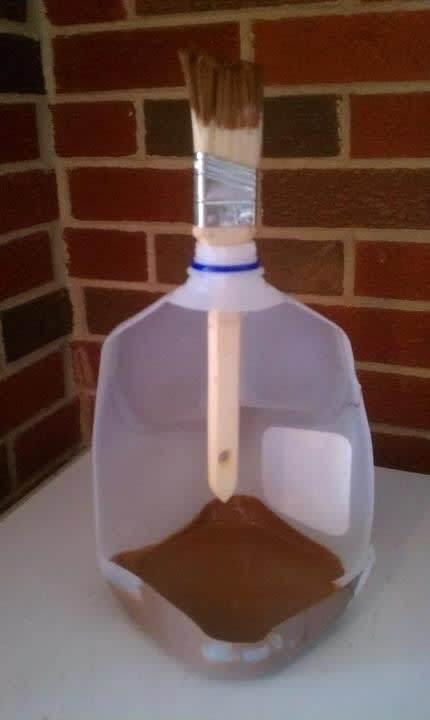 Put the brush through the top part of the gallon jug when you need somewhere to keep it. There you go, your own paint and paintbrush holder that costs close to nothing. There's no need to buy one when you can easily make one like this at home.
Suitable Substitute
Swiffers are great for cleaning the home, but sadly, the special cleaning pads can become expensive to buy over time. Fortunately, using old socks serves as a great substitute for the pads. If you have a Swiffer, do not throw away your old socks.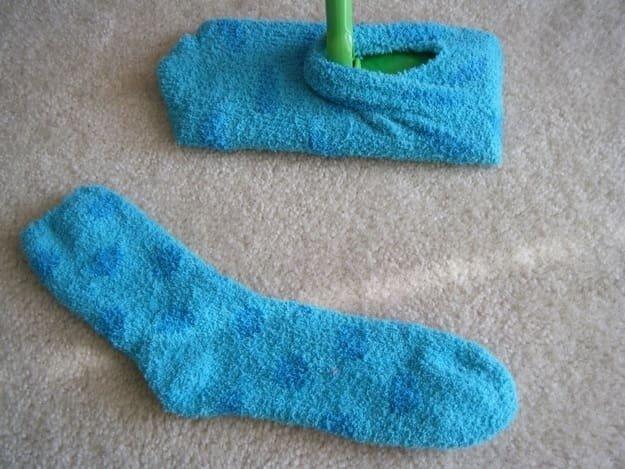 As luck would have it, socks fit perfectly on a Swiffer. Another great thing is that socks are washable, which means you can easily reuse them. So if you want to save some money on cleaning products, this is an exceptional way to start.
Bed For Pets
If you run a household, chances are you own a pet, and it goes without saying that it's very important to treat them well. Pets often have cages or comfy places where they can relax and sleep. If your pet needs a new one, we suggest trying this next DIY project.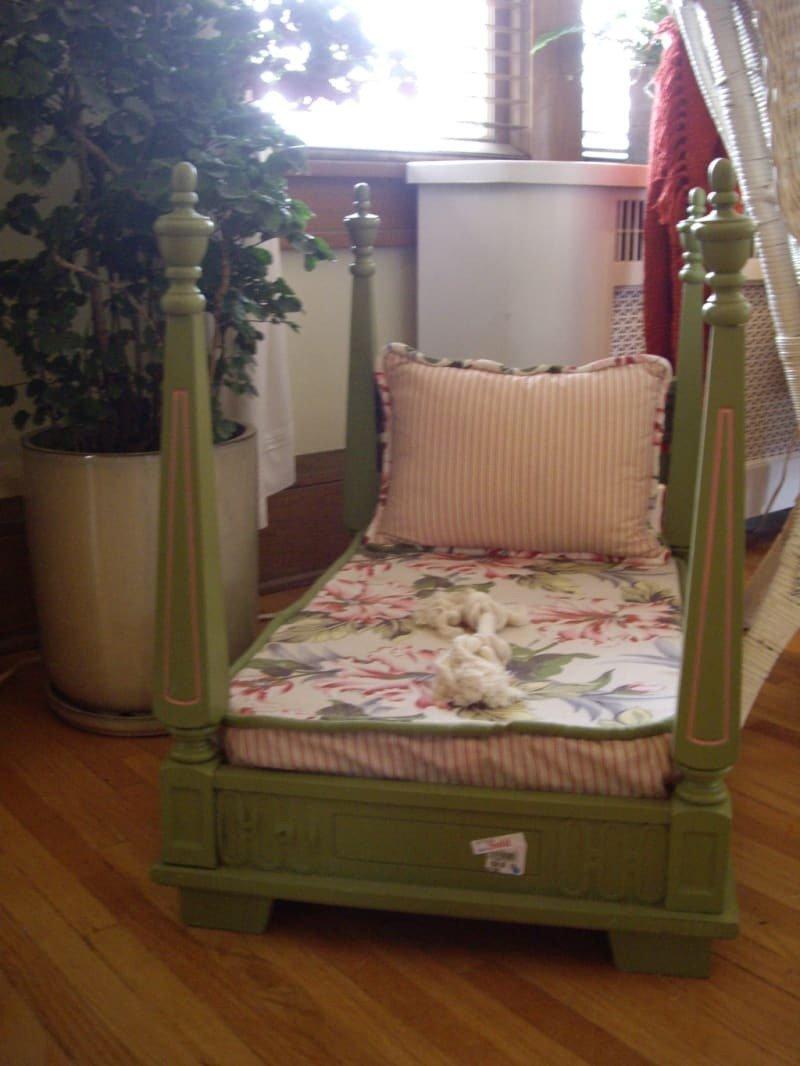 If you turn a table upside down, it has the potential to serve as a bed for your precious pet. You just need to find a pillow or mattress to make it complete. Amazingly, it also serves as a comfortable bed for toddlers.
New Cabinet Knobs
Cabinet knobs can become worn out and eventually end up falling off after a few years. But did you know that wine corks are a suitable replacement for the knobs? All you have to do is fit the cork onto the screw that's probably already in place.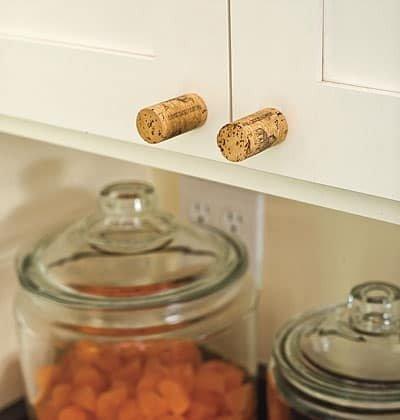 The wine corks give your cabinet a crafty and unique appearance. If your cabinet knob has fallen out of place and you are worried about how you will fix it, then we suggest trying this out. What do you have to lose?
Basket Shelf
Hang a basket from its side and use a ribbon to tie it up for a decorative touch. For example, you can use it as a shelf in the bathroom for storing and organizing towels. It will also look like you bought a fancy, bohemian-style rack as well.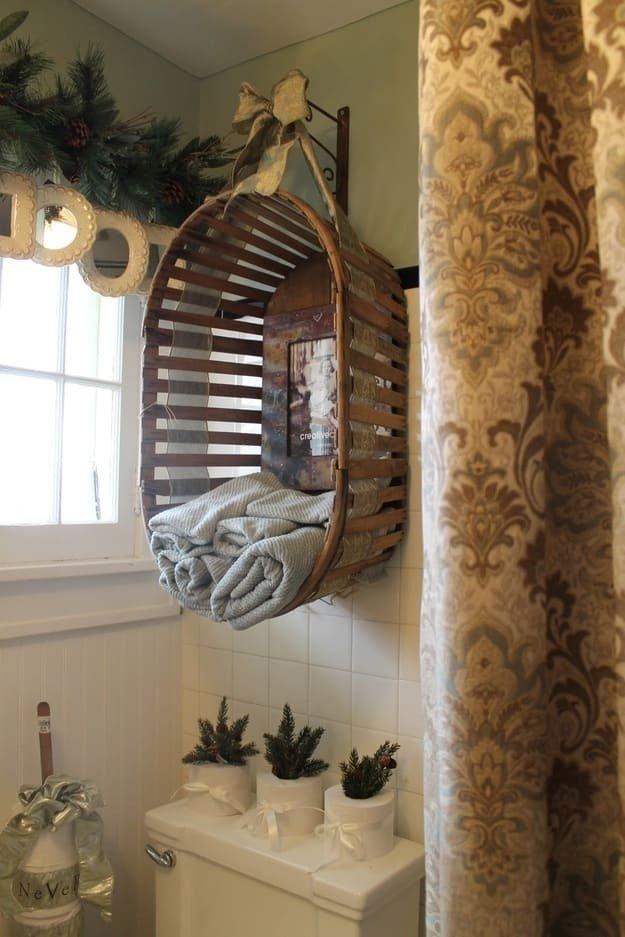 Additionally, you no longer have to worry about where to keep all your towels while in the bathroom because this basket shelf has got you covered. You can also put a picture on the back of the shelf to make it even more unique.
Easy Cooking Practice
Trying out new recipes is the best way to become a better cook. To make the process easier, we suggest using pant hangers to help display the recipe while you're cooking because holding the recipe and cooking at the same time isn't ideal.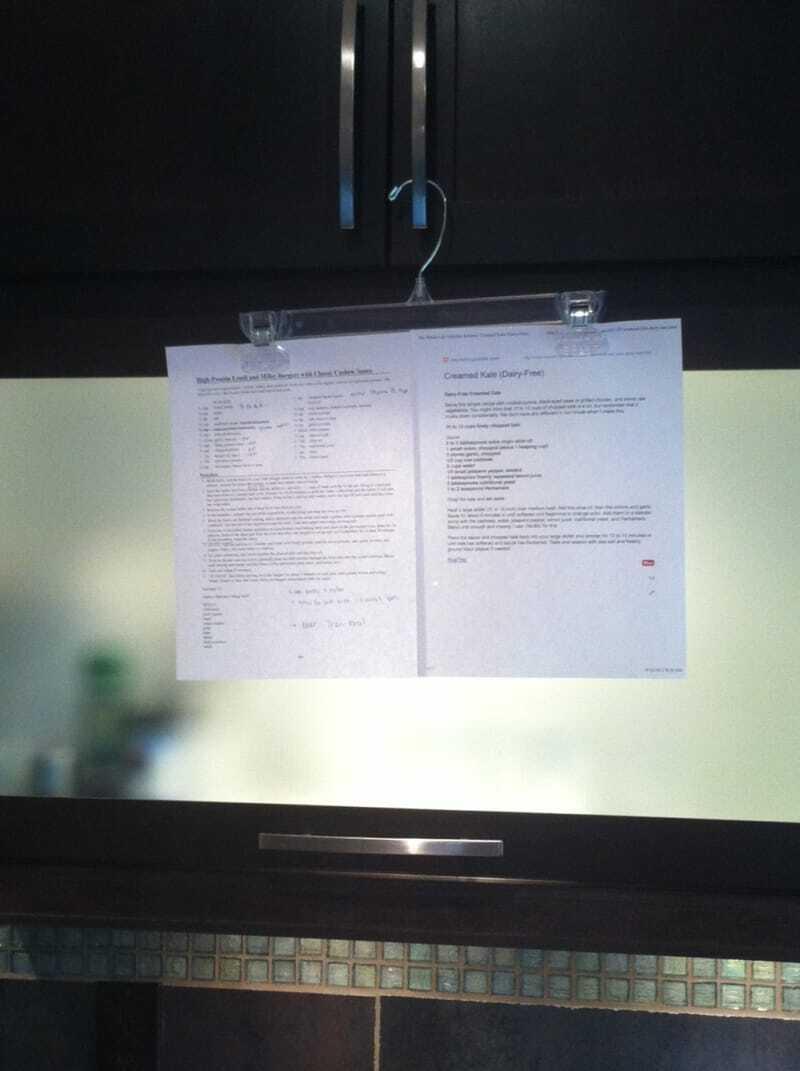 Pant hangers turn out to be extremely useful to help hold your recipes in place. When the recipe is hanging up and easy to see, you can easily refer back to it whenever you need it hands-free, which will make the process of preparing your dish smoother.
Hair Clips Wonder
If you thought that hair clips are only used for styling hair, then this next trick will enlighten you on different ways in which you can put them to good use. They will help hold your towel in place when you come out of the shower or bath.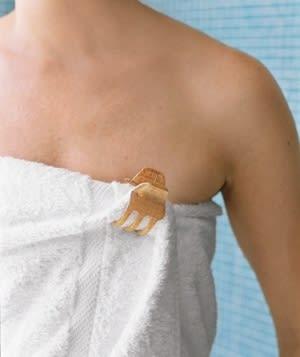 Sometimes, it's no doubt that trying to tie a knot is difficult and won't last long or come undone when you are trying to do your after-shower routine. Using a hair clip will make things much easier for you because you won't have to worry about the towel falling!
Pan Magnet
Rarely will you ever see anyone use a cast-iron skillet for storing magnets. And, we bet you didn't know that they actually serve as a suitable place to keep your magnets. If you have quite a number of pans hanging on your wall, simply add a magnet or two.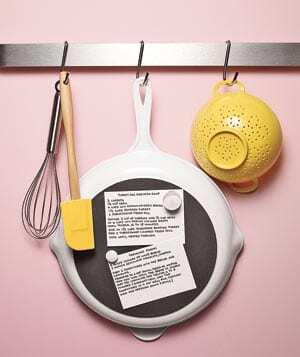 In addition, if you have recipe magnets, that's a bonus point already. Don't let them cause clutter around the house. Use them as a decoration and stick them on the pans that are hanging up! Just don't forget to take them off when you need to use the pan!
Bracelet Holders
You should not abandon or throw away old candlestick holders because there is a lot more you can use them for than burning candles. We bet you didn't know that you can place about a dozen bracelets around them, if not more.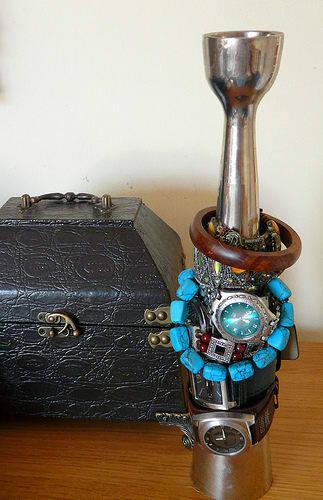 Even your wristwatches can also fit on the candlestick holders. These are only a few examples of things you can put around your old candlestick holders. Feel free to add more if you wish, so long as they fit.
Repurposed Binder Rings
You can use the rings of old binders as kitchen hooks. All you need to do is take out the metal portion where the rings are located in the binder and attach it to the wall. If you do this right, the end result will turn out stunning, helping your kitchen that much more organized.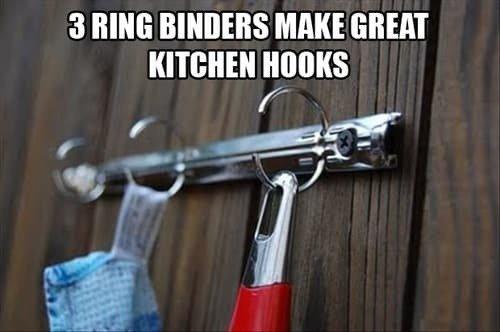 The hooks will still be able to open and shut. Now you have a place to hang any kitchen tool you want, like spoons, kitchen towels, spatulas, or tongs. The options are endless! Just make sure you attach it to the wall firmly so it won't fall!
Mesh Bag
You can keep small items intact and in one place in the dishwasher by using a mesh bag. The bag will hold all the items in place and prevent them from moving about or scattering around while the machine is working.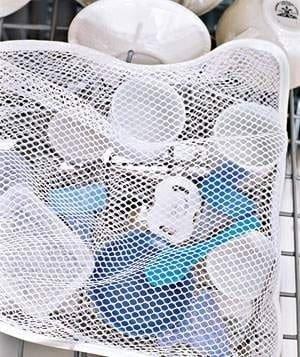 When it's time to dry the mesh bag, that won't be a problem since it's made from synthetic material and will dry in no time. Just lay or hang the mesh bag somewhere outside in the sun, and when it's dry, you can use it again!
Traveling Bottles
When you're about to travel, you have to put aside time to get everything prepared. You need little containers that will help you store certain things like Bobby pins or cotton swabs. Pill bottles serve as the perfect container for items like these.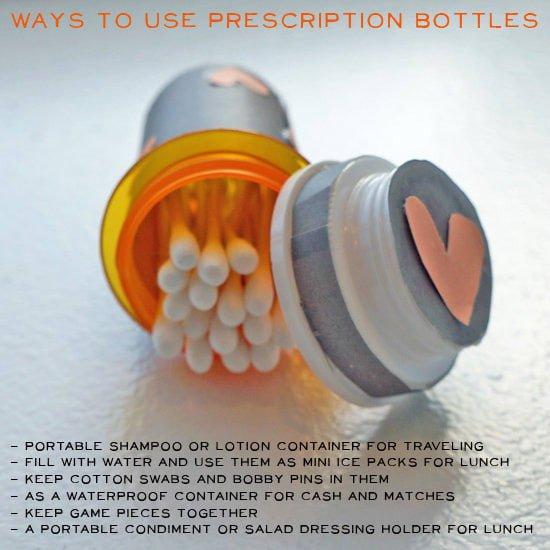 Keep your old pill bottles so that you can use them for storage, especially when you plan on going on a long vacation. You can also use the bottles for storing liquids like creams as well. An advantage is that the bottles are waterproof.
Storage Bottles
This next hack is another perfect way of using up old bottles, specifically Starbucks Frappuccino bottles. You can use them to store seasonings and spices! They are definitely big enough and will help keep the spices fresh for an extended period of time.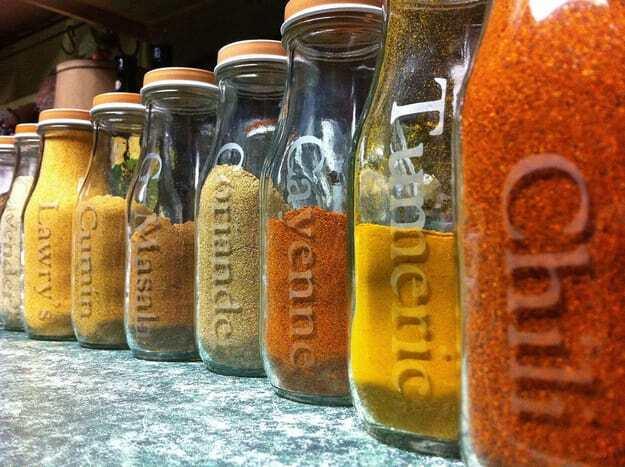 And luckily, you can easily store them inside your kitchen cabinet. You can even print out labels and stick them to the sides of the bottle to make identifying them much easier. Cooking will be much more enjoyable when all your spices are organized!
Homemade Toy For Cats
Cats are wonderful pets that many people adore. You can entertain your cats with toys. However, many of them will end up becoming damaged or ruined over time. Buying these toys over and over again will become expensive, so here is a tip for you!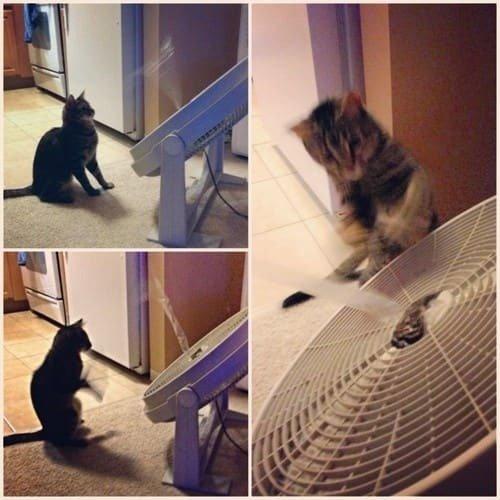 Take a piece of lightweight paper and fasten it to the center of your floor fan. Your cat will love it and spend hours playing with the homemade toy. To your surprise, it will prove to be very effective, especially when you need to keep your cat busy.
File Sorters
Are you in desperate need of organizing your shoe closet? Let file sorters help you out! Use them to keep your shoe closet organized. Ideally, one pair of shoes will fit into each slot. This is an amazing way to provide order to your shoe chaos.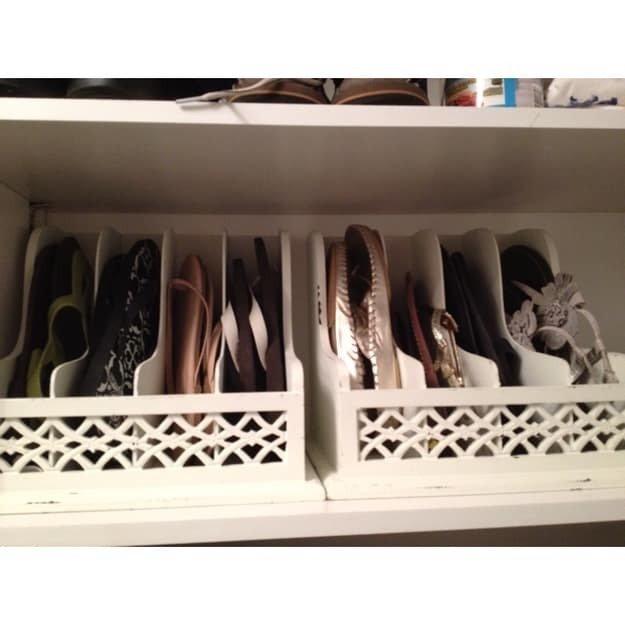 Each pair is neatly kept in a slot, making it easy to identify. Also, they're not limited to shoe closets only. You can use them in the kitchen as well for organizing plastic lids, lids for pots and pans, and plates.
Keeping Plastic Bags
Every family has a plastic bag full of plastic bags. But now, you can easily store them in a wet wipe container so you can easily pull one out when you need it. Simply fold them and put them in the container. This will help to keep them neat and tidy.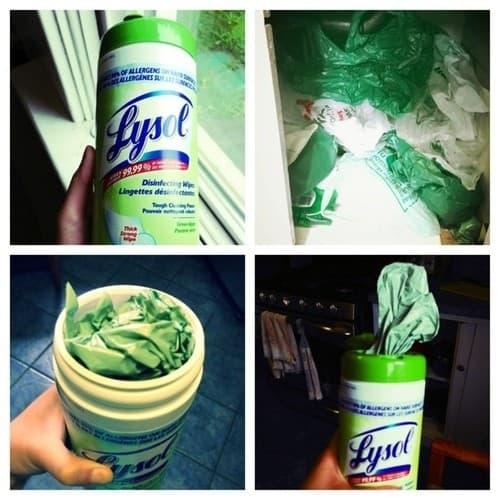 The opening that comes on the wipe container makes it easy for you to pull out a bag when you need it. Now, you don't have to worry about how to keep all your plastic bags in one place because the wipe container is a great idea.
Bird Feeder
Feeding birds should not be an issue when you do it this way. Grap an empty toilet paper tube and cover it in peanut butter. When you're done, roll it across a pile of birdseed, and your homemade bird feeder is ready.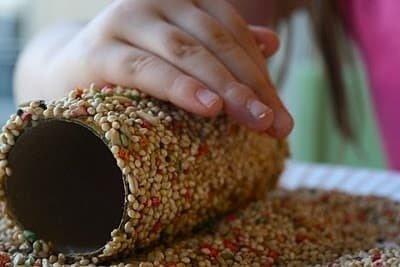 Take it outside and hang it on a tree branch or post in your backyard. You've successfully made a bird feeder, and it's that easy. You can comfortably do this anytime you want to. Also, wash your hands well after doing so!
Hangers For Keeping Track
We usually use clothes hangers to keep our jackets, sweaters, and any other clothing article organized. Well, there are other, less conventional items you can use them for, like your magazines and newspapers. Hangers help you to keep track of your reading materials.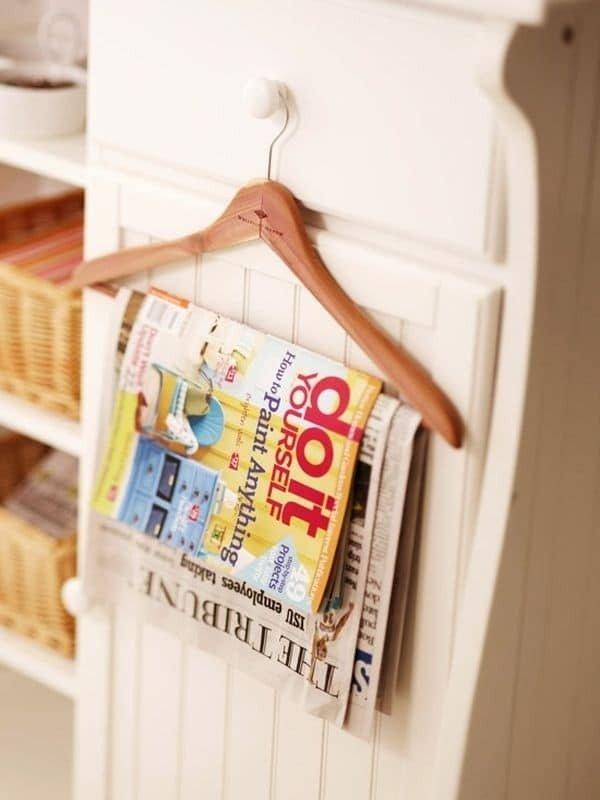 While reading a newspaper, something that requires your immediate attention may come up. In order for you not to lose track of where you stopped, simply place the newspaper on a hanger and part it on the page where you stopped.
Honey Bear Cups
An empty honey bear container can be used as a sippy cup for infants. Trust us. They will love it! The bear shape also contributes to providing a more convenient cup for them because it's easy to grip. In addition, the size, it's also just super cute.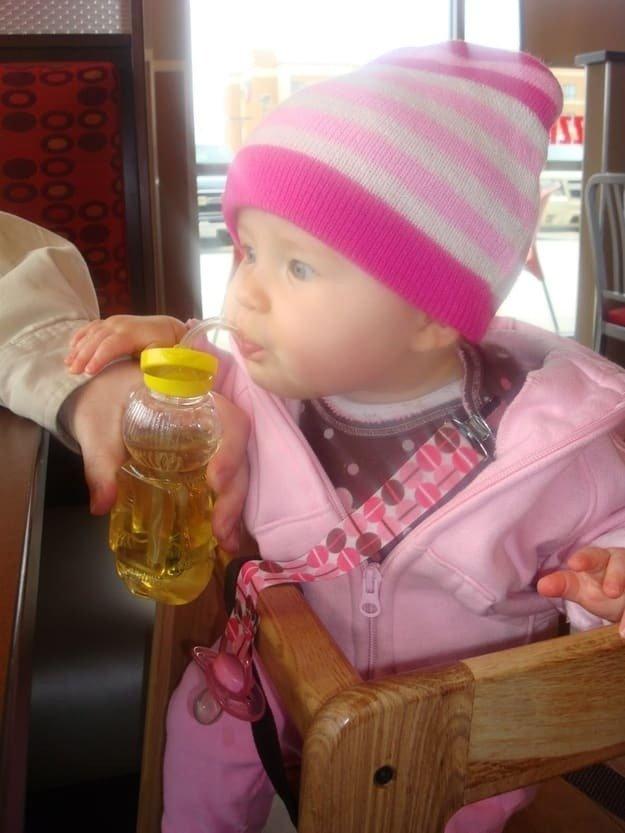 Fill the cup up and put a plastic straw in it. The honey bear container is transparent, so you can easily see the juice level that remains. Your child will be excited to drink up out of this cute and unique bottle!
Honey Bear Cups Part Two
That's not all. Another way you can use honey bear cups is by turning them into vases. You'll need to collect some paint in any color you desire. We suggest gold or silver. Ensure you paint the entire bottle without missing a spot!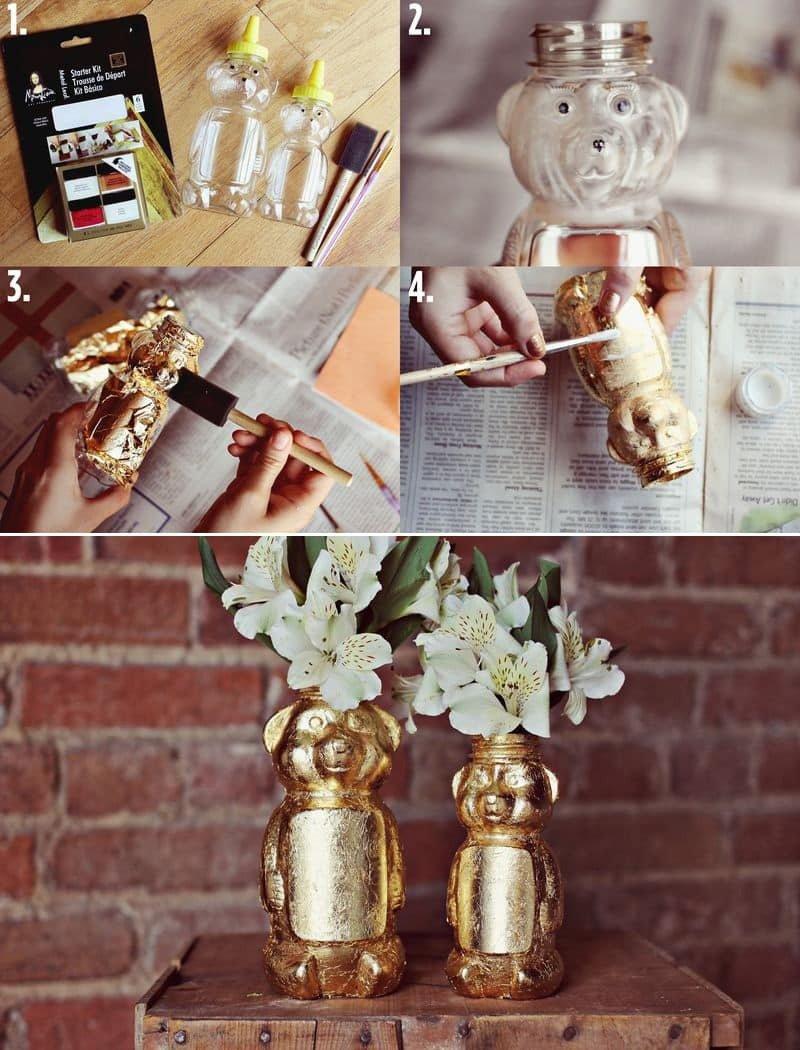 Here is a tip: Use a bright color for your honey bear cups, and for a brilliant reflective finish, use some metallic paints. You can use them to store flowers or put them on a shelf by themselves for a lovely decoration.
Mattresses
Air mattresses are convenient for many things. But surprisingly, you can also use them for outdoor activities like picnics, camping, or spending time with the family. Even when there's a surprise visit from friends, air mattresses are great to have around.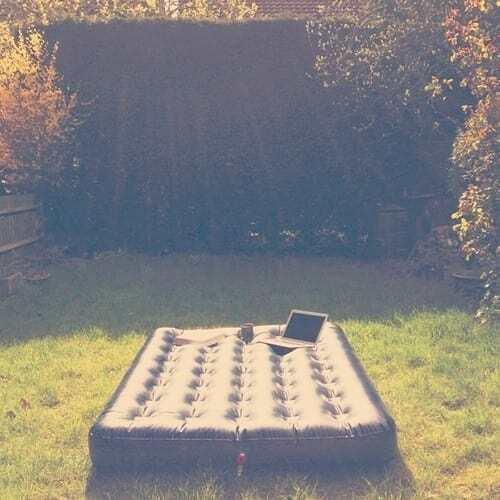 There are many more fun outdoor activities you can decide to use your mattresses for. Relaxing and enjoying the sunlight and fresh breeze is no exception. It will make outside time much more enjoyable than sitting on the bare grass or a blanket.
Repurposed Photo Album
Ever since technology took over our modern world, a number of things, including pictures, have become digital. As a result, it's not common to see photo album cases around households these days. If you are an artist, this turns out to be an advantage.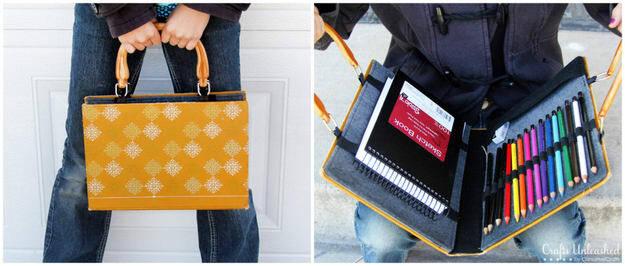 Repurpose those vintage photo albums into a splendid art kit that you can use for storing your drawing pads, colored pencils, and other materials. So instead of allowing the empty albums to collect dust, this is a great way to put them to use.
Cool Shelves
If you've always wanted your own personal shelf, this next DIT project is for you. You can turn old drawers into cool shelves. This wooden drawer is the perfect size for any room. You can use the drawer handle to hang things also.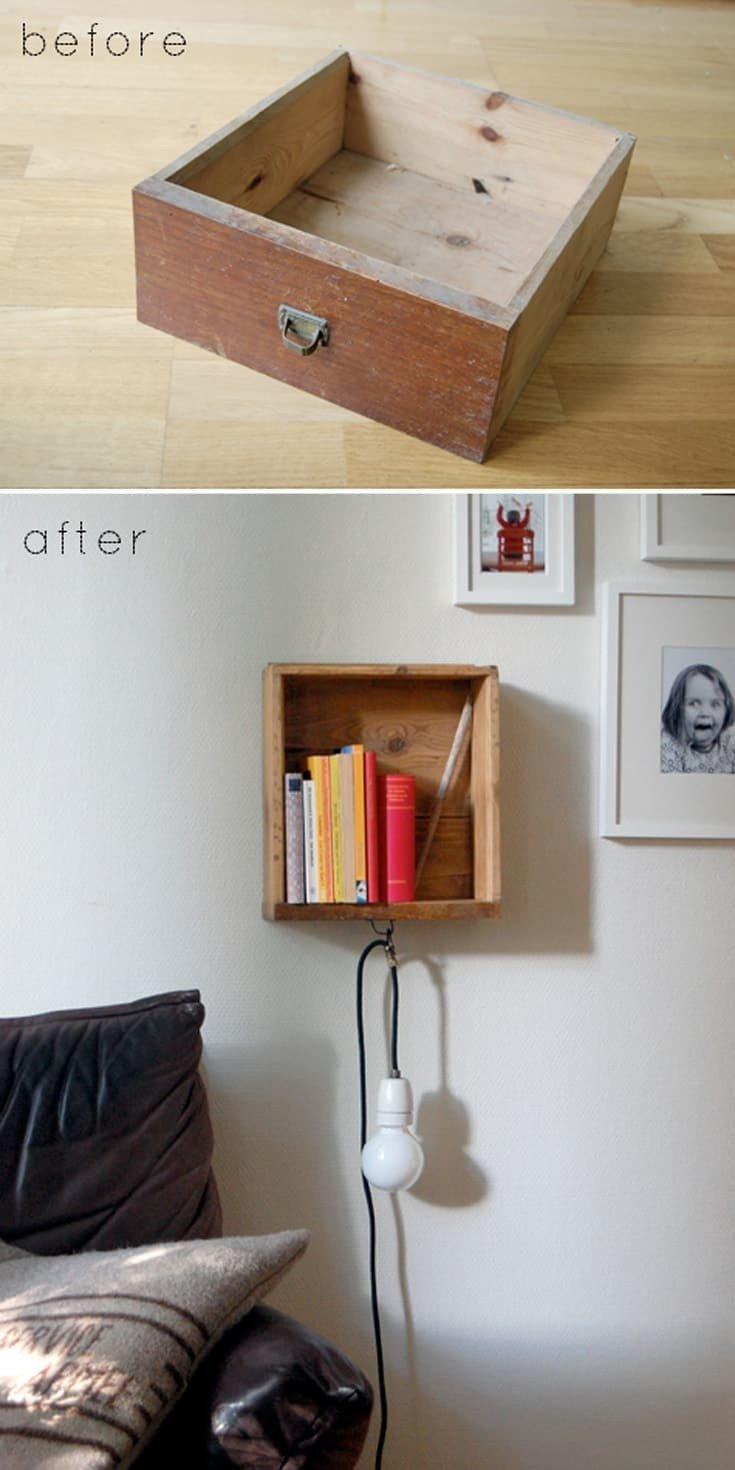 For instance, when the drawers are hung at the right height, they can serve as nightstands. The handle makes it possible for you to string lights on it. Be sure to position the drawer in the way that best suits your needs.
Shelves For Shoes
To help you organize your shoes, use gallon jugs. Gather some empty gallon jugs and cut them along the dotted lines, as demonstrated in the picture. After cutting them, place them in your closet to help you keep pairs of shoes in order.

You may want to collect a lot of gallon jugs for this project. The fact that they are stackable makes things even better. This homemade shoe shelf is a smart option, especially when you don't want your shoes to sit on top of one another.
Scissor Holder
Spools of twine or string are perfect items for holding scissors. Not only that, but they seem to add an ornamental touch to any room as well. It is also a safe place to keep your scissors, as opposed to leaving them on the counter or desk.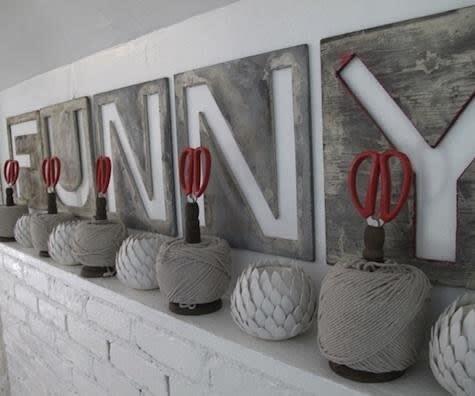 Also, an added benefit is that keeping your scissors in these makes them readily available for whenever you might need them. For example, you may need to cut off something immediately or open a bag, and luckily, your scissors are at arm's reach with this hack.
Classic Bowling pins
You can convert empty plastic bottles into bowling pins for a fun family activity. To spice things up, you can even paint them using bright colors and maybe put some designs on the bottles if you want to go the extra mile.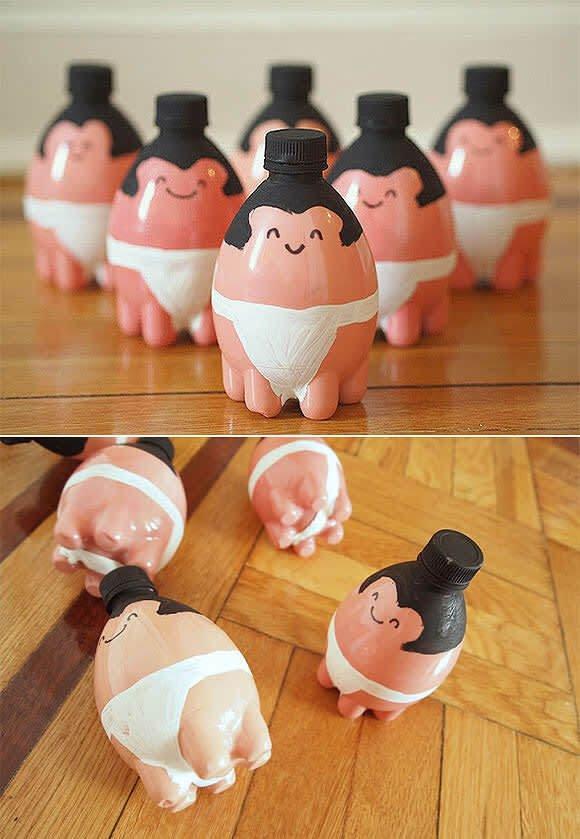 Your kids will love this game. Every member of the house should partake in this fun activity. When the homemade bowling pins are ready, arrange them properly, and then you can play with them for as long as you want.