Royal Realty: A Journey Through Meghan And Harry's Californian Palace
By Makungu H October 29, 2023
---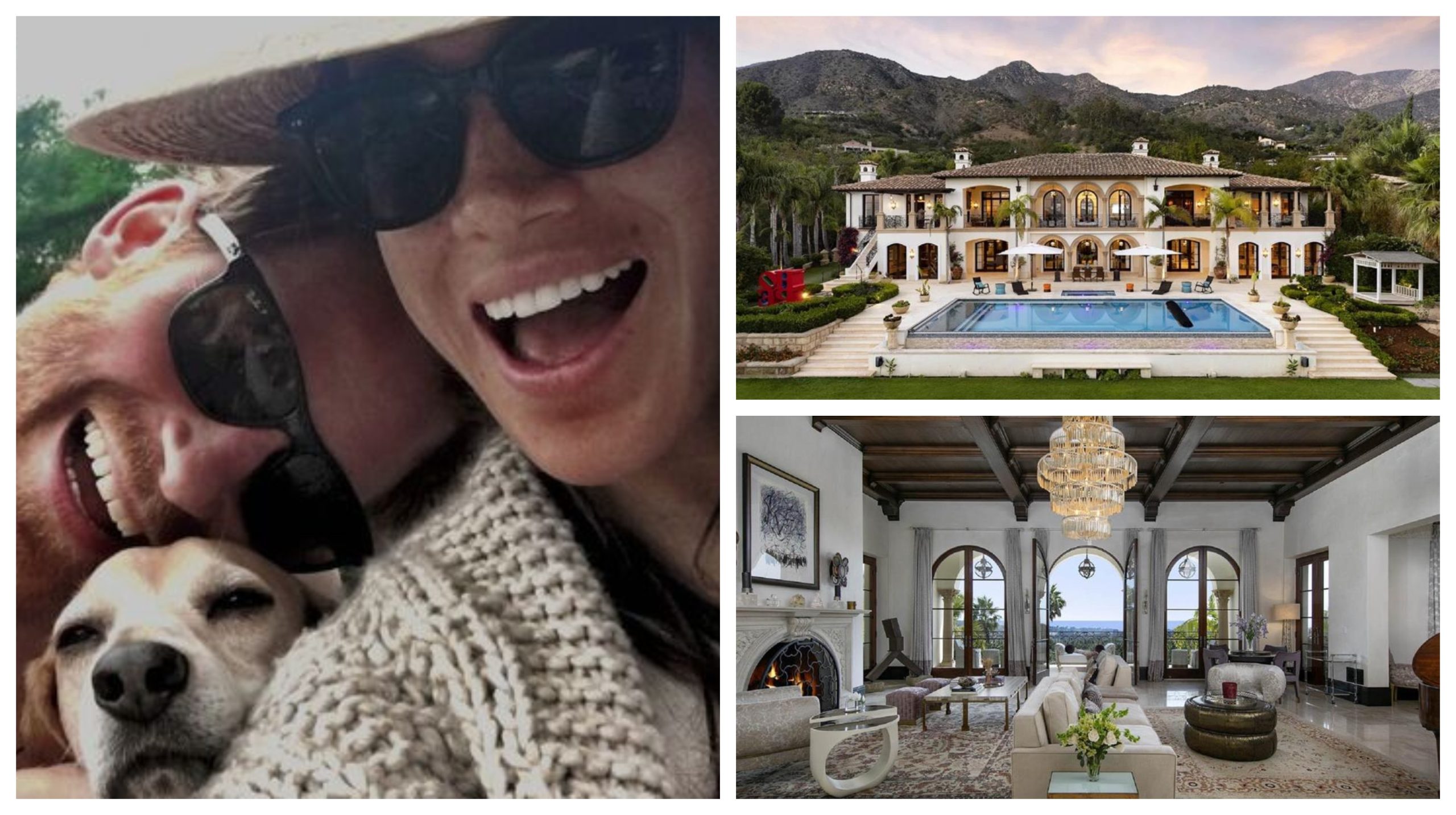 This article was originally published on
whythese
Let's be honest, we're all a little obsessed with the glamorous and extravagant lives of the royals. So, when one of the heirs to the British throne decided to say "cheerio" to his family, the throne, and boatloads of cash, the world couldn't get enough of the drama.
Sure, Harry may have been sixth in line (trailing behind his adorable nieces and nephews who can barely tie their shoelaces), but his marriage to Meghan and their bold decision to step away from royal duties left everyone stunned. But here's the kicker: even though they waved goodbye to the royal gig, they're still living a life that most of us can only dream of.
Now, let's dive into the property that Meghan and Harry now proudly call "home.
Landlord woes
Many of us have experienced the joys of having landlords, and unfortunately, some of those experiences can be downright dreadful—those who take pleasure in overcharging for "maintenance," jacking up the rent, or springing surprise eviction notices on their tenants without any reasonable notice.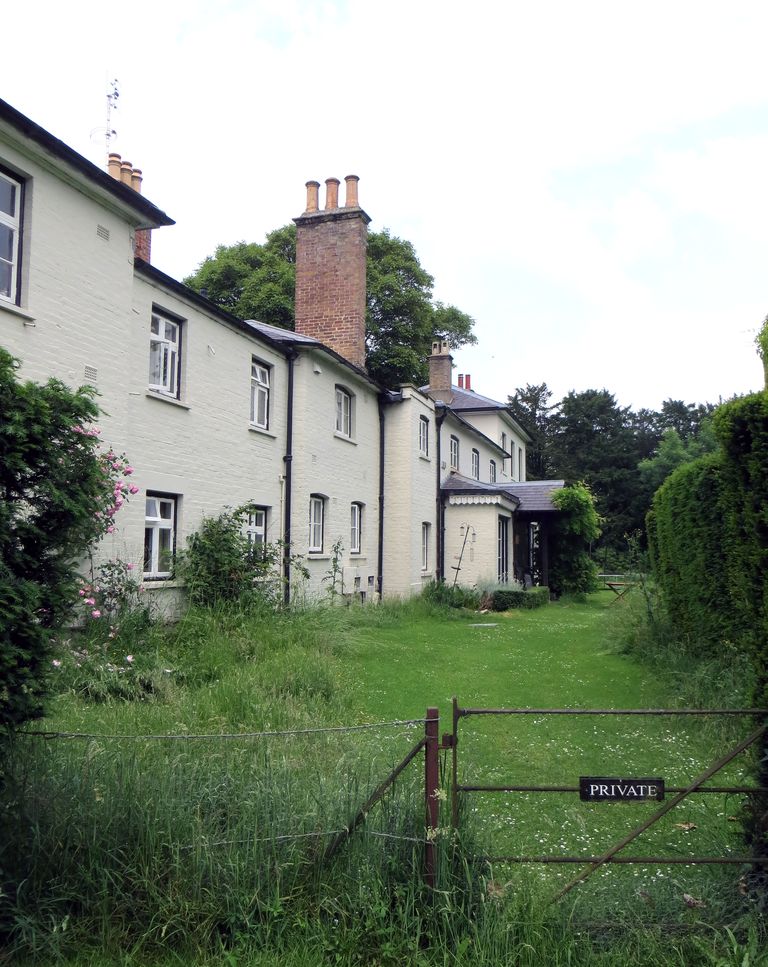 Even members of the royal family are not immune to landlord troubles. There are allegations that Meghan and Harry's departure from Frogmore Cottage in the United Kingdom was influenced by none other than King Charles III himself. It is speculated that the King requested Prince Andrew to occupy the residence instead (yes, that Prince Andrew).
The heart of the home
The kitchen serves as the vibrant heart and soul of every home, where families can gather, engage in heartfelt conversations, and enjoy the delightful scents of a simmering meal on the stove. However, the kitchen in this residence bears no resemblance to the modest kitchens of our childhood memories.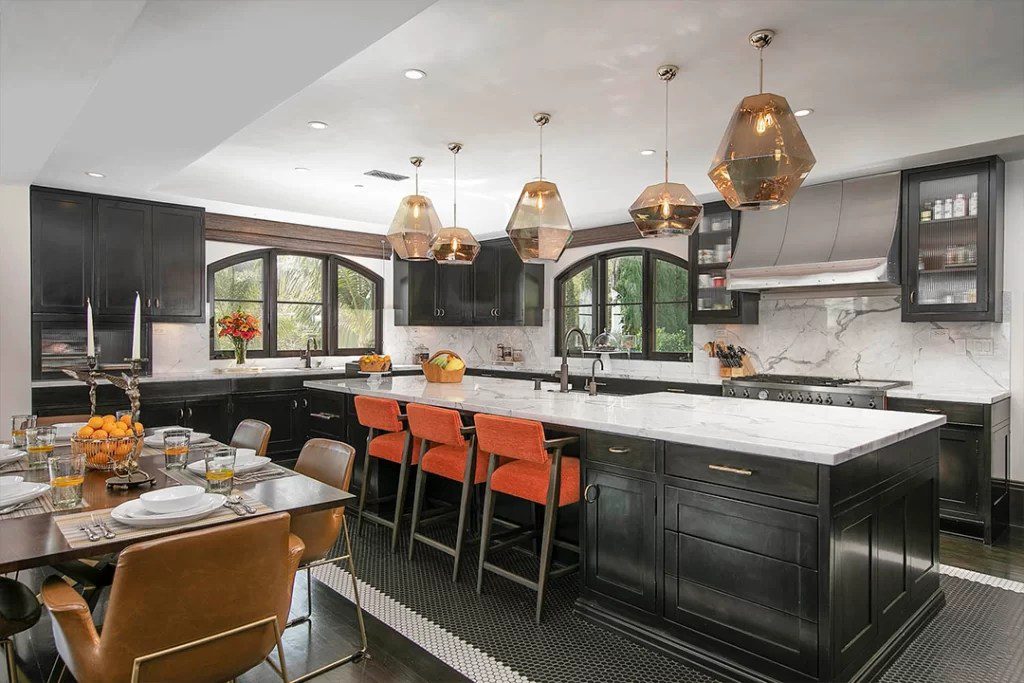 Step into this kitchen, where ultra-luxury meets modern design. The soft, gracefully arched windows create a striking contrast against the sleek black cabinets and pristine white marble countertops that extend up the walls. To add a touch of vibrancy, the orange kitchen chairs provide the perfect pop of color, completing the overall aesthetic.
Workin' up a sweat
Every mansion needs a room to work off all the delicious food made in the stunning kitchen we saw above! This is no ordinary workout room with three dumbbells and a yoga mat, oh no. It's a fully equipped gym complete with numerous cardio machines and floor-to-ceiling mirrors.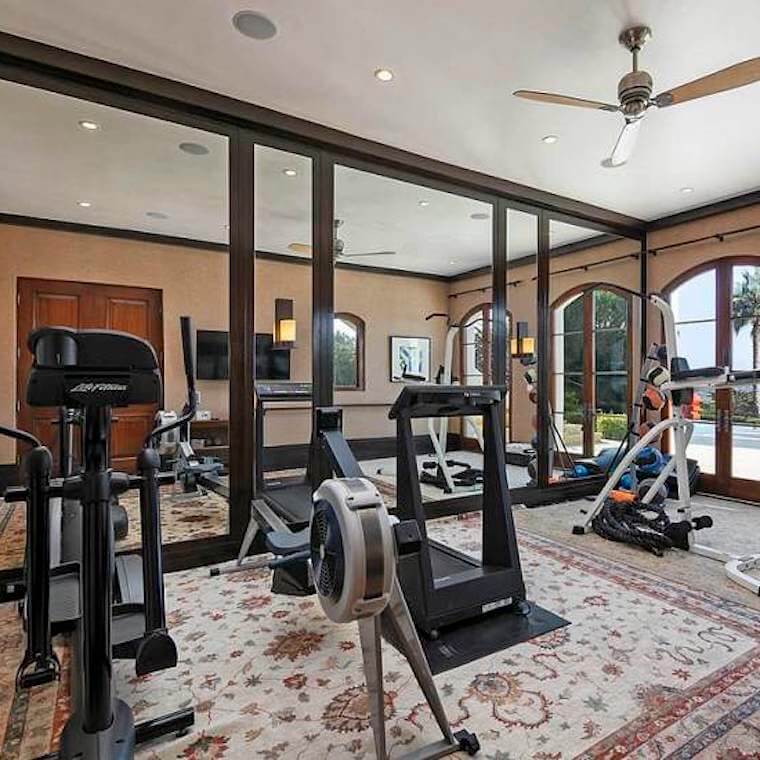 The gym in this home offers a stunning view. It overlooks a sparkling pool, and the arched doors lead to the outdoor area. Picture this: after a good workout and breaking a sweat, you can swing those doors open and dive headfirst into the refreshing pool—it's pure bliss.
Luxury lounging
Speaking of pools, let's dive into the outdoor area that awaits. With loungers perfectly positioned to admire the glistening ocean beyond a lush backdrop of palm trees and rolling hills, it's an absolute feast for the eyes. This is what Californian dreams are made of!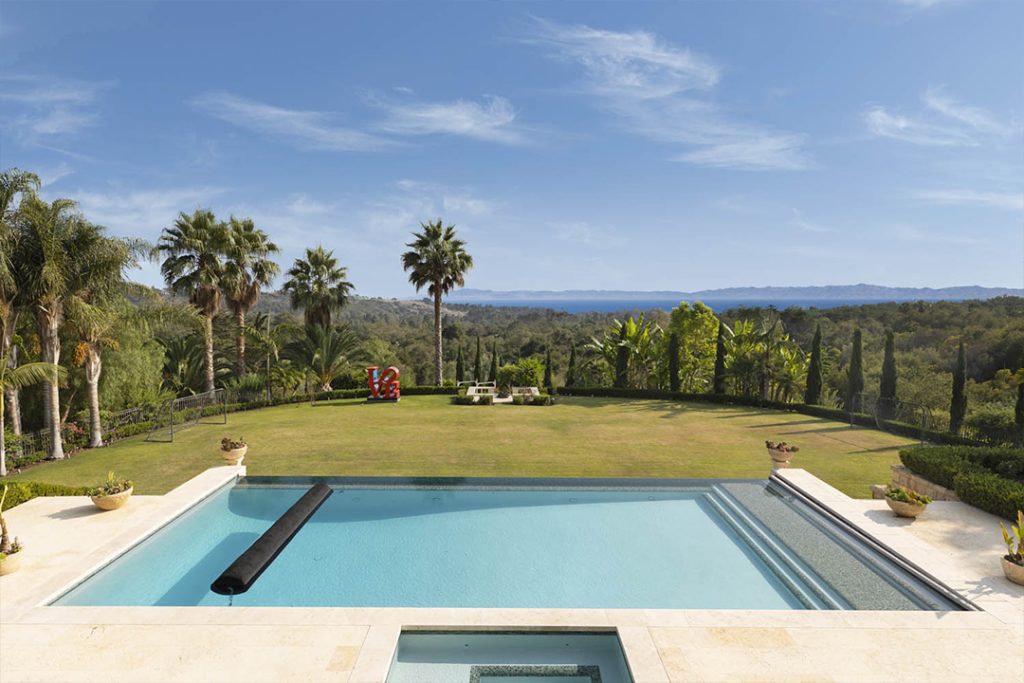 When the sun becomes too scorching to handle, fear not! You can take a refreshing plunge into the enormous, crystal-clear pool that stretches nearly the entire length of the house. It's easy to envision the owners utilizing this pool area to host unforgettable parties.
A resting place for lucky guests
Should the owners choose to throw a grand party, they would have the option to provide their guests with accommodation in a guesthouse that could easily surpass the quality of many people's homes. Perched atop a spacious five-car garage, the guesthouse is nestled amidst the lush foliage that graces the entire property.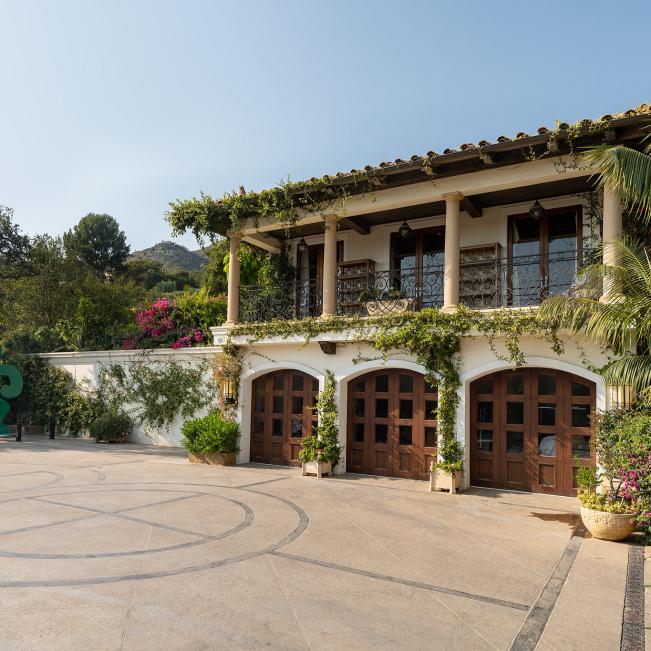 Guests staying in the guesthouse can enjoy the privacy of a separate bedroom, bathroom, and even their kitchen. The guesthouse is further enhanced by a balcony, allowing guests to soak in the breathtaking views. If we were fortunate enough to receive an invitation, staying here would be a delight!
A slice of peace
If the guesthouse is impressive, it's no surprise that the main bedroom is equally stunning. Occupying a significant portion of the downstairs area, it stands alone as the sole bedroom on this level, ensuring the utmost privacy for its occupants.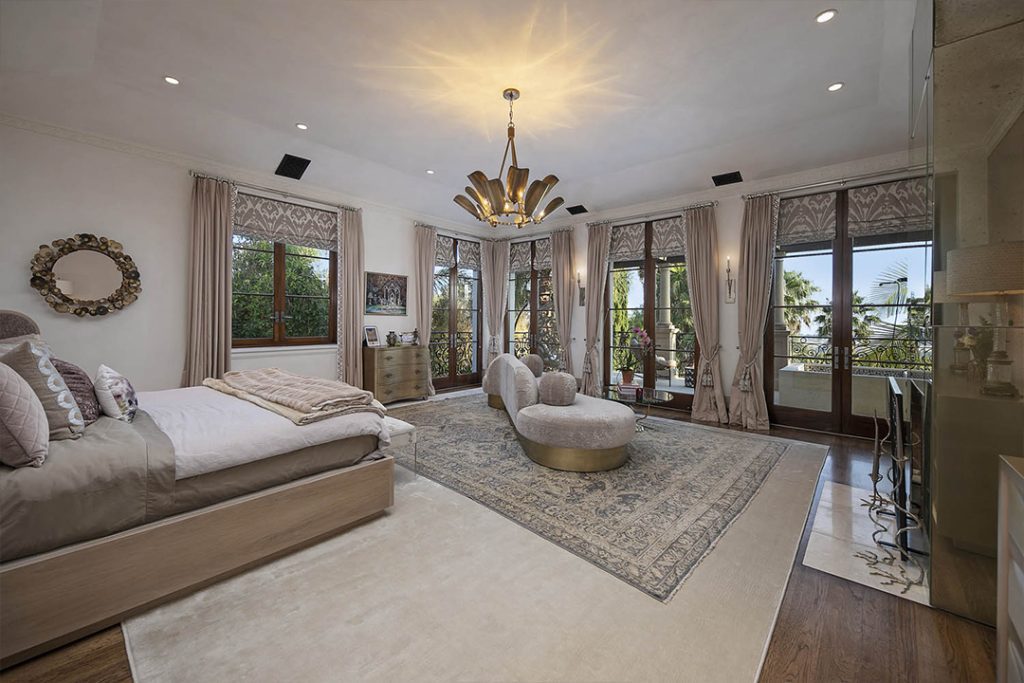 Within this tranquil oasis, a cozy seating area accompanies a charming fireplace, creating the perfect nook for leisurely naps on rainy days. And when the weather brightens up, one can step out onto the bedroom's private terrace and relish a steaming cup of coffee (or, for our British prince, a cup of tea).
View from the top
The private terrace in the main bedroom is just one of the many outdoor areas in this house. A spacious wrap-around terrace envelops the entire house, offering ample seating options that allow you to enjoy breathtaking views from any angle.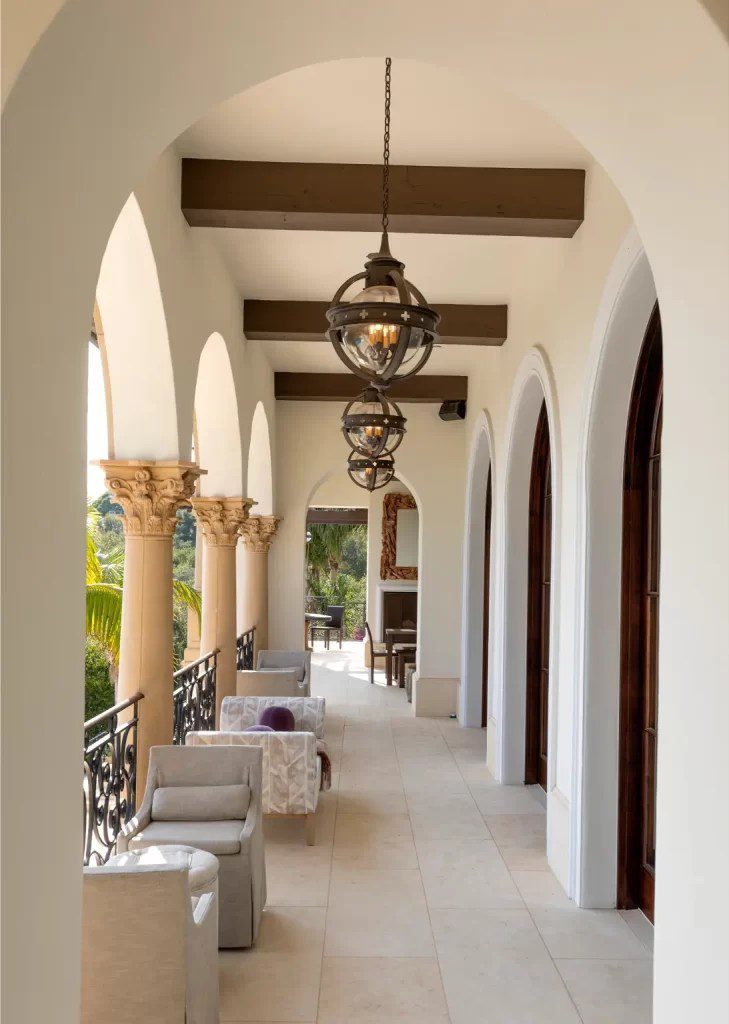 As you step onto the terrace, you can't help but notice the robust wooden beams that extend outward, making their appearance throughout the house. These beams infuse the home with a charming vintage vibe as if it has been rooted there for countless millennia.
R'n'R
The family room adjoining the kitchen exudes a casual atmosphere, representing the epitome of informality in this house. Despite mahogany-colored beams and a chandelier that exudes a medieval aesthetic, the room maintains a relaxed ambiance through the cozy fireplace and plush furnishings.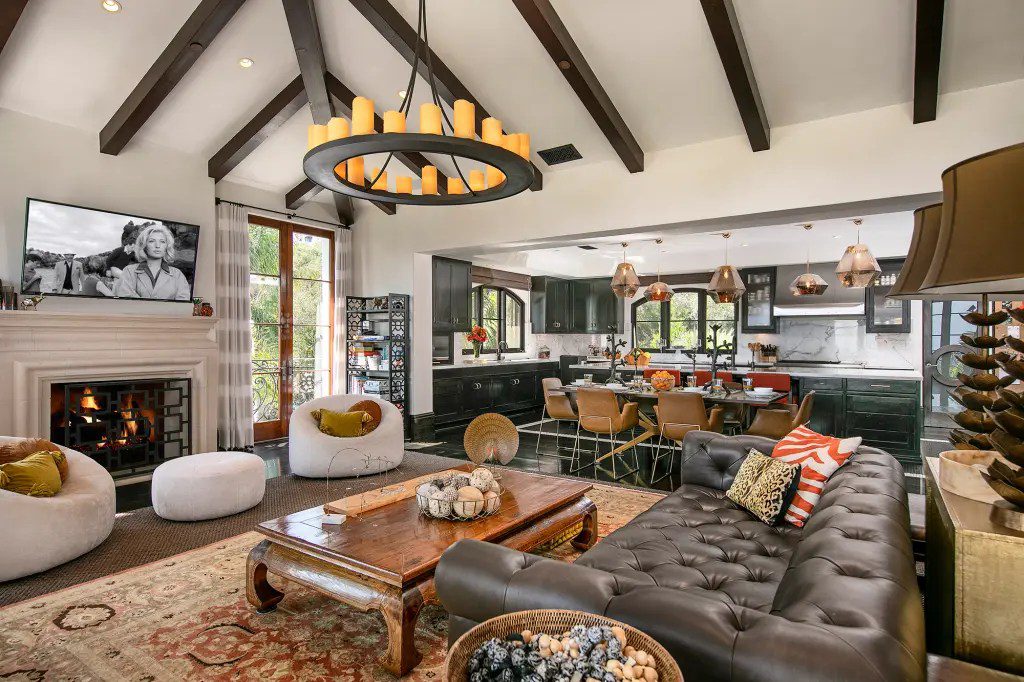 In addition to its captivating features, the family room boasts a television and a spacious leather couch, creating the ideal spot for the family to gather and enjoy their favorite shows while dinner simmers away in the adjoining kitchen. It's easy to envision this room becoming the home's heart.
Rub a dub dub
Is there anything more relaxing than sinking into a warm bath after a stressful day? We love to take a relaxing bath while sipping on a glass of red wine and letting the aromas of the bath oils soothe our frayed nerves.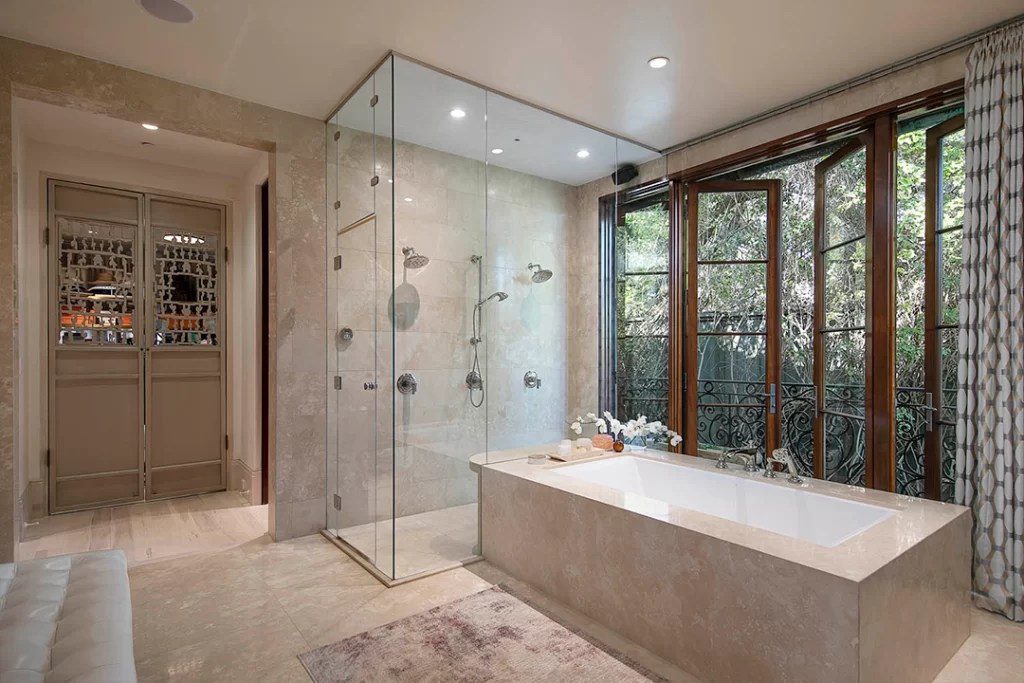 As you step into the deep tub, the doors adjacent to it swing open, revealing a breathtaking view of the lush greenery in the garden beyond. It feels like you have been whisked away to a secluded jungle oasis enveloped in tranquility and serenity.
A world of wood
Wood takes center stage throughout the mansion, but it finds its most prominent role in the study. From the floors and shelves to the ceilings and select furnishings, the extensive use of wood creates an ambiance reminiscent of a classic, nostalgic library..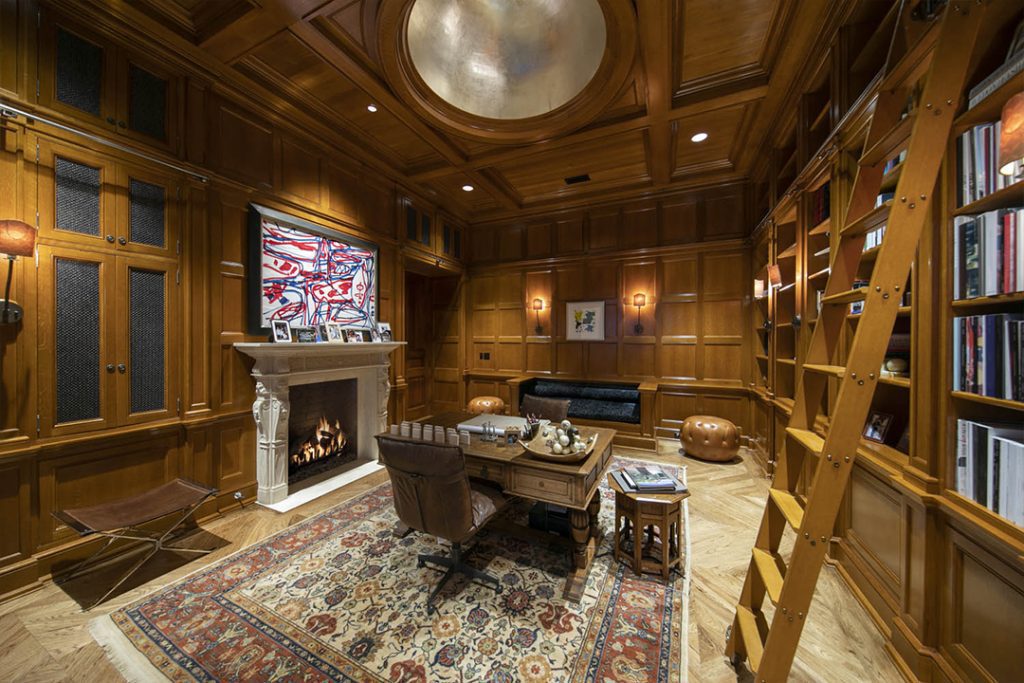 This room emanates an ambiance that seems to carry the scents of old books, wood varnish, and the lingering aroma of cigar smoke. One can easily imagine the air thick with the essence of knowledge, craftsmanship, and the faint traces of moments shared over contemplative puffs.
California dreaming
After reportedly being given the boot by dear old dad, Harry and his beloved wife found their new abode in the very land his ancestors "discovered": the United States of America. Swapping the chilly and damp English weather, the couple set their sights on the land of dreamers: sunny California.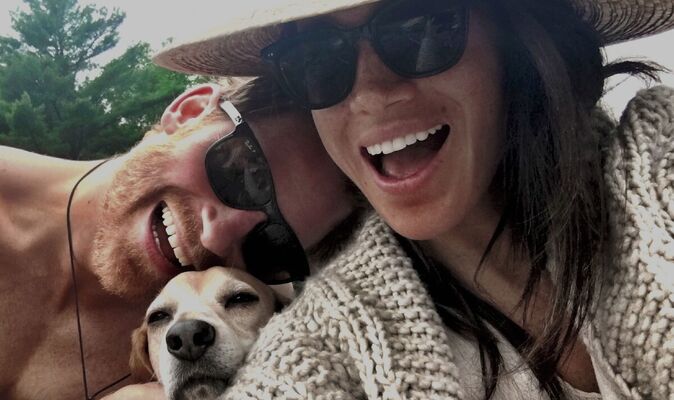 After settling in Montecito, Santa Barbara, Harry, and Meghan caught the attention of Netflix. The streaming service proposed a docu-series to offer a glimpse into their lives. Instead of filming in their own home, the couple decided to showcase their story in a nearby mansion, just a stone's throw away from their lavish residence.
A playroom for perfect children
While the study exudes an adult atmosphere, this room belongs to the kids. It's undoubtedly one of the most well-organized playrooms we've come across. With all those pristine white furnishings, we can only imagine how different it would look if our children had free rein—paint splatters galore!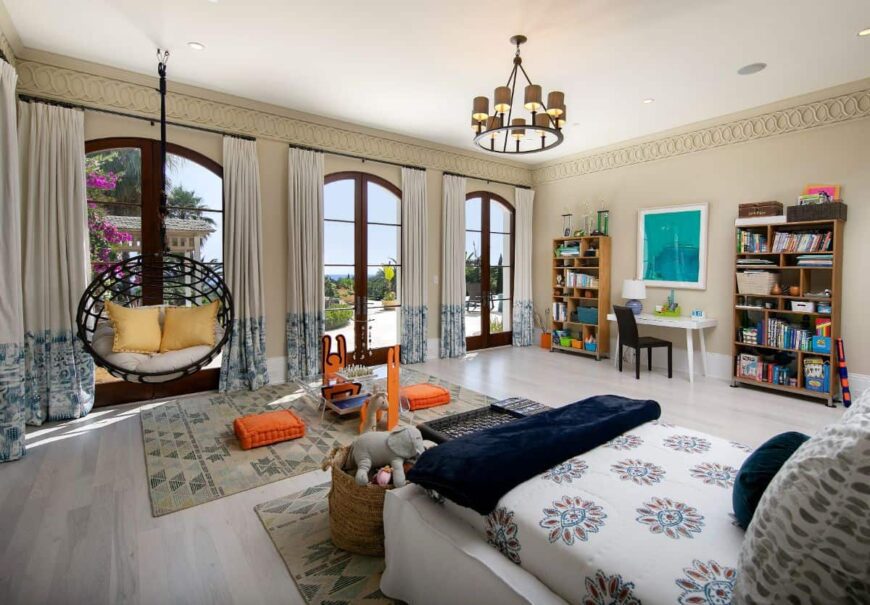 Perhaps rich kids are different—maybe you do not need to wreck your parents' home if you have all the toys. At least, that is what we would like to believe. It is better than acknowledging that the children in this home are just better behaved.
Something new, something borrowed
The mansion borrowed by the couple to film their Netflix show is rumored to carry an astounding price tag of $33.5 million. Situated less than five miles from their actual residence, it bears a striking resemblance to their real home, despite their own property being valued significantly lower than $33 million.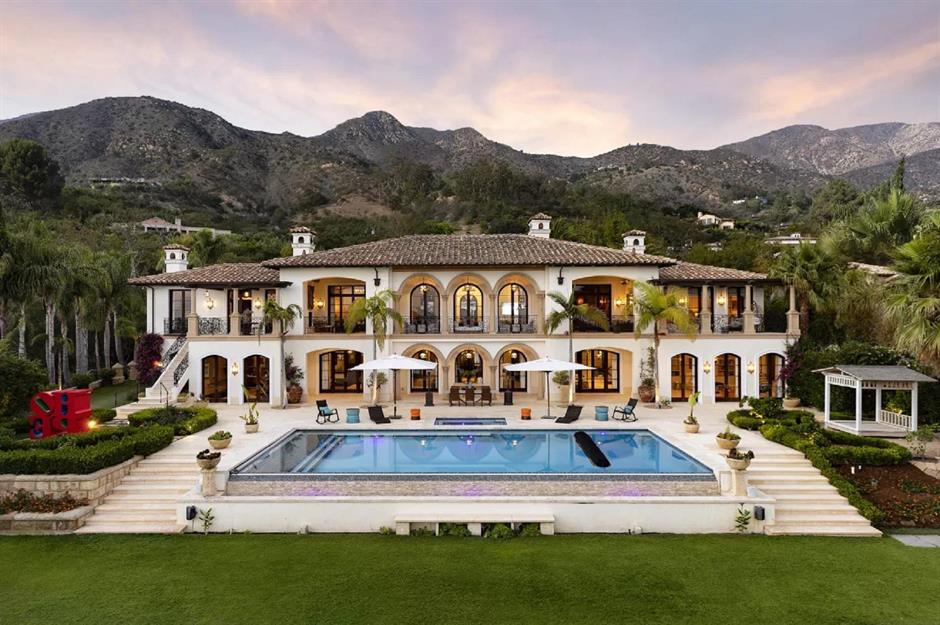 The borrowed house boasts 13,000 square feet of space, accommodating six bedrooms and seven bathrooms. With ample room for the couple, their two children, and the Netflix filming crew, let's explore some incredible features in Harry and Meghan's temporary home.
Movie nights will never be the same
The teenagers of the house have their own dedicated hangout space in the form of this theater room. It has likely witnessed many Saturday night movie marathons, and we can easily picture teenagers inviting their friends to relax on the plush couches and enjoy a film together.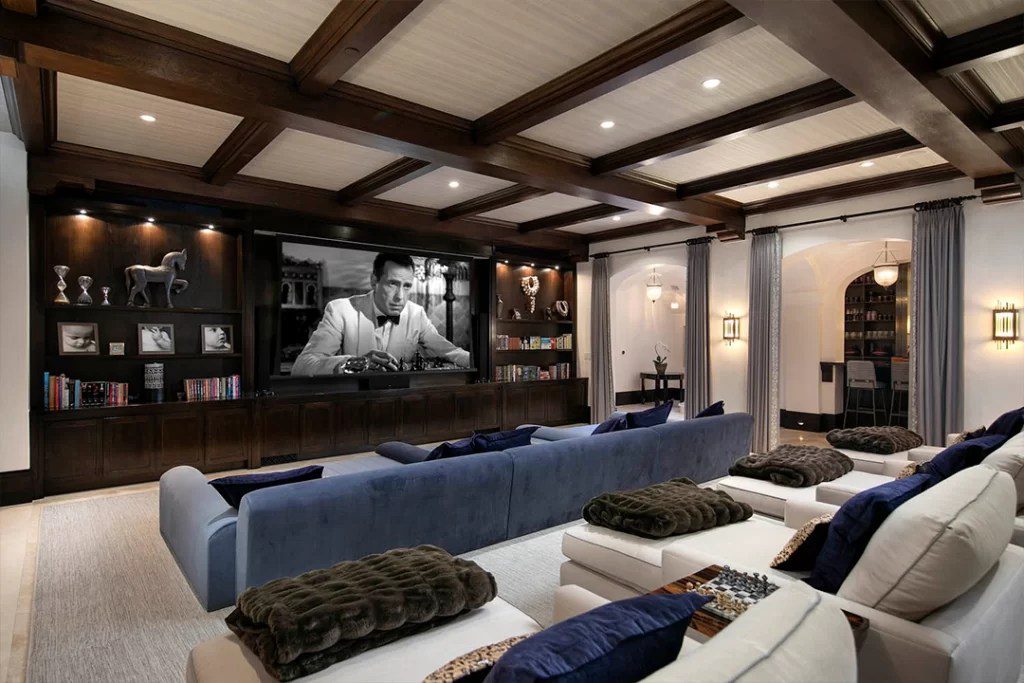 The soft blue velvet of the couches make us want to lay there and not move all day. That, coupled with the imposing wooden beams and massive TV screen make for the perfect place to watch a Harry Potter marathon.
A royal room for a royal family
If you've tuned into Harry and Meghan's docu-series, you might find this next room quite familiar. This particular room was a prominent setting for many of their interviews captured on film. No wonder they chose this space, as the view visible through the expansive arched windows is nothing short of spectacular!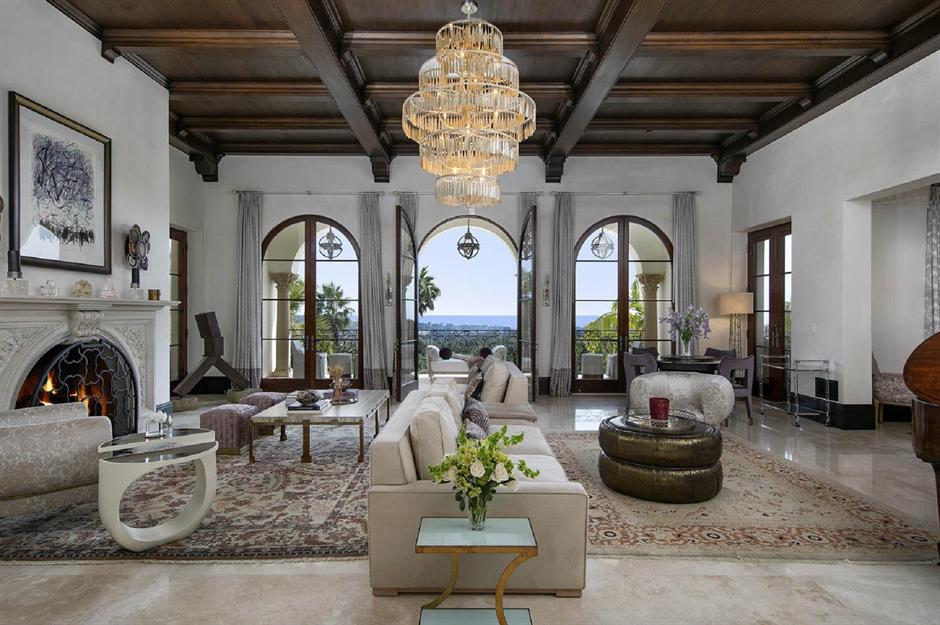 In contrast to the casual and cozy theater and family room, this room exudes an air of formality and regal elegance befitting a royal family. The cascading chandelier evokes the glamour of a 1920s flapper dress, while the opulent rugs appear to have been sourced from an exotic and undoubtedly pricey destination.
Meal with a view
On the expansive wrap-around terrace, one of the seating areas effortlessly transitions into an informal dining space on the balcony. Here, you can relish a delightful meal while being captivated by yet another awe-inspiring vista that this remarkable home presents.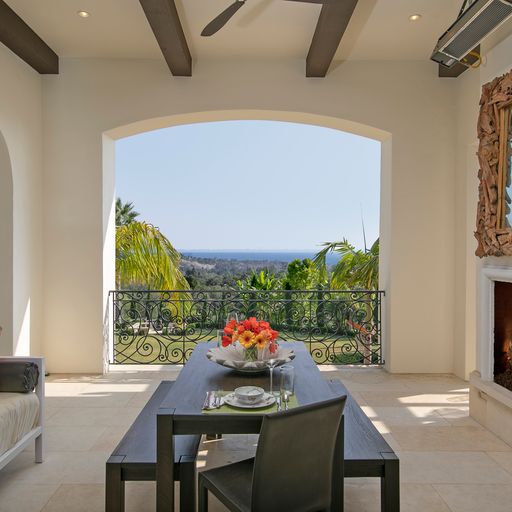 As diners gather at the informal dining area on the balcony, they are treated to enchanting views of the beautiful gardens. Picture evenings spent immersed in the gentle caress of a warm summer breeze, savoring chilled white wine and indulging in the finest local seafood.
For a finer palate
Contrasting with the more casual dining area, the formal dining space exudes an even greater level of elegance and sophistication. The room boasts a massive domed ceiling, while a dazzling crystal chandelier graces it, enhancing its grandeur and adding a touch of luxurious glamor.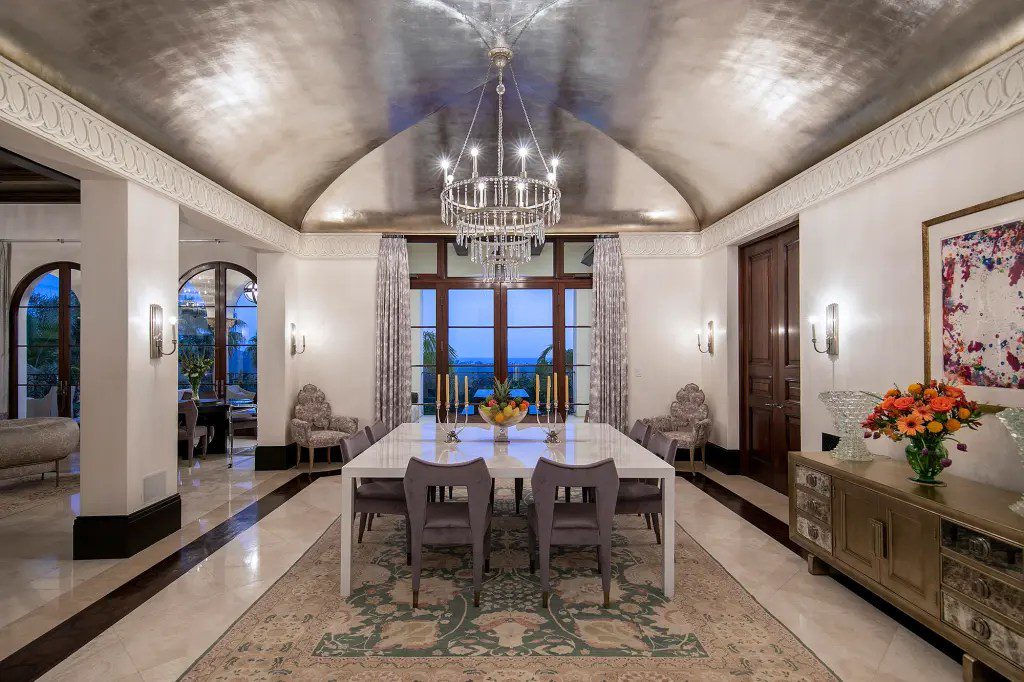 While the informal area sets the stage for a relaxed dinner of prawns or sushi, this room exudes an air of luxury, best suited for indulging in roasts, caviar, and dishes adorned with the finest truffles. So, if you had to choose, which dinner would you prefer to attend—the formal affair or the casual gathering?
Not just a pretty face
Have you ever encountered a house with a breathtaking interior but a lackluster garden? It's like meeting someone with stunning looks but a terrible personality—an absolute letdown. Well, this house breaks that pattern. It offers the best of both worlds: a magnificent interior and an equally stunning garden.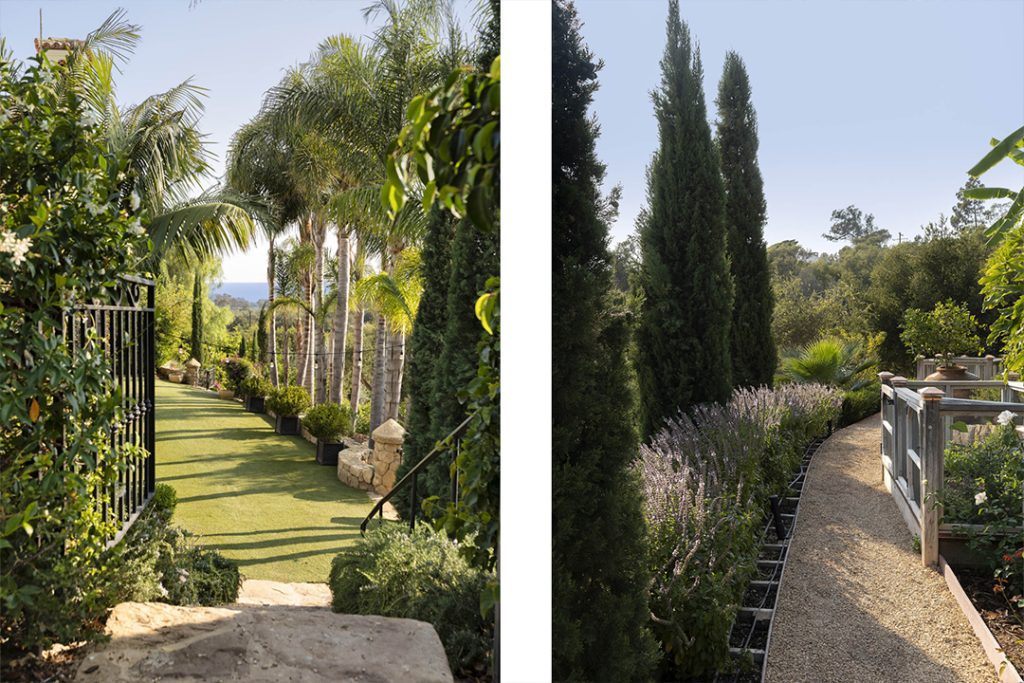 This house is as beautiful on the outside as on the inside. The gardens surrounding the household have little surprises at every turn, each more magical than the last. They are perfect for a relaxing stroll or a fun hide-and-seek game with the kids.
A gardener's paradise
Maintaining a property of this magnitude, especially with an expansive garden, can indeed incur significant costs. The demands of constant upkeep and meticulous care can be overwhelming for those without a green thumb. However, for passionate and dedicated gardeners, it presents an exciting challenge!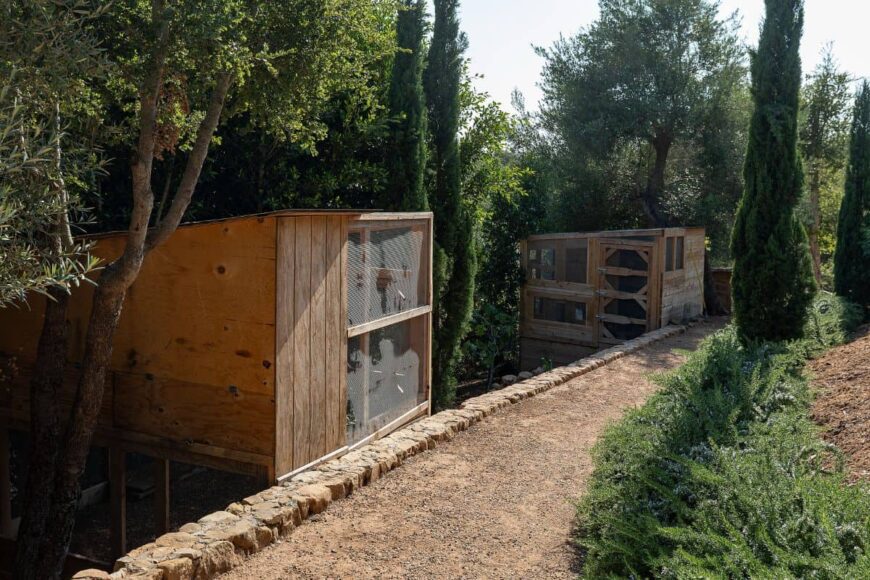 For avid gardeners, the maintenance accompanying this land is not a burden but a cherished gift. The garden boasts lush garden beds teeming with organic veggies and even includes a chicken coop. As if that weren't sufficient, it also boasts an abundance of rows filled with flourishing banana and citrus trees.
Curb appeal
Wherever you wander within the walls of this enchanting house, delightful vistas of verdant green gardens greet you—and the driveway is no exception! Now, let's be honest, most of us are accustomed to having a plain, old driveway that barely accommodates a single car.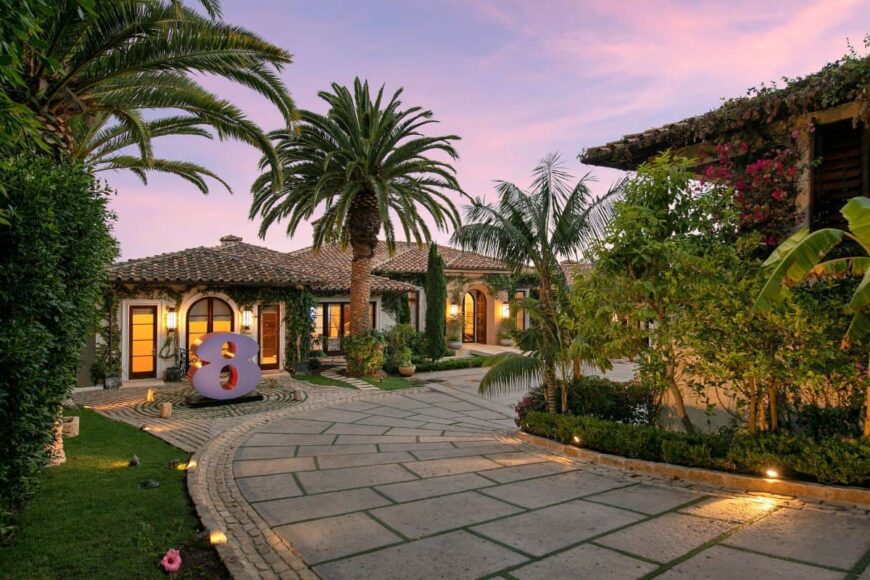 However, the developers that built this mansion must understand the importance of curb appeal. A stunning driveway sets the tone for the rest of the house. This driveway perfectly mimics the luxury that can be found inside the house. It's beautiful!
From one grand mansion to another
If, like us, you're currently in the clutches of intense house envy, brace yourself—it's about to get even more intense. While Harry and Meghan's borrowed home was undeniably stunning, their actual residence takes breathtaking and luxurious to a whole new level.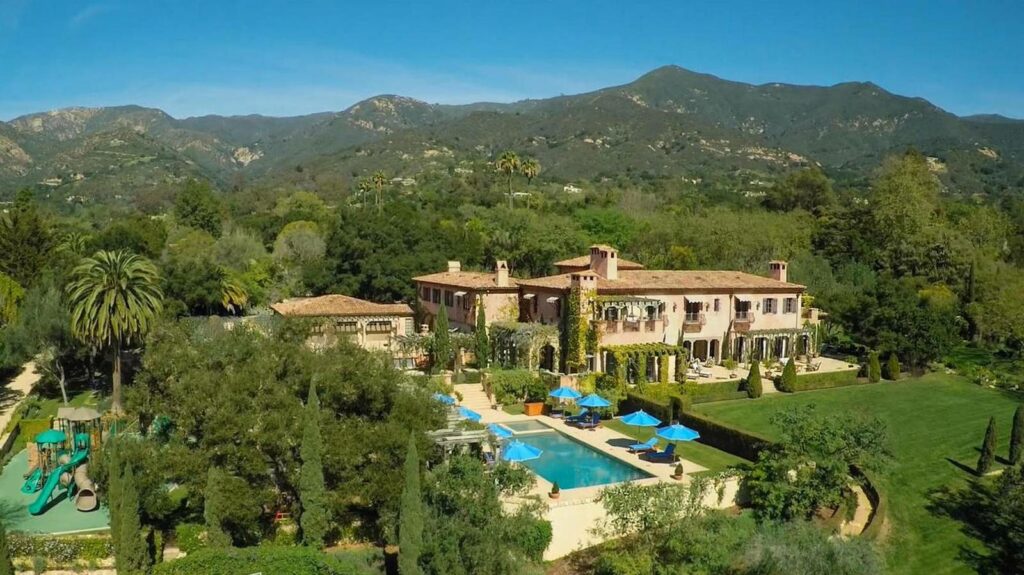 In 2020, the couple acquired their own piece of paradise, purchasing their house for a staggering $14.65 million. Nestled within a gated community, their home enjoys a secluded ambiance while being near other illustrious residents. Rumor has it that their esteemed neighbors include the likes of Oprah, Gwyneth Paltrow, and Ellen DeGeneres.
Stranger danger
When Harry and Meghan made their departure from the monarchy, security emerged as one of the most contentious issues. During their revealing interview with Oprah Winfrey, the couple disclosed that they no longer possessed any entitlement to a security detail after they decided to step down from the royal family.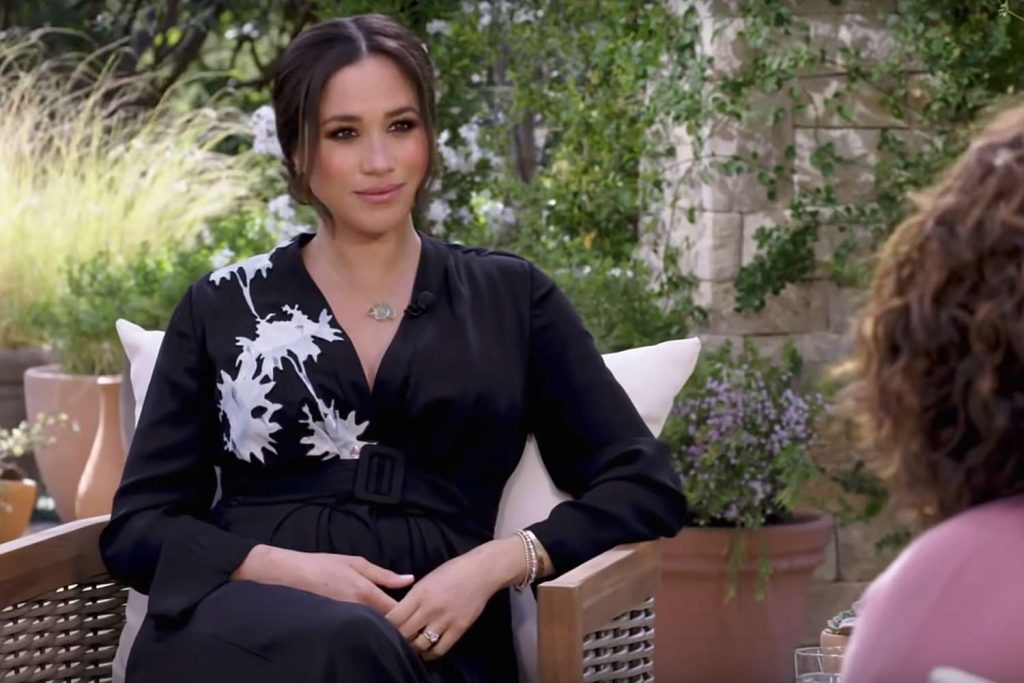 It seems that their security fears are justified because Meghan and Harry have notified the police of numerous intruder alerts since they moved into their Montecito home. In the span of 14 months, there have been six alerts relating to intruders. Scary!
As close to Fort Knox as it gets
Despite the exhaustive security measures taken by Meghan and Harry to safeguard their home, unfortunate intrusions have still occurred. Demonstrating their astuteness, they wisely refrained from showcasing their actual residence in the Netflix docu-series. Moreover, the property requires considerable effort to access, further enhancing its privacy and seclusion.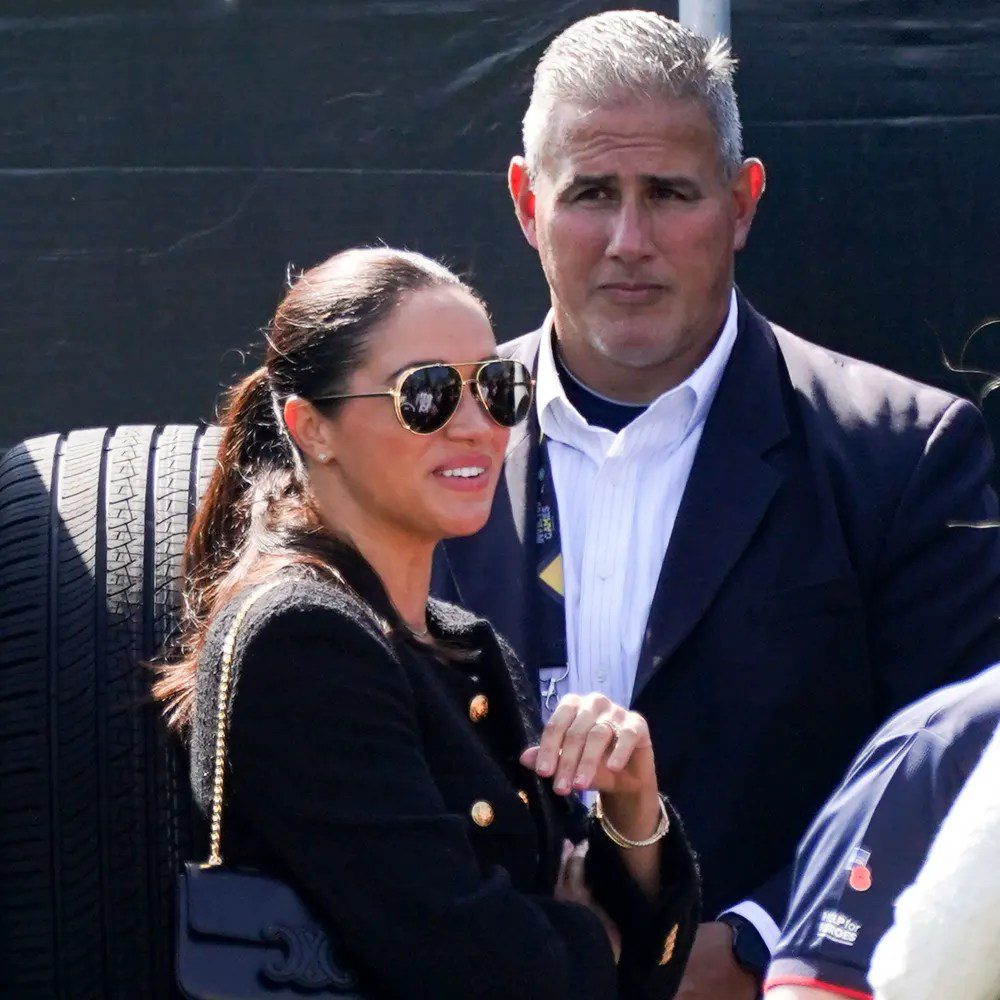 An intruder would have to pass multiple security gates and up a long driveway. When the intruder finally reaches the home, they would have to get past the private security hired by the high-profile couple. It is said that the couple spends about $3 million a year on security. Yikes. 
For summer barbecues
If you're going to live in California, it would do you good to make sure you have plenty of outdoor space. After all, you can't let all that good weather go to waste. Harry and Meghan have made sure to have a couple of places where they can soak up the sunshine.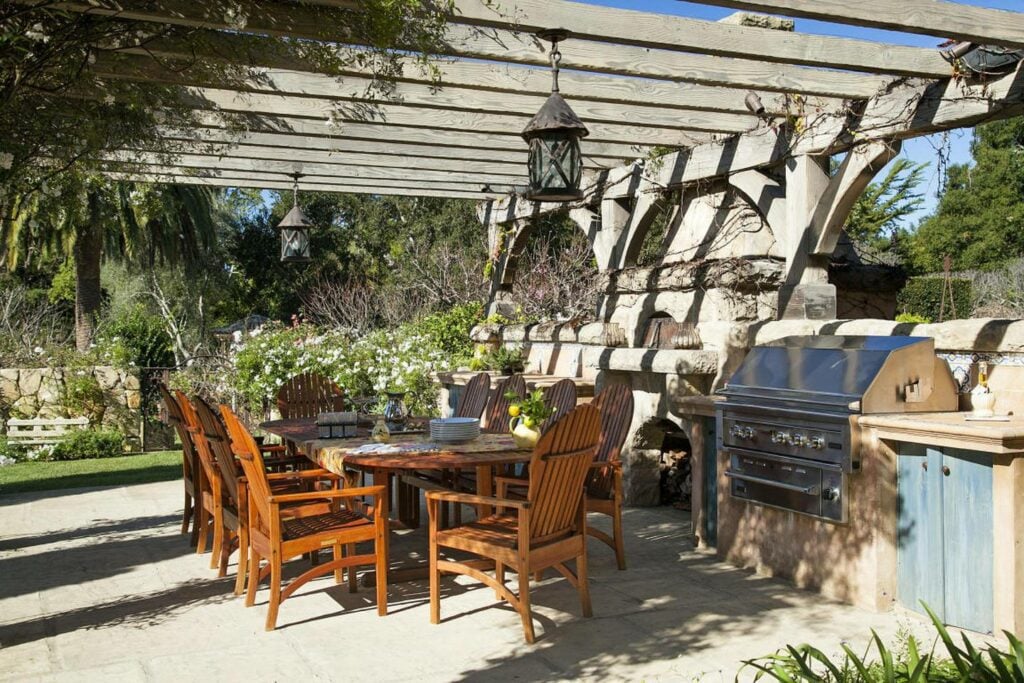 One of those places is the outdoor terrace. It looks like something one would see in the Italian countryside. The grill is perfect for summer barbecues with friends. We can't imagine Harry flipping hotdogs on the grill, but maybe he has fully embraced life in America and now appreciates an excellent ole barbecue.
One heck of a backyard
No summertime party is truly complete without indulging in some pool time. But you guessed it because this isn't just any ordinary pool— it is a massive pool with a built-in hot tub and countless sun loungers and umbrellas. It's the perfect place to catch a tan.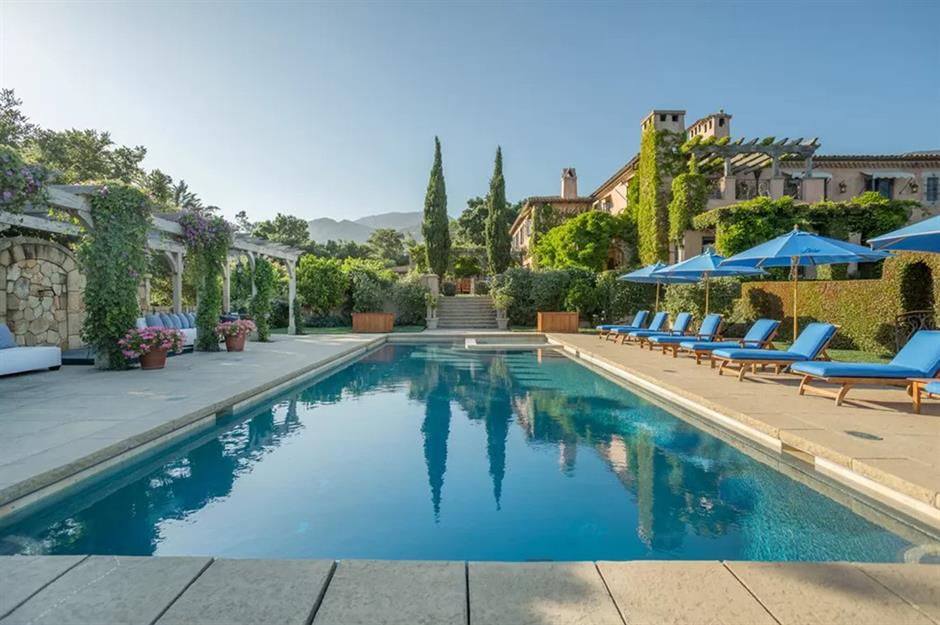 The pool area resembles a luxurious resort, perfect for hosting summer parties. Although, it's safe to say that their guest list boasts more star power than ours ever will. With friends like Serena Williams, the Clooneys, and Priyanka Chopra, it's no wonder their gatherings epitomize glamour and exclusivity.
For Netflix and chilling
Of course, any self-respecting mansion must come equipped with a theater. Anything less would be a complete waste! The theater in Harry and Meghan's real home also has the big beams and wooden features we saw in their borrowed home.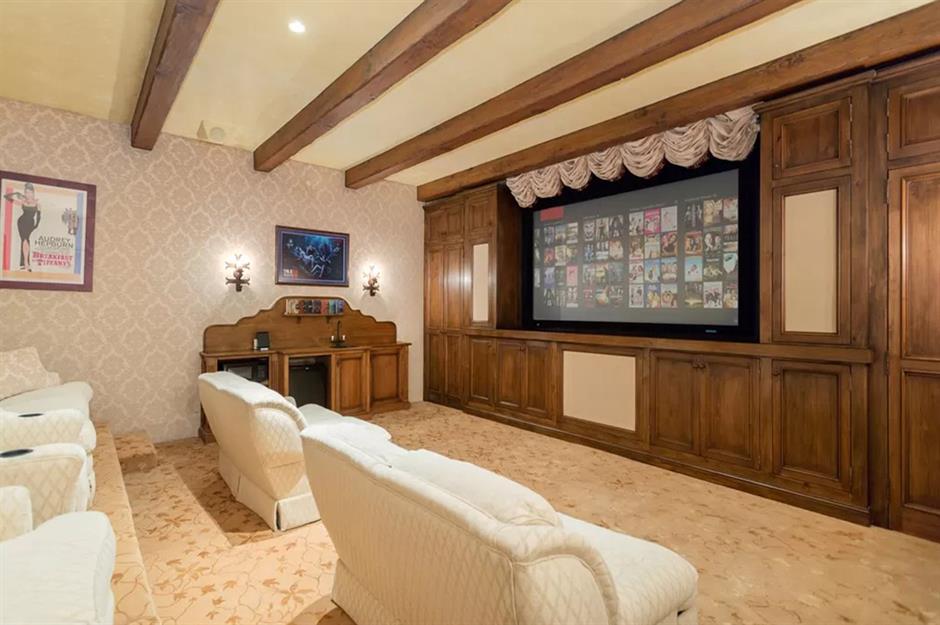 It is fitted out with a huge screen and multiple seating areas. What do you think the royal couple watches on this screen? Perhaps reruns of the show Suits? After all, that was Meghan's breakout role. Though, we think the intimate scenes might be a little awkward for them to watch.
The perfect place to frolic
Meghan describes Montecito as a sanctuary of joy and healing; looking at her garden, we can see why. The couple recently showed a short clip of Harry walking through the garden barefoot and carrying their baby Archie. The father and son then stop to admire the fruit on one of their peach trees.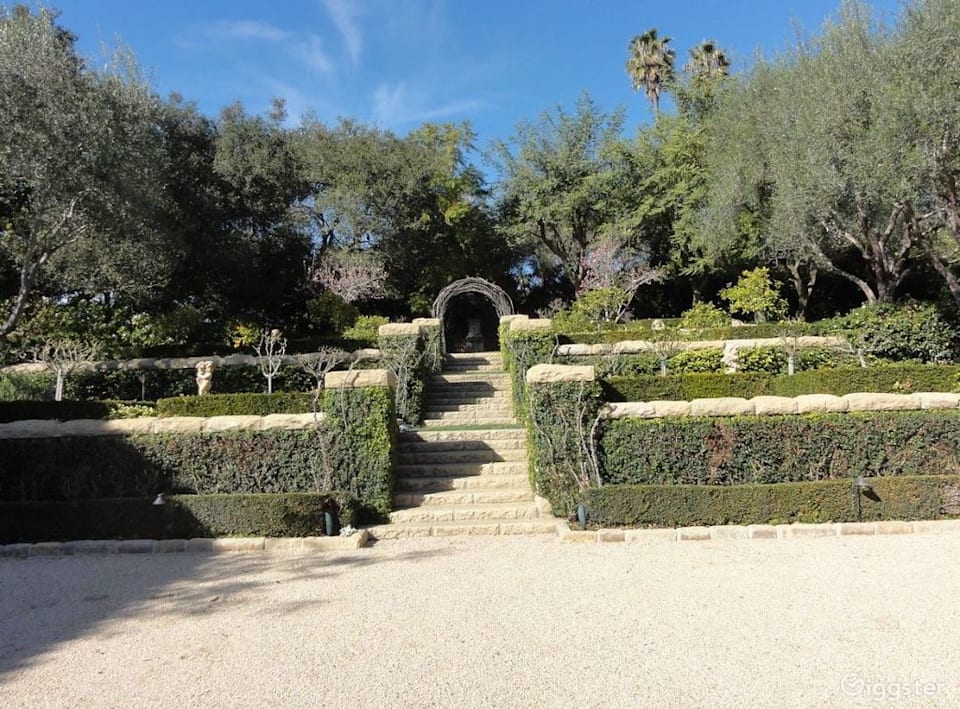 The garden on the couple's seven-acre plot is an ideal playground for the kids to romp and play in. However, the most heartwarming aspect of the garden is the forget-me-nots, which Harry is said to have planted as a touching tribute to his beloved mother.
Quite the first impression
Just when we thought their outside area couldn't get any more beautiful, we stumbled across this photo of the front of the couple's home. Look at the ivy slinking up the side of the house, the bright-colored flowers, and the breathtaking Californian sunset. Amazing!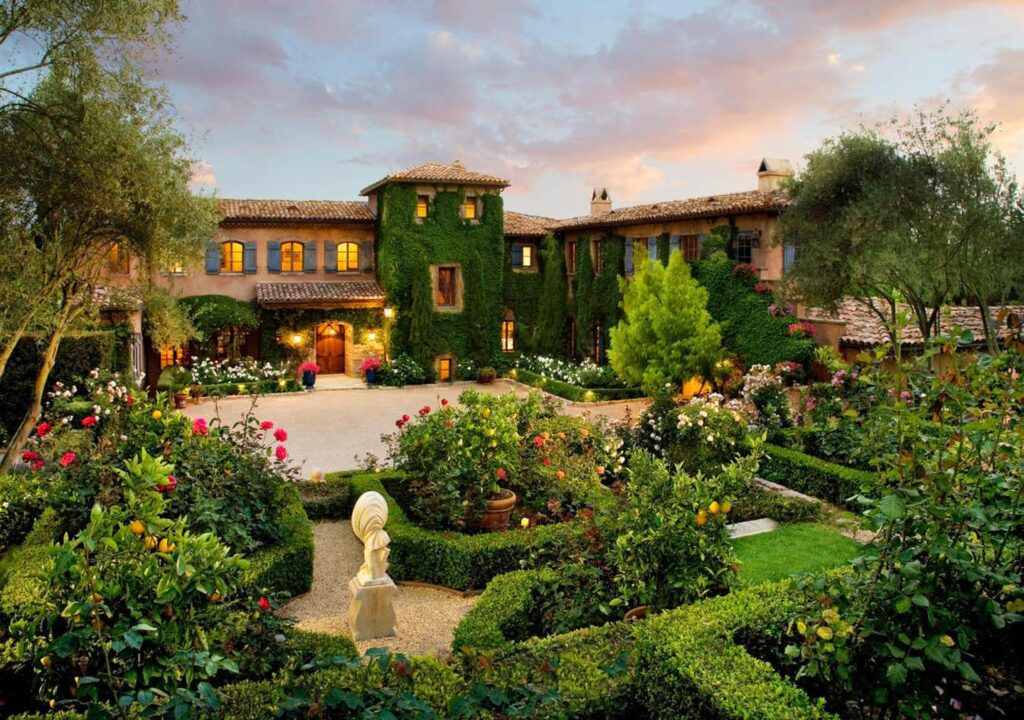 The warm lights inside the home make the home look so cozy. It is fantastic that such a mammoth-sized home can still look homey and lived in. We can imagine the floral-scented breeze blowing on a spring evening. How enchanting.
Village-sized home
Attempting to comprehend the sheer magnitude of this home purely through numbers and specifications may prove challenging. However, looking at a Birdseye view of the property really makes the you appreciate the enormous scale of the mansion. It's almost like a little village.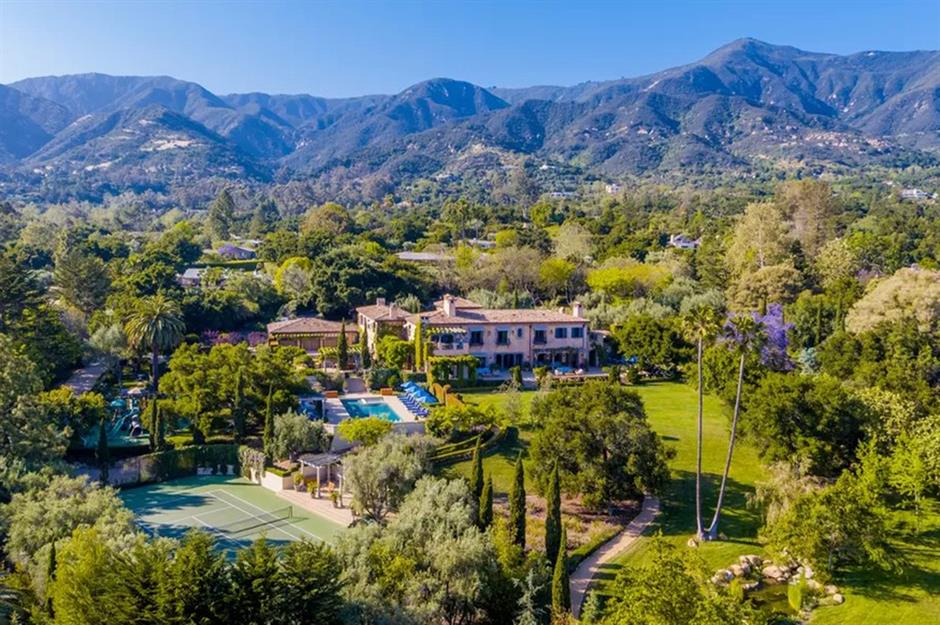 Fun fact: the palm tree at the bottom of this picture is actually the reason Meghan and Harry bought this house. Meghan recalls that Harry saw the way the trees were joined at the base, reminding him of the couple's love—cheesy but so sweet.
Eclectic wall art
Harry's move to California may have been rooted in something more profound than a love for the ocean. According to sources, shortly before his mother's passing, Princess Diana had planned to move to Malibu with her sons. Tragically, she passed away without ever living out that dream.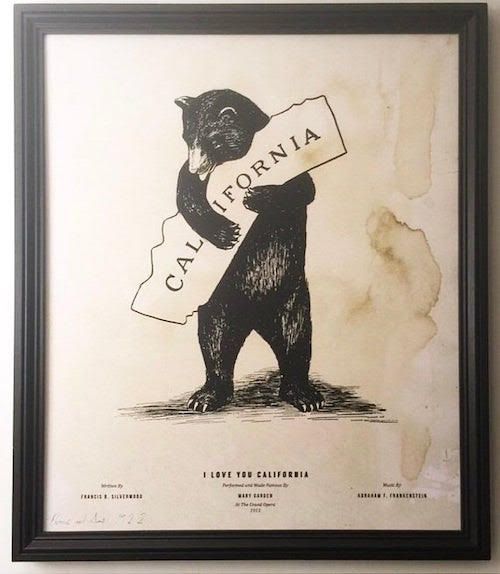 Meghan also has deep roots in California. She was born and raised in the state and has always wanted to live in Montecito. Their choice of wall art evidences the couple's deep love for the state. They have an adorable "I love California" poster pointing to the couple being in California for the foreseeable future.
Next-level sleepovers
Harry and Meghan's residence includes a dedicated guesthouse for visiting family members, much like the borrowed house. While it's safe to assume that Meghan's relatives are more inclined to utilize this space, Harry's relatives, including his older brother, the future king of England.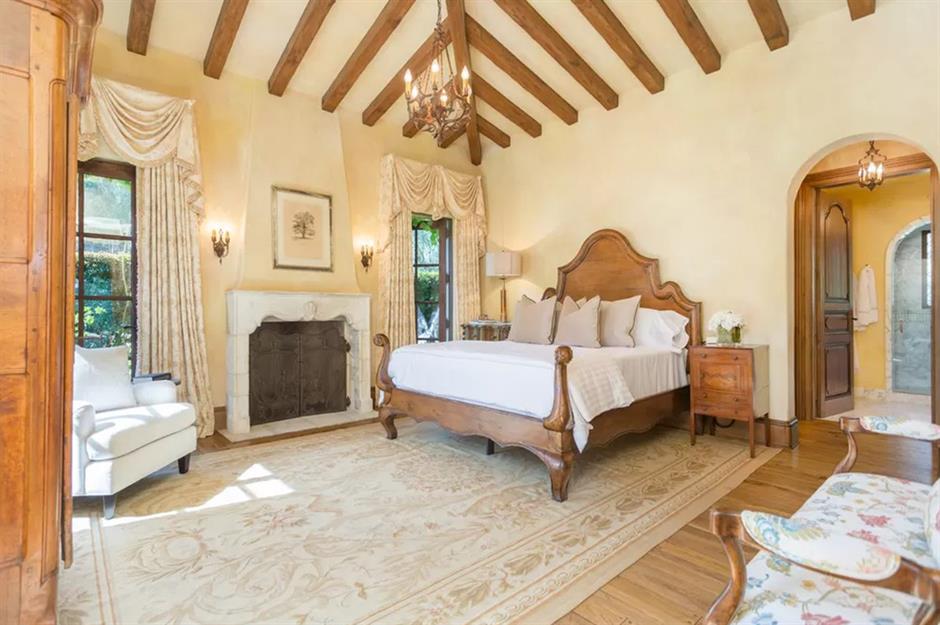 The guesthouse features two bedrooms and two bathrooms. The warm hues of the furnishings and the inviting stone fireplace create a cozy atmosphere in this room. It's safe to say that guests staying in this guesthouse feel genuinely pampered and well looked after.
Plenty of places to lay your head
If, by some stroke of luck, Harry and Meghan find themselves hosting more than two visitors at a time, they can rest assured that space won't be an issue. Their home boasts a whopping nine bedrooms! Nine! The whole family could sleep in separate rooms and still have five rooms to spare.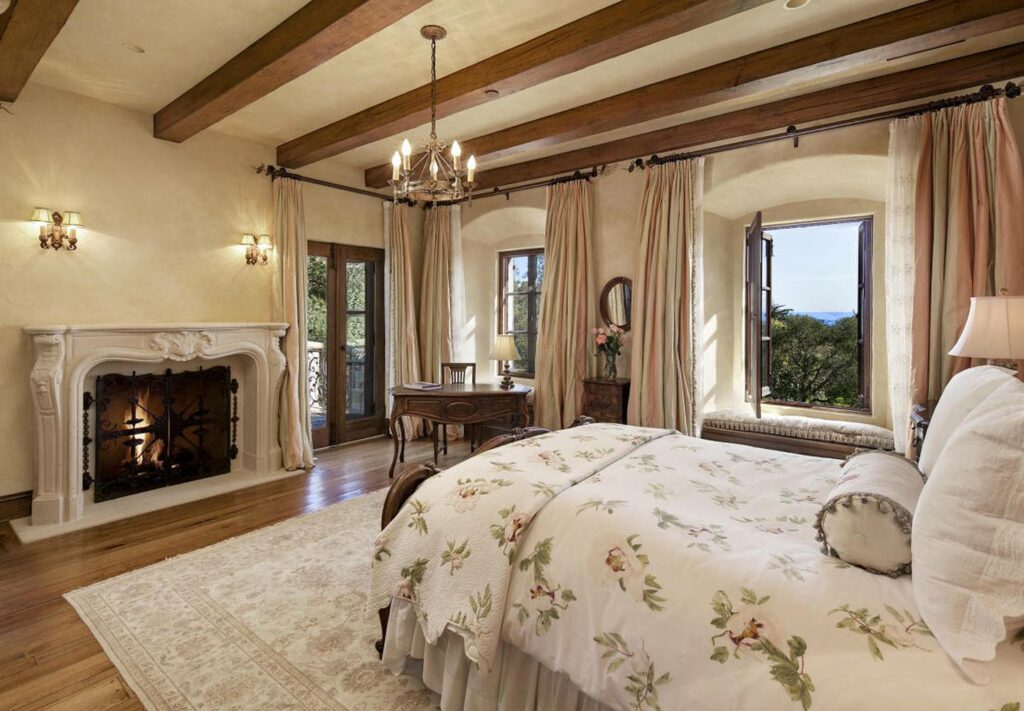 This is one of the rooms in the couple's mansion. It is incredible that such an ample space still feels so cozy. The room enjoys a beautiful view (of course) that can be enjoyed from the room's private terrace. We wonder if the couple has kept all the ornate features seen here.
A lot of nooks and crannies
In addition to the nine bedrooms, the couple's house boasts an impressive 16 bathrooms. We need help understanding why anyone would require such an abundance of bathrooms. But that's not all! The home also features an arcade, a gym, and a charming tea house.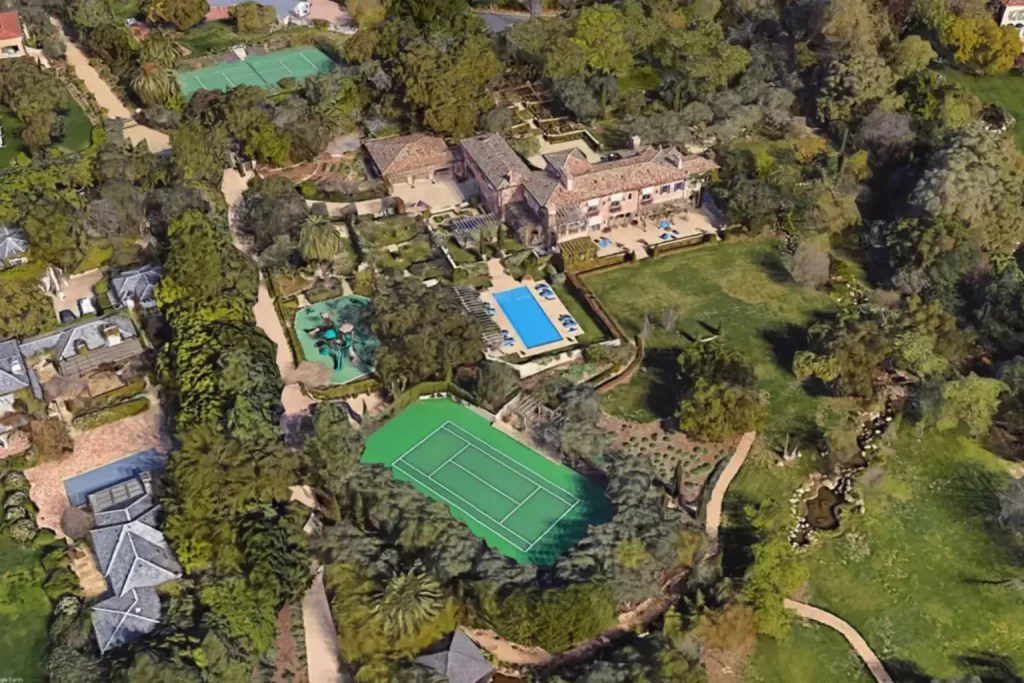 But the amenities continue beyond there. Within the sprawling 18,671 square-foot property, the couple has managed to include a tennis court, a five-car garage, and a charming children's cottage. Phew, for us, that just sounds like too many extra places to clean.
The adults' playground
The kitchen may be the most essential room in a home, but the wine cellar comes in at a close second. Well, maybe our "wine cellar" is just a modest wine rack tucked away in the pantry, but that doesn't stop us from daydreaming about having a grand wine cellar like this one someday.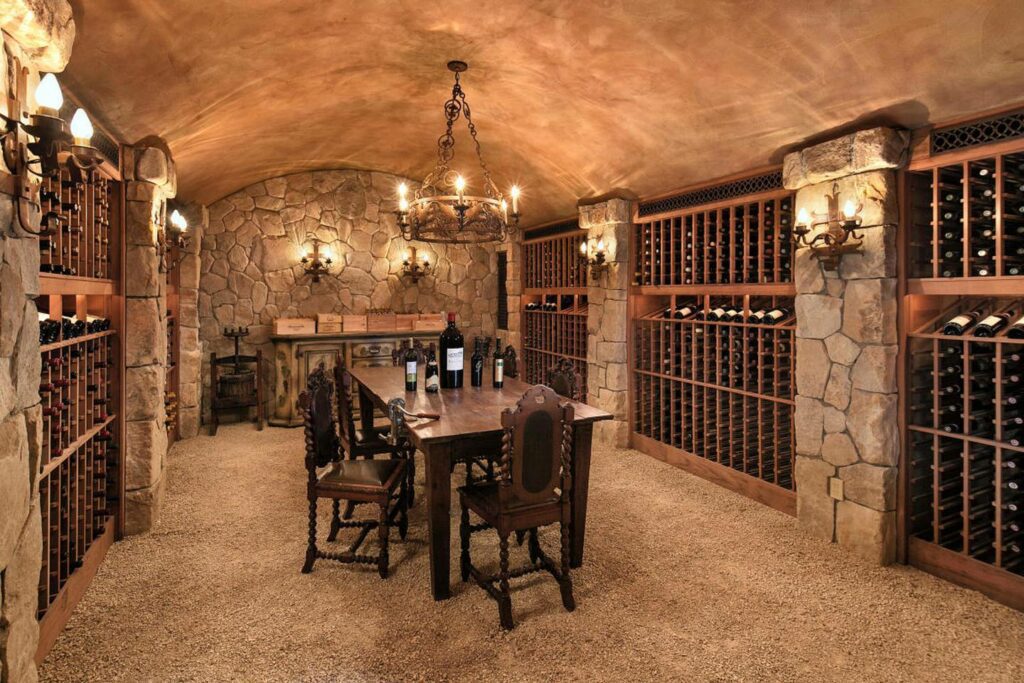 The couple's wine cellar evokes the ambiance of Italian wineries. The stunning stonework and arched ceilings transform a cold, dark space into a warm, inviting room. With such a beautiful setting, it's only fitting to stock it with the finest selection of wines.
A place for childhood memories
If the wine cellar is a dream playground for adults, this is the kids' equivalent. Lilibet and Archie, indeed, exhaust themselves playing on this jungle gym. Although they may be too small for the bigger slides now, they will soon launch themselves off those too.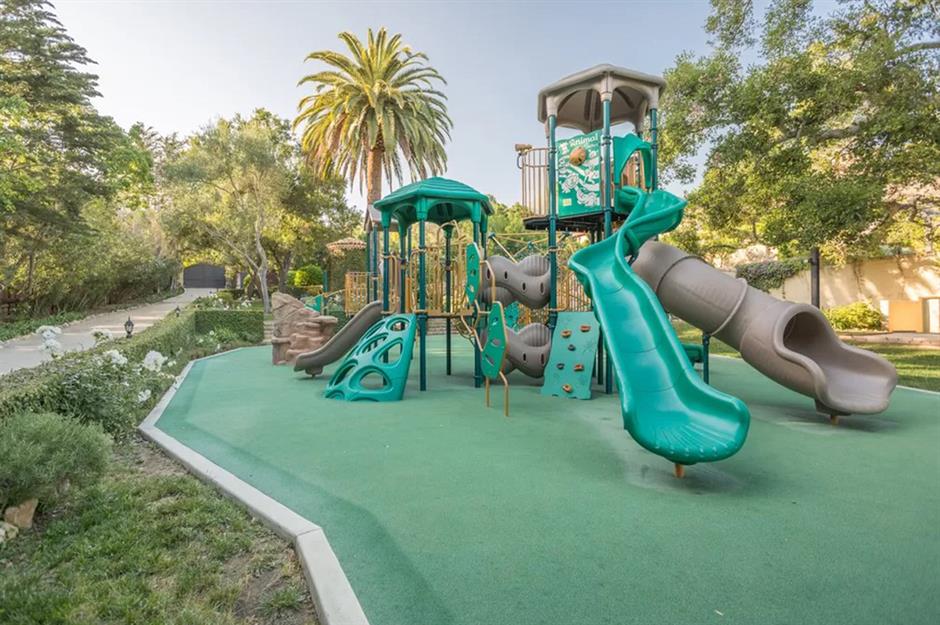 If you have trouble getting your children to let go of the screens and go outside, then take a page from Harry and Meghan's book. All you'll need is enough money and space for a massive play area in your backyard. Easy.
Where the magic happens
If you're curious to glimpse the room where Harry and Meghan rest, we regret to inform you that the couple has managed to keep that area of their home entirely private. All we have is a rendering, a mere representation of the room. Our curiosity remains unsatisfied, but the mystery adds to their allure.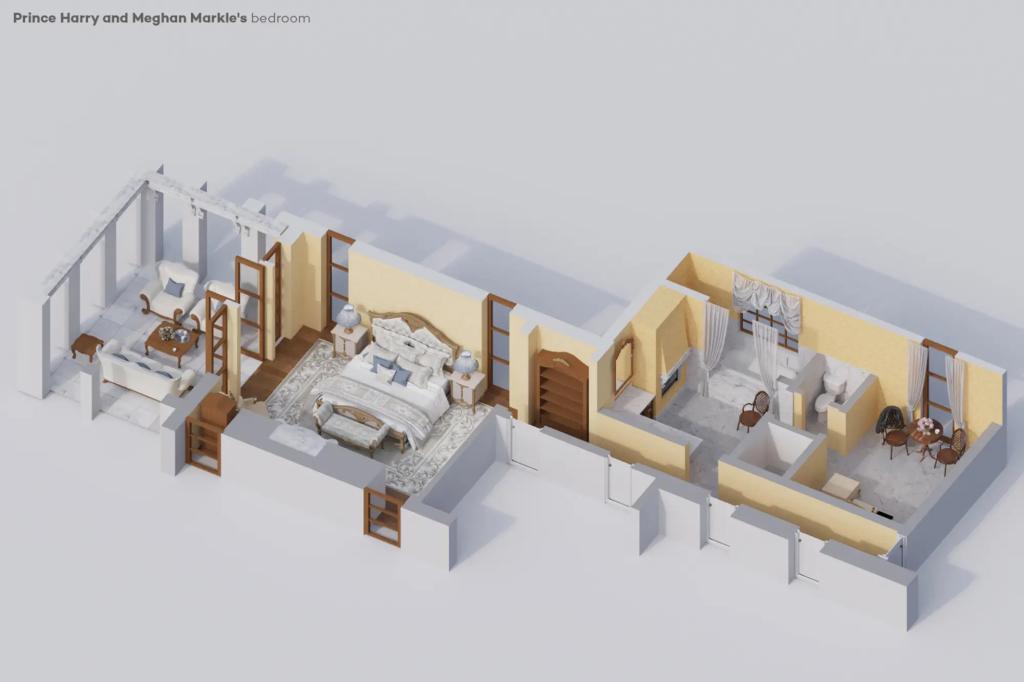 Their primary bedroom resembles a luxurious suite with multiple seating areas and a spacious master bath. We can imagine that Meghan's walk-in closet is brimming with an array of stylish outfits she is often seen wearing. Rows of soft beige cashmere and finely crafted wool coats will likely adorn the space.
Work, work, work
It is said that Meghan has always preferred neutral and natural colors, along with a Mediterranean-inspired aesthetic, when it comes to furnishing her homes. The décor of her study, as depicted below, certainly reflects these choices. The soothing colors create a tranquil ambiance that complements the striking stone fireplace in the background.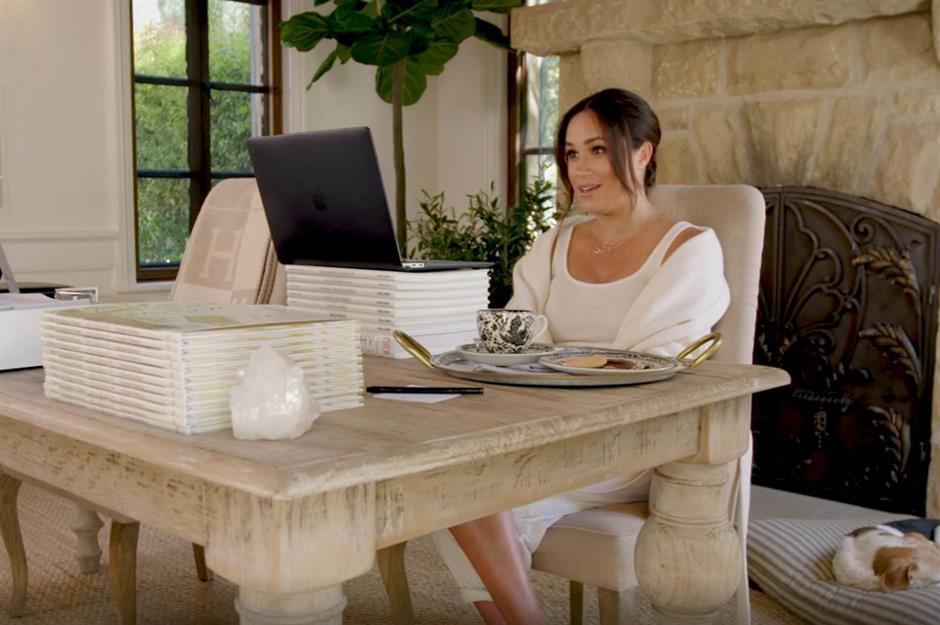 This snapshot of Meghan in her study is yet another glimpse into the couple's private residence, as it remains one of the few publicly available images. In their quest for further insights, some individuals have resorted to scrutinizing the backgrounds of interviews conducted within the couple's home.
More rooms for chilling
Upon careful examination of the listing site photos and images of Meghan in her study, astute netizens deduced that the couple likely repurposed their family room into a study. Upon closer inspection of this picture, one might notice striking similarities to the study photo. The evidence suggests a clever transformation in the home's layout.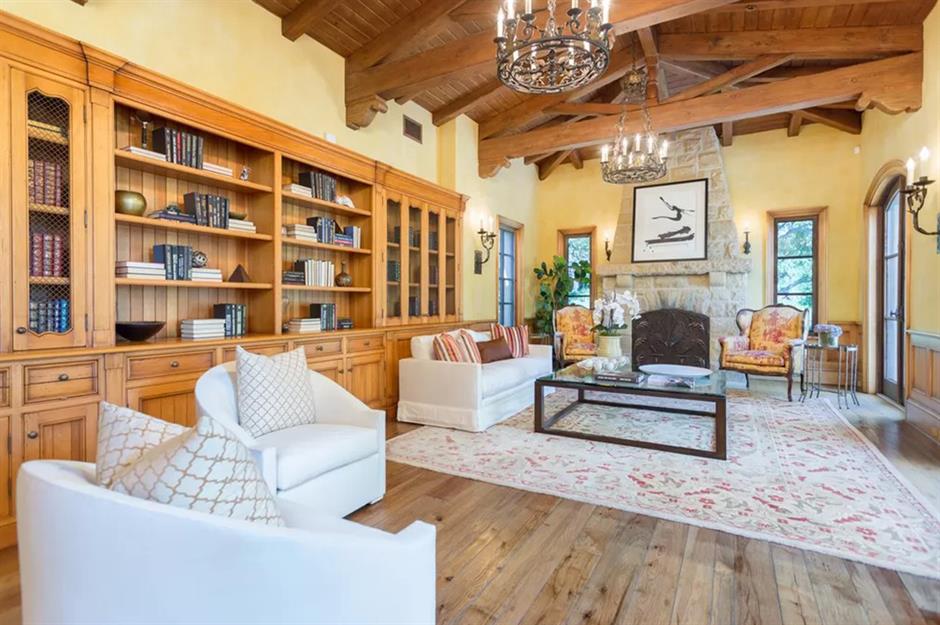 Firstly, the stunning floor-to-ceiling stone fireplace appears unchanged, and the two windows have maintained their original design. Additionally, this room features the same enchanting medieval lighting fixtures and wooden beams as other house areas. There's clearly a consistent theme running throughout this home.
Cookin' up a storm
You'll likely find her in the kitchen when Meghan isn't busy filming her Netflix docu-series, recording her podcast, or working on her numerous other projects. Sources reveal that Meghan cooks for her family daily, defying the celebrity stereotype of always relying on chefs. Just imagine a celebrity with actual culinary skills!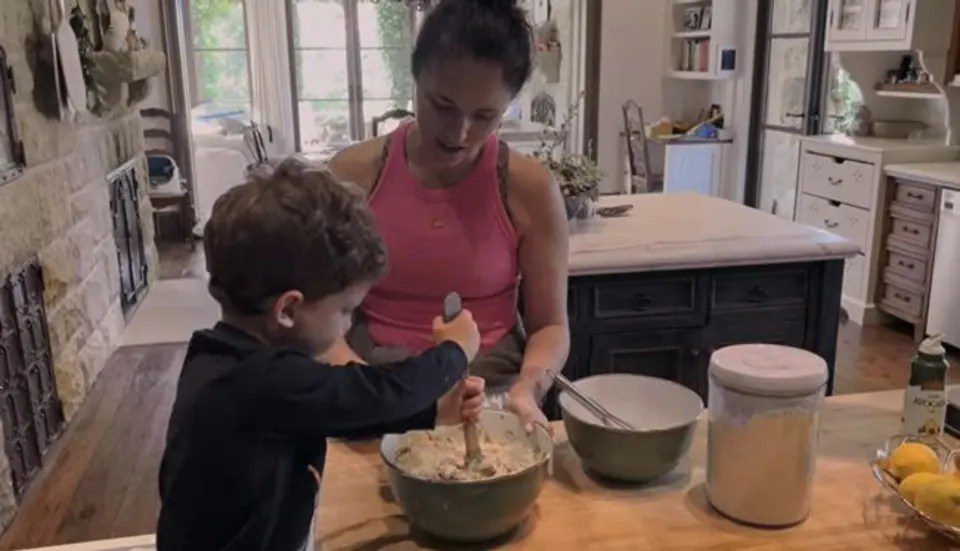 During filming, Archie was seen baking cookies in Harry and Meghan's kitchen. Unlike their temporary home's modern kitchen, the glimpses of their actual kitchen reveal a charming rustic atmosphere. We, too, prefer the authentic and homely vibes of their kitchen.
For fancier lounging
The couple's residence also boasts a formal lounge, albeit one with a distinctly antique ambiance compared to the lounge in their temporary home. The presence of thick wooden beams, sconces, chandeliers, and rich colors contrasts the relaxed Californian aesthetic.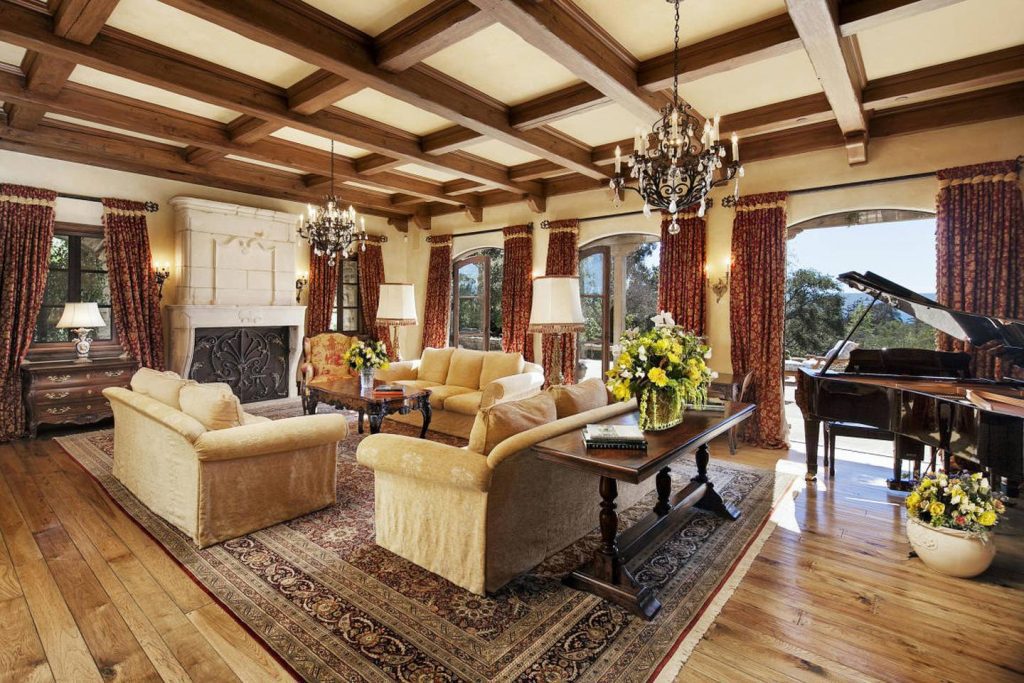 We're certain that Meghan and Harry have added their touch to the place. One of the items they likely replaced is the grand piano featured in this photo. After their friend Tyler Perry gifted them a grand piano, we can envision the couple positioning the special gift in the spot once occupied by the piano shown here.
A princess room for Lilibet
As we bid farewell to this visual tour of the couple's home, we can only imagine how their personal touch brought the space to life, making it their own. Among the fascinating features captured in the listing photos, one delightful highlight was the enchanting peek into the children's room.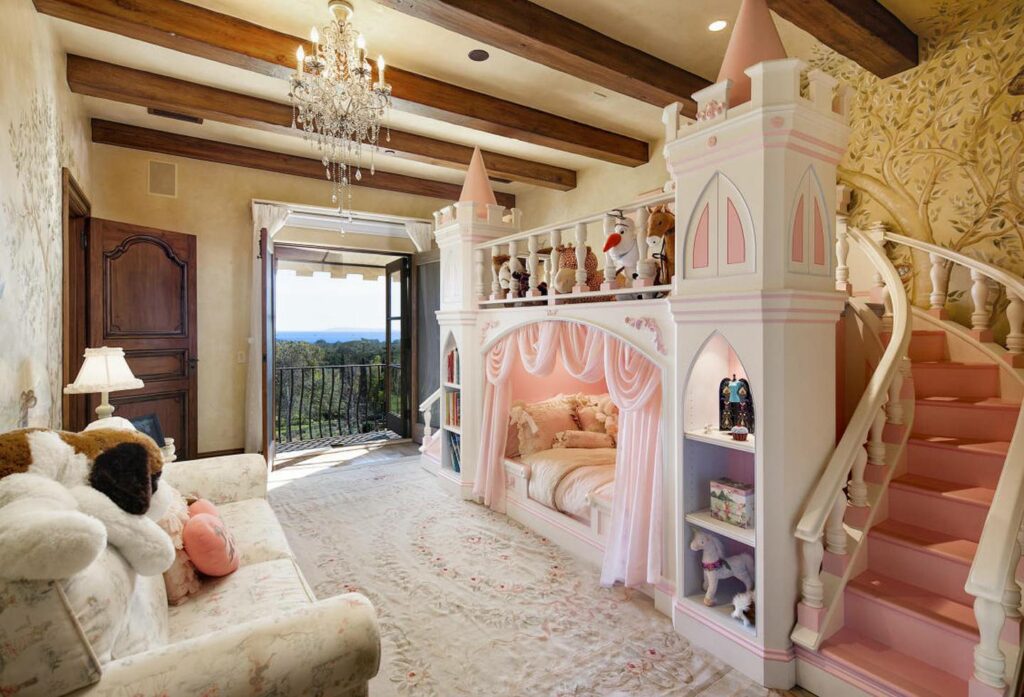 A tiny part of us secretly hopes that they retained the design of this room. Sure, it might be a tad cheesy (a princess-themed room for a former royal baby—quite on the nose), but hey, this is the stuff little girls' dreams are made of! Just look at those adorable double stairs leading up to the little mezzanine—pure love!
Hi neighbor
If this article has sparked your interest in owning a Montecito mansion, here's some good news! The house next door to the couple was recently up for sale (although it's likely already sold). You could have been their neighbor for a mere $21 million and casually greeted Harry and Meghan with a friendly "hi!"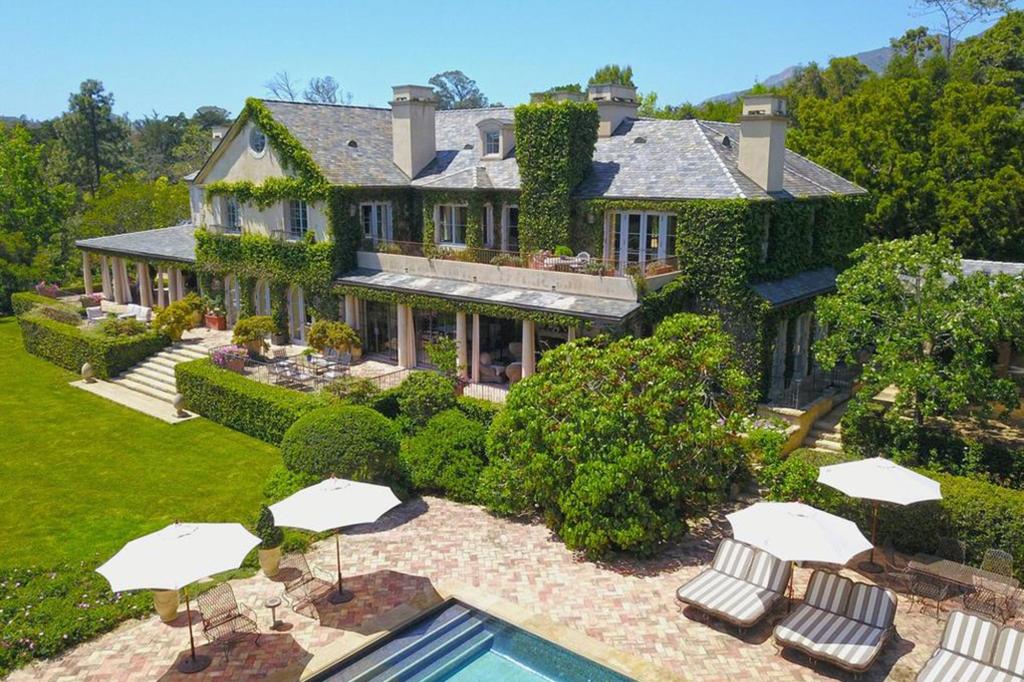 While the high walls and security gates might limit sightings of the couple, living in the same neighborhood as Hollywood's A-listers is an enticing perk. You might even bump into Oprah during a casual grocery run. So, if celebrity encounters are your thing, this neighborhood is the place to be!
Mother nature's wrath
Now, on a more serious note, for anyone considering purchasing a home in the vicinity, consider all factors before making a decision. While the neighborhood is generally regarded as safe and enjoys a stellar reputation, it is important to acknowledge the unpredictable forces of nature that have recently taken their toll.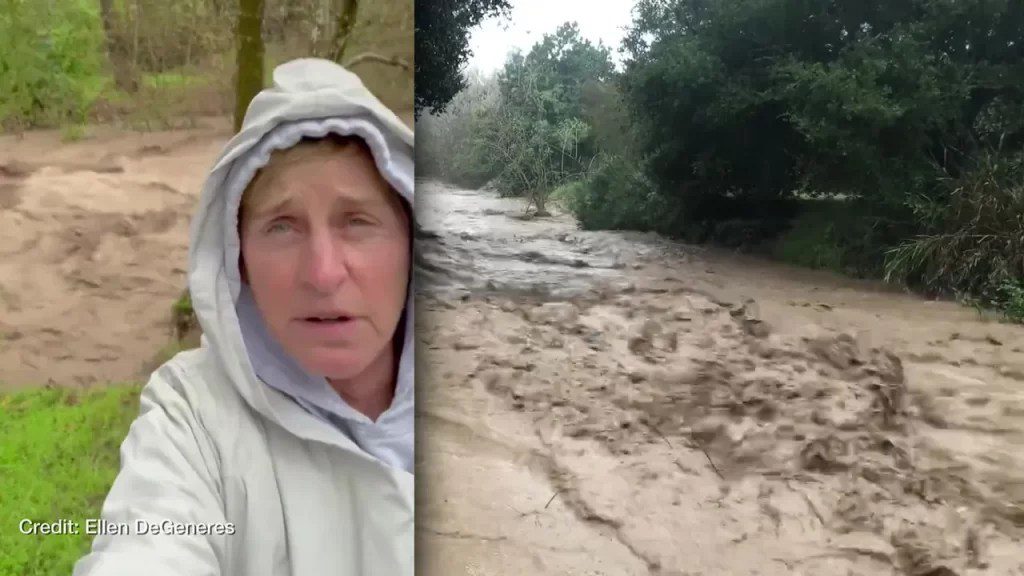 Montecito, prone to floods and fires, faced devastating events. In 2018, a fire ravaged the area, followed by heavy rains triggering a tragic mudslide that claimed 23 lives. In January 2023, Montecito once more battled heavy rainfall. The community's resilience is tested against nature's relentless challenges.
Is a move in the cards?
Rumors circulate that severe weather and persistent security issues may prompt Meghan and Harry to bid farewell to their cherished Montecito residence. However, their departure will take them only a short distance from home. Stay tuned to see where their next royal nest will be!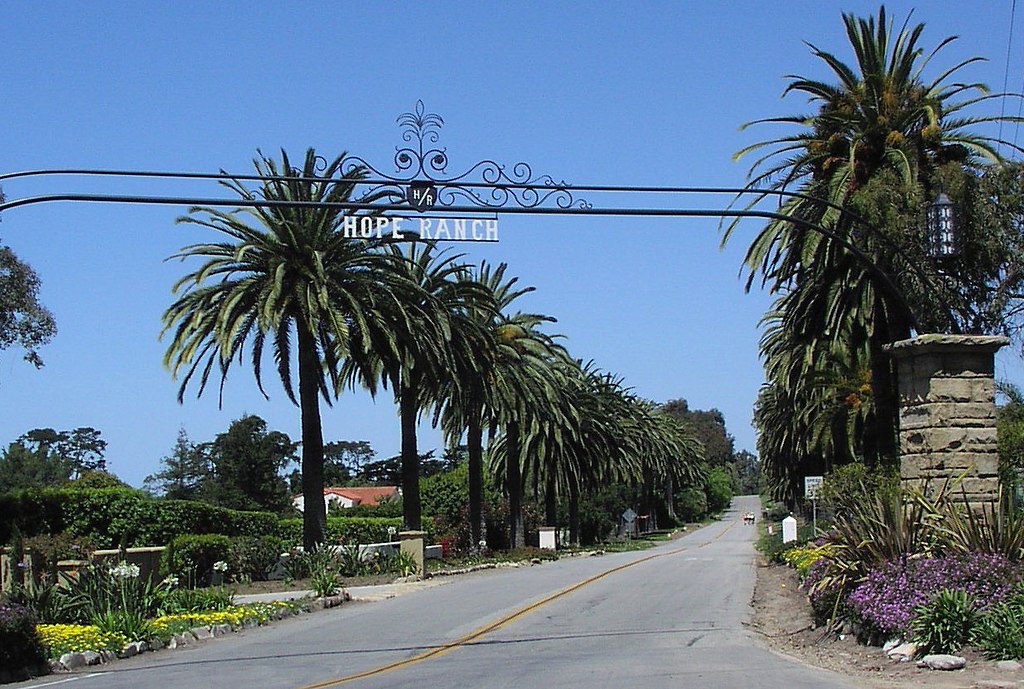 Harry and Meghan will likely move to the exclusive Hope Ranch in Santa Barbara. Some residents are concerned their arrival will bring unwanted media attention, potentially disrupting the peaceful neighborhood. Will Harry and Meghan shake things up in Hope Ranch?
The rich get richer
If you plan to snag Harry and Meghan's Montecito home once the couple moves out, brace yourself for a hefty price tag. Since their occupancy, the property's value has skyrocketed by a staggering $12 million. It looks like their royal touch brings a royal premium!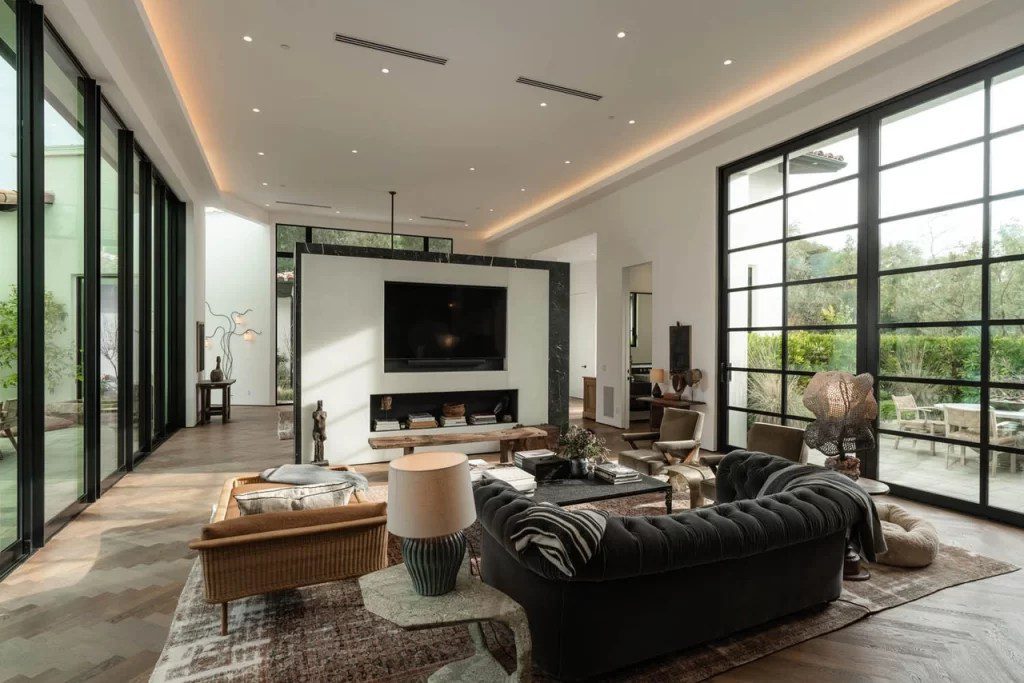 This significant surge is primarily attributed to the booming housing market in the region. Even Ellen DeGeneres hopped on the bandwagon and reaped the benefits. She recently sold her Montecito home, pocketing a $1.5 million profit. Not a bad day at the office!