A-List Impersonators: Celebrities Who Nailed Halloween As Fellow Famous Figures
By Jhoana C September 13, 2023
---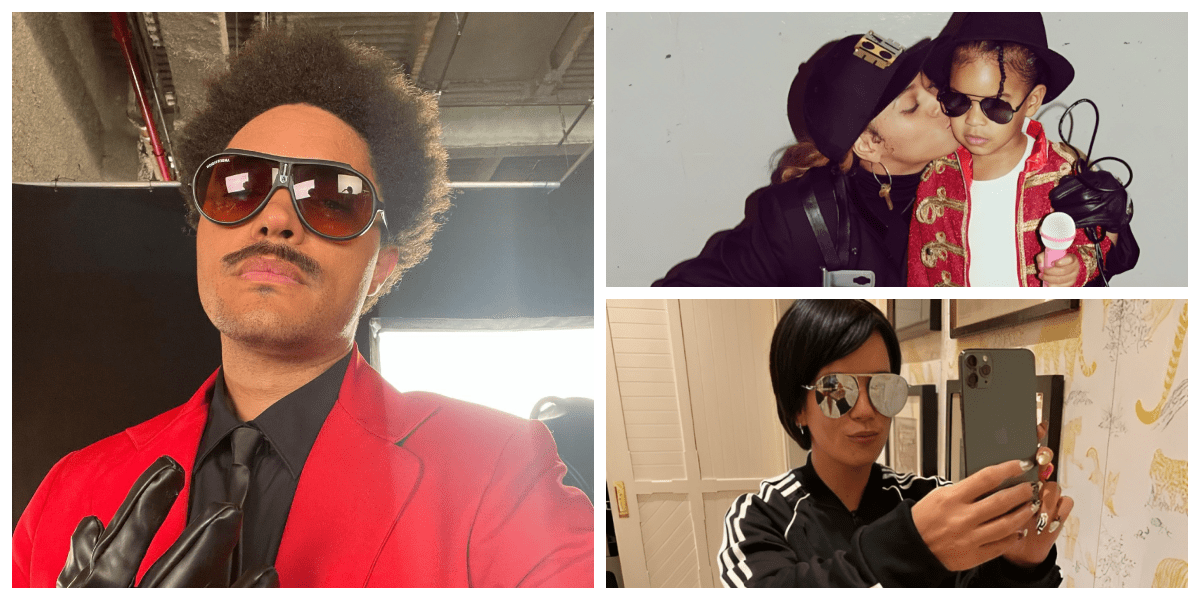 Dressing up as someone else for Halloween is no longer a tradition limited to children and young ones. Nowadays, adults join in on the fun and don costumes and pretend to be their favorite superheroes, cartoon characters, or favorite snacks.
Initially designed to imitate scary and supernatural beings, outfits for the spooky season have changed drastically over the years. It's not uncommon to see Playboy bunnies, pop stars, killer nurses, and angels during Halloween. And no one excels at this activity more than celebrities!
These guys don't spare any expense to look like their favorite personalities, down to the last detail. Anything goes during All Hallow's Eve. It's the perfect time to change your look and even your gender if only a day. So, here are celebrities who channeled other stars and had a grand time while at it.
#1 Kelly Osbourne as Christina Hendricks
Although most people remember her most for her curves, Christina Hendricks is an accomplished actress with numerous accolades under her belt, including a Critic's Choice Award for Best Supporting Actress. She has both the looks and acting chops most of us can only dream of.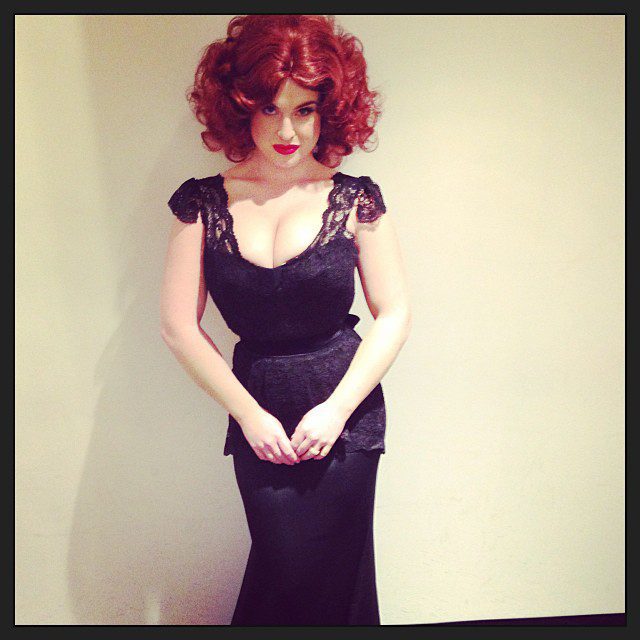 Did you look long and hard at the photo? That's Kelly Osbourne channeling her inner Christina Hendricks. The English TV personality did an excellent job dressing up as the actress, and if we didn't know better, we'd think she was the real deal.
#2 Kim Kardashian as Anna Wintour
The longtime editor-in-chief of Vogue magazine, Anna Wintour, has quite the reputation. One of the most famous names in fashion, she presides over the Met Gala guest list, one of the most sought-after events in the industry. And that's just one of her incredibly exciting responsibilities.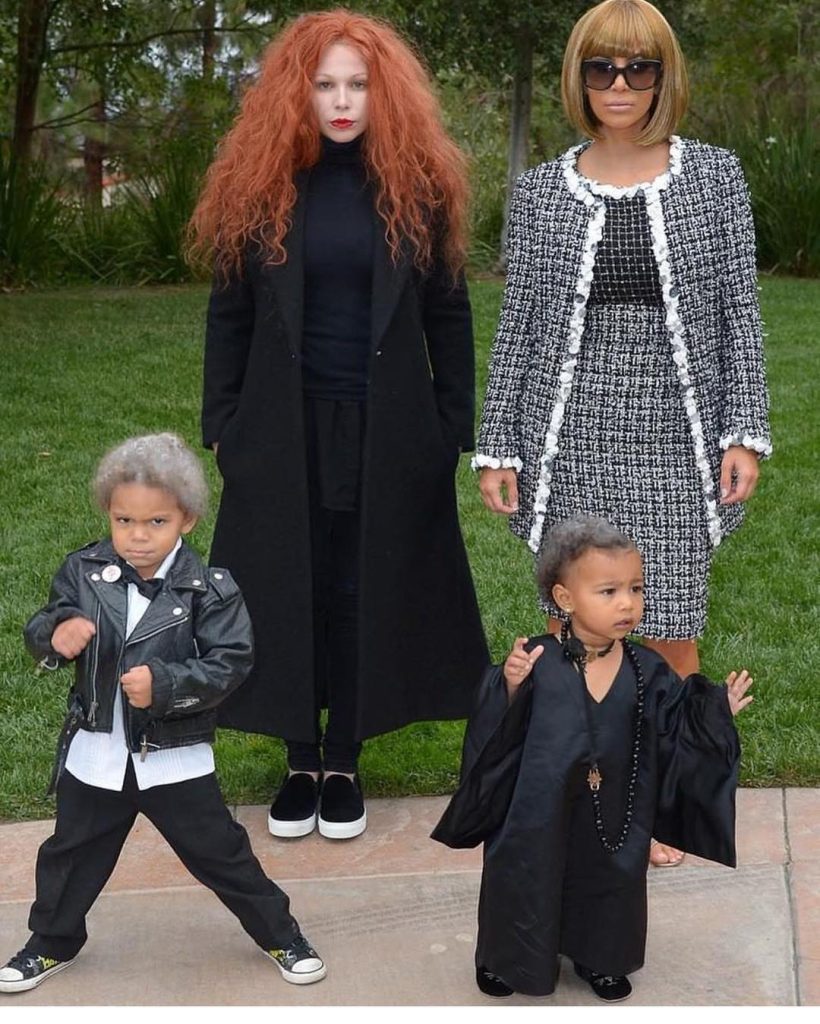 What do you think of Kim Kardashian's take on the formidable personality? Is she spot-on or far off? When the reality TV star and her then-husband, Kanye West, were featured on the cover of Vogue in 2014, it was such a hit that it was called the "Vogue cover shot heard 'round the world."
#3 Bebe Rexha as Anna Nicole Smith
Anna Nicole Smith was a personality who was larger than life. Named Vicky Lynn Hogan, she started her career as a Playboy magazine centerfold model and was named Playmate of the Year in 1993. She later modeled for popular fashion names like Guess.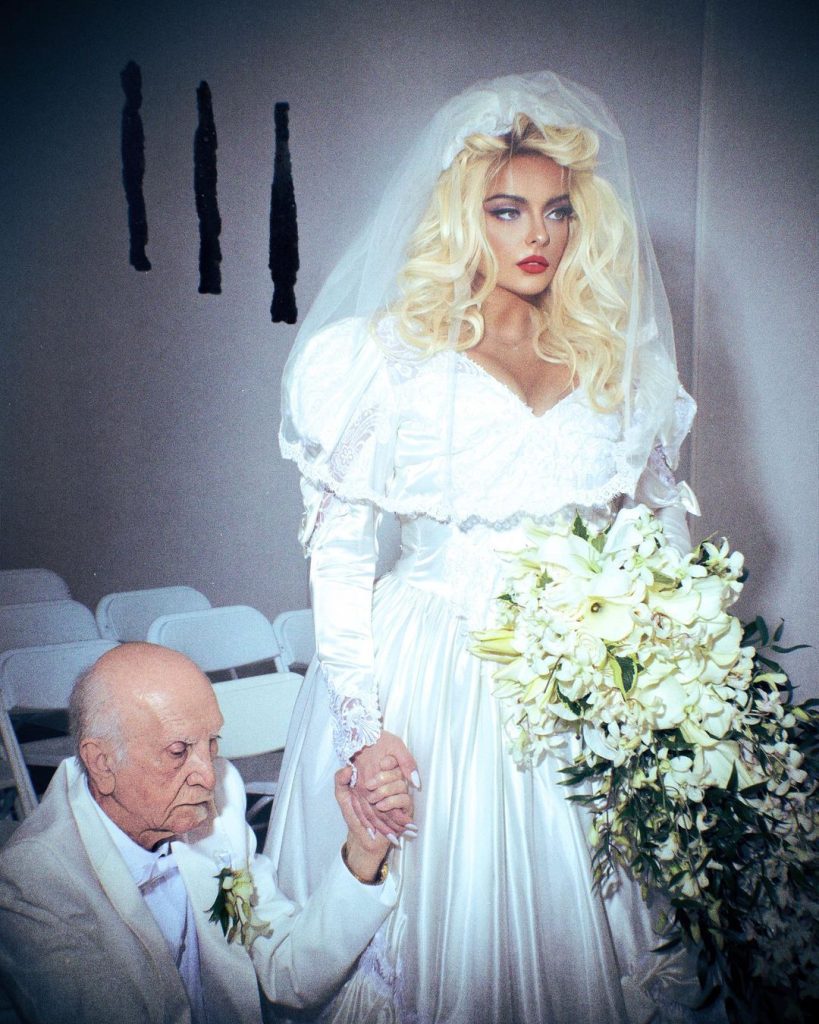 She met her untimely demise in 2007 at the age of 39. The previous year, she had given birth to a girl, but her happiness soon turned to devastation when her son, Daniel, died from an accidental drug overdose. Anna would later die of the same.
#4 Nick Cannon as Steve Harvey
Celebrities go all out during Halloween, and Nick Cannon is not one to be left out. Here he is, impersonating comedian and host Steve Harvey on Halloween 2021. The actor made an appearance on Steve's show dressed as the host.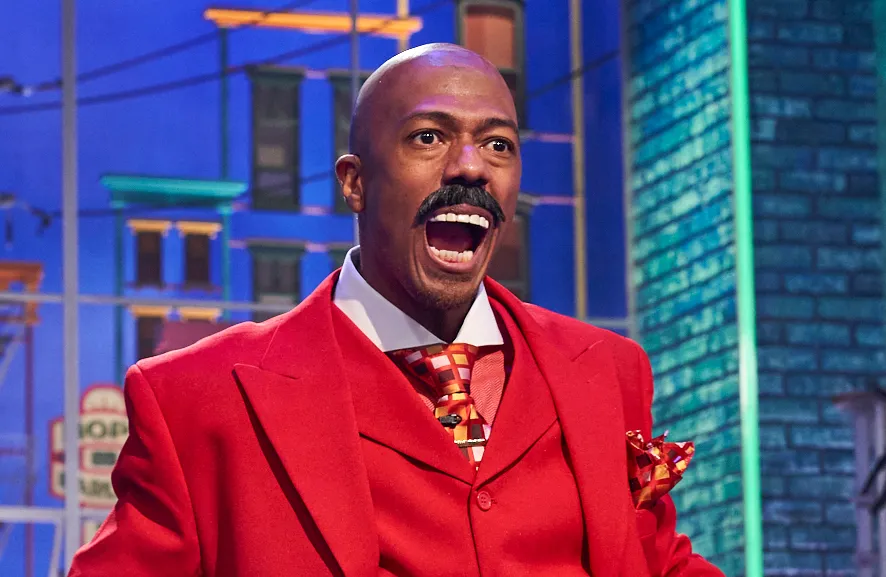 The rapper and former Mr. Mariah Carey has gotten a lot of flak lately for fathering a dozen children with six women. He also made the news in 2020 for making anti-Semitic comments. Indeed, he is a celebrity people can't seem to agree on.
#5 Beyoncé as Toni Braxton
Here is a legend paying tribute to another legend. This was so excellently done that even Toni Braxton approved of it. The Instagram post quickly went viral, with people commenting on how much they loved it. Looking at it, we can't help but agree.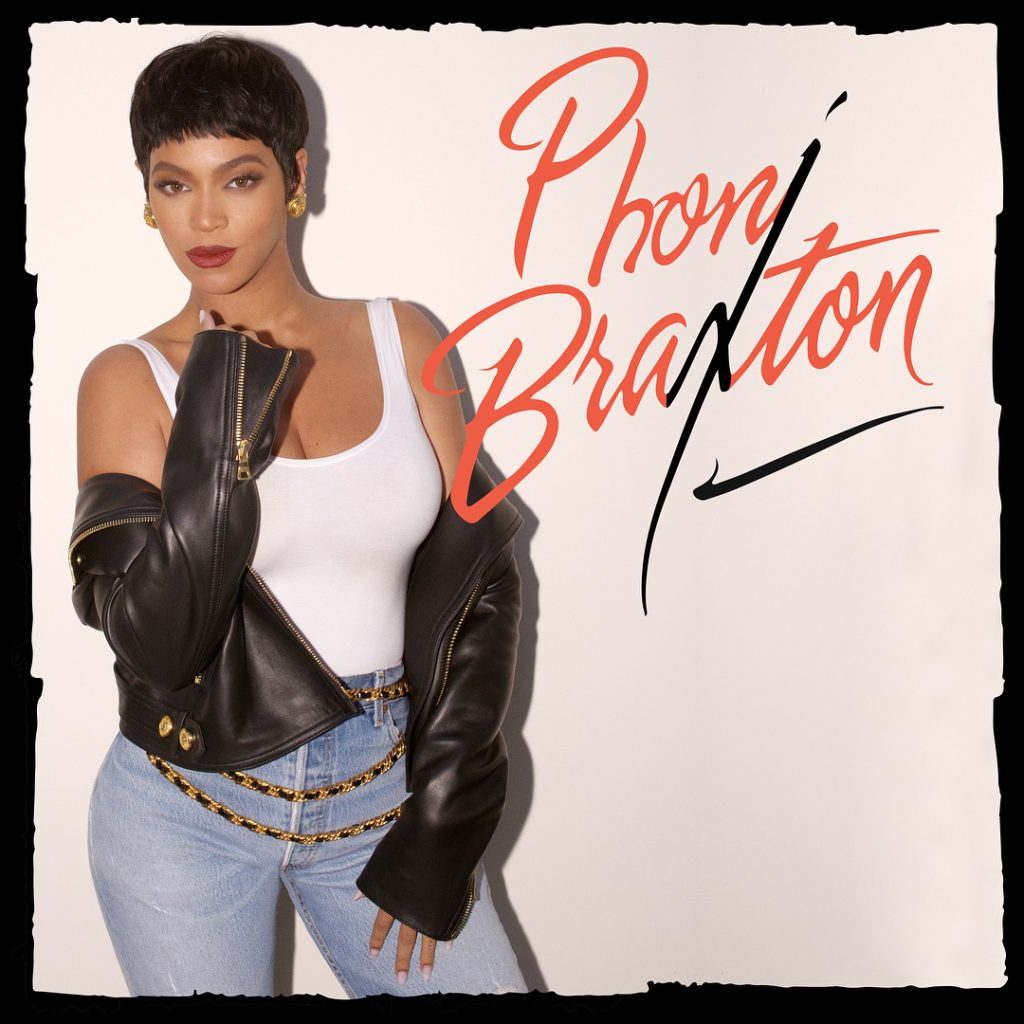 This isn't the first time Queen Bey has paid tribute to personalities who helped pave the way for her. The singer and her husband have created the most epic Halloween looks throughout the years, and fans are eager to see who they'll dress up as next.
#6 Martha Stewart as Marilyn Monroe
Fans can be critical of Halloween celebrities disguising themselves as other stars, but we can all agree that Martha Stewart took a gamble and won when she dressed up as the iconic blonde Marilyn Monroe for Halloween 2019. Do you love her look too?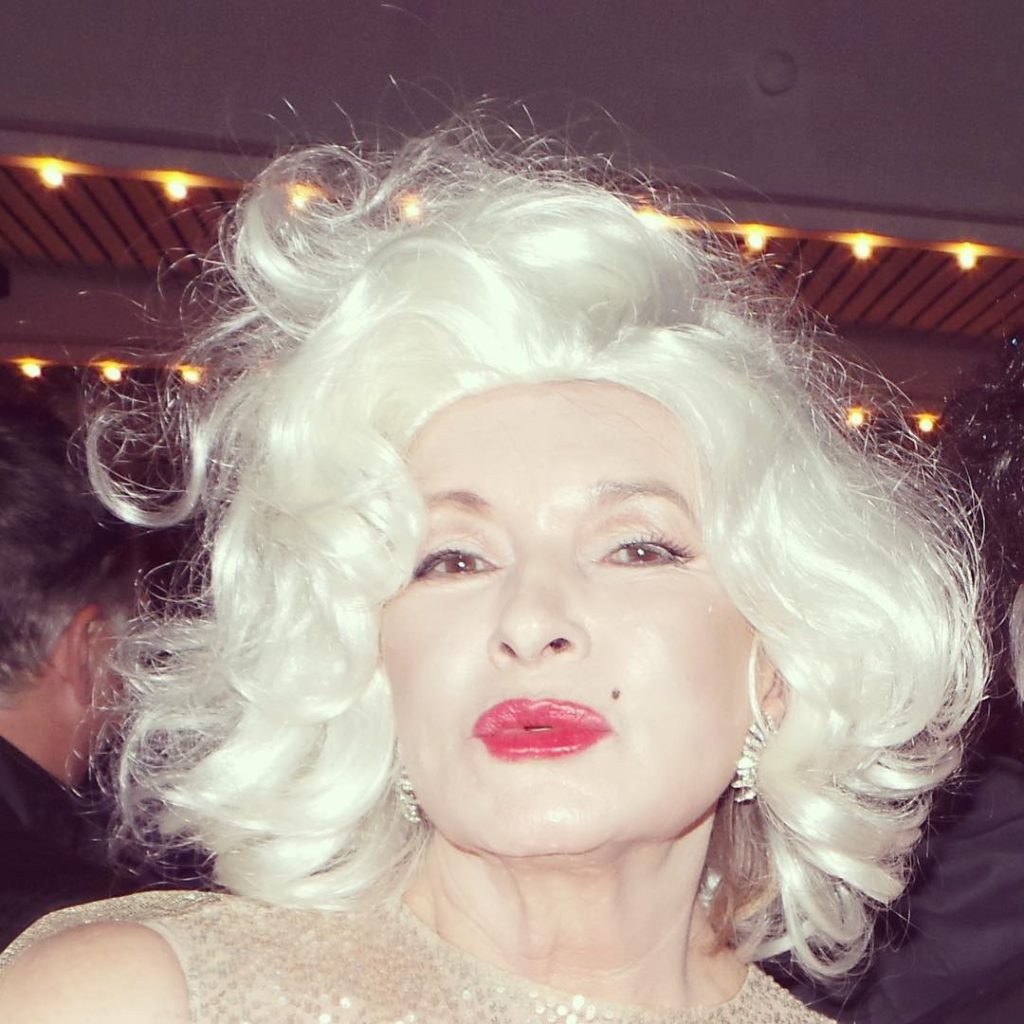 Who says only young Hollywood females can dress up as the blonde bombshell? Older women can be just as sexy and mysterious. The businesswoman, entrepreneur, and television personality went through a tough time with her conviction but has bounced back beautifully.
#7 Kevin Hart as The Rock
These two have done so many films together that we sometimes can't remember correctly what their first film was. Ah, yes! Central Intelligence. To date, the duo has collaborated on a total of five films, the latest of which is the animated movie DC League of Super-Pets in 2022.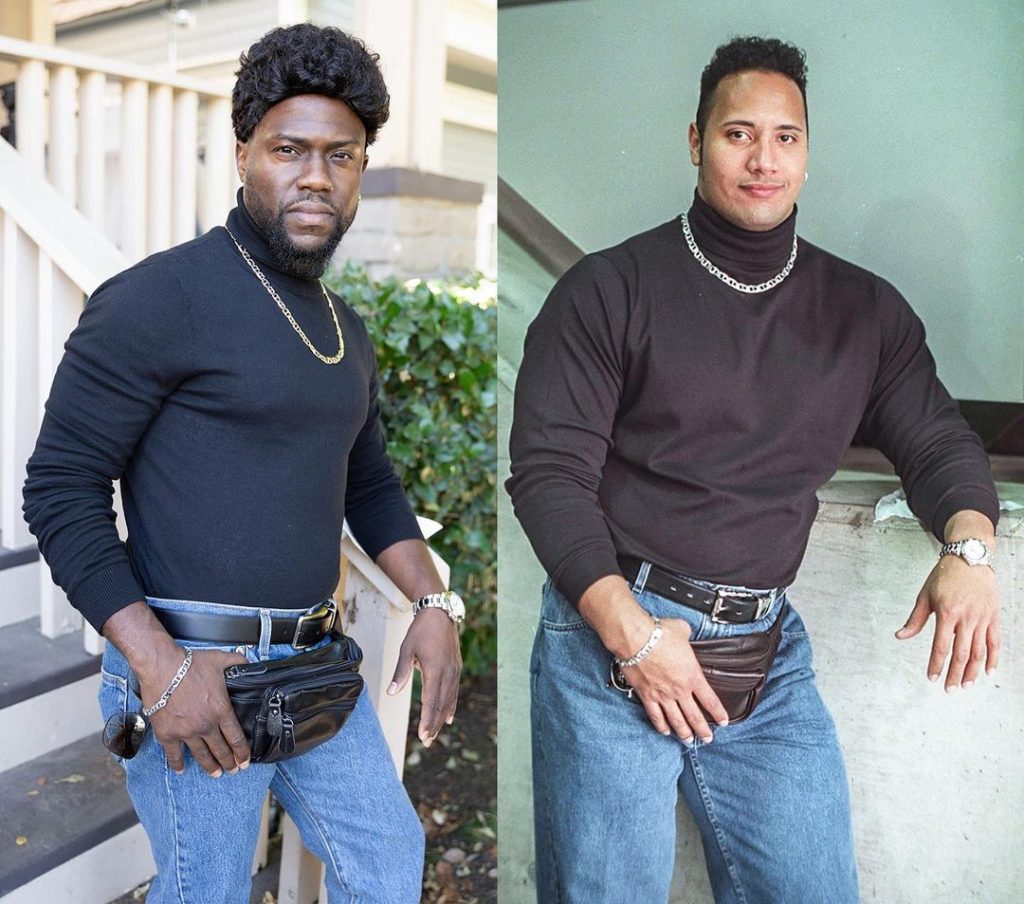 Although not all their movies have received positive responses from critics and audiences, they seem to enjoy each other's company and are great friends in real life. What do we love most about this look? You guessed it, the fanny pack! You can't beat that.
#8 Jennifer Lopez as Madonna
The multi-hyphenated superstar Jlo let a little secret slip, and people were divided over it. During the promotion for her 2022 film Shotgun Wedding, she confirmed that she was supposed to share the VMA stage with Madonna and Britney in 2003.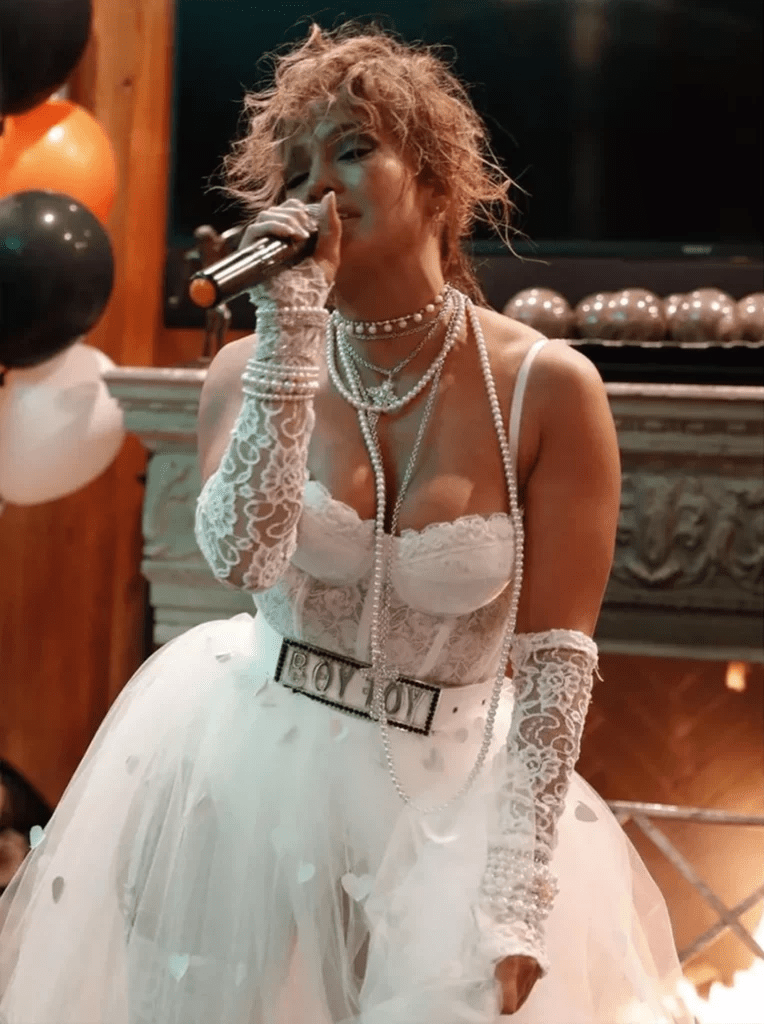 Yes, we are talking about that infamous performance when the Queen of Pop locked lips with apparent pop heirs Christina Aguilera and Britney Spears. Does this 2020 Halloween costume make more sense now? We're certain Jlo hopes to sell as many albums as the one and only Madonna.
#9 Kylie Jenner as Christina Aguilera
From one pop star to another, we have Kylie Jenner dressed up as the one and only Xtina. The four-octave vocal range singer of hits such as Genie in A Bottle, Dirty, and Lady Marmalade has sold approximately 100 million records to date.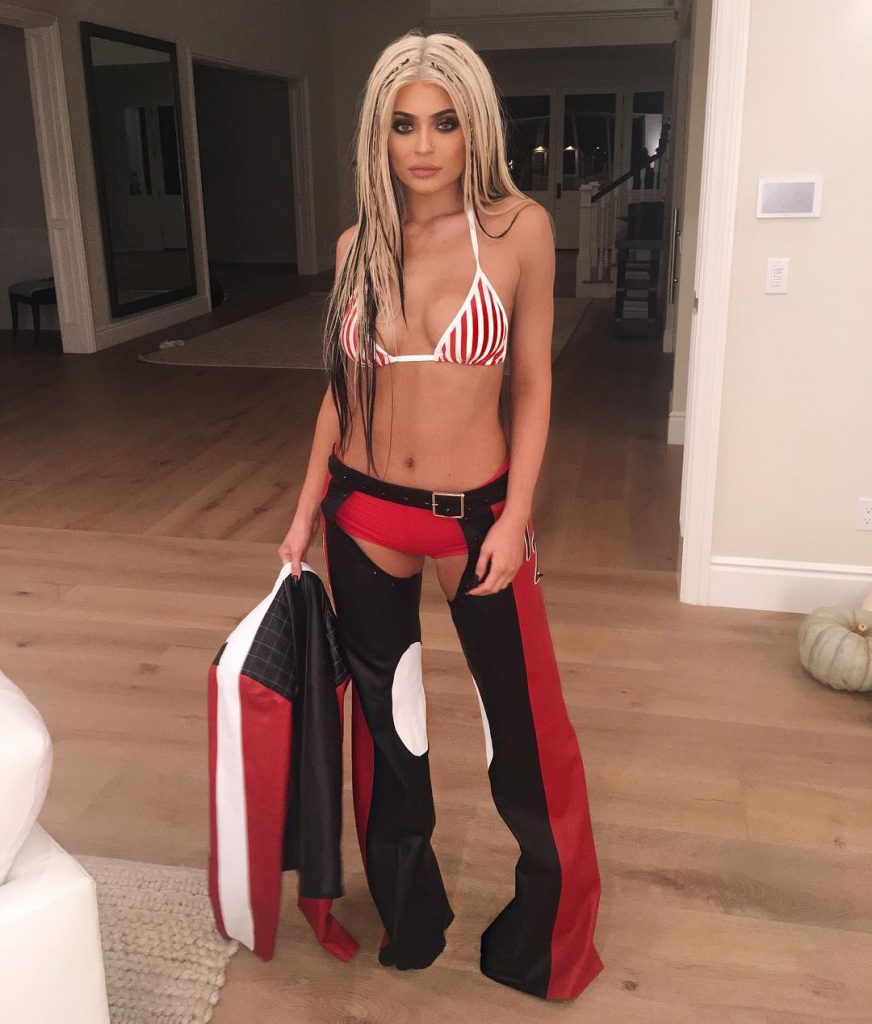 Kylie Jenner may not have Christina's singing prowess, but she's a dead ringer for the pop star and has built a makeup empire from scratch. Say what you will about the Kardashians, but you have to admire their dedication to nailing their looks every Halloween.
#10 Kendall Jenner as Pamela Anderson
And while we're discussing the infamous family, here's another Jenner, Kendall, dressed up as Barb Wire Pamela Anderson for Halloween 2020. If you grew up in the '90s, you recognize the buxom blonde star of Baywatch in her signature red one-piece off to rescue beach-goers. Now 55, the star has returned to her home, Canada.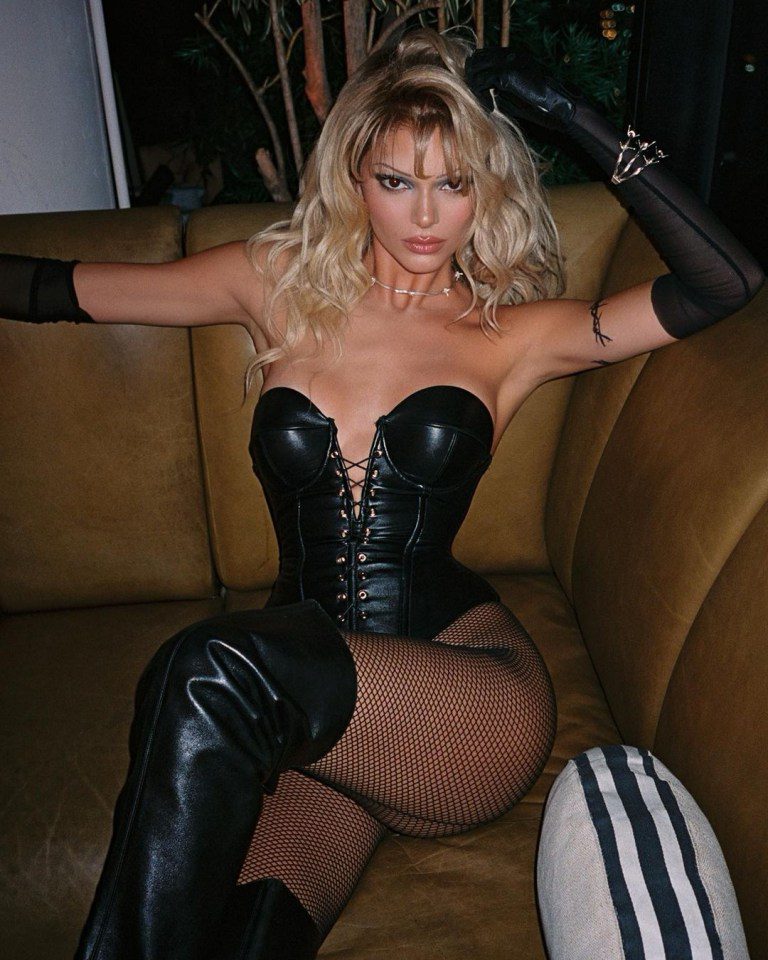 We must admit that Kendall did an excellent job channeling Pam. That said, Lily James was also excellent in the Hulu dark comedy Pam and Tommy series, starring alongside Sebastian Stan. Who do you think was the better Pamela impersonator?
#11 Hailey Bieber as Britney Spears
The Princess of Pop, Britney Spears, kicked off her career as a member of Disney's The Mickey Mouse Club in 1992. She was a member of a star-studded cast that included Christina Aguilera, Justin Timberlake, and Ryan Gosling. All of them went on to be huge stars.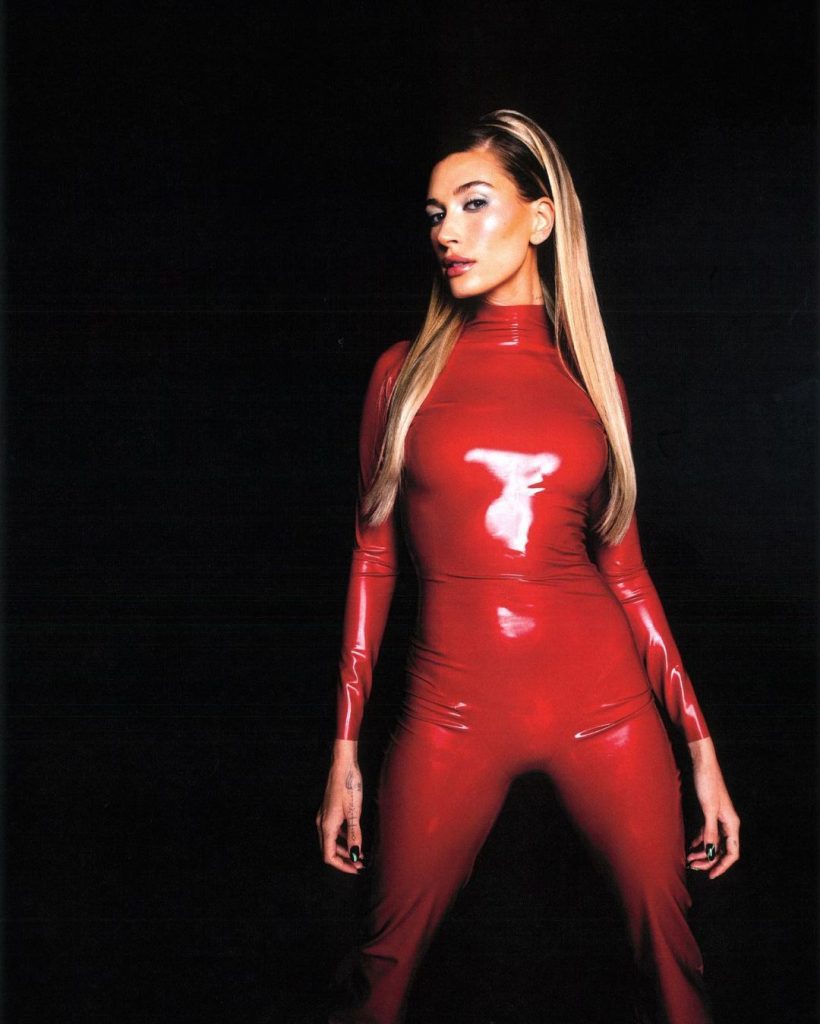 Here she is being impersonated by Hailey Bieber, Justin Bieber's other half and the niece of actor Alec Baldwin. She may not be recognized for much more than her modeling career, but she does a very good job of channeling the pop icon.
#12 Adele as Dolly Parton
Here's one diva wearing the shoes, or rather the wig, of another. British singer Adele is one of the best-selling artists in the world, with sales of more than 120 million records worldwide. She was on a six-year hiatus and returned to the limelight in 2021 with more catchy hits.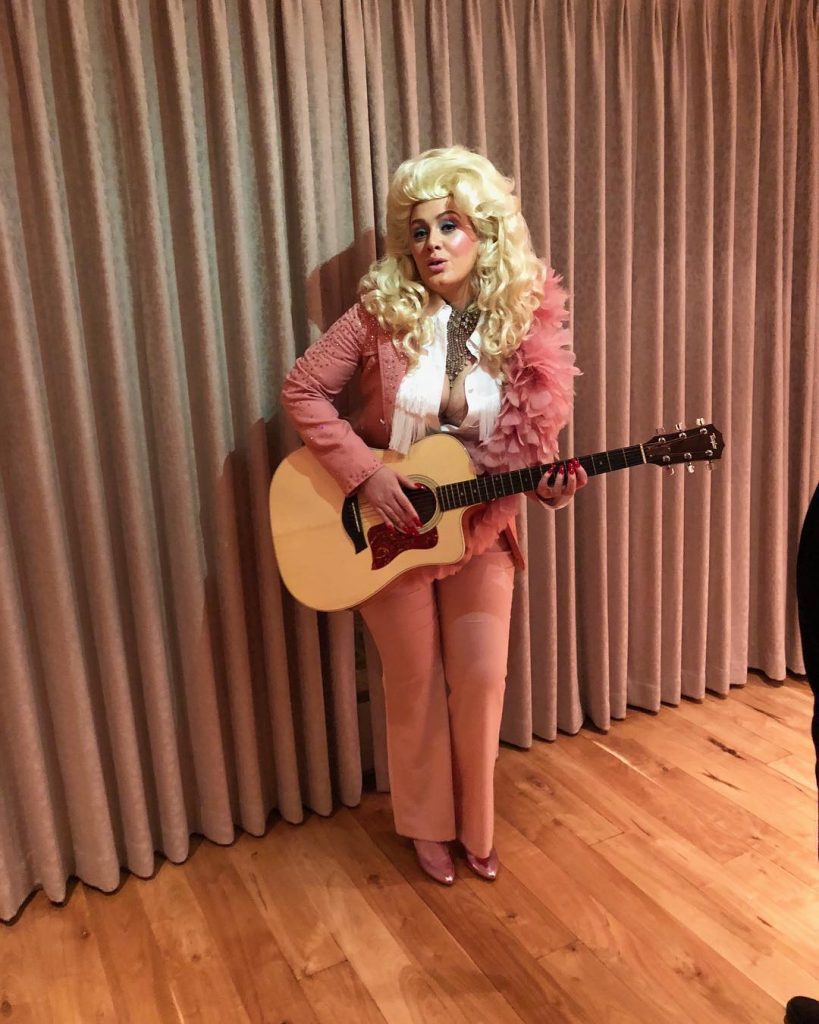 On the other hand, Dolly Parton is 77 but is still a force to be reckoned with. The American singer-songwriter, philanthropist, businesswoman, and actress has had a long career in country music. For those who didn't know, she is the original singer of the hit, I Will Always Love You.
#13 Nina Dobrev as Billie Eilish
Most people remember her from her stint as "Elena Gilbert" in The Vampire Diaries. She left the show after struggling with the pressure of playing such a demanding character. Since then, she has starred in several movies, including Flatliners and XXX: The Return of Xander Cage.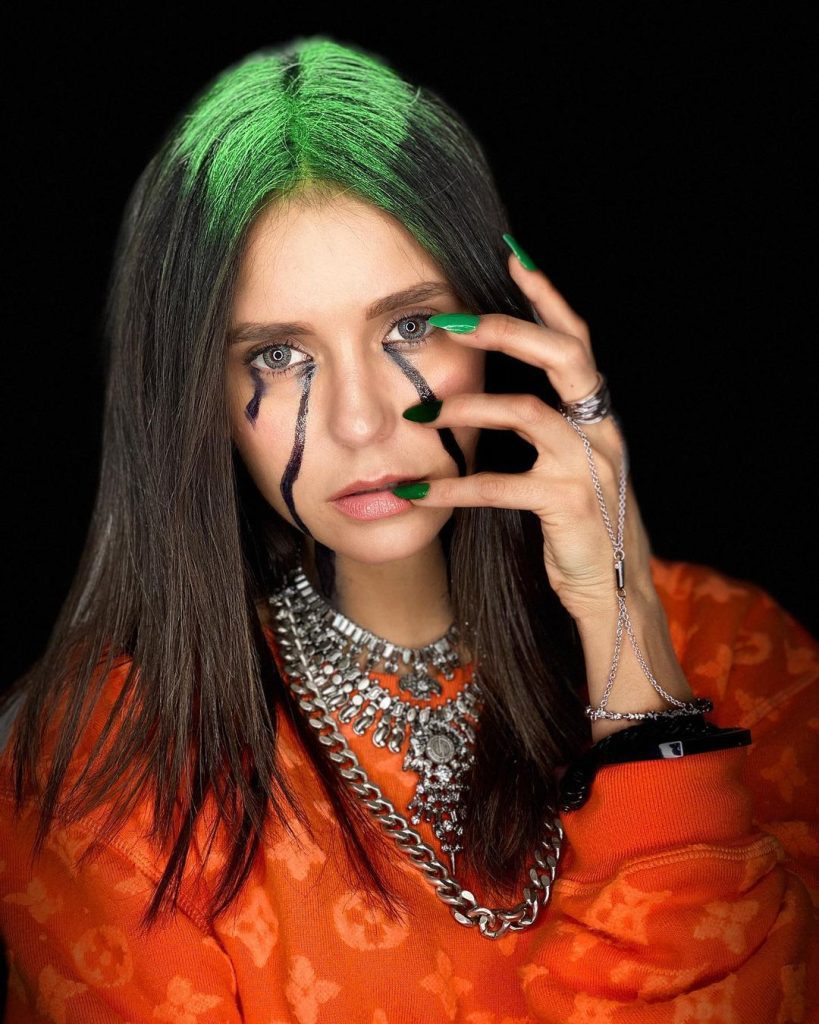 Here is the actress dressed as Billie Eilish in her orange outfit at a Casamigos Halloween party in 2019 in Beverly Hills. The 30-year-old spared no details in dressing up as the youngest female artist ever to have a UK number 1 hit.
#14 Nicky Hilton Rothschild as Paris Hilton
We don't see many siblings dressing up as one another during Halloween, so it was a delight for Nicky Hilton to dress up as her older sister, Paris, for Halloween. The only thing she needs is Prince Tokyo Gizmo Hilton, and her look is complete!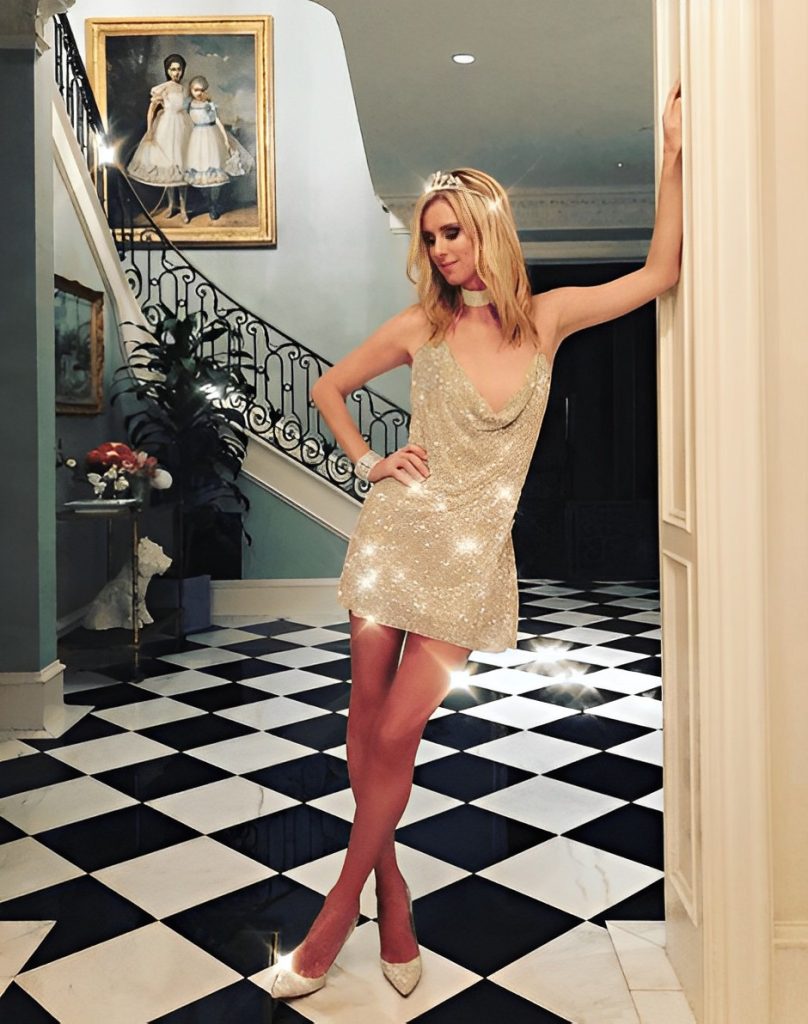 This is a look her older sister, Paris, would surely approve of and call HOT! The sisters are close to one another and were known as heiresses during their younger years. Since then, they have each accomplished many great things.
#15 Kourtney Kardashian as Ariana Grande
The eldest of the Kardashian sisters seamlessly morphed into pop star Ariana Grande for Halloween in 2018. The reality-TV star once mentioned that she and her sons Penelope, Mason, and Reign were fans of "Cat Valentine," Ariana's character in the show Victorious.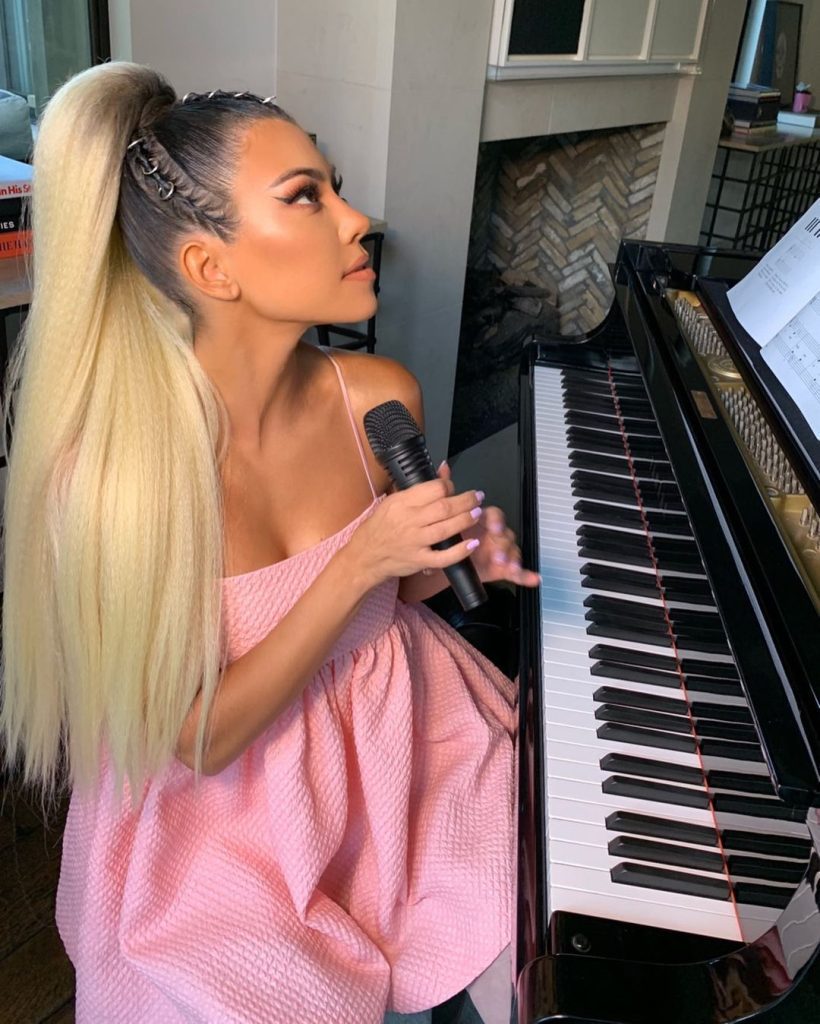 She's pictured here wearing her hair in the singer's signature high ponytail style, a short pink dress, and thigh-high boots. Of course, she completed the look with a mic in hand, as if ready to belt out one of Ariana's hits in front of fans.
#16 Paris Hilton as Miley Cyrus
For Halloween 2013, Paris Hilton recreated Miley Cyrus' infamous VMAs outfit for that year. She even brought a foam finger to do justice to the iconic look but gave it her twist with sequins. Of course, shiny things are a must. It's Paris Hilton, after all.
True to the original costume are the drunk teddy on the one-piece and the diamond necklace. The only thing we can think of that would make this even better is if she stuck her tongue out like Miley always did back in those days.
#17 Katy Perry as Freddie Mercury
When talking about lead singers, an inimitable voice, and showmanship, only one name comes to mind, Freddie Mercury. The man was overflowing with talent, but his fashion sense scared his parents when he was younger. Fun fact: he designed the Queen logo.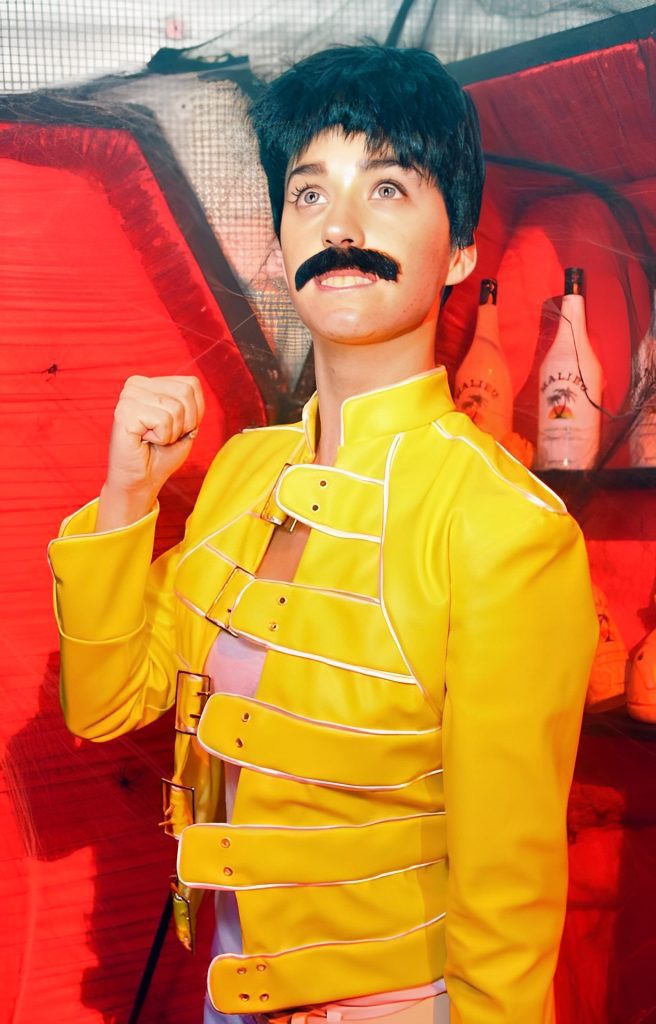 Katy Perry did her very best dressing up as Freddie for Halloween in 2008. The pop star broke free of her girly look and channeled her inner rock star with the trademark all-white ensemble and yellow jacket. Of course, the mustache was a must.
#18 Aziz Ansari as The Weeknd
For Halloween 2015, comedian Aziz Ismail Ansari dressed up as The Weeknd and even lip-synced the singer's hit, The Hills. Best known for his role as Tom Haverford on Parks and Recreations, he's also won many awards in writing and acting on Netflix's Master of None.
What do you think of his take on the Grammy-winning singer? Is it a yay or a nay? Born Abel Makkonen Tesfaye, The Weeknd is a famous Canadian songwriter, record producer, and singer who only releases music every two years.
#19 Trevor Noah as The Weeknd
The Weeknd is so popular that many celebrities choose to be him, even if it's only for a day. Here is host and comedian Trevor Noah donning the singer's signature shades, gloves, and red jacket for Halloween 2022. He was accosted by a fan on the street.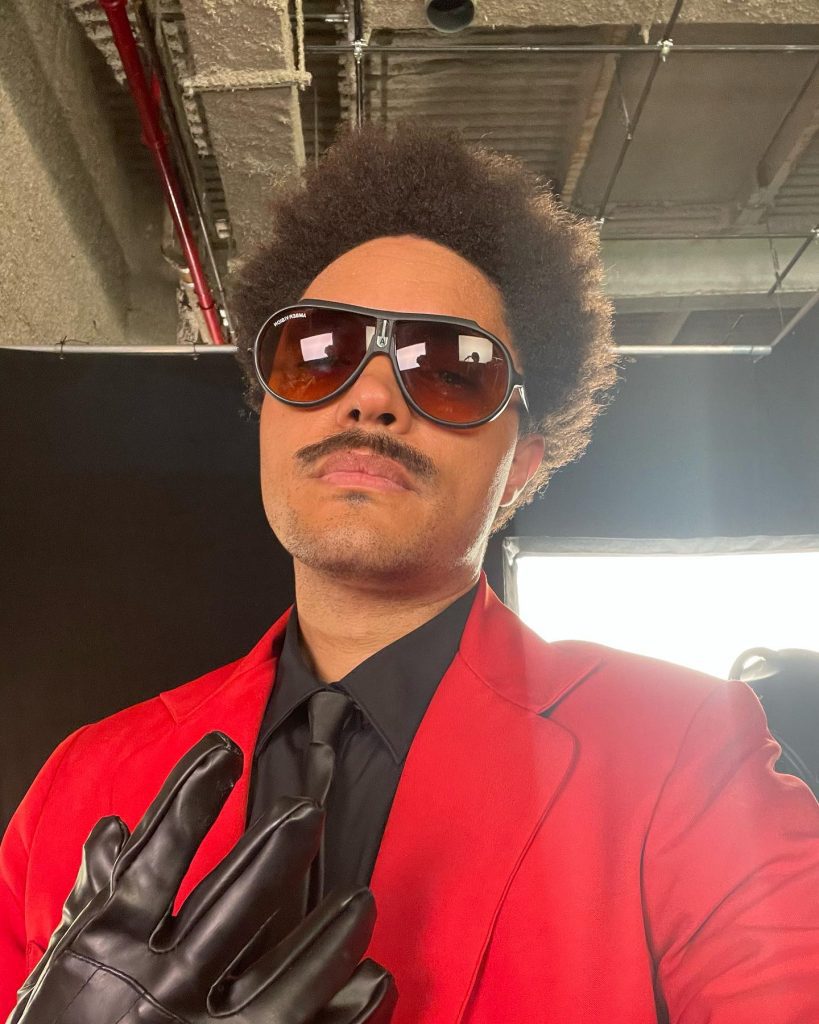 It turned out the fan thought he was the real thing, and that only means the host did a splendid job with his impersonation. Since it's Trevor, and you can always count on him to make fun, he christened himself The Weekday. The Weekend was thoroughly impressed and even called Noah his twin.
#20 Meghan Trainer as Dr. Phil
All About the Bass singer Meghan Trainer celebrated spooky season in 2021 dressed as Dr. Phil, the American author and television personality. The singer admits that she worships Dr. Phil, and she couldn't stop crying when she went to his show once.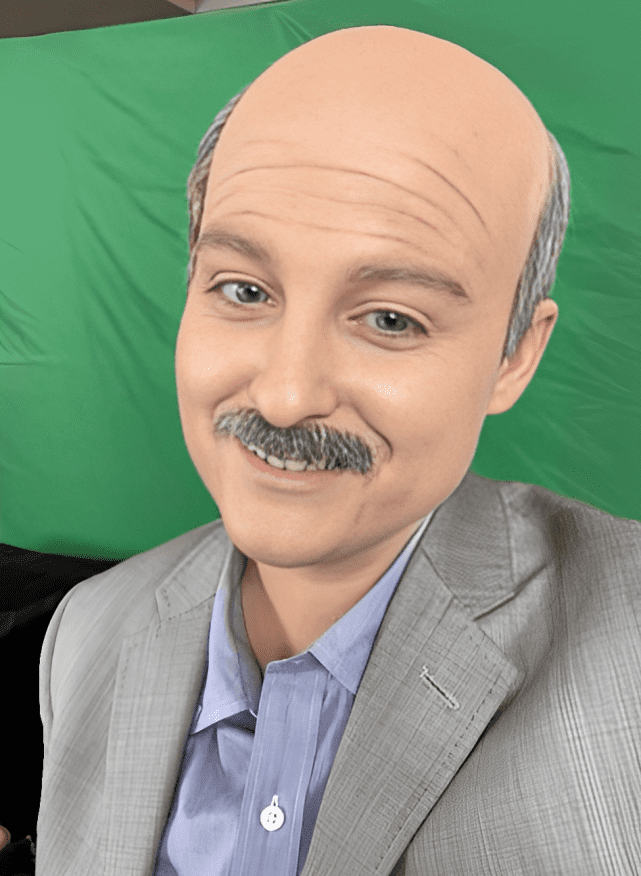 She further elaborated it was her brother who got her tickets to see the famous personality. But she was in the audience and not making an appearance. On an episode of Carpool Karaoke with James Corden, she couldn't contain herself when her idol got into their car. That was such a fun episode.
#21 Beyonce and Blue Ivy as Janet and Michael Jackson
Another personality who goes all-out where Halloween costumes are concerned is none other than Beyoncé. Here she is in 2014 with her daughter Blue Ivy going out as siblings Michael and Janet Jackson. We must say that Bey nailed Janet's look in her Control music video.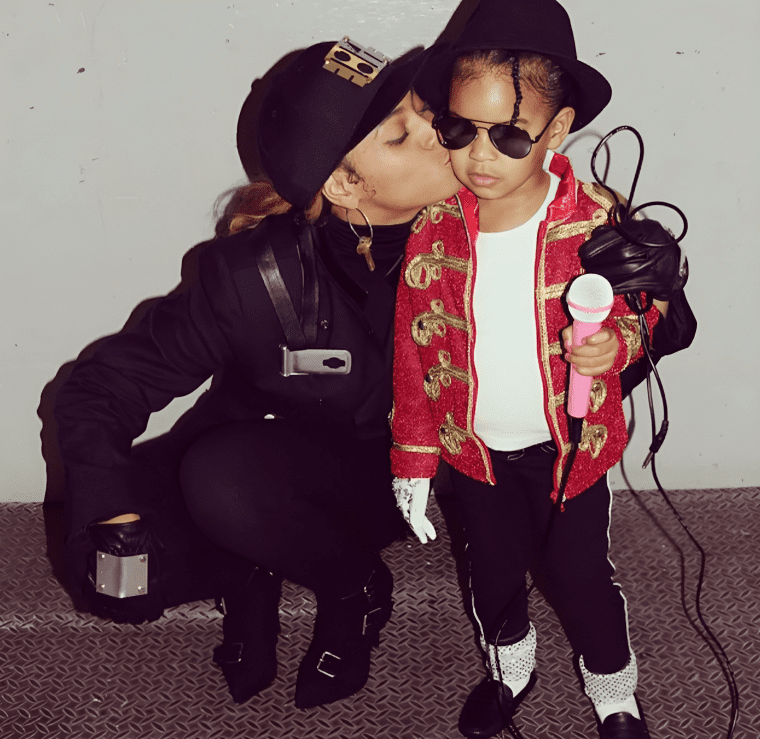 But we also have to say something about her daughter Blue Ivy's costume. She even has the King of Pop's sparkly white glove and shades. Since then, the little looker had sported some memorable looks. In 2022, she dressed up as Penny Proud.
#22 Victoria Justice as Amy Winehouse
After making her acting debut on Gilmore Girls in 2003, Victoria Justice rose to fame on Nickelodeon as "Lola Martinez" on Zoey 101 and "Tori Vega" on Victorious. She recently celebrated her 30th birthday with a new single, Last Man Standing.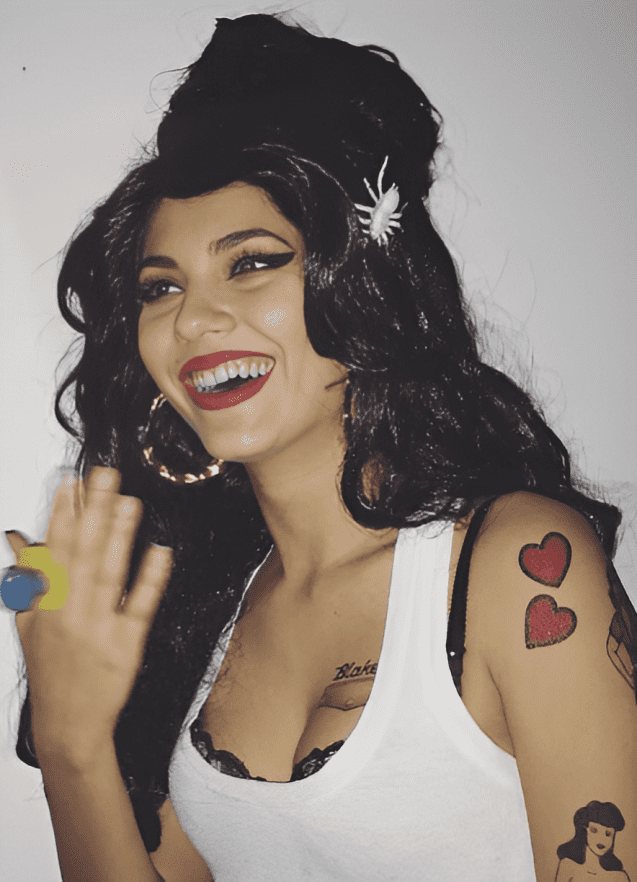 During a 2015 Halloween party, Victoria paid homage to one of her favorite singers, the late Amy Winehouse. She styled her hair in the singer's iconic beehive up-do, put fake tattoos on her body, and wore a white tank top and black jeans.
#23 Rihanna as Gunna
Rihanna's 2021 Halloween costume is nothing but spot-on as she dressed up as rapper Gunna. Compare Riri's picture with Gunna's original post, and you'll see that we're right. Obviously, she's a woman, and he's a man and he's outside in the shot while she's inside, but those are the only differences.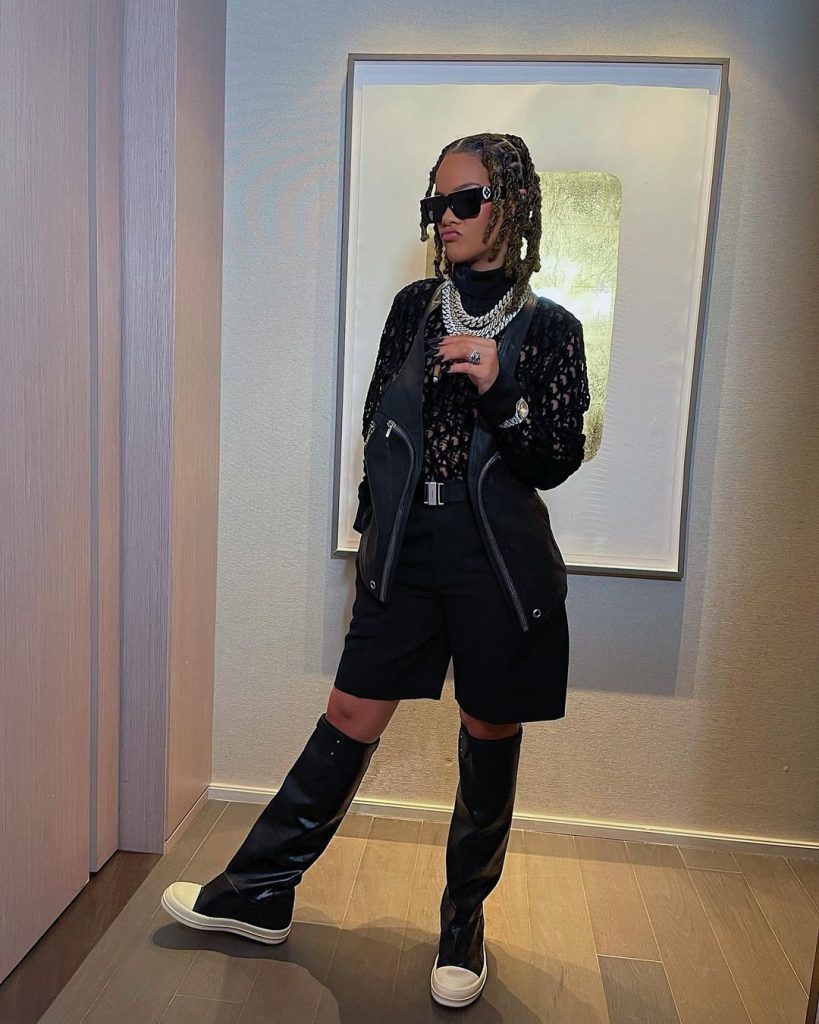 The Barbadian nailed her impersonation, and if they were giving out prizes for the best Halloween doppelgangers, we're certain she would have won. Leave it to Riri to one-up everyone during spooky season. We can't wait to see her future looks.
#24 Lily Allen as Kris Jenner
Who says only the Kardashian-Jenners can dress up as other prominent personalities? Here is Lily Allen turning the tables on them and dressing up as matriarch Kris Jenner for Halloween 2019. She looked convincing very as the momager, wouldn't you agree?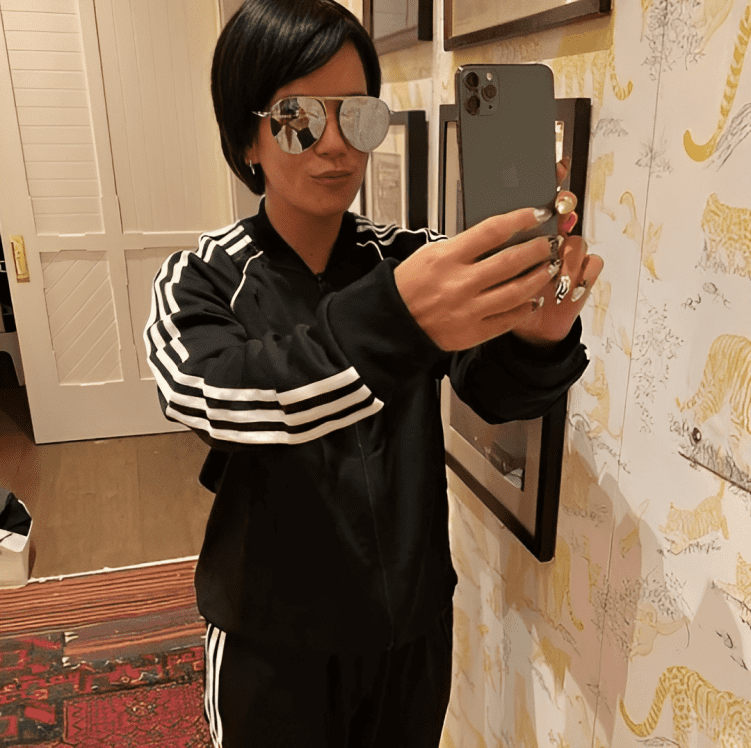 She showed up to a private party in New York dressed in a black tracksuit with mirrored sunglasses and styled her hair in a bob with a side fringe. She held up her phone to mimic Jenner taking a photo of her daughter Kim during a shoot.
#25 Jay Pharaoh as Bruce Lee
Bruce Lee was a celebrated martial artist and actor when he suddenly died at the age of 32 due to cerebral edema. The founder of Jeet Kune Do, he paved the way for mixed martial arts and taught famous personalities such as Karem Abdul-Jabbar, and Steve McQueen.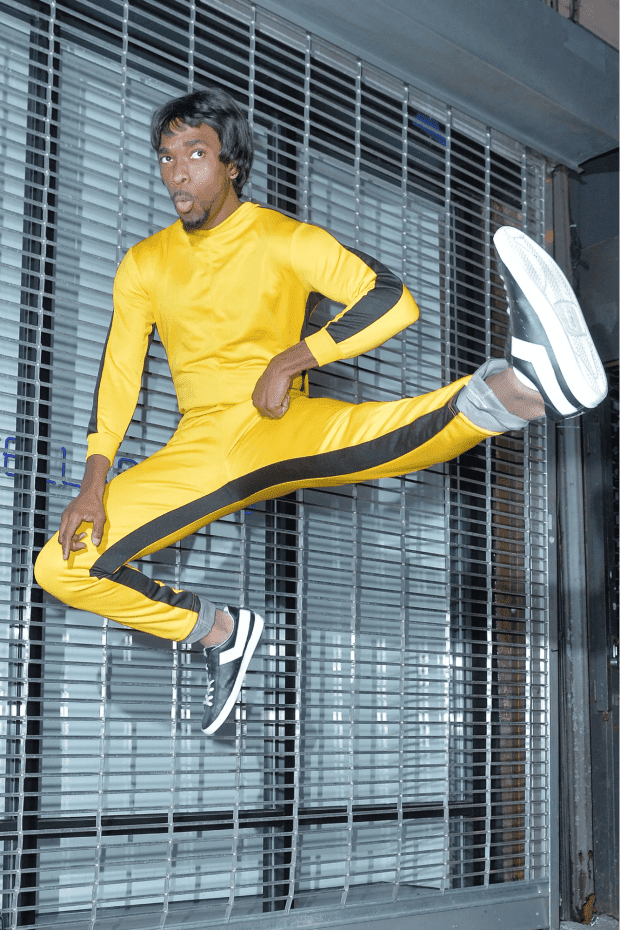 Bruce Lee's influence transcends cultures and time. Jay Pharaoh is one of the legend's admirers, and for Halloween, he grabbed the chance to high-kick it in a yellow tracksuit. Lee wore the iconic suit in Game of Death, a film he never got to finish.
#26 Margot Robbie as Geri Halliwell
Everyone who grew up in the '90s knows the Spice Girls, one of the biggest girl bands of all time. Made up of 5 Brits, namely, Victoria or Posh, Geri or Ginger, Emma or Baby, Mel C or Sporty, and Mel B or Scary, the girls released one hit after another.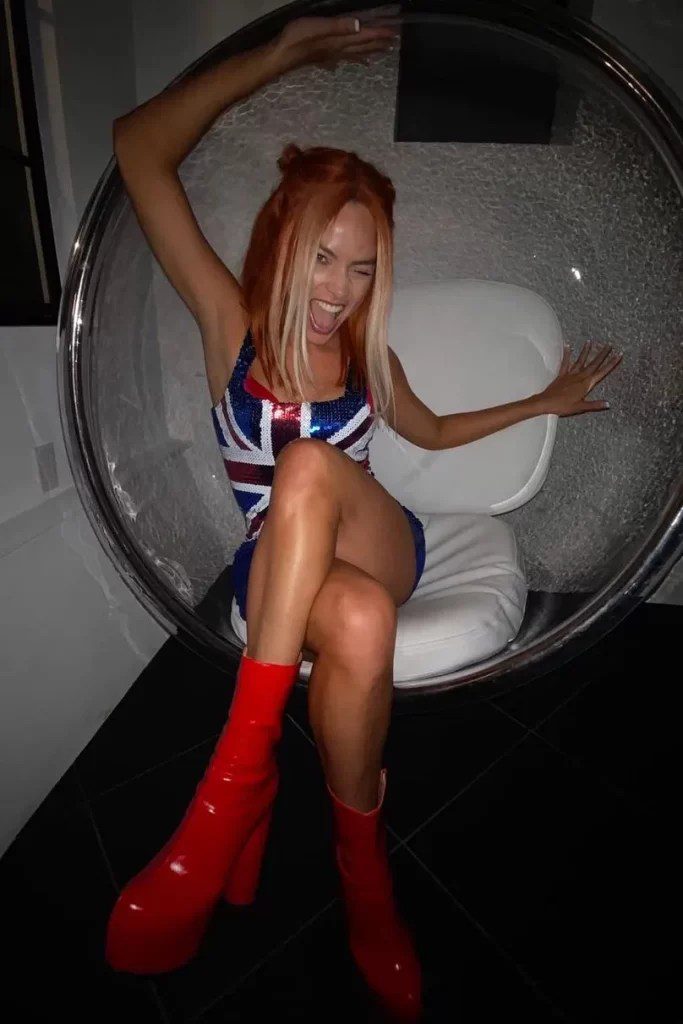 Clearly, Australian actress Margot Robbie is a big fan of the pop group. She dressed up as Geri Halliwell for spooky season 2020 with red platform boots and a Union Jack mini dress. She's more than ready to spice up your life!
#27 Ellen DeGeneres as Sofia Vergara
Famous for her Emmy-nominated character "Gloria Delgado-Pritchett" on Modern Family, Sofia Vergara is not only an actress, she is also a savvy entrepreneur. Although her character has had negative backlash for perpetuating stereotypes, she takes it all in stride. Plus, she's hilarious!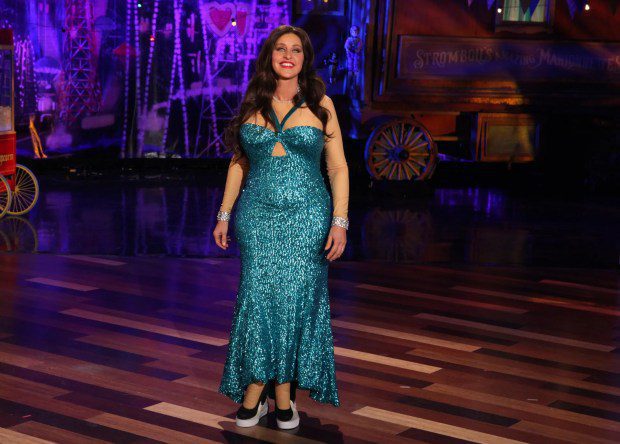 She has an estimated net worth of $180 million and is one of the most desirable single people in Hollywood after her split from her husband, Joe Manganiello. Women want to look like her, and men want her so much that even Ellen DeGeneres couldn't help but want to be her for Halloween.
#28 Tracee Ellis Ross as DJ Quik
It's not unusual for women to dress up as men during spooky season. After all, it would be fun to look and act like the opposite sex just for a day. For Halloween 2019, actress Tracee Ellis Ross went to Gabrielle Union's Halloween party as DJ Quik and even posed next to Snoop Dogg.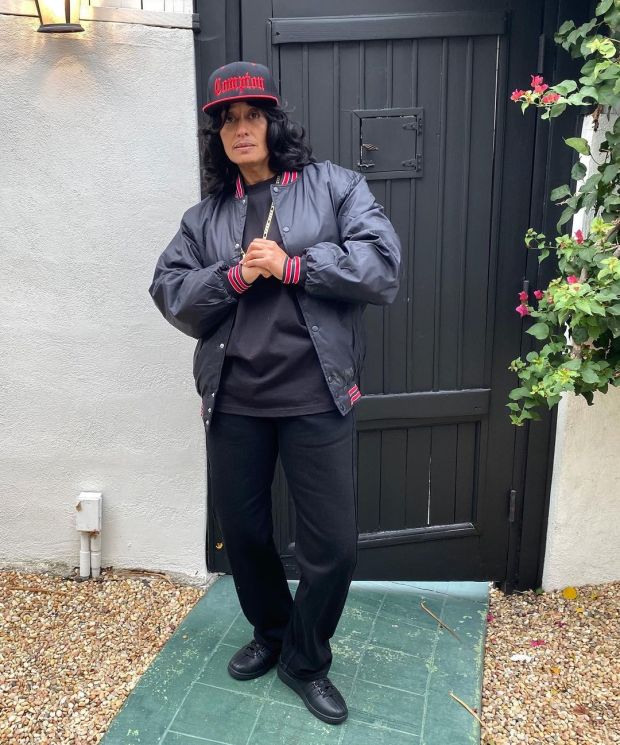 David Marvin Blake of DJ Quik, as he is known in the industry, has collaborated with big names such as Shaquille O'Neal, Snoop Dogg, and Chingy. Ross, on the other hand, is the daughter of Diana Ross and has a lead role in Black-ish.
#29 Jessica Biel as Justin Timberlake
In 2019, Jessica Biel turned up for a Halloween party as her husband Justin Timberlake during his heyday as one of the members of the boy band N'SYNC. Of course, she had to have her husband's signature short curls, and she pulled off the look with a wig.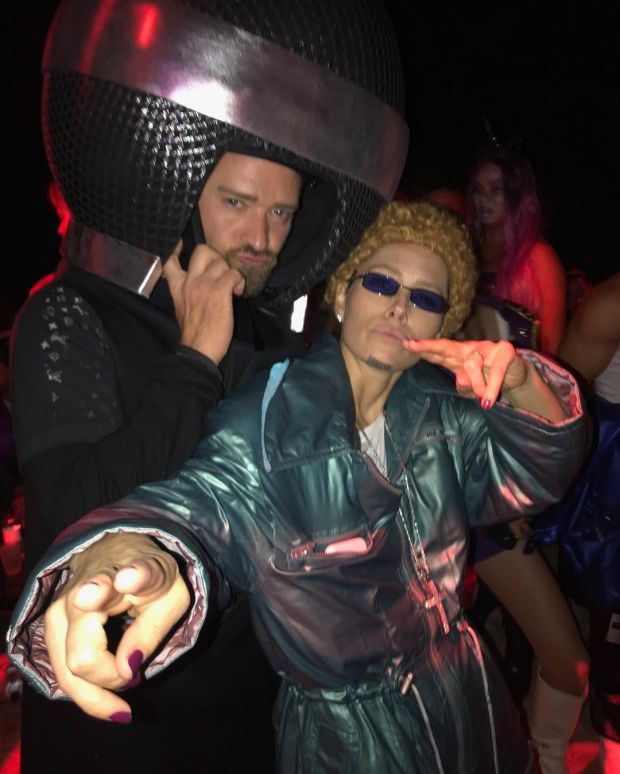 The two met first met at a party in 2007 and got engaged in 2011 after a brief split. They got married in 2012 in Southern Italy in a hush-hush ceremony. They now have two sons, Phineas and Silas. The actress is now a producer, while Justin is set to release a new album soon.
#30 Kim Kardashian as Selena
Judging from the photos we've seen so far, it seems that Kim Kardashian's favorite time of the year is spooky season. Among her many looks over the years are Aaliyah, Wonder Woman, Little Red Riding Hood, Poison Ivy, and the beloved singer Selena.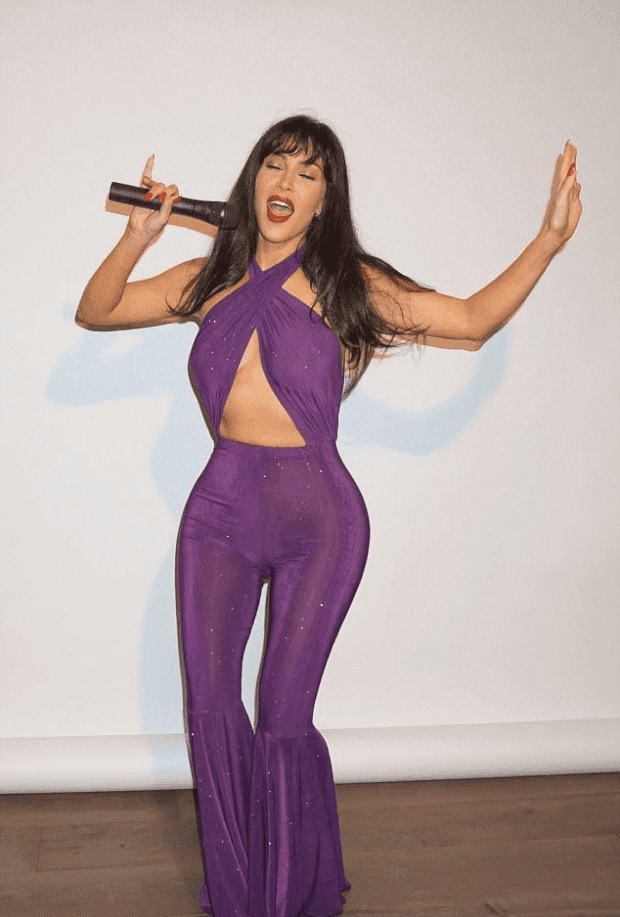 She was all about music icons in 2017 and she wore the singer's iconic sequined purple jumpsuit which showed off her tight stomach. Here she is with a wireless mic in her hand, as if in the middle of belting out a Tejano song.
#31 Neil Patrick Harris and David Burtka as Mary Kate and Ashley Olsen
Believe it or not, these two have been together for close to two decades now. If you follow either of them on social media, you know how fun and adorable their relationship still is after all this time. We think part of the reason for this is their enviable ability to embrace their inner child.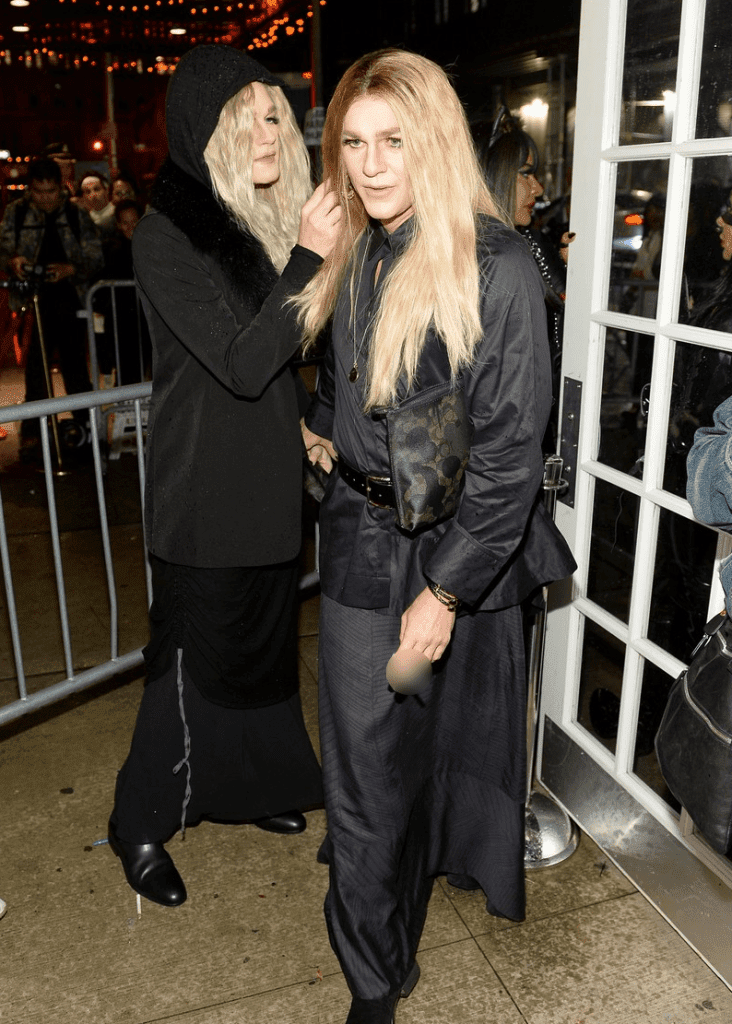 And also their continuously on-point Halloween costumes! For example, for Heidi Klum's Halloween bash in 2019, the two dressed as the famous Olsen sisters, and can we just admit that they absolutely nailed it? From the outfits, the accessories, and even the poses, they got everything right!
#32 Kylie Jenner as Marilyn Monroe
Kylie has already appeared on this list, and so has Marilyn Monroe, meaning these two are quite the popular stars. We all know the Kadash-Jenner Krew always brings their A-game on Halloween, and for Kylie, this meant channeling this bombshell in 2019.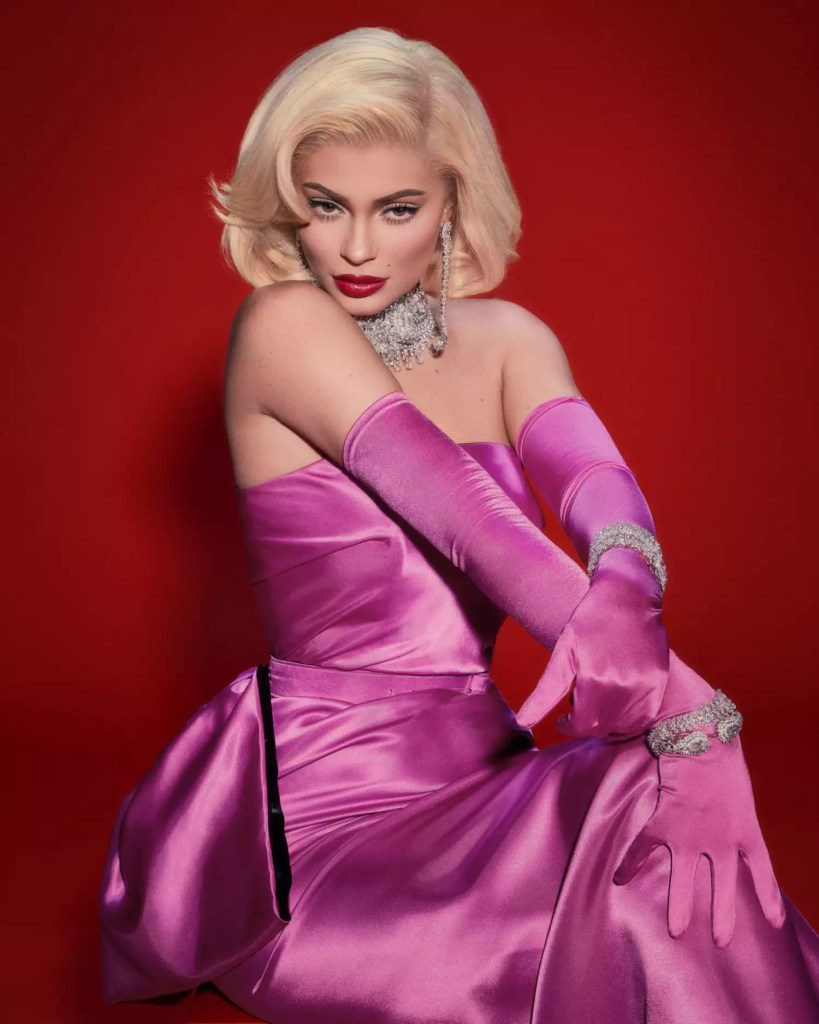 If you haven't recognized it already, this look was inspired by Marilyn's character in the famous movie, Gentlemen Prefer Blondes. Kylie stayed true to the inspiration with a hot pink dress, long gloves, a stylish blonde bob, and oh-so-glamorous diamonds!
#33 Harry Styles as Elton John
He is a former boy-bander who's now taking over our hearts one by one with his catchy tunes while the other is a bonafide legend in the music industry. So, it's no wonder someone thought this was an excellent idea.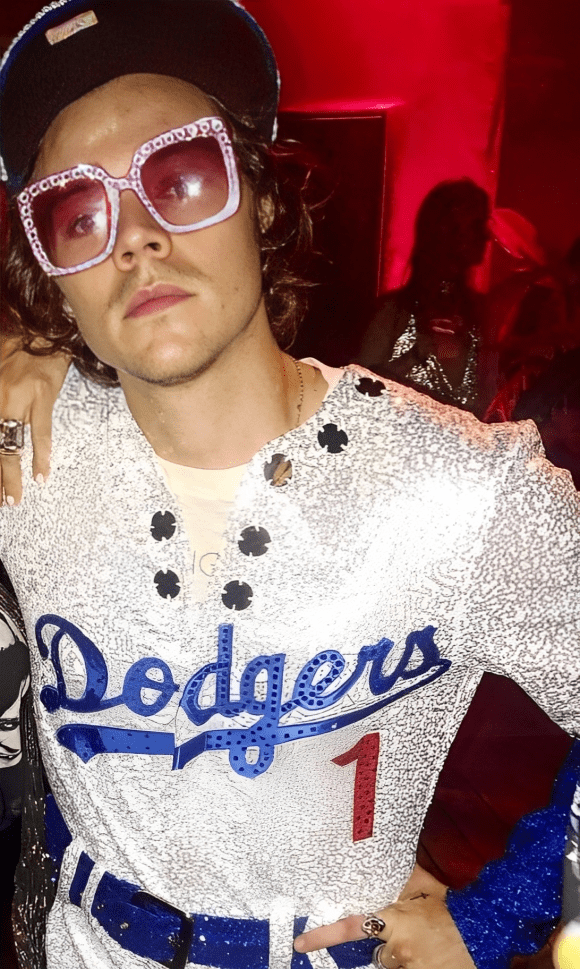 Elton John and Harry Styles are both known for their flamboyant fashion senses, and for a Halloween party in 2018, Harry decided to bring out the legend's memorable sparkly Dodger's uniform that he wore for a performance in 1975. Needless to say, we certainly get Rocket Man vibes from this.
#34 Kourtney Kardashian and Travis Barker as Nancy Spungen and Sid Vicious
This was a tale of a punk rock couple paying homage to another punk rock couple. Sid Vicious and Nancy Spungen's love story may have had a tragic ending, but they will always go down in history as one of Hollywood's most famous couples.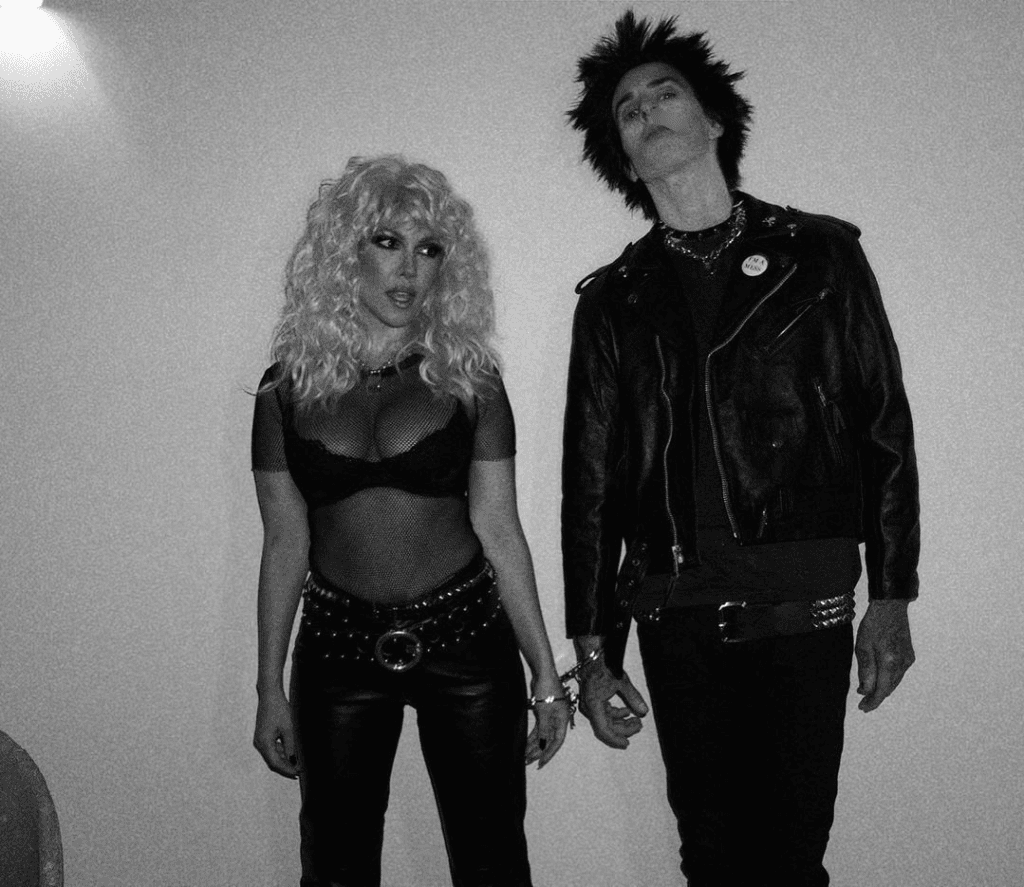 That's a privilege Travis Barker and Kourtney Kardashian will also enjoy. Shortly after they got engaged in 2021, Kourt posted stunning pictures of them in their awesome Halloween costumes as Sid and Nancy. From the styling, the makeup, and the poses, they nailed it.
#35 Kelly Ripa as Kim Kardashian
This next one was so memorable because it coincidentally happened hours before news that Kim Kardashian had filed for divorce broke. In 2011, Kelly Ripa and Nick Lachey channeled Kim Kardashian and her ex-husband Kris Humpries on an episode of her show.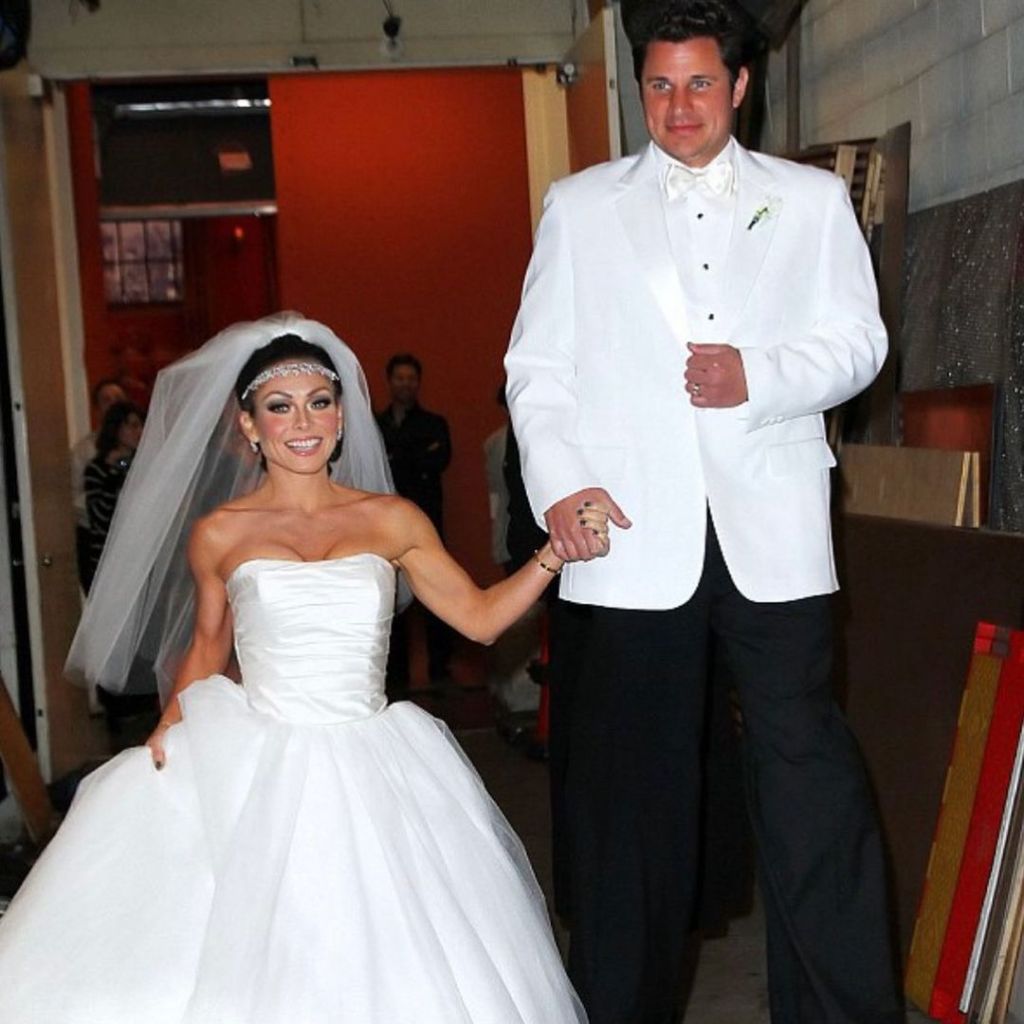 If you keep up with this famous family, you'll remember that this marriage lasted a total of 72 days, and news of that breakup dropped just a few hours after Kelly's show. Nick and Kelly tried to get everything right down to the couple's height difference!
#36 Kim Kardashian as Cher
Still on the Kardashians, Kim went all out with her costumes in 2017, as we had mentioned before. We have already featured one of her costumes that year as Selena, which was pretty amazing. However, this one stole the show!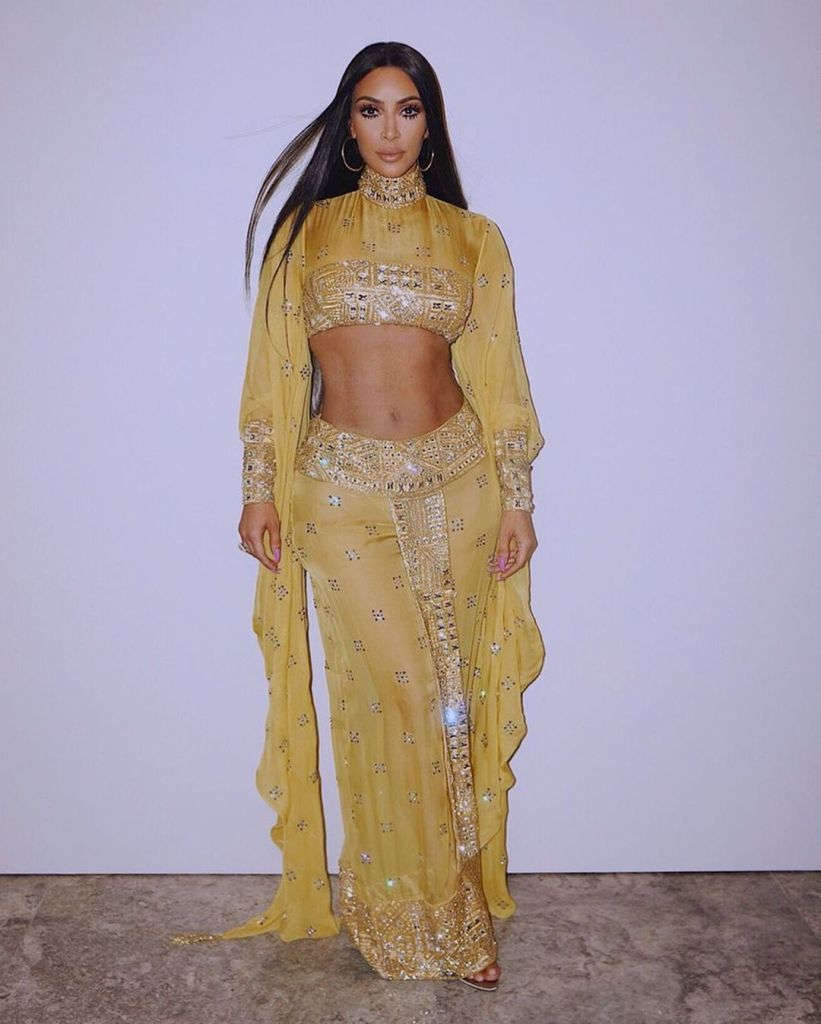 If you don't believe us, just look for side-by-side photos of Kim in this costume and Cher wearing the original, and you'll see what we mean. They look almost identical! Kim wore this to a party in LA and was accompanied by her bestie, Jonathan Cheban, who channeled Cher's ex, Sonny.