40 Times Thrifters Took A Chance On Serendipity And Found Secondhand Treasure
By Jhoana C May 17, 2023
---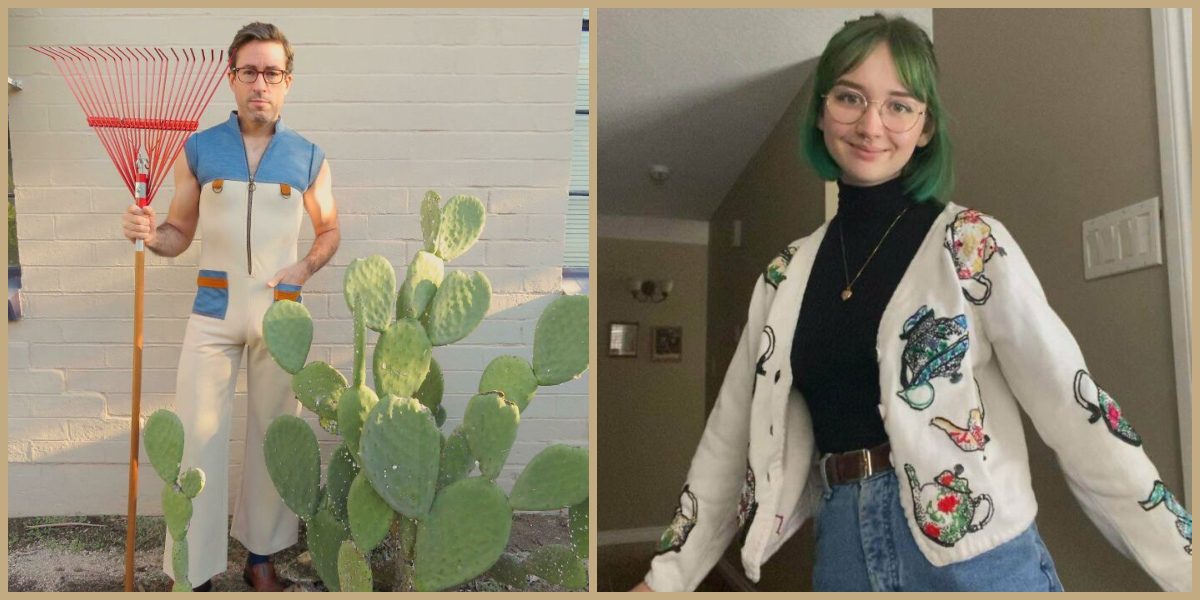 Ah, thrifting. It's one of our favorite sports! Doesn't it make your heart skip a beat when you find expensive-looking items made of great materials and excellent artistry for only a quarter of the price? The feeling is akin to winning the lottery, not that we've won any. You get a surge of dopamine and feel like you can conquer the world, especially when people compliment you and think you spent thousands of dollars on your fashionable clothing.
We recently discovered an enormous community online where people share their most prized finds, and we have to say, we're slightly jealous. How did they do it? Did they pray to the heavens before they decided to go thrifting? We want to be let in on the secret so we can be just like them. Let's just sit back and admire their treasure chest of finds!
How would you like this trendy coat for $20?
Have you ever searched high and low for a Halloween costume or something to wear to a special occasion but can't seem to find one no matter how generous your budget is? We feel you. We have been through the same situation.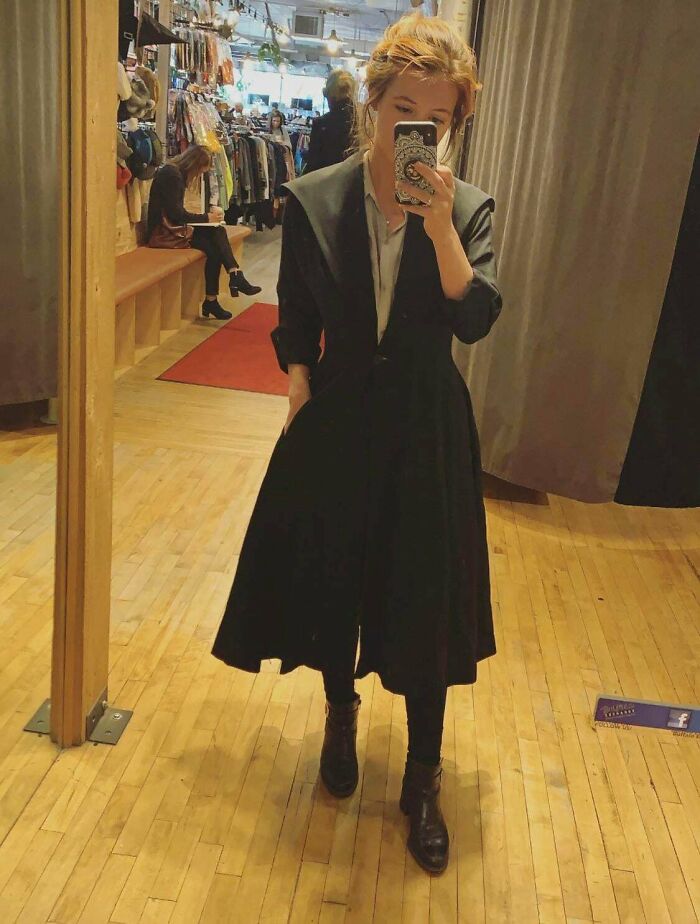 Luckily, this woman got lucky and found this wonderful coat. Now, we're not exactly sure if she rummaged for this last minute, but it's quite a find. We would love to get our hands on the coat, and may we just say she looks delightful.
Marilynesque
Considered to be still one of the most well-known Hollywood personalities to this day, women grab every chance to portray the late star, Marilyn Monroe. Just take, for instance, Kim Kardashian. She did everything she could to squeeze into the star's iconic dress.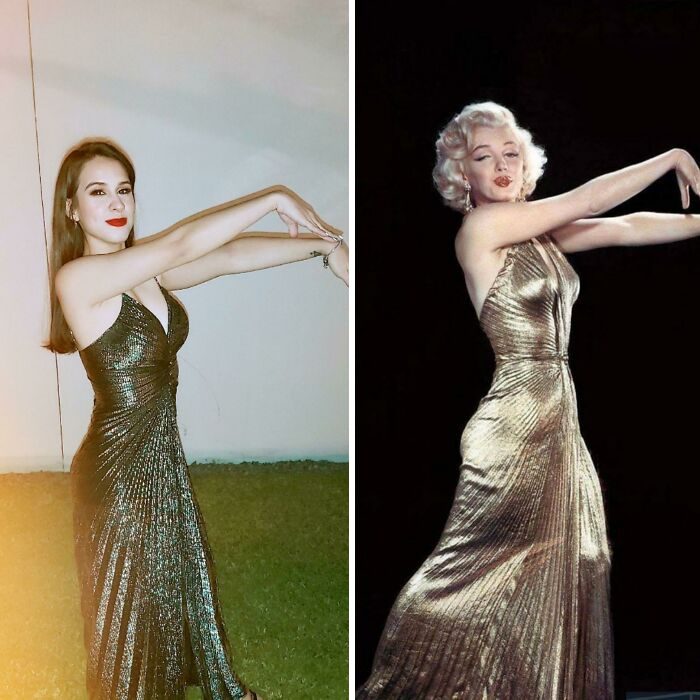 Fortunately for this woman, she didn't have to sell her house to look like Marilyn because she found the perfect dress when she was thrifting. Just look at her, channeling the blond goddess. Just like her, we also delight in good finds. Lady Luck was certainly on her side that day.
This guy's looking handsome
We don't only feature ladies on this list. Men deserve to be lauded for the wise creatures that they are, opting to go thrifting instead of spending their hard-earned money on a suit that will only be worn a few times.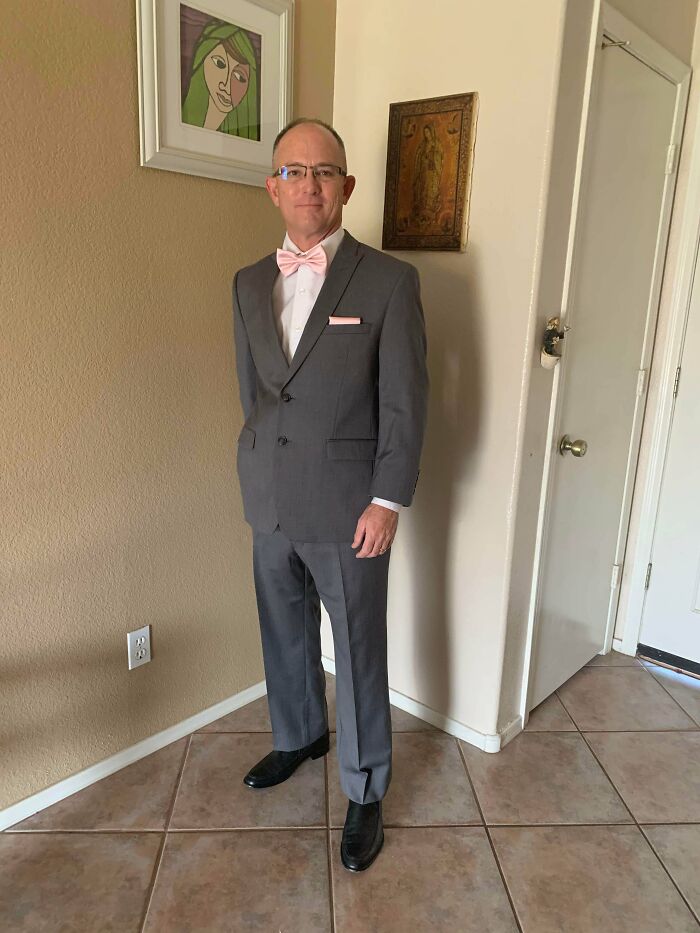 This guy hit the jackpot, too. Look at him looking dapper in his Calvin Klein slim-fit suit and John Valvatos shoes. Guess how much he spent on the shoes? All of $16! Hopefully, we also get to score designer duds one of these days.
What a gorgeous coat!
We'll be the first to admit that we are so jealous of this woman for finding such a gorgeous coat. We're sure that if you put a famous label on that, it can easily cost hundreds of dollars. Some people are just born lucky, we guess.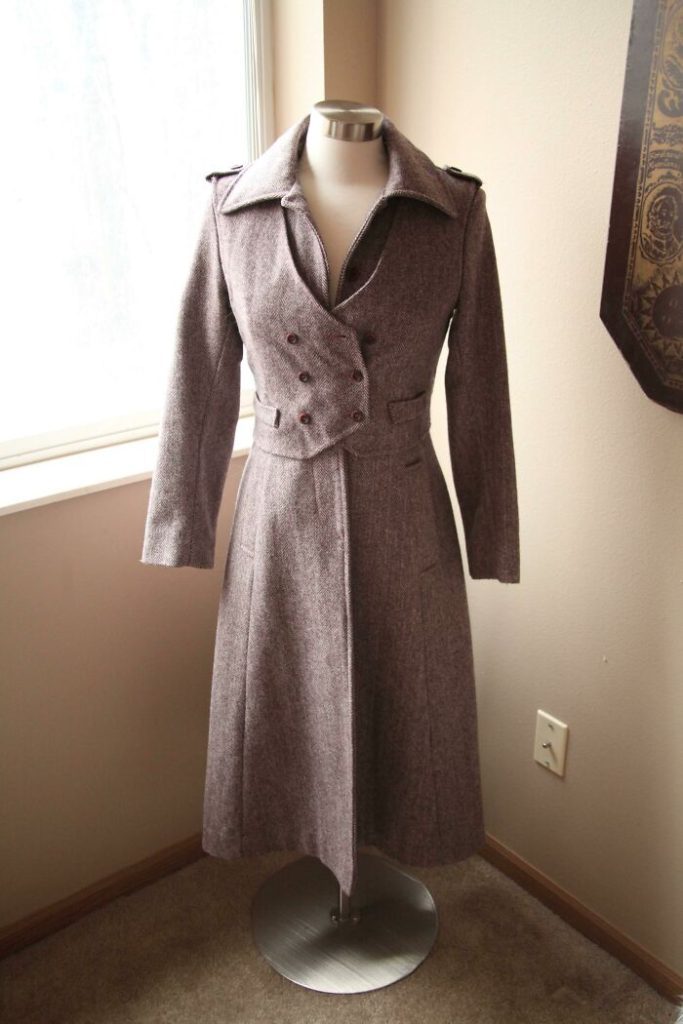 Who wouldn't love to wear that all around town and have people guessing how much you spend on such a beautiful creation. They'll never know that it costs less than a hundred because it looks designer, and we bet it feels expensive, too.
Another beautiful vintage coat
We just showed a gem from a thrift store, a gorgeous coat. We have another number here, which reminds us of Coraline, the little girl who walks through a secret door. We are not fans of the color yellow, but we'd gladly make an exception for this coat.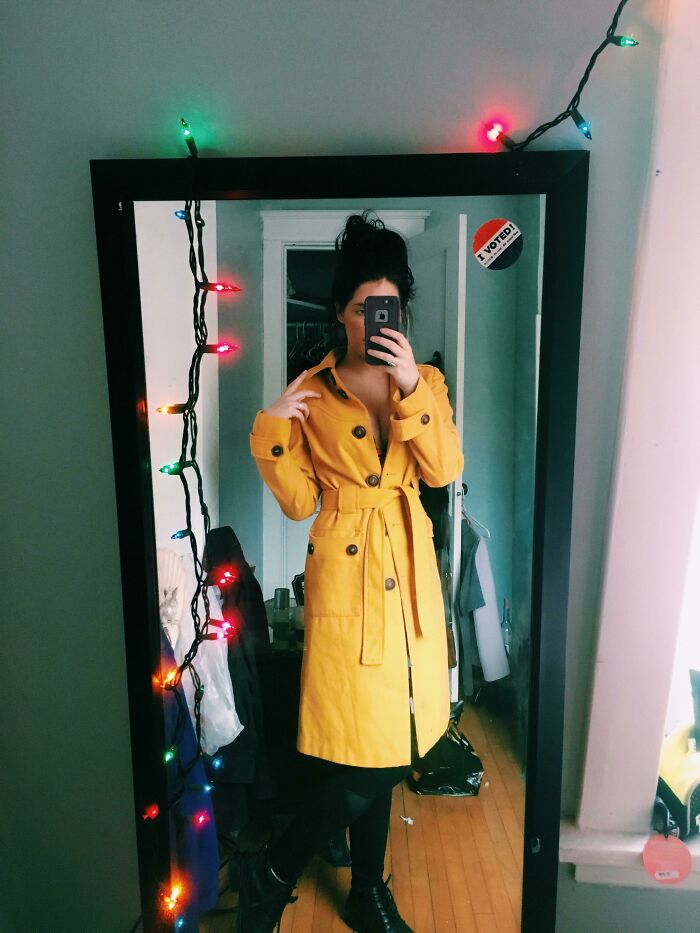 She should pat herself on the back for doing such an excellent job in thrifting. How often have you found treasures from a thrift store that didn't cost much money? Some people are purely skilled when it comes to secondhand shopping.
Prom Queen worthy
Prom night can be overwhelming for a lot of teenage girls. They need to find the perfect outfit, make-up on fleek, and shoes that are worthy of a queen. Sometimes, you just don't have enough time to find everything you need.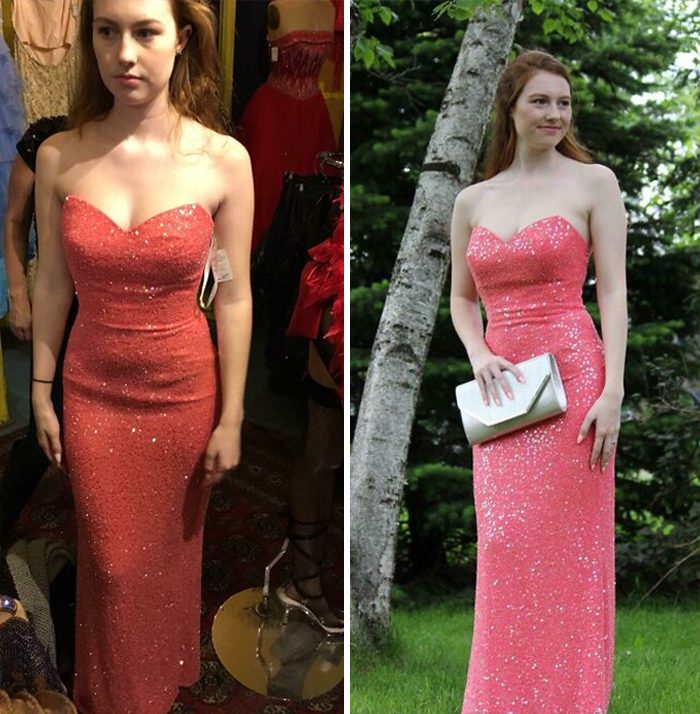 Luckily for this girl, she scored a one-of-a-kind find that made her look prom queen worthy. She looks like a million dollars, and she knows it. Strut your stuff, girl, because you deserve it. Not only do you look bomb, but you also managed to save a lot of money.
A match made in heaven
This is a match made in heaven, and nothing can convince us otherwise. If we didn't know any better, we'd think this ensemble was sold as a pair, but it isn't. The original poster purchased the top and pants separately, but both were thrifted.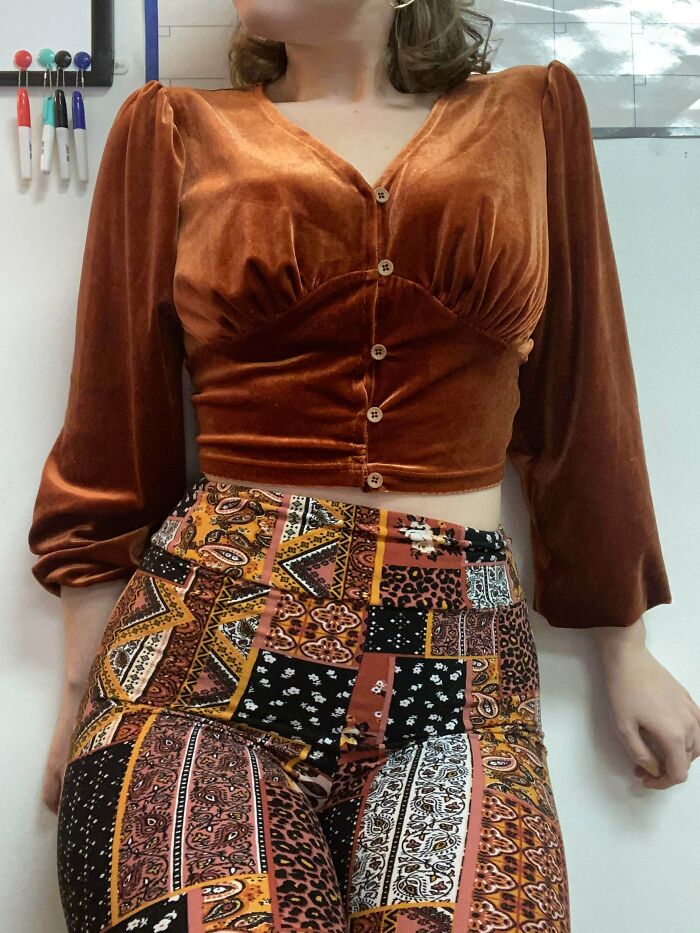 The stars seemed to align on the day she decided to go shopping. We love this combo, and it's something that we'd wear, too. It's a bit retro but modern and hip at the same time. If we didn't know any better, we'd think she spent close to a hundred dollars.
If only all husbands had an eye for fashion
This woman must have been mighty proud of her husband for scoring such a great find. We know we would be if our husband found us something as fashionable as this dress, a dress that happened to fit her perfectly, too.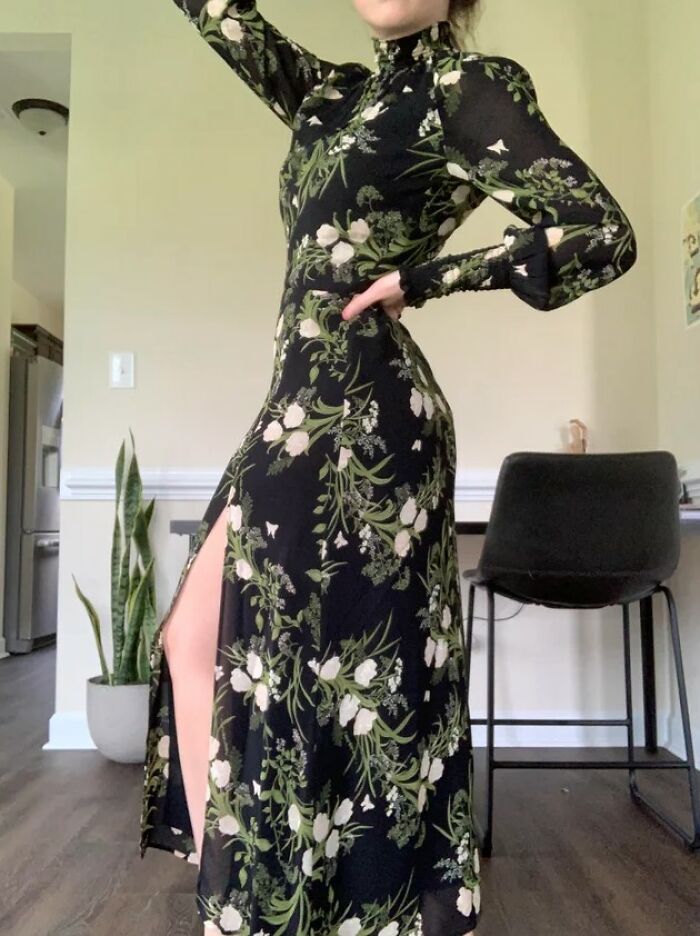 How much did they pay for this? Only $20! Sad to say, however, that most husbands don't know much about dresses. We don't even know of husbands who would happily tag along with their wives to the thrift store. They just seem to hate shopping.
We should make frequent visits to local charity shops
If you're looking for something fashionable, you should never disregard your local charity shops. Who knows? You might find exactly what you're looking for. Not only will you be doing your part in helping, but you'll also save money.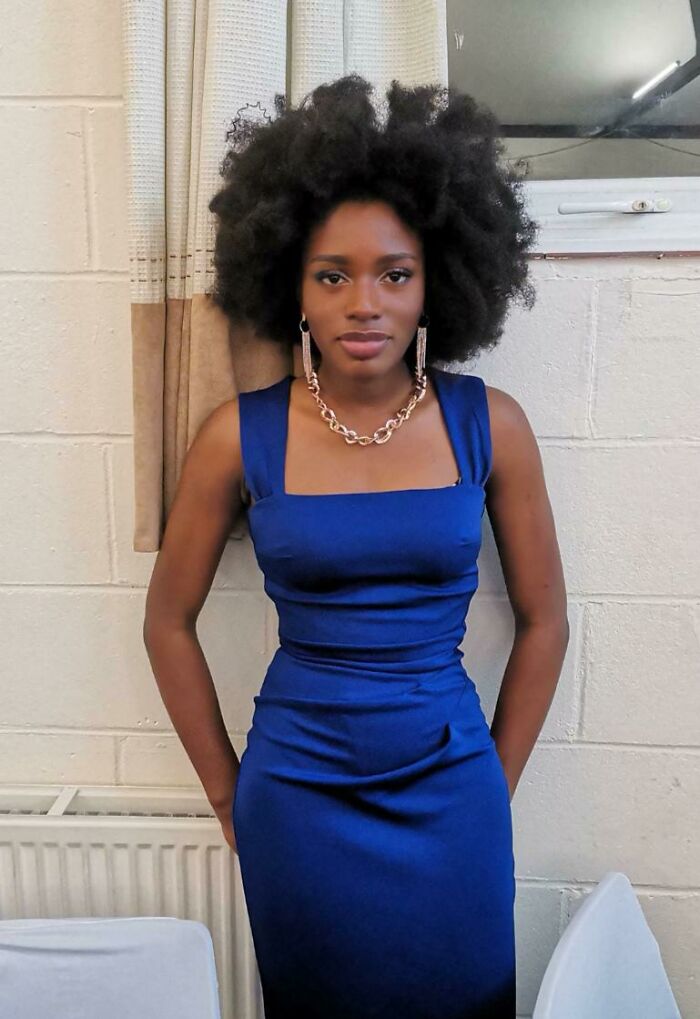 This woman found the perfect dress for an important event when she was shopping last-minute at her local charity shop. She spent less than $10 on that blue number! Can you imagine? It seems as if the dress was specifically made for her.
Fashion-forward and fun
We have this in mind when discussing a fun but fashion-forward outfit. Women don't always need to wear dresses or skirts. They can also wear suits, and if they know how to rock it, there's no looking back.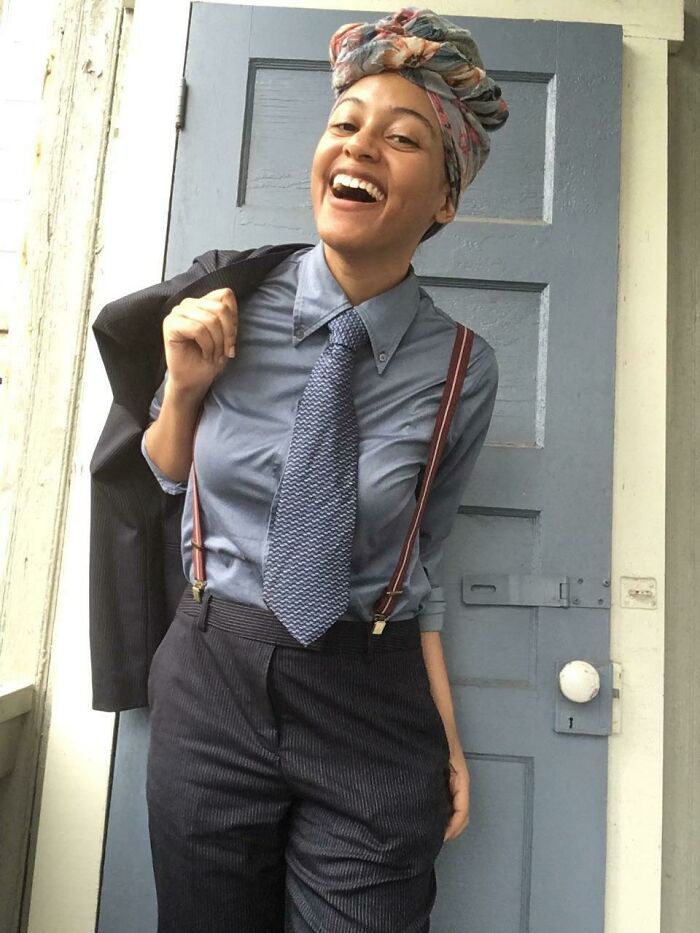 This woman certainly knows how to work her way in a suit. Not only does she look fashionable, but she also looks happy too, and that's important when it comes to your wardrobe. Who wants to wear something that makes them look sad?
A timeless and stylish find
How lucky can a person be? This woman went to the thrift store for the first time, and look what she was able to bring home! We are in love with this golden dress that's both stylish and timeless. Regardless of the era, this is something that's going to turn heads.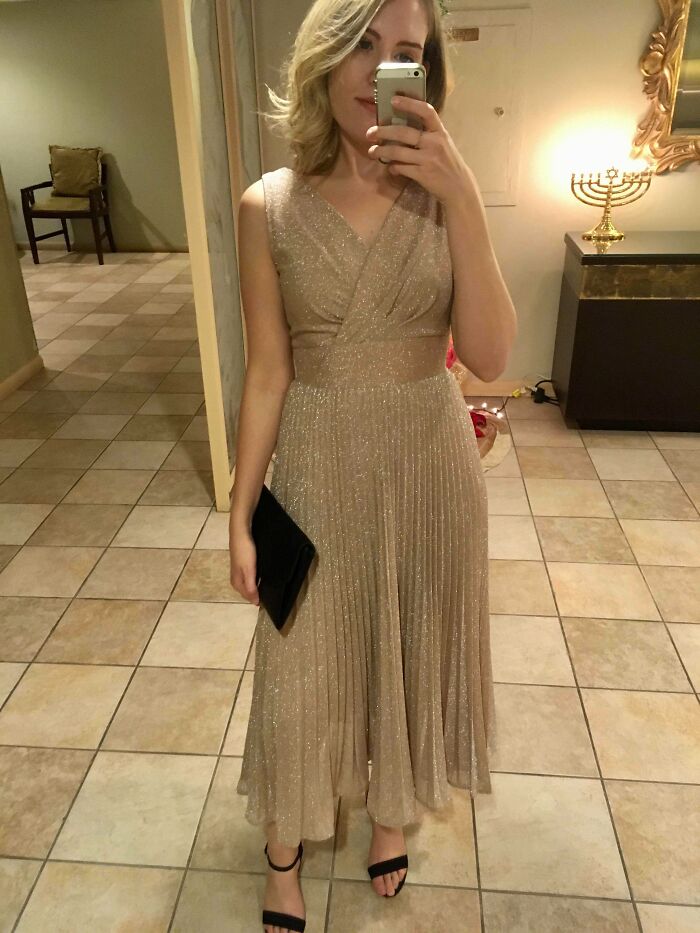 This is an outfit worth wearing to any formal event, and any man would be proud to have you by his side wearing this dress. Yes, it's from the 1960s, but we say you can wear it even in 2050, and it would still look beautiful.
We love pockets, don't you?
Do you know any woman who dislikes pockets on her dress? Come one! You can't name anyone, can you? That's because women everywhere love pockets! They're heaven sent! And what can be better than finding a dress with pockets?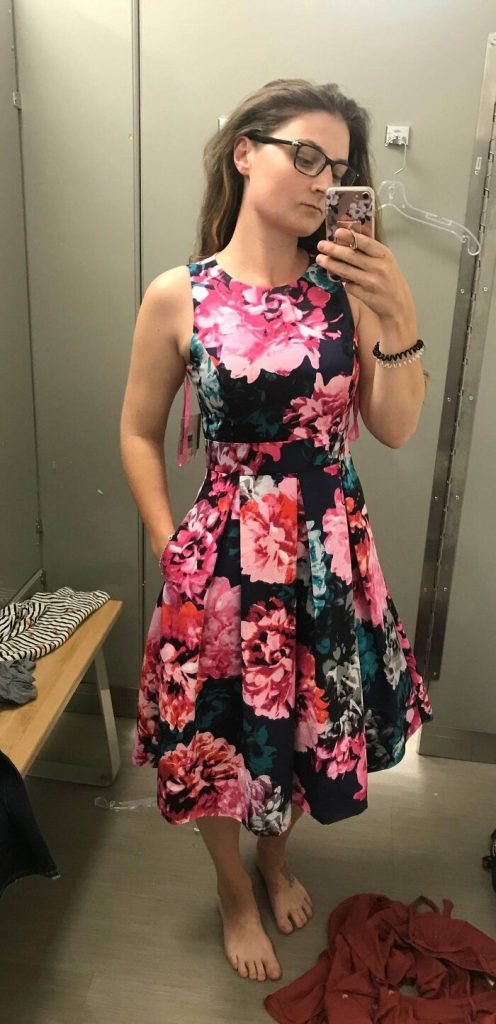 The answer is getting a dress from the thrift store with pockets and tags for a fraction of the original price. This woman is so proud of her incredible find that she thought she'd share it with everyone. She's making everyone jealous.
Calvin Klein for a summer wedding? Sounds good to us!
Calvin Klein is one of the more well-known contemporary clothing brands today, and they have clothes that cost more than a pretty penny. If you're looking to splurge, it's alright to head to their stores, but if you're looking to save, you might consider going somewhere else.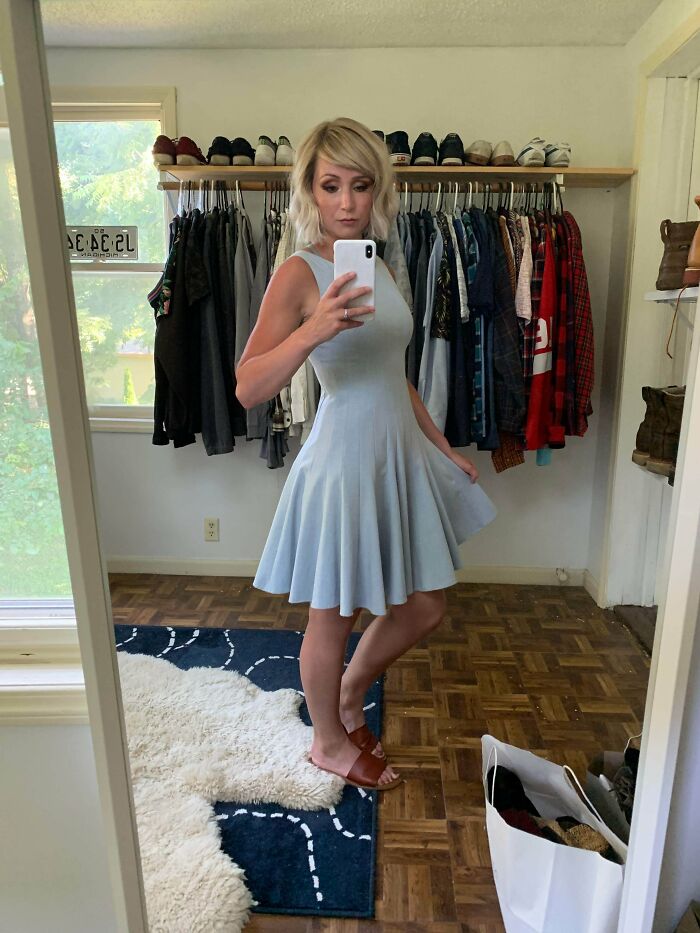 When we say someplace else, we mean thrift stores. This woman found this splendid creation from Calvin Klein in a thrift store and wanted to wear it to a summer wedding. We say, don't wait for a wedding. Wear it whenever you feel like it.
This dress is giving us Queen's Gambit feels
If there's one Netflix series we have thoroughly enjoyed lately, it's Queen's Gambit. The show has everything. It has an intriguing narrative that you can easily spend hours watching on your couch, and it has a fashion we love.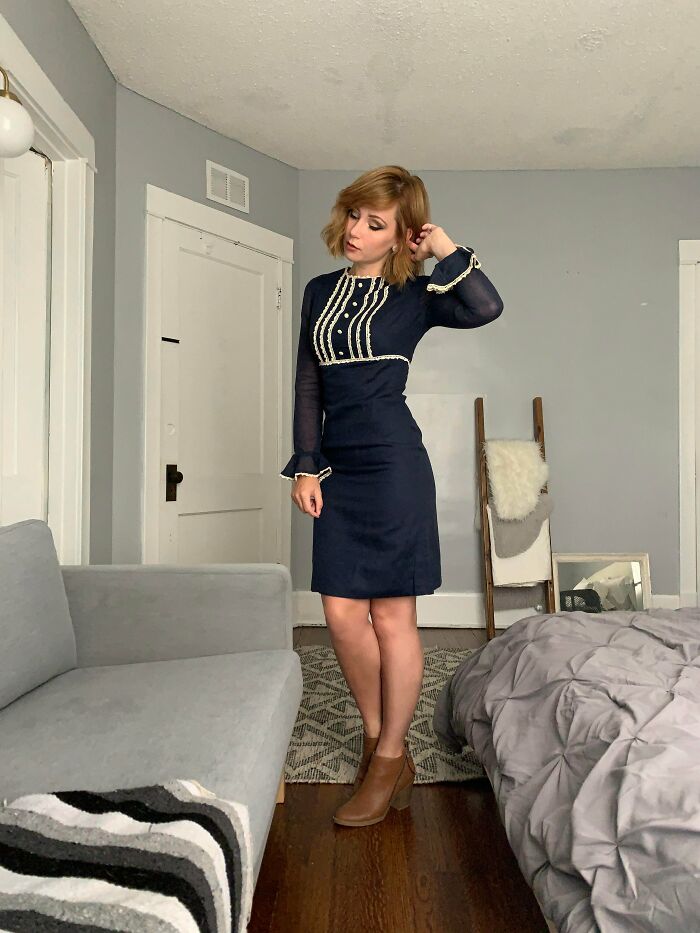 We love the heroine's outfit, and we are envious of her wardrobe. This woman must have felt the same thing which is why she was delighted to have found this dress in a thrift store. Don't you think she looks like Beth Harmon?
A sweater to remember
Did you also have a favorite sweater when you were growing up, or did you observe your mother wearing one? Vintage sweaters are in high demand today because not only do they look great. They are timeless. Plus, we always need something to keep us warm on chilly days.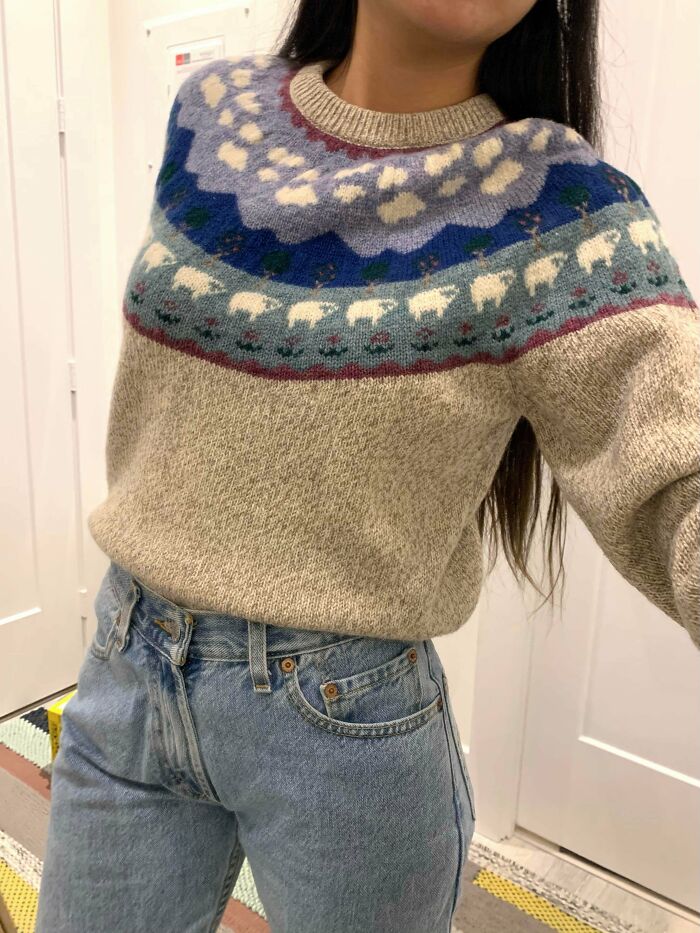 This person found her favorite sweater in the thrift store. We'd say not bad. We love the design and the colors, and we're sure it's going to keep her warm during autumn. We love the sheep, and she can wear this sweater if she can't fall asleep!
We're getting retro vibes with this one
Thrifting is a great way to get your hands on one-of-a-kind finds without breaking the bank. The search alone is an adventure, and to be rewarded in the end with something beautiful that no one else makes you feel fulfilled.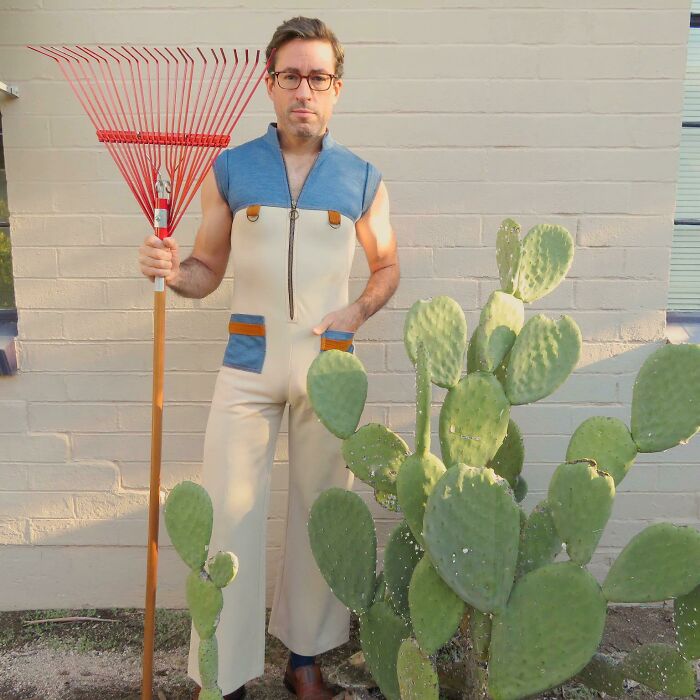 We bet this guy was over the moon when he found this jumpsuit. He may not look happy in this photo, but believe us, we know that his thrifter's heart is screaming with pure joy. We just hope his jumpsuit doesn't make it difficult for him to sit down.
Another coat to love
We love autumn. Not only does the foliage become so beautiful, but it's also a great time to wear your most beautiful coats. If there were a place where it's autumn all year, we'd gladly pack our bags and move there.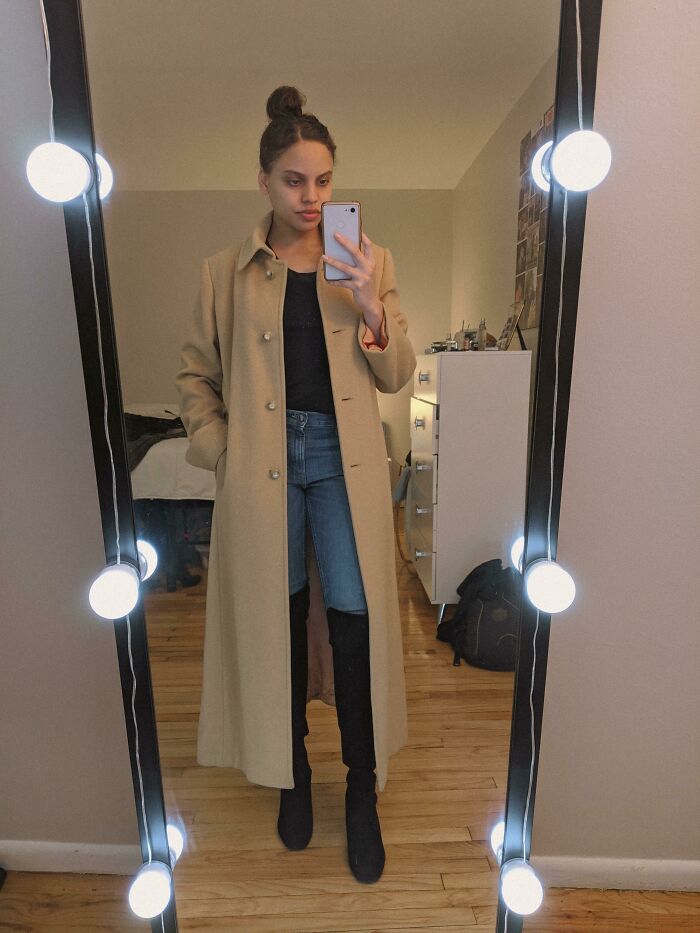 This woman is ready to strut her autumn fashion, beginning with this gorgeous camel coat she bought at a thrift store. Doesn't she look trendy? We'd love to know how much she paid for it, but we're sure it wasn't crazy.
We'd love to buy this dress from her
If this woman is selling the dress she's wearing in the photo, we'd gladly take it off her hands because it's marvelous! It's just the right length, has a great fit, and is made of hand-sewn lace applique. Who can go wrong with that?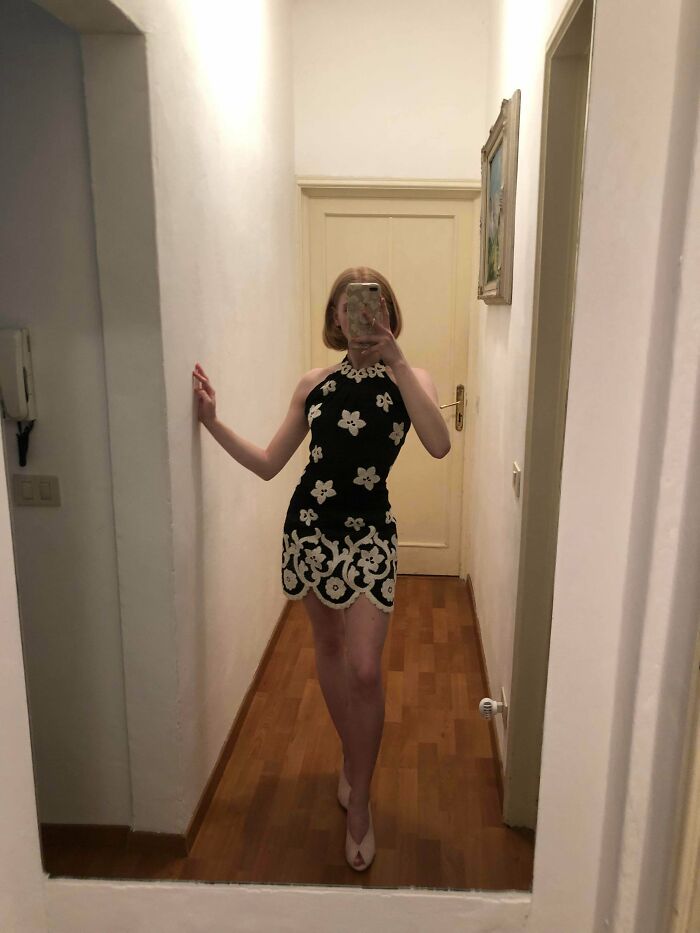 She found it in her favorite thrift store in Florence, Italy. Do we also have to travel that far to get our hands on a fabulous dress? The answer is no. Go out to your local thrift store now. Who knows what treasures lie in there?
Gentlemen wear pink
Who said pink was only for women? This guy begs to disagree, and he has the right to because he looks handsome in his pink suit. He can easily wear the outfit to a wedding or to any formal event, and everyone would give him compliments.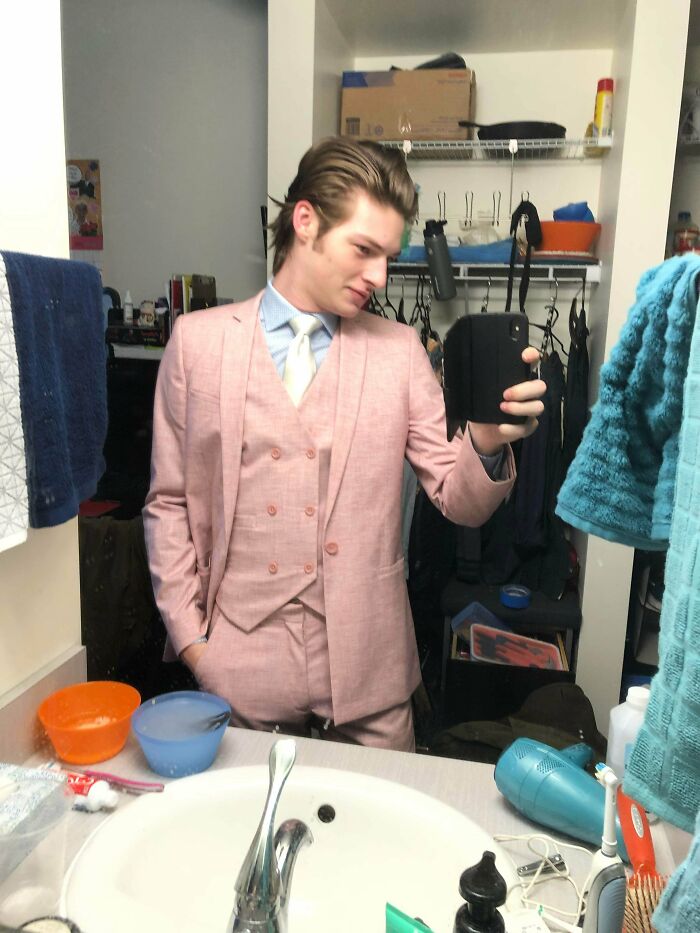 It looks great on him, and it fits him nicely without any need for alterations. He certainly had Lady Luck with him the day he decided to venture to the thrift store. Luck aside, we want to tell him that he has perfect taste in clothes.
Another man who looks handsome in a suit
From one dapper gentleman to another dashing and stylish gentleman. We love men who have excellent tastes when it comes to clothes because who doesn't want to see a well-put-together male species? We sure do! And this guy knows what's up!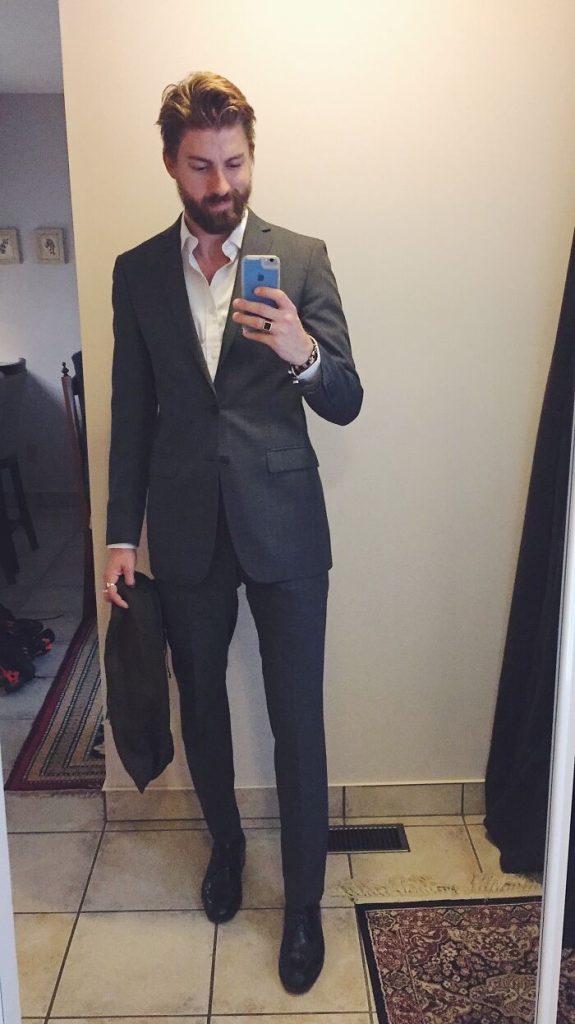 Even with the beard and scruffy look, he still cleans up nicely. We are partial to men who smell good and who look as if they can walk into any room and have command of it. We say that this guy does that easily.
A brand new wedding dress for only £25!
Weddings can be overwhelming that women turn into what most people would unflatteringly call Bridezillas. There's so much to think about, like the dress, ceremony, reception, and all the things that could go wrong. Thankfully, this girl can check one box off her list!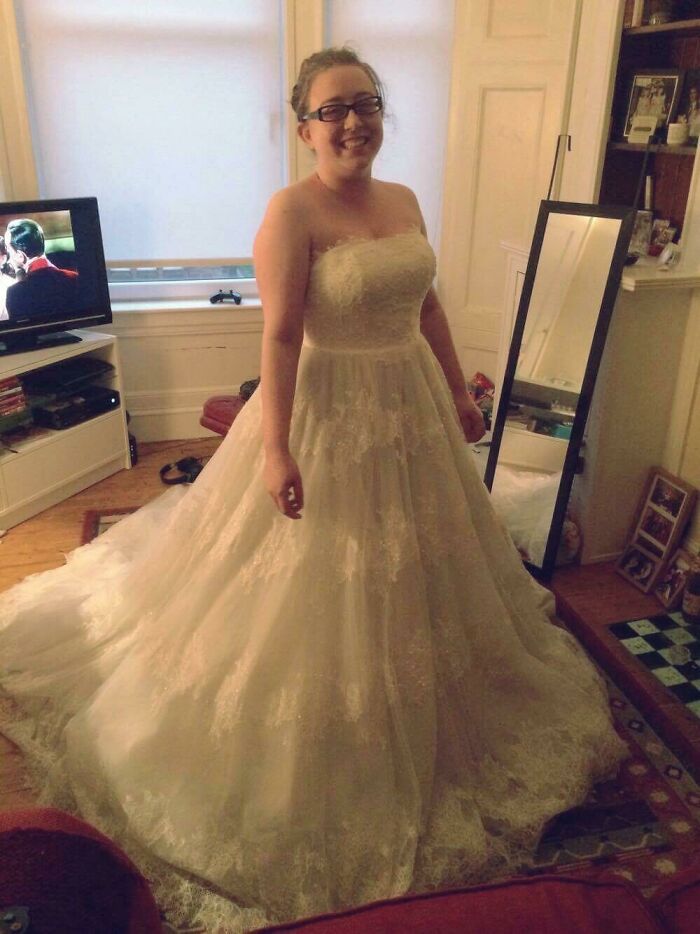 If you don't have a great support system, you could easily break down. Luckily for this woman, she could tick off one important thing on her wedding list, which was her gown. She got a brand new wedding dress from a thrift shop that fit her like a glove.
Slay it, girl!
This dress is worthy of being worn to the opera, and the opera singer wearing it is equally stunning. Salvation Army put a price tag of only $15 on the dress. How lovely! If we were there simultaneously, we would have fought over this dress.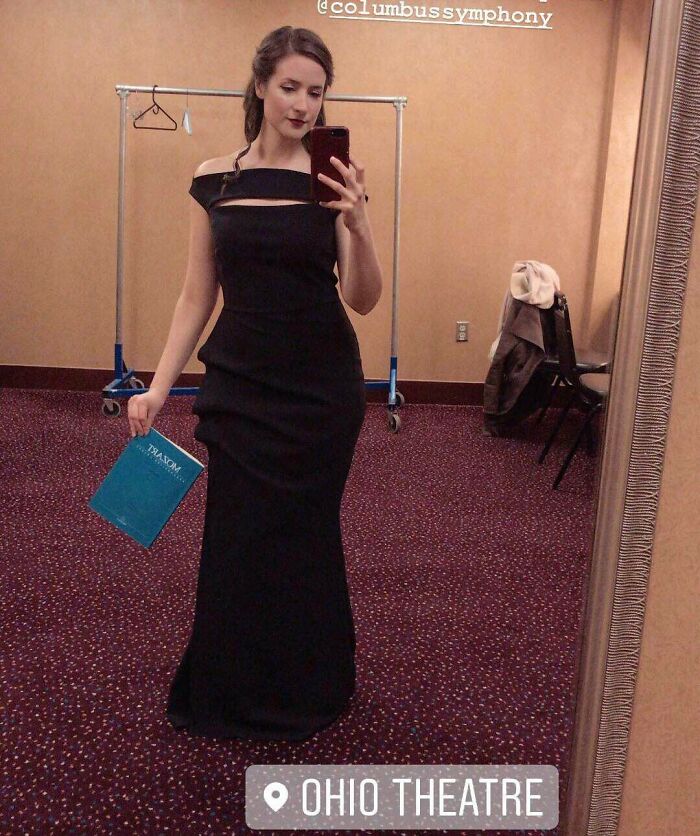 When you see great finds in thrift stores, you should pay for them right away! Don't even waste a few seconds considering it or thinking about it because other shoppers are going to get their hands on it. We guarantee you.
The life-size Nutcracker
We can only imagine this guy's happiness when he found this Nutcracker and prince outfit that cost only $10. The details alone must cost hundreds of dollars, let alone the wonderful materials it's made of. The suit looks as if it's made for him.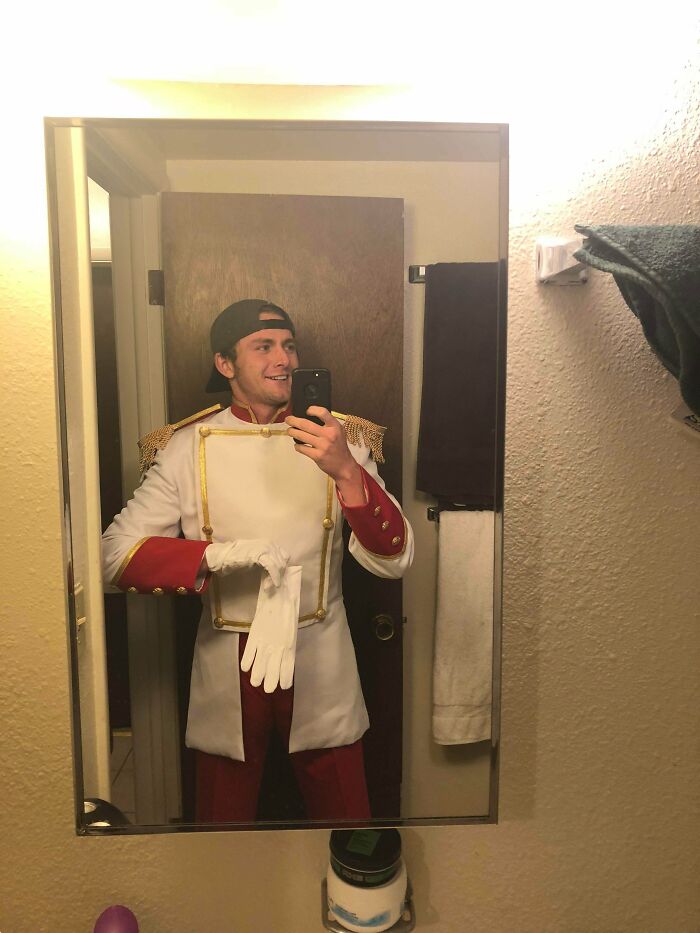 Thrift stores are more like treasure stores. It's the place you should go to if you're looking for something unique that doesn't cost an arm or leg. They even have stuff that is brand new with tags still on, while some may be used but in excellent condition.
Yes, dress like a princess
We understand that there are trends. Some things are considered fashionable, while others are considered fashion faux pas. But who the heck cares? If you want to wear something, wear it! Life is too short to always follow the status quo.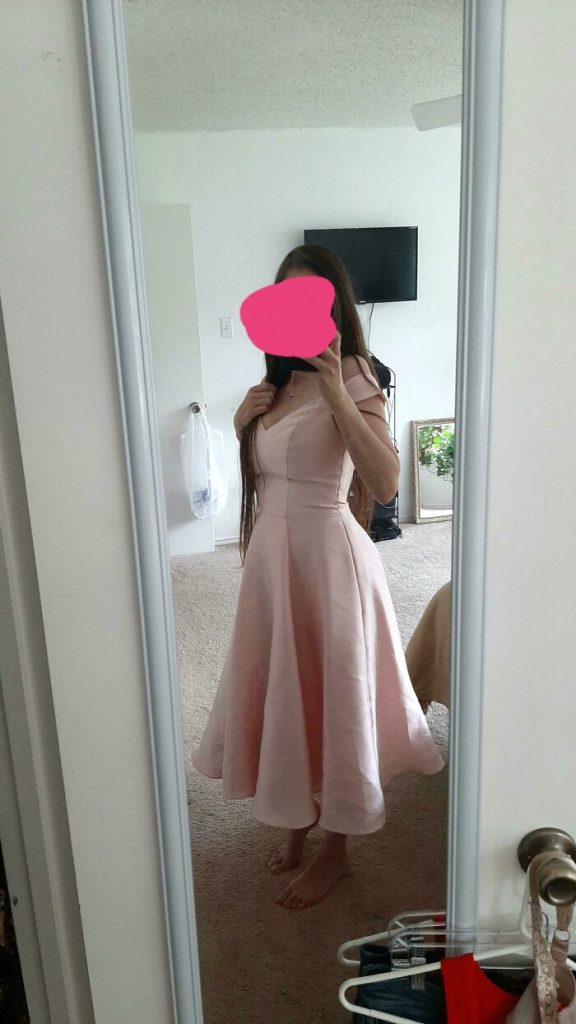 If you want to dress like a princess, then be a princess! Follow this girl's lead who went to the thrift store and found this pink princess dress. All she needs now is a sparkly sash around her waist and a tiara, and she can be a real-life princess.
That 70s feeling
We'd like to think that this guy is a fan of That 70's Show because look at that outfit! He nailed it from head to toe, and he can easily be a cast member. He's got the disco concept down to a T.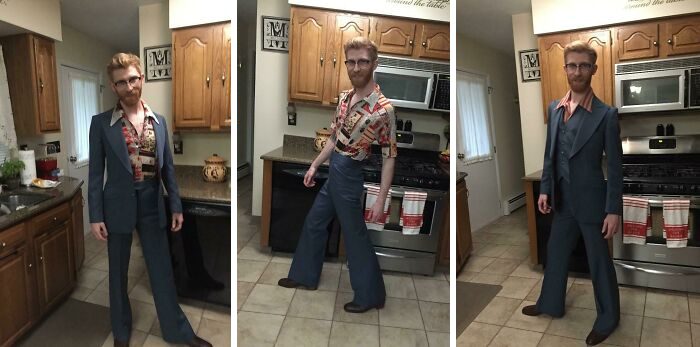 His friends might be looking forward to Halloween, so they can invite him, and he can come in his best 70's outfit. For only $20, this 3-piece suit is the bomb. We'd love to go thrifting with this guy because he's got a good eye.
Sparkly and green
If you thought you couldn't wear something sparkly and green outside of a party, think again. This proves that you can wear anything you want, anywhere and anytime. We're not sure where she's headed, but she's undoubtedly going to turn heads.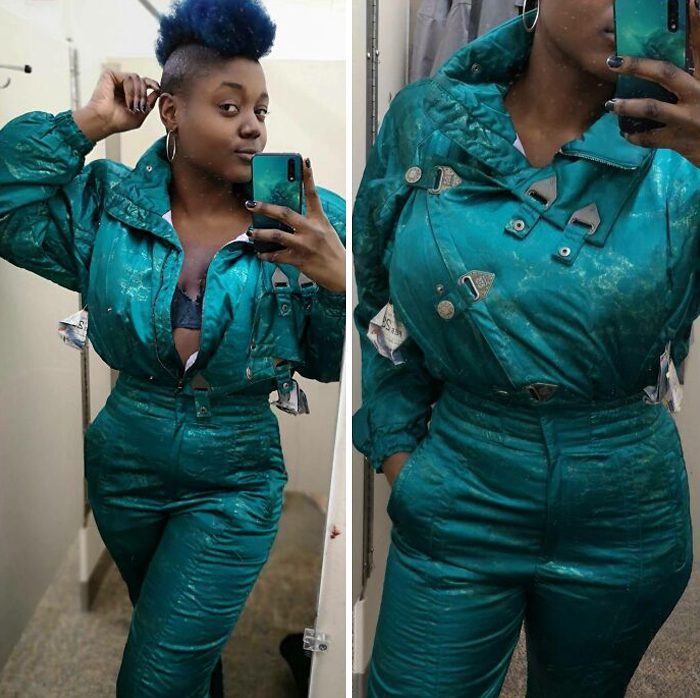 The tracksuit fits her immaculately, and people who don't know any better would think she paid hundreds of dollars to have it made. This is why you should never shy away from going to thrift stores. It's like a world full of magic.
A handmade dress for less than $10
This is another example of divine providence working in your favor. That absolutely stunning dress is worth less than $10, but it looks very expensive on her. What's even better is that it's a handmade dress, and the chances of her meeting someone with the same thing on is zero.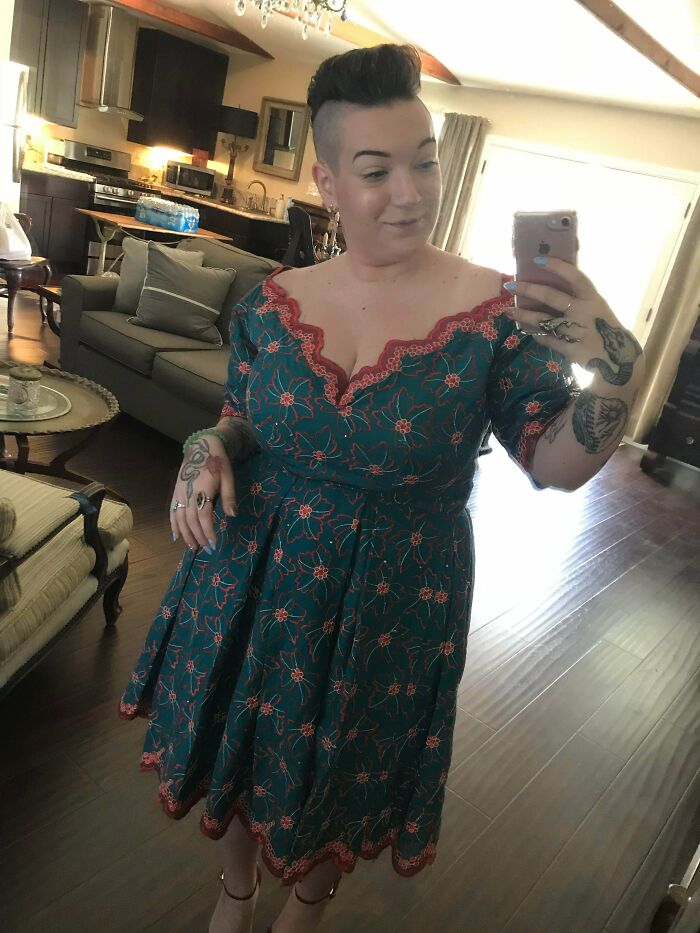 The neckline and the colors are just perfect and couldn't look any better. We can go on and on for days about how much we love this dress, but you see it with your own eyes now. She can go to any event, and people will be looking at her because she's outstanding.
She pulled off this leather tracksuit
Tracksuits can be unforgiving at times, especially if you don't have the right body type. However, this thrifted tracksuit fits this lady as if it was specially made for her. She pulled it off flawlessly, and we know a lot of people are jealous of her.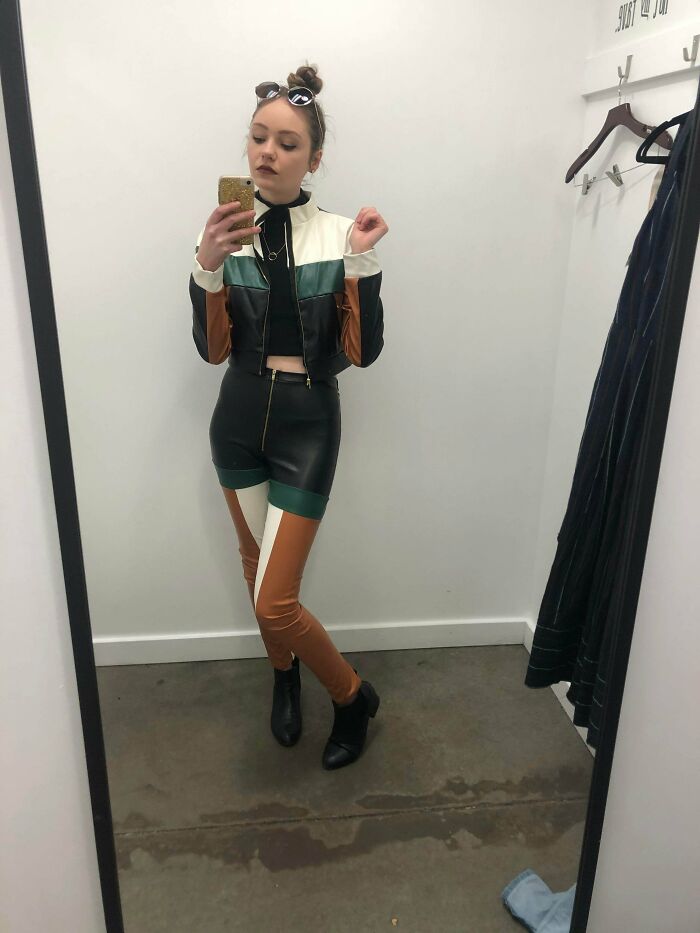 We noticed a lot of people commenting that their thrift stores don't have that many nice things. Maybe location has something to do with it, too, but we'd like to think that it's serendipity working at times to guide you to the right thrift stores.
Proof that you can look great without spending a fortune
You don't need to pay for clothes and bags that cost an arm and a leg to be considered fashionable. You don't have to spend a fortune on formal events so that people will compliment you because you can find equally stunning pieces in thrift stores.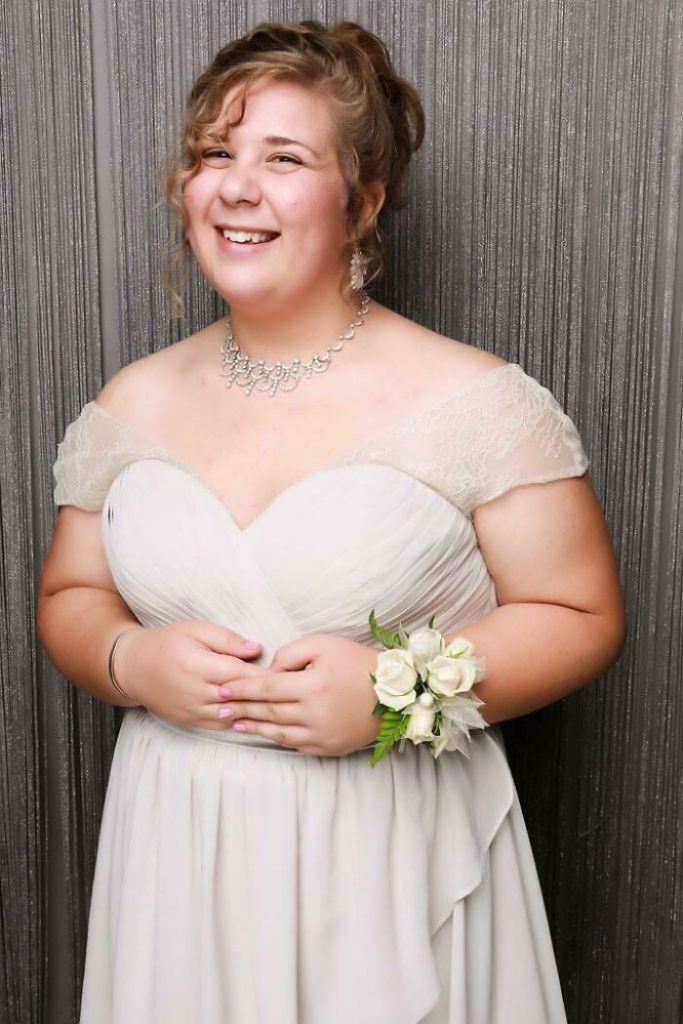 We encourage people to explore their local charity stores for that reason alone. This lady's dress, earrings, and necklace were all thrifted, and because of her wise moves, her makeup and tailoring were exchanged for her gardening services. Now that's one intelligent girl!
60s glam for this lady
We're claiming it. One of these days, we're going to score finds that people will be jealous of. This lady got the honeymoon set she's wearing for only $10, consisting of a nightgown and dressing robe. All she needed was the fuzzy slippers to complete the look.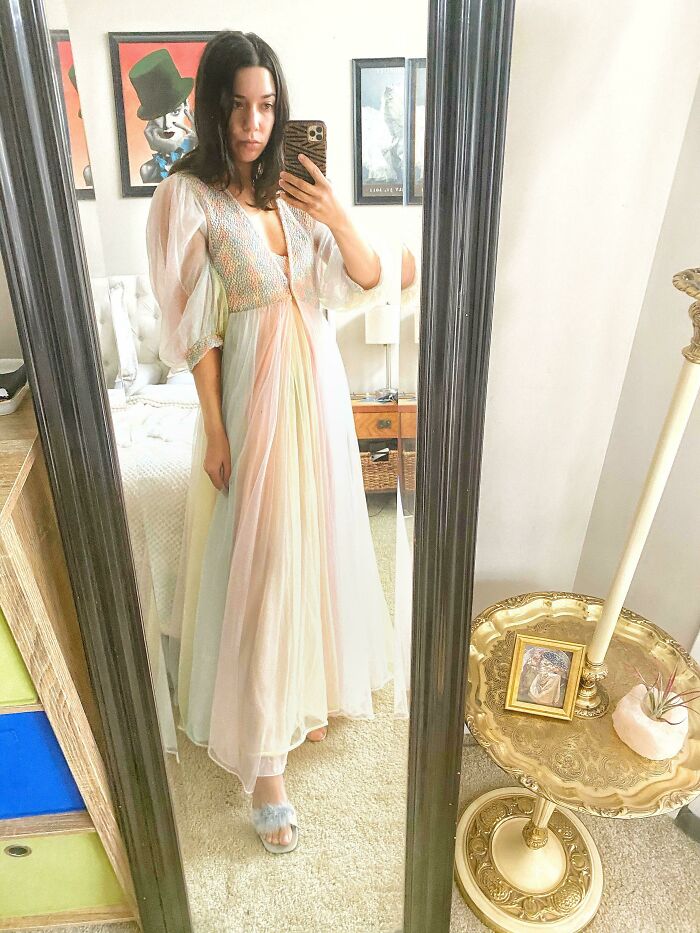 She's mighty proud of herself, and we would be too if we found the ensemble. We'll show it to the world so people can be in awe of our fashion sense and good eye. Hey lady, can we go thrifting with you?
Another gorgeous green creation for only $15
This is a dress we'd be proud to wear to any party because it's simply divine! All the lady needs now is good makeup and the right jewels, and she's going to look like she's one of those affluent ladies, not that we're saying she isn't.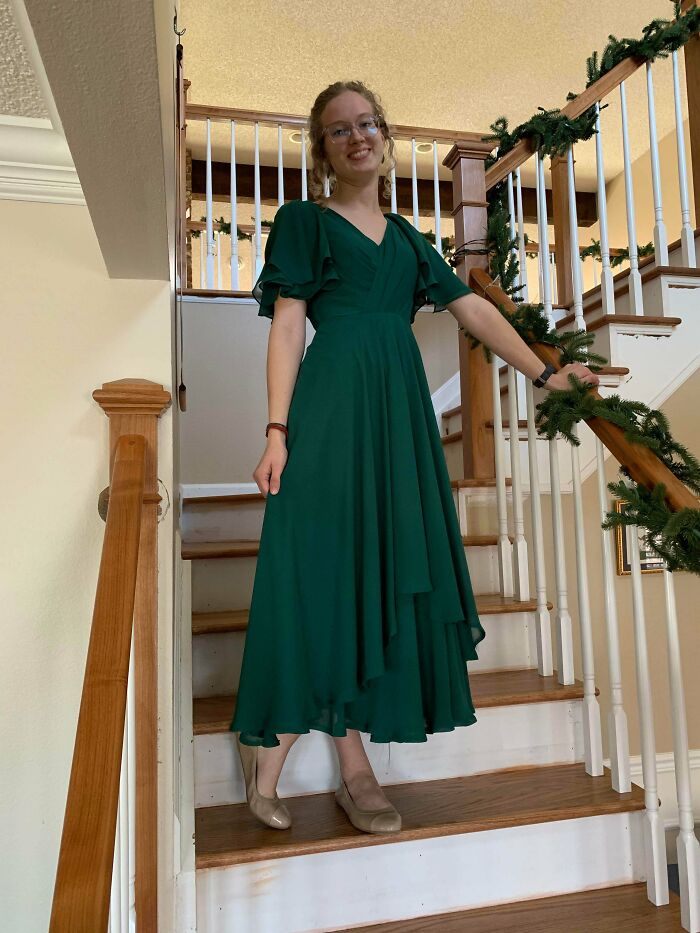 Sometimes, it's not just about the dress, too. It's also about your attitude. If you carry yourself well and you're confident, people are going to notice and are going to gravitate towards you, So don't be a shrinking violet.
Just in time for her wedding
It always warms our hearts to read stories of women from all over the world who searched high and low for the perfect wedding dress, mostly in expensive boutiques, only to find them in thrift stores for a fraction of their budget.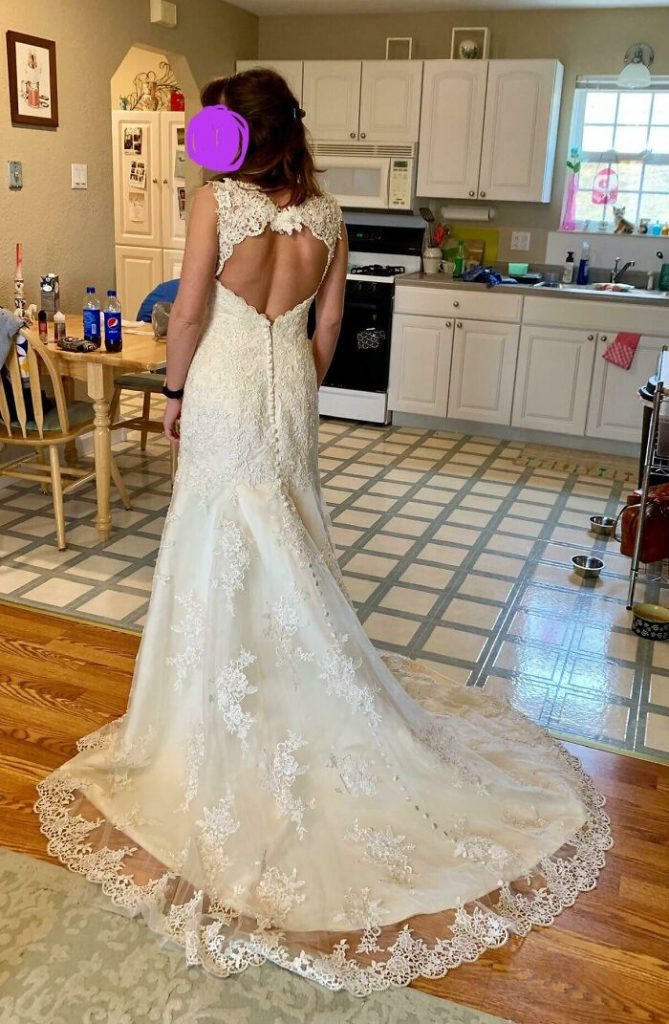 Not only are they doing mother earth a good service, but they are also helping themselves because they have something unique and are saving money simultaneously. We are all aware of how much weddings cost nowadays.
Mary Poppins y'all
Now, this is a costume we'd proudly wear to any Halloween party. The teacher in the photo didn't wear it to a Halloween party but to a book party. She's committed to her job, and she's more than game to dress up for events.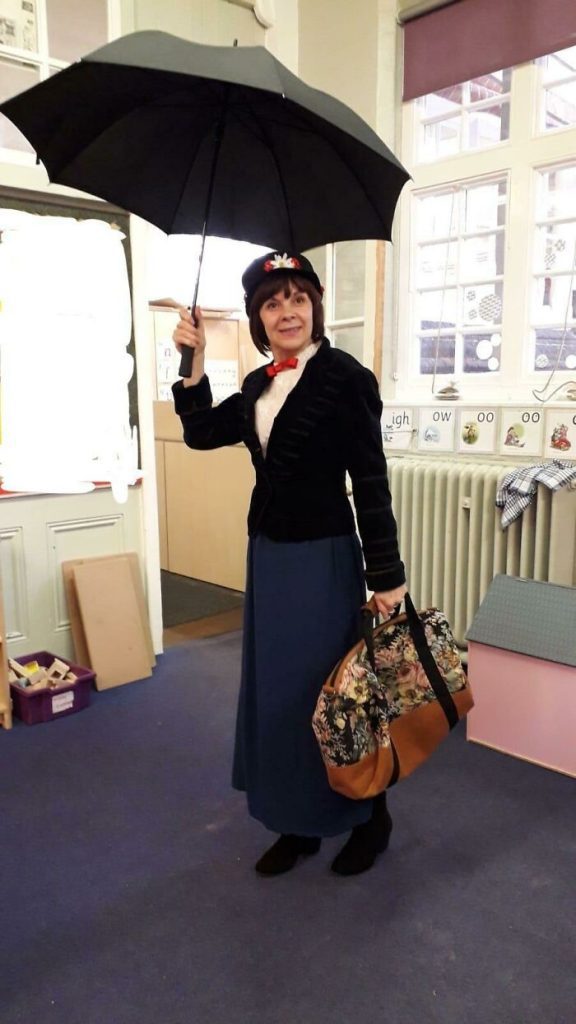 This primary school teacher got a little creative and made a few modifications to the original Mary Poppins costume. If more teachers were like her, more students would be eager to learn. We bet there's not one boring day in class.
Leather pants for less than $20
Everyone knows leather is a material that is very costly for a variety of reasons, but people still spend their hard-earned money on leather goods because they know that when taken care of, it will last a lifetime. They can even be handed down from one generation to another.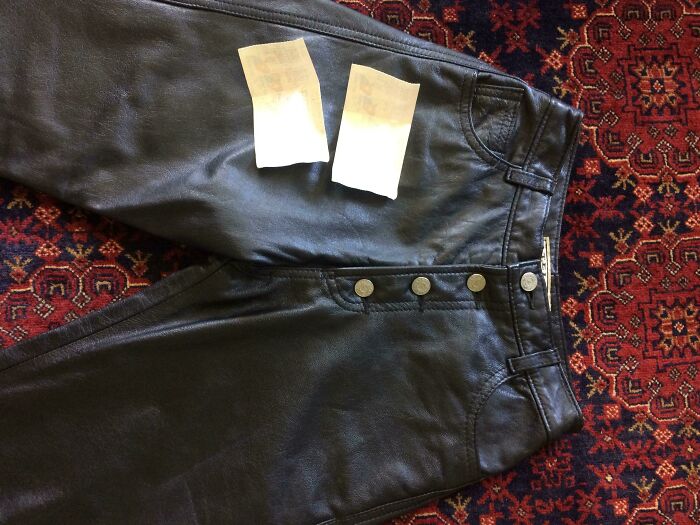 Leather pants, for example, can easily cost hundreds if not thousands of dollars, but if you're like this guy, you can find real leather pants for only $12. They even came with a freebie; two tickets to a Pearl Jam concert dated 1998.
Where do you find your wedding suits?
If you were asked to attend a wedding but didn't have a suit in your closet, where is the first place you'd go? Do you go to high-end boutiques or name-brand stores to scour for a suit? Or do you go to thrift stores? This photo might just convince you to opt for the latter.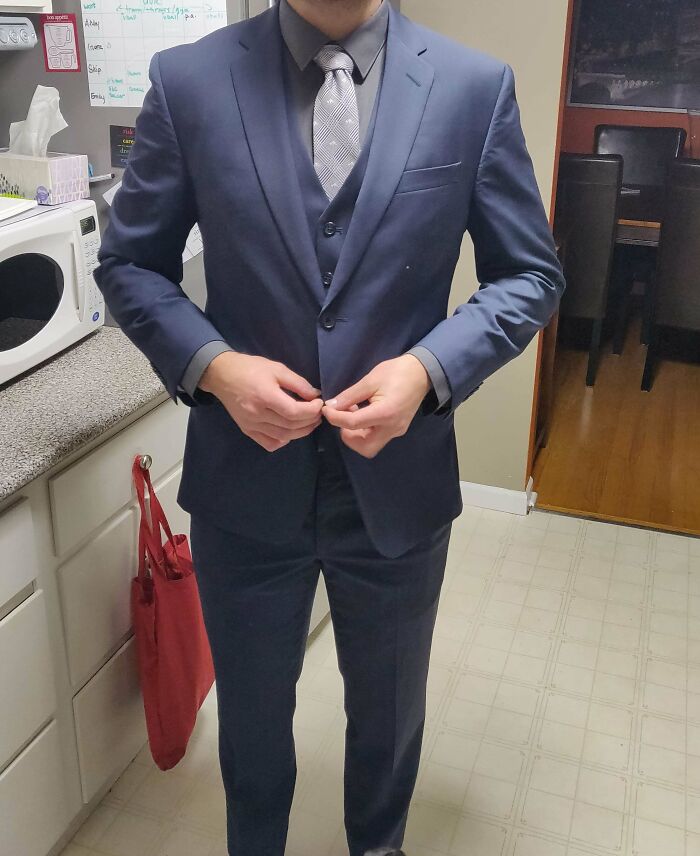 This guy found a gem in the racks of old dresses and suits for only $20. The retail price for his three-piece suit is $1700. Imagine the amount of money he would have thrown away if he had paid for the full price? Let this be motivation to explore your thrift stores more.
Would you wear this dress to your wedding?
Our answer to that question is a resounding yes. If said vintage wedding dress looked like the one in the photo below, we wouldn't have second thoughts. It's perfect! Perhaps there would be a few alterations needed if it didn't fit us, but the dress looks celestial.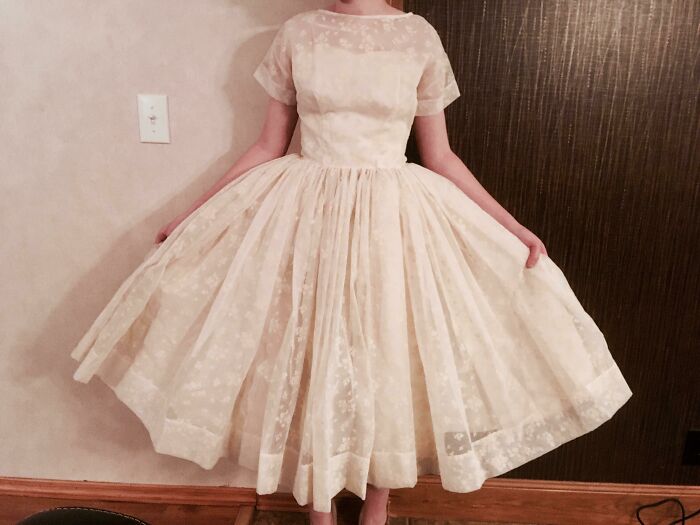 A few people on the Internet even joked that although they didn't plan on getting married, they would change their mind if they scored this dress for $3, just like the original poster did. Imagine finding this dress of your dreams and wearing it at the wedding of your dreams.
We want some Burberry too
If we could get our hands on this Burberry trench coat for only $75, we would gladly die the next day. Ok, we'll be the first to admit that we're being a little dramatic, but look at that! We bet any woman would look ravishing in it!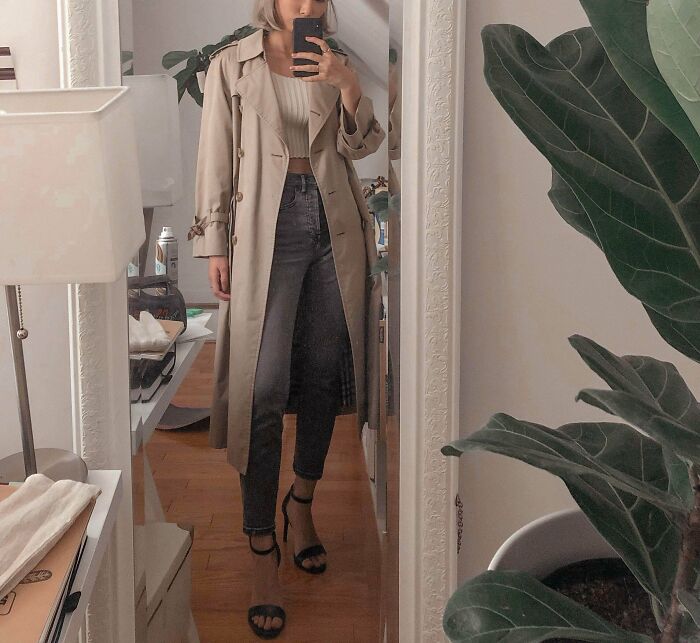 It's exquisite, and even though some people say that Goodwill has been pricing their things quite high compared to other thrift stores, $75 is a steal for this kind of coat. Let me see you raise your hands if you agree with us.
The right jacket for the job
Are you able to tell by the way she looks that she works in an antique store selling antique china? No? If we didn't know any better, we'd say that the jacket she is wearing is her uniform, but it isn't. It's one of those serendipitous moments when you find something meant for you.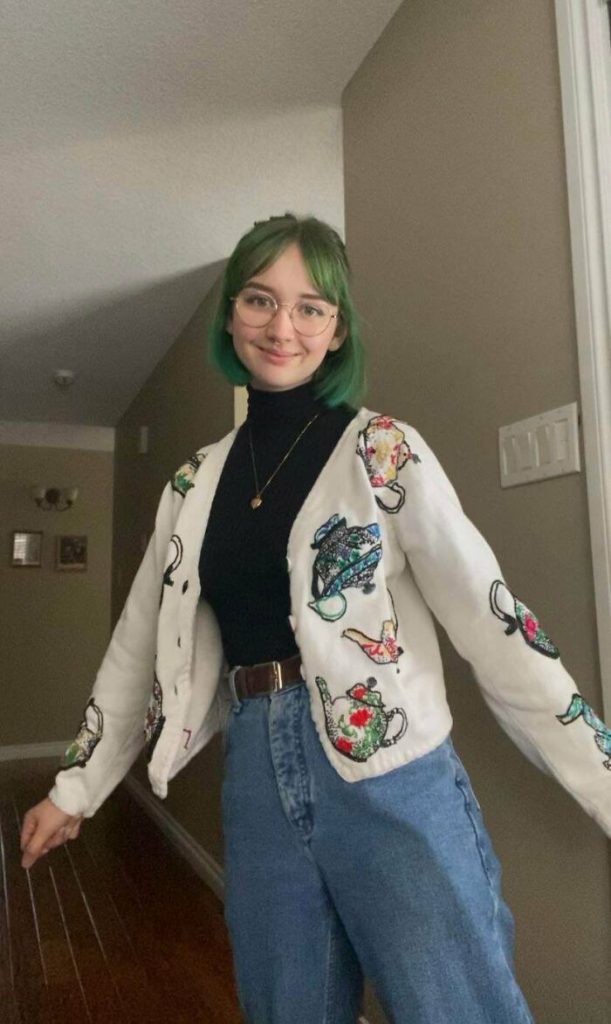 She looks delighted to report to her job and do the thing she loves wearing her cute jacket. Perhaps if there was a lineup of 50 people and we were asked to pick out who worked in an antique store, we'd pick her.
Gracious thrift gods
There are some people who get lucky all the time then there is the rest of us unfortunate mortals. This lady was more than happy to share with everyone that a few months ago, she got that suit jacket that she's wearing in the picture.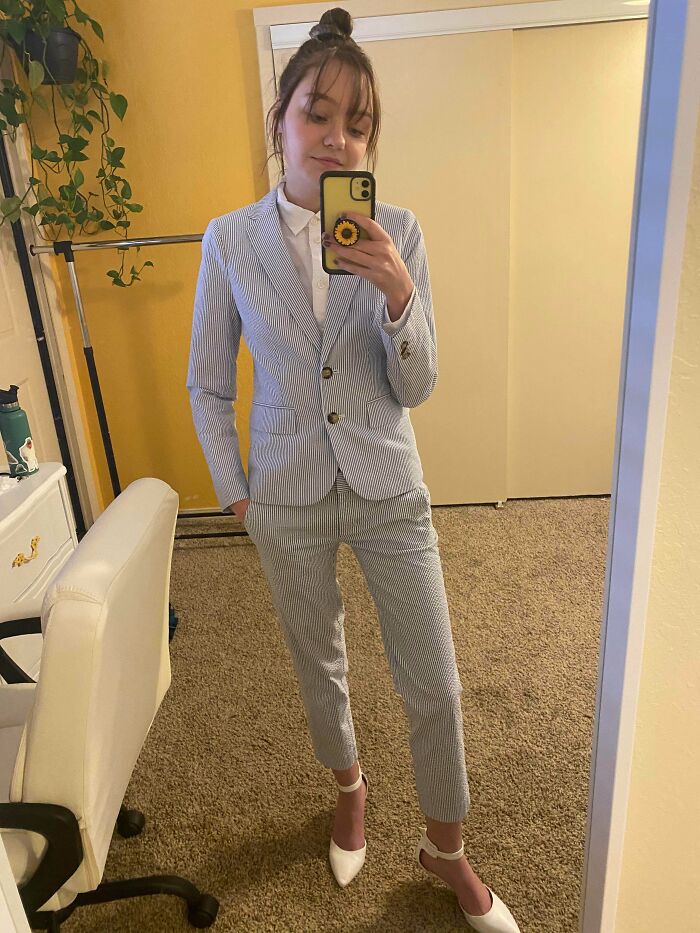 And then, a few days ago, the most delightful thing happened. She found the matching pants! Yup! The thrift gods have been more than gracious to her. Now, we only need her to do one thing, and that's share some stardust with us.
We are in love with this coat, too
There seems to be no shortage of wonderful coats from thrift stores from famous brand-name designers. Earlier, we shared a coat from Burberry, and now we have this coat from Ralph Lauren, which the lady in the photo bought for only $12!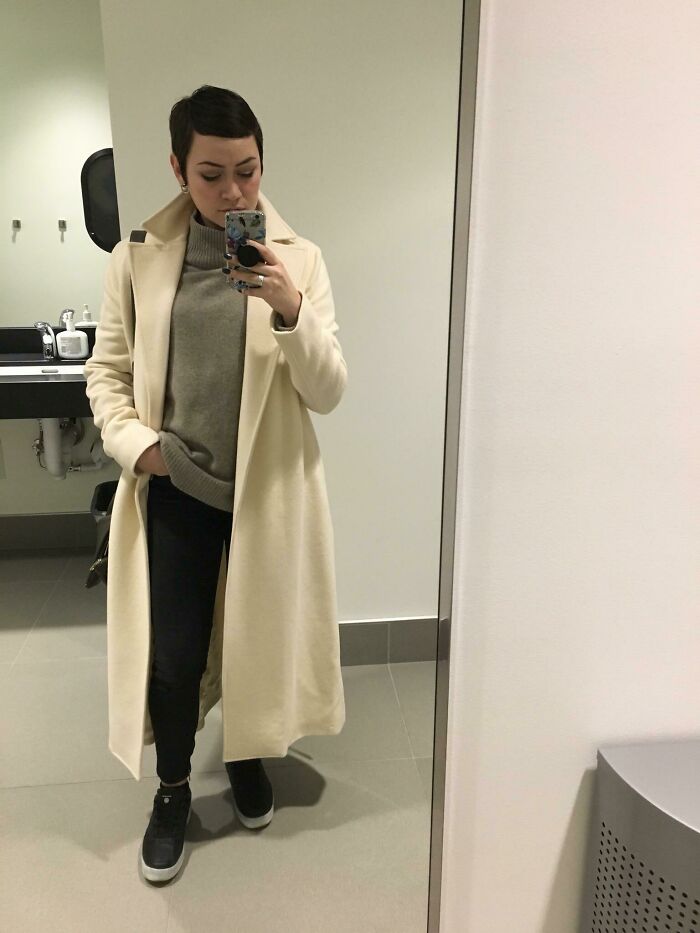 Can you believe that? We can imagine ourselves wearing this coat while sipping a glass of white wine in a fine restaurant with our significant other or with friends. We're getting too far ahead of ourselves. We need to find a coat like this first.