Hop Into A Dollar Store For Supplies To Make 45 Easy Easter Decorations
By Larissa C March 26, 2023
---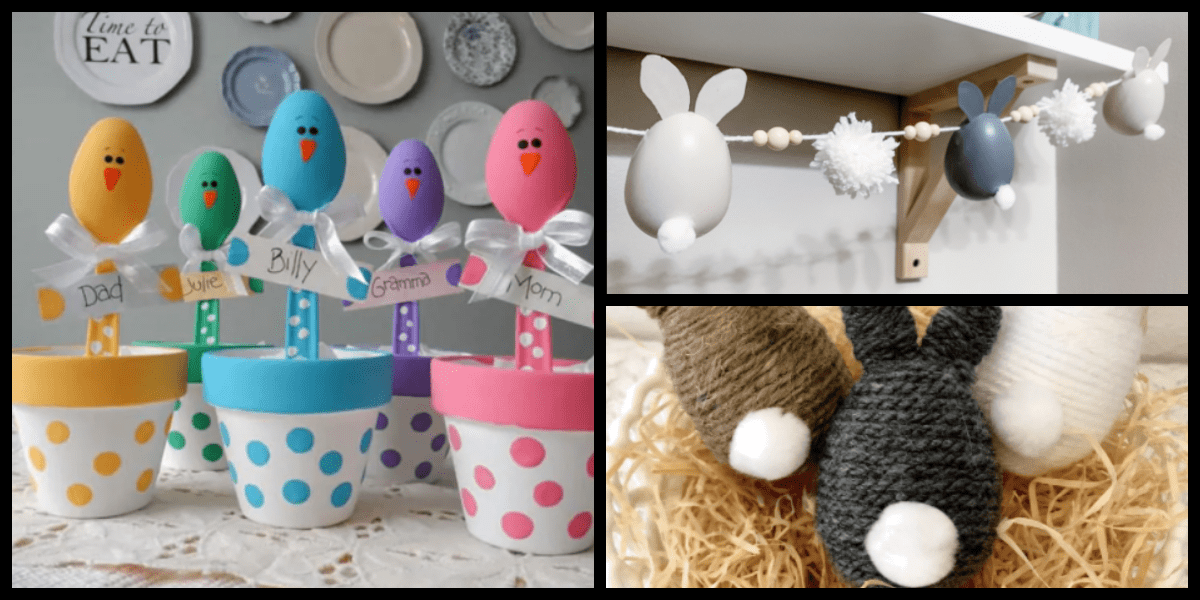 This article was originally published on
morehackz
If you like decorating your home, the holidays are the perfect excuse to go all out! Luckily for you, there are plenty of holidays all year round, which means you can keep your home decorated for as long as you want. The only problem with decorations is that they can be expensive — especially if you want to buy items to celebrate multiple special dates throughout the year. But what if we told you that there's a simple way of saving money and still getting to decorate your home in a lovely way? Dollar stores are the go-to place for those who want to decorate their houses for the holidays and still save some money along the way. We are certain that there must be at least half a dozen dollar stores in your city — so take some time to visit them and buy cheap decorations for Easter. In case you don't know exactly what to do, don't worry; we're here to help! Here are 45 dollar store Easter decoration tips to help save some money!
Reuse decorations
One of the easiest ways to save money when decorating your home is by reusing those decorative pieces you probably have stored somewhere. Then, all you have to do is stop by the dollar store and get the perfect ornaments to update the decorative piece!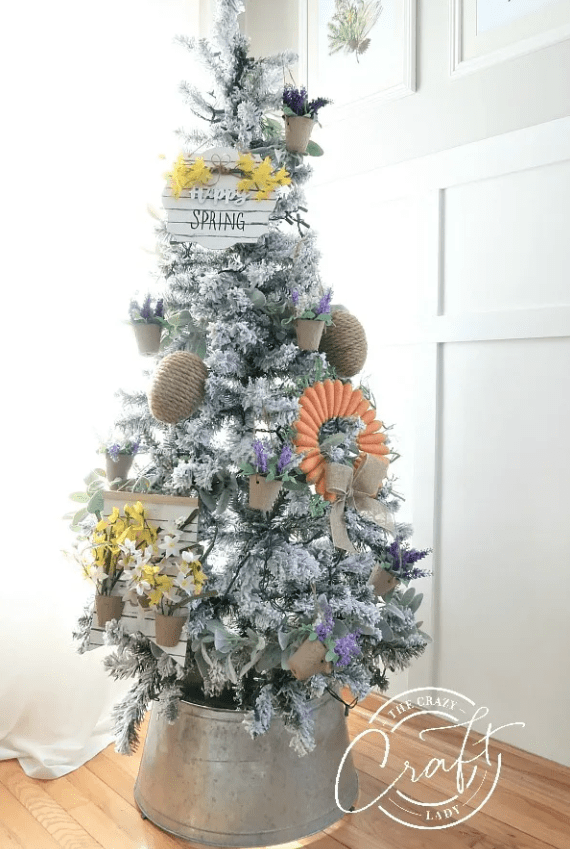 You probably have an old Christmas tree hiding in your basement. Instead of throwing it away, clean it up, redecorate it, and turn it into an easter tree instead! It'll make an excellent centerpiece for your table or kitchen counter.
Simple yet beautiful
One of the easiest ways to decorate a house (any time of the year) is by putting up wreaths on the doors. Wreaths are a fan-favorite decoration piece because they are some of the most practical items ever and can be placed in any home.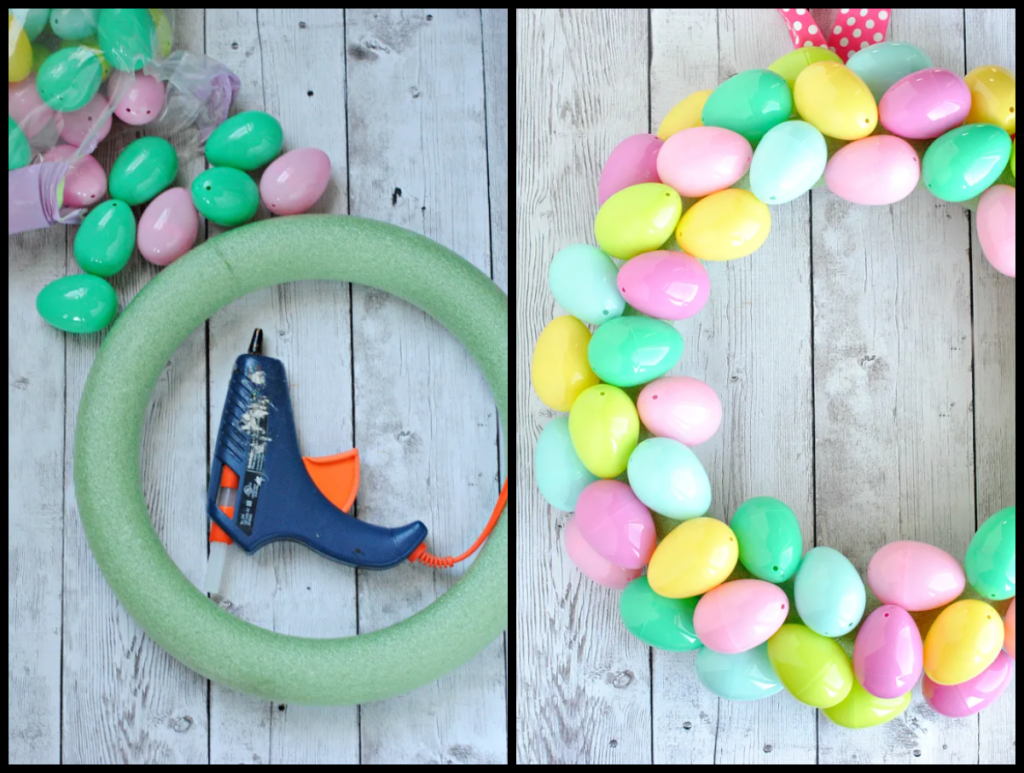 If you stop by a dollar store, you can easily find a bunch of these plastic Easter eggs. All you have to do to turn them into a beautiful wreath is use some glue and stick them to looped pool noodle, as can see in the picture. Pretty easy, right?
Other Easter eggs
In case you don't want to turn the dollar store Easter eggs into a wreath for your door, here is another idea for you. This one is going to take a bit more time and dedication, but the final result is definitely worth it!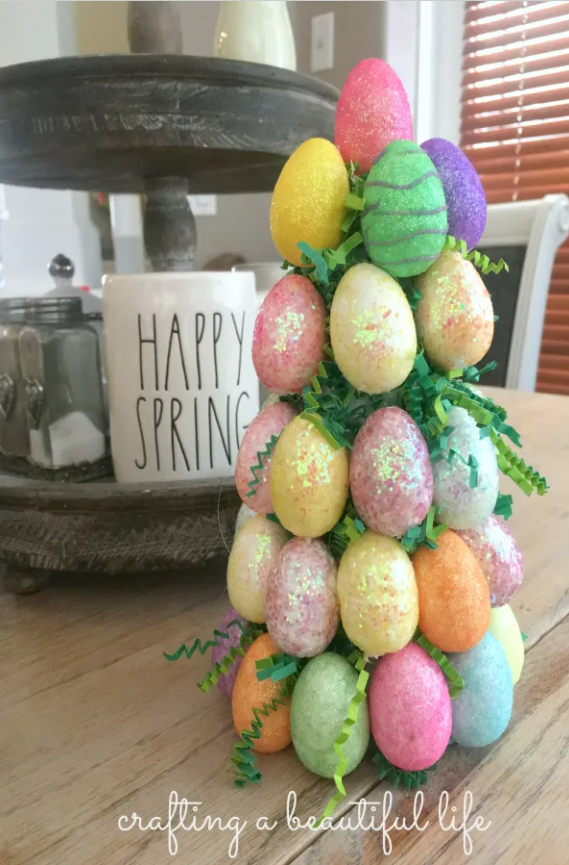 As we mentioned before, you can find several different types of Easter eggs in dollar stores. Instead of getting plain plastic ones, you can purchase glittery Easter eggs like those in the picture. Instead of gluing the eggs into a wreath, you can make a beautiful topiary to decorate your coffee table!
Turn random objects into decoration
Do you feel like getting creative with your Easter decoration this year? Instead of buying plastic Easter eggs to turn into pieces of decoration, you can innovate and use random objects to make your home look more festive. Here's an idea:
At stores like Dollar Tree, you can purchase hula hoops for just $1. Just paint them a pastel color (Easter is associated with lighter tones) and add some plastic flowers and leaves to the hula hoop. Once you do that, you'll have a beautiful decoration piece to bring more festiveness into your living room!
Mason Jars
Mason jars are multipurpose glasses and can be used for more than just a drinking glass or storing dry goods. One of the best ways to use mason jars is to turn them into pieces of decoration for your house.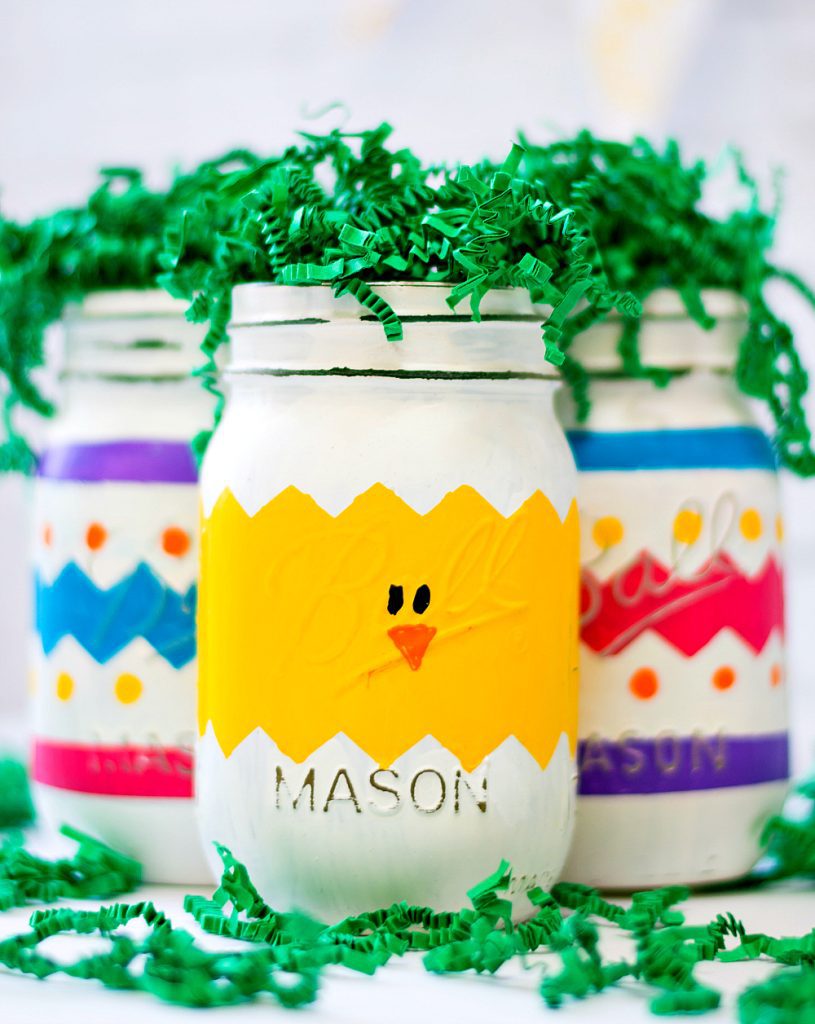 If you don't have any mason jars at home (or if you need to get some more), stop by the nearest dollar store and get a few of these multipurpose glasses for as low as $1.25. Then, all you have to do is buy some paint and brushes and decorate the jars however you want!
Simple Robin's Egg
Decorating the house for the holidays is a great thing, but not everybody has the time to do that. If you are one of the people who only have a handful of hours available to decorate a house, this tip will be quite helpful.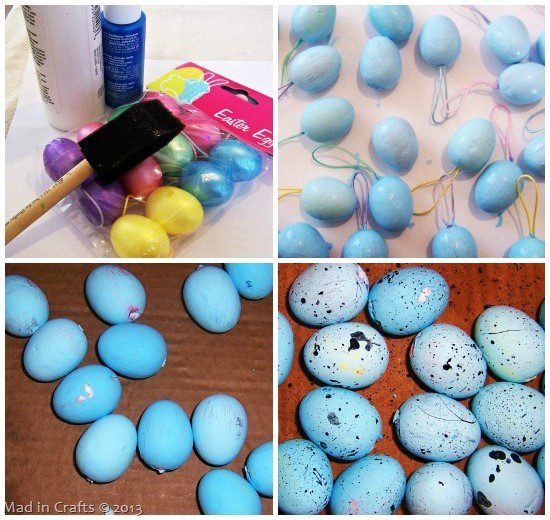 If you want to spruce up the traditional Easter eggs, but don't have time for a full crafts project, stop at a dollar store on the way home from work and get plastic eggs and paint. Paint them as you see in the picture; with a splash of black, the eggs are transformed into unique decorative pieces.
More Mason Jars
Most of the items that we have shown you in this article thus far are pretty versatile. This means that, if you don't like the particular way that it was decorated, you can always tweak the design to whatever speaks to you.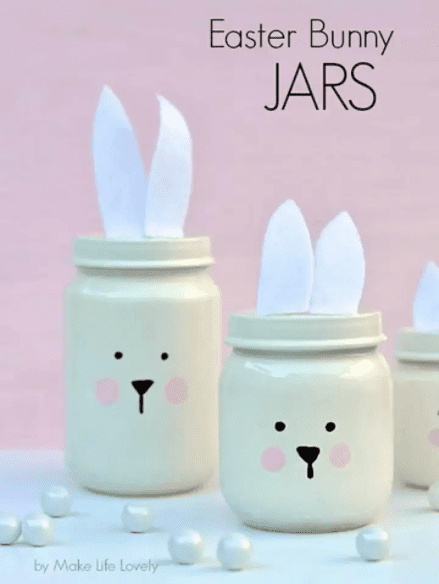 For instance, if you didn't quite enjoy the way of decorating mason jars that we just presented, here's another way. Instead of simply painting them, you can go the extra mile and decorate the jars to look like Easter bunnies. We are sure that your children will love it!
A fancier decoration
If you are planning to hosts guests for an Easter celebration, you may want to have some impressive decorations. If you're hosting a more mature crowd, you can choose to keep things simple yet heartwarming, or you can take things up a notch.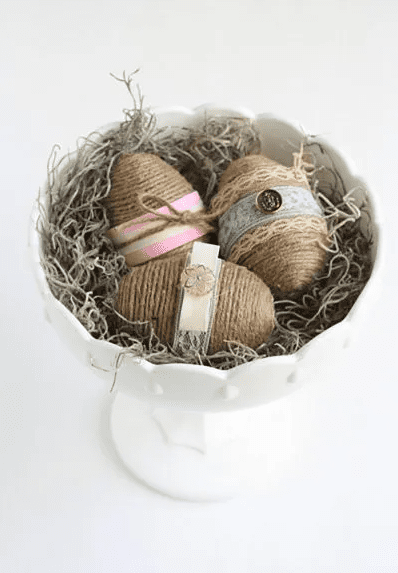 As you can see in the picture, these Easter eggs look slightly fancier than the other ones we've shown you up until now. The best part about these eggs is that they're inexpensive to make. All you'll need for this are plastic eggs, burlap, and cute ribbons.
Going the extra mile with the wreaths
We mentioned before that wreaths are quite popular decoration pieces, no matter the time of the year. That's because these pieces of decoration are relatively easy to make, and they add a festive feel to any room of the house.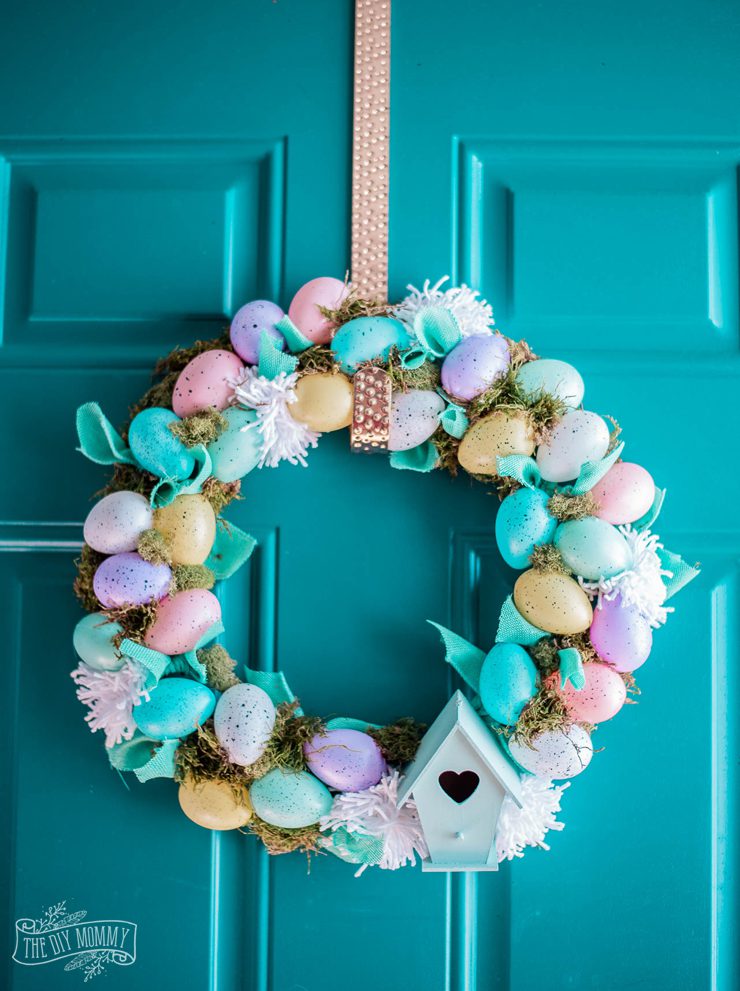 You can upgrade your wreath or make it more mature, like the one above. Using the speckled eggs for your door wreath instantly transforms any wreath into a fancy decoration. And you can rest assured that you won't spend more than $10 to make this beautiful Easter wreath!
Keep it simple
One of the most important things to keep in mind when decorating your house for any other holiday is that, sometimes, keeping things simple is more than enough. You should never feel pressured to go all out just because your neighbor is flashing bright decorations on their front porch.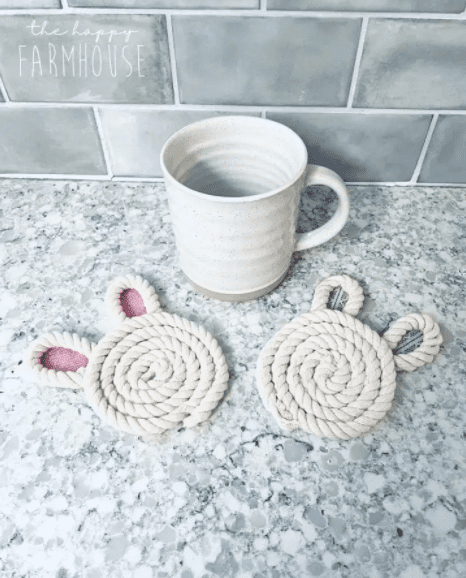 Instead of buying expensive decorations that will be taken down after a few days, you can always stop by a dollar store and purchase decorative coasters like the ones in the picture. They're cheap, dependable, and work wonders in making your home feel festive during Easter!
Using different elements at the same time
While our article focuses on sharing Easter decorations that can be easily purchased at any dollar store, you can also use items you already have at home to decorate for the holidays. To make things even better, you can combine the items you already own with new items!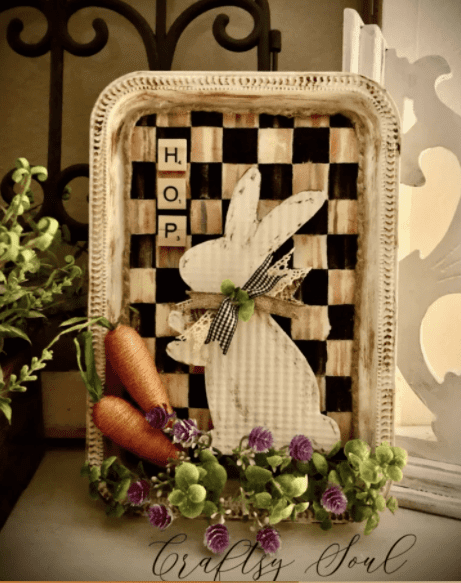 For this beautiful piece, you can use an aluminum foil trail and decorate it with real carrots and flowers. To make the bunny, all you'll need is a piece of cardboard. And the Scrabble blocks are the cherry on top, and you can use them to spell Easter-related words.
Clothespins
We all know that clothespins are useful for many reasons, not just to hang our clothes to dry. While these items are perfect to be used in the kitchen (to help close a bag of flour, for instance), they can also be used to decorate the house for the holidays!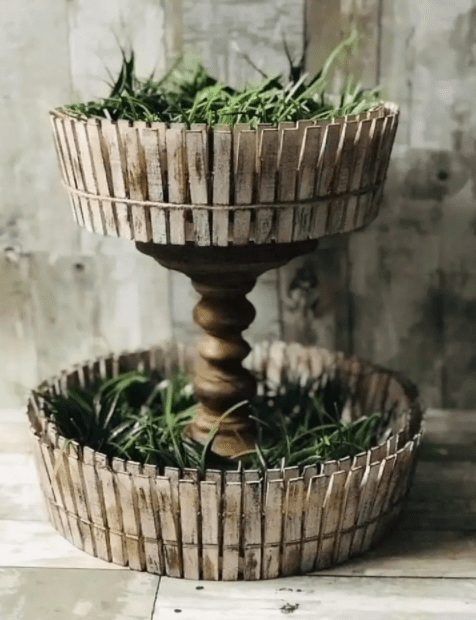 While this centerpiece looks fairly fancy, it was built entirely out of dollar store items. The candleholder was bought for less than $2, and the clothespins are either inexpensive or free, depending on whether or not you have some at home already.
Ready-made decorations
If you don't have the talent and/or patience that it takes to make extravagant decorations, you can always rely on simple yet meaningful decorations. And don't feel ashamed of it! Flamboyant decorations don't necessarily mean that one is more passionate about the holidays.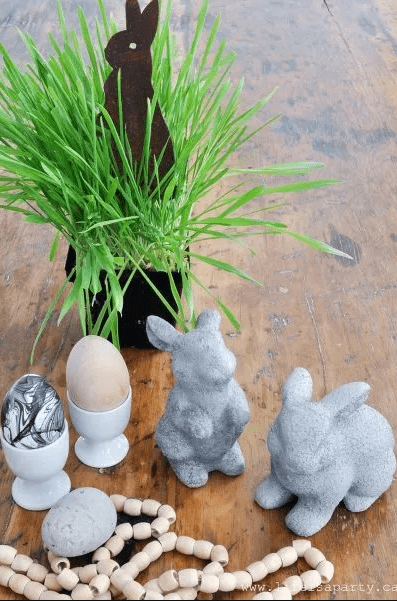 If you want, you don't even have to do anything yourself. Like most stores, dollar stores have a seasonal section where you can buy items for the holidays. You'll find decorated Easter eggs and other items like Easter bunnies ready for you to buy and put up at your house!
Centerpieces
Centerpieces are one of the easiest pieces of decoration that you can have during any holiday. Most people already have a centerpiece in their living room, so all you have to do is add a little something extra to make it festive.
For this adorable centerpiece, you will have to buy a candleholder and turn it into a topiary using cardboard. Then, get a bag of plastic Easter eggs and glue them all on the topiary, and you'll have a beautiful centerpiece to display!
Mixing different passions in one item.
If you are looking up Easter decorations, that means you like this holiday enough to want to decorate your house for the date. In this case, you'll probably like this next idea. Have you thought about mixing different passions into one piece of decoration?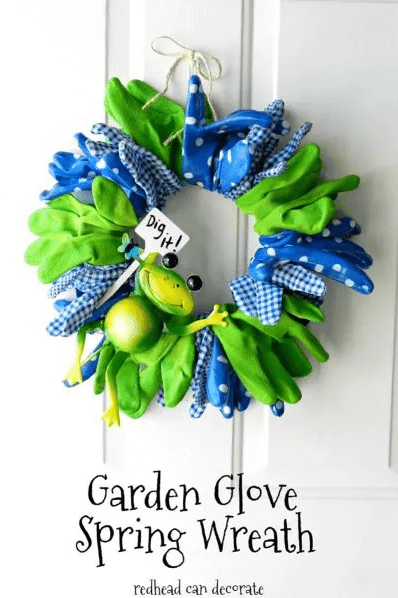 As you can see in the picture, this decorative piece is a way that this person found to show off their passion for gardening and Spring. If you don't want to ruin your own supplies, such as gluing gloves, you can purchase some wreath materials at the dollar store.
Raising the bar
Up until now, we have shown you relatively easy decorations that you can buy at any dollar store. However, we know that, for some people, simple decorations just don't cut it. If you are one of these people and you want to decorate your house in a fancy way, you will love this next idea.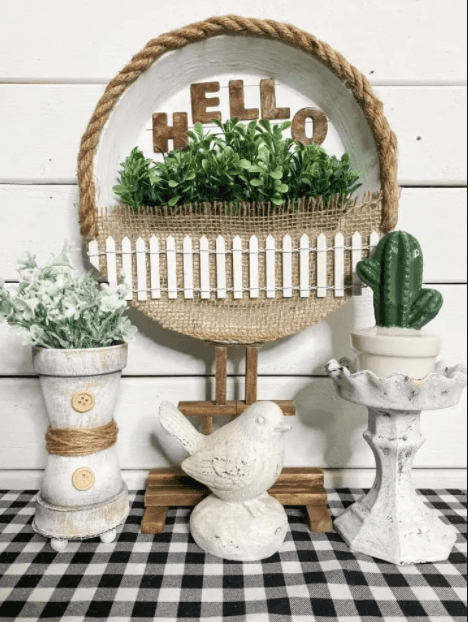 While these may look like expensive decorations, this person bought all of those items at a dollar store. It's not easy to find such impressive items at these stores, but if you search hard enough, you'll get to decorate your house just like this!
Yarn
There is so much that you can do with yarn, not just crocheting or knitting. It's an excellent material for decorations for Easter. Stop by a dollar store, get a couple of yarn balls and get ready to craft some cute decorations!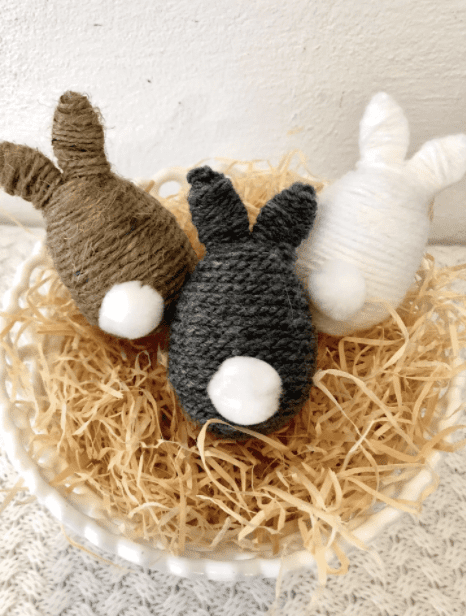 Even if you're not a crochet expert, you can try to make these adorable Easter egg bunnies. The good news is that there are plenty of videos on YouTube teaching you exactly how to make one of these. You won't want to miss out, right?
Portraits and picture frames
Overall, when the topic at hand is decoration, there are a few items that we immediately think of. For instance, a flower vase is a common decoration piece. If you put flowers in a vase and place it anywhere in your house, it will give your home a lovely feel.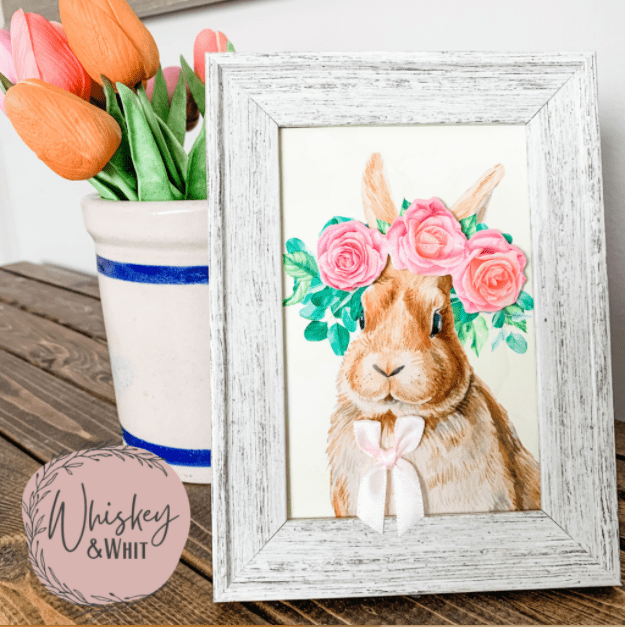 When decorating the house for Easter, you don't have to worry too much. Stop by the dollar store and grab one of these Easter bunny portraits. Then, place it next to those flowers already on the coffee table. It's not a lot, but it's enough to make your house more festive this year!
If you don't want a portrait, then put up a canvas!
In case you thought that the previous decoration idea was too simple or you want to get more crafty, you will probably like this one instead. Are portraits that can be put up on a table not big enough to express how much you like Easter?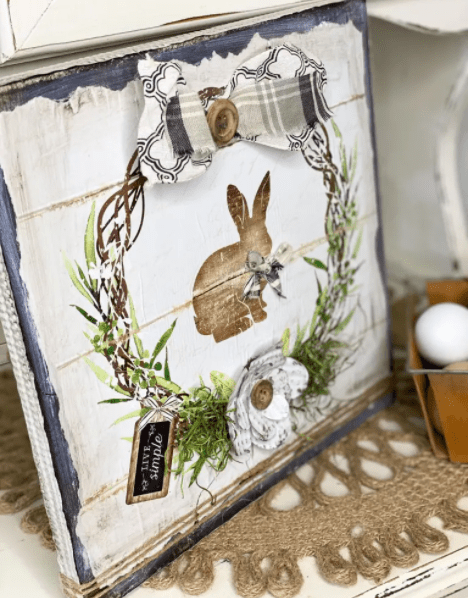 Well, instead of settling down for a painting in a portrait, you can always buy an empty canvas and turn it into a beautiful display like this one. The material you'll need to follow this tutorial can be purchased at most dollar stores for less than $20!
Reusing decorations from other holidays, part two
Remember the very first idea we presented to you in this article? We suggested that you can always reuse decorations from other holidays and adapt them for Easter. If you liked that idea, here goes a different way to reuse Christmas decor: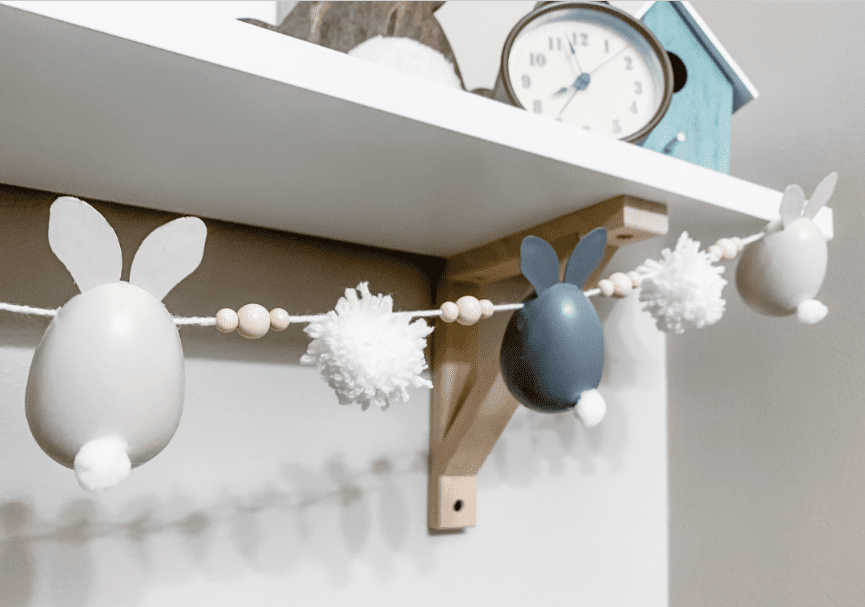 You can reuse garland from December, but instead of putting up pine cones or other Christmas-y items, now you can hang items like Easter bunnies or eggs. If you followed our idea to craft yarn Easter bunnies, you could even put them on the garland!
Welcome Spring in style
Easter and Spring are basically a two-for-one deal — and we simply love that! In case you don't want to decorate your house specifically for the holiday, you can still find ways to decorate it for the whole season. Here's an example of how to do that: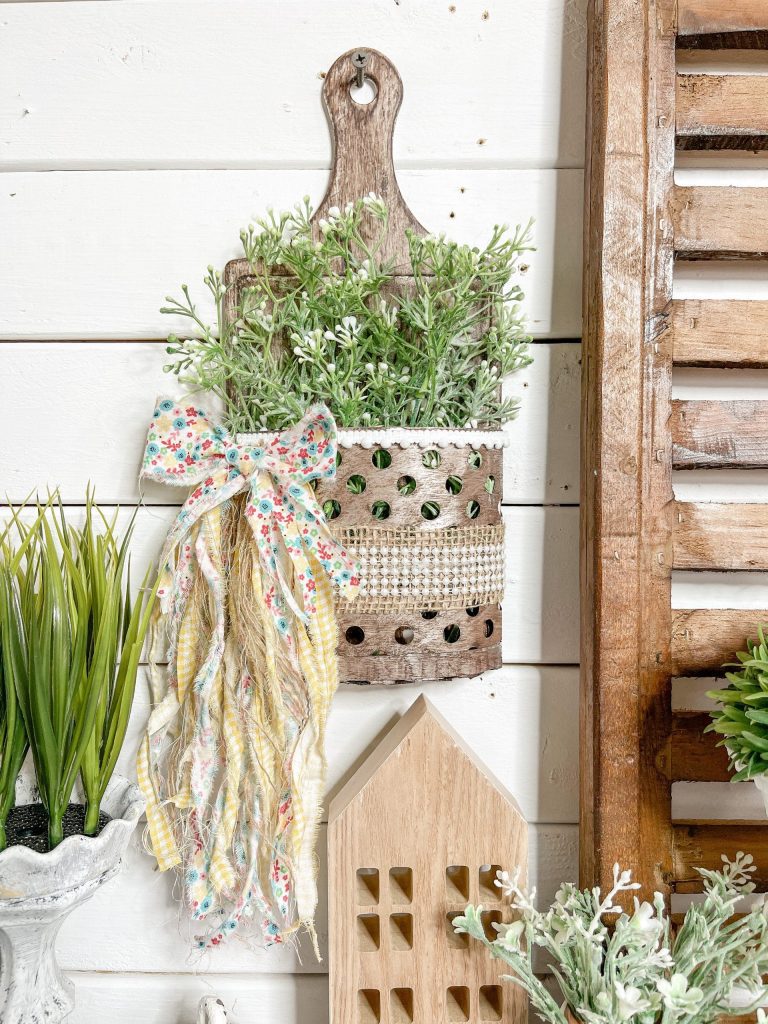 This person stopped by a dollar store, and instead of going for seasonal decorations for Easter, they decided to get other items. The plants, the ribbon, and the wall frame were reasonably cheap, and they gave this person's house the perfect Spring vibes.
Door hangers instead of wreaths
In case you are one of those people who don't like wreaths or think they have been overused already, here's another idea for you. Instead of hanging a wreath, you can take a different route and put up a door hanger like this: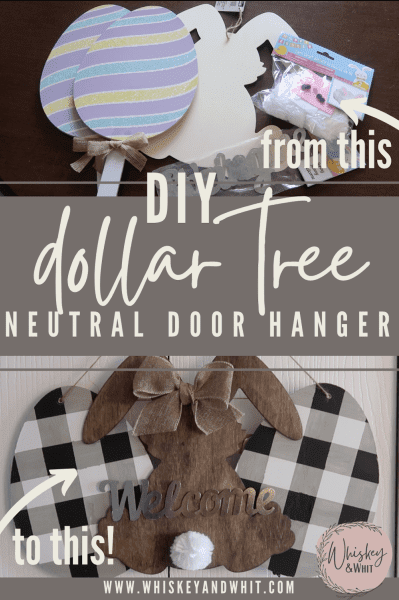 You can easily purchase the bunny frame at any dollar store and simply glue it to a door hanger. This way, you'll turn all the door hangers you have at home into Easter door hangers — and you won't even spend $10 on all the material!
Outside decoration is a must!
Spring is one of the best seasons to spend time outside, and you're going to enjoy this time even more if you decorate the outdoor area of your house. If you don't have a lot of space available, don't worry!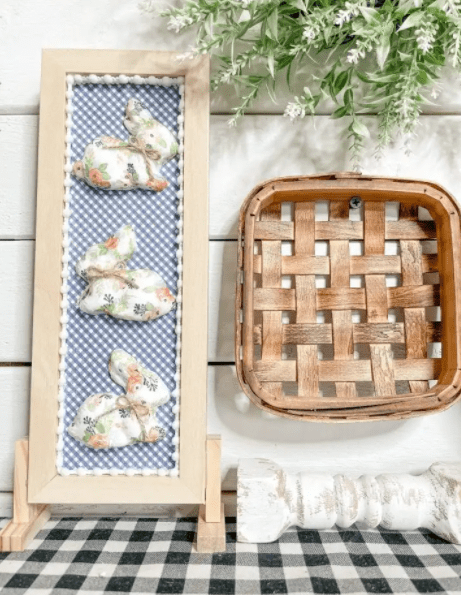 All you need is a table where you can put these items and a couple of nails to hang the basket on the wall. And the best part is that, as fancy as these items may look, you can find all of them (or very similar products) at dollar stores!
Decorate eggs however you want to
One of the best aspects of Easter decoration is that you have many options to decorate your house. If you want to use plain plastic Easter eggs, you can buy them anywhere. If you want to take things a step further, buy glittery Easter eggs. Or…you can decorate the eggs however you want!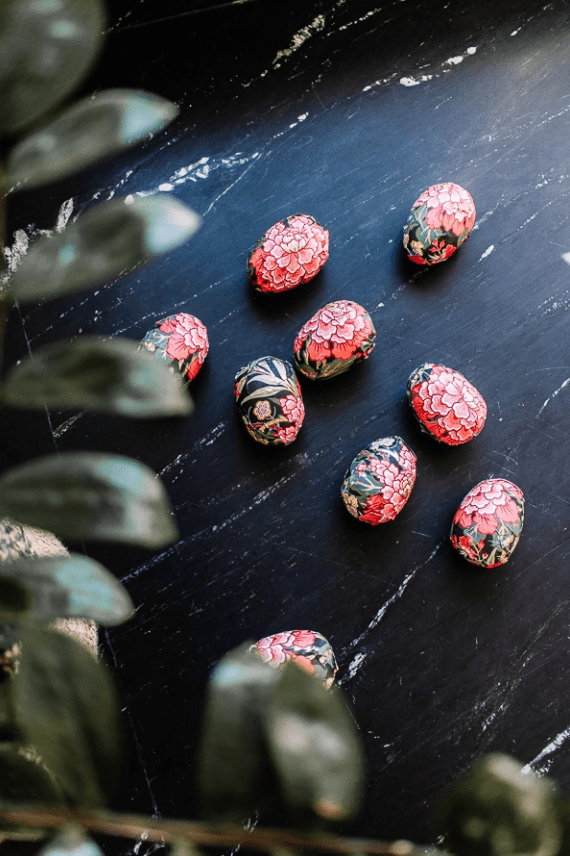 All those plastic Easter eggs in the picture were bought at a dollar store. They didn't look like that originally, so this person bought decoupage paper as well. Then, they just decorated the eggs using decoupage paper — and the result is amazing!
Keep it simple
We said it before, and we're going to say it again — keeping things simple is not a bad thing at all. You don't have to go all out just because your neighbors are doing so. If you want, you can just hang a wreath like this one: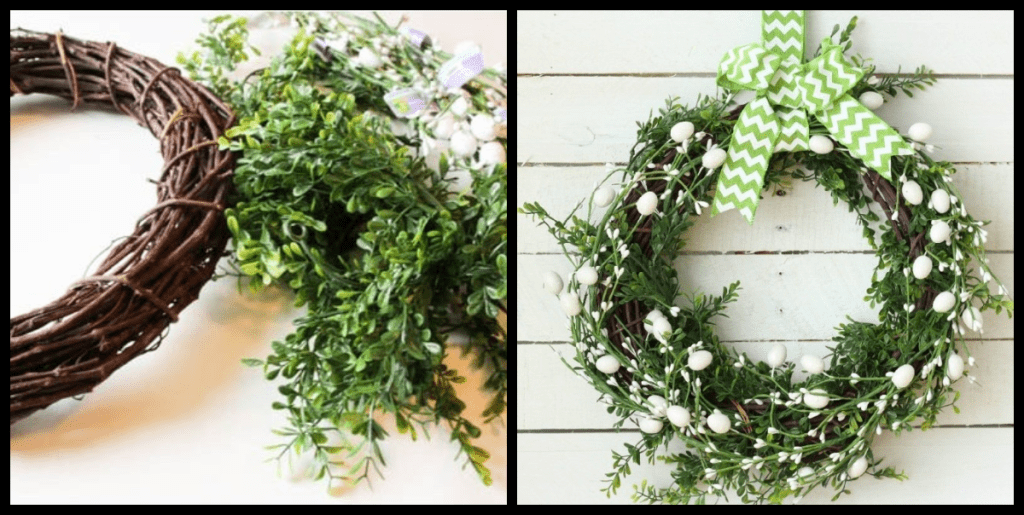 Hanging this wreath on your front door won't take a lot of your time, nor will it take a lot of your money. Plus, it'll give your house Spring (and Easter) vibes, which is precisely what you're going for, right?!
Add small details to your dinner table
If you don't want to spend a lot of time and/or money decorating your house for Easter, you'll certainly love hearing this next idea. Instead of buying a bunch of decorations, what if we told you that adding small details to your table would do it?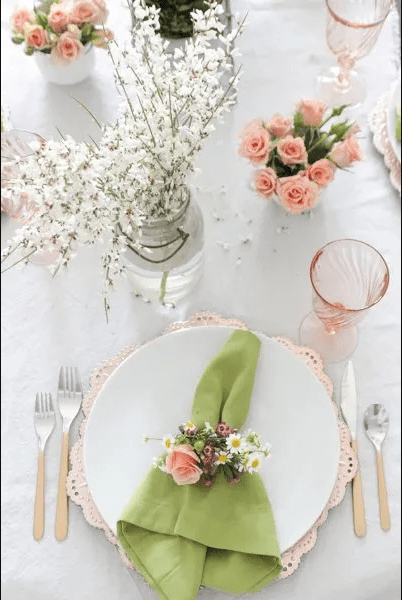 Do you see those beautiful flowers on the jars? And that lovely flower ring around the napkin? Those are the small details we were talking about. You can buy all of that stuff at the nearest dollar store and decorate your table just like this one!
Buffalo check is pretty for this season.
If you visit a dollar store during Easter, you will find plenty of items made specifically for this season. Wooden bunny frames are one of those items, and they are perfect for decorating anyone's house during this time of the year.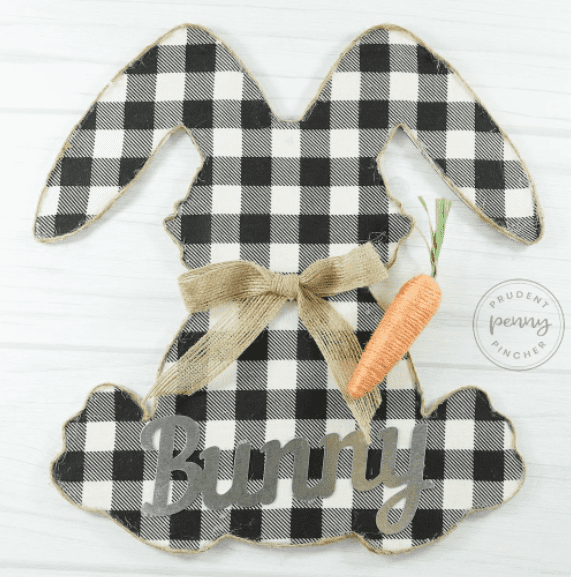 The thing with bunny frames is that they usually come in plain colors — and sometimes they're not decorated at all. Instead of wasting your time painting the bunny, you can simply buy buffalo check fabric and glue it against the frame. Then, cut around the edges, and you'll have a perfect bunny!
A heartfelt piece of decoration
Wreaths can be pretty boring — we have got to admit that. The thing with these items is that you can add something to them and decorate them to fit your preferences. And who said that wreaths need to have that same old circular format?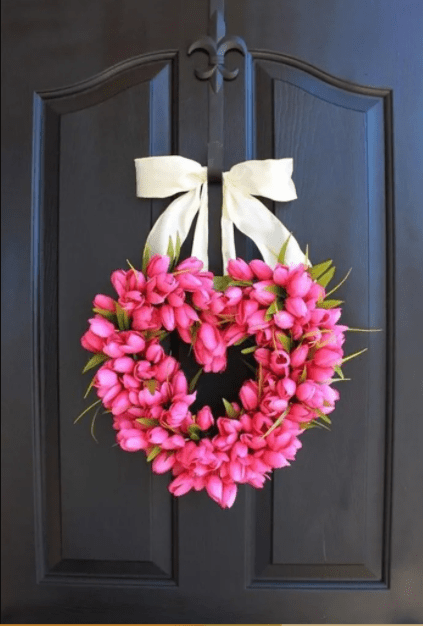 If you have the time to do it, you can try to create your own wreath and follow this beautiful example. While it looks kind of hard to pull off, you'll find plenty of tutorials on how to make this heart-shaped wreath. Go for it — you can do it!
Involve your children in the decoration process.
If you have children, you know that one of the best ways to spend quality time with them is by involving the kids in decorating the house for the holidays. Children love crafting things, and they'll sure love creating these beautiful Easter bunnies: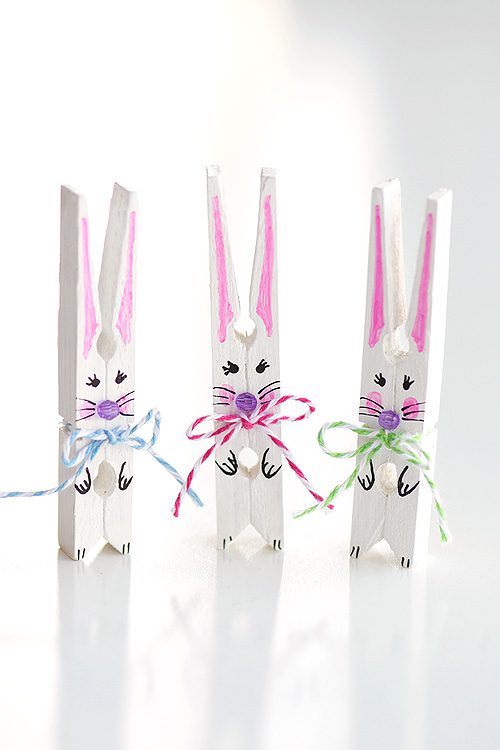 All you need to create bunnies like these ones is paint and clothespins. Maybe you already have these materials at home — or perhaps you'll have to buy them at the nearest dollar store. Either way, it won't take you more than 20 minutes to make a bunch of these. Perfect, right?!
Kitchen Decorations
If you want to decorate every room of your house for Easter, don't skip the kitchen. However, depending on the size of your kitchen, you probably don't want to have a bunch of decorations occupying the space you're going to use for cooking.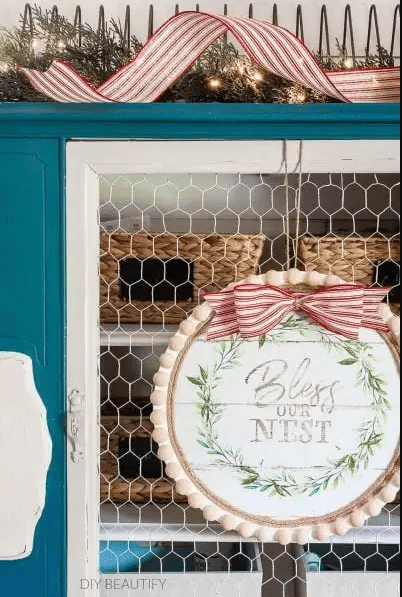 In this case, you can hang the decorations on the wall or maybe glue them against the cabinet doors, as you can see in the picture. All you need for this is a paper platter (a previously decorated one or one that you can decorate yourself), a ribbon, and a thread of yarn.
Table decorations
This next decoration idea is probably the cutest in this article. If you try to do this one at home, everyone is going to love it — especially the children. And, as cute as it is, you don't have to worry about spending too much money or time on it.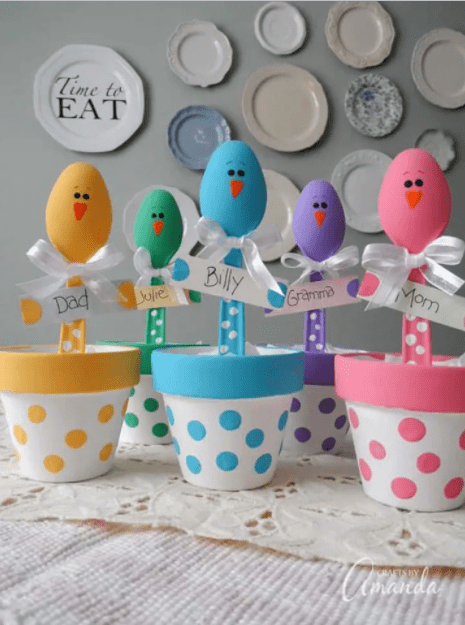 When you stop by a dollar store, buy a bag of plastic spoons, craft sticks, flower pots, paint, and ribbons. Paint the spoons and the pots, then glue the utensils to the pots. You'll spend less than $15 and 15 minutes to make one of these beautiful decorations for your table!
More wreaths
Do you know that simple wreath that we showed you a couple of pictures ago? Well, as we said, you can buy one of those at any dollar store. If you want, you can even buy multiple wreaths and decorate each of them in a different way.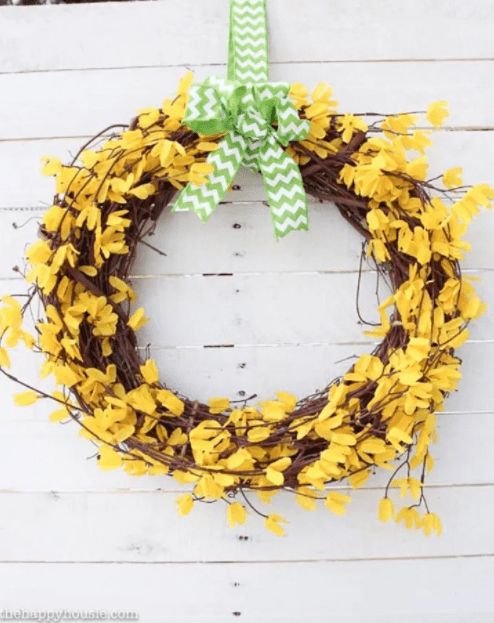 Don't worry — this is not going to be difficult at all. Just buy the wreaths and some props (like flowers and ribbons), and you'll get to decorate the front door with a different Spring-themed wreath every day! And if you have a backdoor, you can decorate all entrances to your home.
Bunny pom poms
If you liked the Easter garland idea that we showed you earlier in this article, you'll be happy to know that there are plenty of different ways to decorate your house using one of these. Here's a simple yet lovely idea: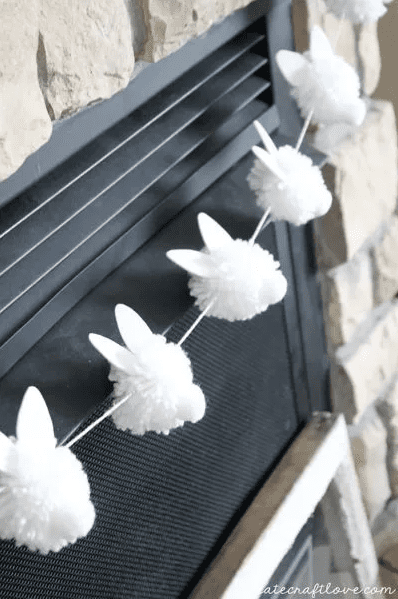 As you can see, there are just three materials that you'll need for this: yarn, pom poms, and paper. You already know that you can get everything at the nearest dollar store — and it's pretty clear that it's not hard to make a garland like this.
Maybe flowers are all you need
There is nothing quite as lovely as decorating our homes with flowers. Even if it's just plastic flowers, they still give a different vibe to the environment around us. Instead of buying a bunch of Easter decorations, you can simply put some flowers in a vase and display them in your house.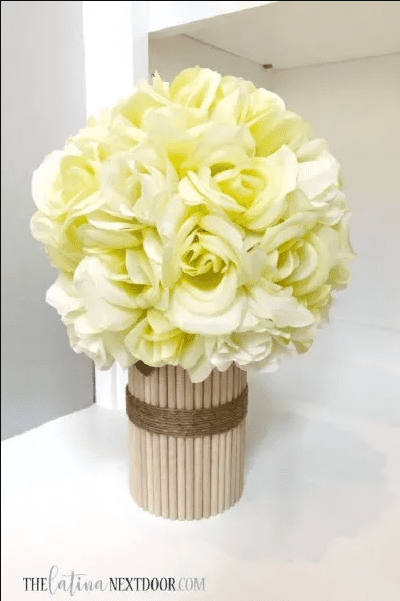 Yes, a single vase of flowers is enough to give your home a Spring-y feel. Just keep in mind that not all flowers will work for this. You have to choose flowers whose color matches the season — and you have to choose a vase that looks like the one in the picture.
Mix it up with the things you like
Let's be honest: most of us love scented candles. And luckily for us, they are so popular these days that we can buy candles of any scent. If you like candles, you can make your candles look pretty for Easter as well.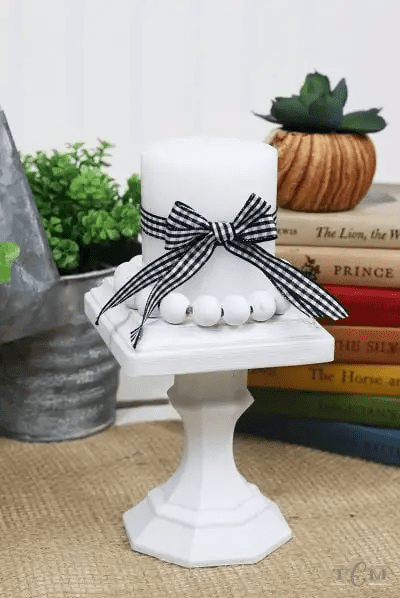 In the picture, we can see how cute this candle looks — and we can also see that it didn't take much to decorate it. Wrap a ribbon around the candle and put it on a candle holder — then you'll have a beautiful decoration for Spring!
Don't use real foods
You probably noticed how some of the decorations we showed you up until here had carrots and other foods on them. In case you don't feel like using real foods to decorate your house for Easter, here's an idea for you: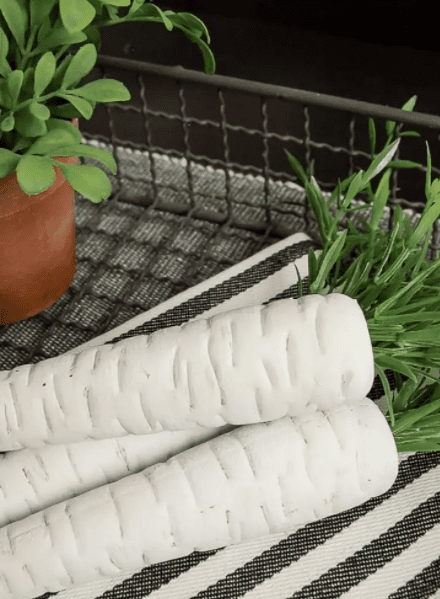 If you stop by a dollar store, you will see that they sell items like the carrots in the picture. While they look real, they're just plastic carrots. You can make them look real by painting them and maybe even carving some lines.
Moss-covered eggs
Spring is the time of new blooms, reminding us of nature, so why not incorporate this essential element into our Easter decorations? If you want to take the first step and add more nature to your house this year, here is a great idea: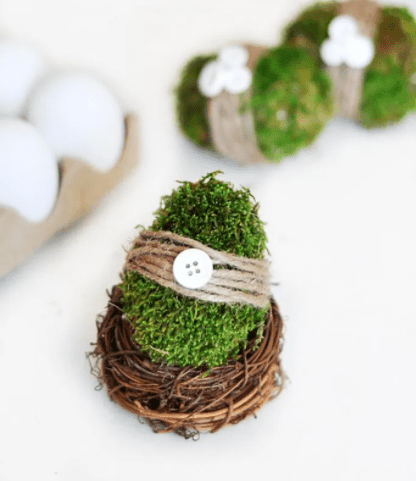 This person's DIY Easter decoration tip is for you to decorate eggs using moss. These moss-covered eggs are super trendy and easy to make. You just have to glue the moss around the egg and then wrap some yarn around it.
Dollar store topiary
One of the best parts of dollar stores is that they have so many items readily available. Whether you'd like to buy food or cleaning supplies or even plants, we bet that the local dollar store in your neighborhood will have everything you need.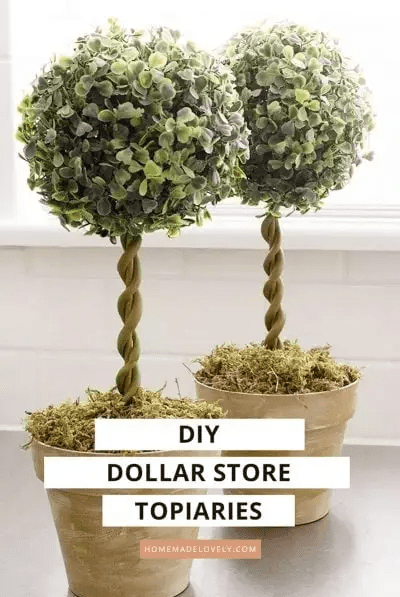 For instance, if you go to a Dollar Tree or Family Dollar store, you'll find these beautiful topiaries. You'll also find these terracotta vases. What is the next step? Put the miniature plant in the vase and maybe wrap a ribbon around it!
Easter bunny jars
If you have children, you know how excited they get over the holidays, especially Easter. The prospect of getting chocolate from the adults? Every child adores this time of the year! And if you have kids and want to make them even happier, maybe try this decoration: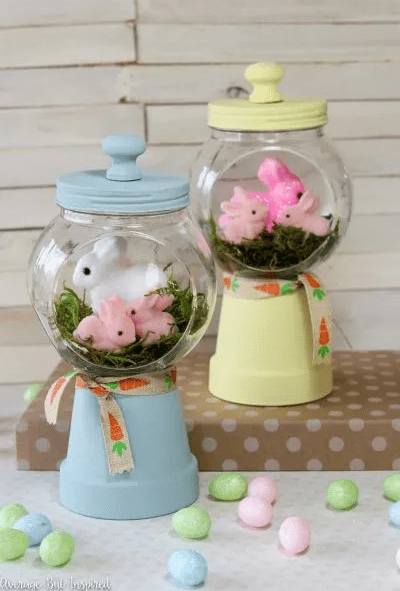 Isn't it the cutest? You can buy all of the required materials at a dollar store, and you won't spend more than $20 on all of them. Perhaps the only thing that you'll need the most for this is time, as you'll need to sit down for a moment to get this decoration looking perfect!
Recycling materials for decorations
If you already visited a dollar store for crafting, you probably still have some materials around the house. In this case, you are probably thinking of reusing them, right? If you have some craft sticks (or popsicle sticks), here's an idea: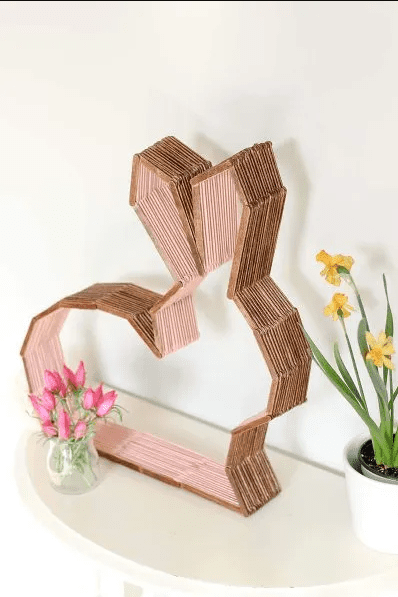 Don't worry — making this popsicle stick Easter bunny is not as hard as it seems. All you need to make this decorative piece are craft sticks and glue. Well, you may also need a little bit of patience, as it takes a while to make one of these!
Turn a blank canvas into art
If you want to take a hands-on approach this year, here's an idea: let's make a beautiful piece of art together. All you need to buy to make this next decoration is a burlap canvas, moss, a permanent marker, and all-purpose glue.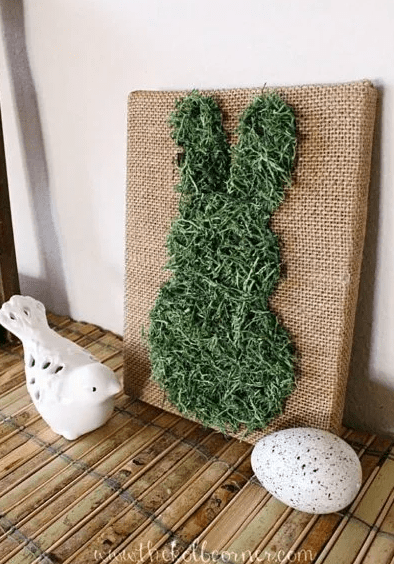 The first thing you need to do is draw the outline of the bunny using a permanent marker. Once you do that, you can spread the glue within the outline and then glue the moss. Pretty easy, right? And the results are amazing!
Make it big!
At the very, very beginning of this article, we showed you how to make an Easter egg wreath. While that first wreath is good enough on its own, you may have thought that it was a tad bit too small.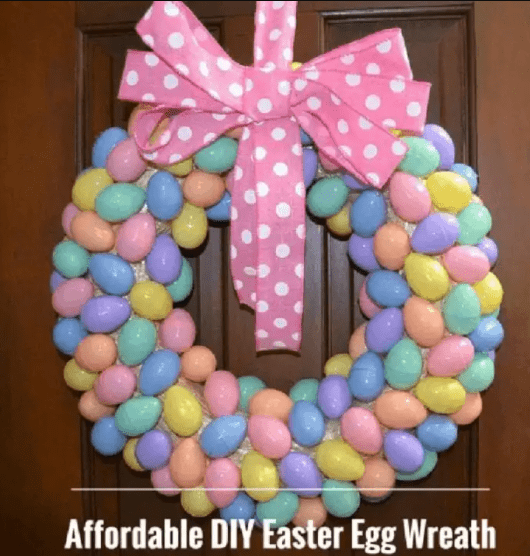 The good news is that you can choose the size of every single decoration piece you're planning on making. If that original Easter egg wreath was just not big enough for you, you can buy even more plastic eggs and make a wreath as big as the one in the picture!
Create stuffed bunny toys for the kids
In case you're throwing an Easter party for the neighborhood children, and you're still trying to figure out what to give them as souvenirs, here's an idea. This DIY stuffed bunny is the perfect gift, though you'll need to dedicate some time to make them.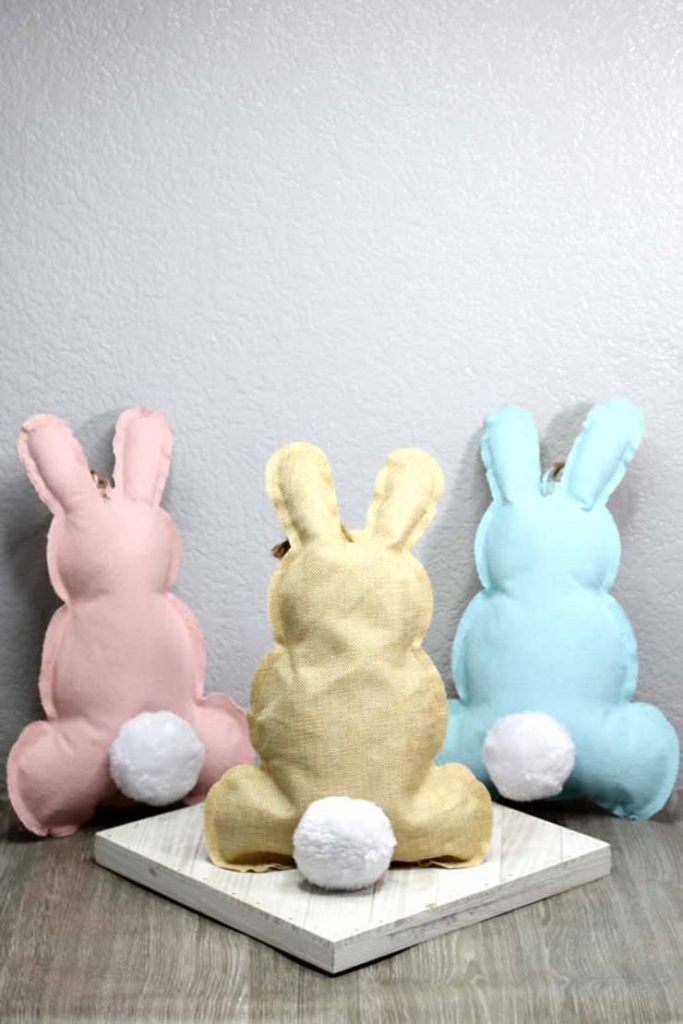 The one thing we want to say is that you are free to choose the type of material you're going to use. You can go with burlap, cotton, polyester — whatever you want! For the stuffing, you can buy mini pom-poms at a dollar store and your bunny will be perfectly fluffy!
Painting the flower pots
Do you already have plenty of flowers and flower vases and pots? In this case, you probably don't want to buy more of these items just to decorate for Easter — but you also probably want to do something to give them a new look, right?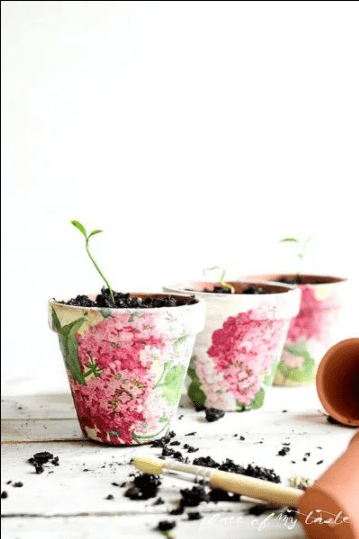 If you want to update how your terracotta flower pots look right now, our suggestion for you is simple: buy the appropriate paint at a dollar store and paint your vases and pots. This is an easy and inexpensive task that will have amazing results!
The cutest centerpiece for Easter
Throughout this article, we have shown you a few different ways to decorate your dining room or living room table. Those centerpieces were admittedly beautiful, but this next one may just be the winner. We're certainly going to try it out. Check it out: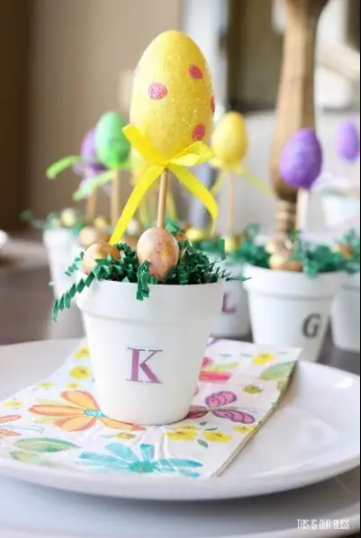 This lovely centerpiece is almost like the perfect mix of elements we've seen already. You have craft sticks, plastic Easter eggs, ribbons, the plant, and the plastic vase. A useful tip is to make one of these for each member of your household and set them up on the dinner table!