Pizza Party With The Stars: 35+ Drool-Worthy Celebrity Pizza Snaps
By Ekhama O August 1, 2023
---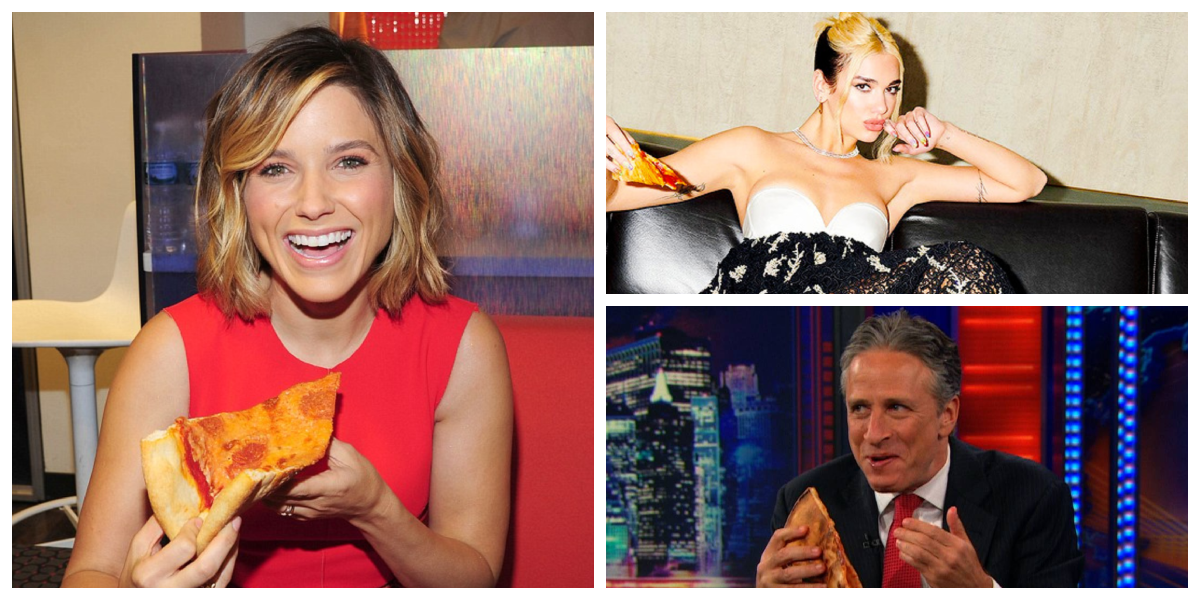 Celebrities are known for living quite extraordinary lives. One of the main reasons for this is that they have to deal with loads of restrictions. From the people they interact with to where they can live, there are infinite things they need to be extra vigilant about.
One of the things we often see celebrities having the most restrictions with is diet. Some go on the most extreme ones to make sure they maintain a preferred weight and body type for things like movie roles and other gigs.
That's why we think it's such a breath of fresh air when we see them loosen up and do stuff like regular folks do, for instance, enjoying a simple slice of pizza, which brings us to today's post. Feast your eyes on these 40 pictures of celebs enjoying their pizza. We hope you've already had lunch!
Dwayne Johnson
We always assume that everything about someone should tally with their size. Smaller people wear smaller clothes, and bigger people automatically wear bigger shoes. That's why we can't judge when we see a big person eating food we couldn't finish in a day in one sitting.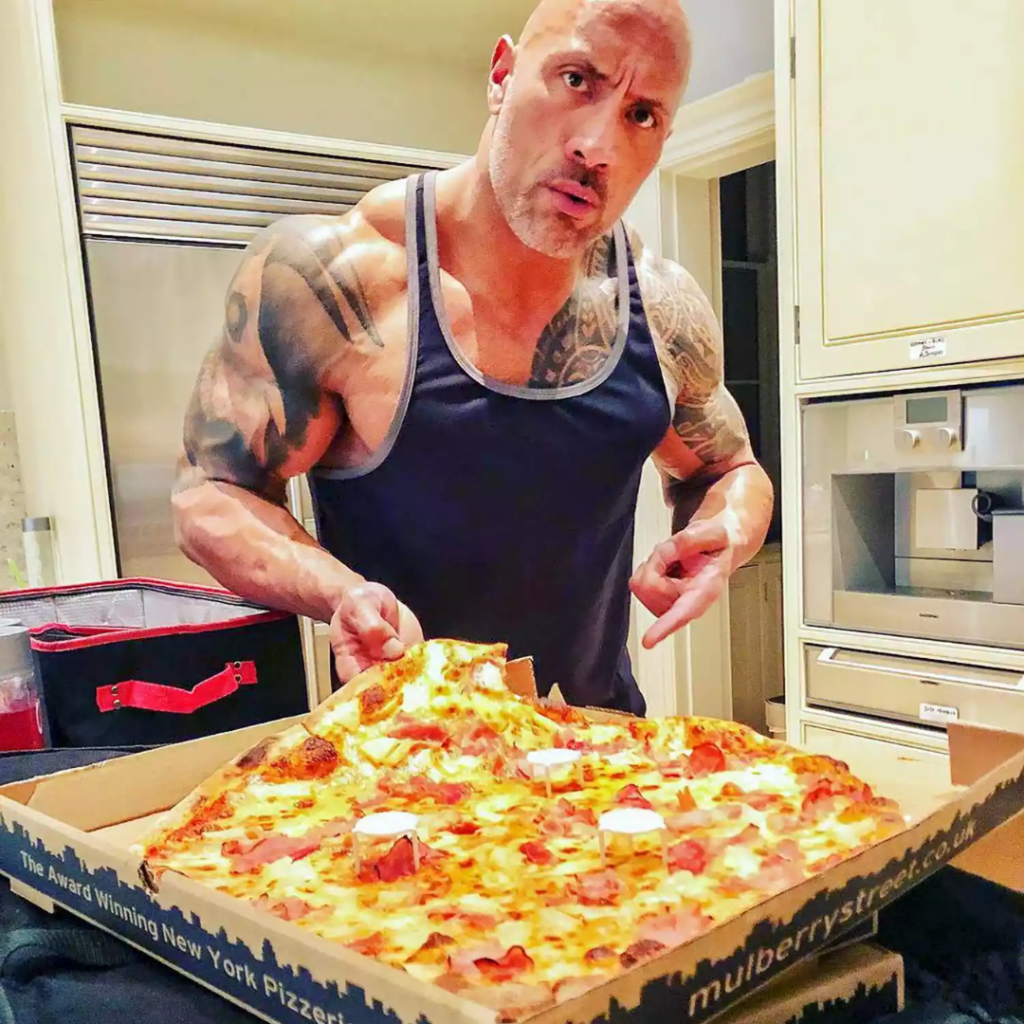 And that is precisely what came to our heads when we saw this picture of the six feet and five inches-tall Dwayne Johnson grabbing a slice from this gigantic box of pizza. Must have been his cheat week or something!
John Legend and Chrissy Teigen
Although everyone has their own opinion, we think the best part about an outing is when we get to dig into our meals. Whether it's date night or a simple gathering with our friends, it's one of the things we look forward to the most.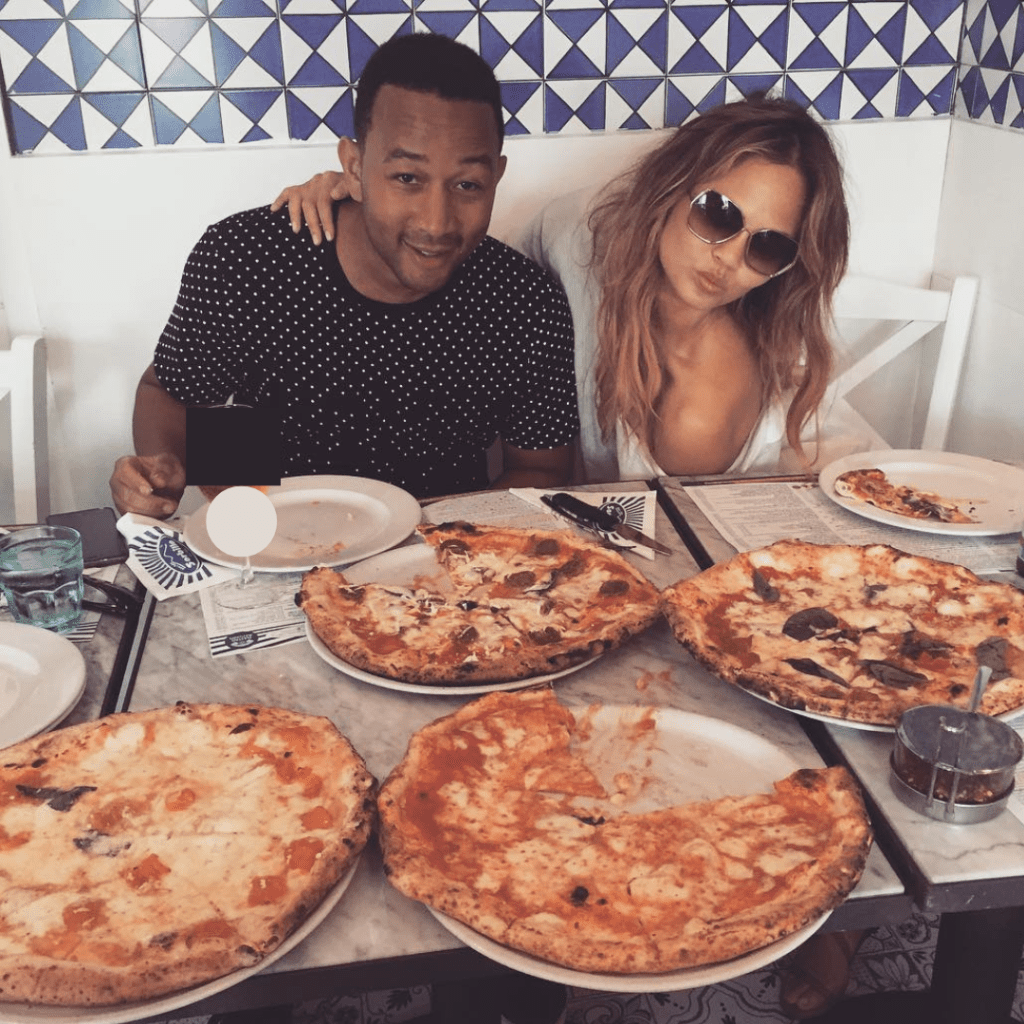 That's why we're super jealous of this pic posted by Chrissy Teigen of her and her hubby, John Legend. The two have the most scrumptious array of pizzas in front of them, and what's more, they were enjoying this in the gorgeous city of Naples!
Barack Obama
We know what you might be wondering, and the answer is yes; some politicians do qualify as celebrities, especially when they happen to be the 44th President of the United States of America. This guy is arguably one of the most beloved leaders of the current era.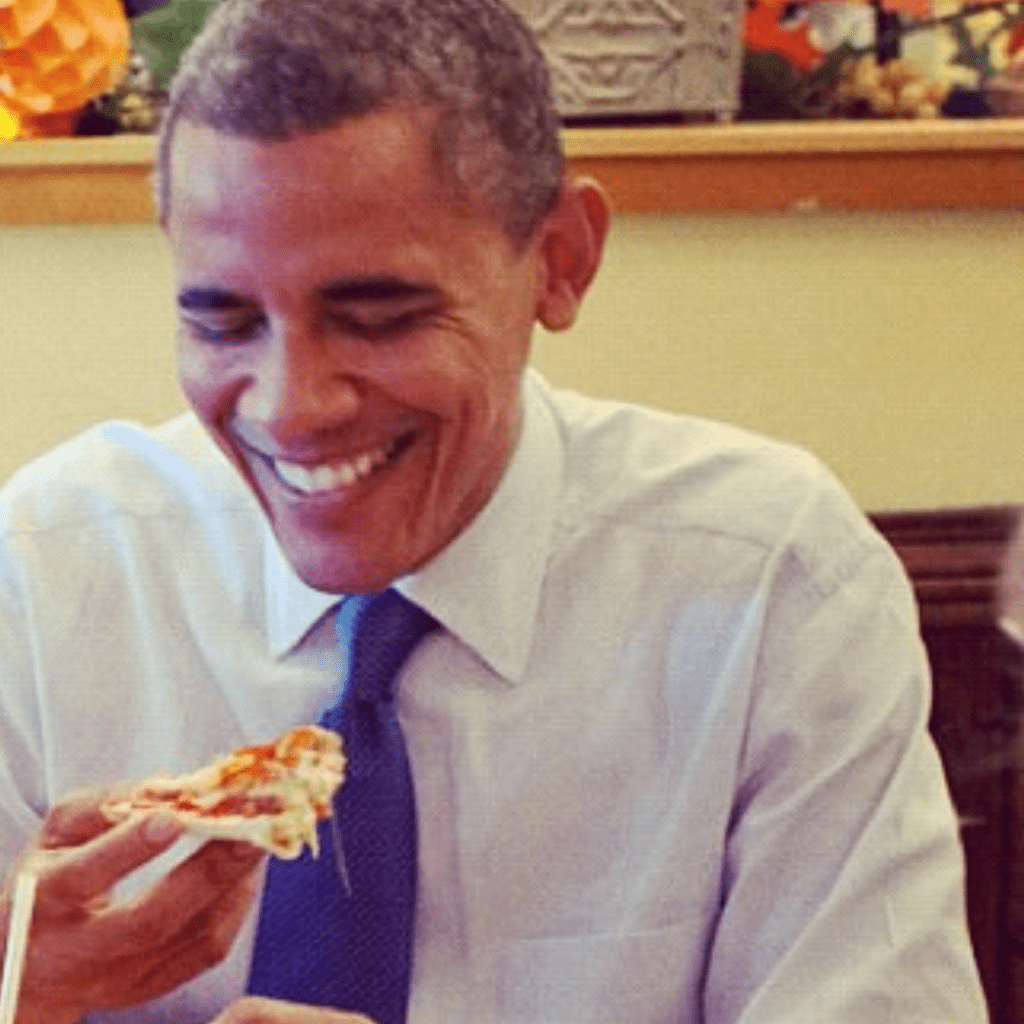 The former POTUS was enjoying his lunch break downtown in Davenport, Iowa when he got this pic taken. When you have a whole country to run, a refuel now and then is much needed, and that's precisely what Barack was doing.
Ellen Degeneres and Martin Scorsese
The craziest stuff in the entertainment industry happens on award nights. From Nicki Minaj calling out Miley Cyrus to the whole Kanye West and Taylor Swift debacle and who could ever forget the momentous Will Smith Oscar slap to Chris Rock, a lot of crazy goes on.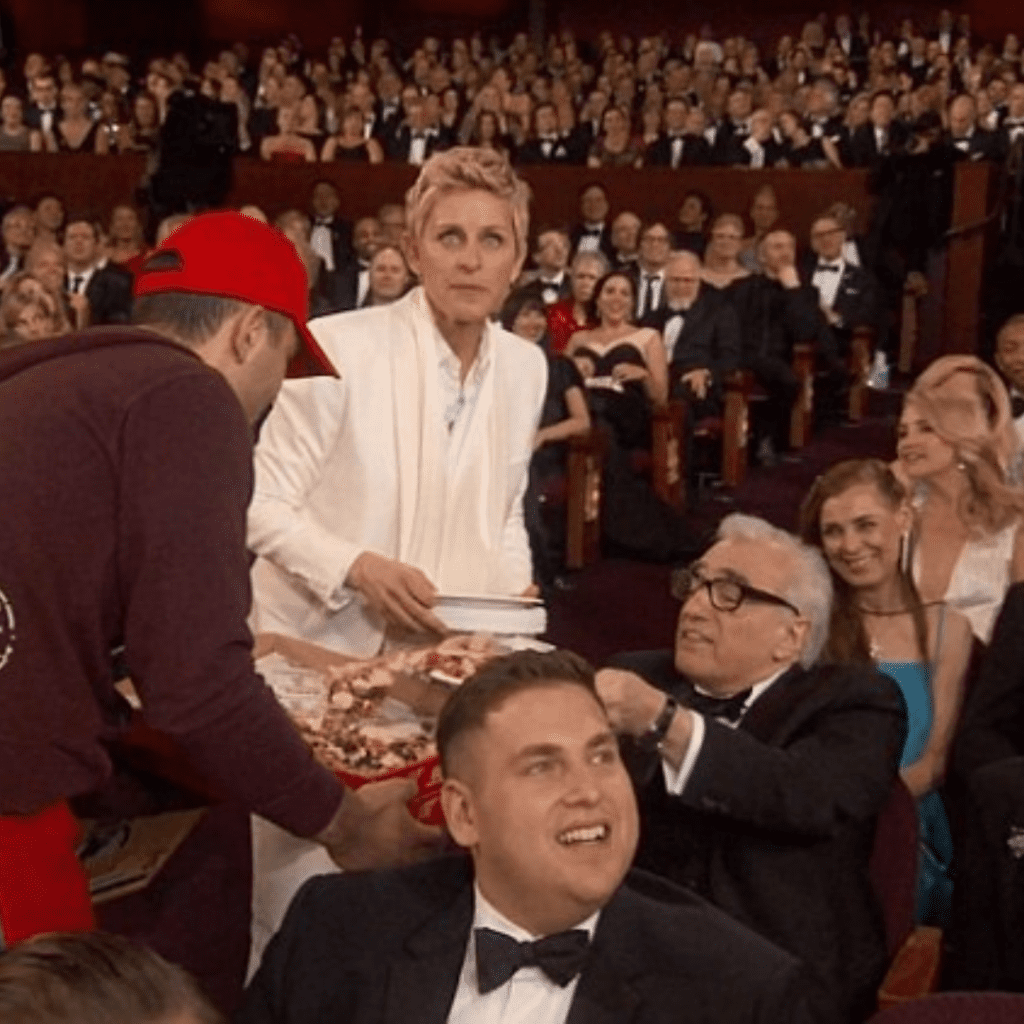 Speaking of The Academy, one insane experience that happened was in the fateful year Ellen was hosting. The comedian ordered pizza for the crowd of A-listers who, one by one, would grab a slice. The picture above is of her offering a piece to the legendary director Martin Scorsese.
Matt LeBlanc
The most random and unexpected things can be used as a plot device or for character development in film and television productions. This (most likely hilarious) scene with Matt LeBlanc chowing down on a slice of pizza could be either.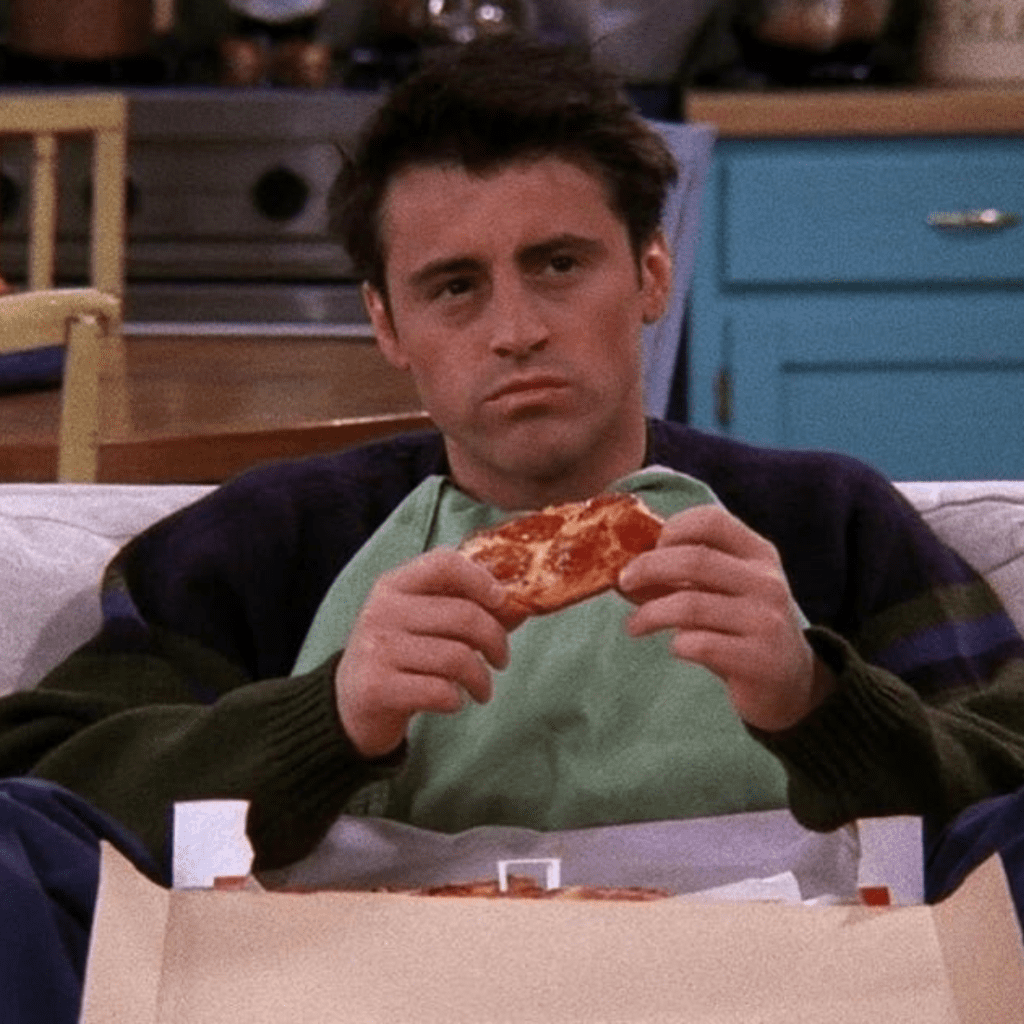 It's from the popular '90s sitcom Friends, in which he stars alongside Lisa Kudrow, Jennifer Aniston, David Schwimmer, Matthew Perry, and Courtney Cox. Though we can't exactly pinpoint what episode this was (Joey ate a lot on the show), we just couldn't leave him out of our list!
Chris Hemsworth
Honestly, who doesn't love to indulge a little? We don't know about most of the other celebs on this list or even you guys but the Australian actor and Thor star, Chris Hemsworth, does, and he isn't ashamed of it in the least.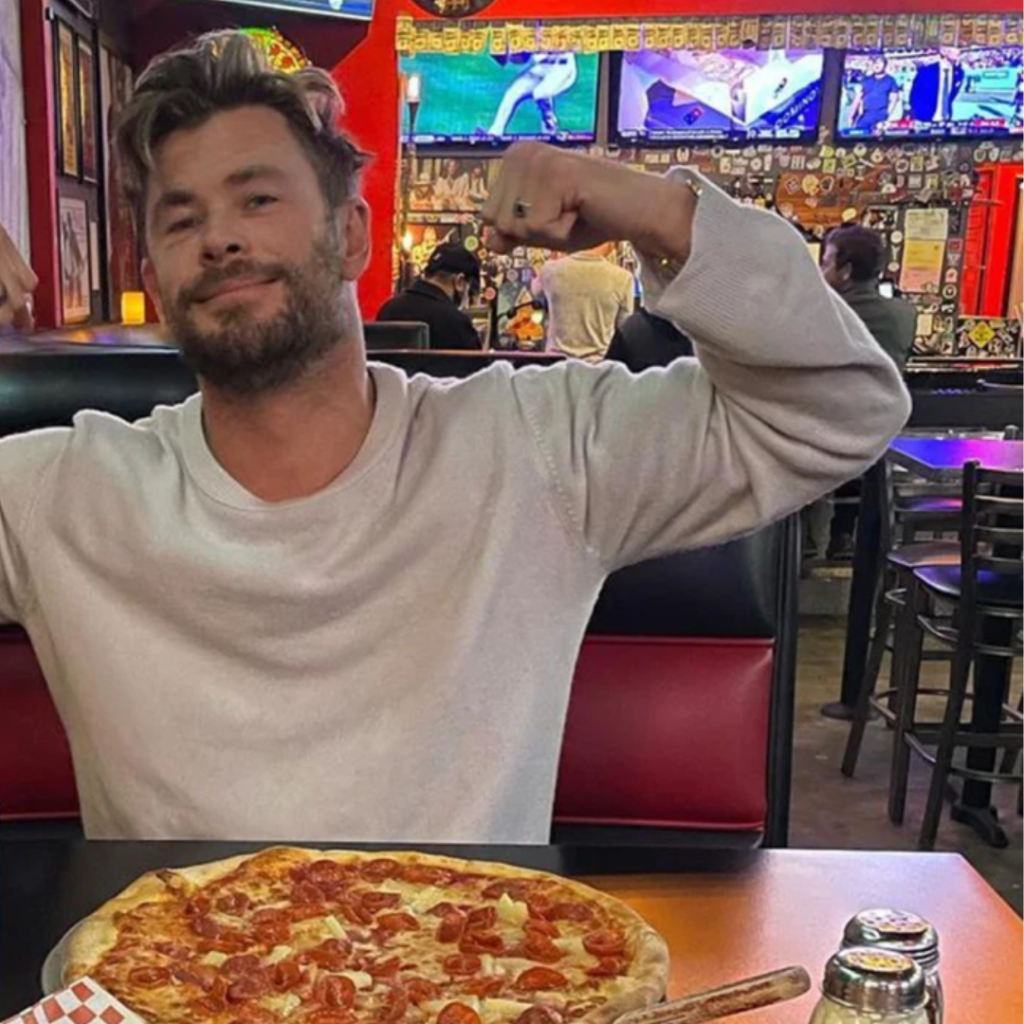 This picture was taken sometime in 2021 when the actor was in America. The pizza wasn't even the only thing on that table; he had enough junk food there to feed a whole village for a week! We love a celeb who likes letting loose.
Julia Roberts and Meryl Streep
Remember what we said about Ellen hosting the Oscars when she ordered some pizza? Well, Martin Scorsese was not the only one who wanted a bite. Loads of other A-listers were just as hungry for the treat as he was!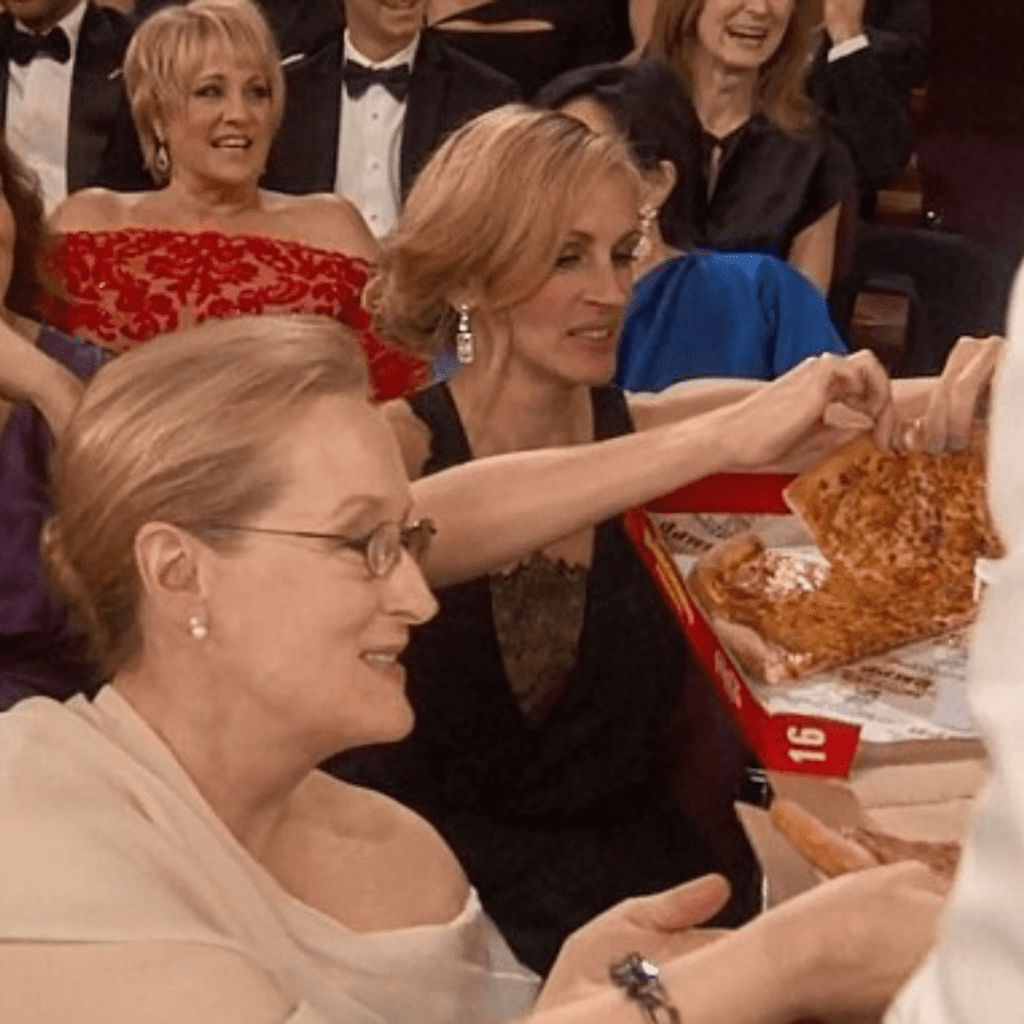 Here's a picture that contains arguably two of the most beloved stars in the entertainment industry, Julia Roberts and Meryl Streep. Meryl seems to be taking her time with it, while Julia looks like she can't wait to put the slice in her mouth!
The cast of Harry Potter
It's safe to say that kids as a whole enjoy junk food more than adults do, and for good reason. They need more calories so they can fuel their high-energy activities. No wonder these young stars look like they're greatly enjoying the food they have in front of them.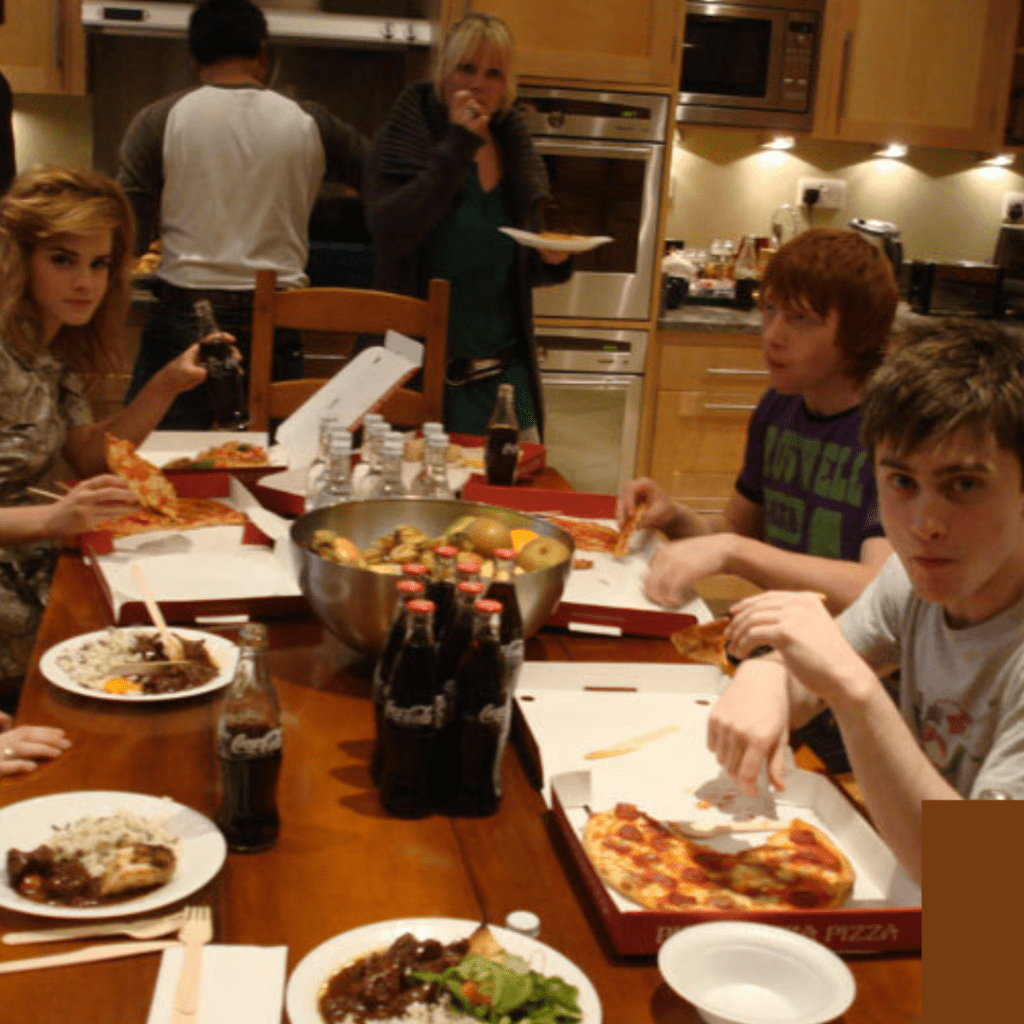 The trio, Daniel Radcliffe, Emma Watson, and Rupert Grint, make up the main cast of one of the biggest movie franchises of all time, Harry Potter. We can't tell if they were on a break here or just dining together for fun, but we love everything about this snap!
Harrison Ford
And the hits just keep coming. You could basically make up a whole album off that single night when Ellen Degeneres hosted the 86th Oscars. And not just any kind of album, one of numerous Hollywood stars reaching out for a slice of pizza.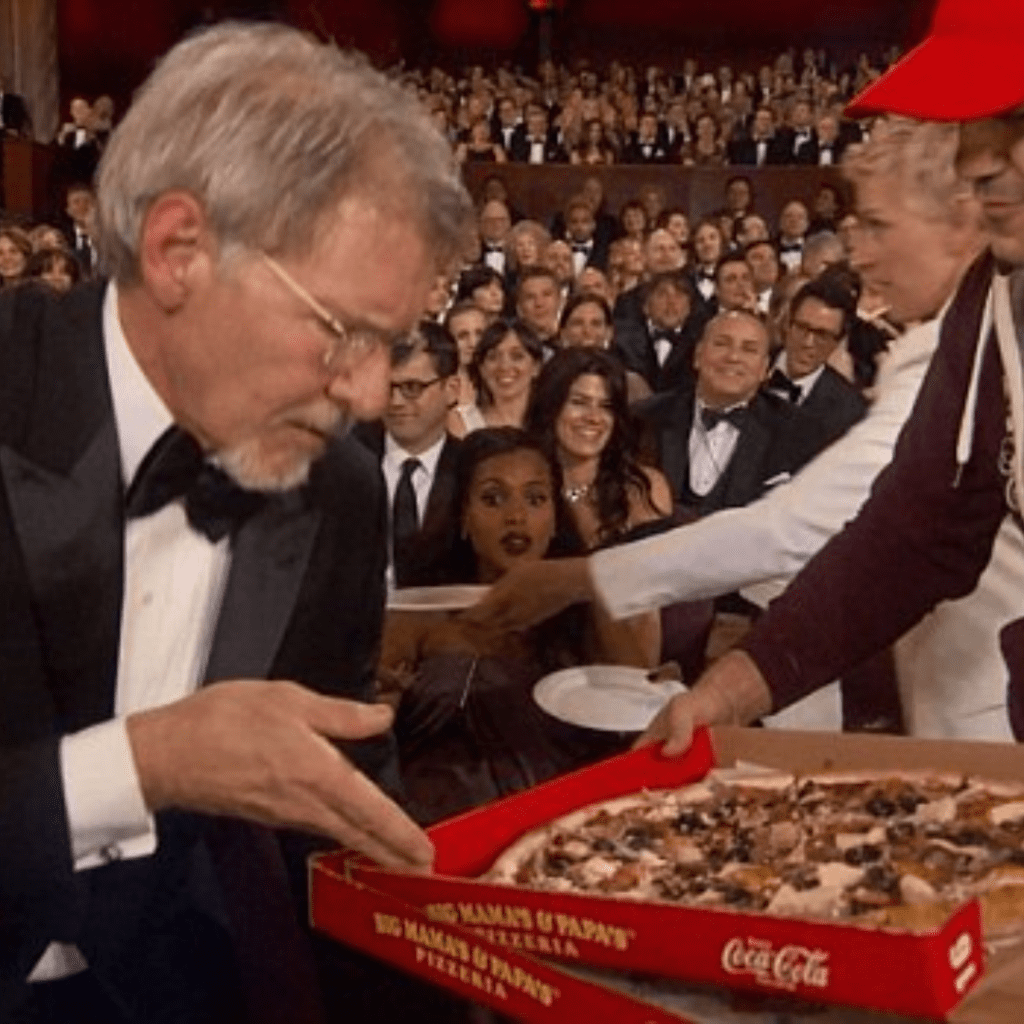 As one of Hollywood's greatest leading men and one of the highest-grossing actors in all of North America (and the world as a whole), Harrison Ford is no stranger to the flashing lights and cameras. No wonder he was so at ease when this photo was taken.
Kylie Jenner
American socialite and business mogul Kylie Jenner is a member of the uber-famous Kardashian clan. Just like the rest of her sisters, especially the inimitable Kim Kardashian, she is also a pretty big deal in the fashion and beauty industry.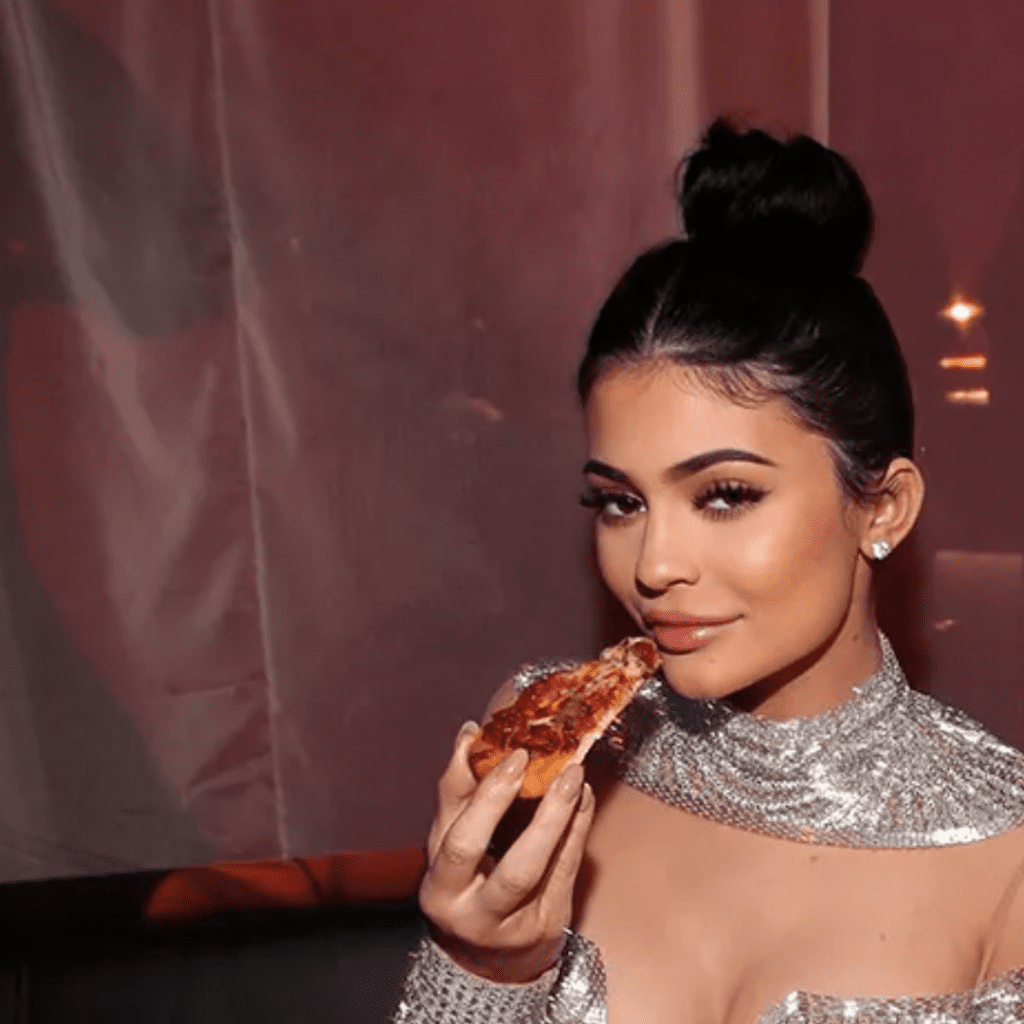 If you've ever watched Keeping Up With The Kardashians, you know how strict their mother, Kris Jenner, is about all their diets. That's why seeing Kylie holding up a slice of pizza surprised us a little. It kinda made us wonder if it was just for show.
Kristen Bell
Of course, it's nice and much easier to call up your favorite pizza place and have a delicious box delivered to you. But it's just as or even greater when you whip up the dish yourself. Take some cues from Kristen Bell's book!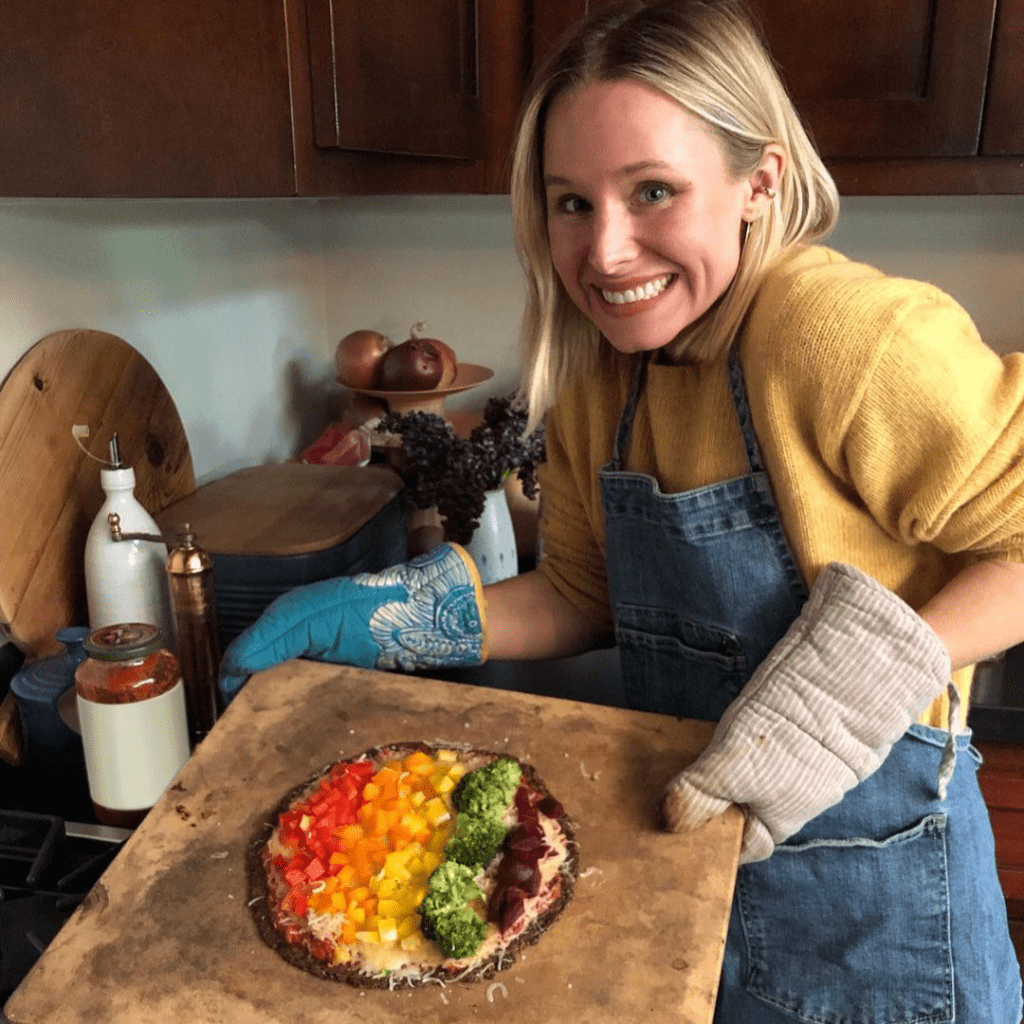 The actress decided to get busy in the kitchen by making her very own small but extremely colorful plate of pizza. We're not totally sure we agree with her choice of toppings, but it's her kitchen; who are we to judge?
Sir Patrick Stewart
Is there an experience you wish you could relive? Something so wonderful and amazing it felt like an awakening the first time you experienced it? For us, we can't decide whether the moment was when we first heard Tame Impala's The Less I Know The Better or when we took our first slice of pizza.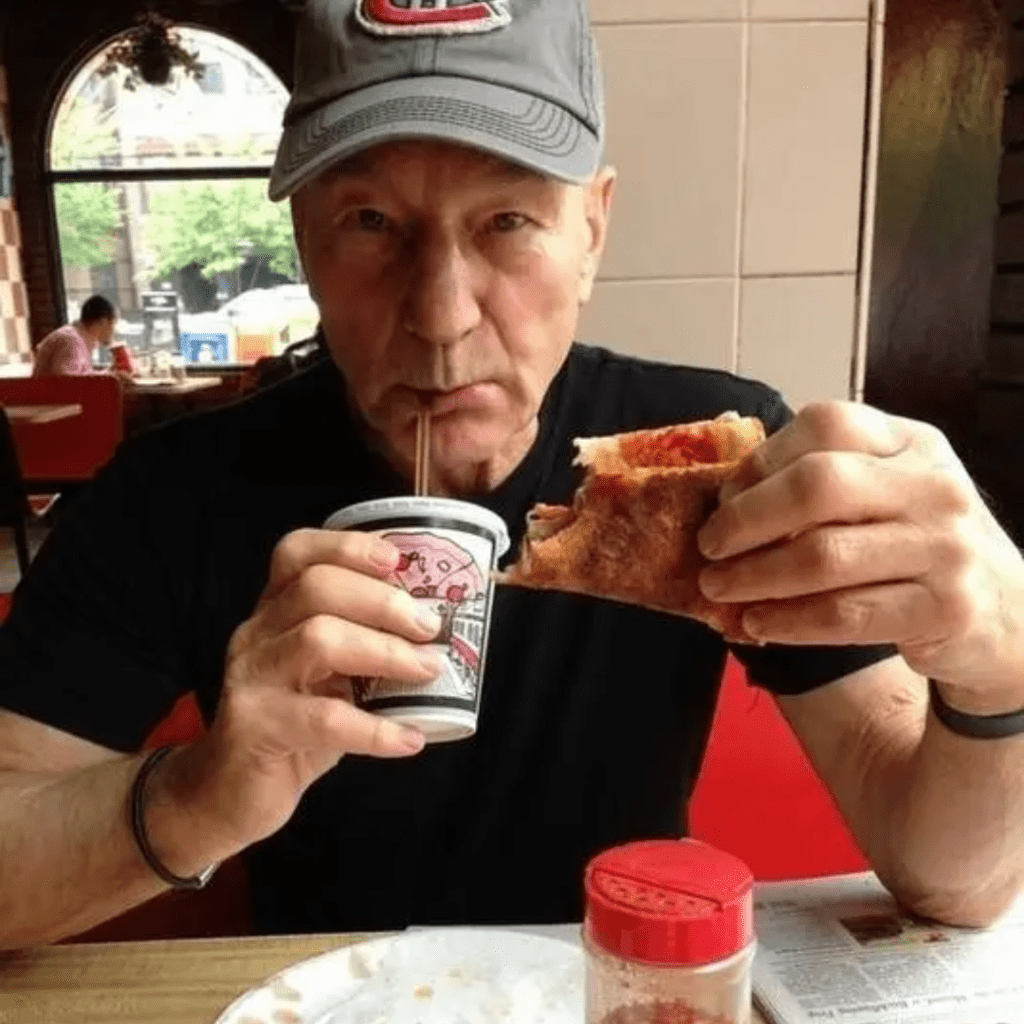 We love it so much that we can't imagine not having pizza till we turn 72 like Sir Patrick Stewart did. He took this picture and posted it on his social media page to commemorate the moment he had his very first pizza slice about ten years ago. Frankly, we still have trouble believing it.
Dua Lipa
Who says you can't look like a bombshell and enjoy a nice meal at the same time? Not sure if anyone did, but if so, the singer and model Dua Lipa has certainly proved them wrong with a single snap. Dua seems to be enjoying a slice while rocking this gorgeous look.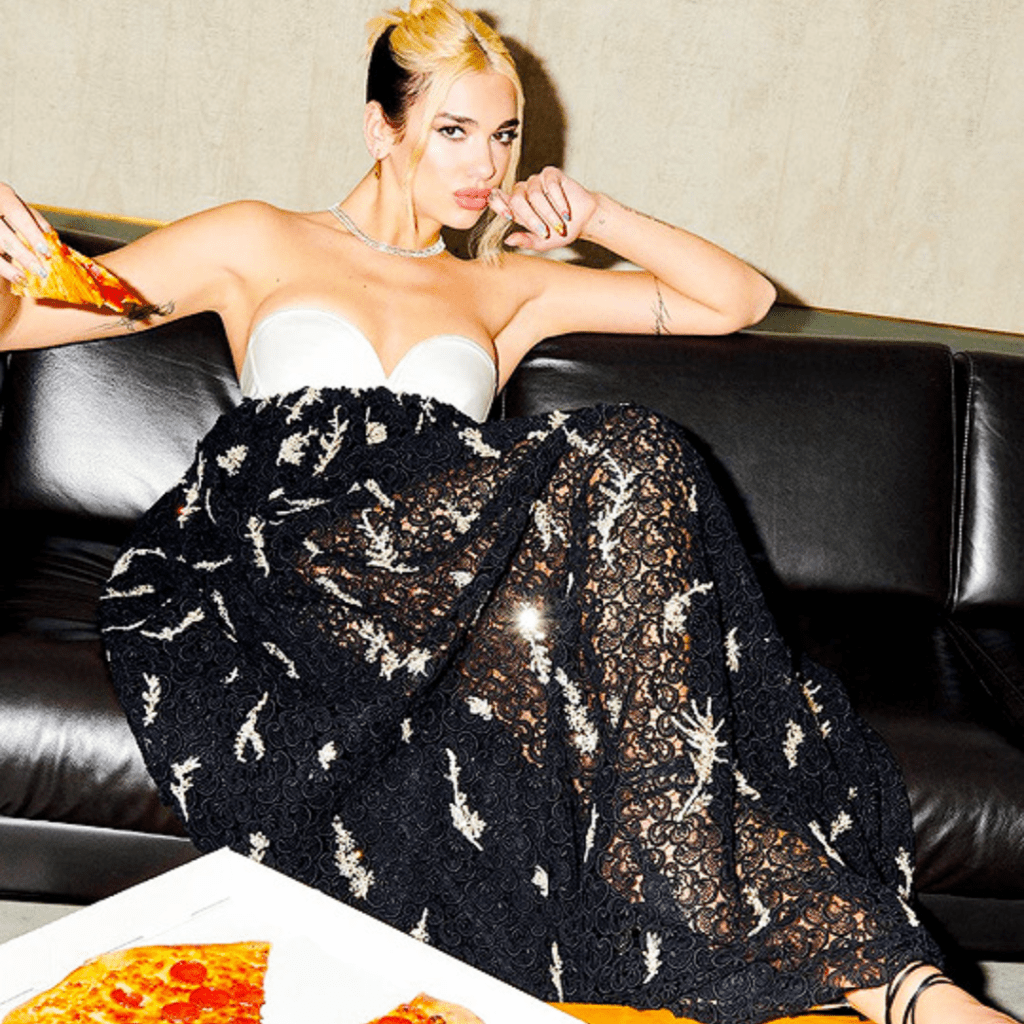 We're not sure what her diet usually consists of, but we can almost comfortably say pizza isn't a regular on her menu, considering how great she looks. She also seems to be holding it a comfy distance away from the dress, and we can't blame her. Gotta be careful around works of art!
Sophia Bush
Very few things compare to the joy we experience from having a lovely, tasty, and satisfying meal. To us, treating ourselves to one is the epitome of self-love, and the expression on our faces must look like this one on Sophia Bush's.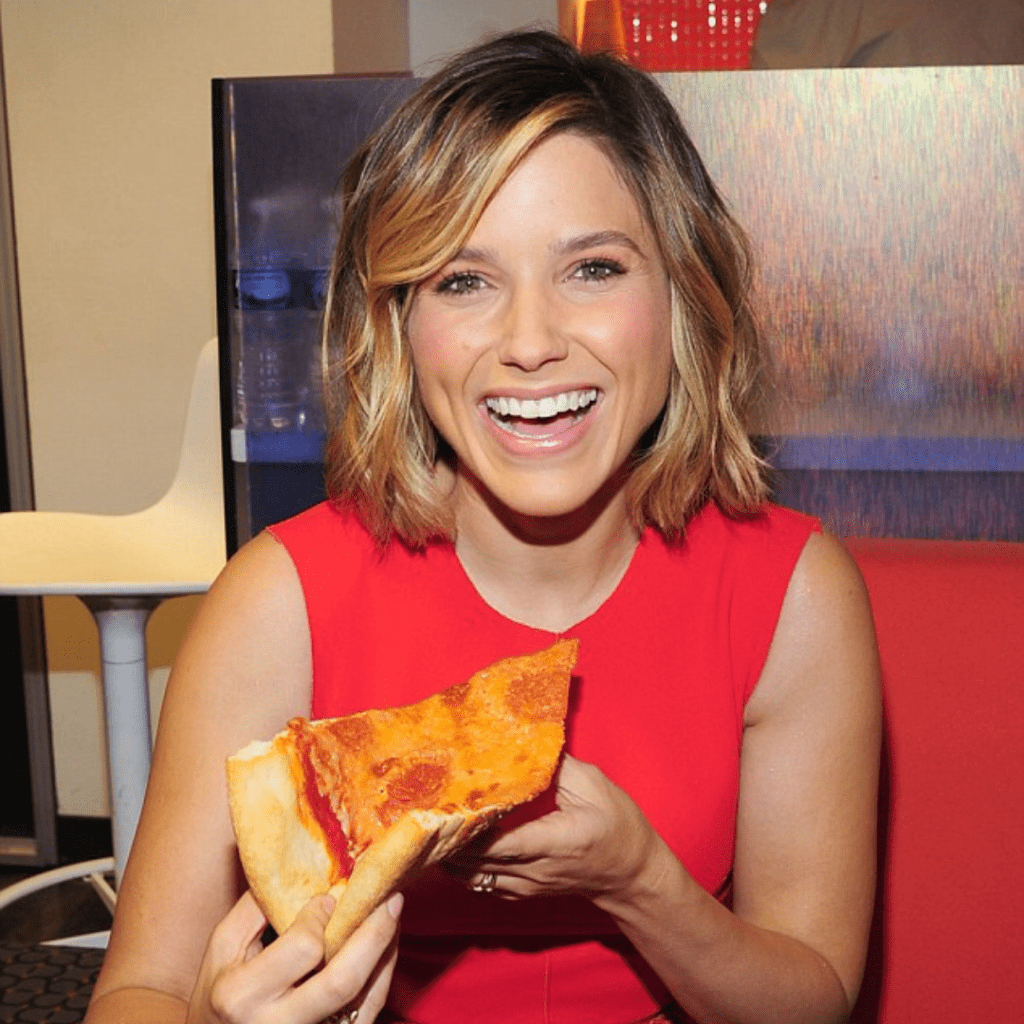 Some would argue this was just a regular outing Sophia went for, but it doesn't seem like it. The actress and activist was clearly dressed to kill but still took time out to enjoy a simple slice of pizza. It sounds a lot like something we'd do!
Emily Ratajkowski
Out of all the different professions available, we think becoming a model comes with having the strictest of diets, especially when that model is one who owns the runway like Emily Ratajkowski. Something like pizza would be a big no-no for her.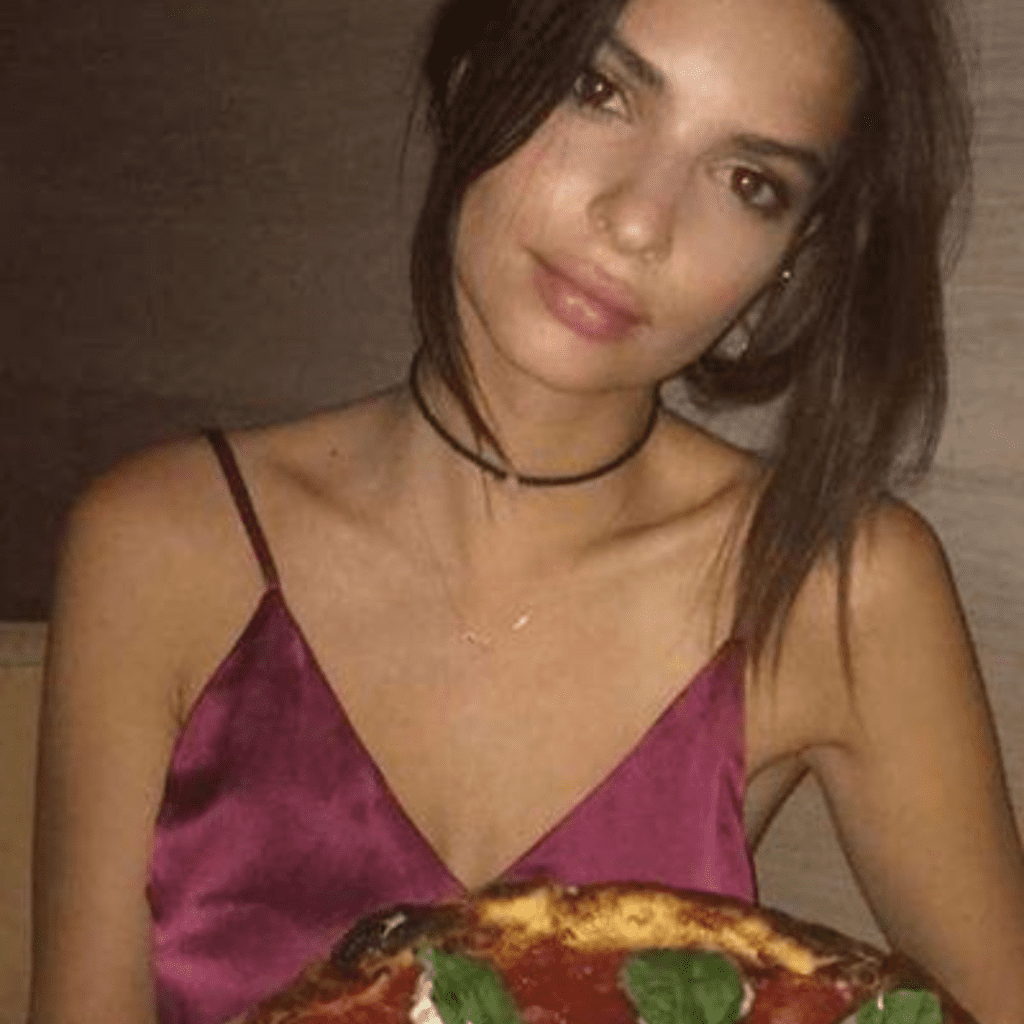 At least that's what we would expect. But seeing how much joy the treat brings to people, we are sure she couldn't help but grab herself a slice here. Maybe it was a cheat day, or she just had an intense craving and decided to have one.
Beyonce
We're nearly certain that having pizza is not a regular thing for most of the celebrities on this list, especially considering how in shape they are. But it's still fun to see them enjoying the delicious dish, and that's why we love this picture of Beyonce with a slice.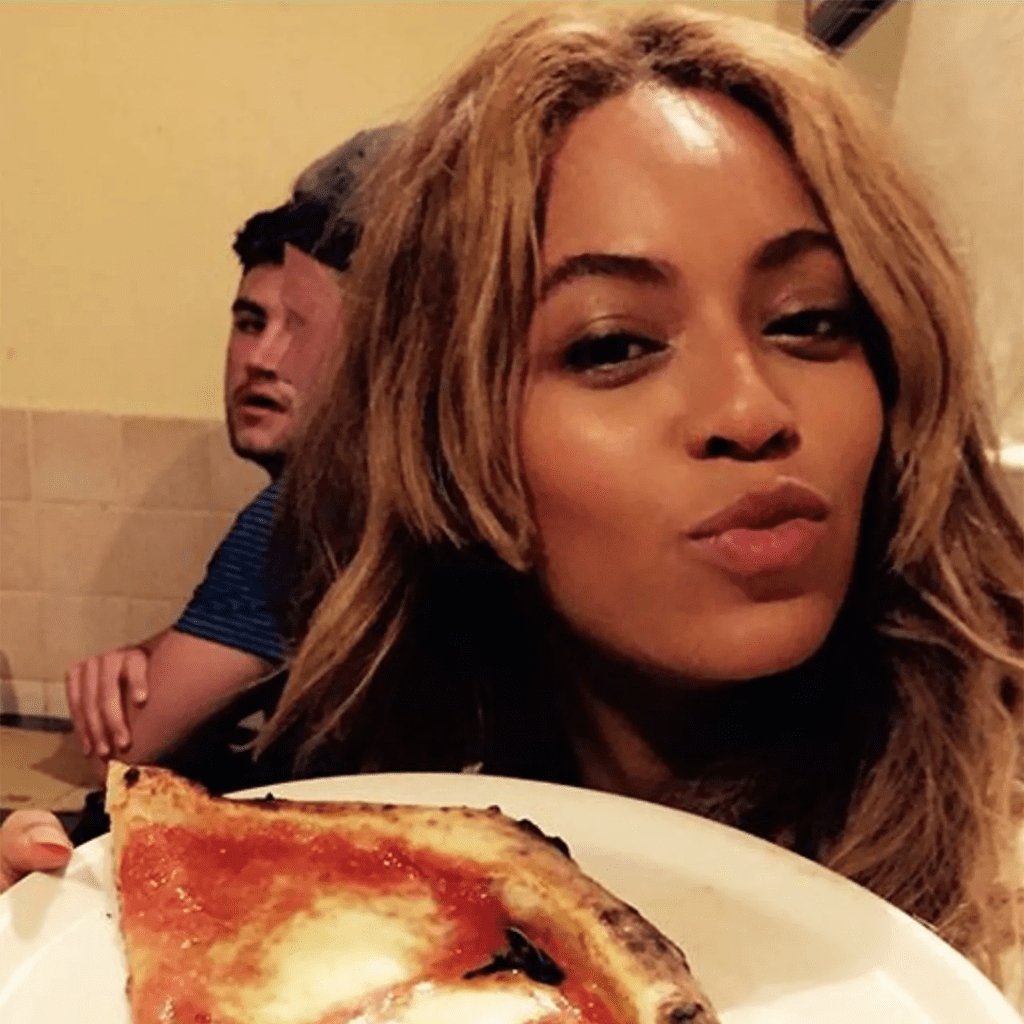 It takes a lot to be one of the best and most successful women in music today, so if this is Beyonce's idea of a treat, she deserves it and even more. Looks like a pretty simple slice of pizza, but we hope she enjoyed every bite.
Tom Felton
Many stars got their big break from the Harry Potter film franchise, especially just about every young member of the cast. One of these young stars was Tom Felton, the boy who played "Draco Malfoy," the bully and cunning wizard.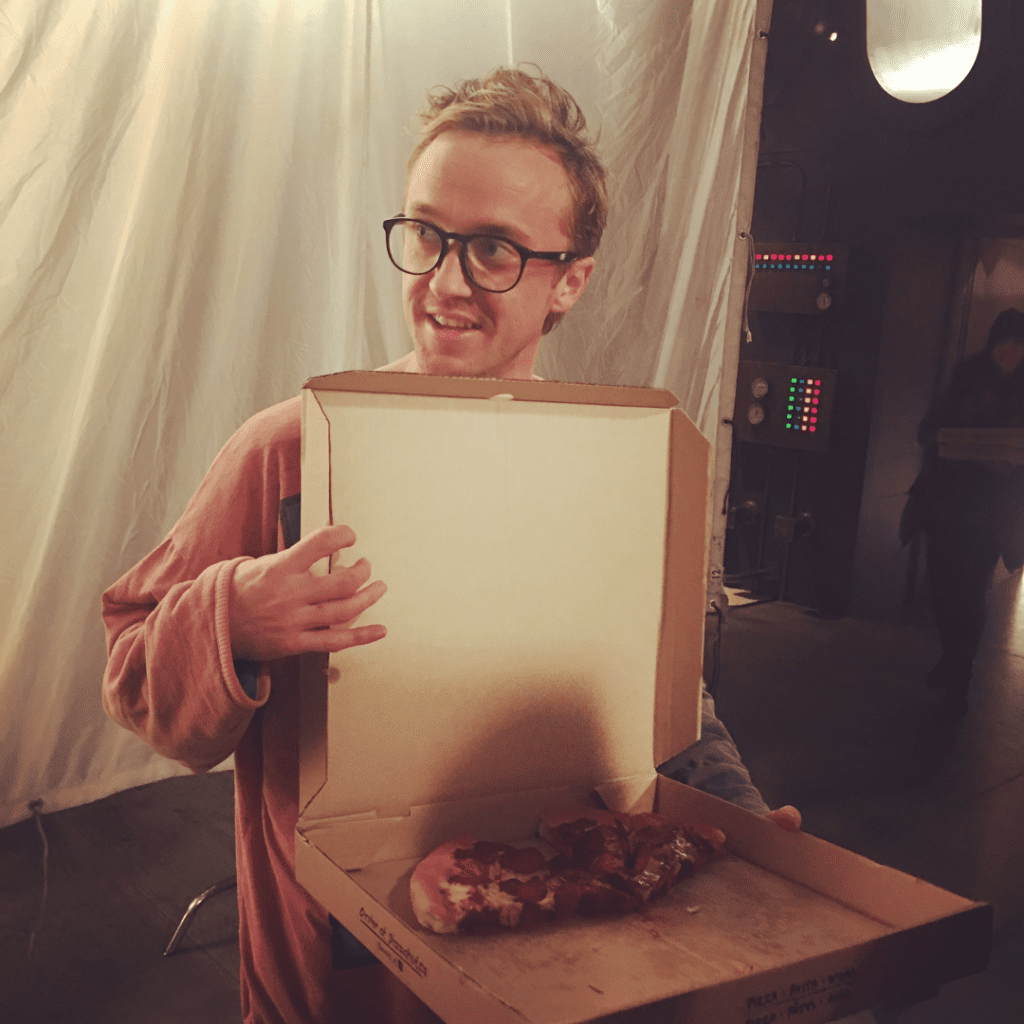 Here he is many years later with a nearly empty box of pizza, probably on a lunch break while working on his newest projects. We're not even going to lie; regardless of the industry we worked in, pizza would probably be our everyday lunch break snack!
Emma Bunton
To this day, there are only but a few girl groups who could ever measure up to the sheer greatness of the Spice Girls. They sold more than a hundred million records and were extremely popular during the '90s and early 2000s.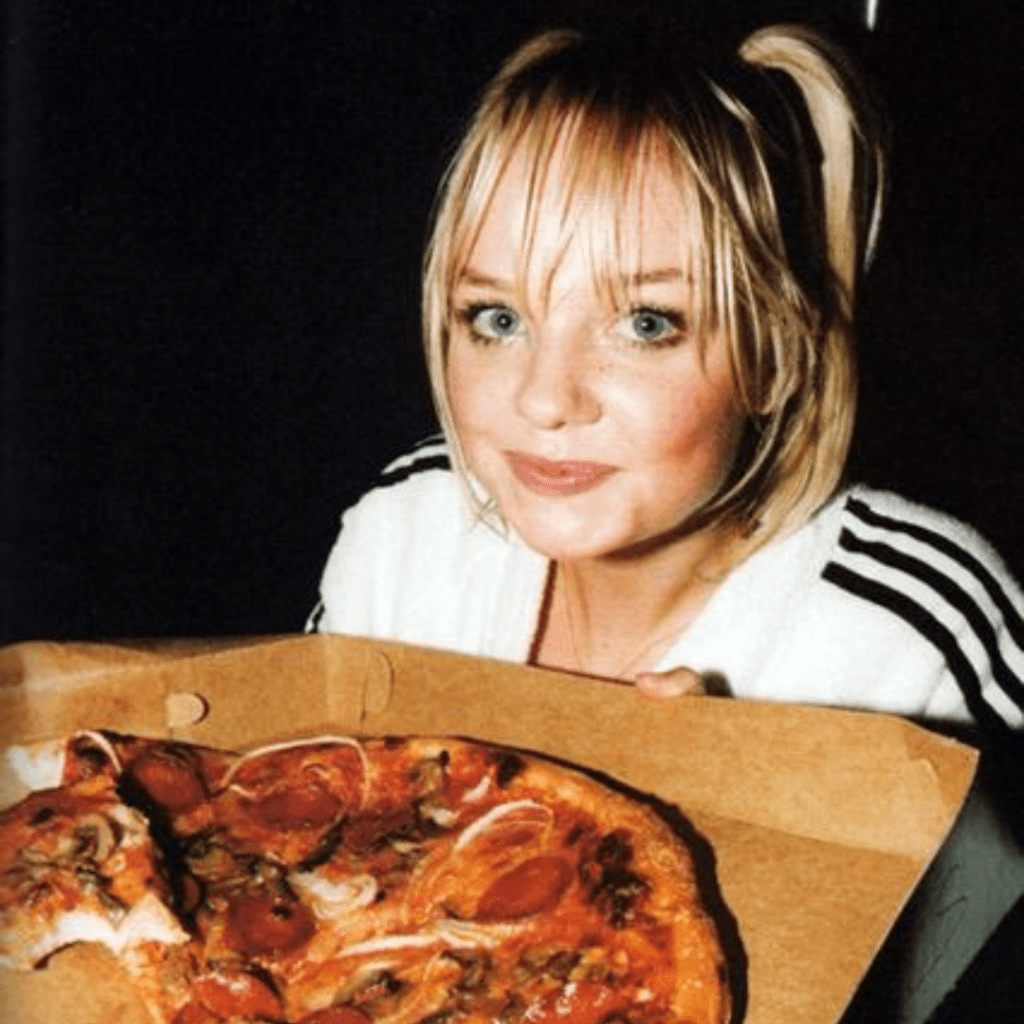 Emma Bunton, the woman pictured above, was nicknamed "Baby Spice" and was one of the five women who stole the show and our hearts as part of the group. Those slices of pizza were well deserved, and we hope she enjoyed every ounce of them.
Jon Stewart
Talk show hosts are known for espousing very agreeable opinions, and Jon Stewart is one of the most popular. He went on a whole rant during his show, chastising how the former Mayor of NYC, Bill De Blasio, used a fork and knife to eat pizza, which everyone agreed with.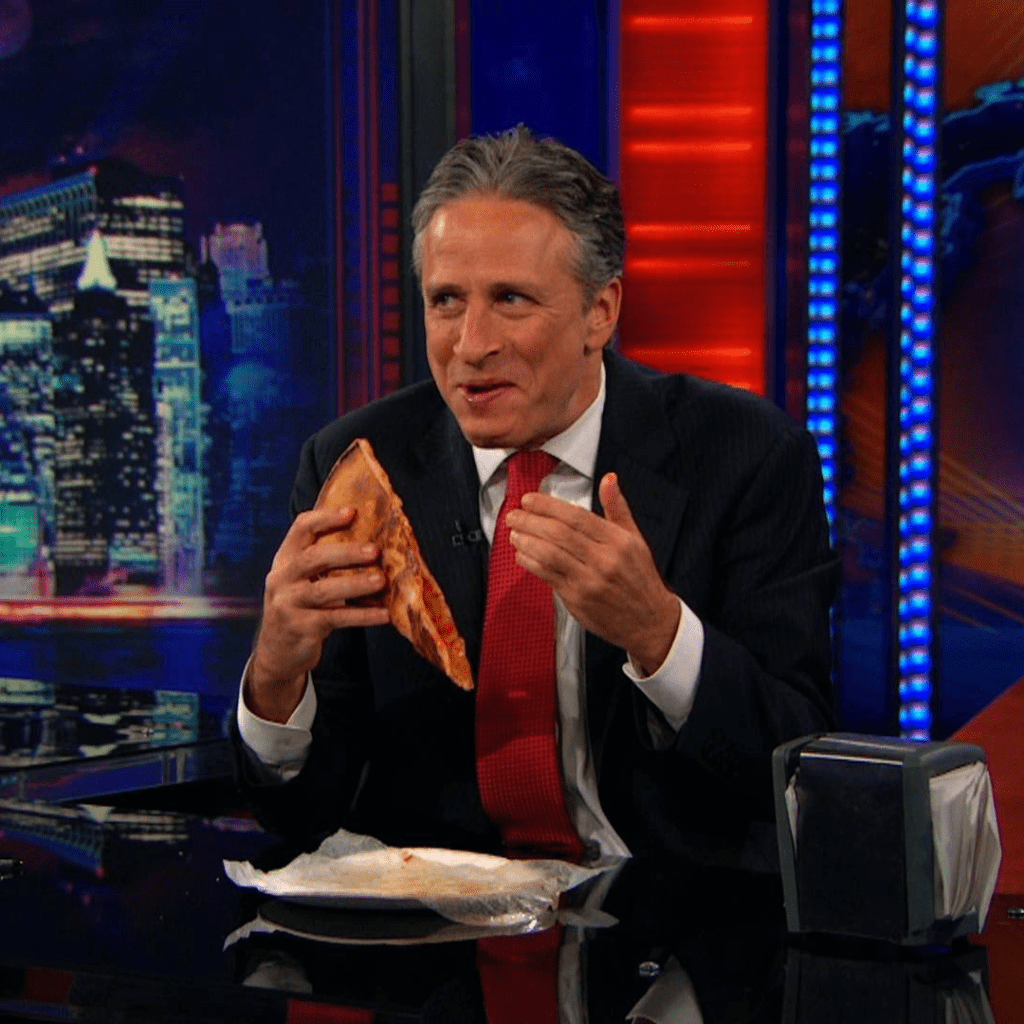 This picture was taken from one of his segments when he decided to chow down some pizza, showing the world how it's actually done. Everyone knows that pizza is best eaten using your hands, not some fancy cutlery like a fork and knife.
Justine Ezarik
YouTubers are known for capturing attention and influencing the masses with their crazy antics. Whenever a YouTuber does something insane and gets a billion views, you can bank on the fact that most of those people might want to try it out.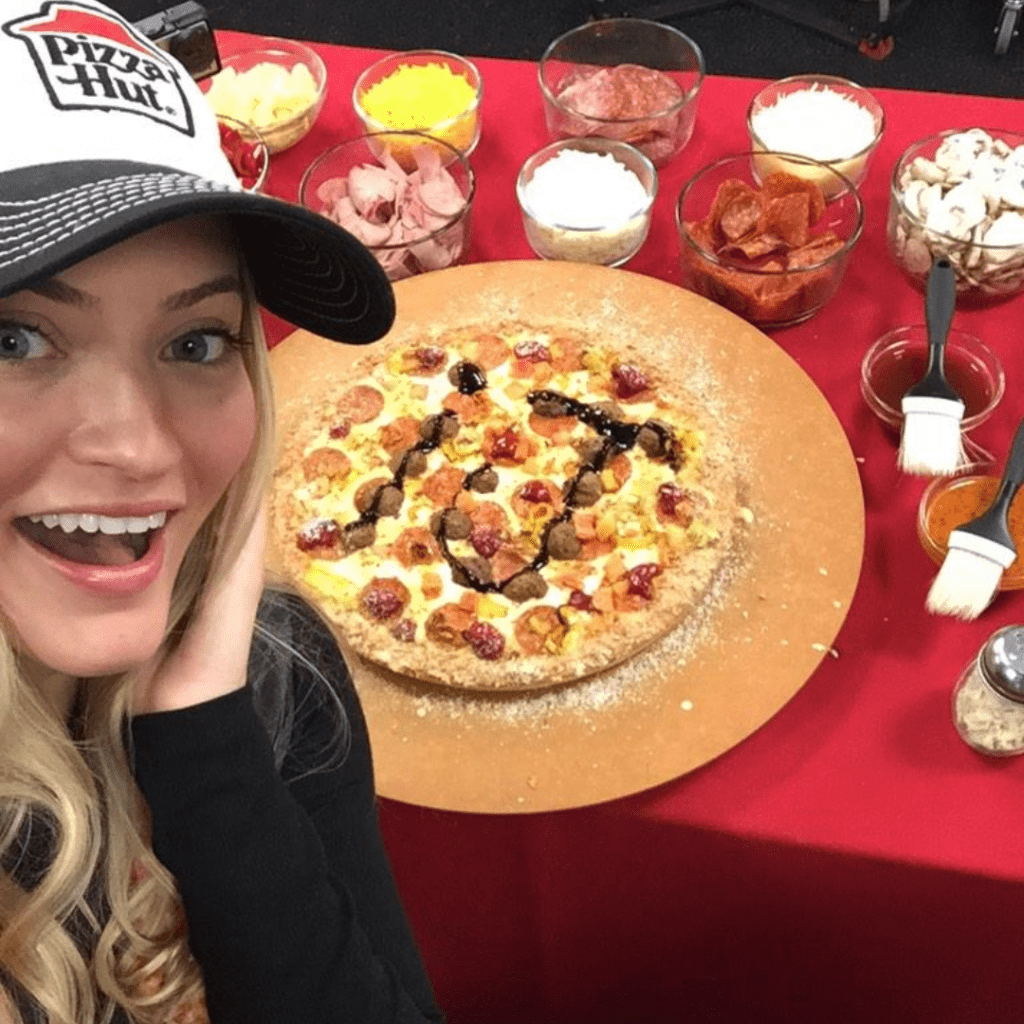 Some of those things might be a bit crazy and even downright dangerous, so we thank the heavens for YouTubers like Justine Ezarik, who prefers the less hazardous things in life, like taking a selfie with a scrumptious, well-made platter of pizza.
Jessica Simpson
From church choir to the big stage, Jessica Simpson's story is nothing less than an incredibly remarkable one. She signed her first record deal at seventeen, and her debut album sold millions of copies and thus began her rise to stardom.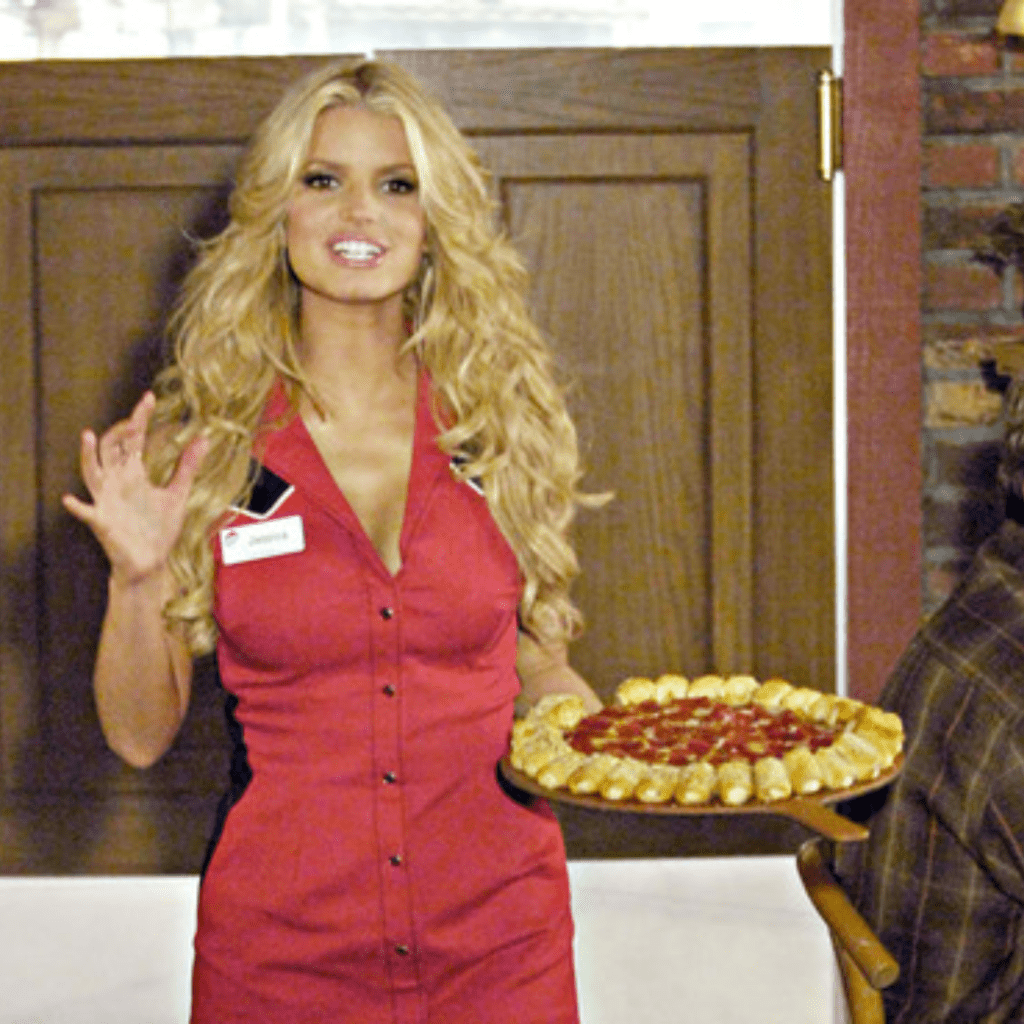 The singer is also an actress, reality television personality as well as a fashion designer. Jessica has done multiple campaigns and commercials, including the one above, where she did an ad for Pizza Hut. Fun fact: Jessica is actually allergic to most of the ingredients found in pizza. What a shame!
Ella Purnell
We appreciate all actors of all ages and respect how they achieved their fame. However, child actors and people who started off young have a special place in our hearts. One such person happens to be the actress Ella Purnell.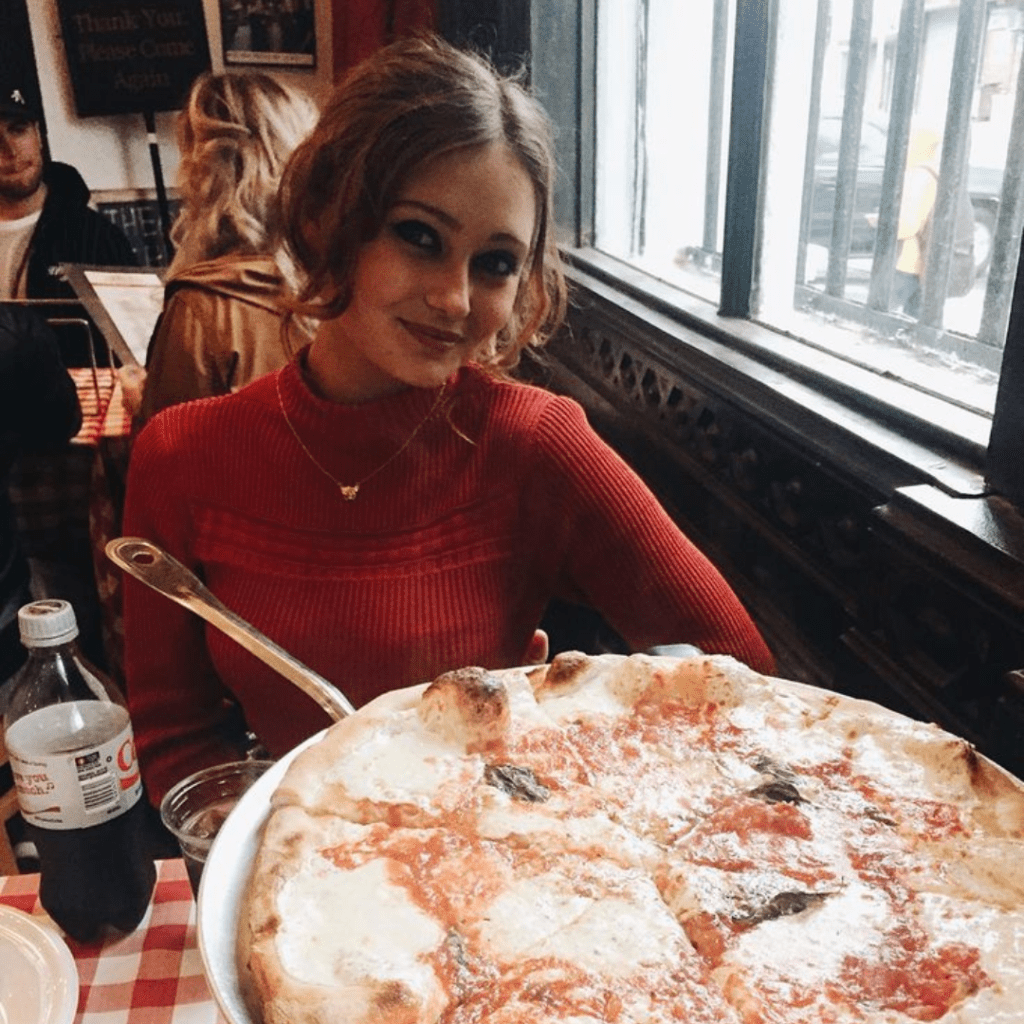 They undergo so much pressure at such an early age and the fact that some withstand all that is truly remarkable. That's why when we see Ella Purnell with a gigantic plate of pizza like the one above, we say nothing because we know it's well-earned.
Lena Dunham
Of course, we love all kinds of celebrities, including the problematic and lesser-known ones. But we tend to prefer stars who share the same likes and interests as us. Similar to other celebs on our list who appreciate a nice slice of pizza, so does Lena Dunham.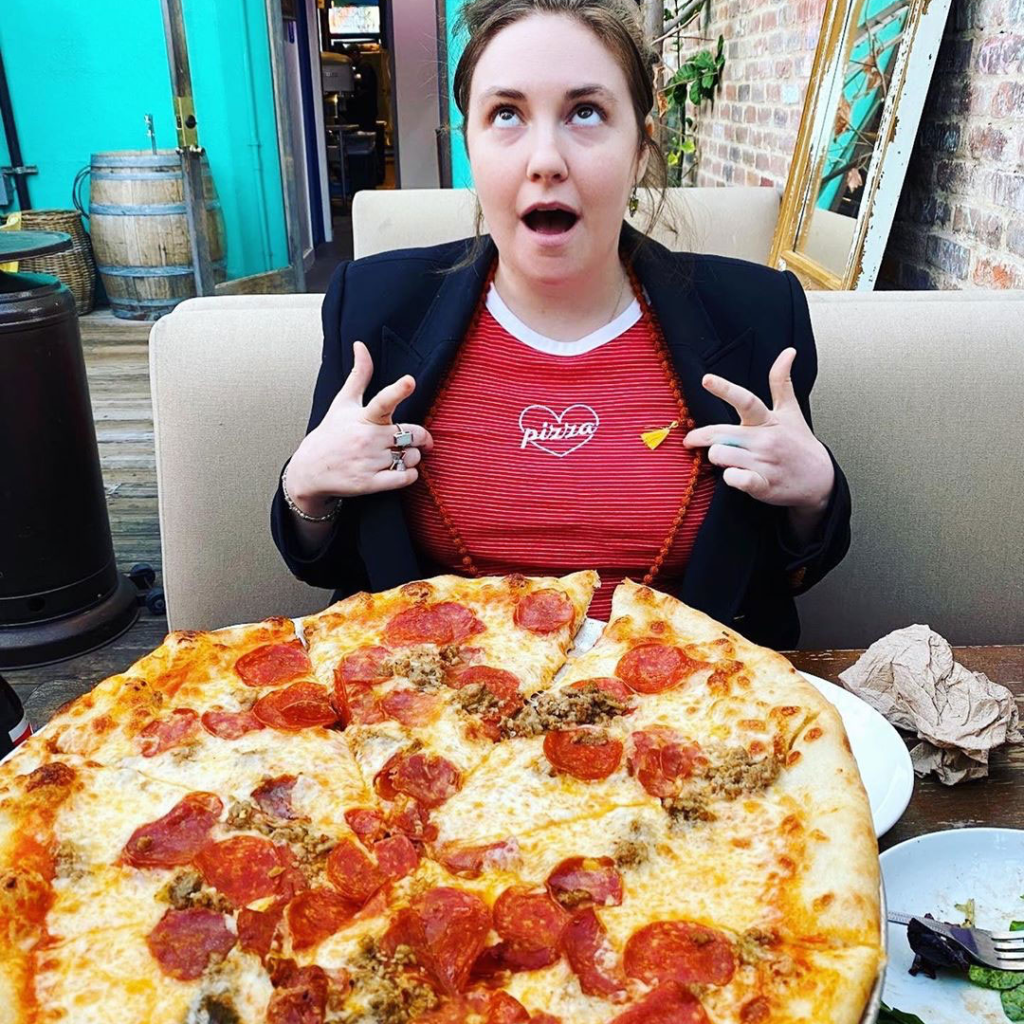 The picture was taken by her friend and Scream Queens actress Billie Lourd sometime in 2020 when they were out for a meal together. We appreciate her enthusiasm for the meal and can't help but admire it. Even her top agrees that pizza is it!
Kirsten Dunst
Following your dreams and becoming who you want is a thrilling experience. But it's even better when what you want to be allows you to do the things you want to do with little to no restrictions. That's probably how Kirsten Dunst felt at some point in her career.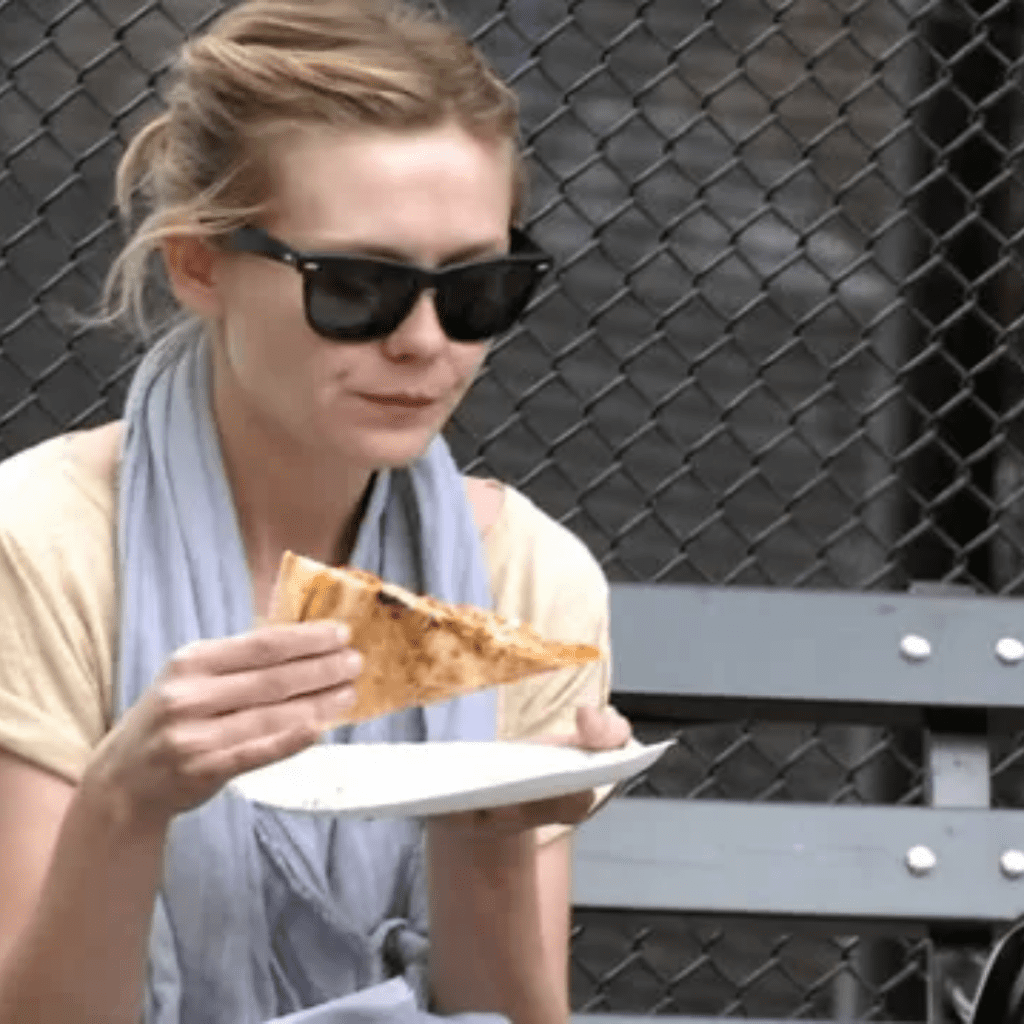 The actress and Hollywood celebrity revealed sometime in 2015 that she chowed loads of pizza and watched a lot of TV to prep for her role in the second season of the crime series Fargo. Sounds like a dream job to us!
Jimmy Kimmel
Call us insane, but when it comes to pizza, we believe in going at it till you can't anymore! Just have as much as you want whenever you get one. That might sound like crazy talk, but we think Jimmy Kimmel agrees with us, and that's all that matters.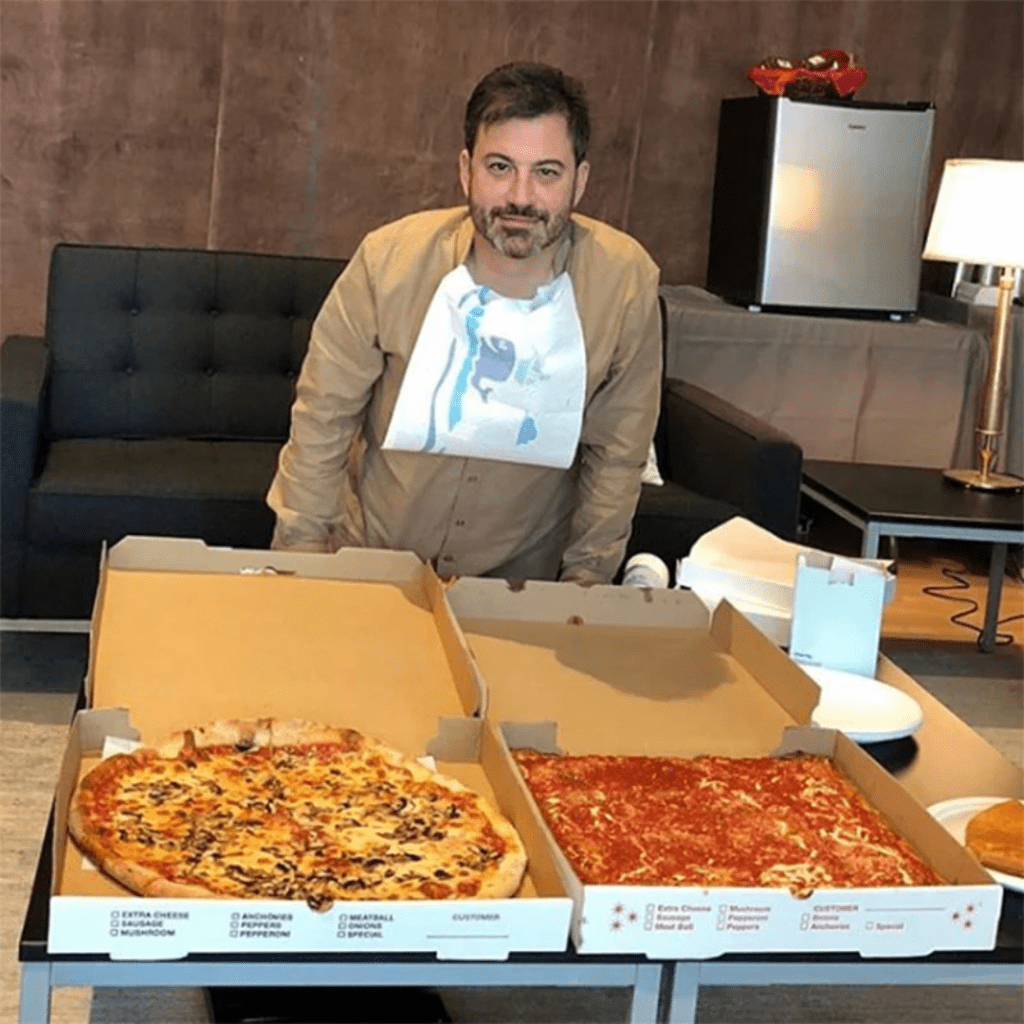 Sure, him standing in front of two humongous boxes of pizza with a napkin around his neck like he's prepping to devour them doesn't mean he'll finish them, but we like to believe it does. And, for that, he's earned himself a comfy spot in our "fav celebs" list.
Andrew Zimmern
Amongst all the celebrity pictures on this list, this one seems like it must have been the easiest to come by. How hard is it to get a picture of a chef with food, especially when the chef is also a restauranteur and television personality like Andrew Zimmern?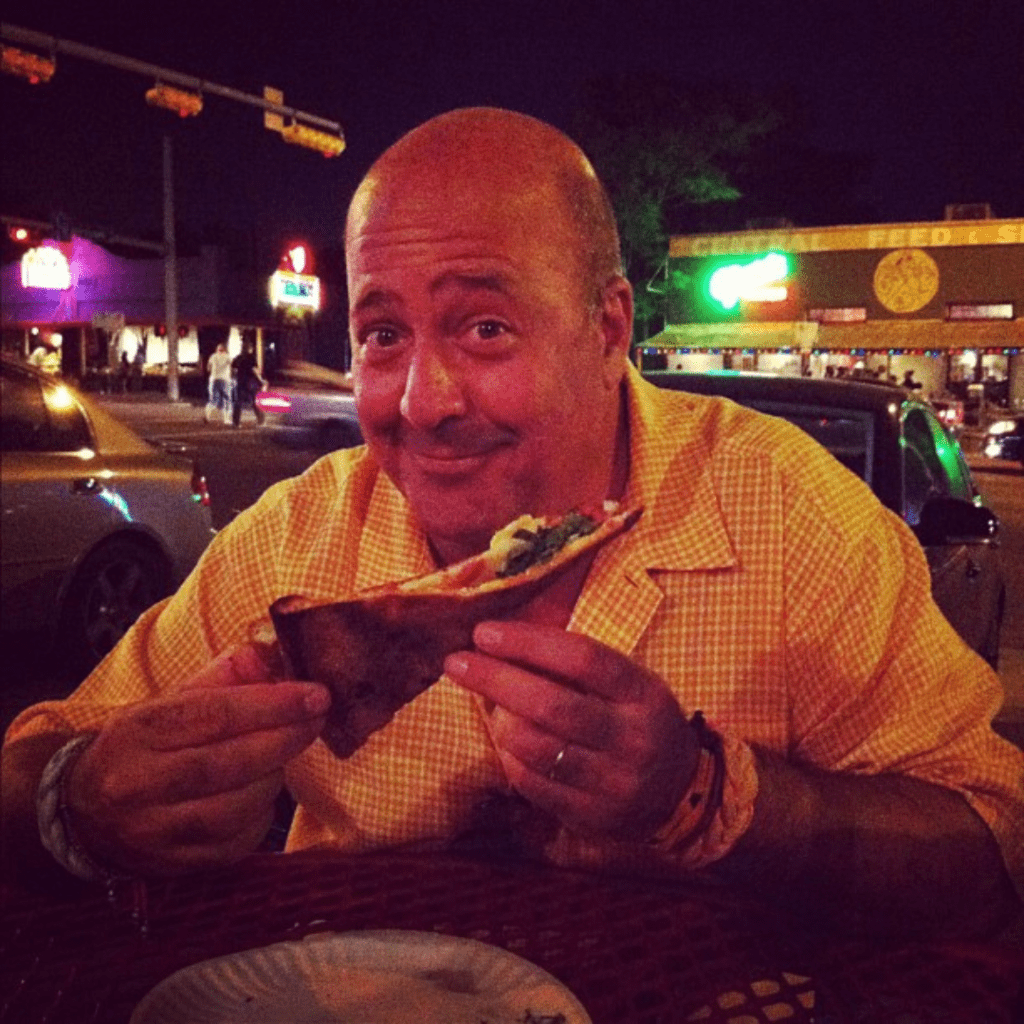 The celebrity chef is also a food critic and spends some of his time rating what he eats, so we wonder what he might have thought about the slice of pizza he was having here. Judging by his smile, those must have been good thoughts.
Ryan Gosling
Some stars just look breathtakingly photogenic all the time, regardless of what they happen to be doing, and Ryan Gosling is definitely one of them. This picture of him striking a pose and chowing on a slice of pizza is proof of that.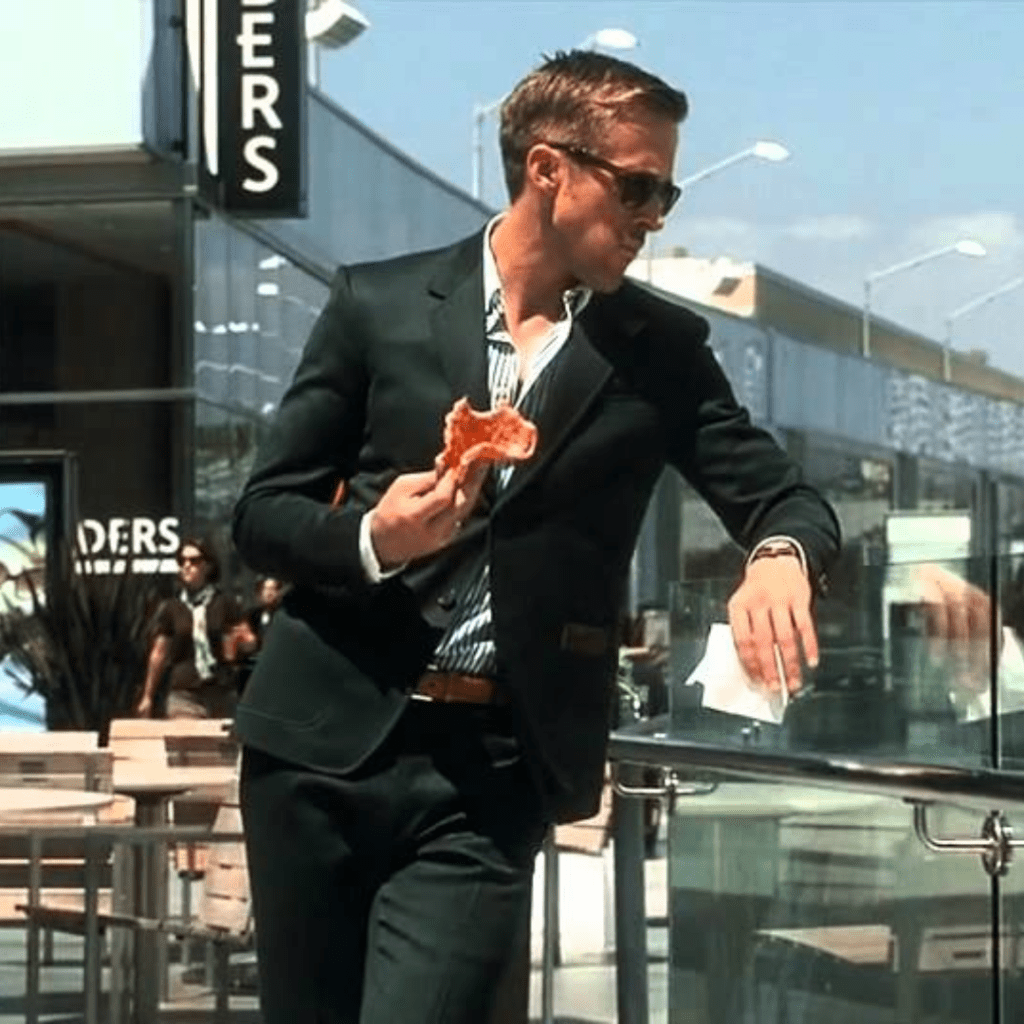 At first, we thought it might have been for a campaign or an ad, then we realized it was a shot from a scene in the 2011 romantic comedy film Crazy Stupid Love, in which he starred alongside Emma Stone, Lio Tipton, and Steve Carell.
Jennifer Lopez
We don't know about you guys, but we aren't exactly the best when it comes to multitasking. It's either we do one thing at a time or nothing at all. That's why this photo of Jennifer Lopez both intrigues and inspires us to become better.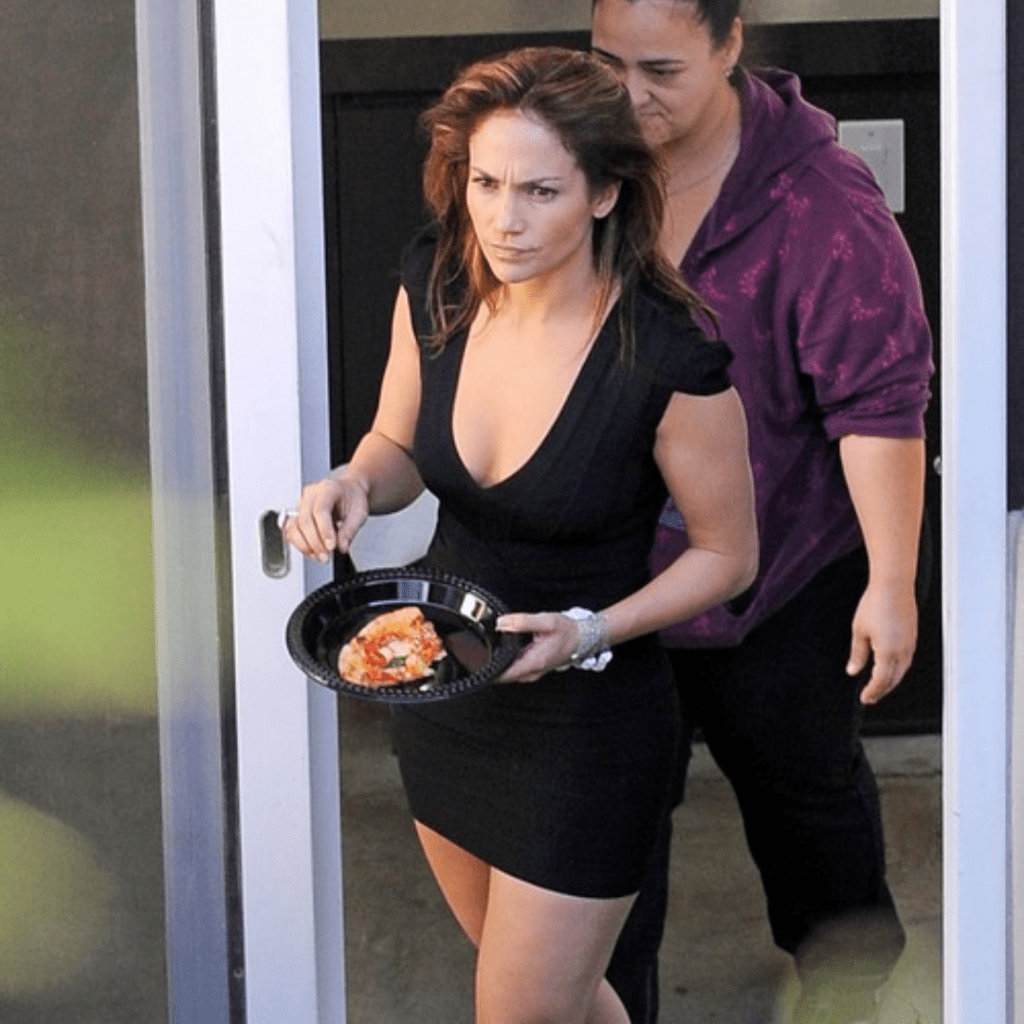 The singer, dancer, and actress is seen pictured walking out from what we can only assume is a diner or some sort of eatery with a small plate of pizza in hand. Looks like she wanted to have it on her way somewhere.
Adam Sandler
Inarguably one of the most successful comedians in the world, Adam Sandler is a certified legend in Hollywood. His career goes back almost four decades, and today, he's got quite a number of film and television credits to his name.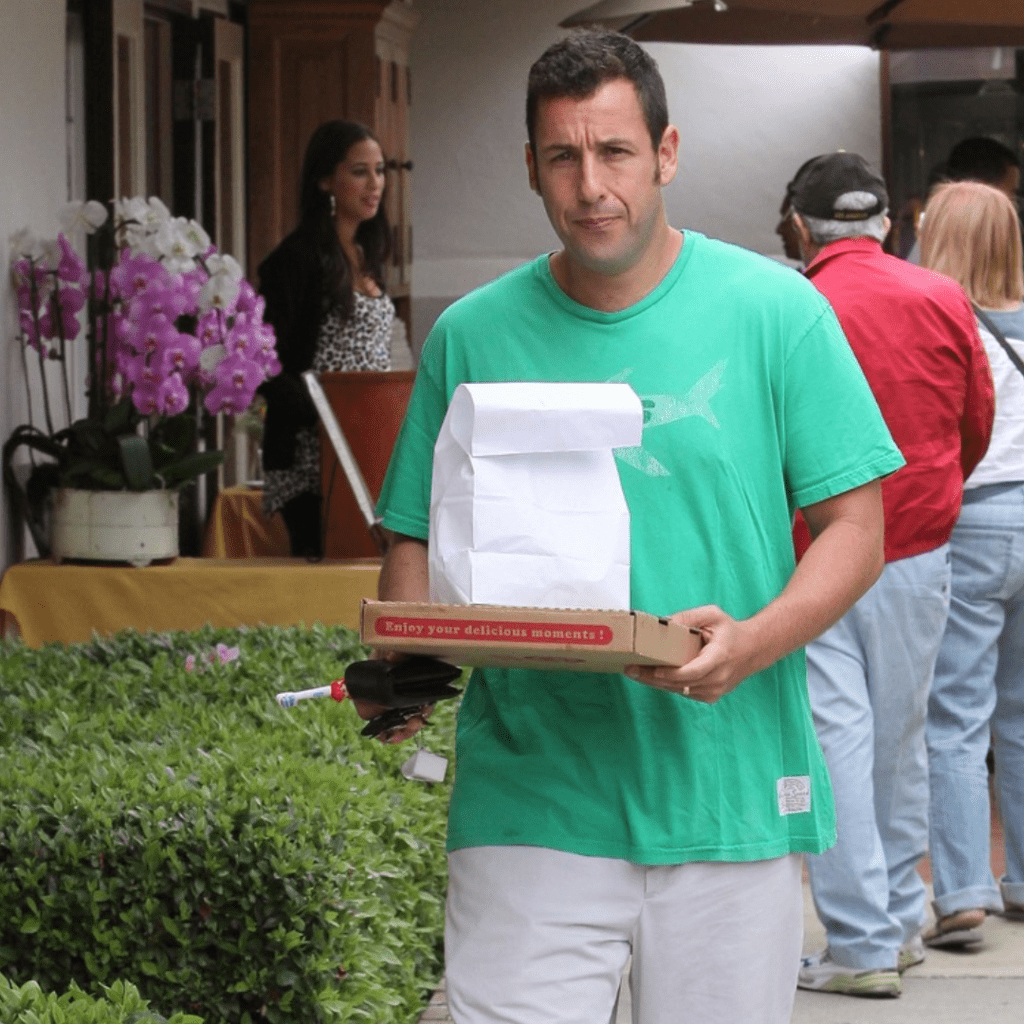 He's almost exclusively spotted out either crashing weddings or dressed super casually, and this is one of those times. We like to call him the king of the "dad" aesthetic, and seeing him with a box of pizza and what we can only assume might be a burger in the white bag, only confirmed it.
Katy Perry
At this point, it's clear Katy Perry, in one way or the other, feels a sense of closeness to junk food. Remember one of her Met Gala looks when she dressed up as a burger? And do you also recall that time she threw pizza to her fans in a crowd?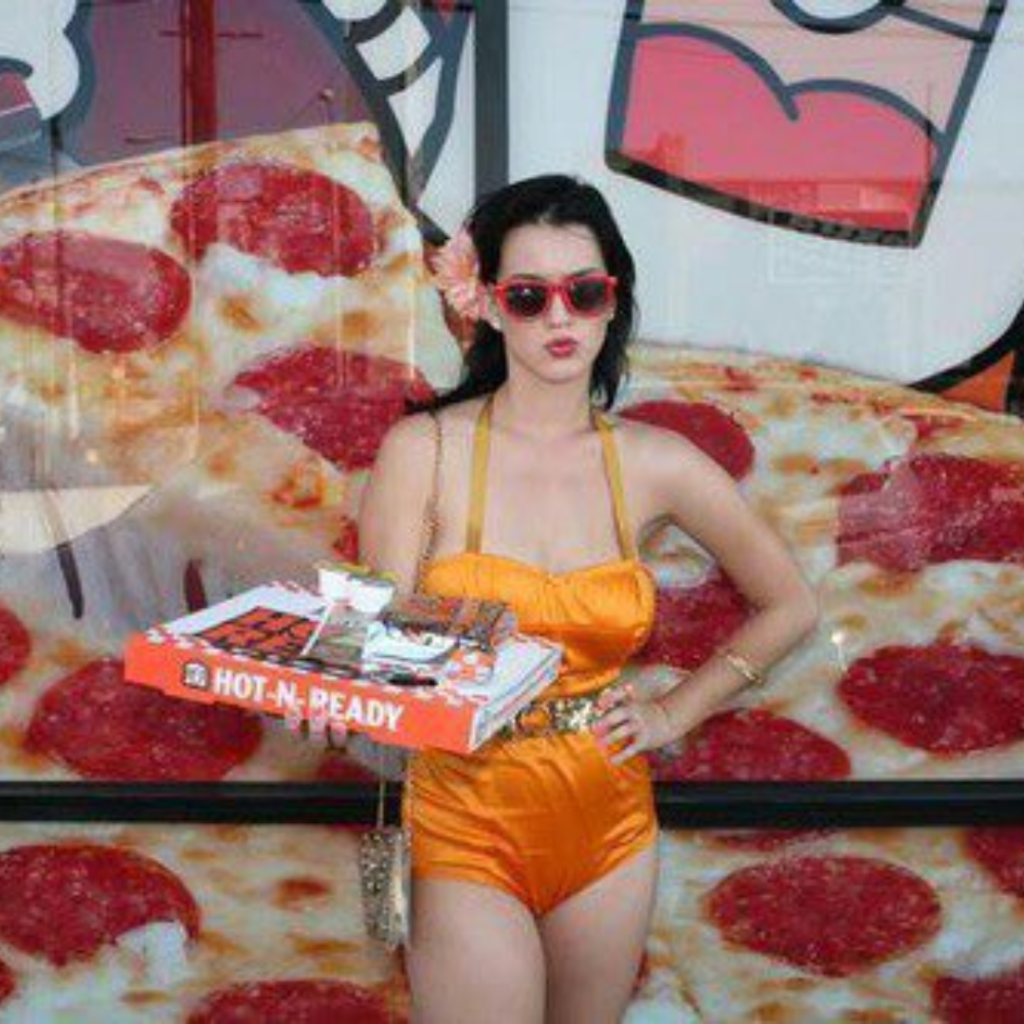 Well, she's also been a Cheeto and even dressed up as popcorn, so seeing her here with a box of pizza and not as one might be unexpected of her but still not too farfetched considering her past. We aren't even going to lie; we love it.
Kate Bosworth
Coachella has to be one of the most anticipated and talked about music festivals in the music industry. People from all over America and the globe flock to California to catch a glimpse of the event, including stars like Kate Bosworth.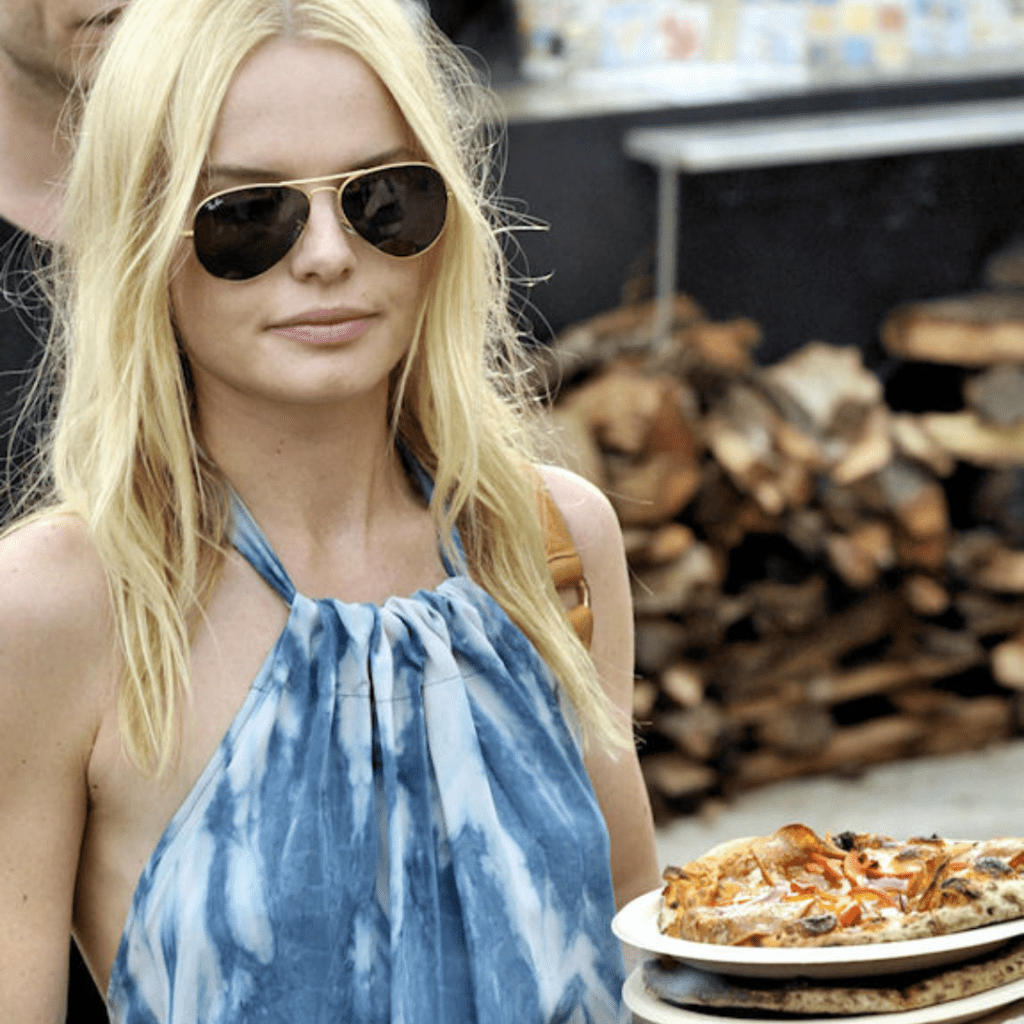 Other than the music, there are many other things one could enjoy there. The food, for instance. Just ask Kate as she was about to enjoy a hearty platter of pizza slices right after this picture of her was taken.
Kim Kardashian
Just like the photo of Andrew Zimmern, this one wasn't that stressful to find. In fact, you could get dozens more with a simple search on the internet. There are loads of times Kim Kardashian has been pictured with a crusty slice of pizza.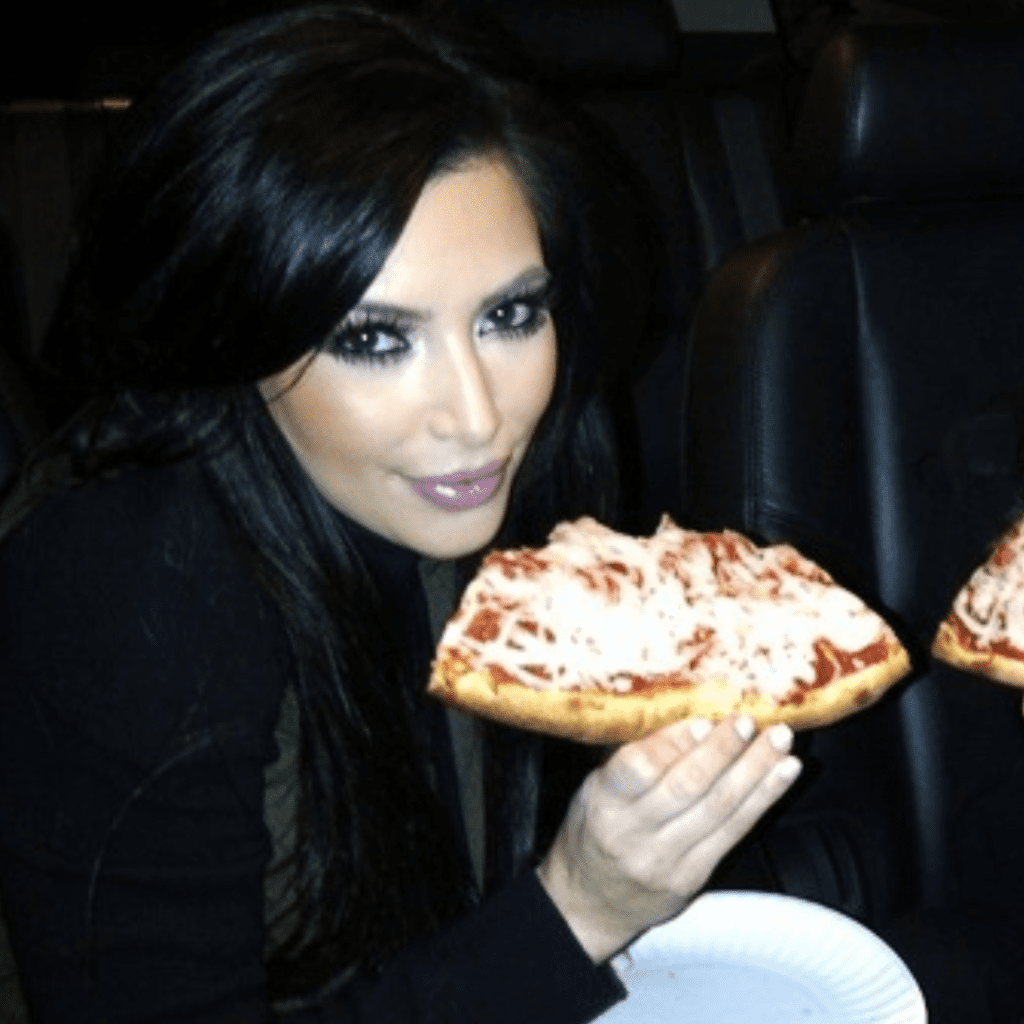 We can't say it's a regular for her, though, seeing as her life is basically documented on TV thanks to their shows Keeping Up With The Kardashians and The Kardashians, and we don't usually see them having that much pizza.
Lili Reinhart
We know you have probably heard loads of opinions about us concerning pizza, but what you have to understand is that they are all valid. Just like this new one we're about to throw at you, so hold on to your socks!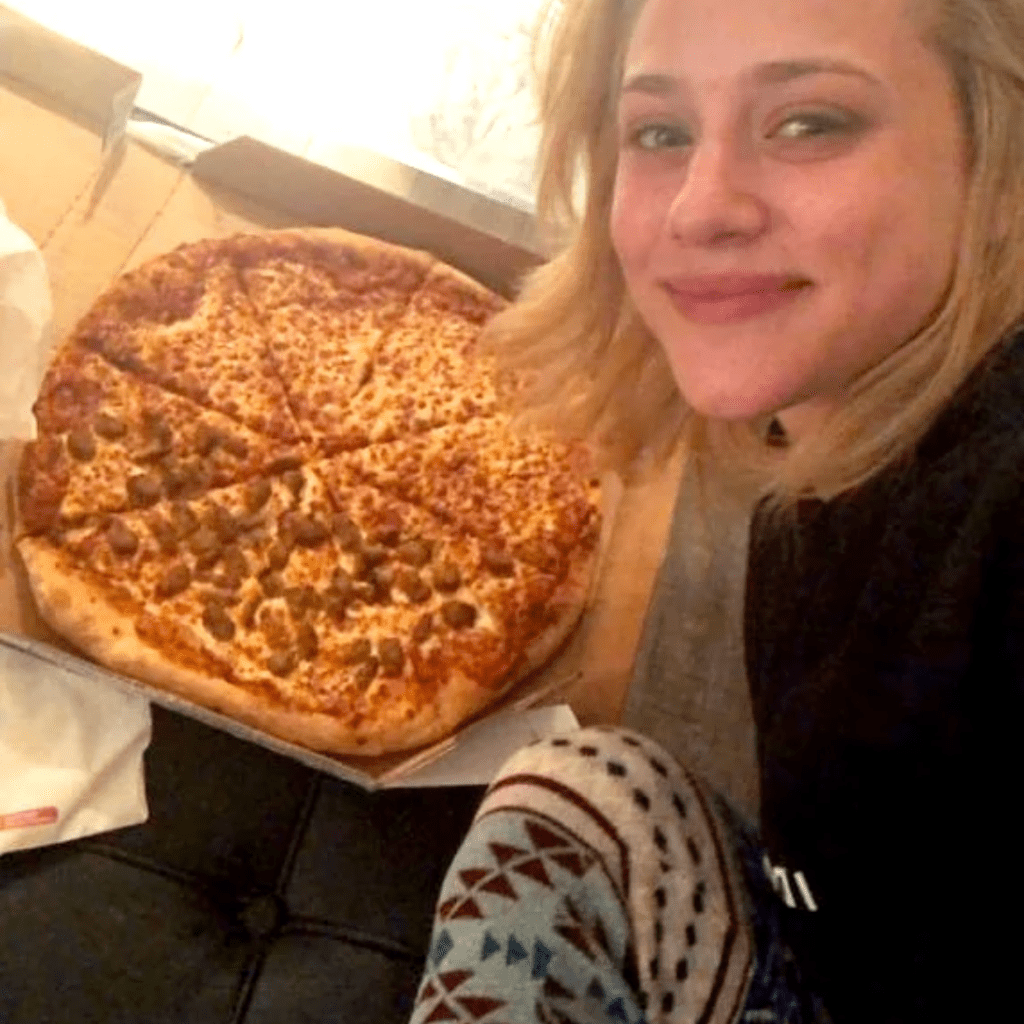 There is something very visually attractive about photos of pizza, regardless of how low resolution they are or in whatever manner they are taken. This photo taken by Lili Reinhart with an almost enviable platter of pizza proves that to everyone.
Brian Baumgartner
We're probably the biggest fans and followers of sitcoms in the galaxy. From Friends to Malcolm in the Middle, we live for these shows. Mockumentaries, especially, hold a special place in our hearts, and The Office is one of our favorites.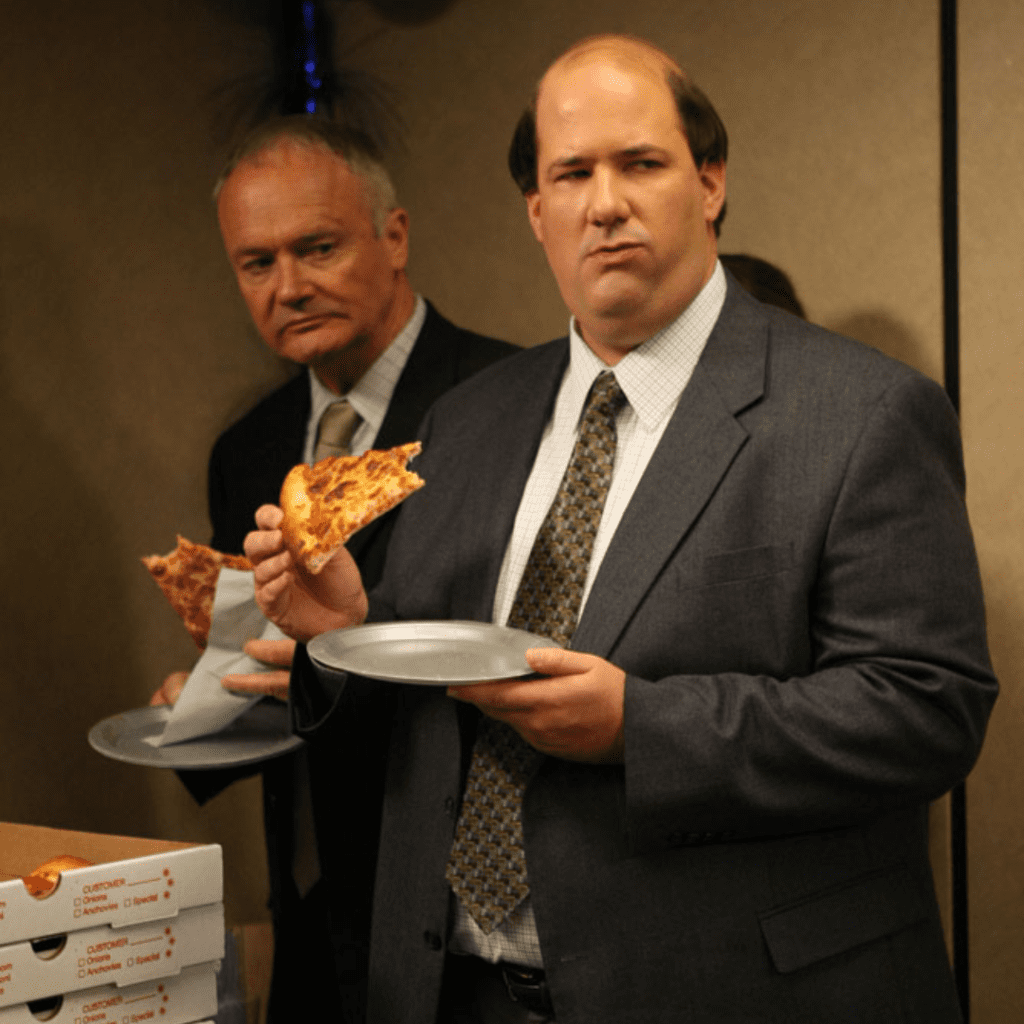 Brian Baumgartner played the character "Kevin" on the show, and frankly, he was amazing at it. He's pictured in the photo above eating a lovely slice of pizza, a shot that was most likely taken on set during the filming of one of the episodes.
Michelle Obama
It isn't just the former President of the United States of America who enjoys the comfort a bite of pizza brings, but so does his wife. She's pretty big on food and educating people about eating healthy, so seeing her beside food comes as no shock to us.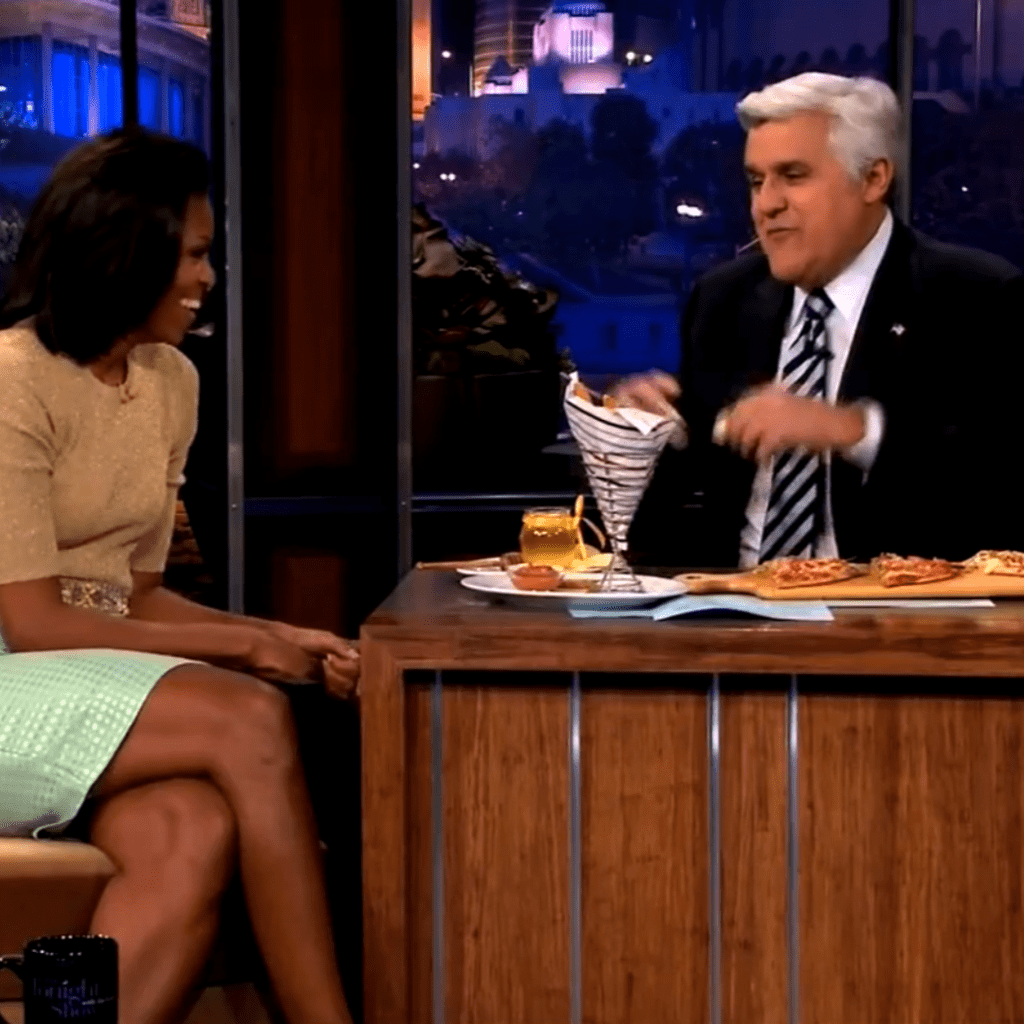 This picture was taken during a talk show starring the comedian Jay Leno. It was essentially about Michelle convincing him to eat his greens. Jay, who isn't the biggest fan of healthy eating, had no choice but to obey. It's Michelle Obama, after all, and that lady certainly gets what she wants!
Ashley Tisdale
What do we love just as much as sitcoms, you ask? Well, rom-coms and musicals, of course! It doesn't matter what age group it's targeted at; we'll watch and enjoy every single moment of it just like we did with the High School Musical franchise.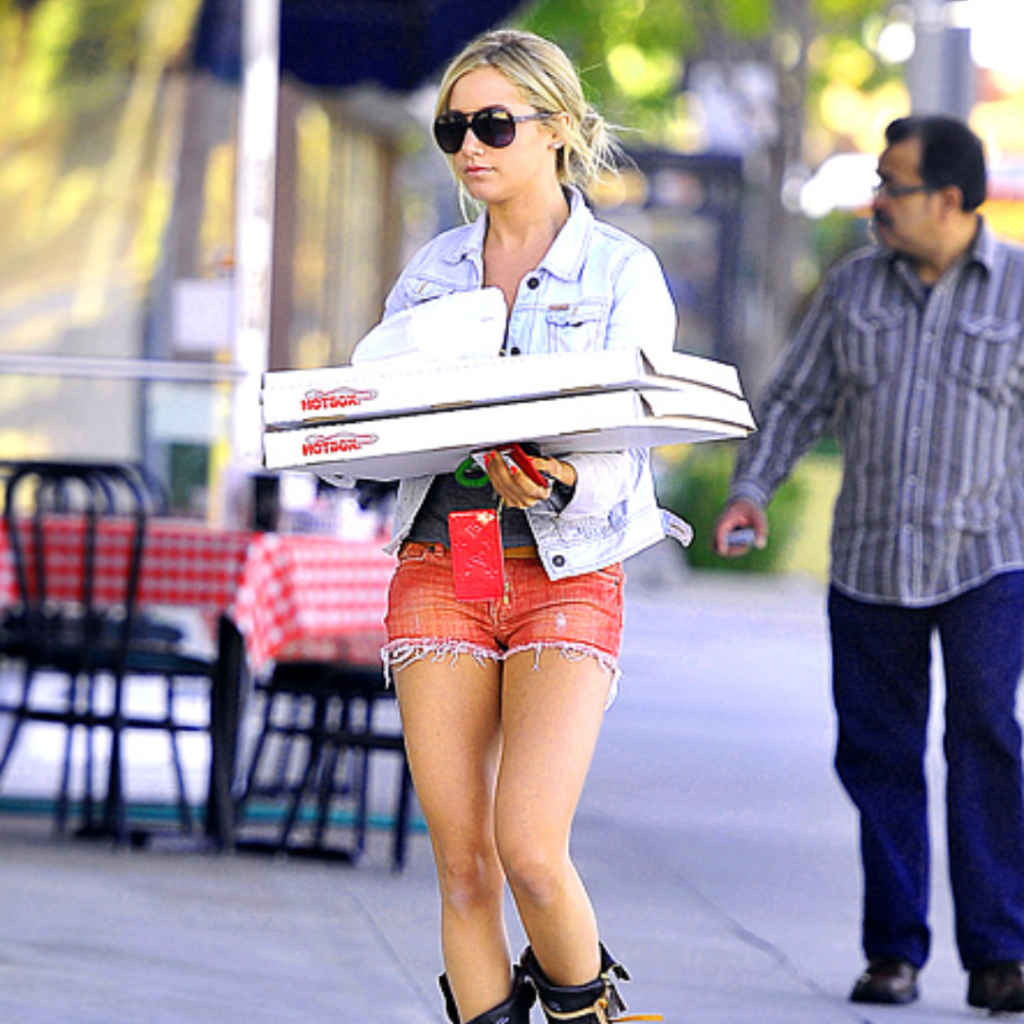 Speaking of High School Musical, anyone who's ever watched it might just remember the lady above, Ashley Tisdale, who played "Sharpay." Judging by this image, it looks like it might have been taken during that era or just shortly after.
Katy Perry… again
Remember what we said about Katy having a thing for junk food? Yeah, we weren't wrong because it seems like if she isn't dressed up as a snack, doing a campaign for one, or eating some, she's throwing it to a crowd of fans.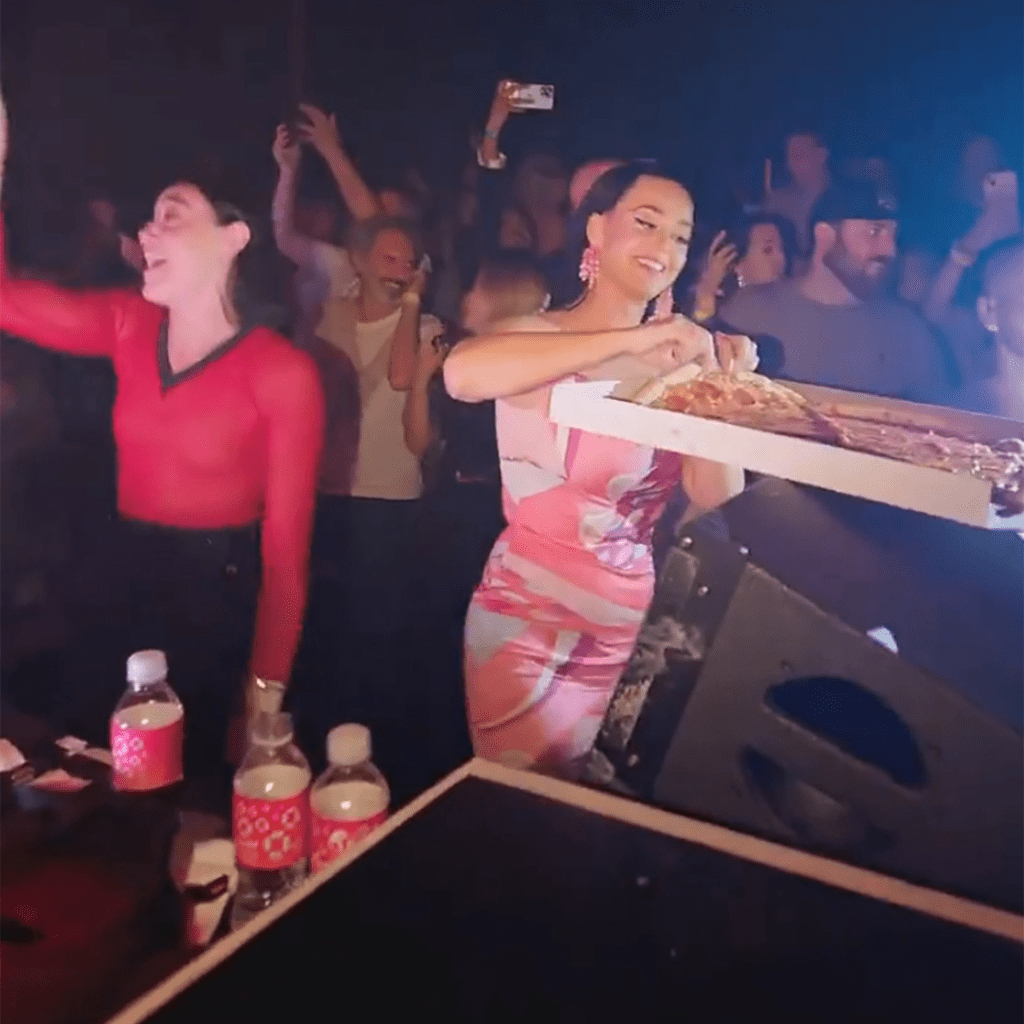 That's right. One of the biggest pop stars of the 2010s was out in a nightclub and decided it would be a swell idea to toss slices of pizza at her fans. Though most of it might have been wasted, we stan a queen who loves to feed.
Macaulay Culkin
Macaulay Culkin is a name for the ages. He was by far one of the most successful child actors in the '90s. The Home Alone star got an early start to his career and has been riding on the waves of that success ever since.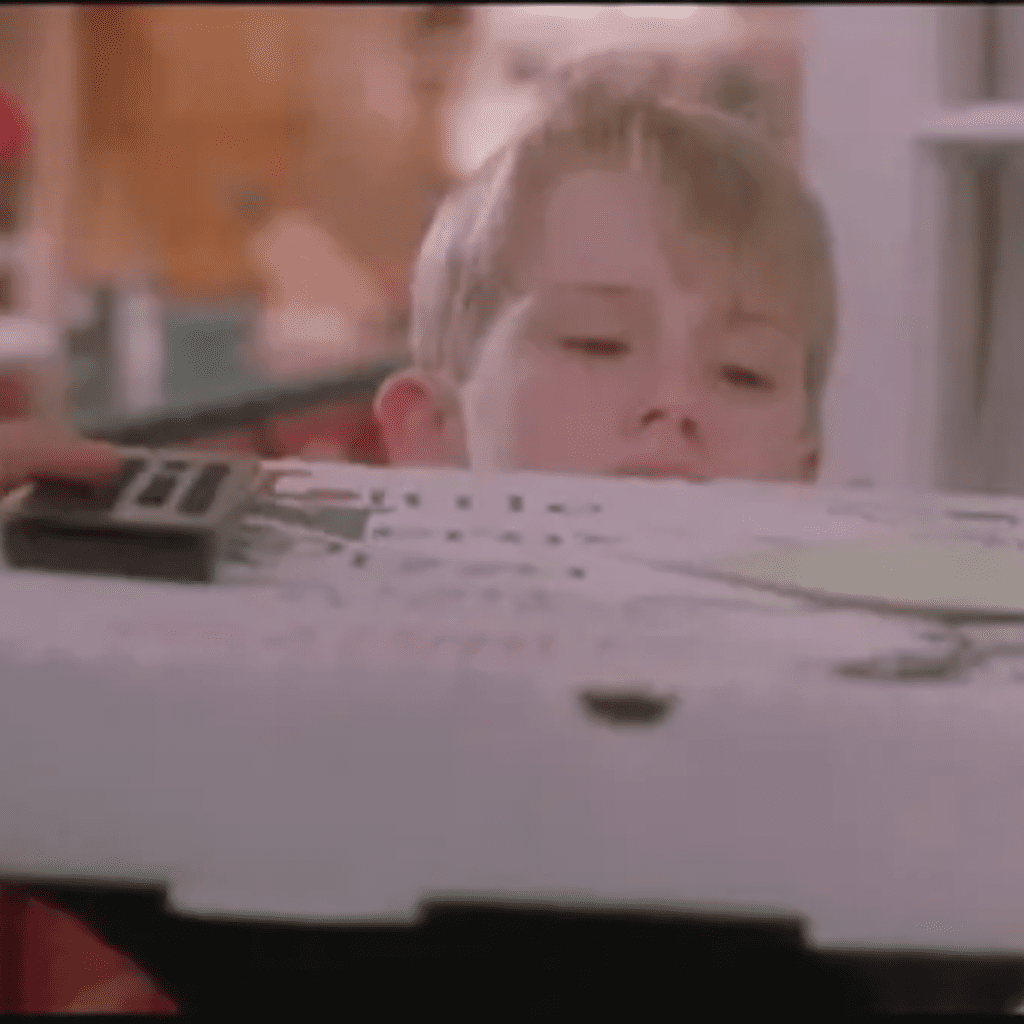 Although he isn't as popular as he once was, we still like to watch and remember his work from his younger days. This picture was taken from one of his movies when he reached up to grab a box of pizza for himself. How cute!
Drew Barrymore
It's inevitable that kids will take a lot of cues from their parents, especially when it comes to careers. But for it to be a trend that would go on for generations is not the most likely thing. That's why Drew Barrymore is one in a million.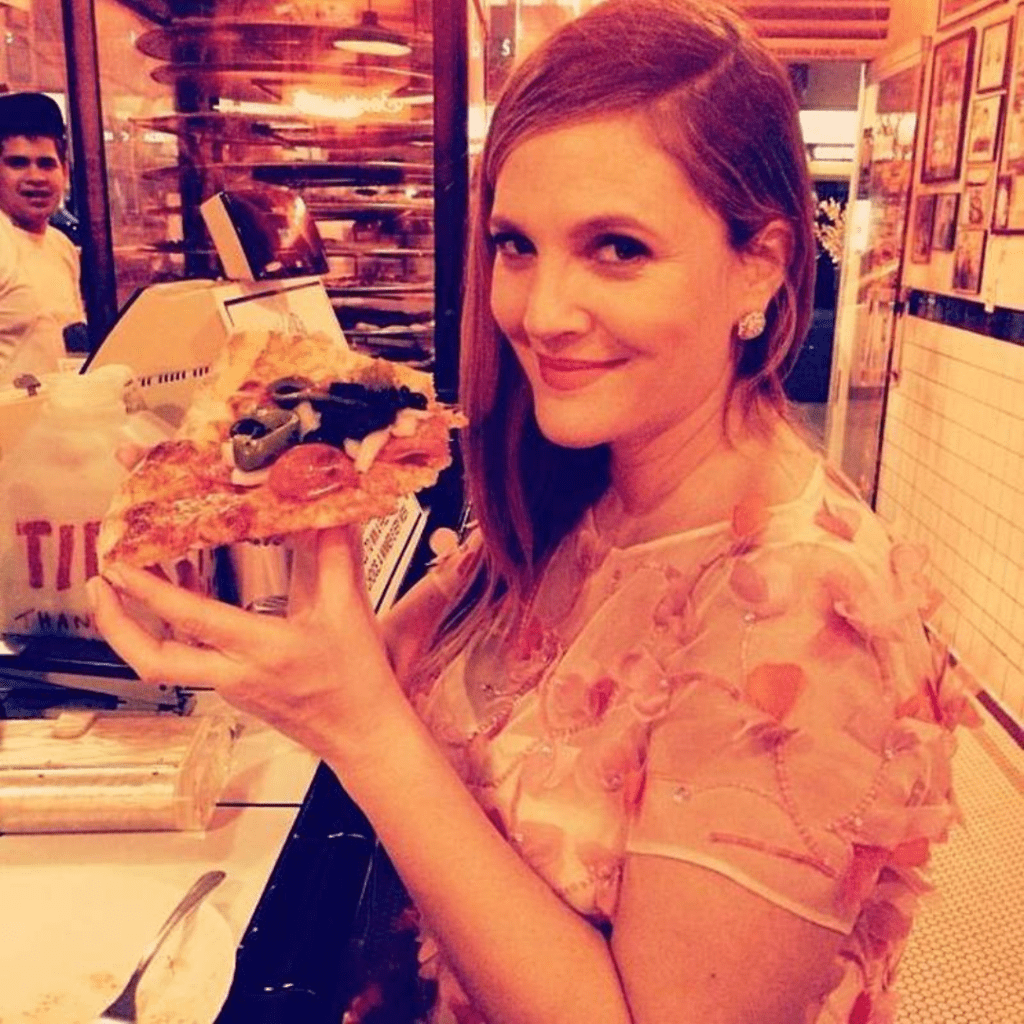 The actress comes from an acting dynasty, with the family's history in the profession going back to the 19th and 20th centuries. Now, Drew carries on the torch, giving excellent performances and enjoying slices of delicious pizza as she does.
Luisana Lopilato
Cheesy pizza has got to be one of the best kinds out there. Cheese itself is one of the best toppings one could possibly have on pizza, and this extra cheesy one Luisana Lopitato is cutting up looks like it must have been wonderful to have.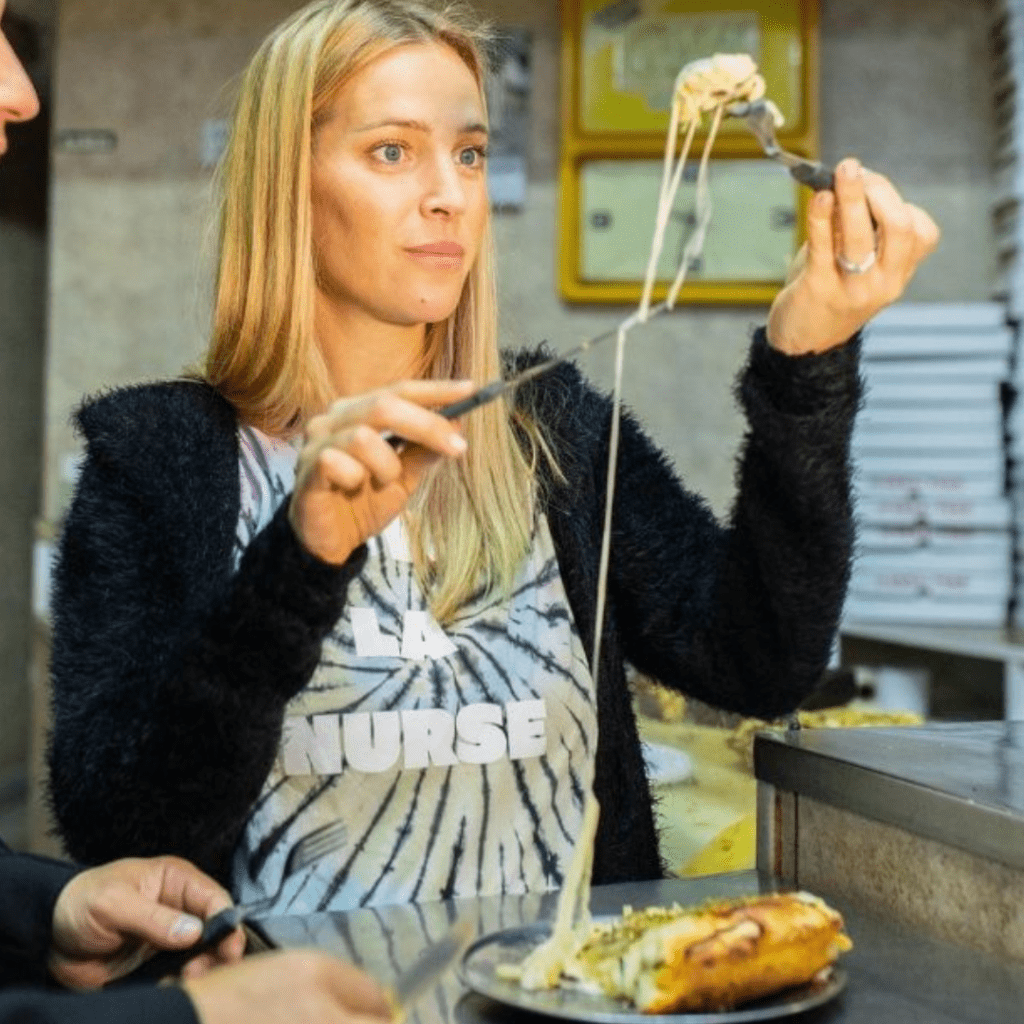 We're not particular about the kind of cheese used. As long as it melts wonderfully, it's a great addition to our dish any time. One thing to note is that this is one of the few occasions where it's okay to eat pizza with cutlery instead of one's hands. There's a system!