Add To Cart: 45 Quirky Items No One Needs But Are So Tempting To Buy
By Ishita P February 8, 2023
---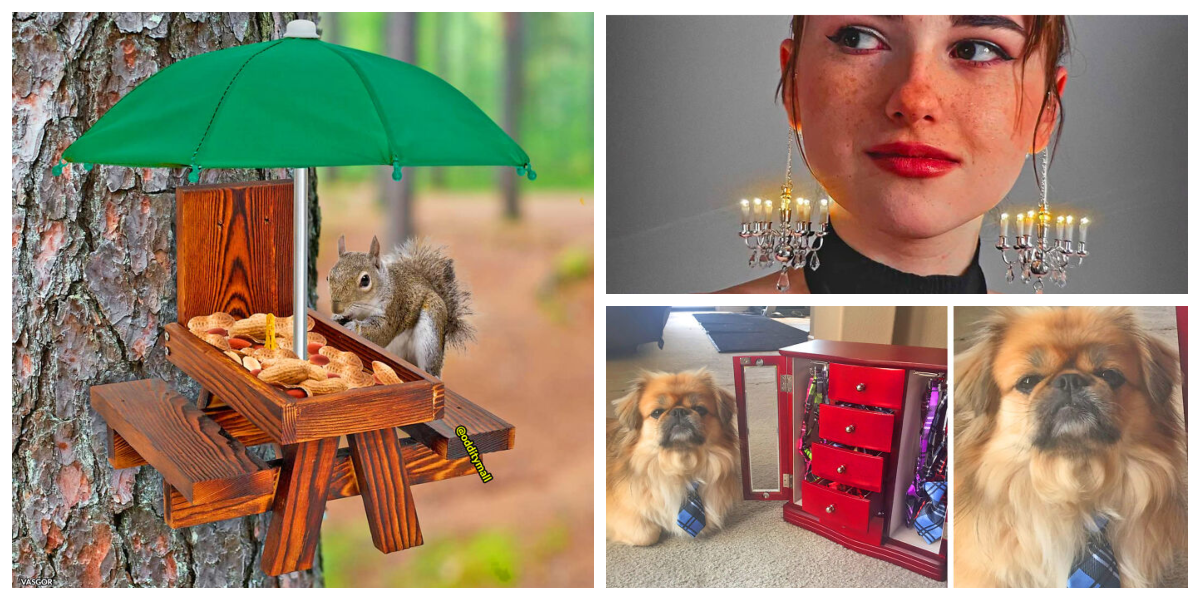 Funky gadgets always have a way of intriguing humans. After all, everyone gets attracted by things they find fascinating. It's almost instinctual. Fortunately (or unfortunately), shopping is one of the many results of this urge. We love to buy things we want to see forever or are curious about. But sometimes, this curiosity exceeds our self-control and drives us to buy unnecessary things.
In this article, we have featured some items you might not need but can't resist having at home. They are all sourced from the quirky yet intriguing Facebook Page called "Odditymall." This little corner of the internet shares exciting gadgets and tools you wouldn't find at your local store, but once you see them, you could be tempted to immediately "Add to cart." So, consider this your 'warning.' Here are our top 45.
Colorful Kitchen Set
If you want a colorful dinner set similar to the one shown in the image, it's safe to assume your inner child is still alive and well. Usually, most people have dining sets with plain colors, primarily white. But a little color is never a bad idea.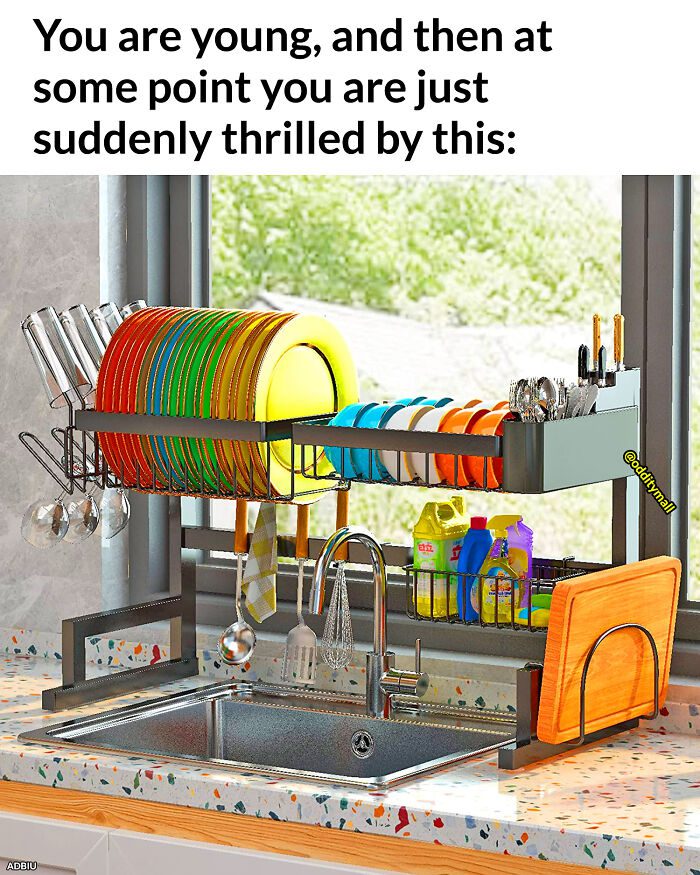 For instance, this colorful set may not be the traditional choice, yet it is attractive. The kids in the house would love to eat from this kind of ceramic ware. Such utensils are non-standard, but they can make eating fun and brighten your dining experience.
Workout with your Pooch
A dog-human treadmill combo is excellent fitness equipment for pet owners who want to work out with their furry friends. It allows you to exercise alongside your dog, rendering a fun and bonding experience for both of you. It's also a great way to keep your dog in shape and maintain their health.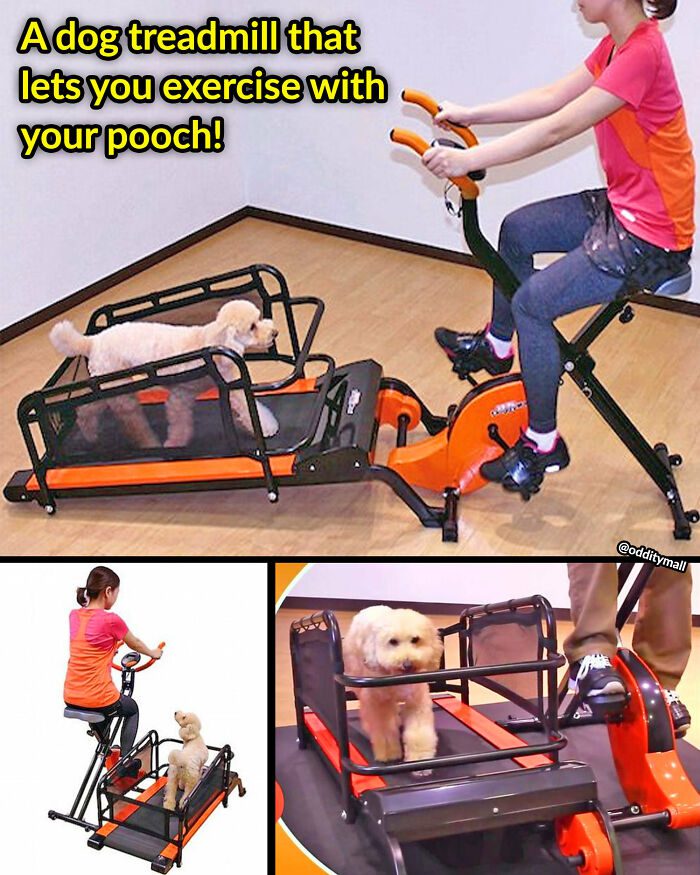 The most significant benefit of this dog-human treadmill is that it allows you to exercise with your pet if you have limited access to outdoor jogging spaces where you live. Thus, it is definitely something worth considering if that's your situation.
Luxury She Shed
Managing indoor and outdoor work can be tiresome. So, to help women 'escape' their regular responsibilities and have time to themselves, she sheds became a thing. Previously, they were mainly unused garages and old barns that were converted, but nowadays, they are built new with luxurious vibes.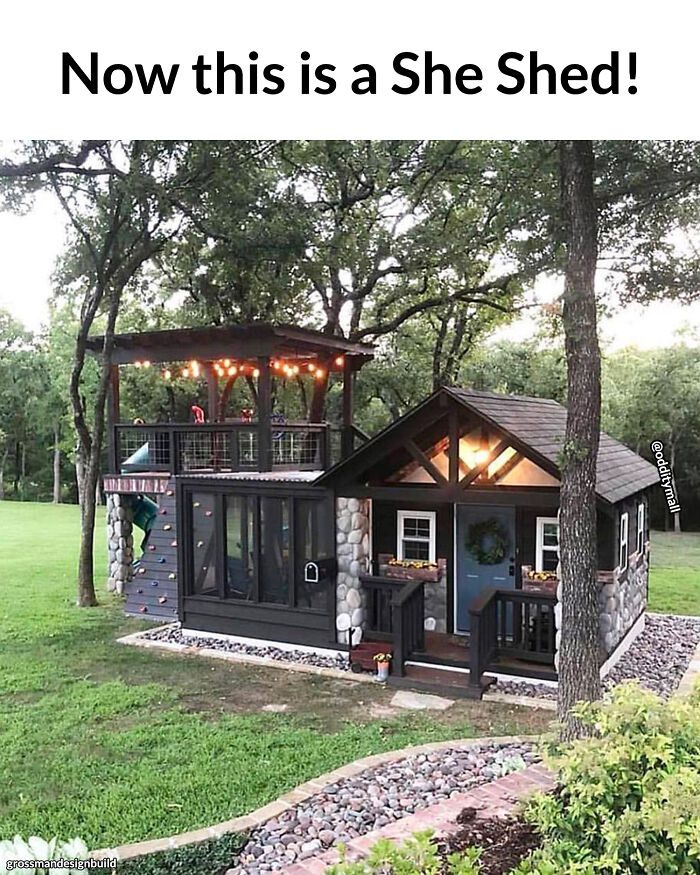 This one is a great example of a modern she shed. It looks more like a full-fledged home that can accommodate a small family. With a deck on the second level, a rock climbing wall attached to it, glass doors, and a gable roof, this she shed is definitely a dream home for some.
Kitty Pillow
For all the cat lovers in the house, we have something very special for you. Not only is this cat pillow adorable and fun, but it also provides comfort and support. The soft, plush material mimics the feeling of cuddling a real cat, providing a sense of warmth and love.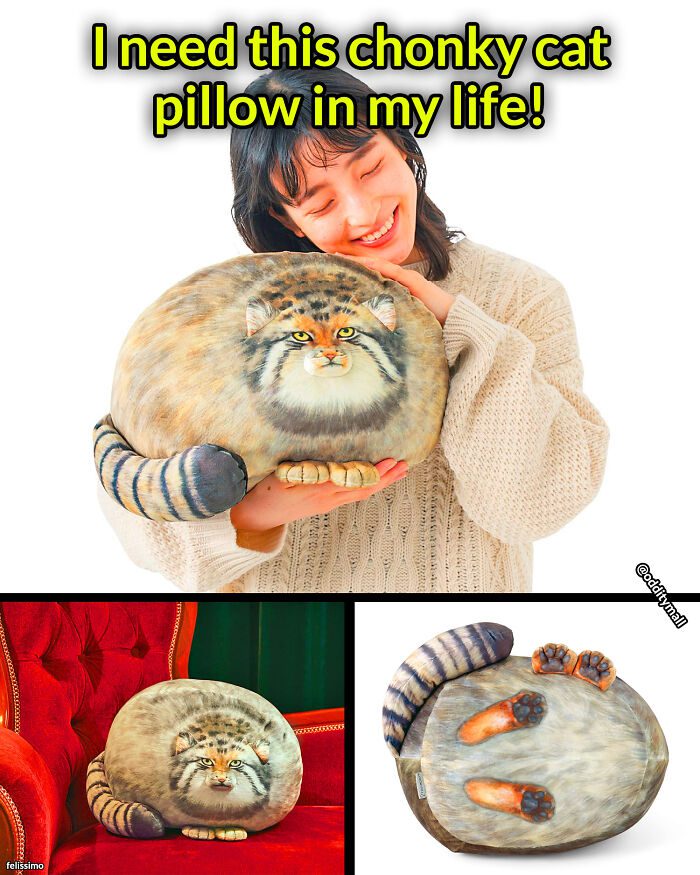 Moreover, the unique shape of such a pillow makes it great for home decor if you're into that vibe. It adds a touch of quirkiness to any room you place it in. Moreover, the realistic design and attention to detail make it a great conversation starter and a perfect gift for a feline lover.
Scary Paw
If you love pranks and have a friend who is afraid of cats, this toy is perfect for you. It's a cat paw gun. It perfectly imitates a feline paw that curls after pulling the lever. Its sole purpose is to prank people, so if that's your thing, you'll thoroughly enjoy it.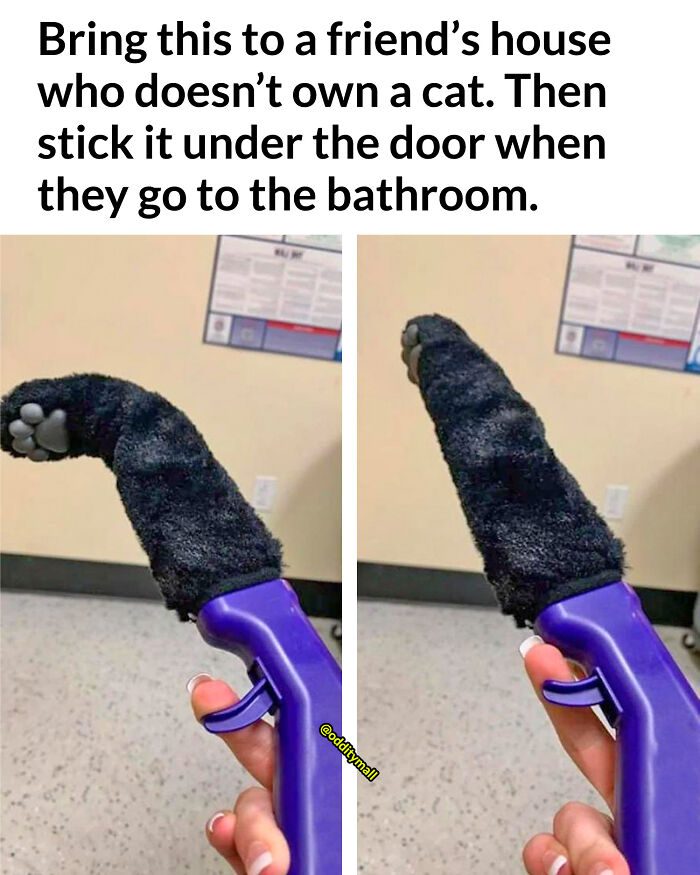 This accessory is obviously not a need, but what would life be without fun? It is quite handy and can easily fit in a small backpack or even a purse. Like the photo says, you can scare someone while they're in the bathroom or just place it on their shoulder when they aren't looking!
Toaster Bath Bombs
Bath bombs are bathing products that have been used for decades now. In the past, cosmetic companies have tried manufacturing them in new shapes and different sizes, but this toaster variant is a failed trial of the bath bomb figure test experiment.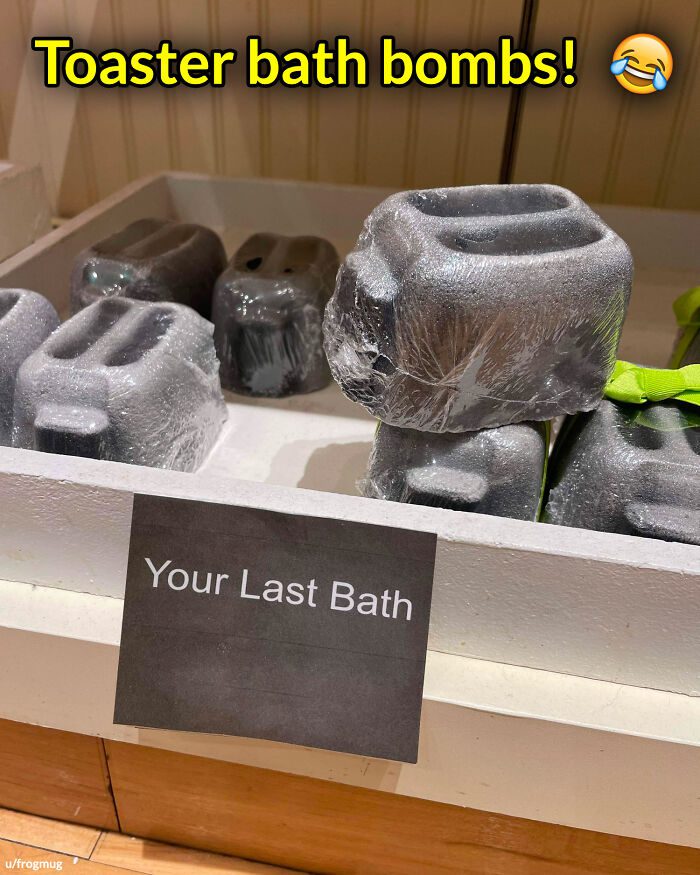 The shape is as funny as the name. It is bigger and weirder than the conventional circular bath bombs. Usually, these products enclose hidden gifts, like toys, jewelry, or perfumes, to excite buyers. But who knows, maybe these toaster bath bombs have a toaster inside, gifting you the literal last bath of your life!
Icey Penguin
No one can resist the urge to play with snow. The chance to play on the ice and make a snowman or other shapes is always so much fun, especially for children. They love to create multiple ice figurines though they often need help to retain their perfect shape.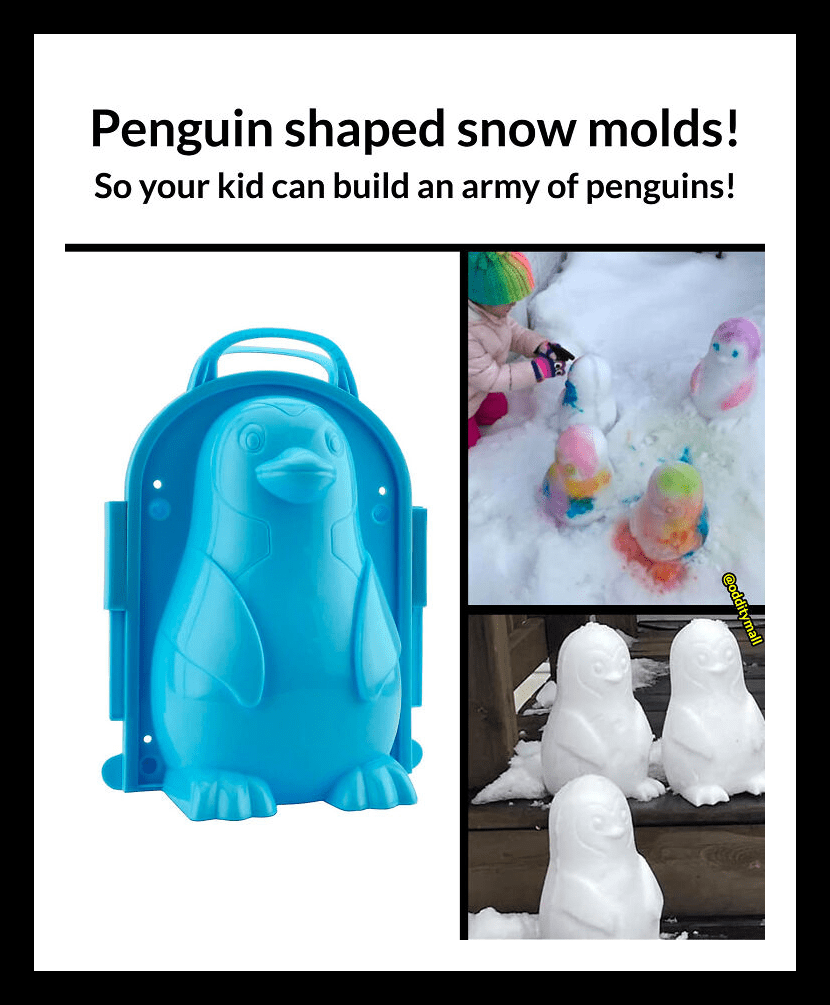 So, to help solve that problem, we have an ice penguin molder that can mold penguin-like structures from snow in no time. It's the perfect thing because let's be honest, who doesn't love penguins? Thus, gift this gadget to your kid this winter and watch them have loads of fun.
Get Out!
Trendy accessories always compel us to spend our money on them, and this doormat is one such product. The design and message it displays are cool and so precise. It's the perfect way to be clear without having to confront anyone. Frankly, we could use one of these.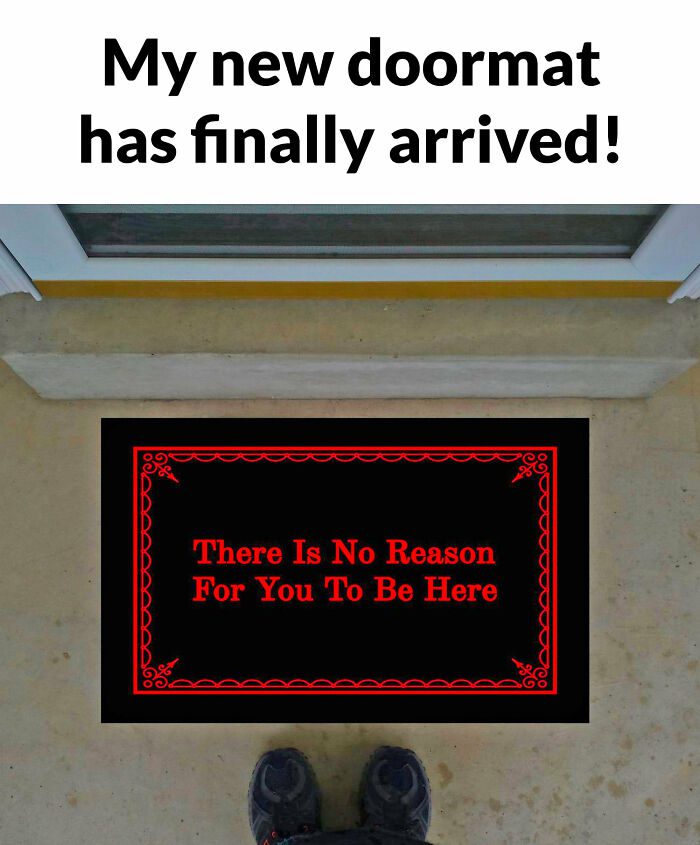 Adults sometimes go overboard and buy such doormats just for fun. Traditionally, a doormat is supposed to be simple, and if there's a message on it, it's usually something like the word 'Welcome.' But this one broke convention in a fun way, and we're sure it attracted lots of customers.
Snoopy's Fancy Ride
This next image is the epitome of Odditymall. Something unconventional yet so irresistible. This Snoopy-inspired gadget is actually a drone, and though we have never used or even thought of getting one, we can't deny that we now want it!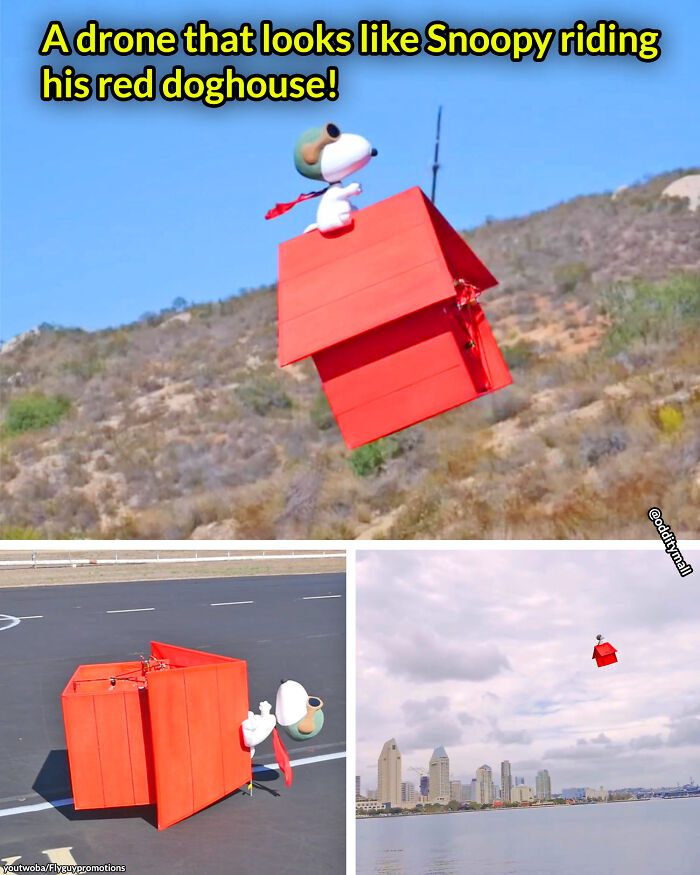 A drone is installed inside the tiny home with an antenna outside for signal transmission. Thus, when taken off, it just looks like a colorful flying house. Though they are often used for surveillance, something tells us this one wouldn't be subtle, so we'd probably just use it for photography.
Floating Aquarium
Fish love to stay in open waters, and their environment affects their well-being and happiness. Hence, many aquarists now keep their fish in small ponds to provide them with more favorable living conditions. They are like tiny apartments for the fish!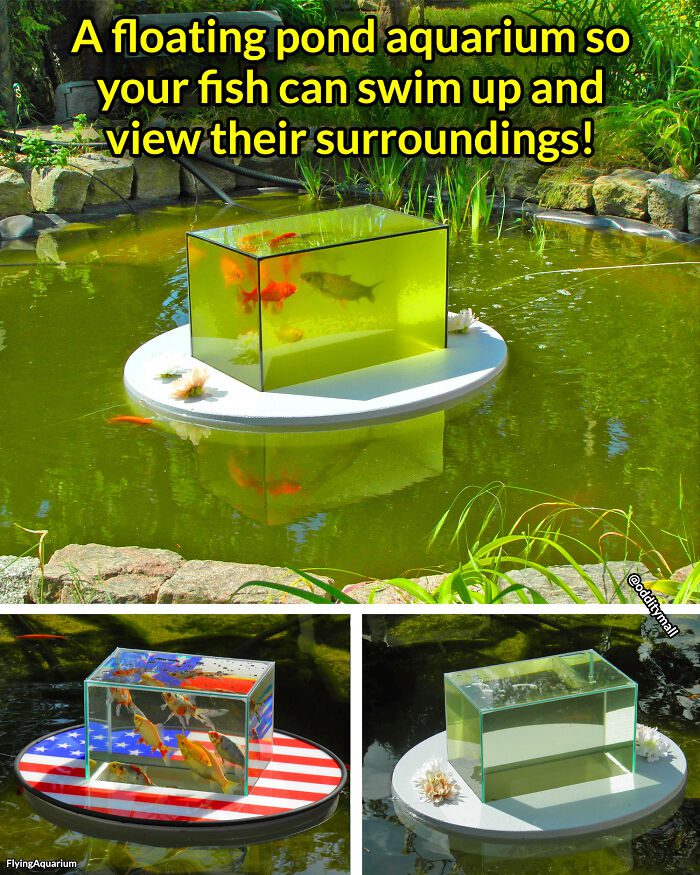 These aquariums are also an all-in-one solution that will not only give fish the luxury of being in nature but also render us a better view of them. They can be installed above the pond's surface, allowing fish to swim freely inside them whenever they want and leave just as easily.
Cat's Apartment
Building a cat house is one of the best and most satisfying experiences. Designating a small, private space for the animal member of your family brings immense joy and pleasure to the heart. However, this feeling can sometimes make you go overboard.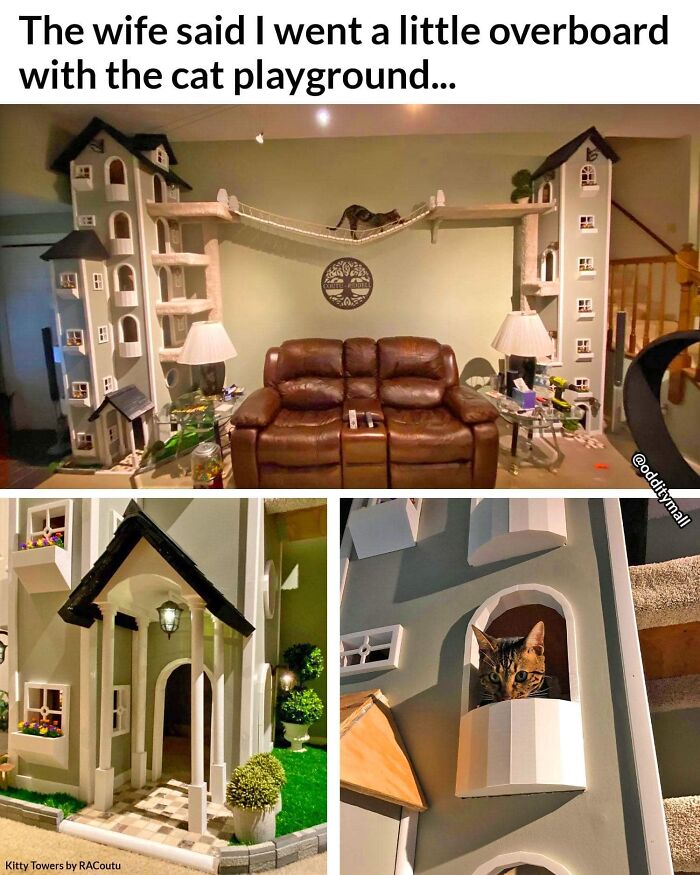 The cat house in the picture is more like an apartment. The kitty may not even come out of it to play, as it will be more than satisfied staying inside, especially if it's introverted like some of us who can stay inside for days at a time!
Fog Bubble Machine
Everybody loves bubbles since they are often used for beautiful and fun moments in our lives. Children love to play with them, whereas adults simply feel happy by looking at them. While all this is true for transparent bubbles, fog bubbles take these feelings up a notch.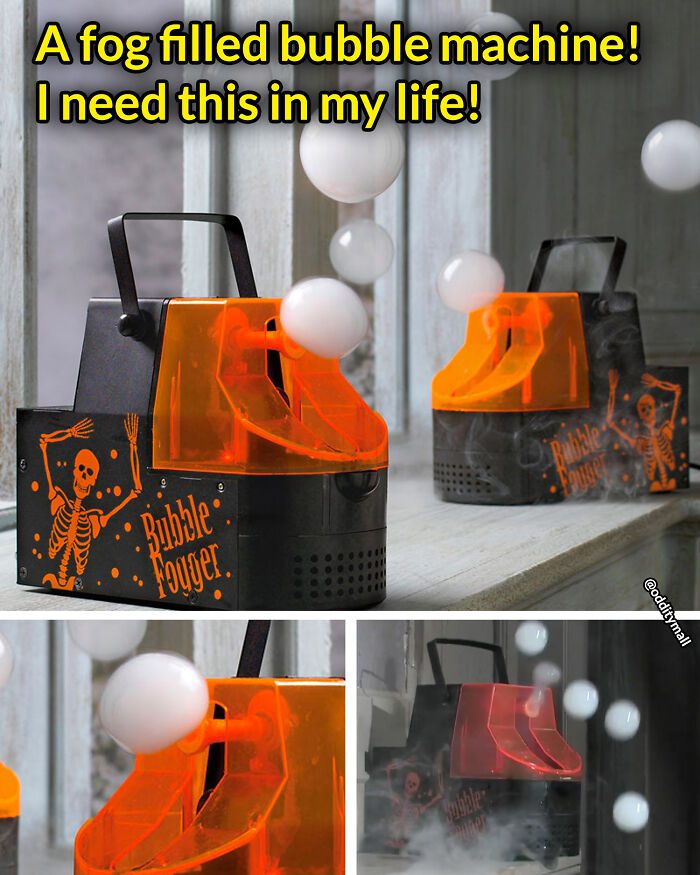 They look kinda dense and almost like a planet in outer space. The light reflecting from their surfaces makes them shiny and oh-so-pretty. Thus, there is no doubt that many people would buy one of these babies just for fun. Good luck to you if you're planning a kid birthday!
Owl Gloves
Clothing is one of the top things we buy out of impulse. The design, material, and color are the primary factors, or should we say culprits, for this. No one likes plain clothes, so if they have stunning motifs on them, you can be sure we'll be game.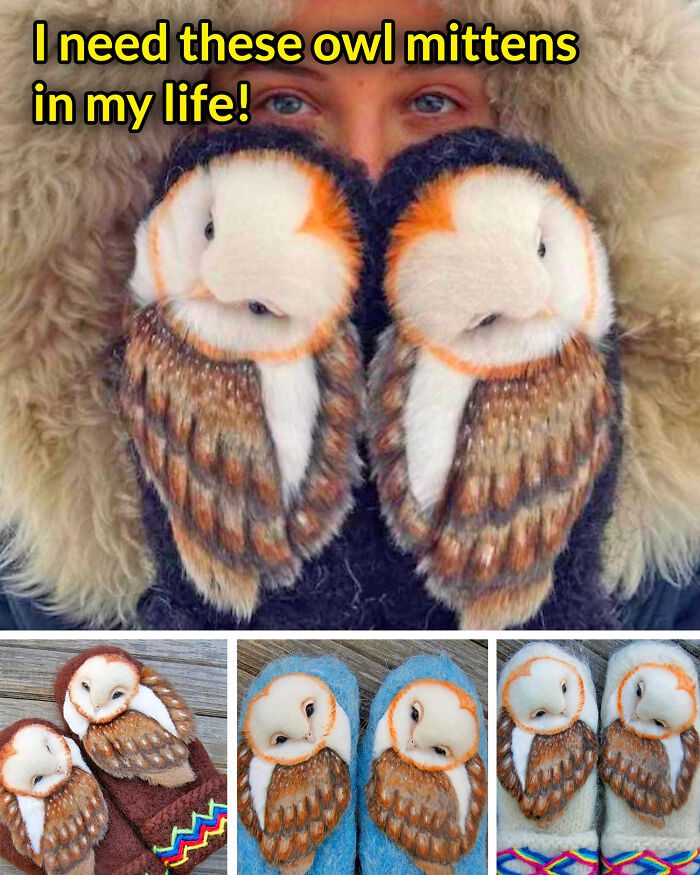 For example, the owl gloves in the images above are a highly desirable product because of their unique design and bright color combination. The cute owl motif is definitely the USP for these mittens. Most people would buy them just for that.
Princess Swing
Swings are a fun place to read books while having a cup of coffee and enjoying the ambiance. Most houses have them on their balconies or yards so people can sit and enjoy nature. But the massive swing in this image can take up a room in its entirety.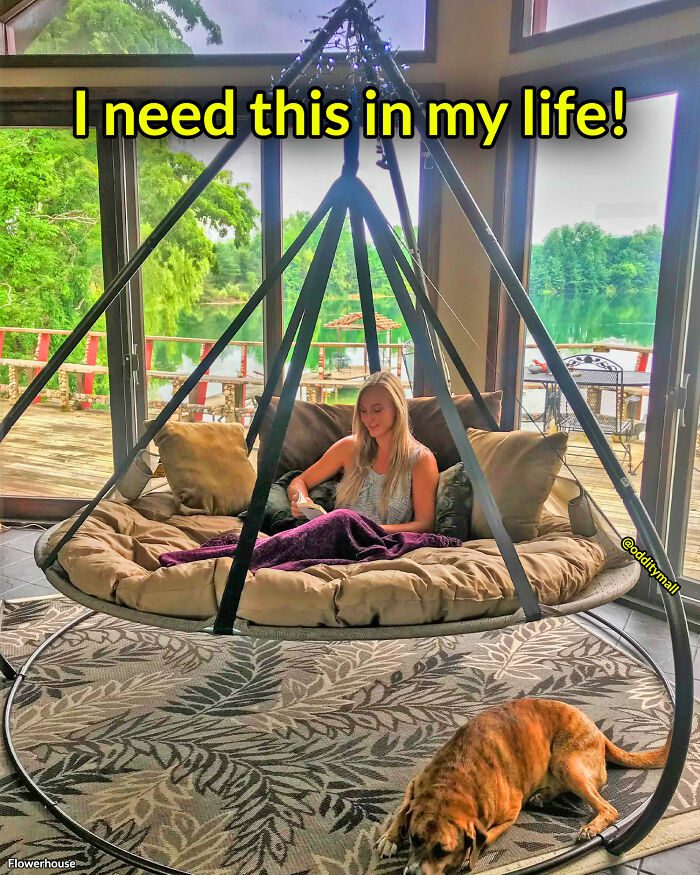 It looks more like a royal seat for a princess. If this was ours, you can bet we would spend all our days in it. If you add some snacks, a cozy quilt, your favorite books, and a pet, you could practically just live there!
Doggo's Closet
Who knew that dogs look this cute in neck and bow ties? Some owners even prefer dressing them in designer ties to make them appear even more beautiful. So, why not have a separate closet for your furbaby to organize its ties and other accessories?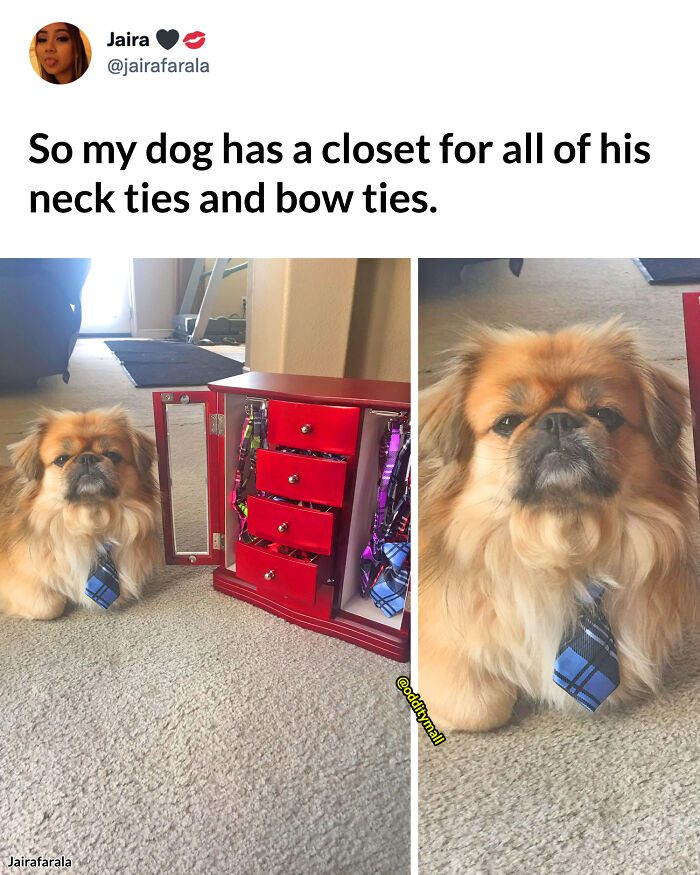 Although owning a closet for dog bow ties may sound unnecessary, it is tempting to have. Most pet owners buy these mini-cabinets to spoil their dogs and treat them like they would their own kids. Also, isn't that the most dapper dog you've ever seen?
Futuristic Bed
Technological advancement and innovative gadgets have never been enough for humans. We always strive to incorporate them into our lives to make the most out of them. Some of them are useful, while others are just for fun. This high-tech bed with a big in-built TV screen is a perfect example of both.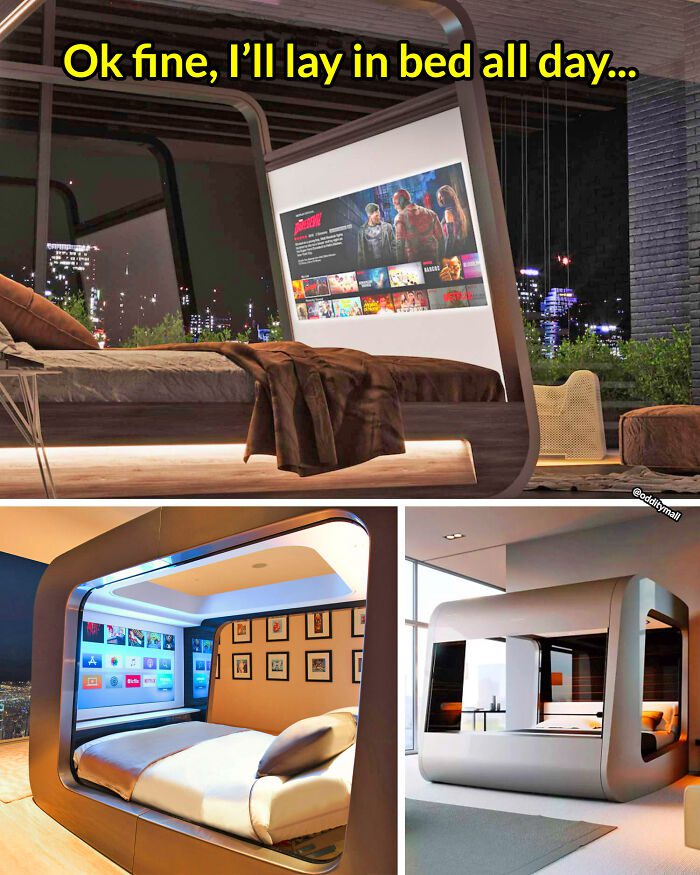 The futuristic design and massive screen may make it a dream bed for almost all teenagers and adults. Who wouldn't love to lay in bed all day long if it looked like the one in the image above? There has never been a more fun way to watch your favorite movies or series.
Dracula-Killing Sharpener
This sharpener is pretty cool. We are certain every kid would love to have one of these. Its design of a stabbed Dracula is creepy yet irresistible at the same time. How it works is you sharpen your pencil by jabbing it straight through the vampire's heart and twisting it.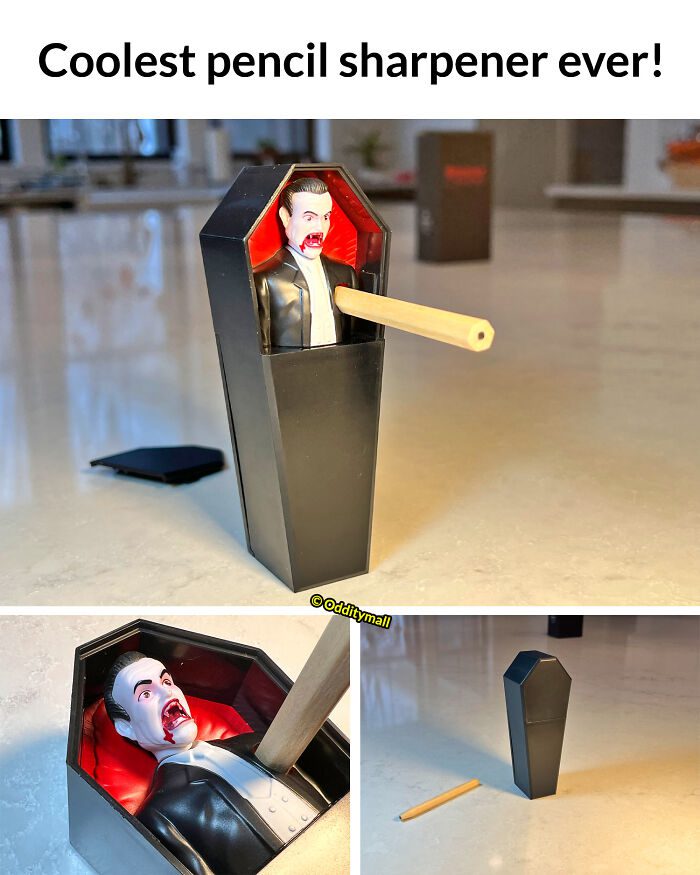 Every time you sharpen your pencil, you prevent Dracula from coming out of his tavern. Though it is indeed fun, if you buy one of these for your kids, be prepared to buy more pencils soon. We guarantee they'll be going through them faster than usual.
Cool Bookmark
The triangular shape of this wooden bookmark allows it to stand upright on the bedside table, making it easier to find and grab when you're ready to pick up your book again. You can also use it to mark important pages in the book.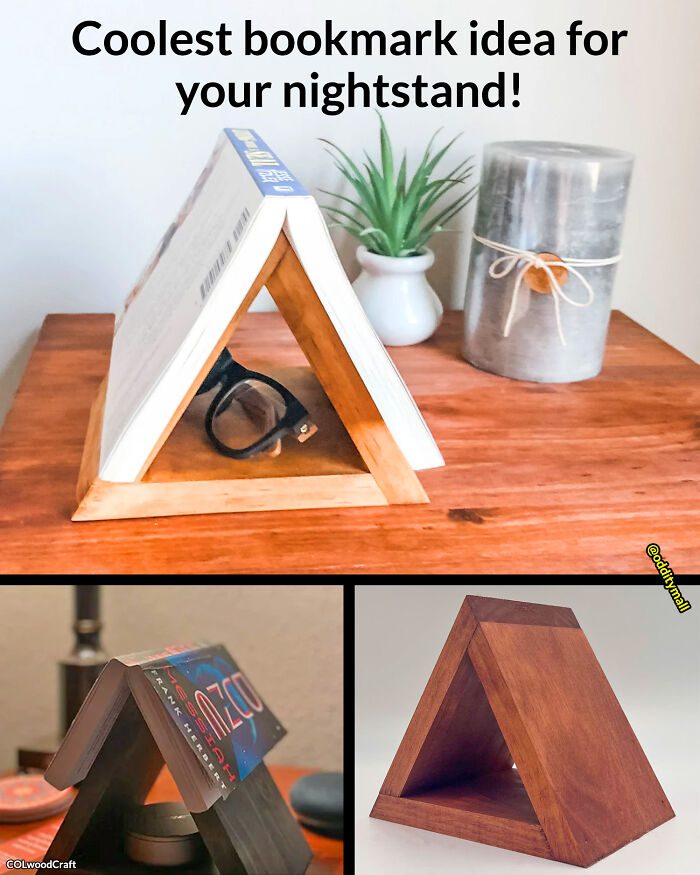 It's the ideal gift for all those book lovers who enjoy reading in bed. Moreover, you can easily decorate it with different colors or designs, making it a perfect addition to a bookshelf or study room. It can also be used as a decor piece, so overall, it's a perfect gift idea.
Simpson Sponge Holder
This sponge holder is a game changer for those who do the dishes. Not only does it prevent your sponge from accumulating microbes, but it also keeps your kitchen counter mess-free. But when it comes in a funky design like this one, even a sponge holder can turn into a decorative kitchen piece.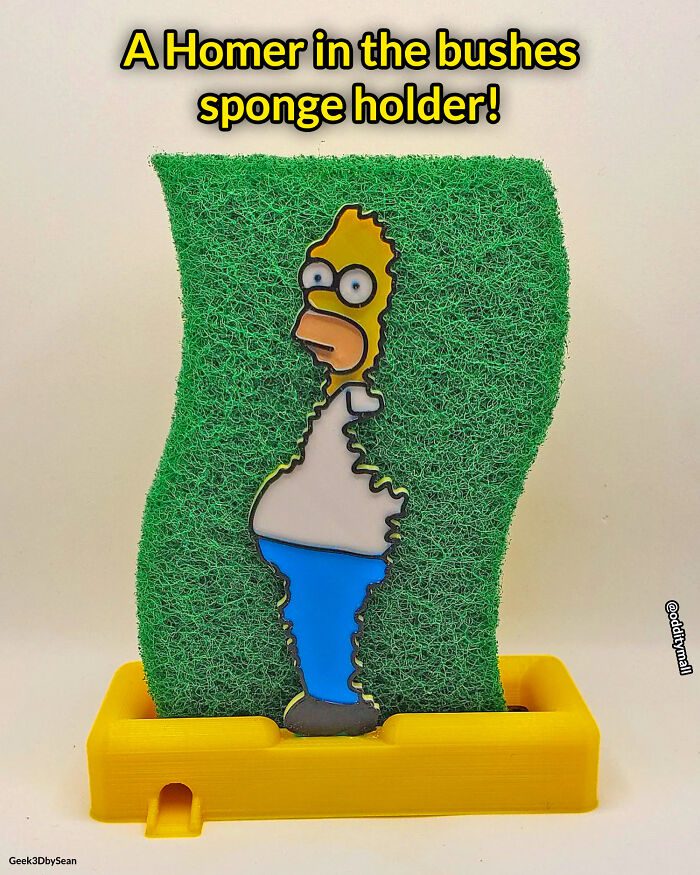 It perfectly replicates the famous animated cartoon character "Homer" from The Simpsons. Even those who haven't watched the show have definitely seen the meme of this guy retreating into the bushes. Whoever thought of this definitely deserves a raise because we never thought we'd want a sponge holder so bad.
Luxurious Bus
This is definitely giving us ideas about our retirement plans. With such a vehicle, you can easily spend your life on the road seeing as much of the world as you want. Its interiors are even more luxurious than a five-star hotel.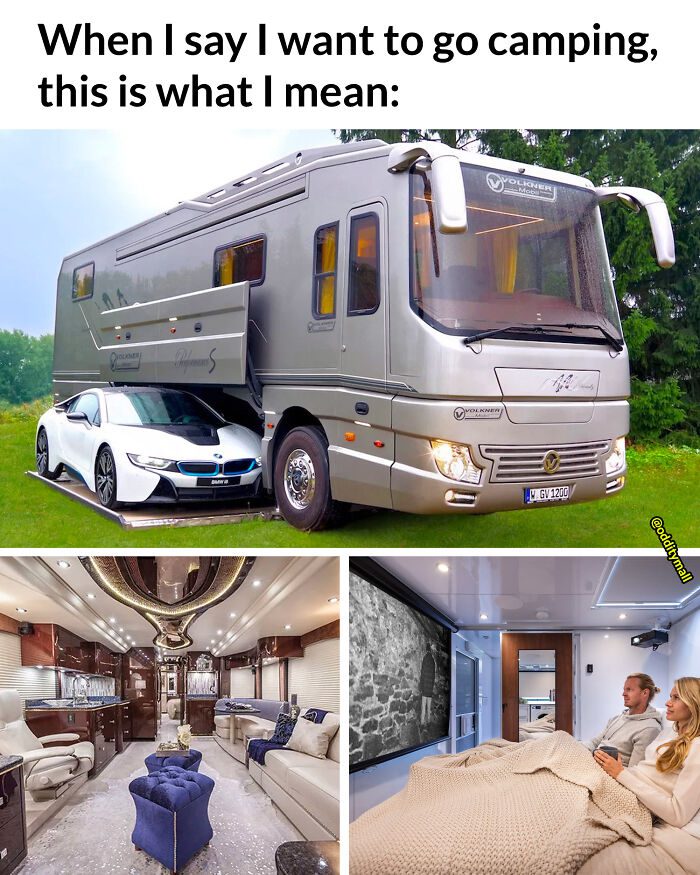 Also, the retractable car parking space at the bottom is a plus. It makes the whole setup more of a deluxe mobile home than a vehicle. Thank heavens for technological advancement because now, we have RVs like this that can literally take you anywhere.
Chicken Table
While it may seem unnecessary, a chicknic table can be a fun addition to your backyard chicken set-up. It enables your brood of chicks to eat meals together. The scenario almost looks like a cafeteria full of chickens enjoying a meal and having a great time.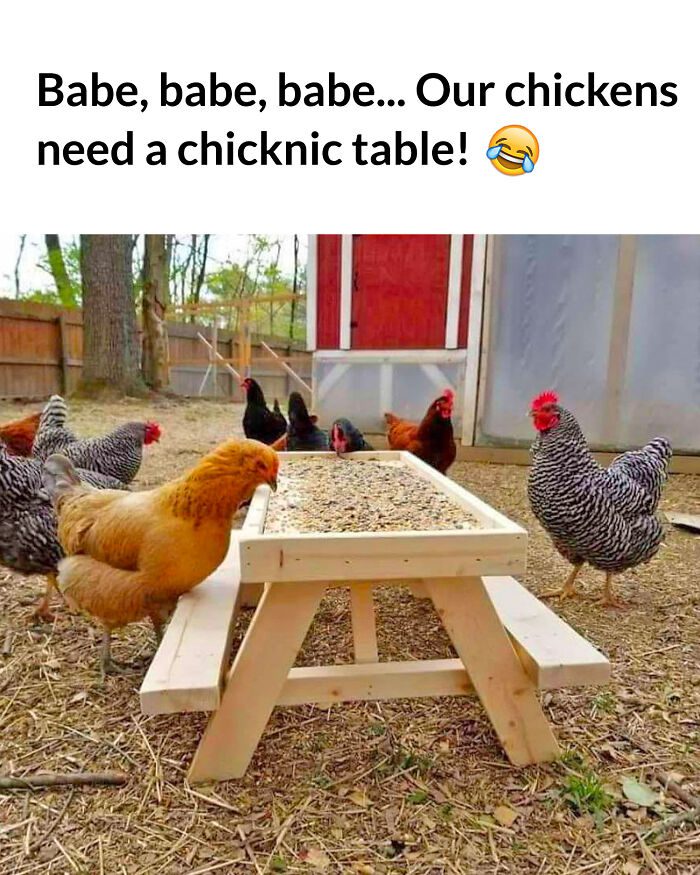 Most owners have chicken-feeding stations, but this table is a rare design. It not only looks fantastic but also offers your birds an elevated place to eat food comfortably. So, if you want your chickens to be the coolest flock in town, get this trendy table for them!
Astronaut's Bathroom
This astronaut figurine toilet paper holder is a unique and playful design for any bathroom. The hollow structure inside the helmet makes it more functional and fun. It is a fantastic decor option for people who are fascinated with space.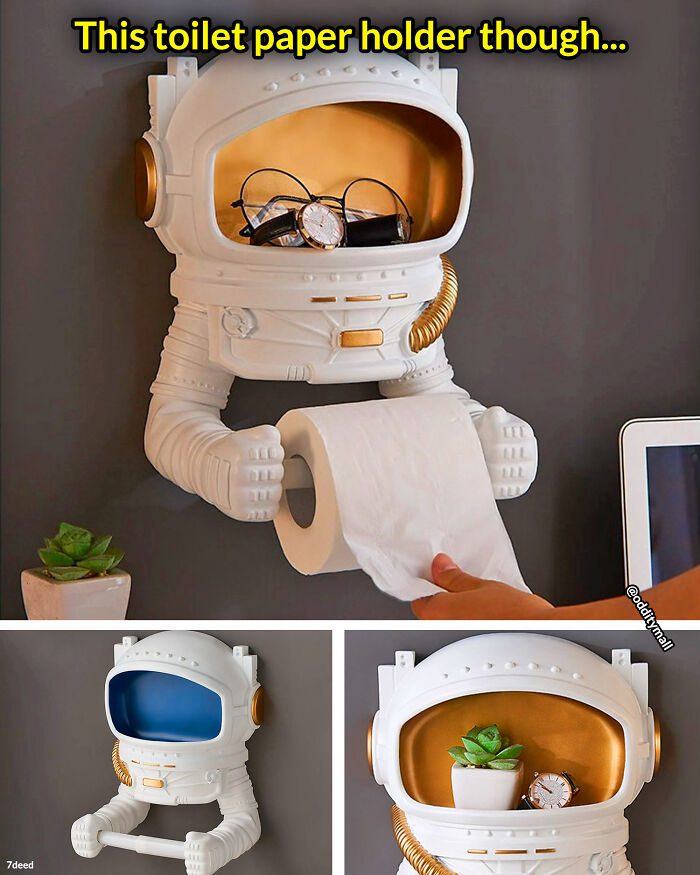 It can also be an excellent gift for kids and adults who love space or love quirky decor pieces. If you are intrigued by the celestial world or have a kid who wants a space-themed bathroom, this gadget is a must-have.
Shark in the Tub
Crazy innovative minds are the soil and fertilizer of funky accessories. Jokes aside, this bathtub plug is indeed dreadful. Imagine seeing a bloody shark coming out of a shower drain right when you are about to bathe! Horrifying, isn't it?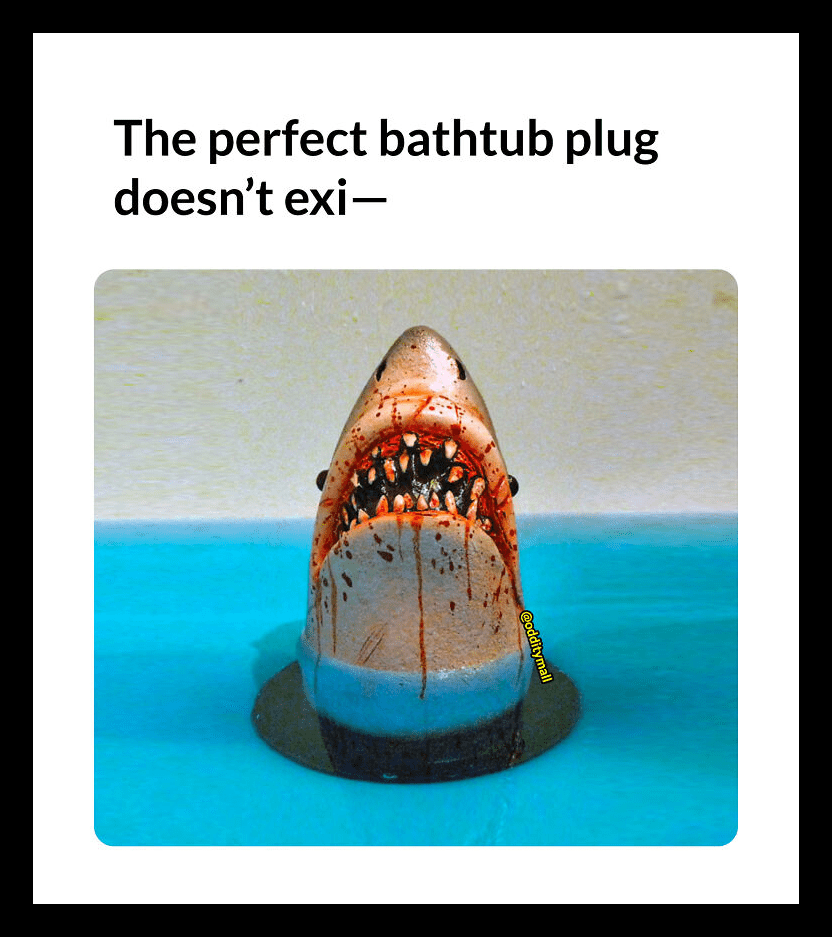 With its teeth, open jaws, and oozing blood from the mouth, every element exhibits amazing artistry. Anyone would get scared seeing it for the first time. So, if you get this for your bathtub, it's recommended to warn others. Or, you could stay quiet and wait for the screams!
Flying Sun-Chaise
Some people can spend their money on these kinds of accessories without any regret. What's more beautiful than two cozy lounge chairs floating in the air by the poolside on a bright sunny day? It is the kind of home paradise everyone dreams of.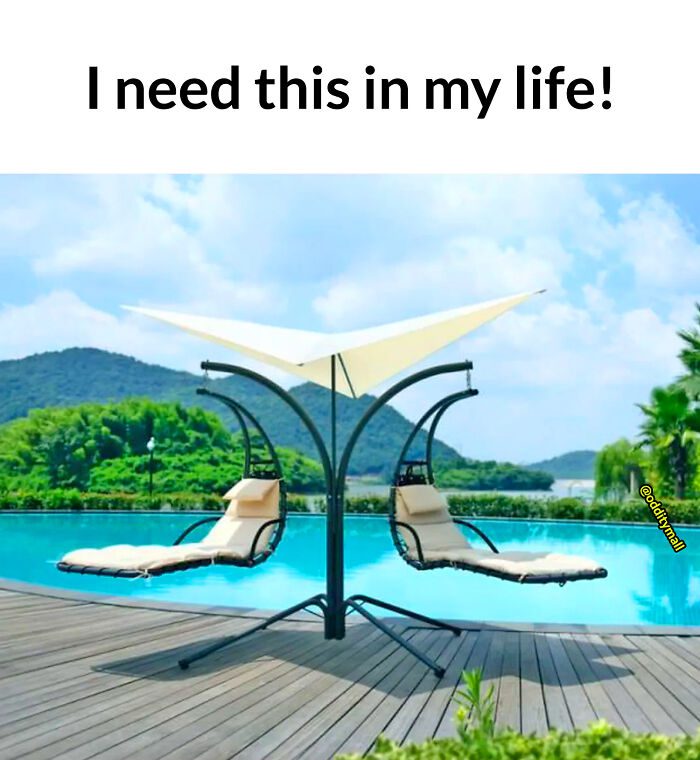 The unique hanging design and comfortable cushion padding of these sunbath chaises are attractive. It's no wonder someone captioned this, saying they needed something like it in their lives. This and the luxury RV are definitely items we want to get for our future selves.
Compact Luggage
Unique accessories with numerous functions attract more attention. They are useful, stylish, and, on top of it all, unpredictable. The suitcase in this image is such an advanced, versatile product and is perfect for travel. You can easily expand its inner section, revealing the hidden closet inside.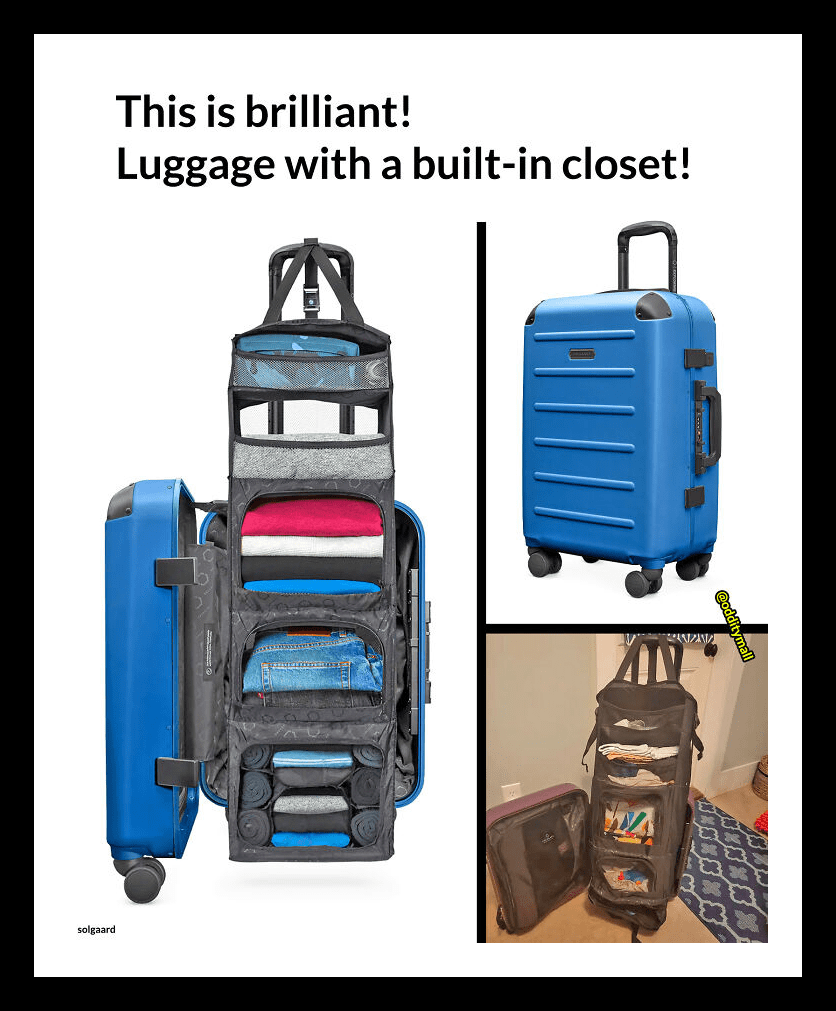 It has pockets for everything. You can keep clothes, brushes, and other essentials in different sections. Hence, it comes in handy for frequent travelers and family trips. No wonder this luggage set is considered one of the most useful and cool suitcases to have.
Megalodon Shark Lamp
Epoxy Megalodon Shark Lamps are unique and visually stunning pieces for home or office decor. When turned on, they offer a glossy, transparent illumination. The lamp is designed to resemble an extinct shark species, the Megalodon, chasing after a swimmer.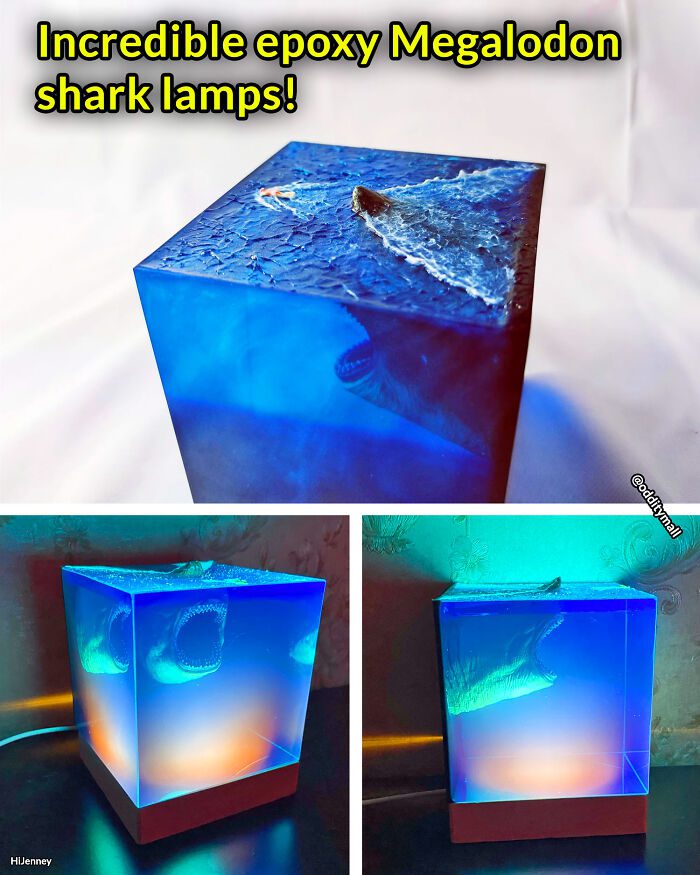 The shark is wonderfully crafted and painted to render a lifelike appearance. Moreover, the epoxy cube's mirror-like polish perfectly mimics the dark underwater environment of the sea, giving the lamp an eye-catching, mysterious look. Thus, spending a few extra bucks for this beautiful piece is worth it.
Cuddling Bear
A life-sized boyfriend pillow can be a great way to enjoy the comfort of cuddling, especially if you're single and really miss cuddling. If you have the habit of sleeping while hugging someone or something, this will be a lifesaver for you.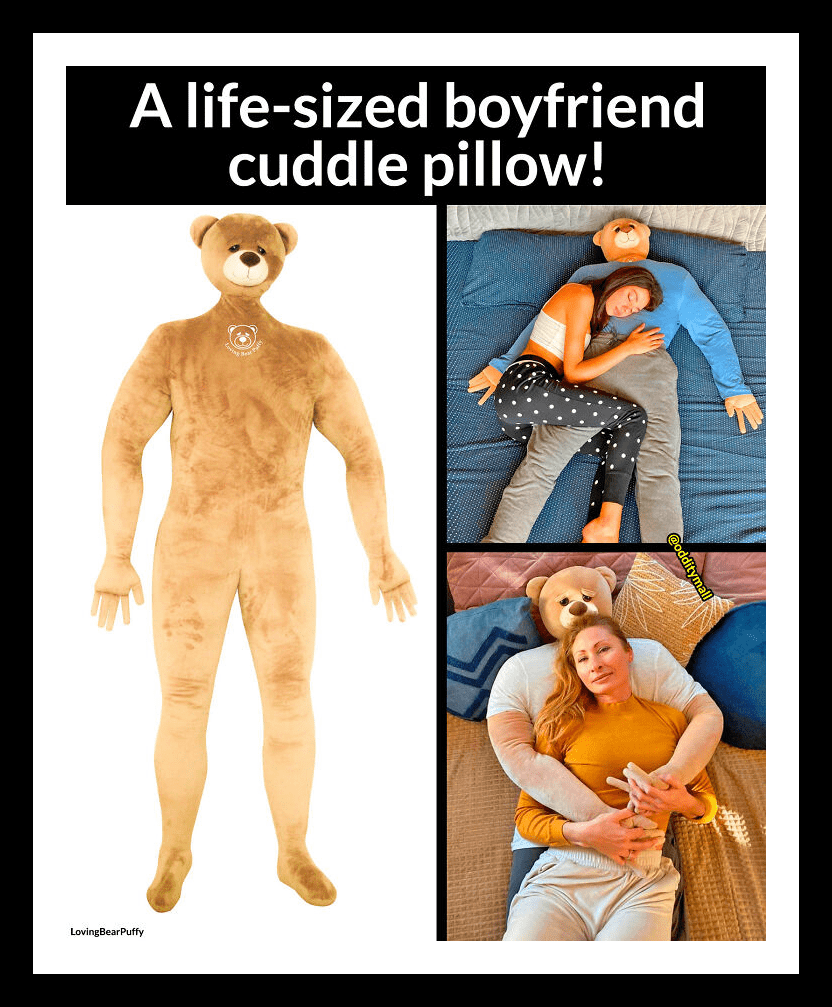 The toy is made of soft plush material that not only gives comfort and warmth but also a sense of security and peace. Besides, many people love having giant teddy bears in their rooms, so this one is just a slight variation to those. What do you think? Yay or nay?
Books or Burger
It's amusing to see how similar two things can be. For instance, this wrapping paper was used to wrap books. But the prints on them closely resemble real tomatoes, cheese, fried meat, lettuce, and a bun. Hence, when the wrapped books were stacked in the correct order, they formed a burger!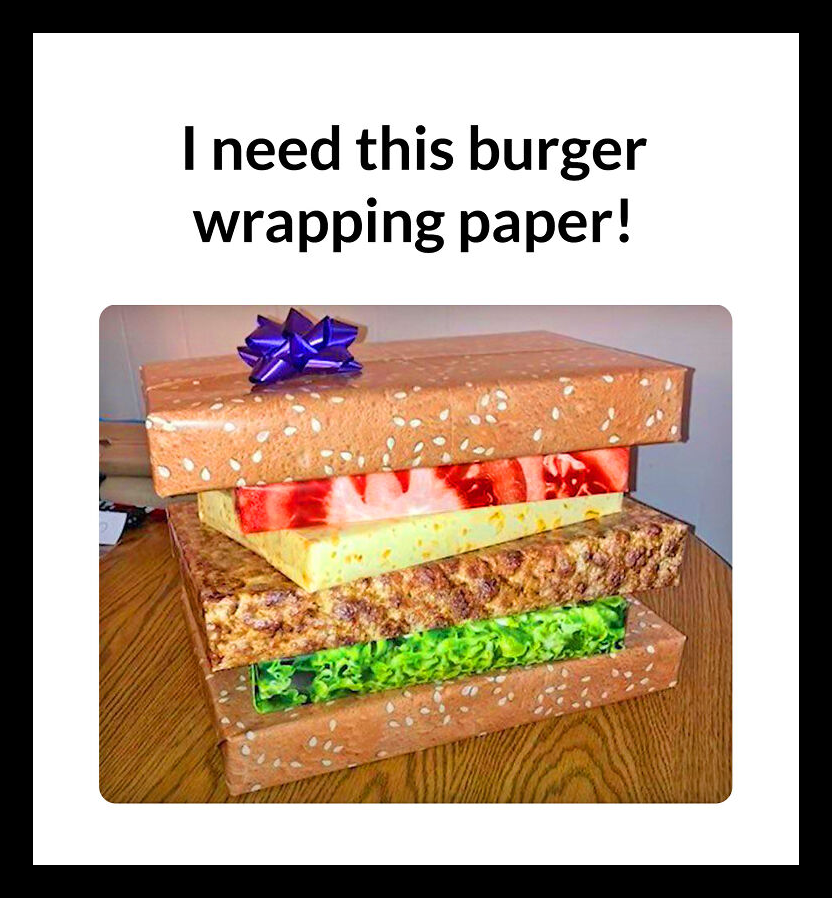 The ribbon flower on top makes the entire setup come together. It is the perfect way to gift books to someone who is an ardent burger lover and a reader. So, get yourself these textured designer papers today and have fun wrapping gifts in unique ways.
Coffin Chair
This product and the post are both too hilarious! If you are working at a dead-end job, this coffin chair is truly perfect for you. Maybe you could even convince the whole office to get these. However, anyone who dares to sit in one of these will surely get chills down their spine.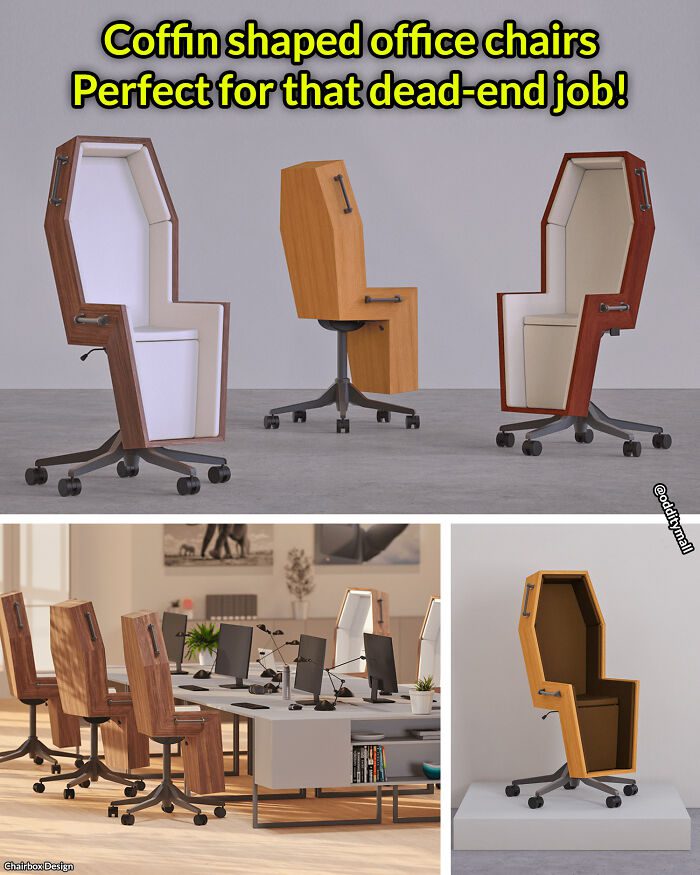 However, professionally, they probably improve concentration by restraining your back view. Office chairs are usually plain, simple, and even boring. So, these funky coffin chairs can be a unique decor option to make work exciting and the office environment lighthearted. What do you think?
Comfortable Life
The image below depicts a collection of elite sofas we wish we could get ourselves. They are made of velvety fabric with unusual horizontal tufts, and the soft, plush cushions arranged on top make them look incredibly cozier than the average sofa.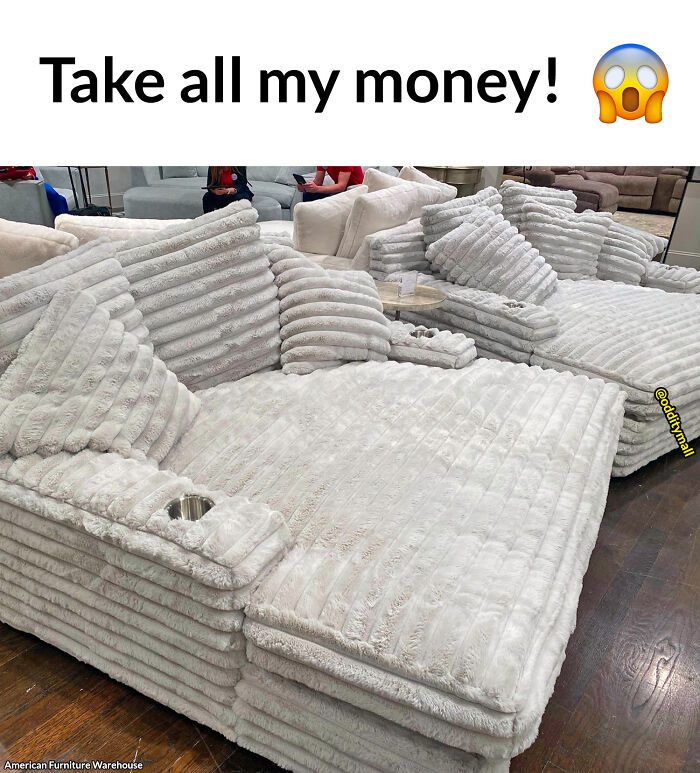 You may not necessarily need a new couch right now, but glancing at these sofas, you may wonder how nice it would be to have one in your home. Even the most practical people would consider having such comfortable modern furniture in their living rooms.
Holding the Weights
You can always count on humans to come up with ways to make simple things exciting. Our nature invokes us to try new things and bring out the extraordinary. This cloth stand is the perfect way to showcase the level of creativity of human minds.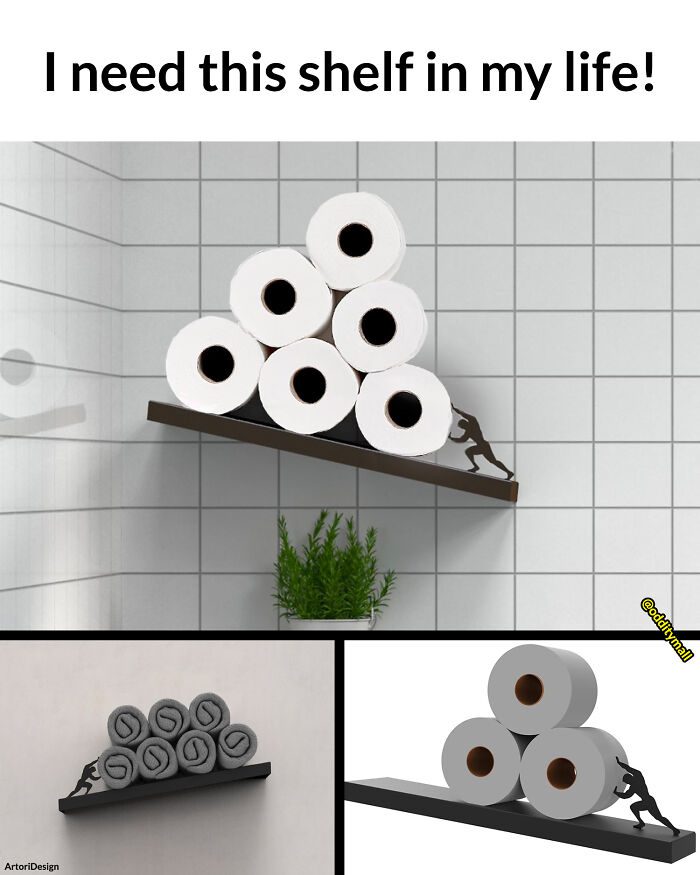 Ordinary shelves are parallel to the floor and hold the various items placed on them. But these ones are slightly tilted, and a figurine of a bodybuilder is the support here. Unique and functional decor pieces like these give your bathroom a contemporary look, so it's no wonder they're in high demand.
Chicken Harness
Nowadays, most chicken farm owners use these harnesses to let the birds enjoy the outdoors without the risk of them getting lost. It may look weird watching chickens move around with a harness, but sometimes it's necessary for their safety and well-being.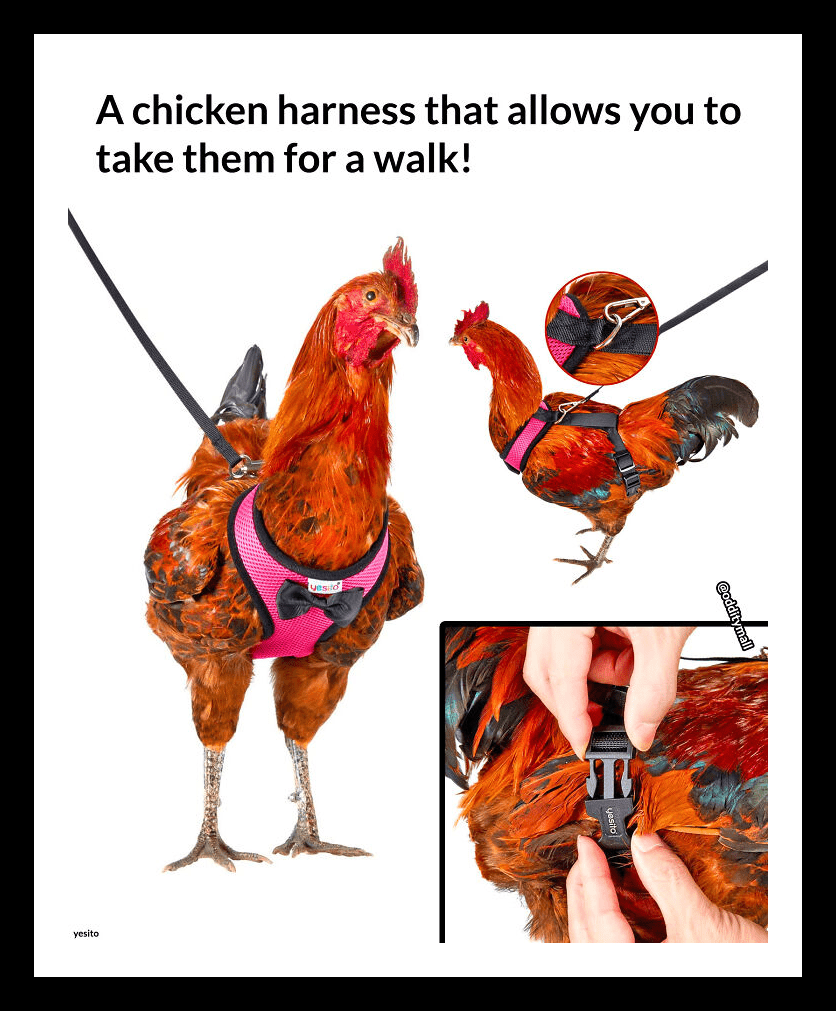 Also, these harnesses can prevent your hens' feathers and skin from getting damaged when roosters tread them. However, you must ensure that the one you get snugly fits your bird's neck. Otherwise, they can slip out and run away, which is the last thing you want.
Close Bird View
If you have never seen a hummingbird up close before but would really like to, a bird feeder mask is a great accessory for you to have. These birds are very quick, so it's difficult to catch their beauty up close. Luckily, this hummingbird helmet can help you with that.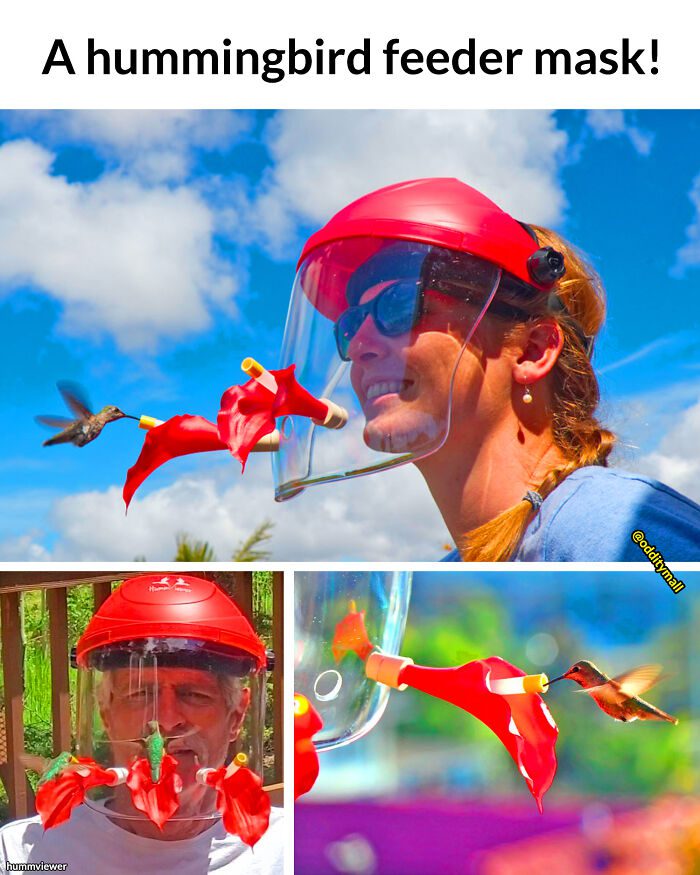 It protects your face while allowing you to comfortably watch the birds and witness their aerial acrobatic performance right in front of your eyes. Such products don't really relate to our needs much but certainly help us explore the beauty of nature.
Squirrel Feeder
Do you often find squirrels intruding on your bird feeder in search of food? Well, then get an exclusive squirrel picnic table for them. This table-shaped feeder with an umbrella on top comes with benches on either side, allowing at least two squirrels to eat simultaneously.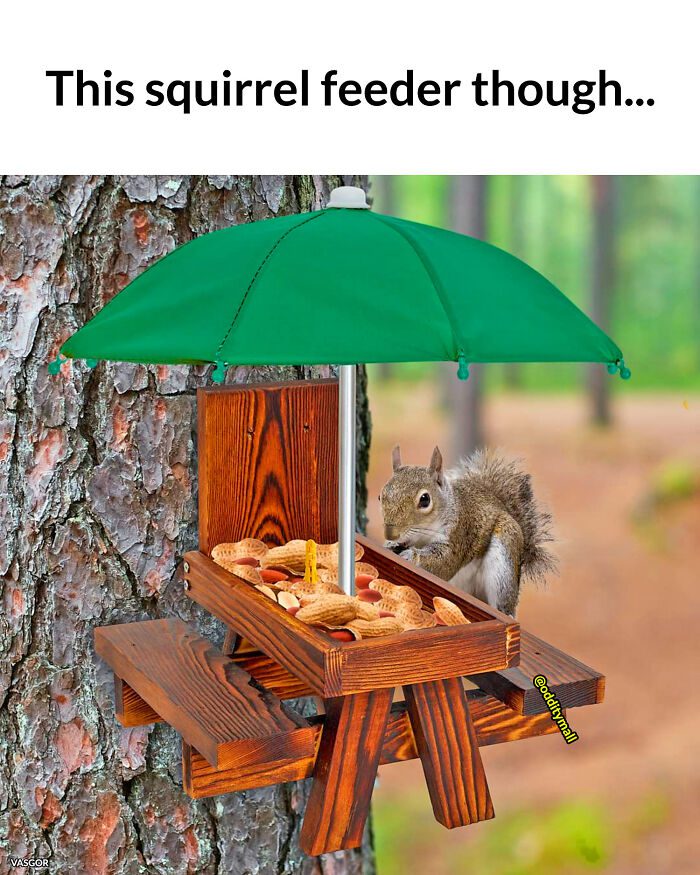 The tiny green umbrella above entices these creatures and shelters them as they enjoy their meal. Thus, installing this cute yet functional squirrel feeder not only adds charm and elegance to your outdoor space but also gives it a playful and whimsical appearance.
Fork-Spoon Combo
A folk-cum-spoon is a genius invention because of its versatility and ease of use. You can use it for various tasks, from stirring and mixing to serving and scooping the food. The material also makes it usable with hot and cold food alike without any damage.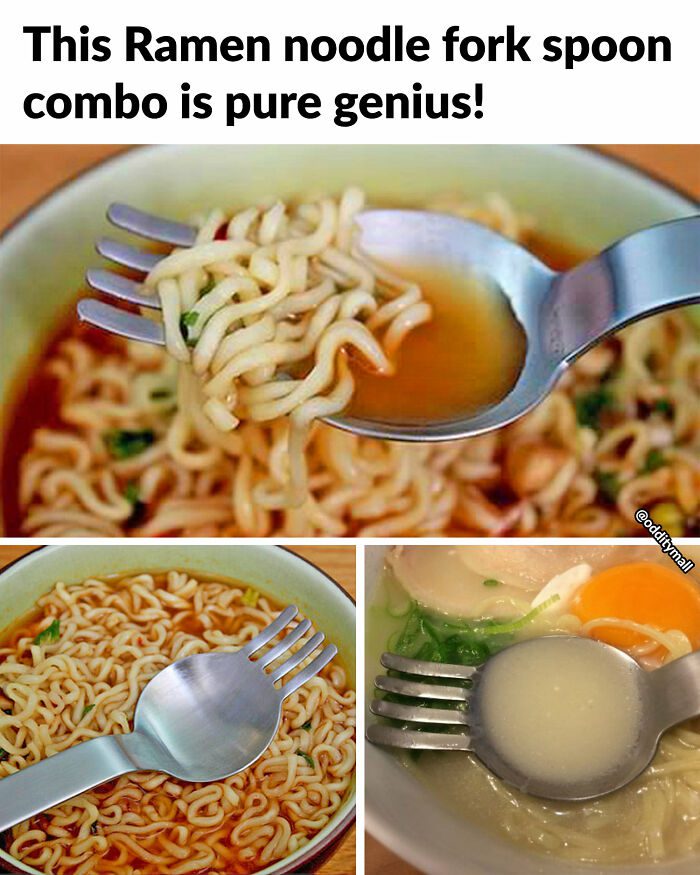 The photo displays how this fork-spoon combo can help you eat hot noodles and drink soup simultaneously. Frankly, it makes us crave a plate of hot ramen noodles! Though it admittedly looks odd, its functionality is incontestable, wouldn't you agree?
Portable Baby Carrier
Here's a baby carrier that can effortlessly hang on doors and walls. The hooks on the product allow parents to keep their babies within sight while doing their daily chores. But you should ensure that the carrier is tightly attached to the surface to prevent accidents. Just typing that made us shiver with dread.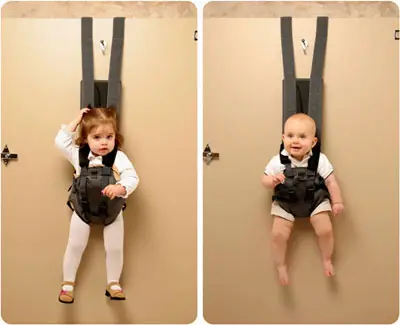 If used correctly, it can ease your work significantly. It's typically ideal for parents who want to keep their babies close but still have the freedom to move around. Although it is a useful accessory for some, we still don't think we would get it.
Crab Flip Floppers
Are these crustacean-inspired flip-flops a style statement or a fashion faux pas? Who in their right mind would want to walk around with a crab clinging to their feet all day? Only lobster lovers would like to own a pair of these.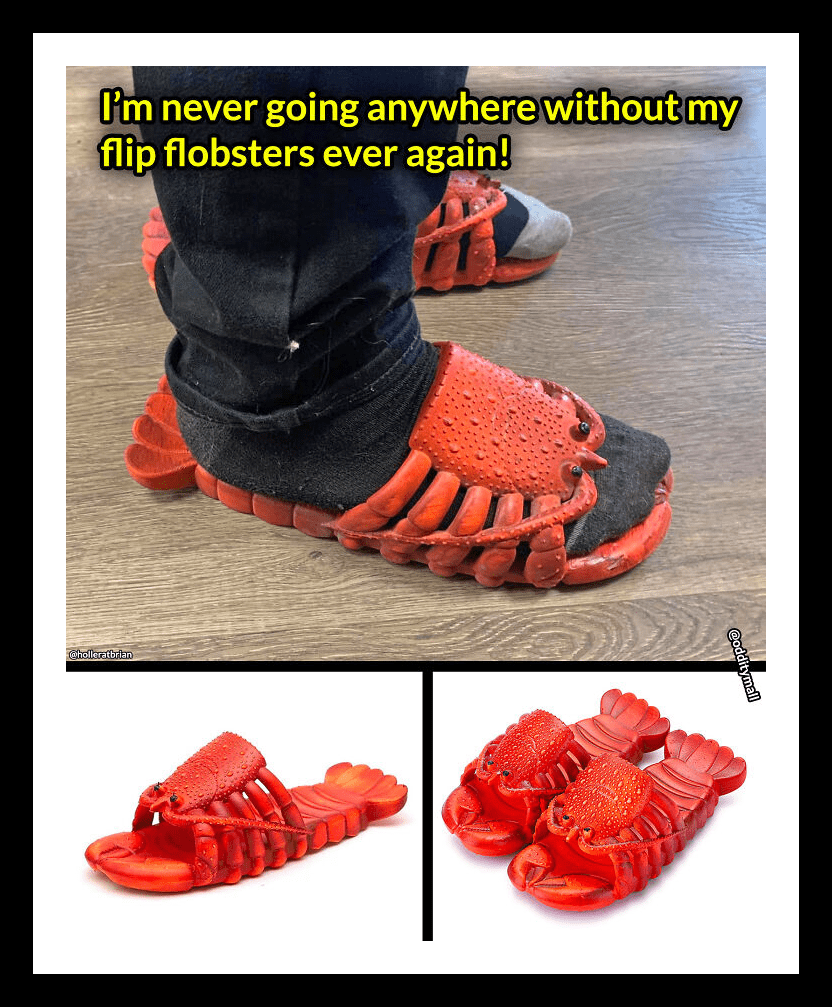 Wearing these flip-flops will surely attract the wrong attention unless you're trying to scare away kids or prank your friends. You can wear them to recreate beachy vibes in the city while reminiscing about those seaside vacations. Would you wear these?
Chandelier Earrings
Any person who knows a little about jewelry knows that statement earrings are a great choice of accessory to elevate a look. These ones, in particular, are pretty unique since they are shaped like chandeliers. Additionally, they glow like them too!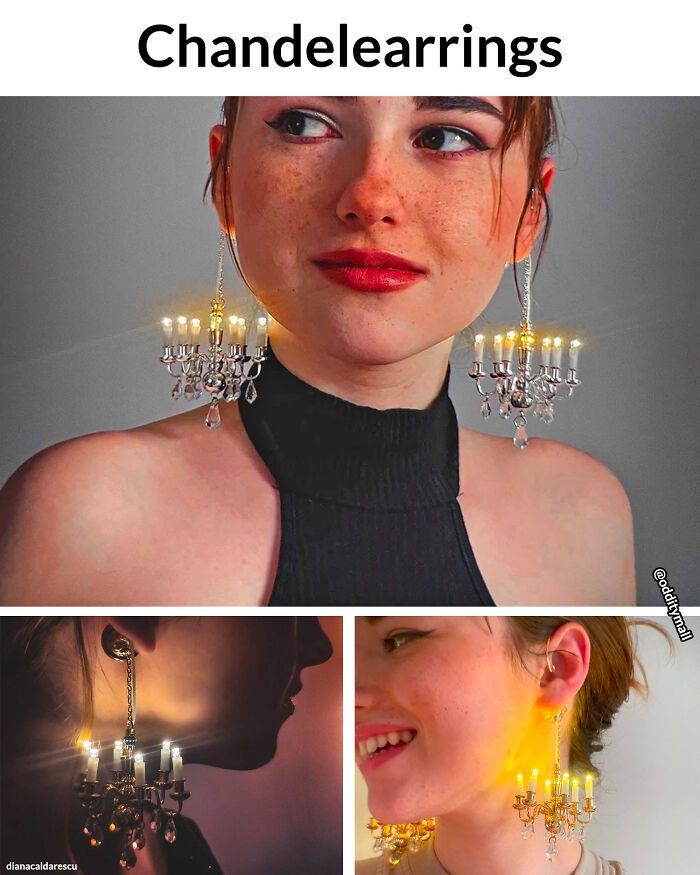 A battery is usually concealed at the ear cuff to turn the lights on or off. These jewelry pieces are usually made from materials like gold, silver, glass, or sometimes plastic, making them affordable to even those with limited budgets. Plus, they can act like a torch when you can't find yours in the dark!
Amazon Doormat
This is a perfect gift for any shopaholic wife. Although it's not an accessory most women would prefer, their partners would definitely love to have it on their doorsteps. We wonder what this particular one thought of this peculiar gift.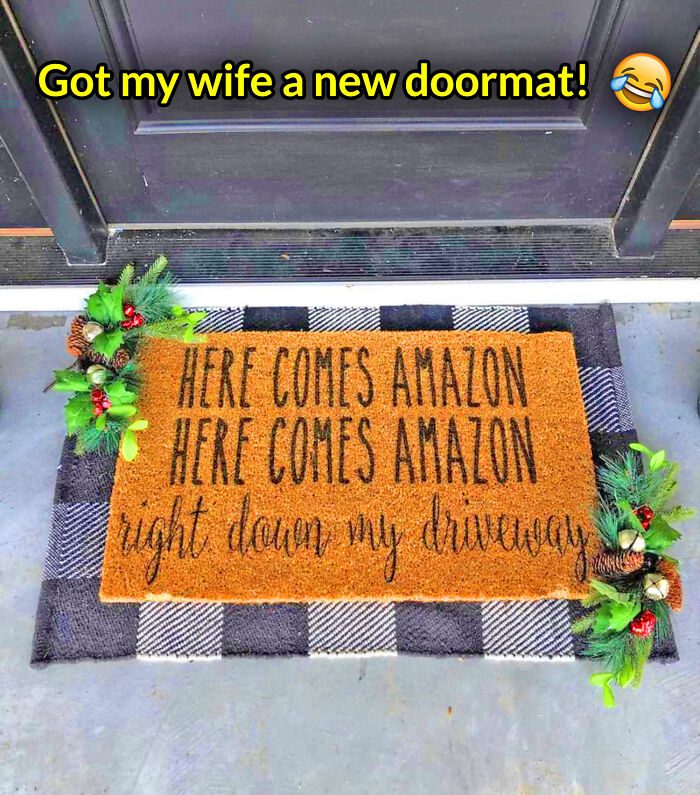 It seems that this guy was frustrated with his wife ordering things from Amazon every other day. Thus, he finally decided to raise his concerns with a doormat. Though he may have thought it was a great idea at first, something tells us he spent a few nights on the couch after this stunt!
Mouse Hack
The device in this picture is called a mouse jiggler. It keeps your online status active even when you are away from your computer. It is designed to simulate mouse movement on the screen, preventing it from going into sleep mode or shutting down.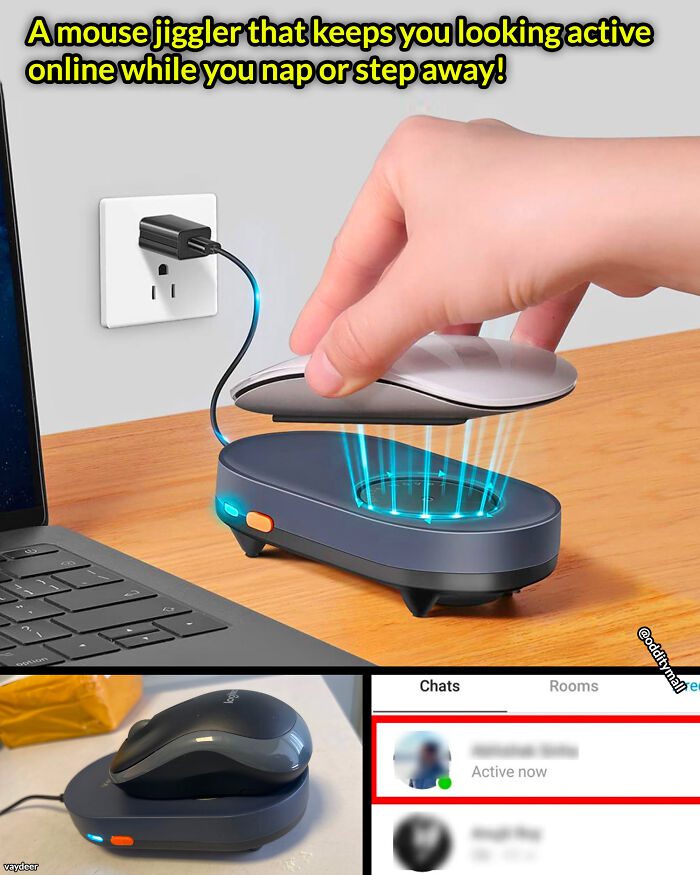 A mouse jiggler can also work as a hack to avoid being marked as "away" or "inactive" on team messaging or collaboration platforms. Although it can be handy for employees who need to step away from their desks for a while, it's not recommended.
Portable Microwave
This small USB-powered microwave is a convenient and portable solution for heating food on the go. It is small and lightweight, making it effortless to carry with you. You can power it through a laptop, power bank, or any other device with a USB port.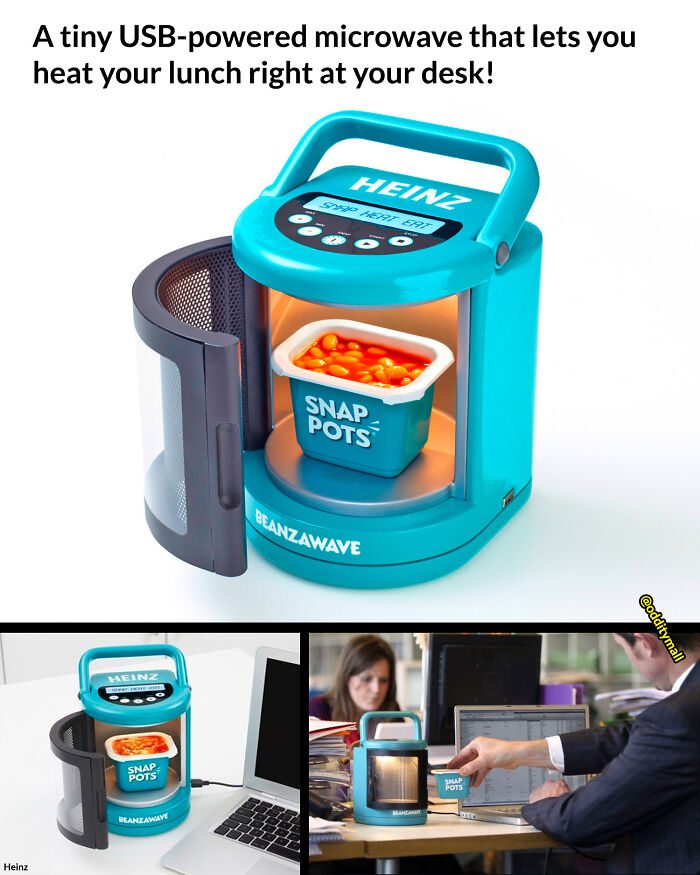 One of the key benefits of such a small microwave is that it allows you to heat your food anytime and anywhere. So, whether you work in a corporate office or travel often, it is ideal as it allows you to have your meals hot. The cute design just adds to its charm.
Puzzle Impossible
If you are bored and have nothing to do, this impossible jigsaw puzzle is the perfect thing to occupy your mind. Made with hundreds of tiny transparent pieces, it isn't easy to complete. But then again, the harder the puzzle, the more interesting it is to solve, right?
So, even if the puzzle sounds frustrating, it's understandable why anyone would want it. After all, humans never back down from hurdles. In fact, we create new challenges for the fun of it. This puzzle upholds such challenges and gives you an incredible sense of accomplishment when you're done.
Alligator in the Carpet
An alligator carpet like the one in the image below can be both cool and horrifying. It's hard to believe that someone actually thought this would be a good thing to have in the house. Honestly, if we ever went to someone's house and saw this, that would be the last time we visited.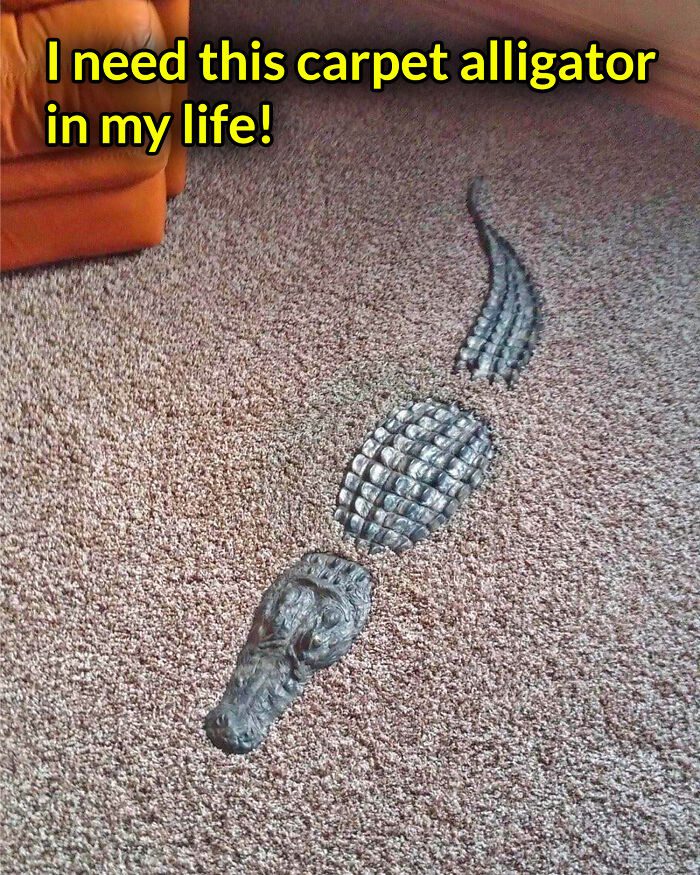 Don't let the 'friendly' appearance fool you; these alligator carpets are not to be underestimated. With the scales and sharp teeth, you might trip and fall over or stub your feet while walking around. So, if you're planning to buy one, be careful where you place it.
Croc Bed
Today's fashion sense is out of this world. Anything is acceptable if it's liked by the masses. Croc beds have now become a thing. Imitating the design and name of the famous croc shoes, these large-sized slippers have become alternatives for baby cots and pet beds.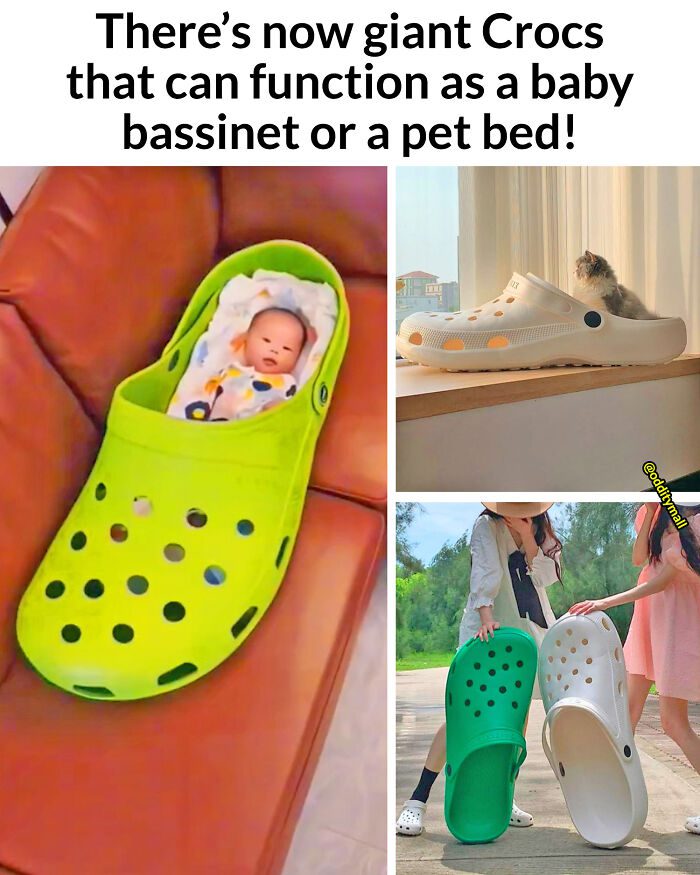 They are colorful, spacious beds offering enhanced comfort. The perforations at the top work as air vents, preventing moisture accumulation inside and keeping the sleeping space dry and fresh. Although they look ridiculous, we admit they serve their purpose perfectly.
Ironical Yoga Mat
This portable mat is a beautiful and functional accessory for any yoga enthusiast. However, the catch is in its design. When rolled upwards, it looks more like a giant burrito wrapped in aluminum foil than a piece of fitness equipment.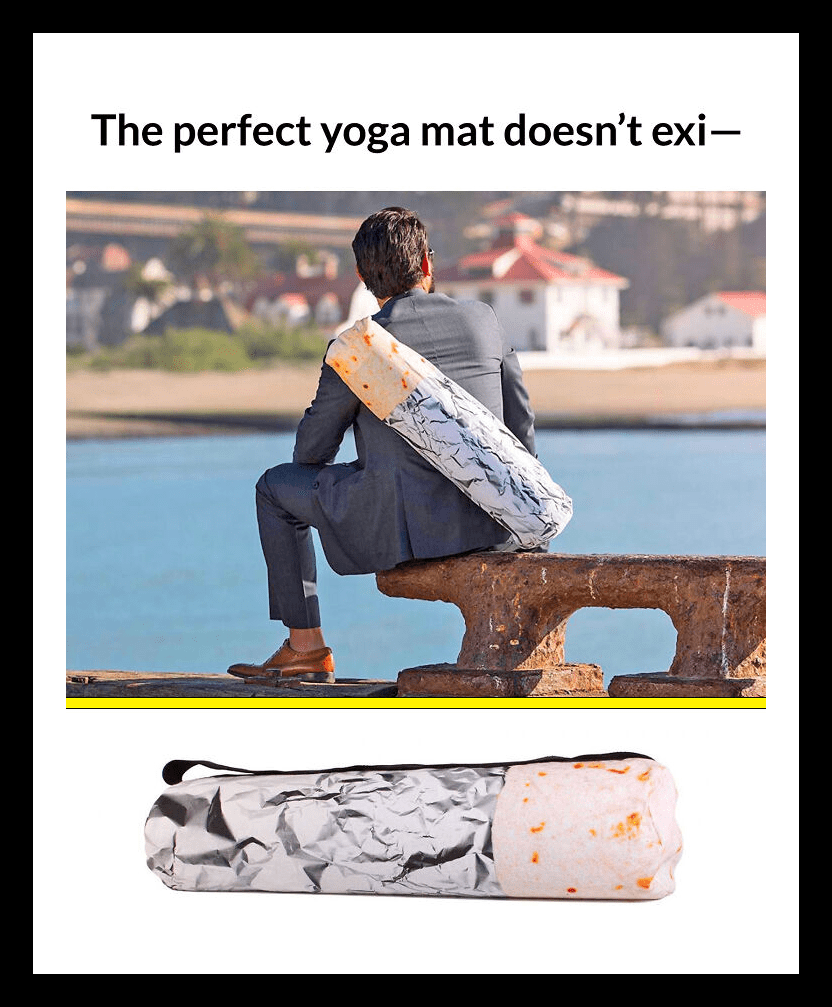 The strap on the back makes the mat easier to roll and carry with you wherever you go, be it a class, a weekend trip, or even to the park for an outdoor workout session. Thus, its graphic design and easy-to-carry feature make it a desirable product for many.