What's In A Name: A Look At The Suppliers Of 35+ Costco-Brand Products
By Sachin P May 1, 2023
---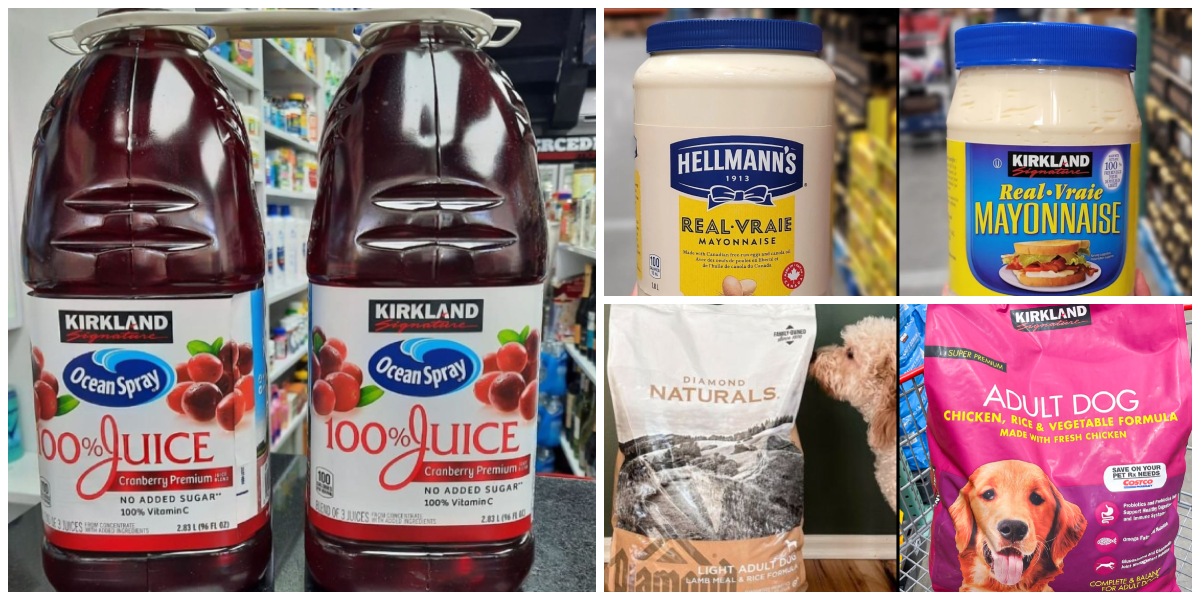 For any shopper looking for a sweet deal, Costco is the dream store. Whether you're looking for a new pair of glasses, food for a family gathering, or just stocking up on household essentials, Costco has something for everyone. Though it stands out as a bulk store, Costco has what most other chains have: its own brand label.
It's a fair assumption that off-brand products are cheaper, though often at the cost of a slightly cheaper product, but that's not true. Kirkland products might not have the same packaging as some of the more expensive brands, but the product is the same. From sparkling water to diapers to fruit juices, let's see what Kirkland-brand products are identical to those big-name brands… but with a lower price tag.
Solid White Albacore Tuna (Bumble Bee — confirmed)
Finding superior-quality tinned tuna without emptying your wallet can be challenging. If you're wondering if Kirkland tuna is a cost-efficient compromise, we have good news for you. In the early 2000s, Costco partnered with Bumble Bee Seafood to develop a budget-friendly tinned tuna can.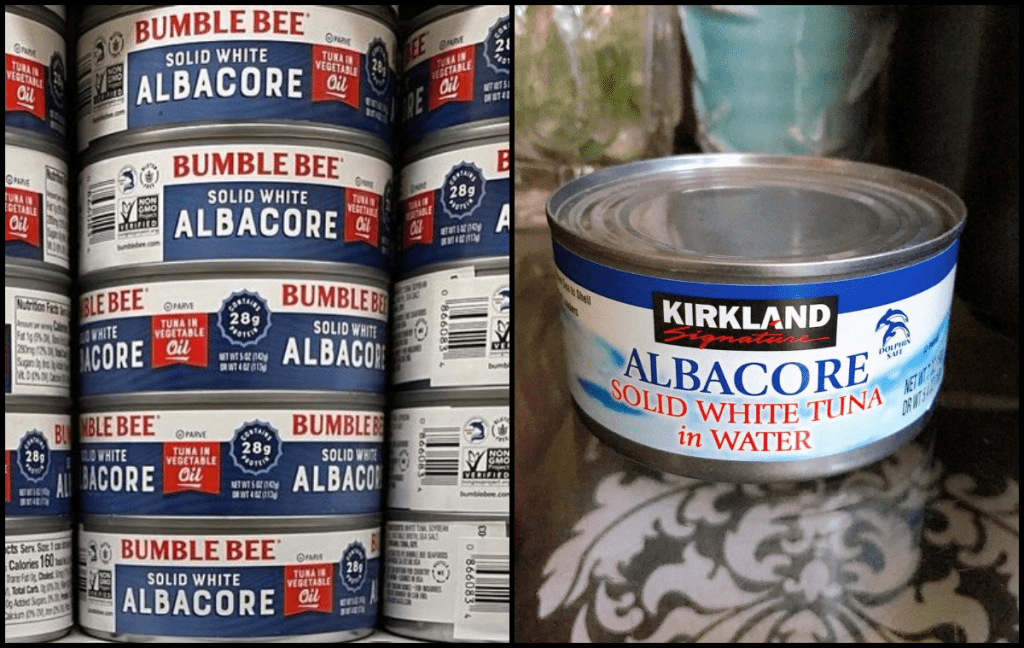 For over two decades, Kirkland Signature Solid White Albacore tuna has been a mainstay on Costco's shelves. Even with the not-insignificant price tag, it's still less expensive than what you'd normally find at well-known retailers such as Walmart or Giant.
Parmigiano Reggiano (Formaggi Zanetti — confirmed)
Costco offers a wide variety of cheeses, but few are as excellent as its Kirkland Signature Parmigiano Reggiano. Since the robust cheese is imported from Italy, it is entitled to the prestigious label of "Parmigiano Reggiano" and doesn't need to settle for simply "Parmesan."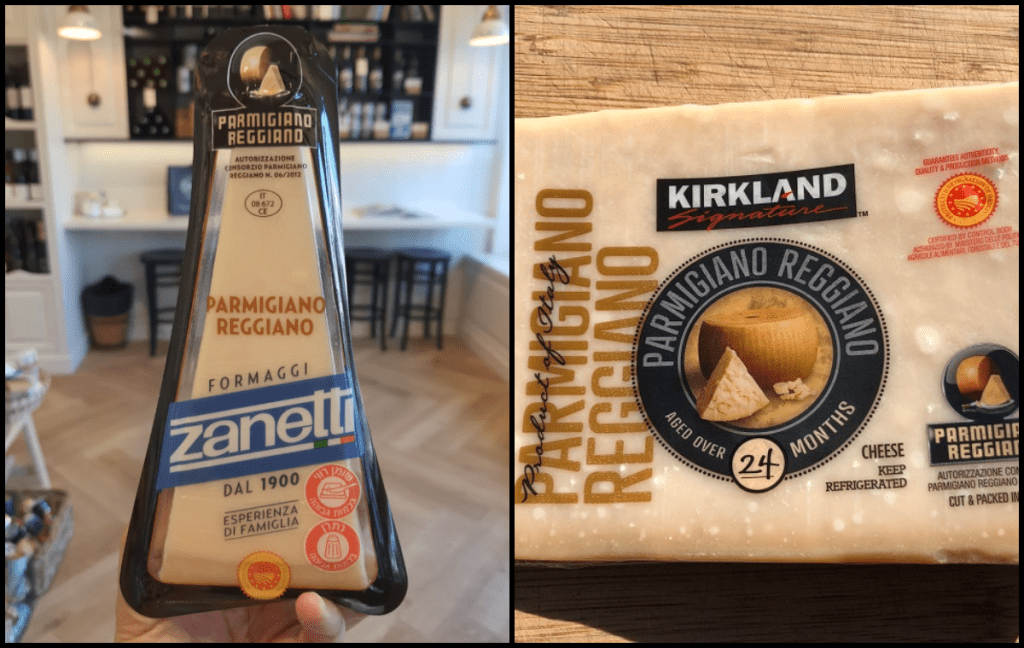 Apparently, Costco's supplier is Formaggi Zanetti. The Italian company not only manufactures cheese but also specializes in exporting it for sale by other businesses across the globe. Because of this approach, both revenues and consumer satisfaction remain high—a win-win situation for all.
Plastic Cups (Chinet — confirmed)
Costco is an excellent place to shop for a party. This is mainly due to the fact that you can buy supplies in bulk for a fraction of the cost. And, if you're hosting a big party, you're going to need to stock up on disposable cups.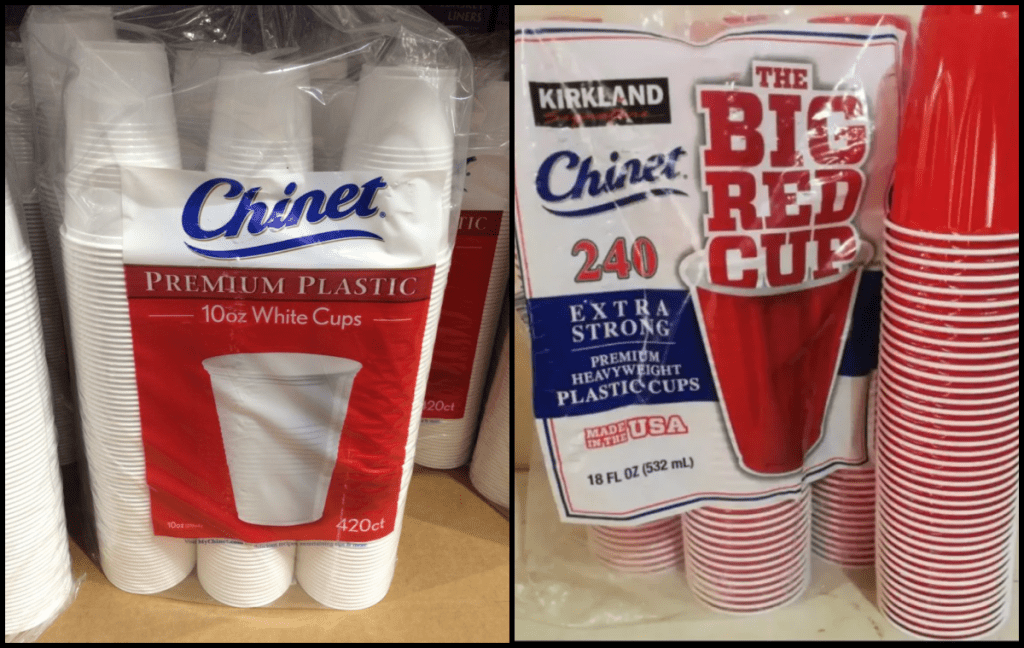 In another fruitful relationship, Costco and Chinet collaborated to create the Kirkland Signature Chinet Plastic Big Red Cup. And, once again, customers benefitted from this team-up. Chinet cups can be found at big box stores like Target, but at a slightly higher cost.
Purified Water (Niagara — confirmed)
There are countless water bottle brands available on the market, with many claiming to be more natural and pure. Kirkland water bottles make no fancy claims, but they do pay tribute to the source of their water, Niagra Bottling, right on the bottom of their bottle.
Though the label is not as obvious as the Ocean Spray logo on their cranberry juice, it's refreshing to know that the partnership isn't some sneaky under-the-table deal. And since it's just plain bottled water, there's no real compromise on the quality or taste.
Super Premium Vanilla Ice Cream (Humboldt Creamery — confirmed)
Sadly, over the past ten years, Humboldt Creamery has had a rough go. The business declared bankruptcy in 2009 and then sold to Crystal Creamery. As a consequence of this, the company had to consider additional revenue streams to keep its factories open.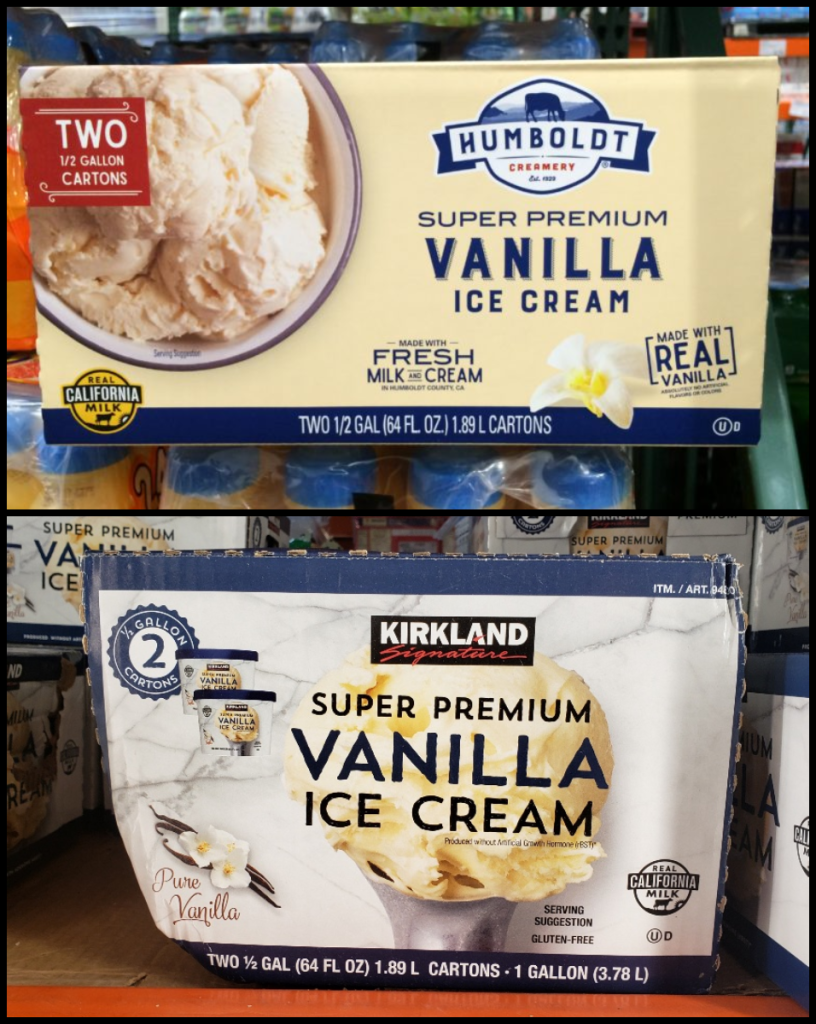 It was discovered in 2016 that Humboldt produced Kirkland Signature's Super Premium Vanilla Ice Cream. Once again, that information is rather obvious. The package happens to share the same "super-premium" moniker and is almost identical in appearance to the original style.
Jelly Beans (Jelly Belly — confirmed)
The ideal method to satisfy a sweet tooth is with a handful of Jelly Belly jelly beans. However, they can be quite pricey. So, is it worth it? Well, one trip to Costco will tell you that you can buy those same brand-name jelly beans at a far lower cost.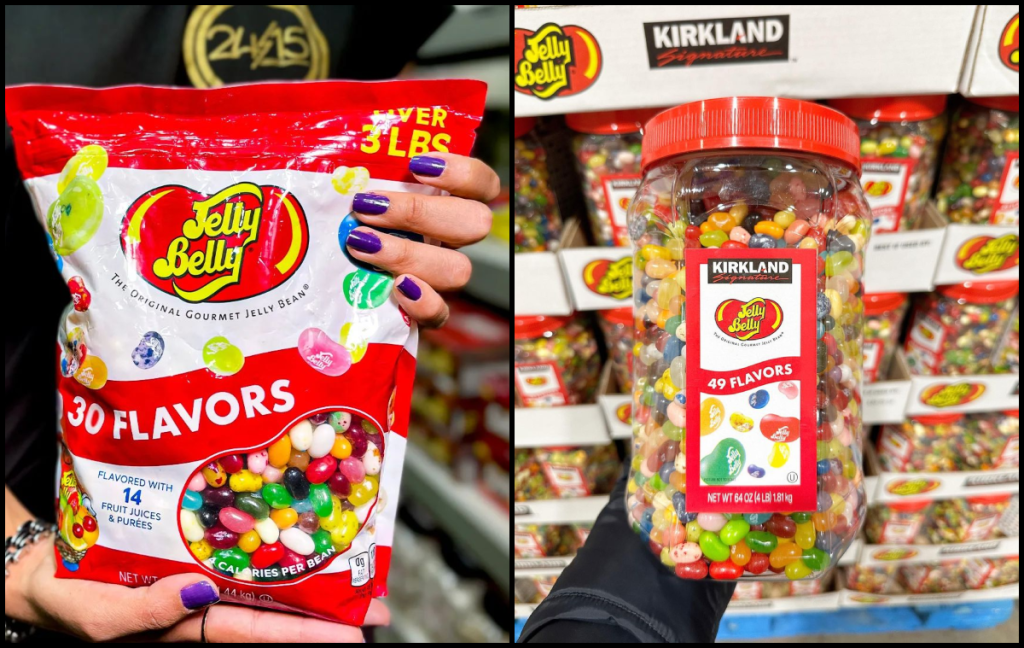 Costco's team-up with Jelly Belly is possibly the wholesale supplier's most beautiful partnership yet. The massive tubs filled with a variety of flavors are not only delicious but are certified as both fat-free and kosher. With the Jelly Belly logo, this is yet another partnership they're proud to put on the box.
Motor Oil (Warren — confirmed)
Just like bottled water, there are countless options when it comes to purchasing motor oil. As such, many people tend to just take the first container they come across and expect the best possible outcome. In actuality, the same corporation produces a variety of these brands.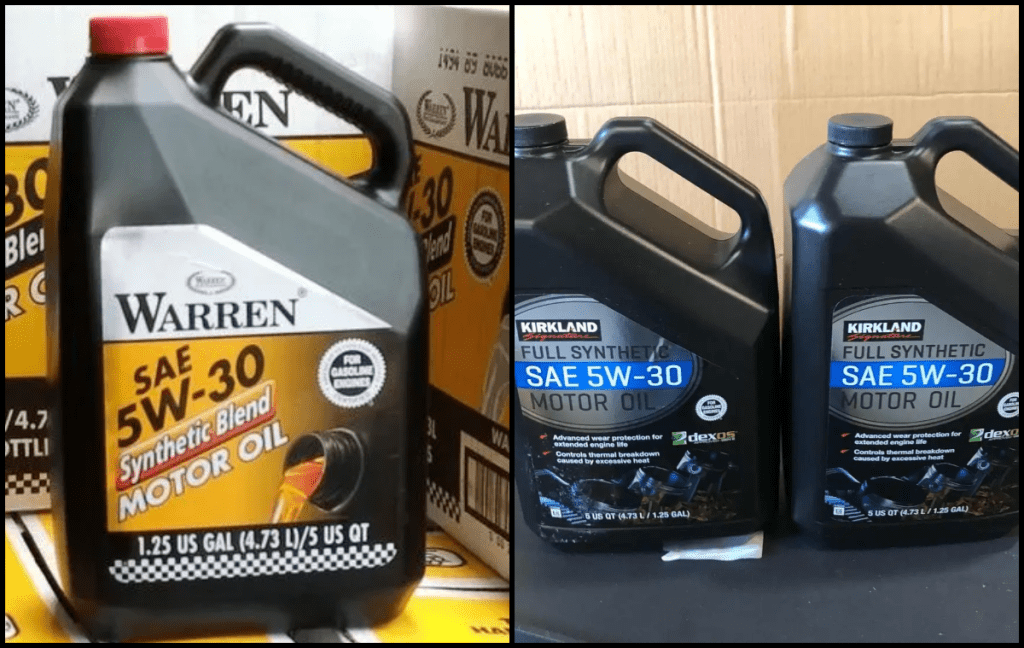 Warren Oil produces Kirkland-brand motor oil, and it's not a company secret, either. Customers can confirm this if they read the label of the Kirkland bottles, where they disclose the supplier. Given how well the product does for Costco, we doubt it'll go away any time soon.
Organic Greek Yogurt (Ehrmann — unconfirmed)
You can easily pick up a container of Ehrmann's at Kroger, but if you know where to look, you can find the same delicious Greek yogurt elsewhere. According to businessman Peter Cohan, the yogurt company provides multiple retailers with the exact same goods to sell under various brand names.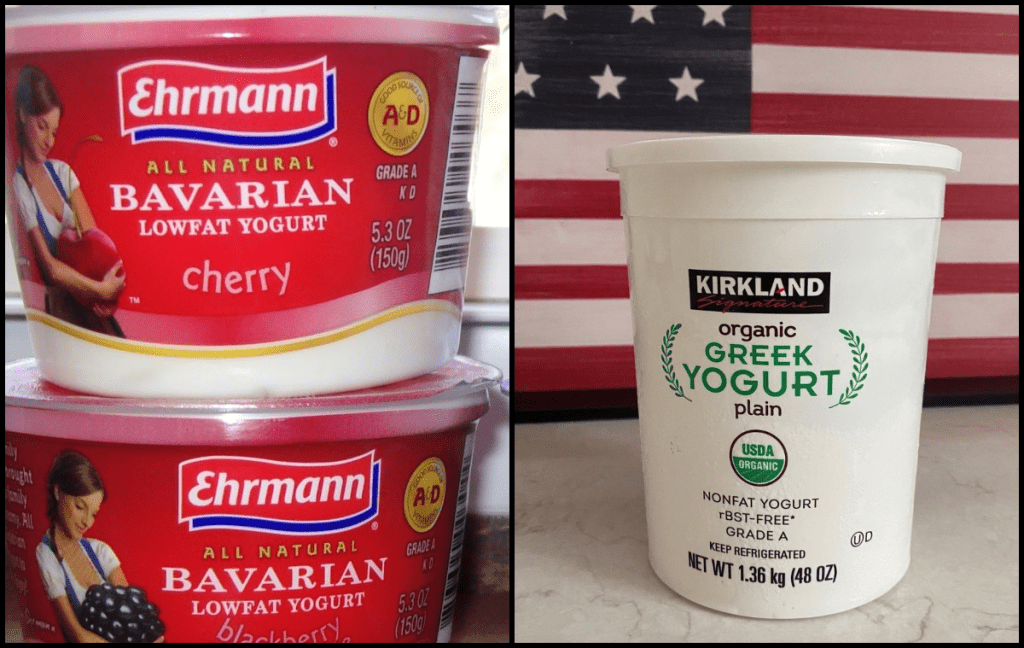 It's possible that Costco is one of the many companies that use Ehrmann's Greek yogurt under its own label. Since this isn't a confirmed partnership, it's up to the customers to decide if the company that produces Yoginos and LACTO Zero also supplies Kirkland with their Greek yogurt.
ProCare Infant Formula (Perrigo — confirmed)
When choosing infant formula, it's crucial to take quality into account. That can lead many parents to choose the more expensive product. After all, cost is usually proportional to quality, right? As we're quickly learning, that's not always the case at Costco.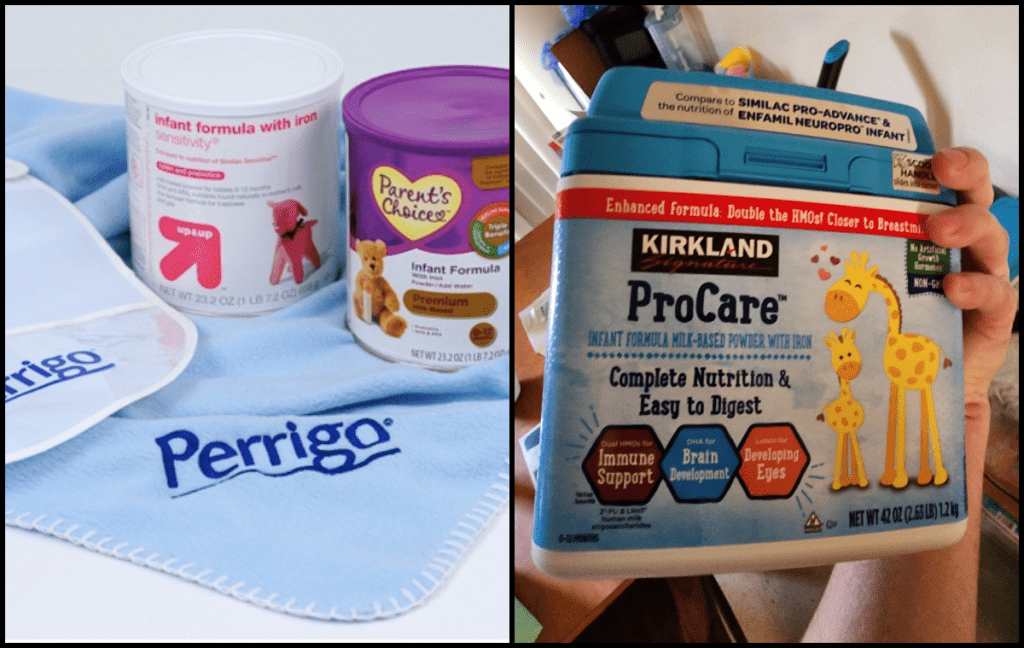 Kirkland Signature ProCare was created by Abbott Laboratories, the same company that makes Similac. Costco and Abbott Laboratories' collaboration lasted for a long time, though Perrigo has recently taken Abbott's place. Even though the design may have changed, the quality remains comparable.
Aged Balsamic Vinegar of Modena (Acetum Brand — confirmed)
Costco makes an effort to form as many collaborations as possible. Even if the end product has a Kirkland label, both the producer and Costco benefit from their relationship. A few years ago, Costco partnered with Acetum to produce Kirkland Signature balsamic vinegar.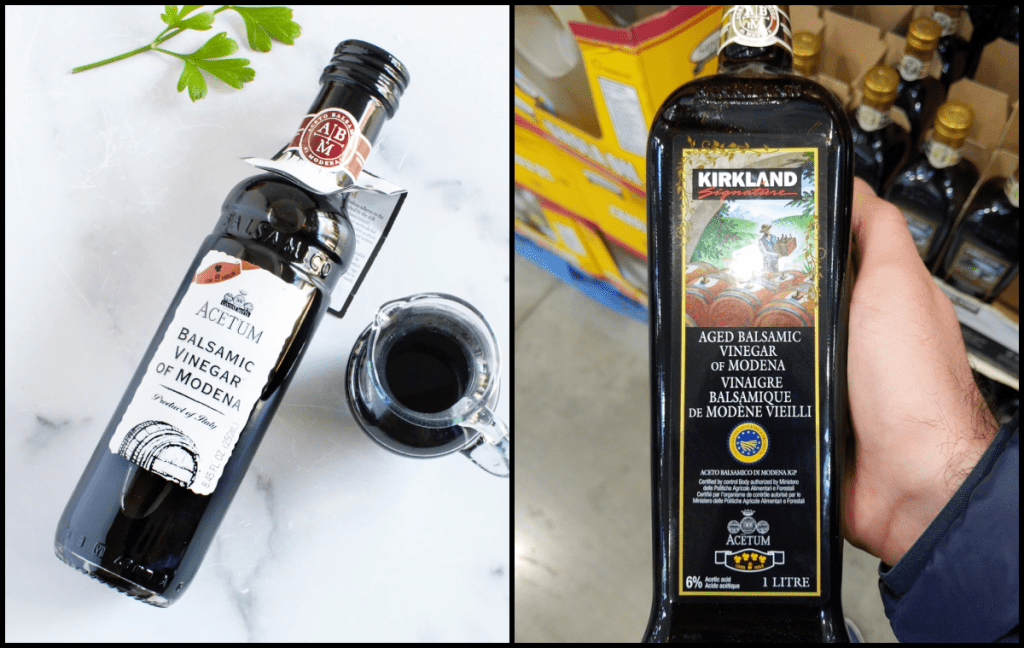 Although other major retailers, such as Amazon's Whole Foods, sell Acetum's products, they lack a similar relationship with the company. With Acetum's expertise behind the label, Costco consumers purchasing Kirkland's Aged Balsamic Vinegar of Modena know they're getting quality dressing.
Dry Dog Food (Diamond Naturals — confirmed)
Pet owners want to believe that buying pricey food for their canine companions makes a difference. And any dog owner knows pets are expensive, so savvy customers know the importance of finding the right deal, including both cost and quality.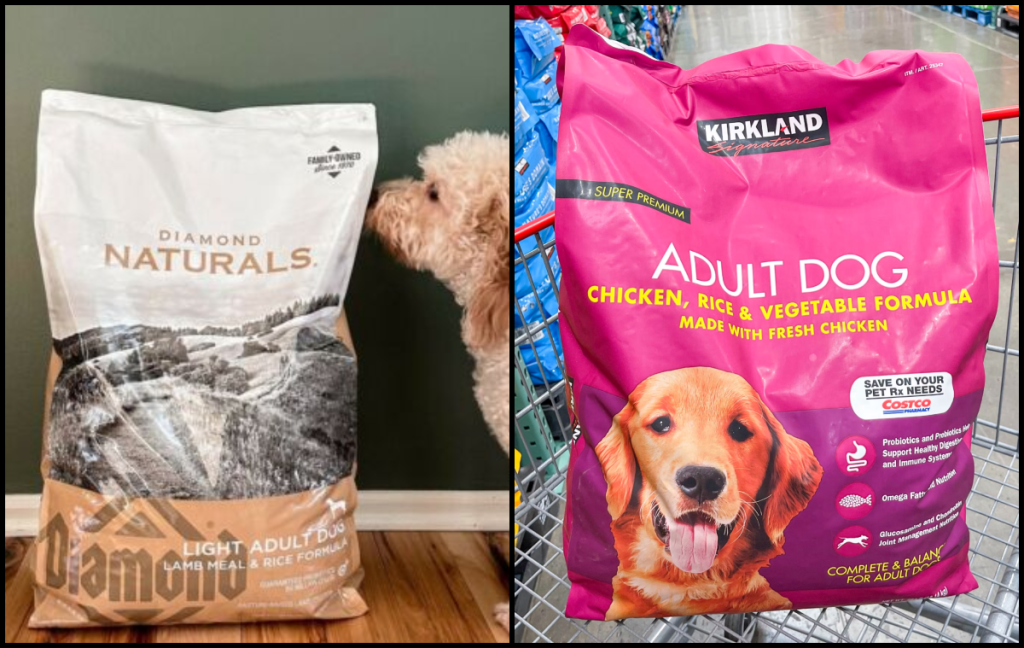 For a while, it was mere speculation that the well-known brand, Diamond, was behind Kirkland's dog food. After years of theorizing, Costco finally confirmed this idea and now states on its website that its dry dog foods come from Diamond Pet Foods.
Alkaline AA Batteries (Duracell — confirmed)
Even though most tech today has its own batteries, like phones, batteries are always useful. Of course, the last thing you want to do is stock up with cheap batteries that run out quickly. Fortunately, Costco can help with this dilemma.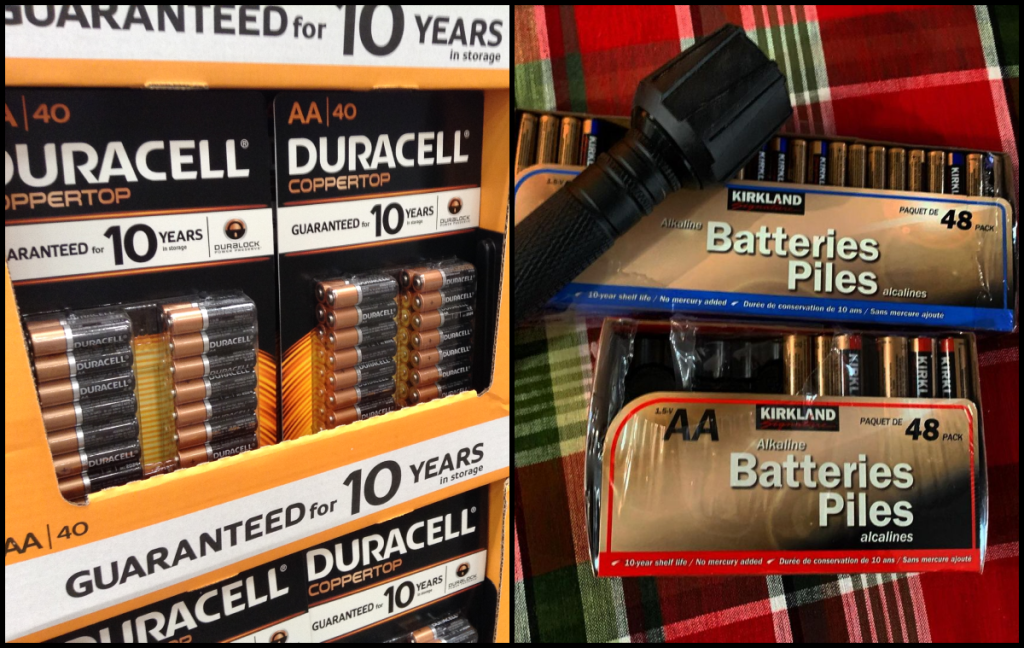 In 2016, Costco CEO Craig Jelinek acknowledged that Duracell, one of the biggest names in batteries, was responsible for producing Kirkland Signature batteries, too. And since they have a long shelf life, you know that bulk-buy won't mean any wasted money.
Hearing Instruments (Sonova — confirmed)
Costco might be famous for its deals and selling in bulk, but it's also a great place to get other goods, such as eyewear and hearing aids. In fact, Costco offers a free hearing check in its stores, which doubles as a great opportunity for salespeople.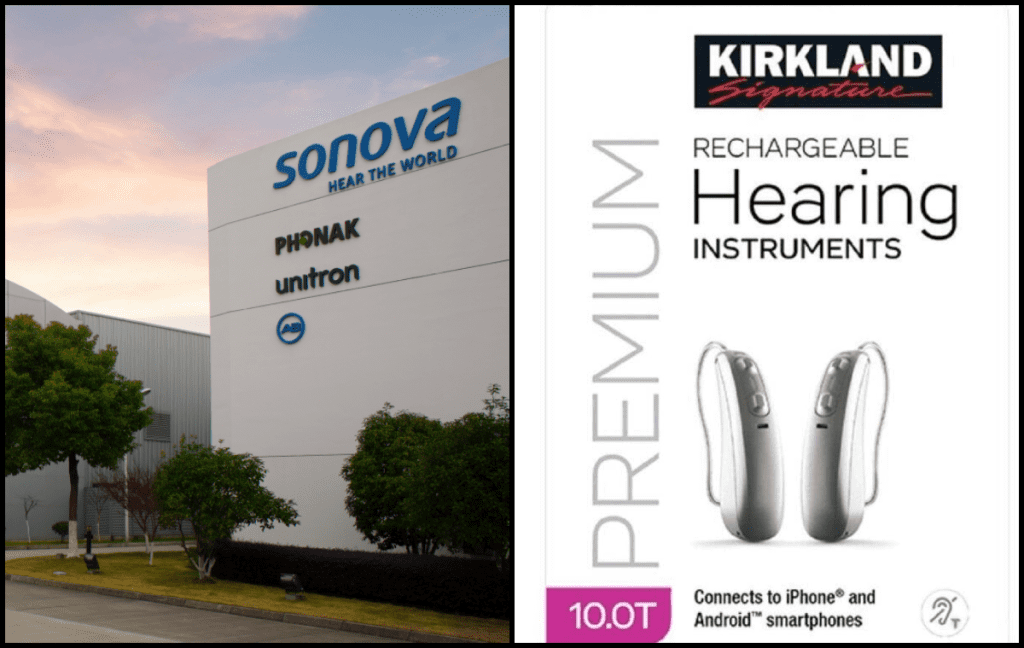 Medical supplies aren't something you want to skimp on. But hard-of-hearing customers can leave the store confident that products like the Kirkland Signature (KS9) 9.0 Digital Hearing Instruments are made by the trusted company, Sonova. It even says so in the brochure!
Espresso Blend (Starbucks Coffee — confirmed)
The word "coffee" has become synonymous with Starbucks. In addition to the freshly brewed drinks available in stores, customers happily snatch up bags of Starbucks-brand ground coffee. While the bags on display at the store are tempting, a little self-control and a trip to Costco are worth the wait.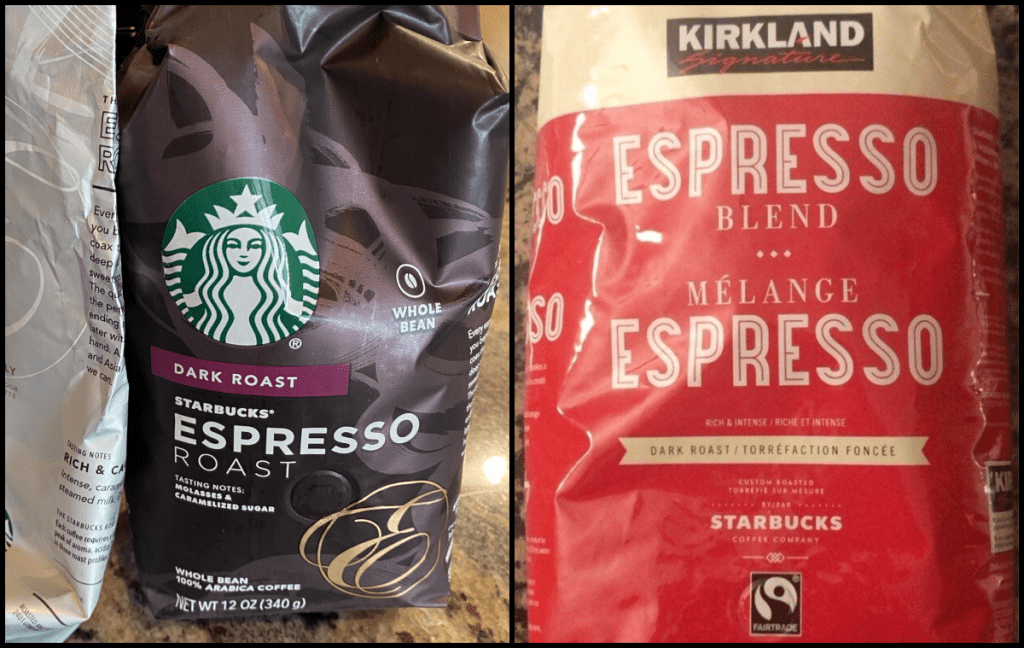 Costco shoppers can get a 2.5-pound bag of Kirkland's Espresso Blend that has been "custom roasted by Starbucks" for a fraction of the cost of a regular Starbucks brand bag. For people who drink at least one cup a day, the savings will easily add up.
Golf Balls (Callaway — unconfirmed)
As we said before, Costco doesn't just sell food and medicine. In 2016, Costco debuted its Kirkland Signature golf balls. Avid golfers were thrilled to stock up on quality golf balls for significantly less money than similar products from name-brand suppliers.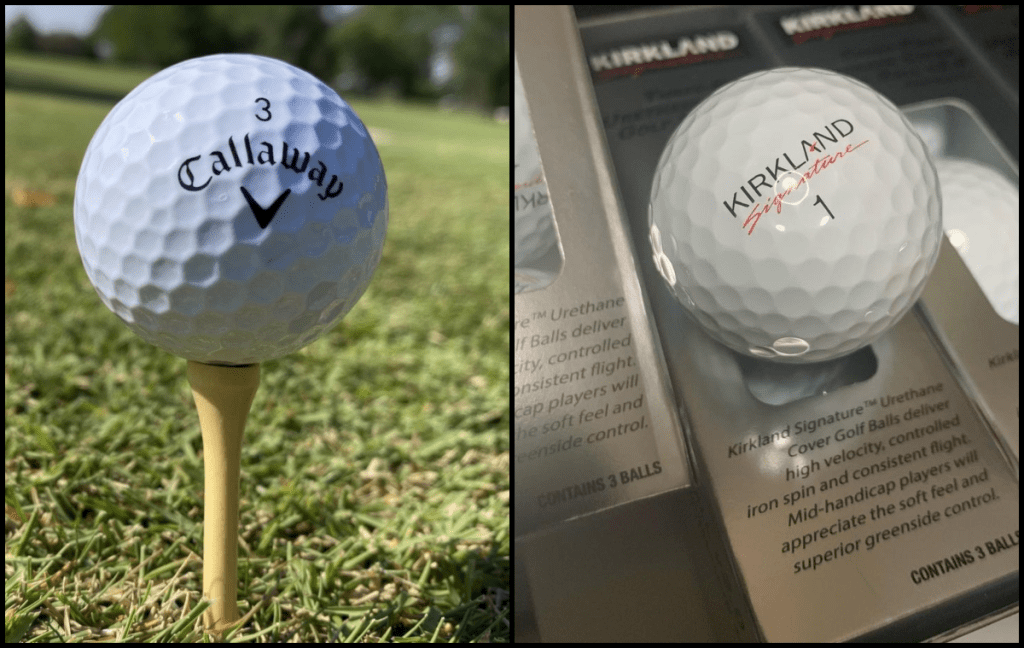 In fact, when put to the test, Kirkland's golf balls outperformed Pro V1 golf balls by a wide margin. With such excellent performance, shoppers couldn't help but wonder who made the golf balls. Despite their similarity to Callaway, the company does not provide Kirkland with their high-quality sports equipment.
Diapers (Huggies — confirmed)
Disposable diapers might be one of the greatest inventions that changed parents' lives. According to estimates, infants go through an average of 10 diapers every day! Now, parents can simply stock up on diapers, rather than do loads of laundry.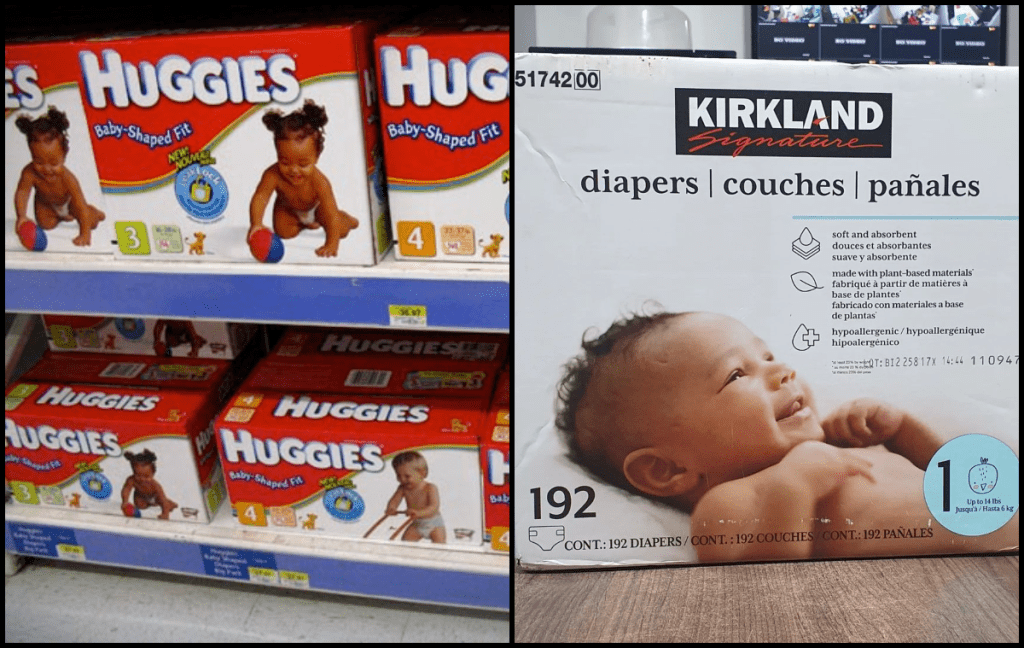 Since parents want only the best for their kids, cheaper products often get a bad rap. But the diapers at Costco are worth it in more ways than one. Parents can shop for their tot, assured that they're getting the best in quantity and quality, as Huggies is behind the bulk supplier's brand diapers.
Cranberry Juice (Ocean Spray — confirmed)
Arguably one of the biggest names in fruit juices is Ocean Spray, and their cranberry juice is second-to-none. However, it can be expensive. But if you head into Costco, you can find a 6-pack of its cranberry juice at a lower price.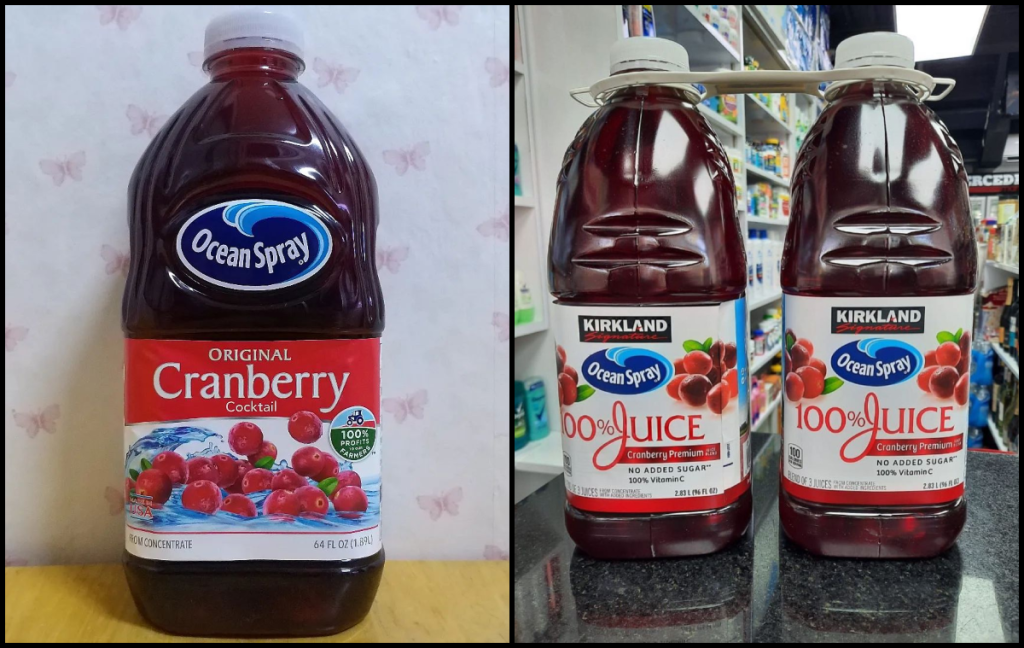 Even though the item is sold under a different name, Kirkland's cranberry juice is the exact same as Ocean Spray's and is substantially less expensive. If you don't believe us, just look at Costco's product—they still have the Ocean Spray logo!
Krinkle Cut Potato Chips (Kettle Brand — confirmed)
If you're looking for a snack, Kirkland Signature Krinkle Cut Potato Chips are sure to satisfy your craving. While people aren't usually as picky about their snacks as they are about dog food, there's always the question of quality versus quantity.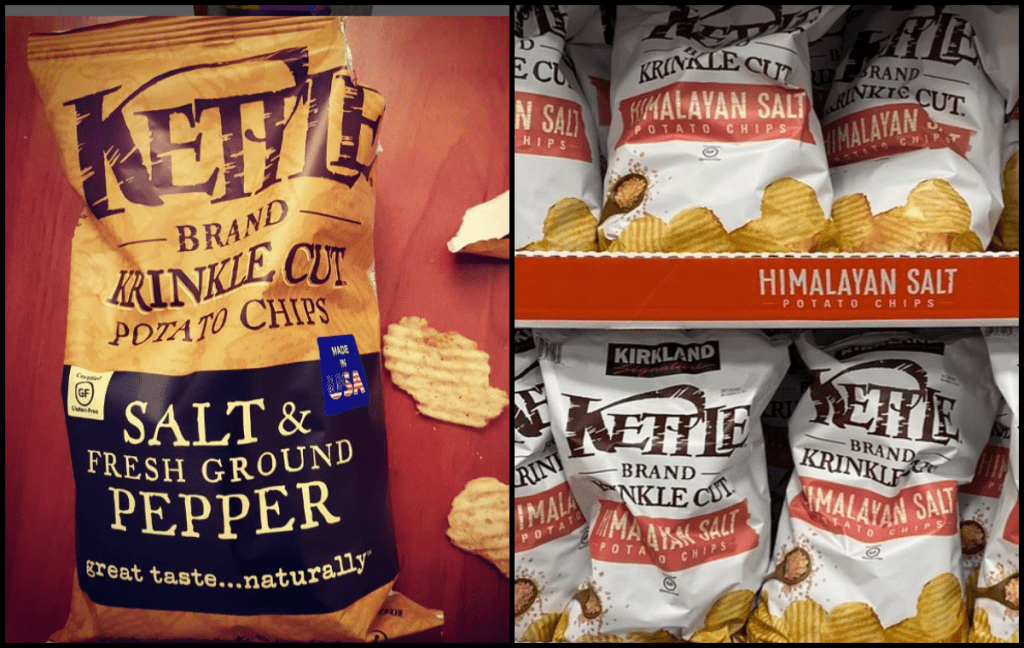 Those big bags of potato chips are, in fact, manufactured by Kettle, a big name in the potato chip game. And, don't worry, they're GMO-free, Kosher, and gluten-free, so it'll fit right in a diet with a variety of dietary restrictions.
Chicken Breasts (Tyson — unconfirmed)
Costco regulars know that their rotisserie chicken is a quick, fresh option for dinner time, but the Kirkland Signature Chicken Breasts can't be ignored, either. If you like having some frozen food stocked in the fridge, this is a convenient option.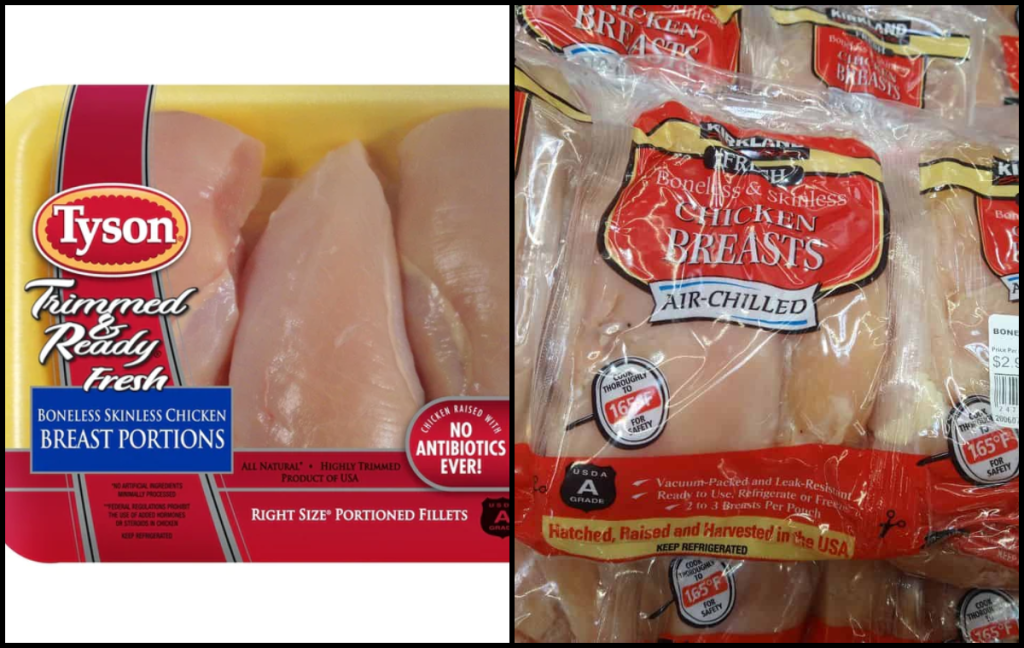 As we've seen, many of the big-name competitors provide Costco with the products for the Kirkland label. However, in this case, Tyson, one of the biggest names in chicken, remains a separate entity. Foster Farms Chicken is the real label behind Kirkland, here.
Ultra-Clean Laundry Detergent (Persil — unconfirmed)
Depending on the household, laundry detergent can be a costly purchase. With many repeat purchases, buying in bulk can be a cost-efficient way to buy household necessities, and this goes for laundry detergent, too. But customers can't help but wonder if there's a hidden gem behind the Kirkland label.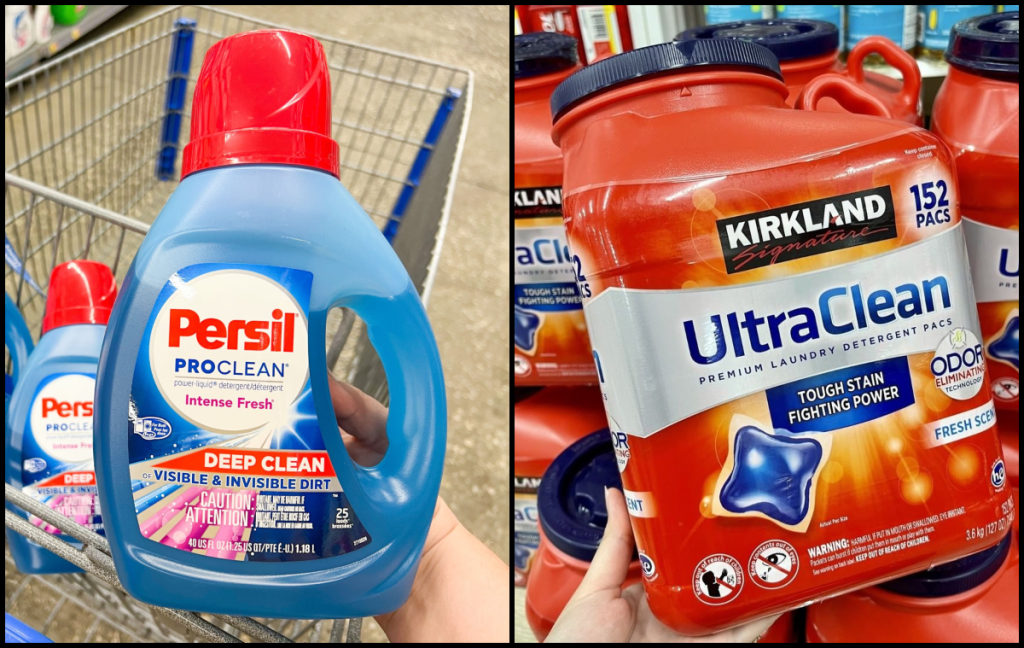 For years there has been speculation that Henkel, the manufacturer of Persil, also makes Costco's Kirkland Signature Ultra Clean laundry detergent. Though neither company has confirmed this, a series of company consolidations on both parts might lead to this conclusion.
100% Concord Grape Juice (Newman's Own — confirmed)
Whether you're having a party, are stocking up on cocktail supplies, or just like fruit juice, Kirkland Signature 100% Concord Grape Juice is a reasonably priced buy. Since it is made with real Concord grapes, you know it'll taste great.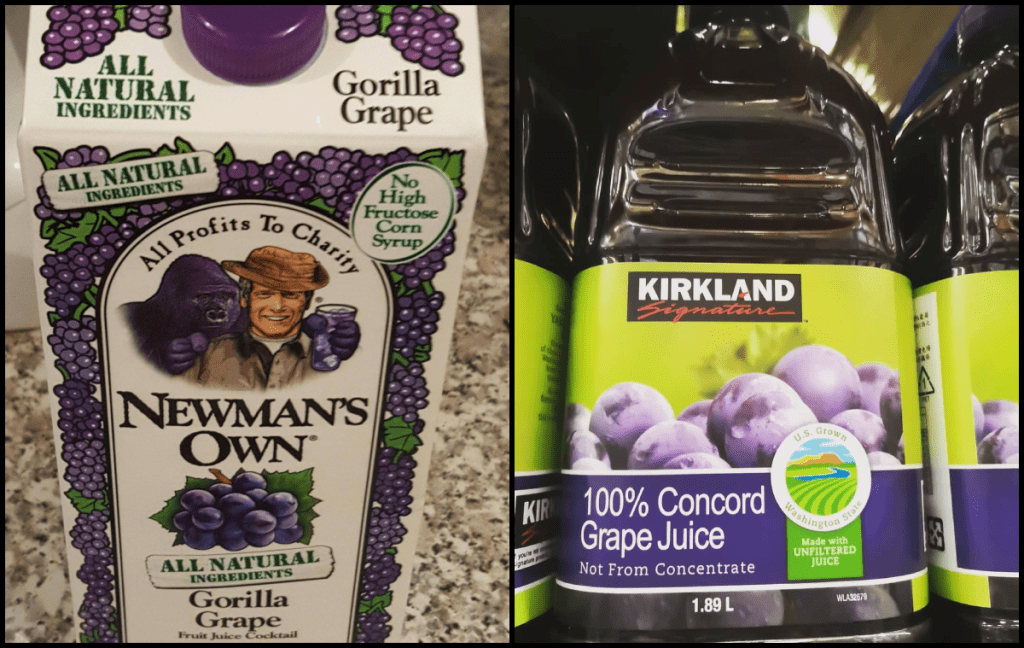 Because of their quality, Concord grapes are utilized in almost all grape-flavored goods. That's not the only way customers know that they're getting a quality product. Newman's Own, a company famous for its juices, produces Kirkland Signature 100% Concord Grape Juice.
Organic Chicken Stock (Swanson — unconfirmed)
We already mentioned Coscto's frozen chicken, but now it's time to take a look at its chicken stock. While chicken stock has a decent shelf life, that significantly drops once the can is open. Luckily for Costco shoppers, their store brand stock comes in packs of six.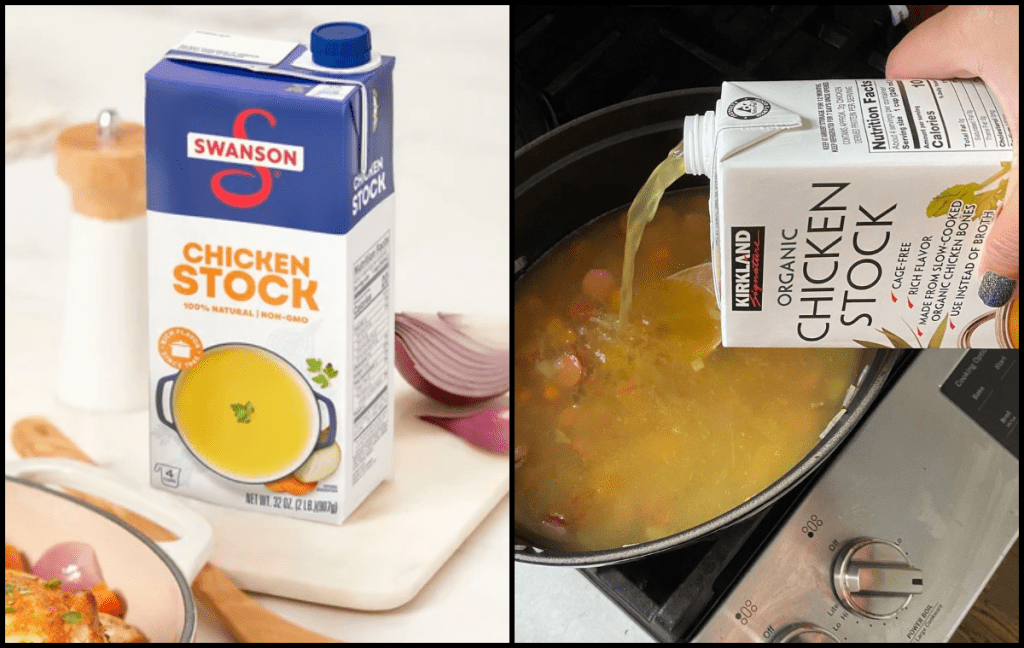 So, buyers know that their purchase will last a while, even once they dip into the chicken stock. Customers have speculated that the cartons are filled with Swanson's stock, which would be a steal as the brand is partially owned by Campbell's Soup. Unfortunately, this can neither be confirmed nor denied.
Organic 100% Carrot Juice (Bolthouse Farms — confirmed)
With bulk suppliers like Costco, customers often wonder if the packaging on various products is accurate. After all, how can they maintain quality and quantity? Well, with the help of subsidiaries, Kirkland can keep up with demand and maintain quality.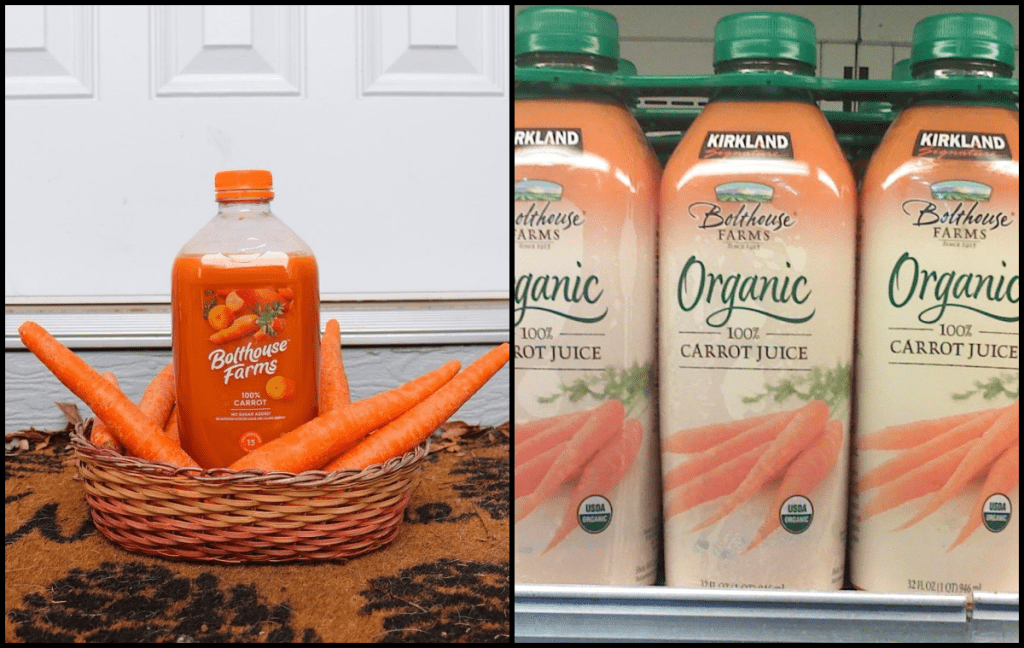 Though it was formerly owned by Campbell's Soup, Bolthouse Farms has since become a Kirkland division. Given that the Bolthouse Farms' name is front and center on the Kirkland bottles, we can guess that they're proud of this new partnership.
Real Mayonnaise (Hellman's — unconfirmed)
Say what you will about mayo, but it's one of those ingredients that, when you need it, you need it. It's an easy remedy for a dry sandwich, and it's the key to making the perfect tuna salad. If sandwiches are a staple in your diet, chances are you keep some mayo at home.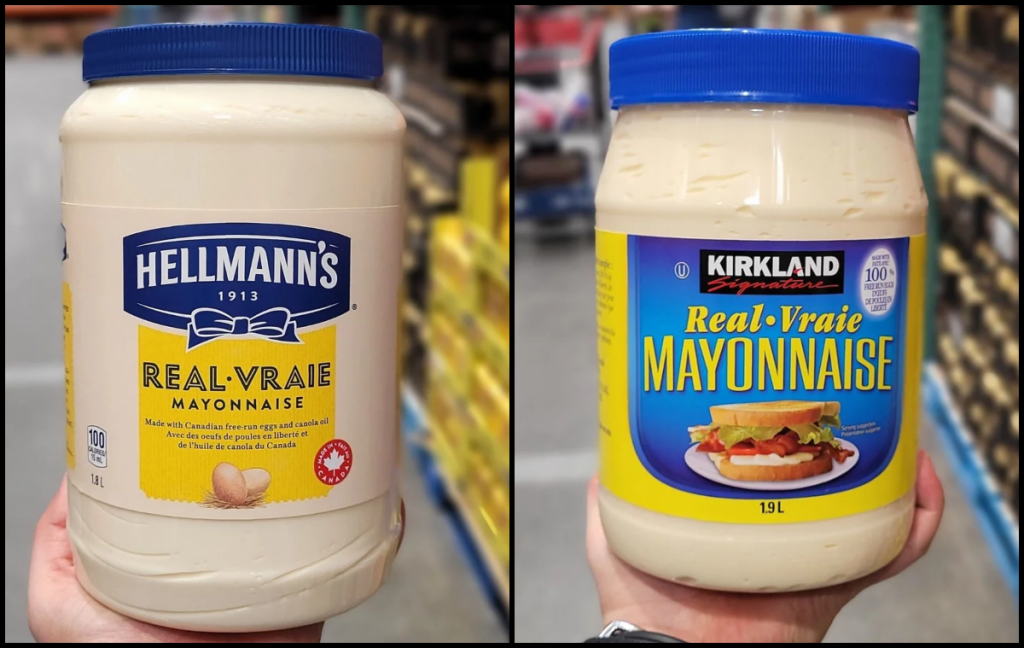 To test the taste quality of Kirkland's mayo, Consumer Reports conducted a blind-tasting test to see how Kirkland matched up to one of the biggest names in mayo—Hellmann's. Though there's no confirmation that they're the same product, taste testers could barely spot a difference between the two.
Moisture Shampoo (Pureology Moisture Hair Care — unconfirmed)
Pureology is a high-end hair care brand from L'Oreal, so you know it has a solid reputation. But with beauty products, the bigger the brand name, the bigger the price tag. Even fashionistas can have a hard time looking at that grocery receipt.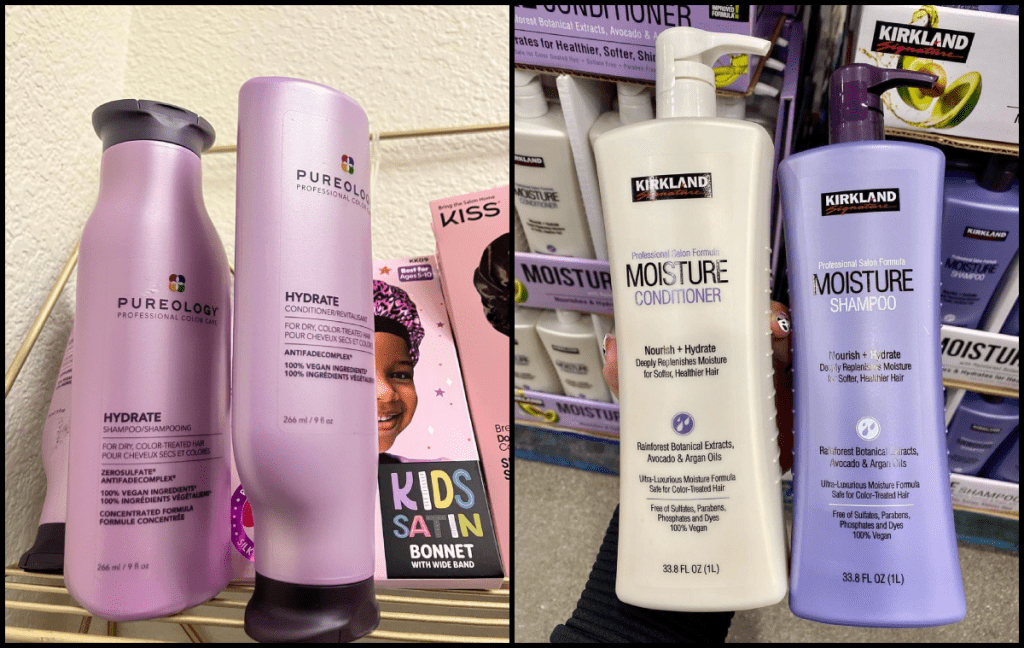 If you have long hair, you probably need to stock up on shampoo more often than your short-cropped pals. Some Costco customers have switched to Kirkland brand shampoo and couldn't help but wonder if it was really L'Oreal in the bottle. We're sorry to say that it remains a mystery.
Chocolate (Blommer — confirmed)
Ah, chocolate. No cupboard is complete without at least a little bit of that sweet (or bitter) deliciousness. In Costco, alongside the classics like Hershey and Mars, you can find Kirkland Signature chocolates. From chocolate-covered nuts to bars of milk chocolate, you can find it all!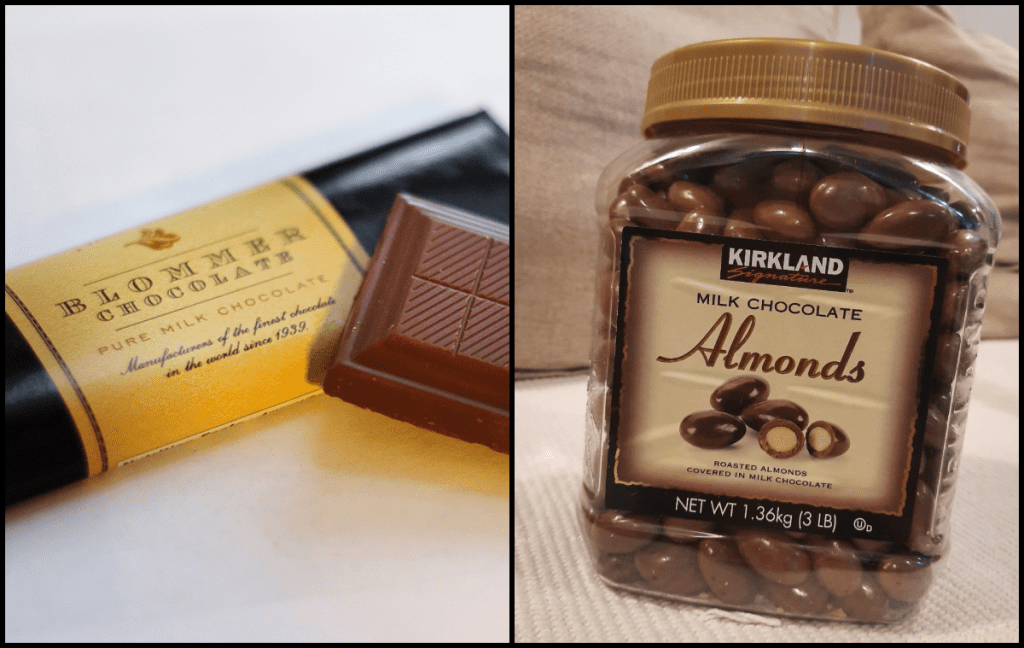 Blommer is the biggest supplier of chocolate in North America, and we can't help but wonder what percentage of that comes from producing Costco-branded chocolate. The two corporations not only partnered to produce a great product, but together, they established a sustainability initiative for cocoa sourcing.
Brie (Isigny Ste-Mère — confirmed)
Cheese is a great addition to any meal, either as a snack or a base ingredient. And if you're a fan of the fancier types, chances are you're always on the lookout for a good deal on your dairy products.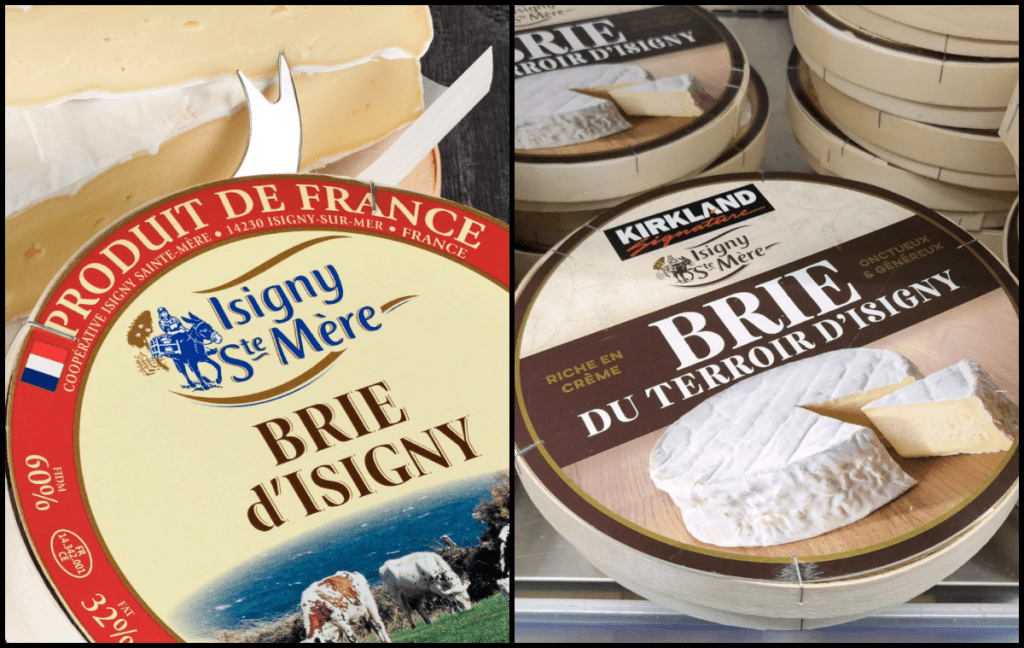 Brie isn't cheap, but the Kirkland Signature packages are a little bit more reasonable than you'd find elsewhere. And with Isigny Ste-Mère behind the label, you know it's good. This brie might give cheeses from major firms like Dean Foods and Dannon a good fight for the money.
Aluminum Foil (Reynolds — confirmed)
Companies know how important branding is; they've got it down to a science, and Americans can easily recognize certain brands by font or pattern alone. Sometimes competitors will use these well-established styles to market their products. This is a great tactic for partnerships, too.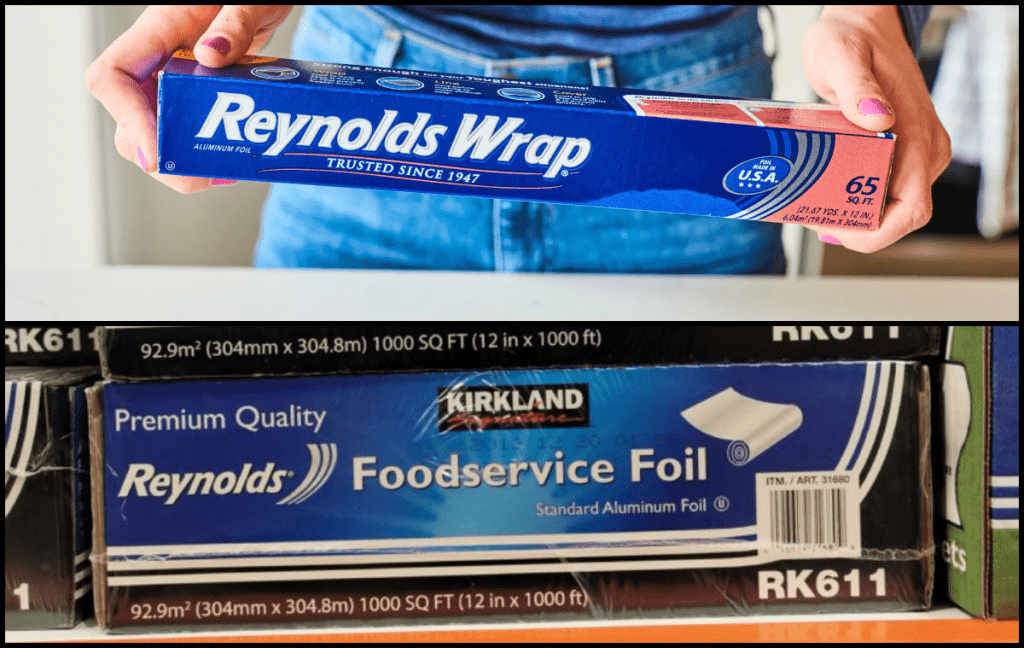 Reynolds is basically synonymous with aluminum foil, so Costco shoppers should feel satisfied knowing that their Kirkland foil is made by the same trusted brand. It's certainly a good bang for your buck if you prepare a lot of leftovers.
Blue Agave Sweetener (Wholesome — unconfirmed)
Earlier, we mentioned how competitors and partners alike might use the same branding and packaging. Kirkland, and many similar store-brand companies, use this tactic. Given the similarities between Wholesome's and Kirkland's packaging, consumers once again raised the question: are they the same?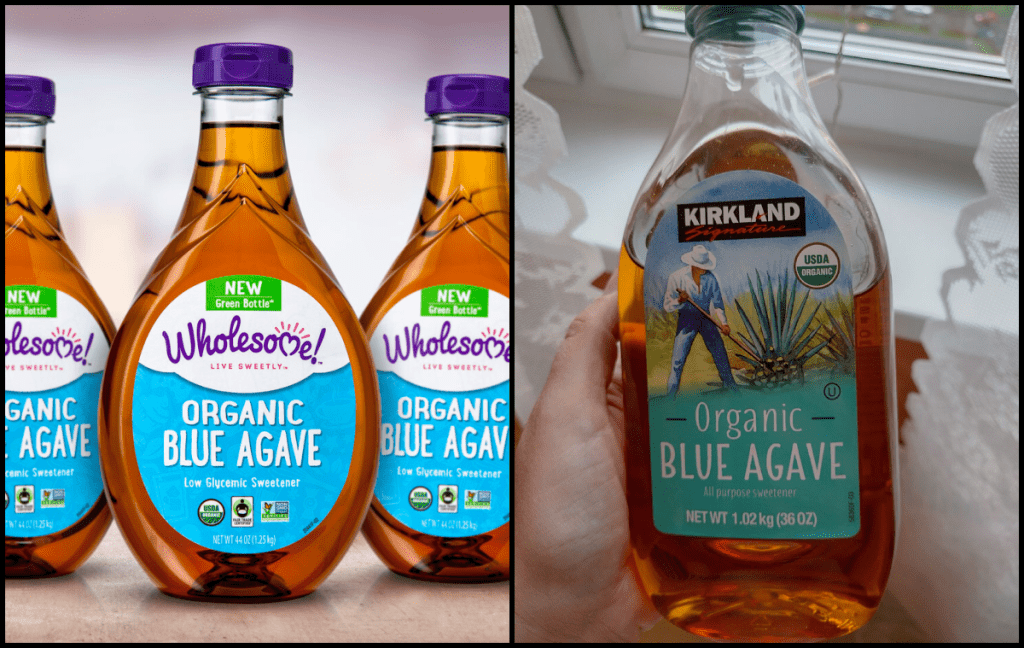 Agave is the new trend in sweeteners, so customers have been snatching up bottles whenever a good deal arises. For now, there's no confirmation whether or not Wholesome supplies Costco with its sweetener, but the taste is just as good.
Organic Quinoa (Cucina & Amore — unconfirmed)
Quinoa may be a recent food trend, but we're certain it's here to stay. It's packed with vitamins, fiber, antioxidants, and even some protein, making it the perfect ingredient. In theory, it doesn't matter whose brand is on the bag…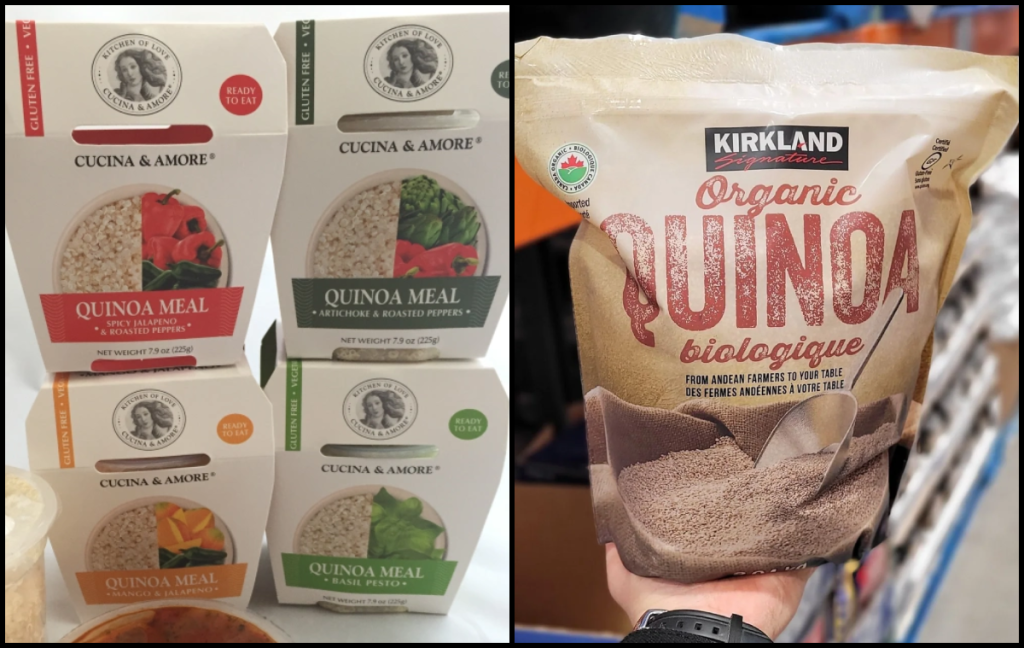 Some people have noticed a similarity in taste between Kirkland and Cucina & Amore quinoa, and taste tests yielded similar results. Still, neither company has confirmed or denied the relationship (or lack thereof), so consumers are focused more on the cost at this point.
Sparkling Water (La Croix — unconfirmed)
When Costco debuted its own sparkling water brand in 2018, customers assumed that Kirkland Signature's product was a re-packaged version of National Beverage's famous La Croix sparkling water. After all, the bottles and cans look so similar. Take a look: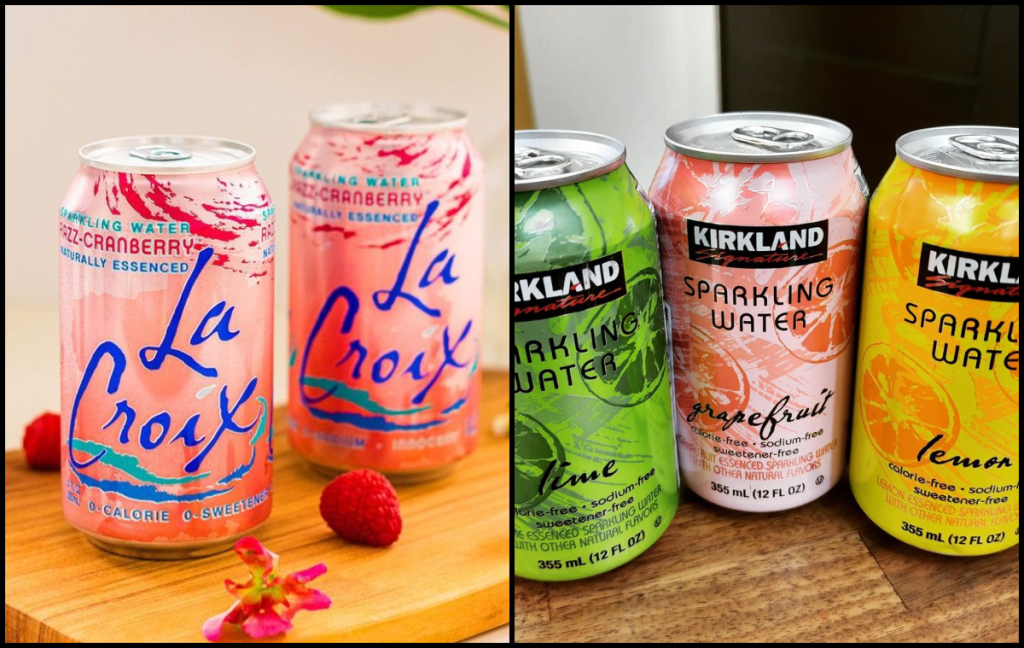 A blind taste test showed very little (if no) distinction between the two products. Surprisingly, there's no confirmed link between the two. As far as we know, this is simply a brilliant marketing strategy. The only real difference is Kirkland's lower price tag.
Smoked Salmon (Foppen Norwegian — unconfirmed)
There's no better breakfast than a toasted bagel smeared with cream cheese and topped with smoked salmon. It's a crowd-pleaser at group brunches, so we're sure there are plenty of hosts that are on the lookout for quality smoked salmon that won't break the bank.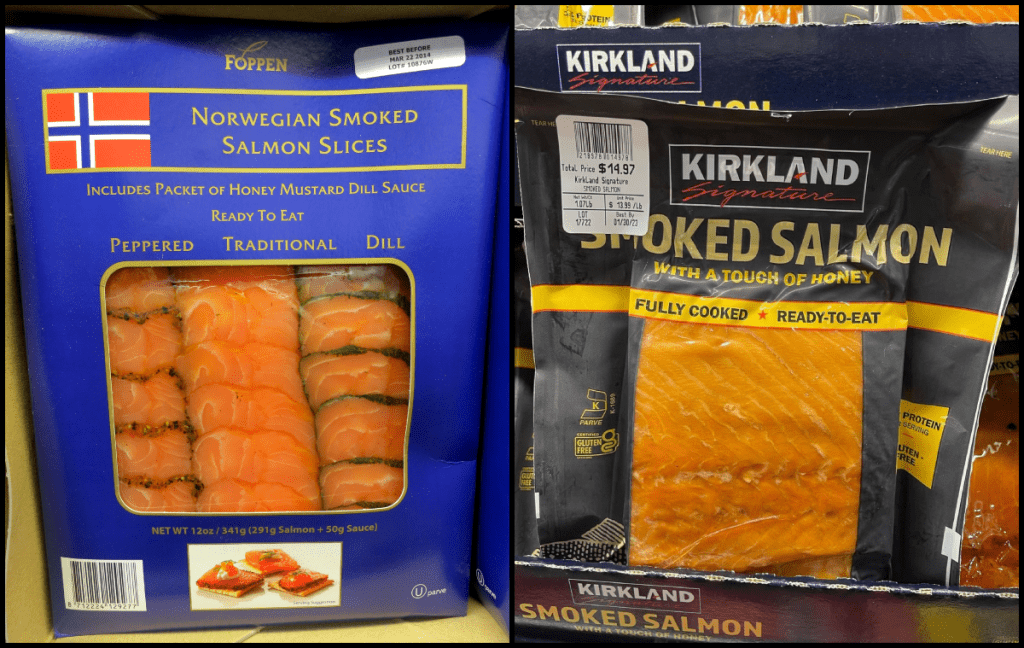 The only real hint that Kirkland doesn't source their salmon from Alaska is that the Costco website says that the product is "imported" from elsewhere, meaning that it could very well come from Norway. This is all speculation, of course, though not out of the realm of possibility.
Tart Montmorency Cherries (King Orchards — unconfirmed)
Since Kirkland and King Orchards use the same type of cherry for their snack, and the former often uses other brands for their products, just under its own label, customers speculated that they're the same product, with the only difference being the brand name.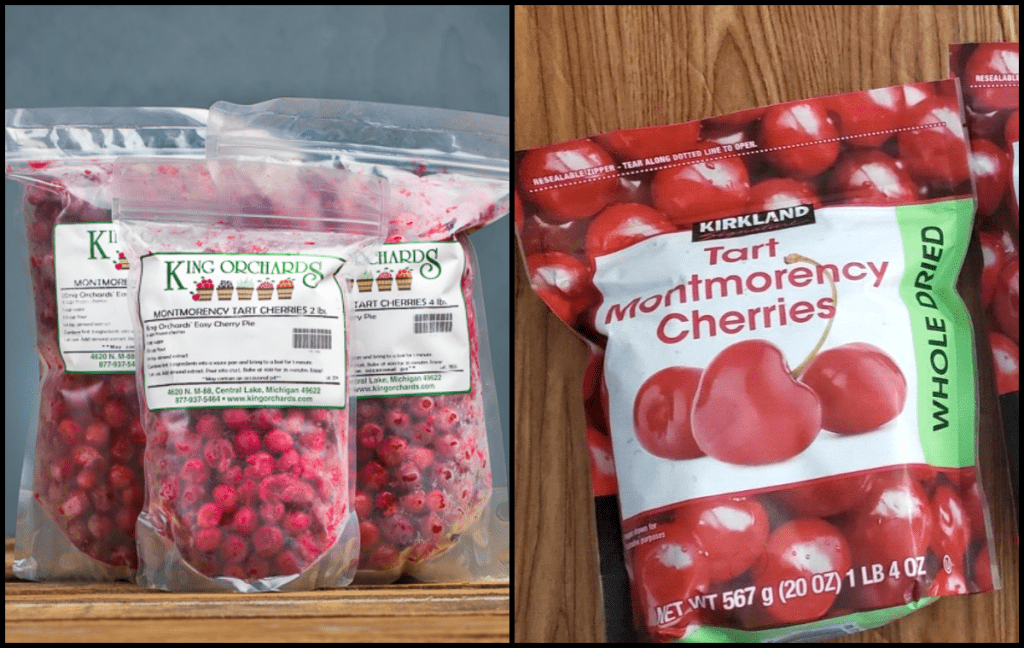 Once again, this remains speculation; neither company has confirmed or denied this partnership. So, the only real link is that they might source cherries from the same farm. With only two major growing regions for Montmorency cherries in the United States, it's not impossible.
Stearns & Foster Lakeridge Mattress (Stearns & Foster — confirmed)
That's right; Costco sells mattresses. We feel like we shouldn't be surprised at this point by what products Costco offers—one trip around the store can leave you stunned by the variety. Even if the mattresses aren't up in the front of the store, the company is upfront about the manufacturer.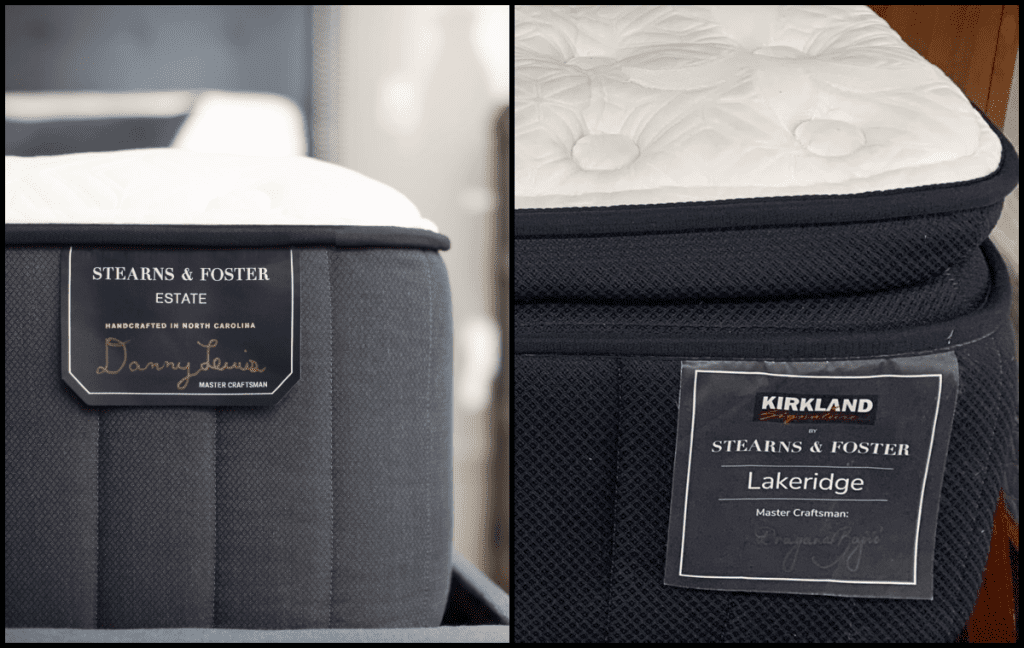 The product proudly says "Stearns & Foster" right on the label. Furniture doesn't come cheap, and quality mattresses can be even pricier, so Costco customers were probably thrilled when this line was released. There's nothing better than getting quality items without emptying your wallet.
Dop Val di Mazara Olive Oil (Planeta — unconfirmed)
Planeta and Kirkland both package their olive oil inside the region of Italy's Val di Mazara—that's the "Dop" part of the label. Although this could be a strong indicator that the two items are identical, neither company has made this claim.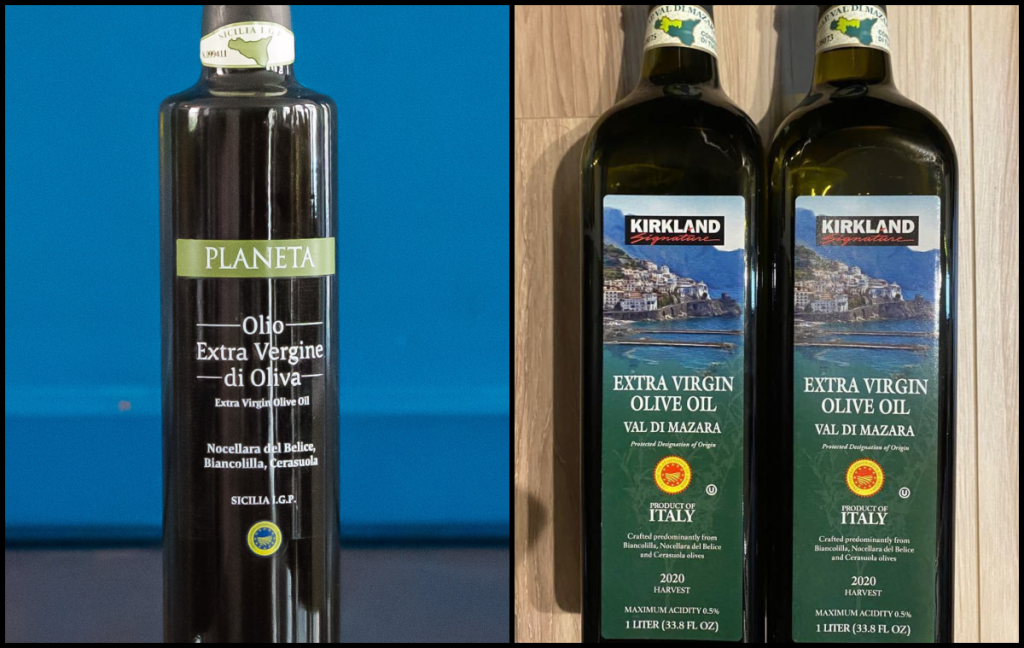 Regardless of their label, it's still arguable that the two products are the same. Being designated "DOP" means that the product was produced using traditional methods by local farmers and artisans and were packaged locally. So, really, what's the difference other than brand name?
Keurig K-cups (Green Mountain — unconfirmed)
Air fryers might be all the rage today, but people often forget how "revolutionary" products like Keurig were when they first came out. Coffee drinkers everywhere were thrilled to have an easy way to make a perfectly brewed single cup of coffee with just the push of a button!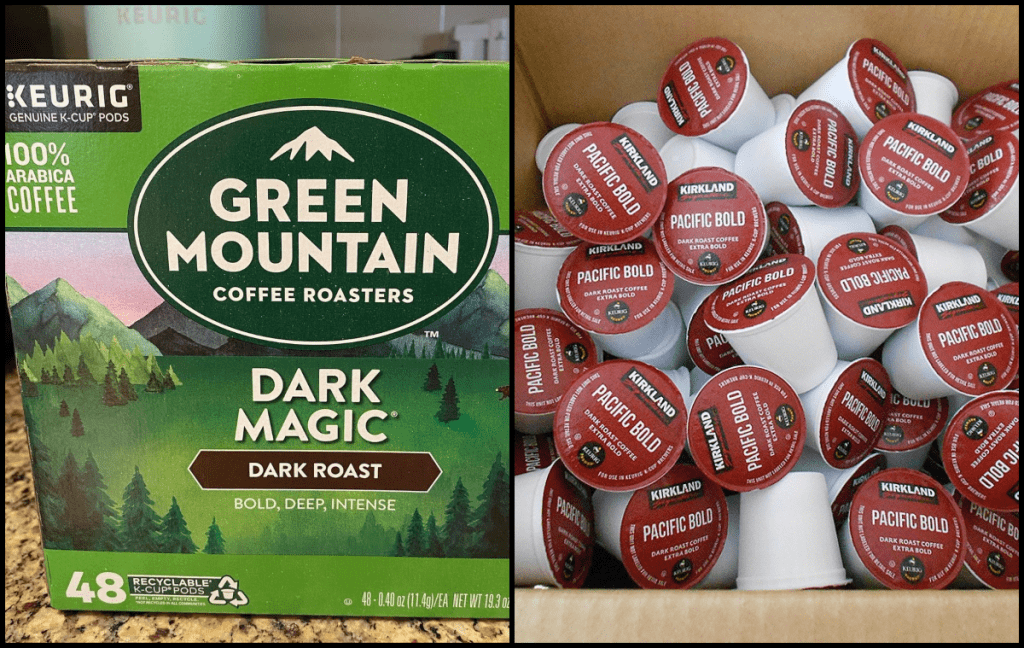 Since coffee lovers are always on the lookout for the perfect cup of coffee, customers were curious if the makers of Kirkland's K-Cup was, in fact, Green Mountain. For now, that remains speculation. As of now, the only similarity is that both are compatible with Keurig's machines.
Butter (Tillamook — unconfirmed)
Costco sells all sorts of food, including the most basic ingredients. While people aren't usually too worried about the potential poor quality of products like butter (other than expiration dates, of course), customers still remain curious as to where their products come from.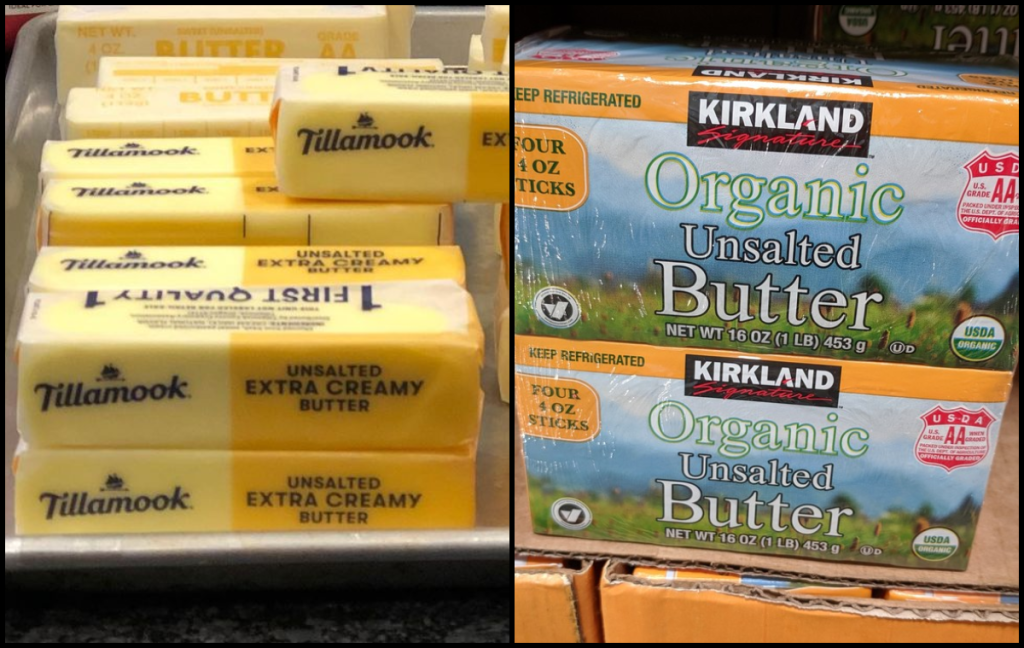 Although there are certain "types" of butter (salted, creamy, etc.), the ingredients aren't proprietary. Some suggested that Tillamook provides Kirkland with their butter, but there's no backing other than a rumor. For now, customers will have to do their own taste test to decide.
Organic Peanut Butter (Jif — unconfirmed)
Jif and Smucker's go together like peanut butter and jelly… literally! There's no substitute for the perfect PB&J sandwich. That means getting the bread and ratio right but also buying the tastiest peanut butter. So, the question here is: what's in a Kirkland PB&J sandwich?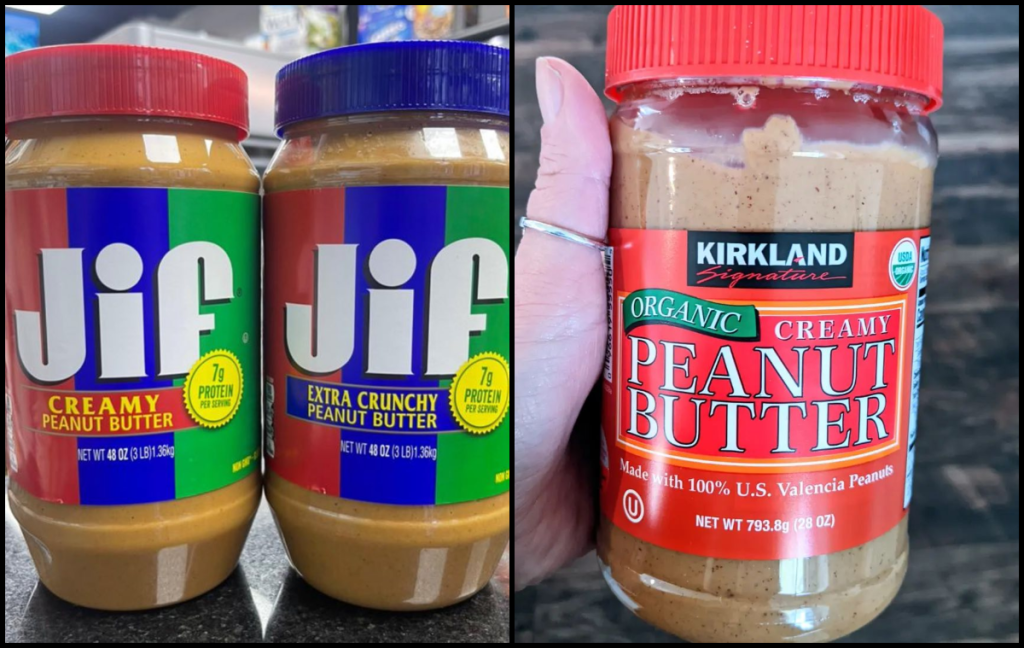 While both Kirkland and Jif sell delectable peanut butter, the only confirmed link is the main ingredient: peanuts. With so many varieties of peanut butter, it can be tricky to do a blind taste test, so we'll just have to wait for Kirkland to let us know who's behind the label.
Baby Wipes (Nice 'n Clean — unconfirmed)
Say what you will about disposable wipes, but some parents simply can't give up having a stock of baby wipes in every room of the house. While they don't go through as many packs as they do diapers, some parents find it worthwhile to buy baby wipes in bulk.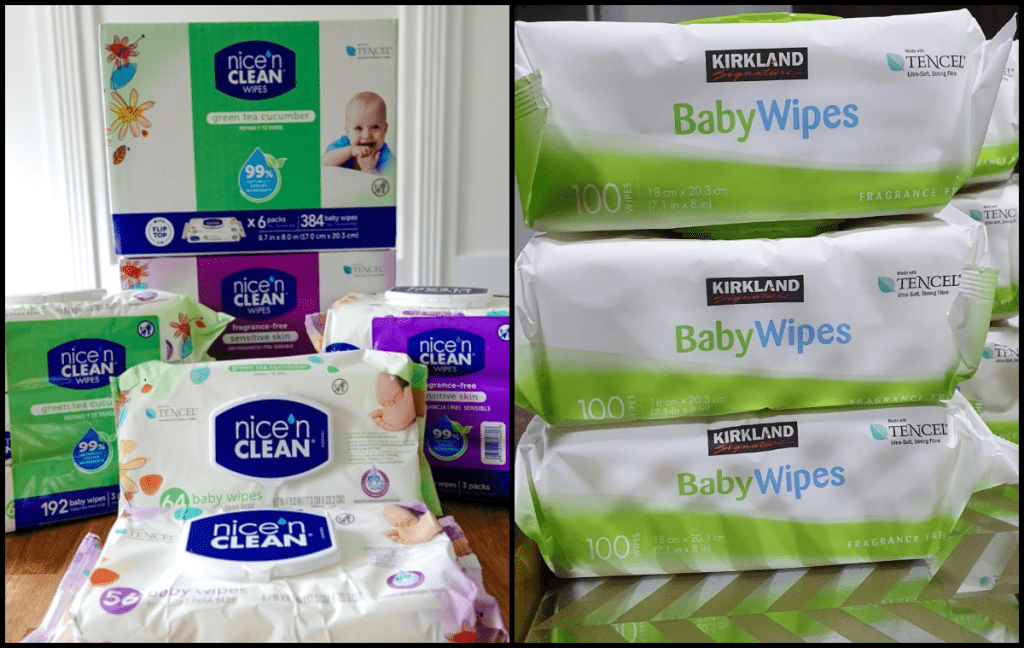 Making sure they're buying quality products (including baby wipes) is high on the list of parents' priorities. Although Kirkland Signature and Nice 'N Clean share the same parent company for their baby wipes, there's no confirmation that Kirkland's wipes are Nice 'N Clean's, just under a different label.
Organic Raw Honey (LR Rice — unconfirmed)
There are a variety of sweeteners, both artificial and natural, to choose from today, but nothing will ever replace the sweet taste of honey. In theory, raw, unrefined honey should taste the same, no matter where it comes from, so a blind taste test can't be used to determine which apiaries Kirkland uses.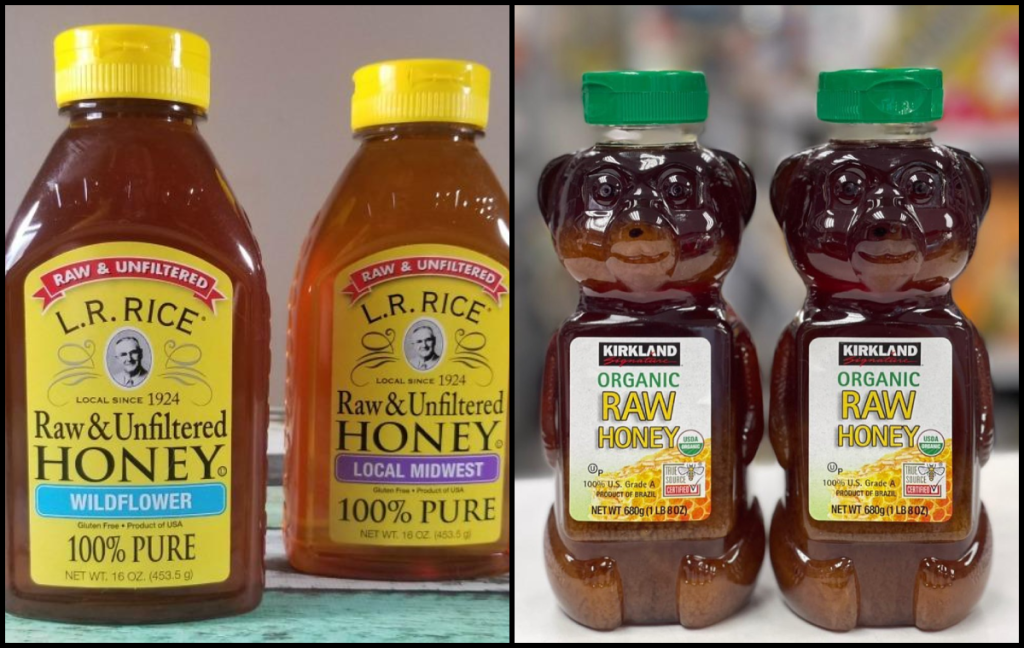 For a while, it was thought that LR Rice shared their honey with Kirkland, but some sleuths recently uncovered the true origin of Kirkland Signature honey: Canada. The Canadian company Bee Maid (the largest in the country, in fact) provides Costco with its sweet nectar.
Dried Prunes (Sunsweet — confirmed)
With so many Kirkland-brand products, all at a reasonable price compared to big-name competitors, it's understandable why people would be so hesitant to trust the store-brand products. After all, how could consumers benefit from such low prices from traditionally expensive brands?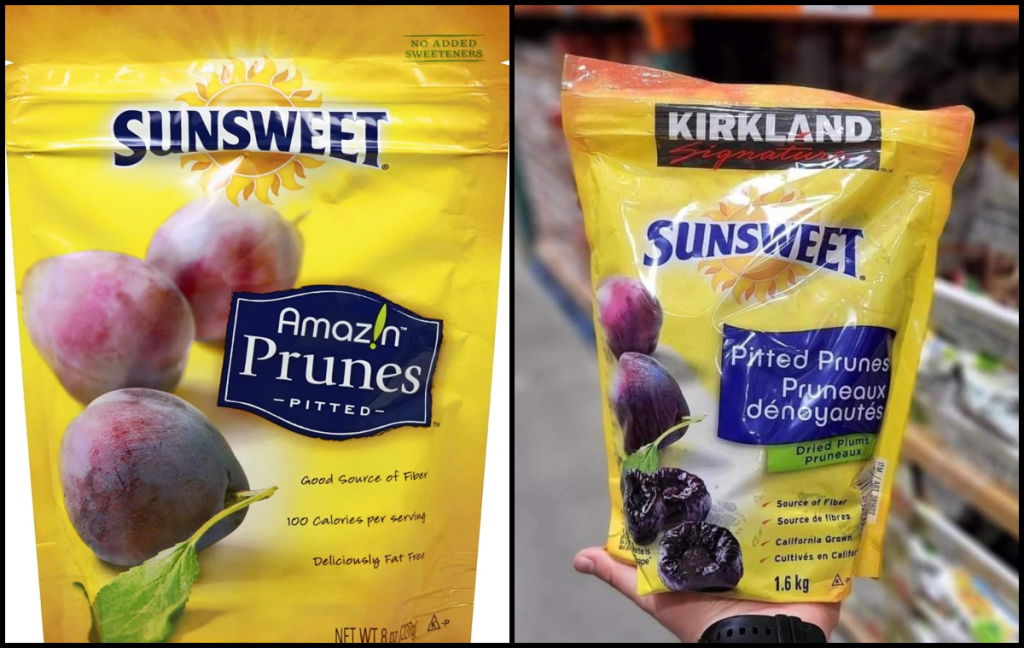 Well, Costco has it figured out, and consumers benefit from their various partnerships with other companies. Kirkland Signature's dried prunes, for example, are a nutritious snack, and customers can rest assured that their food is made by a well-known and trusted label—Sunsweet.
Professional Photo Paper (Georgia Pacific — unconfirmed)
Printers are underrated in today's world. With everything available digitally, it's easy to forget just how important owning a printer can be. From getting hard copies of important documents to printing physical copies of pictures to fill photo frames, there are plenty of reasons to keep that old printer.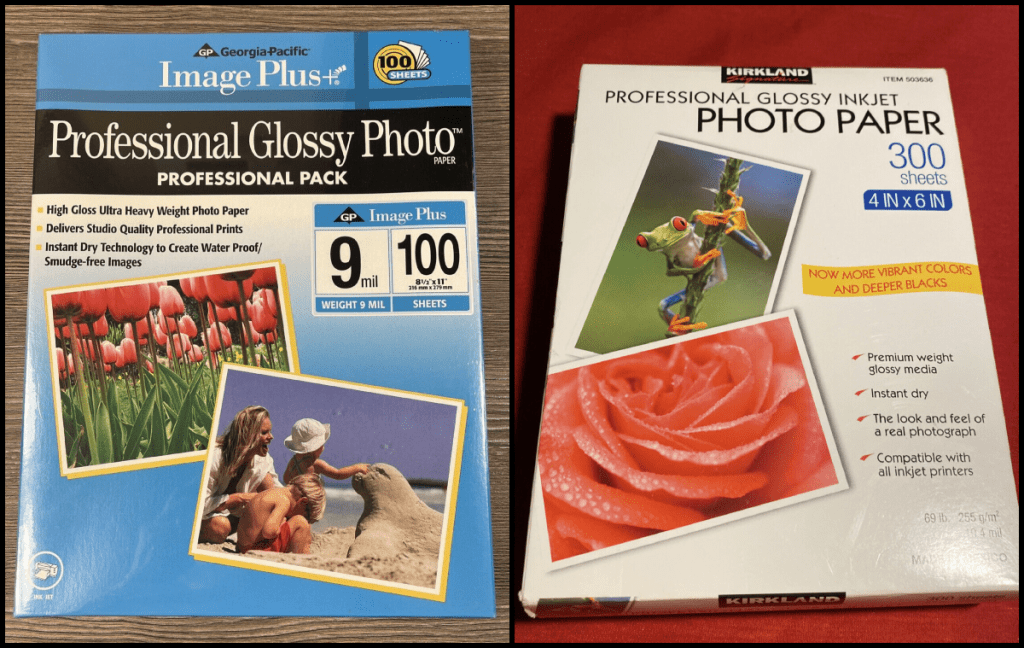 Of course, the supplies to keep it running can be expensive. Ink and toner alone are expensive, so no one wants to waste that on cheap paper. While the Kirkland Signature photo paper holds up, it's only a rumor that Georgia Pacific is the supplier.